The ultimate list of all the best things to do in Koh Samui, Thailand.
Planning a trip through the many islands of Thailand can seem overwhelming.
There are over a thousand Thai islands and they all have something different to offer.
The big developed islands have lots of accessible tourist attractions, and the small uninhabited islands have raw, untouched natural beauty.
To make your trip-planning easier, visit the bigger islands that have a diverse range of landscapes and activities and explore them thoroughly.
One of the most rewarding islands to visit is Koh Samui, the second largest island in Thailand after Phuket (click the link to read our detailed itinerary posts).
Located in the Gulf of Thailand, Koh Samui is a huge island covered in forest and fringed with white sandy beaches.
Koh Samui has had a reputation for being quite ritzy and expensive.
There are lots of luxury resorts, fancy hotels and vacation packages that appeal to the wealthy, but recently the more local, affordable side of Koh Samui is beginning to surface.
Backpacker hostels, street markets, cheap tours and a long list of attractions are starting to pull more young budget travellers to Koh Samui.
The Best Things to Do in Koh Sumai
The classic touristy Thai culture, with its Buddhist temples, Muay Thai boxing matches, and Ladyboy cabarets, is affordable enough that backpackers are able to travel Koh Samui without spending a fortune.
Soft white sand, sparkling turquoise water, and towering coconut palms make Koh Samui look like a postcard, and now the island is more affordable and accessible than ever.
There are plenty of things to do in Koh Samui on a budget, and plenty of nice hotels and restaurants to suit those with more money to spend.
The island's natural beauty will amaze anyone, and there is so much Koh Samui sightseeing to do to fill a schedule of a few days or even a few weeks.
So here is a list of the best things to do in Koh Samui, Thailand.
READ MORE: Check out our guide to our top 5 Koh Samui day trips too!
1) Book a Tour to Ang Thong National Marine Park
This is easily one of the best things to do in Koh Samui, and in the whole Gulf of Thailand.
Ang Thong National Marine Park is an archipelago of 42 islands, each one rugged and unique.
Throughout the park you can find limestone cliffs, rocky caves, thick jungle, lakes and rivers, waterfalls, coral reefs, lagoons, hiking trails and sandy beaches, all connected by the vibrant blue ocean.
Highlights in the park include the Emerald Lake, or "Thale Nai", a green saltwater lake in the midst of the jungle, Koh Sam Sao, an island with amazing snorkelling, and Koh Mae, an island with a steep hike that leads to a scenic viewpoint.
Luckily, Ang Thong National Marine Park is well protected as a national park, so exotic wildlife can thrive and human development never oversteps its boundaries.
Only tour boats that are approved by the government are allowed to enter, so travellers cannot access Ang Thong National Marine Park without booking a tour.
But there are lots of reputable tour companies offering affordable and super fun tours around the archipelago that include snorkelling, kayaking, and relaxing.
BONUS – Booking ahead of time ensures you won't miss out on the tour, and get the best price too! And just for NOMADasaurus readers, if you use the Klook discount code "NOMADS10" on the website when checking out, you'll get $10 off your first booking!
2) See a Mummified Monk
Wat Khunaram is a Buddhist temple in Koh Samui famous for its mummified monk.
This sight isn't for the faint-hearted, as it is literally a dead body on display in a glass case. But it is quite fascinating for those who are interested.
Buddhist monk, Luang Pho Daeng, died in 1973 and his body is now a source of wonder for local Thais and Buddhists in the area.
He died while sitting in a meditative position and his corpse is in surprisingly good shape for someone who died over forty years ago.
Be sure to follow proper dress code when visiting any temples in Thailand (no shoulders or knees showing).
Location: Na Mueang, Ko Samui District, Surat Thani 84140
Hours: 7 am to 5 pm, open every day
Cost: Free
READ MORE: This post tells you everything you'll ever need to know about travelling to Thailand!
3) Visit the Big Buddha
The Big Buddha should definitely have a place on any list of things to see in Koh Samui.
Formally known as Wat Phra Yai, this Buddhist temple complex is located on a small island off of Koh Samui's northeastern coast.
The massive golden Buddha sitting at the top of the temple stairs is 12 meters tall and was built in 1972.
If you're flying into Koh Samui you can sometimes see the giant Buddha from the airplane.
The Wat Phra Yai temple grounds also host a small market with souvenirs, interesting clothes and religious ornaments on sale.
Location: Big Buddha Beach, off Route 4171, Bophut
Hours: Open all day, every day
Cost: Free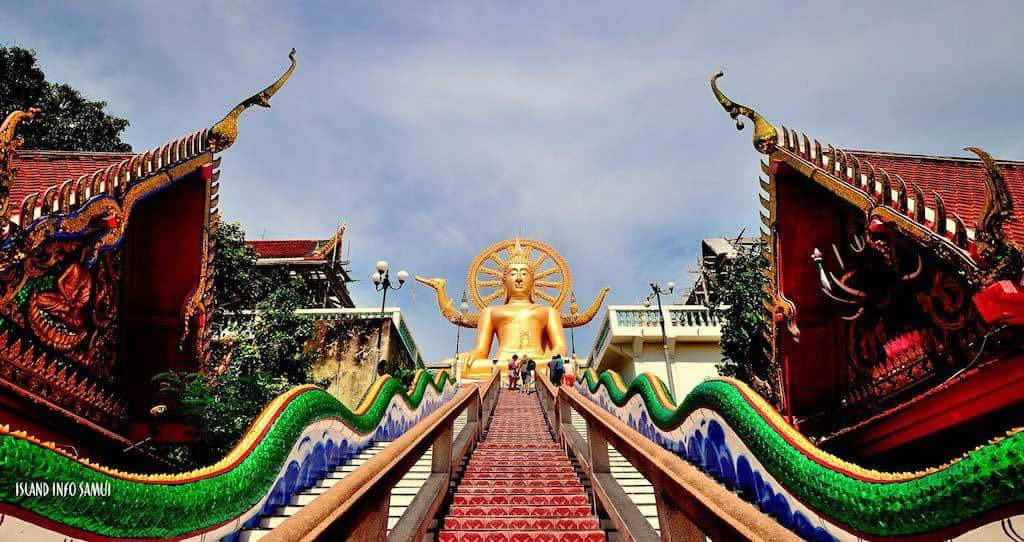 4) Indulge in a Thai Massage
Thai massage is an ancient healing practice that is revered all around Thailand.
Though the massage isn't as relaxing as traditional massages, it is supposed to rejuvenate the body and feel amazing afterwards.
Trained Thai masseuses bend and twist your body into odd positions during a massage, and this gets the blood flowing and soothes as well as strengthens your muscles.
There are plenty of spas all over Koh Samui, so check them out if you feel like treating yourself.
READ MORE: Keep your exploration of the Gulf of Thailand going with our curated list of the best things to do in Koh Tao!
5) Try Stand Up Paddleboarding
With ocean scenery as stunning as Koh Samui, do your best to spend as much time in the water as possible.
For a relaxing and laid-back yet active day in Koh Samui try stand up paddleboarding. (You can book your SUP experience here.)
Paddleboards are heavy and sturdy, so they are easy to balance on even if it's your first time.
This is a great way to soak in the views and spend quality time with the ocean, and it is a family-friendly activity as well.
Try paddling at sunrise or sunset to beat the heat and see the sky's natural colours dancing above the water.
BONUS – Booking ahead of time ensures you won't miss out on the tour, and get the best price too! And just for NOMADasaurus readers, if you use the Klook discount code "NOMADS10" on the website when checking out, you'll get $10 off your first booking!
6) Laze Away on one of Koh Samui's Beautiful Beaches
You simply can't visit Koh Samui without visiting a few of the island's picturesque beaches.
Chaweng Beach is the most popular place on the island, with tons of Koh Samui attractions and nightlife surrounding the beach.
So if you're wondering what to do in Koh Samui, hit Chaweng Beach first, then figure the rest out from there.
Lamai Beach is the second most popular beach, and but it is less crowded and much more relaxing than Chaweng.
Coral Cove Beach is lovely for snorkelling and is hidden in a small bay behind a hotel.
Choeng Mon Beach is located on the north of the island near the Big Buddha, and there are lots of nice hotels and beach bars up here.
Lipa Noi Beach is the most kid-friendly of Koh Samui's beaches, as it has shallow, clear water and barely any coral or rocks.
Pretty much every beach here has velvety white sand and coconut palm trees providing shade, and the water is clear and refreshing everywhere too.
So pick any beach on Koh Samui and you'll feel like you're in paradise.
7) Explore the Secret Buddha Garden
The Secret Buddha Garden is one of the most interesting Koh Samui attractions.
Back in 1976, a local farmer named Nim Thongsuk began creating a garden by setting up statues around his land.
Years later, the statues of Buddhas, other deities, animals and random creatures have taken over and the lush jungle gardens provide a nice background to all the artwork.
Spend an hour strolling through the peaceful green forest and admiring all the interesting statues; there is a sense of mystery here at the Secret Buddha Garden that is intriguing.
Some adventure tours around Koh Samui stop at the Secret Buddha Garden as part of their itinerary, though you can also drive on your own.
Even though it is called the SECRET Buddha Garden, this beautiful place has become one of the most famous Koh Samui attractions.
Location: Off Route 4169 at Baan Saket, Thanon Dhupatemiya, Na Mueang, Koh Samui
Hours: 10 am to 5 pm, open every day
Cost: 80 Baht
READ MORE: Don't miss out on all the best things to do in Ao Nang when you are in southern Thailand!
8) Taste Local Food at the Chaweng Night Market
For some of the best street food in Koh Samui, head to the Chaweng Night Market.
This is one of the busiest areas on the island, so the market is full of things to see and is packed every night with locals and tourists alike.
Sample flavorful local snacks for insanely cheap prices, or even get a full meal for less than 2 USD.
The market is mostly comprised of food, but you can also find some clothes, jewellery, and other classic souvenirs on sale as well.
Location: 14/102 Moo 2, Chaweng Beach Road, Chaweng, Koh Samui, Suratthani 84320
Hours: 5 pm to 11 pm, open every day
READ MORE: Plan your trip to Thailand with our list of the best places to visit in the country!
9) Visit Wat Plai Laem
Another one of the best Koh Samui attractions is Wat Plai Laem, a Buddhist temple on the northeast coast of the island.
The temple is famous for its statue of Guanyin, the Goddess of Mercy and Compassion.
Bathed in white and sporting 18 arms, the Guanyin statue towers over the temple grounds and the surrounding lake.
Wat Plai Laem is close to the Big Buddha, so you can easily stop by both during your Koh Samui sightseeing.
Location: Road 4171, accessible via 4169 Highway Ring Road
Hours: 6 am to 6 pm, open every day
Cost: Free, Donations welcome
10) Hike to a Hilltop Temple
For a bit of exercise and panoramic views, visit Koh Samui's hilltop temple known as Khao Hua Jook Chedi.
You'll have to drive or take a taxi here as there is no public transport running directly to this attraction.
The mountain on which the temple lies is called Chom Daow Mountain, and there is a shimmering gold pagoda as well as statues and Buddhist artworks in the temple complex.
The viewing platform provides a wonderful view over Chaweng Lake, so make sure to bring your camera.
Location: Bo Put, Ko Samui District, Surat Thani 84320
Hours: 8 am to 5 pm, open every day
Cost: Free
11) Cool Down at the Na Muang Waterfalls
These two waterfalls are some of the best natural sights in Koh Samui.
They are located only a five-minute drive away from each other and they are both incredibly picturesque.
Na Muang Waterfall One is super easy to access because you can basically drive right up to the entrance.
And it has a wide natural pool that is perfect for swimming (especially during the rainy season).
Getting to Waterfall Two requires a little climbing, so wear sturdy, waterproof shoes.
The thick jungle provides gorgeous natural scenery, and the view from the top of Waterfall Two is quite famous among backpackers.
Location: Off Route 4169, Na Mueang, Ko Samui District, Surat Thani 84140
Hours: 9 am to 5:30 pm, open every day
Cost: Waterfall One has no entrance fee, Waterfall Two costs 30 Baht. You also have to pay for parking at Waterfall Two, 20 Baht for scooters and 60 Baht for cars.
READ MORE: The absolute best things to do in Thailand!
12) See the Mysterious Hin Ta and Hin Yai Rocks
Of all the things to do in Koh Samui, this is probably the oddest.
Set on a rocky beach on the island's southeast coast, the Hin Ta and Hin Yai Rocks are famous because they resemble male and female genitalia.
They are also called the Grandfather's and Grandmother's Rocks, and there are a few local myths about how the rocks came to be.
Whether you are interested in the stories behind the landmarks or not, the nearby beaches are beautiful so it is worth a stop.
Location: just off Route 4169, about 2 km south of Lamai Beach.
Hours: Open all day every day
Cost: Free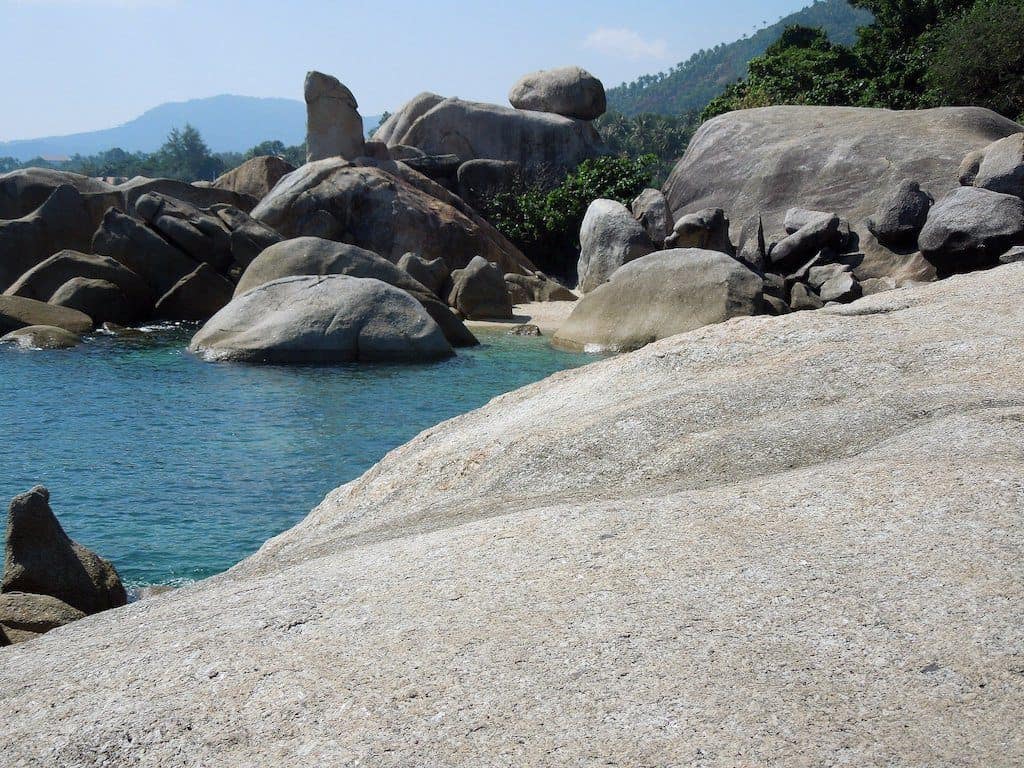 13) Check out the Guan Yu Shrine
Symbolic of the Chinese culture that has spread throughout Thailand, the Guan Yu Shrine is a powerful landmark in Koh Samui.
There is a 16-meter high statue of Guan Yu, the Chinese God of War and a symbol of courage, loyalty, and bravery.
You probably won't find too many other tourists here, so you can enjoy a little bit of peace and quiet while reading about the shrine's history.
If you want to continue your education about Chinese culture after visiting the statue, there are some local Chinese restaurants out front.
Location: 190/1 Moo 1, Tambon Maret, Koh Samui, Surat Thani 84310
Hours: 8 am to 5 pm, open every day
Cost: Free
14) Attend a Ladyboy Cabaret
One of the best things to do in Koh Samui, or anywhere in Thailand, is going to a ladyboy cabaret.
The local Thai ladyboys are men that change their appearance to look like glamorous women, and they often put on amazing performances around the country.
Koh Samui's best location for watching a dazzling ladyboy performance is the Paris Follies Cabaret in Chaweng.
There are three shows every night here, and different dances and songs from all over the world are incorporated into the sets.
So for a night full of song, dance, and charisma, go to the Paris Follies Cabaret and prepare to be entertained by Koh Samui's best ladyboys.
Location: 166/92 Moo 2, off Chaweng Beach Road
Hours: Performances at 8 pm, 9:30 pm and 11 pm, every night.
Cost: Free entry, but you are expected to buy a drink at the bar which can be over 200 Baht
READ MORE: Plan for all of the exciting things to do in Phuket!
15) Stroll Through the Fisherman's Village Walking Street Market
Bophut is an area on the northern coast of Koh Samui known for its local fisherman's village.
The village is one of the oldest areas of the island, with rustic old buildings and charming local culture.
Every Friday night starting at 5 pm, Bophut Beach Road turns into a lively walking street market full of souvenirs, artwork, street food, and live music.
Some of the local shops bring their merchandise to the streets while other vendors set up new stalls and street performers put on a show.
Location: Bophut Beach Road, Bophut 84320
Hours: 5 pm to 11 pm, every Friday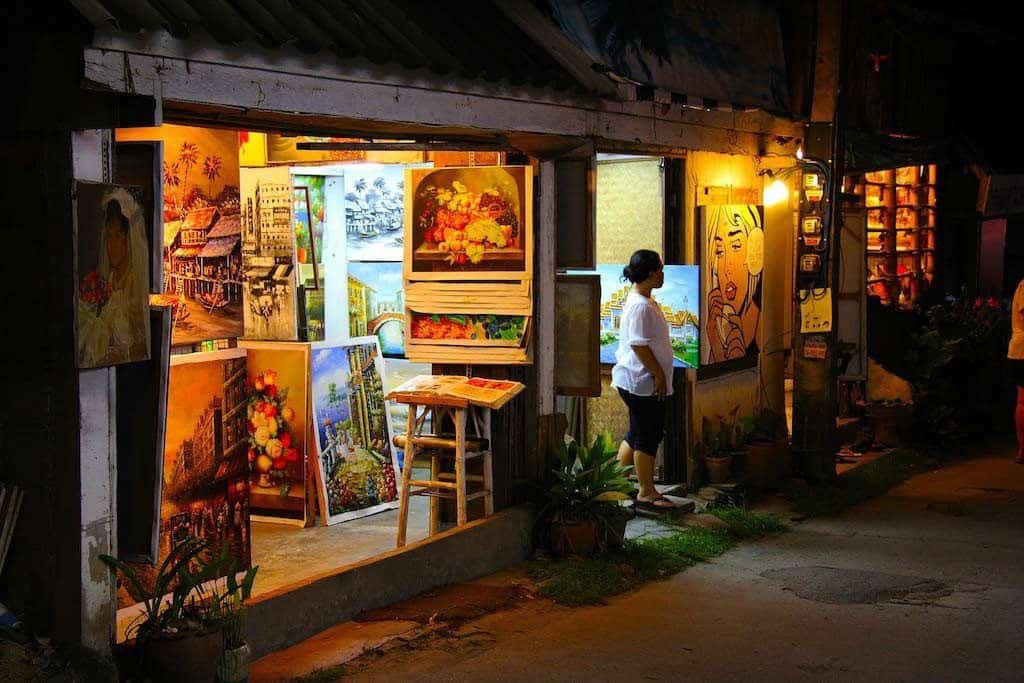 16) Hike the Elephant Rock
Those looking for active things to do in Koh Samui can head to the Elephant Rock, located between Chaweng and Lamai Beach.
This massive rock formation is named "Elephant Rock" simply because it looks like a giant boulder the same size as an Asian Elephant.
You can climb Elephant Rock to get a great aerial view of the surrounding ocean and beaches.
This is a nice outdoorsy activity to do while hanging out near Chaweng or Lamai Beach; just make sure you wear sturdy hiking shoes.
Location: Between Chaweng and Lamai Beach, Route 4169
Hours: Open all day, every day
Cost: Free
17) Watch a Muay Thai Boxing Match
Muay Thai is a major part of Thai culture that travellers should try to experience in Thailand.
Koh Samui's best place to watch a Muay Thai boxing match is Chaweng Boxing Stadium, which is also the oldest stadium on the island.
Here you can observe the talented local athletes as they engage in combat, the techniques and tricks of which evolved from the ancient fighting methods of the Siamese Empire.
Chaweng Boxing Stadium even has a program where they take youths off the streets and train them to fight Muay Thai in a safe and secure place.
So fighters you may watch during a match can range from young kids to professional adults, male or female.
This boxing stadium stays true to local traditions and still makes the fights engaging and exciting for tourists.
Location: 166/16, Moo 2, Chaweng, Tambon Bo Put, Koh Samui, Surat Thani 84320
Hours: Fights every Tuesday and Friday starting at 9 pm
Cost: Tickets range from 1,500 to 2,000 Baht
18) Take a Thai Cooking Class
The food is definitely one of the highlights of travelling through Thailand.
Thai food is so full of flavour and fresh ingredients, and every meal feels like an adventure for your taste buds.
The local cuisine differs slightly depending on which region of Thailand you are in.
So if you're a true foodie you may want to take a few different Thai cooking classes throughout the country.
Koh Samui has lots of cooking schools that offer full-day tours cooking classes, most of which include a tour of the local market followed by guided instructions for making classic dishes.
This one though is the highest rated, so make sure you book it ahead of time.
The food you prepare yourself may be some of the best you eat in Thailand.
So dedicate at least one day in Koh Samui to a fun Thai cooking class.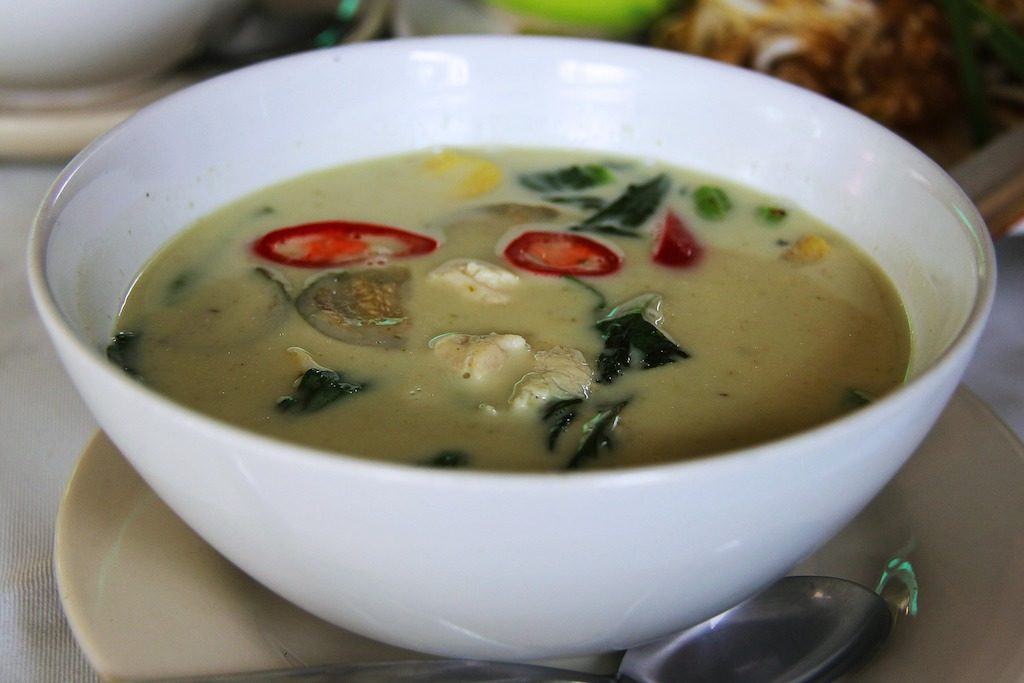 19) Marvel at Laem Sor Pagoda
Another one of Koh Samui's best landmarks, Laem Sor Pagoda is located on a quiet beach far from the popular tourist areas.
Down in the southwest corner of the island, the Laem Sor Pagoda stands tall as part of the Wat Laem Sor temple complex.
The Pagoda appears to be fully coated in gold, though it is actually tiny yellow tiles that give it that glowing appearance.
Near the pagoda is a small forest with a lake and picnic benches, as well as another Pagoda called Khao Chedi, located atop a hill that offers panoramic views.
So there are a few things to do down in this corner of the island, and this area makes a nice escape from the more crowded, touristy parts of Koh Samui.
Location: Off Route 4170, past Bang Kao village on a small beach
Hours: Open all day, every day
Cost: Free
READ MORE: Plan for the top 10 things to do in Bangkok!
20) Go Diving or Snorkeling
The Gulf of Thailand is known for some of the best snorkelling and diving in Southeast Asia.
The waters are crystal clear and the wildlife is colourful and active.
Koh Samui has a few nice snorkelling spots, but the best locations for snorkelling or diving are next to other nearby islands like Koh Tao and Koh Phangan.
Your best option is to book a day tour through a local tourism company, so they can take you around the best snorkelling spots by speedboat.
Koh Tao and Koh Nangyuan are two popular sights for snorkelling or scuba diving, and they can easily be reached by speedboat from Koh Samui.
Experienced certified divers can explore the waters deeply and swim down through coral reefs.
Whereas other travellers can opt for snorkelling, which doesn't require any certifications and is a bit easier.
Whether scuba diving or snorkelling near the surface, you are sure to spot some exotic fish and sea creatures while exploring the oceans.
BONUS – Booking ahead of time ensures you won't miss out on the tour, and get the best price too! And just for NOMADasaurus readers, if you use the Klook discount code "NOMADS10" on the website when checking out, you'll get $10 off your first booking!
21) Watch the Sunset from the West Side of the Island
Tropical islands offer some of the most majestic sunsets.
Nothing says makes a vacation memorable like watching the sky change colours as the sun slowly slips behind the horizon, with the waves crashing and the palm trees swaying in the breeze.
Some of the best beaches to go watch the sunset are Lipa Noi Beach, Taling Ngam Beach or Nathon Town Beach.
They are all located on the island's west coast so they face the setting sun.
This side of the island is also far less touristy than the east side, so you'll most likely have the beach to yourself except for a few locals.
On a similar note, head to any beach on the east side of the island for a spectacular sunrise view!
22) Try a Fruit Carving Class
If you've ever been to any sort of fancy hotel or restaurant in Thailand, you may have seen incredible art displays made entirely out of fruit.
The art of fruit carving is a traditional Thai skill that originated in the decoration of events for the Thai royal family.
Fruit carving is more accessible these days, but it is still considered a respectable skill.
You can take a fruit carving class at the Samui Institute of Thai Culinary Arts, where professionals will teach you how to carve beautiful designs into fruit and vegetables.
This is a very hands-on experience, and you are sure to learn a lot about this traditional form of Thai art.
Location: Samui Institute of Thai Culinary Arts, 46/6 Moo 3, Chaweng Beach, Borphut, Koh Samui, Surat Thani 84320
Cost: 2,500 Baht for a full day fruit carving class
Koh Samui Travel Guide
Now that you know what to do in Koh Sumai, we want to help you make your other plans as well by sharing the best accommodations and places to eat in the city.
Our Favourite Local Tour Guide – Mr Pek
On my most recent trip to the island in 2023, I had the chance to explore the place and do some airport/ferry transfers with a fantastic local, licensed tour guide, Mr. Pek.
Mr Pek has speaks excellent English, owns a really nice, air-conditioned modern car, and has extensive knowledge of the island.
Trust me when I say Mr. Pek is the perfect guide to take you to both the popular tourist spots and the secret, hidden gems of Koh Samui.
He's more than happy to teach you about the island's rich history, take you to indulge in delicious local cuisine, and find the most breathtaking views.
He also does airport, hotel and ferry terminal transfers and is very reliable.
Whether you're interested in visiting waterfalls, temples, lounging on a secluded beach, or just need a ride from a friendly, honest and hard-working local guide, Mr. Pek has got you covered.
Don't hesitate to get in touch with him for an unforgettable adventure on this beautiful island. His official company name is ViVa Tour.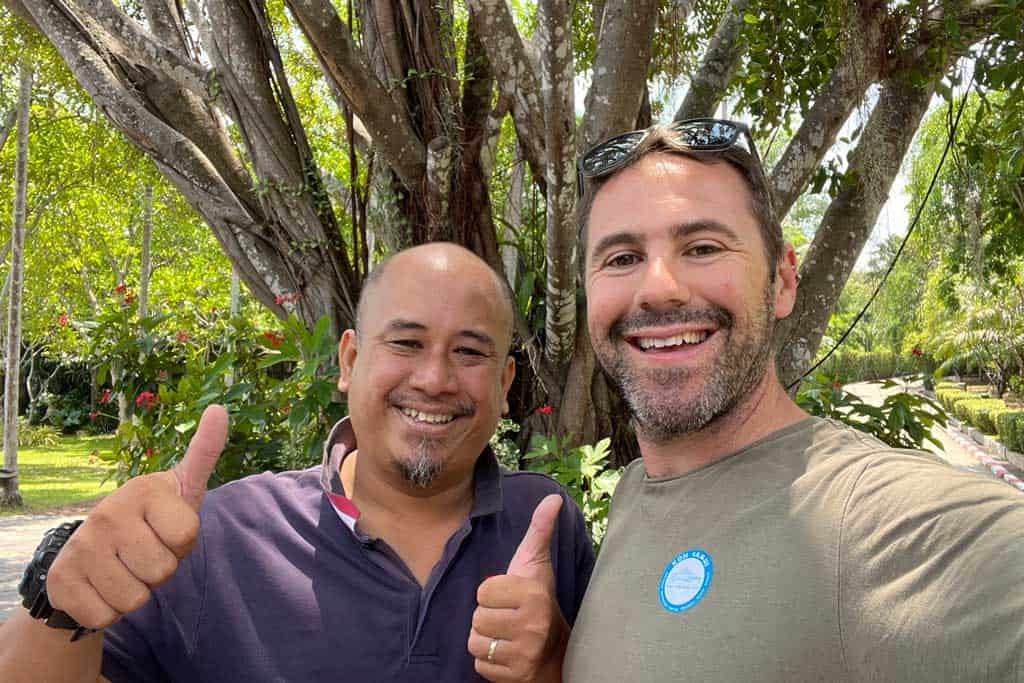 Accommodations in Koh Samui
After learning the best things to do in Koh Samui, consider where you are going to stay.
Despite the island's reputation as being a bit expensive and catering only towards luxury travellers, Koh Samui has plenty of budget and mid-range accommodation options as well.
Budget: Timeless Hostel
Stay in Timeless Hostel if you want to save money and stay right in the middle of the action.
Just a short walk from Chaweng Beach and close to all the nightlife and entertainment of the Chaweng neighbourhood, there is plenty to do here and lots of fellow travellers to hang out with.
The hostel has a cozy common room that is great for socializing, and all the usual amenities like free wifi, hot showers, city maps and a travel desk to help you plan your adventures.
It costs only 10 USD per night for a dorm bed and 30 USD per night for a standard private room.
Mid-Range: Promtsuk Buri Hotel
For a feeling of luxury that doesn't break the bank, Promtsuk Buri Hotel is perfect.
Located only 80 meters away from the small, private Silver Beach, and just 2km away from the gorgeous but peaceful Lamai Beach, this part of the island is quiet yet full of things to do.
Guests rave about the helpful and friendly staff and the clean rooms, so travellers should have all their needs taken care of during their stay.
This three-star hotel offers free breakfast for guests as well as airport transfers and tours available.
There are only 17 rooms here, so it is smaller and cozier than your average hotel.
You can get private bungalows near Lamai Beach for a really good price!
Luxury: Cape Fahn Hotel
Without a shadow of a doubt, the best luxury hotel on Koh Samui is Cape Fahn Hotel.
This boutique 5-star resort is found on a private island just a short boat ride away from Choeng Mon Beach.
Every one of their award-winning villas comes with its own private infinity pool, so you can sip a cocktail in peace while staring out at the ocean below.
We wrote a full Cape Fahn Hotel review which you can check out. Make sure you book ahead of time though, as this is also the number one spot for celebrities to stay,
What to Eat in Koh Samui
There are plenty of places to taste traditional Thai cuisine in Koh Samui.
Here are a few recommendations for some restaurants that have either budget, mid-range or expensive menu prices.
Budget – Om Noodle Soup
For a super cheap and authentic local meal, visit Om Noodle Soup in Bophut, the Fisherman's Village.
This restaurant is very localized, with a short and simple menu. But the delectable noodle and rice dishes are super cheap so it's great for budget travelers.
Mid-Range – The Jungle Club
The Jungle Club is a moderately-priced hilltop restaurant with a stunning view over Chaweng beach.
Eat delicious classic Thai food or international cuisine while relaxing in comfy bean bag chairs atop their classy wooden deck.
Luxury – Height Restaurant
Head out to the Height Restaurant located on a rocky headland on the east of the island, as part of Silavadee Pool Spa Resort.
The fine-dining restaurant is named because it is set up high so you get a lovely view, and there are plenty of nice wines and cocktails to accompany your modern Thai meals.
DISCLAIMER: Some of the links in this article are affiliate links, which means if you book accommodation, tours or buy a product, we will receive a small commission at no extra cost to you. These commissions help us keep creating more free travel content to help people plan their holidays and adventures. We only recommend the best accommodations, tours and products that ourselves or our fantastic editorial team have personally experienced, and regularly review these. Thanks for your support, kind friend!