From rock climbing to spa treatments, kayaking to relaxing in hammocks, the list is almost never-ending for the best things to do in Ao Nang.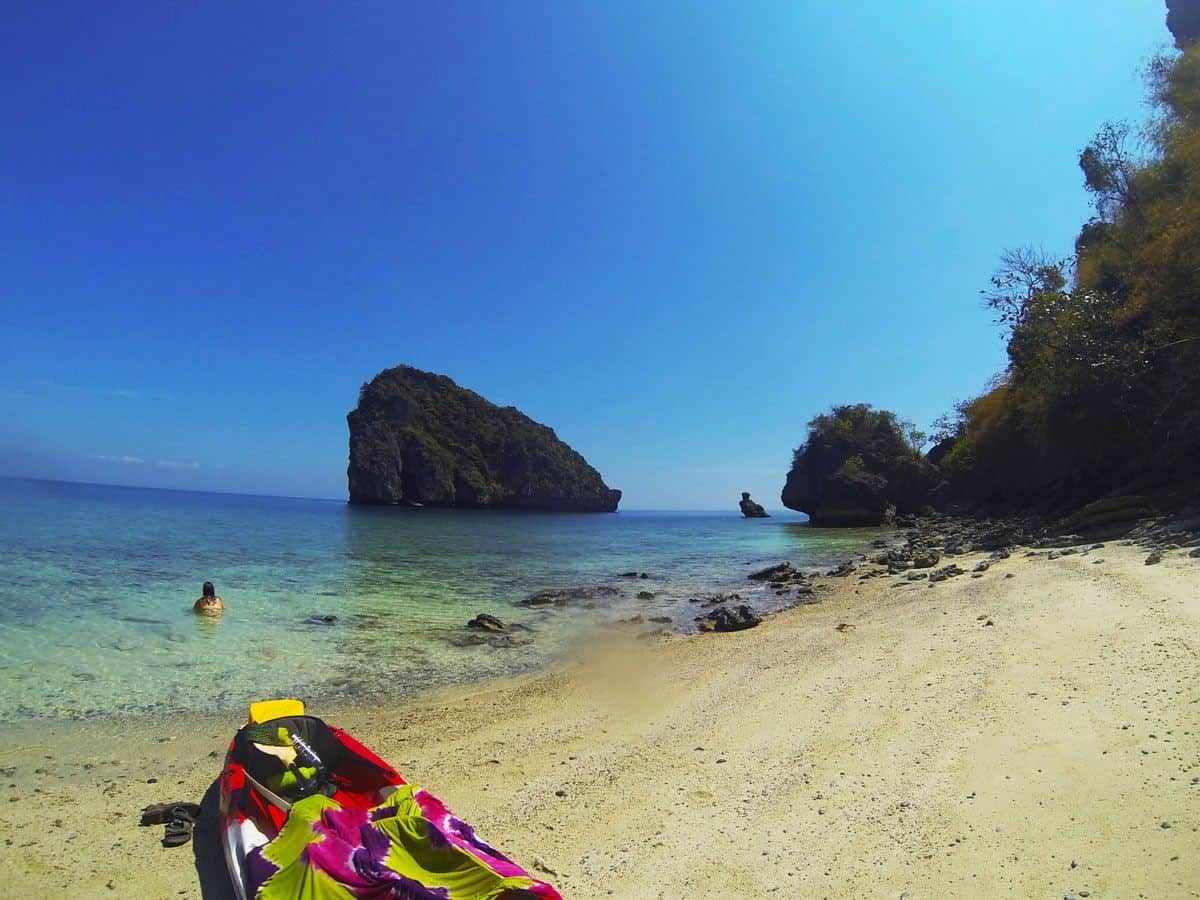 The Best Things To Do In Ao Nang
The first time we came to Krabi we decided to stay in Tonsai. This secluded beach on the Thai mainland is a rustic destination, great if you want to climb and sit around drinking happy shakes.
For our return to the area, we decided to base ourselves in a more easily accessible place. And with the huge variety of things to do in Ao Nang, it was an easy choice to settle here for a week.
While the town itself is quite busy and without character, the real beauty lies in the cliffs and jungles around.
Here is our list of the absolute best things to do in Ao Nang!
1) Rent A Kayak
Krabi is filled with hundreds of beautiful beaches, tropical islands and secret coves, and the most fun and affordable way to visit them is by kayak.
You can rent 1 and 2 person kayaks in Ao Nang for between 500 and 1000 THB a day. Use them to either paddle out to Tonsai and Railay, or if you are feeling really active you can go all the way to Chicken Island.
The islands off in the marine park are absolutely stunning, and because most people visit on a tour they are very quiet outside of mealtimes.
We kayaked out and found our own private beach, surrounded by jagged cliffs and jungle. One of the most amazing things to do in Ao Nang!
2) Go Trekking
If you are like us and love to go trekking, then Ao Nang has tonnes of great options.
While there aren't too many options of multi-day hikes like in Chiang Mai or Tiger Leaping Gorge, it still has lots of beautiful jungles and viewpoints to wander though.
You can find tour agencies offering hiking tours and other things to do in Ao Nang, or you can choose to do it yourself.
The most popular option for hiking in Ao Nang is to climb Hang Mak Mountain. It's quite strenuous, but you will be rewarded with insanely epic views. The view is an Ao Nang must see!
READ MORE: Check out our updated ultimate Guide to Visiting Thailand!
3) Snorkelling And Scuba Diving
It would be a shame to come all the way to Southern Thailand and not spend a bit of time admiring the world underneath the surface.
Scuba diving in Ao Nang is a popular past time, and there are plenty of dive companies that can either get you certified (we recommend PADI), or take you out for some fun dives if you are already qualified.
If you are a bit unsure with scuba diving, then grab a snorkel and mask and go for a swim (or join a tour). A very relaxing option of things to do in Ao Nang.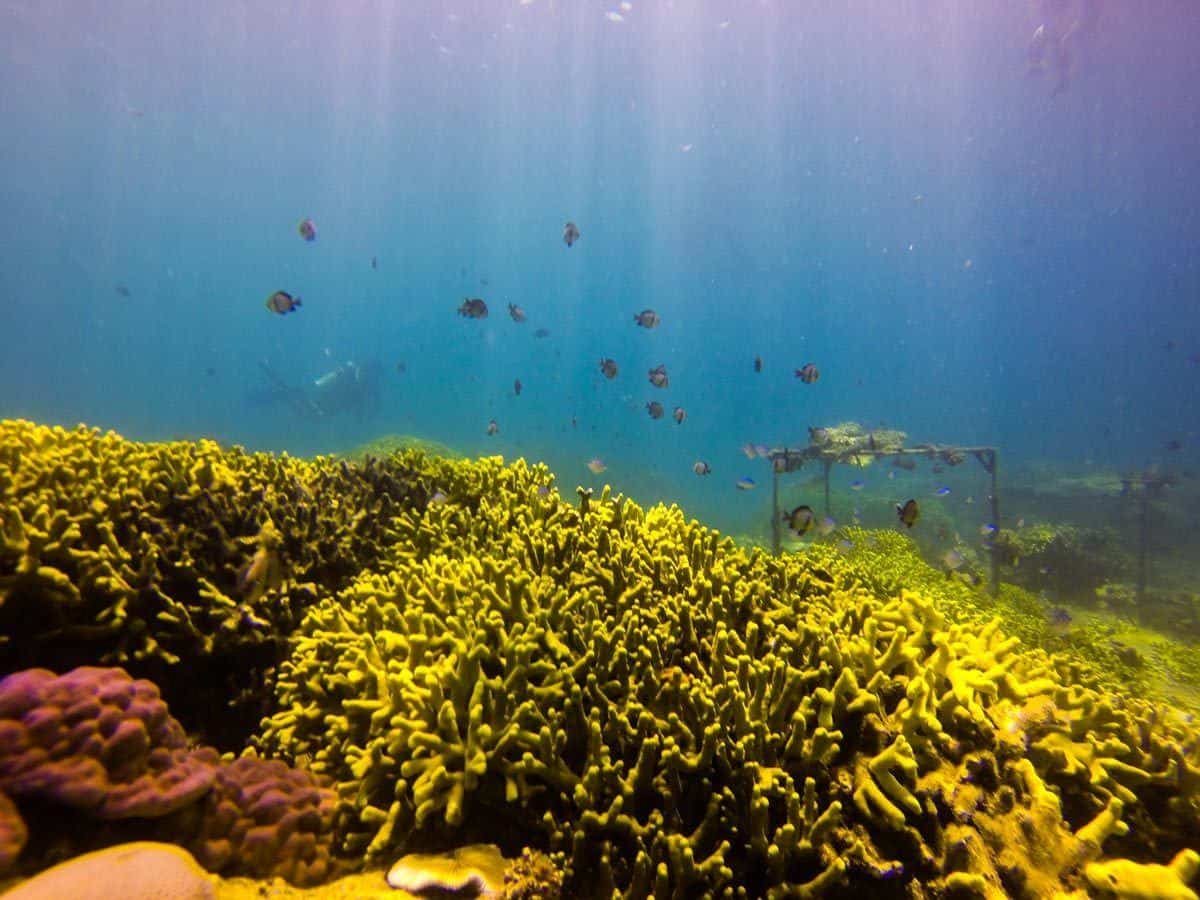 4) Rock Climbing
The limestone cliffs of Krabi are famous for having some of the best rock climbing in Southeast Asia.
While most of the crags and routes are around Railay and Tonsai, you can find a few good ones in Ao Nang and close to Krabi Town as well.
If you are a complete beginner there are plenty of excellent rock climbing schools to help you learn the ropes. Select from a half-day excursion right through to week-long courses.
One of the other amazing rock climbing opportunities on the islands around Ao Nang is "Deep Water Soloing".
This activity has you climbing cliffs that hang over the water, without ropes. You basically climb as high as you want and then jump back into the sea. A huge adrenaline activity for things to do in Ao Nang!
5) Island Tours
If boating around to lush tropical islands is your idea of a good day out, sign up for one of these excellent tours.
Leaving in the morning you jump in a speedboat or longtail and visit a bunch of different islands. You will check out some secluded beaches, do some snorkelling and may even get a chance to see some monkeys and other wildlife.
You can choose to island-hop on speedboats or slower longtails (depending on your budget), and visit a variety of places. Lunch on a beach is usually included.
Expect to pay between 400 and 1500 THB, depending on the type of island tour you want to do.
There are many places to visit in Ao Nang, so rent a speedboat and go island-hopping!
6) Watch A Muay Thai Fight
You can hear the trucks driving up and down the street all day, loudspeakers announcing "Muay Thai, Friday night!"
A Thai boxing match is one of the most action-packed events you can see in all of Southeast Asia. Muay Thai is fast, hard-hitting and an amazing spectacle.
You can pick up tickets to watch the Muay thai in Ao Nang from most hotels and any of the tour agencies. Or even better, take a 90-minute Muay Thai lesson with a professional fighter.
Even for non-sports lovers, a Muay Thai fight is one of the things to see in Ao Nang!
READ MORE: Be sure to check out all of the fun things to do in Tonsai Beach!
7) Get A Thai Massage
If you have never had a Thai massage before, you are in for a real treat.
Rather than being the typical form of relaxation massage that many people are used to, a Thai massage twists and pulls your body in ways that make you feel born again.
If you have sore or tense muscles then a Thai massage is one of the best ways to loosen them up.
And at an average price of US$8 for an hour, it is ultra-cheap as well! If you have an hour to spare and are looking for things to do in Ao Nang, this is the option you should go for!
8) Ziplining
Imagine soaring above the jungle canopy, reaching speeds of up to 45km/h.
Monkeys are swinging beneath you and limestone cliffs come within feet of your flying body.
Adrenaline is pumping through your veins and for a very brief moment, you have never felt more alive.
You probably weren't thinking of zip lining when you were dreaming of what to do in Ao Nang.
Ziplining is incredibly fun, and safe, action activity. Ao Nang has a number of zip lining companies, such as Hollow Mountain.
If you're like us and can never get enough fun, then don't miss ziplining when you are thinking of the best things to do in Ao Nang.
9) Andamana Beach Club
Just 15 minutes from town is the funky and chilled Andamana Beach Club – an absolute must if you are looking for things to do in Ao Nang.
Located on the edge of a bay with jungle and cliffs all around, the Andamana Beach Club is like a rustic playground plucked from the set of a Robinson Crusoe movie.
Twisted and bent trees stretch out over the sea with hammocks strung between the branches. The sandy beach almost disappears at low tide, but all that does is add to the isolated feel of the place.
Basically you just spend your days sipping on cocktails and laying around. Absolutely perfect in our opinion
Alisea Boutique Hotel and Ao Nang Cliff Beach Resort run free transfers for their guests, or you can take a taxi out to Andamana Beach Club.
We actually came here twice we enjoyed the vibe so much. And to make things even better the wifi is fast and the food is some of the best we have ever had!
Try the massaman curry, but be warned – you will never find another one as delicious again. You can't go without trying it, it will complete your Ao Nang sightseeing experience!
Address: 10 5, Soi Krabi 11, Sai Thai
Opening hours: every day from 10 AM – 7 PM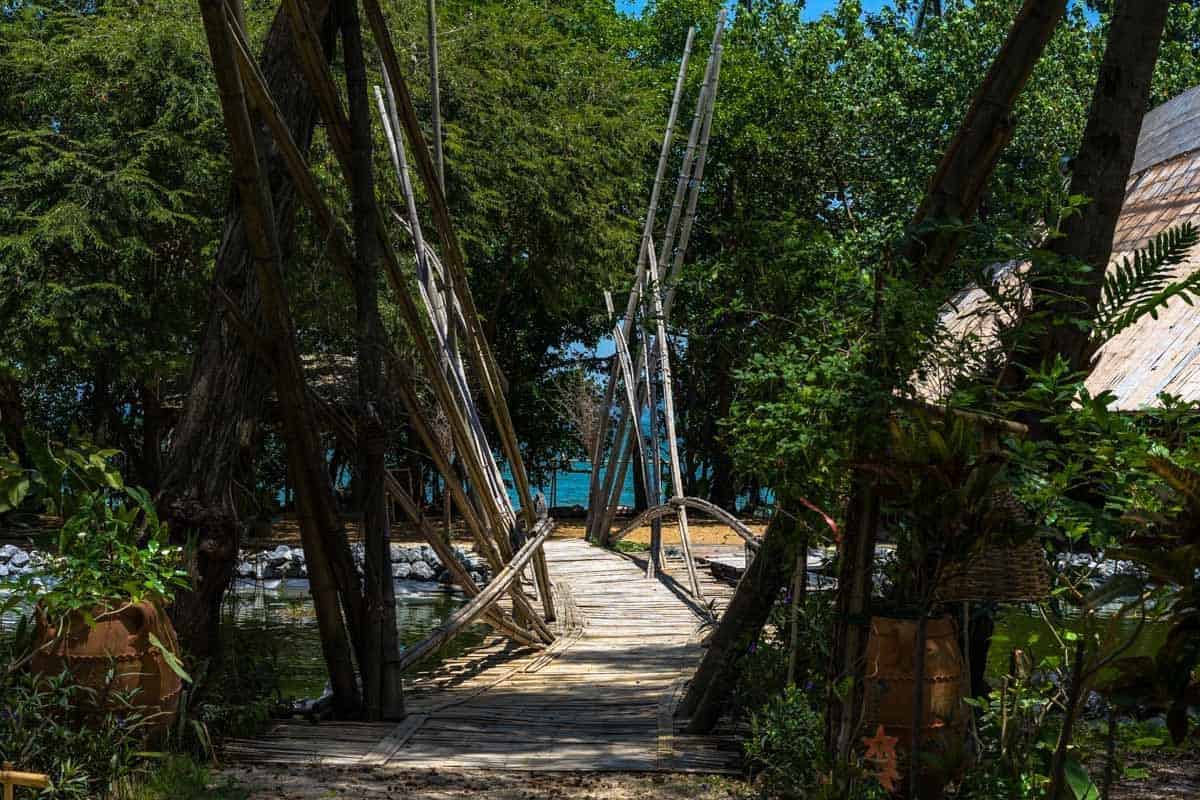 10) Enjoy The Nightlife
Southern Thailand is famous for its nightlife, and Ao Nang is no exception. While it might not pack the heavy-hitting bars and clubs that Koh Phi Phi and Phuket have, Ao Nang still has quite a few happening places to check out.
Amy's Bar is packed out on a weekend, and Roots Rock Reggae Bar is always a bit of fun. But if you want to find the centre of it all, you need to go to Ao Nang Centre Point.
Lady Boy shows, pole dancing, buckets of alcohol and cranking music, you always know it's going to be a good night out in Ao Nang!
Ao Nang Travel Guide
Thailand is a beautiful country and we're sure you can't wait to start your adventure! Traveling to another country always includes lots of research on tourist attractions and finding the perfect accommodation. We've created this list to help you get started!
Where To Stay In Ao Nang
Ao Nang isn't exactly the cheapest place in Thailand, and it can be pretty hit-or-miss depending on your budget and where you choose.
Still there are some great accommodations options on HostelWorld for young backpackers (if you want to party we definitely recommend Slumber Party Hostel), or if you are a couple of are after something a bit nicer check out the options on agoda, where you can get something for less than $30 a night quite comfortably.
Readers of NOMADasaurus get an exclusive 10% off your accommodation on agoda! Just use this code at checkout: AGODANMD10
For us we spent three nights in the Alisea Boutique Hotel and couldn't have been happier!
Alisea Boutique Hotel
The Alisea Boutique Hotel boasts a trendy design that merges Moroccan influence with a traditional Thai style. White-washed stone walls are featured throughout, and it really distances itself from the typical hotels you get in the area.
With only 34 rooms it is far removed from the larger resorts in Ao Nang, but that's the way we like it. Alisea has a much more personal feel and it's easier to get to know the other guests who are staying there.
When you first walk in you notice just how spacious the design of the hotel is. The lobby is spread out with couches and tables to relax at, and the backroom has a computer for the use of the guests, and more enjoyably a pool table.
A buffet breakfast is served every morning in the adjoining restaurant, which turns into a tasty Italian joint known as Umberto's in the afternoons and evenings.
A gorgeous infinity pool makes up a huge portion of the second floor, and it has a bar with friendly staff that are only too happy to keep the cocktails flowing.
Trust us, when you are here in summer and the humidity is stifling, you will spend a lot of hours at the pool!
If you are the kind of person who likes to get massage or spa treatment then head to their top floor for a taste of relaxation and luxury.
We tried out their Thai massage and head, shoulder, back option, and absolutely loved it. The masseuses are highly-trained and experienced.
But for us the real winner was our epic bedroom. Stretched over two floors, the room had just the right amount of character to make you feel at home, without being stale like many high-end hotels.
With a fridge, safe, large bathroom and sitting area, the bedroom was spacious and comfortable. Of course, there was a TV as well, not that we turned it on, but it's there if you want it.
Head upstairs (that's right, our room had an upstairs section) and you are taken out to a huge balcony with your own private outdoor bathtub.
Pure heaven while staring out at the mountains in the distance. And if you get caught up in a storm, definitely jump into the bath to enjoy the show!
If you are looking for a touch of character, luxury and class, without breaking the bank in Ao Nang, then definitely check out Alisea Boutique Hotel.
Pin It For Later
DISCLAIMER: Some of the links in this article are affiliate links, which means if you book accommodation, tours or buy a product, we will receive a small commission at no extra cost to you. These commissions help us keep creating more free travel content to help people plan their holidays and adventures. We only recommend the best accommodations, tours and products, and regularly review these. Thanks for your support, kind friend!