From the famous Pai Canyon to the hot springs and funky cafes, here is our list of 17 of the absolute best things to do in Pai, Thailand.
Arguably one of the best places in Northern Thailand, the hippy enclave of Pai has been drawing backpackers and alternative types for years.
Located 135km from the city of Chiang Mai, at the end of a twisting road with 762 curves, this gorgeous and quaint little village is the kind of place you show up for a day and stay for, well forever.
There are natural hot springs, waterfalls, markets, plenty of backpacker hostels, and more. It is easily reachable from Chiang Mai, which is a popular spot to visit in northern Thailand.
While Pai is well and truly located on the beaten path now, that doesn't mean that you should skip this incredible place that has a reputation for being like a "Thai island in the mountains".
The Best Things to Do in Pai, Thailand
We have spent over a month in Pai, spread out over a couple of years.
When we first checked it out it was when we were riding the Mae Hong Son Loop, one of the best motorbike circuits in Southeast Asia.
We kept coming back again and again and recently spent another week chilling in our favourite place in northern Thailand.
There are dozens of incredible activities in Pai, but we've managed to narrow it down to these ultimate activities.
From what to do, where to go, and even where to stay, here's our list of the absolute best things to do in Pai, Thailand.
READ MORE: Check out our ultimate guide to travel to Thailand!
1) Explore Pai Canyon
Known as Thailand's answer to the Grand Canyon (a very ambitious claim), Pai Canyon covers a large area that offers some brilliant views and fun hikes.
If you are feeling very active you can scramble all the way down and spend hours climbing and getting lost in nature.
It's a bit of an adventurer's playground too because some of the paths are quite skinny and sketchy, so make sure you wear good shoes if you are planning on exploring Pai Canyon properly.
A favourite pastime is enjoying the sunset with a beer in hand, watching the sky change to an astonishing array of colours.
You won't be alone for sunset, but that just adds to the awesome atmosphere!
Get there to Pai Canyon by riding your scooter out of town back towards Chiang Mai.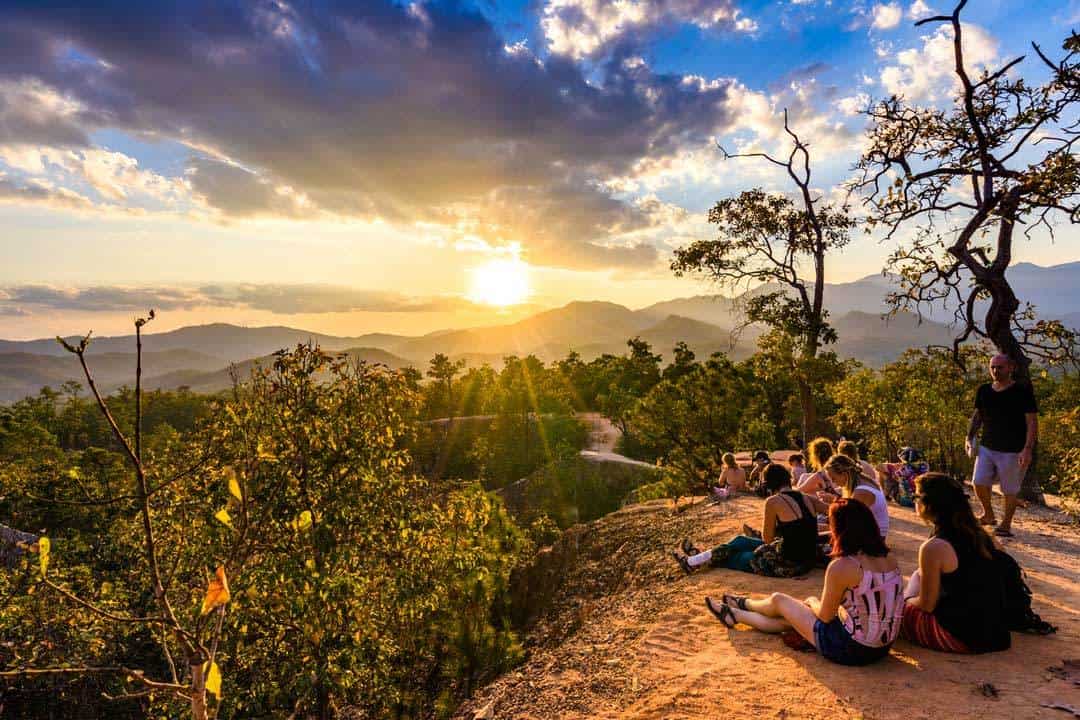 2) Wander Pai's Walking Street Night Market
Every night the main street of Pai fills up with street food vendors and market stalls selling everything from your quintessential hippie clothing and jewelry to personalized postcards.
Even if you're not into shopping though, you still need to spend just about every night making the most of Pai's Walking Street, especially if you're hungry.
The selection of street food is quite varied; sushi, Indian food, barbecued meats, fresh fruit smoothies, and deep-fried everything. You certainly won't go hungry!
Everyone ends up at the night market most nights so the people-watching is great. Just watch out for first-time scooter riders who have no concept of how to drive. Entertaining, but dangerous!
Hot tip – Crashing a scooter is not one of our recommended things to do in Pai!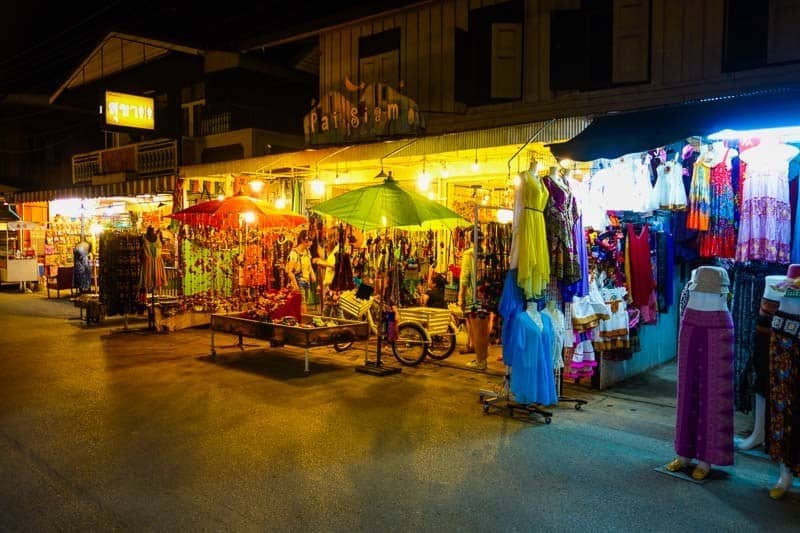 3) Visit the Pam Bok Waterfall
Pai has a number of awesome waterfalls to visit, which is perfect because the area can get pretty hot during the day! What better way to cool off than visiting the two best ones!
One of our personal favourites is the Pam Bok Waterfall, located a short scooter ride from Pai. It's a little more secluded than its more popular alternative (more on that below), so definitely don't miss it.
Pam Bok Waterfall is tucked away beneath some high cliffs, so it is often covered in shade for most of the day. As a result, the water is quite refreshing, but that means you could have the pool to yourself.
There are also a couple of ledges you can climb to jump off. Be sure to check the water depth before taking the leap! Safety first kids.
READ MORE: Here's our new list of the best places to visit in Thailand!
4) Hang Out at Mo Paeng Waterfall
The other most popular falls to visit in Pai is the Mo Paeng Waterfall, and this is our personal favourite.
At Mo Paeng Waterfalls there are great little pools with long, slippery rock faces running into them that you can slide down.
The scenery is gorgeous and it makes for a fun place to spend a few hours.
Our recommendation for what to do in Pai is to rent a scooter from town and spend exploring these epic little spots on your own.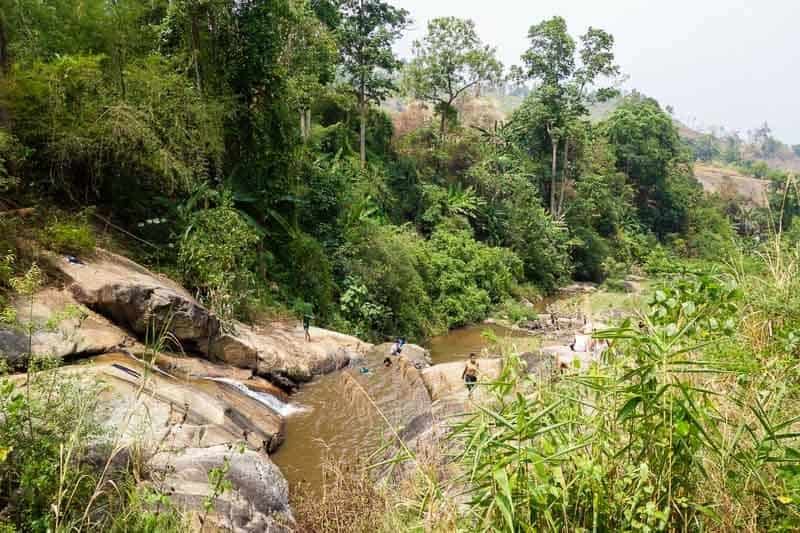 5) Soak in the Tha Pai Hot Springs
For a relaxing afternoon when you visit Pai, head to the Tha Pai Hot Springs. Only 7km from town, a cold-water stream flows over boiling-hot rocks to create a soothing, heated pool surrounded by lush scenery.
Tha Pai Hot Springs are the perfect way to kill a few hours in the winter months when temperatures in Pai can plummet.
You'll find lots of other backpackers hanging out and having a good time at the hot springs, so there's a good chance you'll make some friends there too.
This is one place we didn't visit due to the fact we were there in summer and the weather was already roasting. But if you are there in the cooler months, don't miss these amazing hot springs!
Sai Ngam Hot Springs are another amazing option. While Tha Pai Hot Springs are south of the town center, Sai Ngam Hot Springs are a 25 minute drive north.
Both are easily accessible from Pai and make for an incredible, relaxing day.
6) The Land Crack (Land Split)
Situated on the road to the Pam Bok Waterfall, the famous Pai Land Split is definitely worth a stopover.
A small property hidden in the hills had always been a working farm until a strange natural phenomenon changed everything.
Several years ago, the farmer's land began to split and crack due to some strange soil erosion. His property became unusable as the land turned into a scene you would see after an earthquake.
The thrifty farmer then decided to turn his property and land split into a bit of a tourist attraction where he now offers you nuts, fruit, sweet potato, fresh rosella juice, and alcohol – all by donation!
Once you've filled up on food (he constantly brings you more to eat), you can walk up the hill to have a look at the Land Split.
The family is very friendly and is just happy to have people stopping by. Definitely one of the most unique things to do in Pai.
Entrance Fee: Free of charge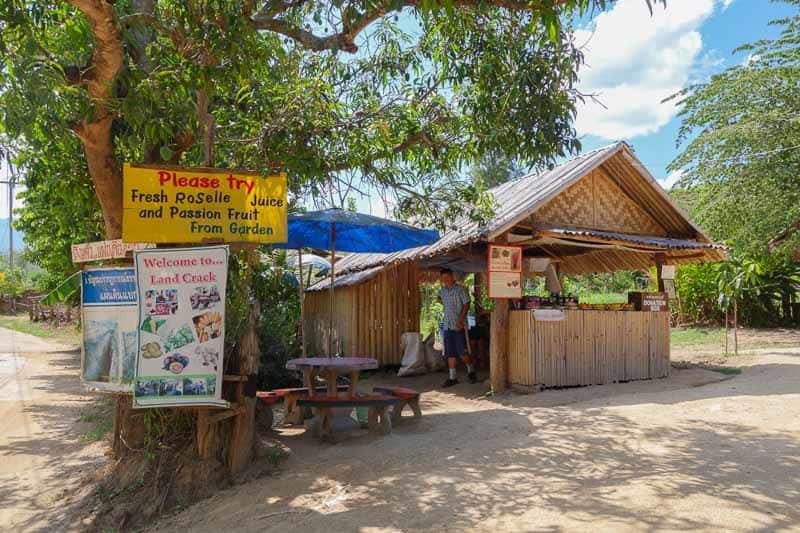 7) Learn to Ride a Scooter
There's no denying that Pai is one of the best places in all of Thailand to ride a scooter.
The quiet roads, beautiful scenery and lack of public transport makes it the ideal mode of transport.
There are many things to see in Pai, and getting around on a scooter is a fun and efficient way to do so!
If you've never ridden a scooter before then the lack of traffic makes Pai a perfect place to learn.
There are a number of shops in town that rent scooters for reasonable rates (usually around $5 per day), and then you just have to get yourself some fuel.
We recommend filling up at the petrol station in town for the best prices.
Once you have your bike and a full tank of petrol, all that's left to do is ride off into the sunset with the wind in your face!
Note – Riding a scooter is potentially dangerous, so always ride within your limits (go slow, especially around corners if you're not experienced), wear closed-toe shoes, and always wear a helmet.
If you wish to travel in comfort, then get your own driver and tour guide for a day!
Price: around 150 baht/per day
8) Visit The White Buddha On Top Of The Hill (Wat Phra That Mae Yen)
Wat Phra That Mae Yen, also known as the White Buddha, is one of the top things to see when you visit Pai.
You can see it from most places in town, and the White Buddha high on the hill isn't only a religious shrine, it also offers some of the best views over Pai!
Once you cross the bridge heading out of town keep following the road until you are about 2km out of town, and you'll see the path to the top.
There are 353 steps to reach the White Buddha, and while it might be tiring, the vistas from the top are always worth it.
Time your trip to be at the top for sunset and you'll quickly fall in love with the entire valley changing colours right before your eyes.
Make sure you take water with you, and even though the temperature can be hot keep in mind that you still need to show respect to Buddha by covering up.
It's difficult deciding what to see in Pai, but the Wat Phra That Mae Yen is a Pai must-see!
Opening hours: 6 AM – 6 PM
Entrance Fee: Free of charge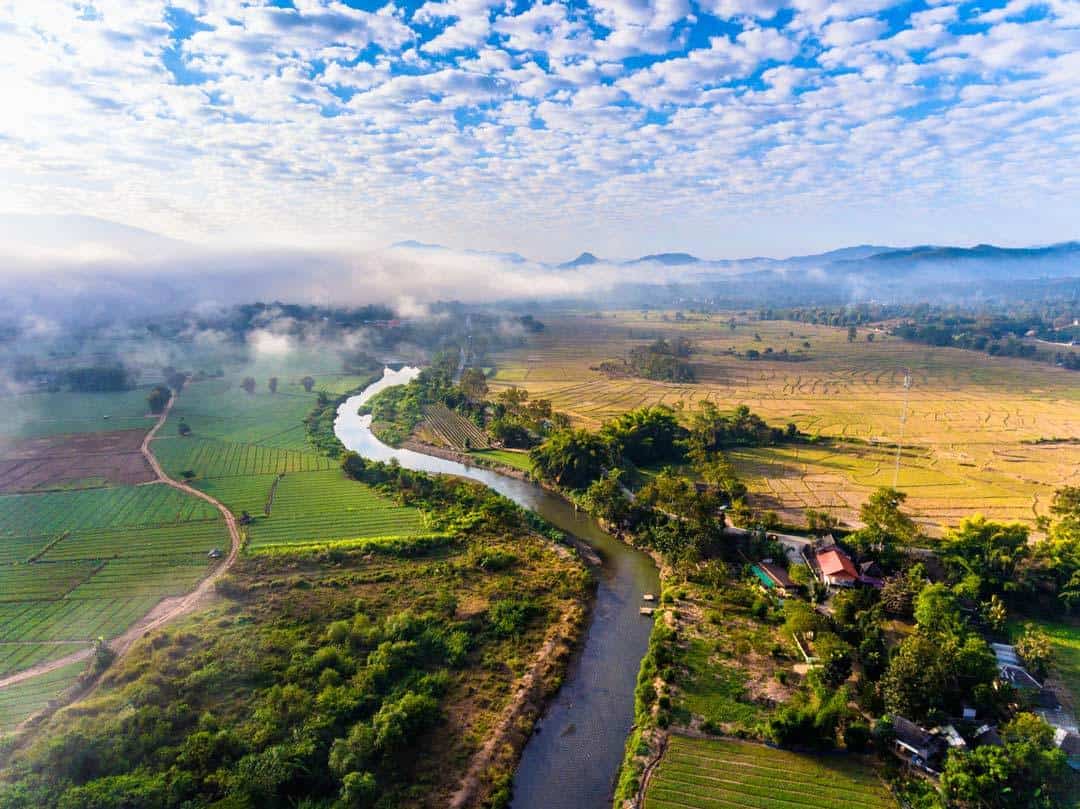 9) Go Tubing Down the Pai River
The Pai River hosts the best Pai activities – tubing!
If you've never been tubing before then you're in for a real treat. Basically all it requires is one big inflatable tube, your bathers, and a sense of adventure.
You head upriver with a bunch of friends and push yourself out into the water. Then you kick back and let the current take you back to town. The entire experience will take about an hour.
This is definitely one of the best things to do in Pai Thailand, especially on a hot day. Rent a tube from one of the tour companies in town for less than $10, including transport to and from the river.
10) Pai Circus School
In a bohemian community, everyone seems to practice different forms of entertainment such as fire dancing, juggling, and slacklining. Here in Pai, there is a school you can attend to learn all these skills yourselves!
The cost is 600 baht as a one-off membership fee and then you are free to join in on the lessons from experienced teachers in all the finer points of poi, staff, juggling, diablo, and anything else you might be interested in.
It is located in a beautiful elevated setting with views over the valleys and excellent gazebos you can relax in if you don't feel like partaking in the activities.
Over the years they have worked hard to upgrade the facilities on the site, and it's much nicer today than it used to be.
The Circus School also has some accommodation on the site, and if you stay there you can make the most of all the classes as well.
11) Make the Most of Pai's Nightlife
For a small town, there are a lot of awesome bars and clubs to party the night away! Yep, Pai's nightlife is infamous.
If you're looking for a truly epic night out, then head to Boom Bar. This is the place to be for backpackers, and with cheap cocktails, a beer pong table, and pumping music, it's a guaranteed fun night out.
Almost Famous Bar is a great spot to ease into the evening, as they have great cocktails. Another fun spot is the Mad Monkey Hostel.
Jazz House has more of a chill vibe with live music. Come here to eat, drink, and relax listening to some local artists.
Want an all-nighter? Then head to Don't Cry Bar. Loud music, strong drinks, and tonnes of party animals…
(Don't Cry Bar is temporarily closed due to COVID. But it hasn't shut down for good, so keep an eye on the Facebook page to see if they reopen)
Boom Bar
Address: 139/2 Pai, Pai District
Opening hours: 6 PM – 12 AM
Jazz House
Address: 24/1 moo3 viengtai Pai District
Opening hours: 7 PM – 11 PM Thursday – Saturday
Almost Famous Bar
Address: 62/2 moo 3 Viengtai Mae Hong Son
Opening hours: 5 PM – 12 AM
12) Check Out the Tham Lod Caves
Not exactly located in Pai, but instead, in a town 35km headed towards Mae Hong Son, there is a spectacular limestone system known as Lod (Spirit) Caves.
A river flows through the caves and you can hire a guide to float through them on a bamboo raft.
At certain points, you can climb upstairs and ladders to explore the stalactites and stalagmites up close as well as the numerous ancient ceramics and wall paintings that are scattered throughout the complex.
Definitely worth the drive/ride out there.
If you want an even more in-depth experience for caving near Pai, check out this epic full-day caving and spelunking tour by Pai Adventures.
13) Go Whitewater Rafting
One of the newest activities for what to do in Pai is going whitewater rafting, and if you're looking for an adrenaline rush then this is the one for you.
You can choose to do a one-day tour or even a two-day tour, charging down class 3 rapids in a purposefully-designed whitewater raft.
Pai Adventures also has rafting tours that you can book where all the gear and instructions are included.
14) Visit the Santichon Chinese Village
Just outside of Pai is the village of Santichon Village, an ethnic-minority Chinese Yunnan village founded by people who moved from north of the border during the revolution.
These days it's set up as a bit of a cultural exhibition, and while it might seem slightly touristy, it's well worth a visit if you'd like to get an inside look at a different culture and try some different food.
Yunnan cuisine is quite delicious and the people are friendly here. You can get out to Santichon by renting a scooter and riding the short 5km to the village.
15) Spend Time in the Unique Cafes
One thing that Pai does not lack is amazing cafes serving up delicious coffee and food. Most of them have interesting decors and amazing ambience and are a great way to while away the day.
You could easily spend a week here and not visit the same place twice! Dedicate some time to exploring all the cafes, both in town and on the outskirts.
Our personal favourite is Container Cafe just outside of Pai. It has cool chairs, delicious coffee and snacks and awesome views over the farmland below.
Container Cafe
Address: Thung Yao, Pai District
Opening hours: every day, from 10 AM – 6 PM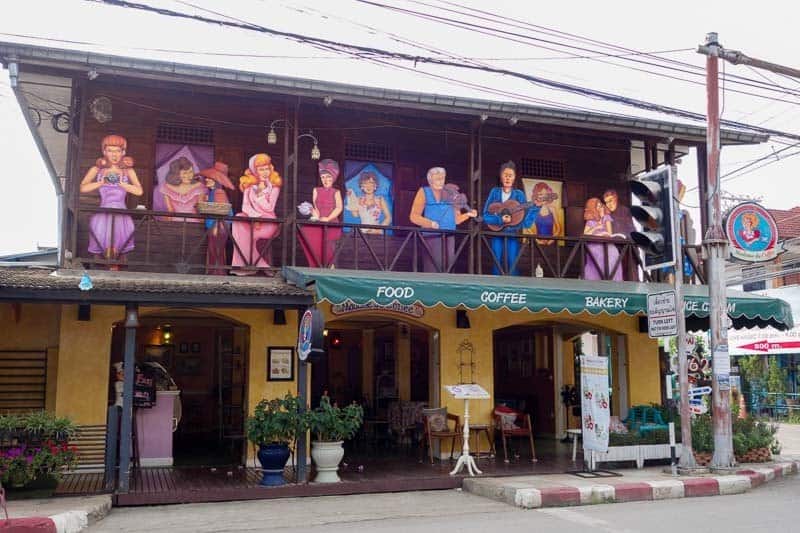 16) Do Some Yoga
If you're feeling pretty sore after all the partying and waterfall jumping in Pai, then you should treat yourself to some yoga classes.
For such a cool hippy town, it's no surprise that there are a bunch of yoga schools attracting spiritual types and anybody just looking to stretch their muscles out.
The most popular one is Sawasdee Pai Yoga, and they have two classes a day (9:30am and 5pm), and they will set you back 200 Thai Baht.
You'll find them on the Pai River.
17) Chill in a Hammock
When you spend your days actively exploring everything Pai has to offer, it is only normal to need a break. Luckily Pai is one of the most relaxed places you are ever likely to visit.
Watch the hours fade as you laze about in a hammock, reading a book or watching the world pass you by.
Many accommodation options have great views over the valley or by the river. Be sure to choose one of these and enjoy the vistas! Definitely one of the best things to do in Pai!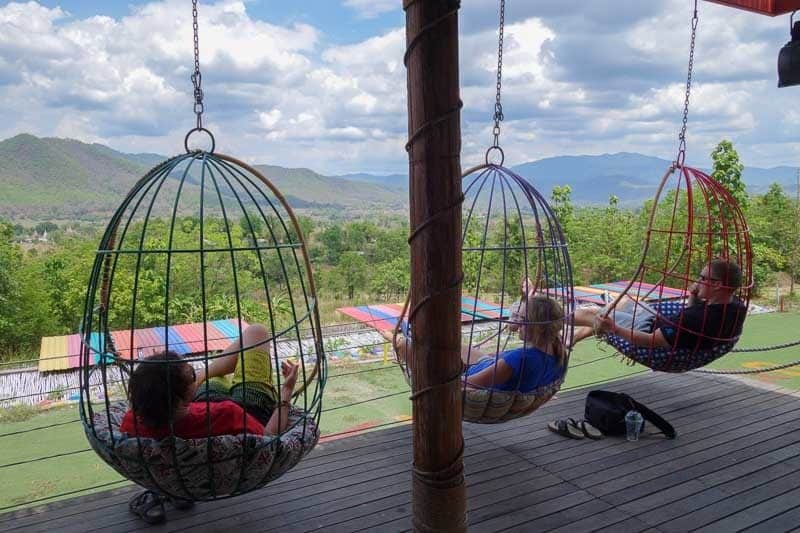 Disclaimer – In previous versions of this article we listed visiting Thom's Elephant Camp as one of the best things to do in Pai. While we always discouraged anyone from riding an elephant, we used to give everyone a chance to make their own decisions. Since then we have received reports that Thom's is not as wholesome as it used to be, and as such we have removed it from our list and want to warn others not to visit Thom's Elephant Camp.
Pai Travel Guide
To help you make the most of it when you visit Pai Thailand, we've put together this epic little Pai travel guide for you.
If you're wondering how to get there, where to stay and what to eat after you've tackled all the awesome things to do in Pai, this is the guide for you!
How to Get to Pai Thailand
There's a number of different ways to get to Pai, and it depends on your budget, style and where you're coming from.
Most people travel to Pai from Chiang Mai, and often return the same way. There are three options to get to Pai from Chiang Mai.
Fly
If money isn't an option, and time is, you can take a flight from Chiang Mai to Pai. It's definitely not the cheapest option, but you'll be there in no time.
Shuttle Bus
The most common way for people to get to Pai is to take a shuttle bus from Chiang Mai, and while these are fairly cheap and quick, they are also a bit crazy.
The road from Chiang Mai to Pai has 762 curves on it, and zipping around those bends in a cramped shuttle bus can make everyone onboard nauseous.
Make sure you pick up some motion sickness tablets from a pharmacy in Chiang Mai first.
You can book your transport to Pai from any hostel or agency in Chiang Mai.
If you want to book it ahead of time though to ensure you don't miss a seat, the best place to do so is on 12go.asia.
Ride a Scooter
This is the best and most enjoyable way to travel to Pai, as you'll get the chance to really soak up the epic scenery along the route.
The fresh air in your face is a wonderful thing, and the road has been recently paved to be near perfect the entire way.
Leaving Chiang Mai is a bit of a hectic endeavour, but once you get into the mountains it's all fun and speed the whole way to Pai!
Please be very careful though on this ride from Chiang Mai to Pai. We have met dozens of backpackers who have crashed on this road, and in every instance, it was because they either got too cocky with their skills, or were inexperienced and had no idea how to ride.
This is our personal favourite way to get to Pai, and you can organize rentals from somewhere like Mr. Mechanic or Aya in Chiang Mai (Aya offers one-way scooter rental too).
If you're going to ride a scooter from Chiang Mai to Pai, make sure you have travel insurance.
Accommodation – Where to Stay in Pai, Thailand
Pai has got a great selection of places to crash, from luxury resorts to mid-range boutique hotels to dingy backpacker dives, and everything in between. There will certainly be somewhere to fit your budget!
The first time we visited Pai we stayed at two different places – Spicy Pai and Family Huts – and while they were good back then, the accommodation options have really improved in recent years!
Now you can stay somewhere quite nice on a budget, or really splash out and stay in some of the most incredible accommodation in the country.
Pai has also become a bit of a digital nomad hotspot, meaning if you are interested in long-term accommodation or private apartments and cabins there are quite a few options as well.
To find these check out AirBnB (and use this link to receive $35 off of your first stay).
As an even bigger bonus, we've partnered with the booking agent Agoda to give all of our readers 10% off of their accommodation around the world! Use the coupon: AGODANMD10 to get your discount.
The Best Hostel In Pai – DeeJai Pai Backpackers
The legends at DeeJai Pai Backpackers have been working hard to turn their humble abode into the best backpacker accommodation in Pai, and they've finally done it!
The dorm rooms are incredibly clean and spacious, and the common area is something to die for – gorgeous views over the rice paddies with some of the best sunset spots in Pai.
It's a great place to stay if you are on a backpacker budget.
Best Budget Accommodation For Couples – Pai Country Hut
At the end of the Walking Street and over the bamboo bridge is a collection of awesome accommodations.
When you get over the bamboo bridge on your right is Family Huts, where we first stayed when we came to Pai, but the last time we were there we decided to try the place on the left, and wow what a spot!
Pai Country Hut is run by an amazingly friendly lady and has an epic location right on the river.
The bungalows have private bathrooms, comfy beds and hammocks on the balconies, making them a great spot to rest at the end of a big day exploring.
They also have working wifi.
Grab some beers and chill out by the river in peace and quiet, and don't be surprised if you end up extending your stay there for longer than expected (we did!).
Best Mid-Range Hotel – Phu Pai Art Hotel
If you want a beautiful accommodation, but would rather sleep in more of a traditional hotel room instead of a bamboo bungalow, Phu Pai Art Hotel is the place to be.
It has stunning rooms with all the creature comforts you'd expect, including wifi in the rooms and a TV, and the property is absolutely gorgeous.
There's a large pool for those that like to chill out on those hot Pai days, and the restaurant serves excellent food.
It's a bit outside of town too, meaning it's very quiet and secluded.
Best Luxury Hotel In Pai – Reverie Siam Resort
When it comes to pure luxury there are a couple of options in Pai, but nowhere does it better than Reverie Siam Resort.
If living the dream is high on your list of things to do in Pai, then make sure you book in for a couple of nights at Reverie Siam Resort and allow yourself to be fully spoilt.
It has an awesome pool with mountain views, a natural pool, excellent staff with wonderful attention to detail, and the rooms are to die for.
The decorations are quintessentially Thai, and tastefully done, so you'll probably end up taking a few ideas for your own home when you leave.
Make sure you eat and drink at the restaurant and bar as well. The cocktails are a must.
Best Restaurants in Pai Thailand
Pai has come a long way from its old hippie backpacker days, and now there are a number of awesome and high quality restaurants in town. In fact when trying to think about what to do in Pai, eating is right up there on the list now!
If you are after a world-class burger head to Maya Burger Queen (make sure you haven't eaten for a while as they are huge).
Dang Thai Food makes some of the best Thai food in Pai, and it is all at a very reasonable price, so make sure you eat there as well.
Om Garden Cafe has less traditional Thai options but does great vegetarian, healthy meals.
Splash out on some Mexican at Cafecito if you want something different too.
[box] That's it for our list of the best things to do in Pai. Have we missed anything? Have you found the list useful? Leave a comment below and let us know![/box]
DISCLAIMER: Some of the links in this article are affiliate links, which means if you book accommodation, tours or buy a product, we will receive a small commission at no extra cost to you. These commissions help us keep creating more free travel content to help people plan their holidays and adventures. We only recommend the best accommodations, tours and products that ourselves or our fantastic editorial team have personally experienced, and regularly review these. Thanks for your support, kind friend!
Save this Pin for later?