Everything you need to know about a Doi Inthanon day trip, including how to get there, what to see and do, and most importantly, is it worth it!
Thailand's tallest mountain, Doi Inthanon, is home to some of the most spectacular waterfalls, landscapes and cultures in the entire country.
Situated just a 90 minutes from Chiang Mai, the Doi Inthanon National Park is a popular place for locals to venture for the day or to camp up in the mountains.
With sensational temples, soaring cascades, hiking trails and a welcoming Karen hill tribe village serving up locally-grown coffee and fruits, it's easily one of the best places to visit in Thailand.
Yet for some reason it's often skipped by visitors in to Chiang Mai province, who tend to focus more on the awesome things to do in the city, or other famous spots in northern Thailand such as Pai and Chiang Rai.
And we'll be honest. We did exactly that, even though we spent 3 months living in Chiang Mai.
On our most recent trip though we wanted to make the journey to the top of Thailand's highest mountain, so booked on for a Doi Inthanon day trip.
After the day spent exploring the national park we were blown away, and couldn't believe we hadn't visited sooner.
READ MORE: Check out our expert guide to travelling in Thailand!
Doi Inthanon Day Trip – The Complete Guide
If you're wondering whether or not it's worth going on a day trip to Doi Inthanon National Park, this blog post will not only convince you but help you make the most of your time up there!
Let's dive into it.
About Doi Inthanon National Park
Doi Inthanon National Park is a lush, mountainous region of northern Thailand, and is most famous for being home to the highest mountain in the country, Doi Inthanon at 2565m above sea level.
Known as the 'Roof of Thailand', this large protected area of around 482 square kilometres in size was officially designated as a national park in 1972, and is easily accessed from nearby Chiang Mai.
The flora found in Doi Inthanon is quite unique, with cloud forests, deciduous teak trees and sphagnum bog.
Parts of the park are inhabited, and there are small Karen and Meo Hmong hill tribe villages found throughout Doi Inthanon National Park. Most of these villages are not open to the public, but it is possible to visit and stay in one Karen hill tribe village.
There is an abundance of wildlife found around Doi Inthanon National Park, such as gibbons, deer and wild boar.
The birdlife in particular is spectacular, making it very popular for bird watchers.
Is Doi Inthanon National Park Worth Visiting?
If you love beautiful waterfalls, sprawling landscapes, unique cultures and organic food, then yes, Doi Inthanon National Park is 100% worth visiting!
Even if you only have a few days in Chiang Mai, you won't regret a trip to Doi Inthanon.
What is the Best Time to Visit Doi Inthanon?
Doi Inthanon is beautiful at any time of year, so it really doesn't matter when you come. But if you are wondering what it will be like in different seasons this will help out:
Dry Season – December to April
This is when most travellers visit Thailand, as the weather is mild, there's less chance of rain and humidity is low.
It's a wonderful time of year to go on a Doi Inthanon day trip, but keep in mind that this is winter and the high altitudes mean temperatures can, and do, drop to close to zero.
Wet Season – May to November
The wet season means the waterfalls are at their strongest, and in our opinion makes travelling in the 'off season' the best time to visit Doi Inthanon National Park.
This is also the hottest time of year though, which can make trekking a bit more uncomfortable. The higher you get into the park the temperature will drop, and it's not uncommon to need a sweater or jacket at the summit and Royal Pagodas.
Make sure you pack warm clothes regardless of the time of year.
Smoky Season
Burn-offs happen in the area around the end of February into March, and this results in a lot of smoke pollution in the air.
This can make trekking quite difficult and views may be restricted, so keep this in mind and check air quality if planning on travelling to the national park during this time.
How to Get to Doi Inthanon
Located in the Chom Thong District of the Chiang Mai Province, this national park is a 90km drive, which will take 1.5 hours to get there from the Old Town.
From Chiang Mai the easiest way if driving yourself by car or motorbike is to take route 108 towards Chomthong for 57km.
Turn right onto Route 1009, Chomtong-Doi Inthanon Road, the drive another 31km until you get to the national park gate.
The road continues to climb steeply up to Thailand's highest peak.
Joining a Group Tour
If you'd prefer to leave the driving to someone else and love the idea of having a guide to explore Doi Inthanon National Park with, then there are lots of options for joining a small group tour.
On these you'll be picked up and dropped off at your hotel in Chiang Mai and will be taken to the most beautiful parts of the national park.
This particular tour includes all your admission fees, lunch, water, an English-speaking guide and transport in a modern, air-conditioned van.
Joining a Private Tour
We personally went on a private tour as we wanted a bit more flexibility in terms of timing to explore the Doi Inthanon National Park.
In the end we're so glad we did, because we ended up spending a lot more time than we expected at the waterfalls, which blew our minds, and the personal experience we had with our guide was fantastic.
We booked through the local company Tour East, and our guide's name was Peo.
You can contact them here:
Peo's Personal WhatsApp Phone Number: +66 81 992 5583
How Much is the National Park Fee?
Being a national park there is a small entrance fee required to enter, and this is put towards local conservation and infrastructure.
The Doi Inthanon National Park entrance fees are:
Adults: 300THB
Children: 150 THB
Cars: 30 THB
Motorbikes: 20THB
You pay the entrance fees directly at the national park gate and you'll be given your entrance ticket. Hold onto this, as you may be required to show it if stopped by any national park rangers or police.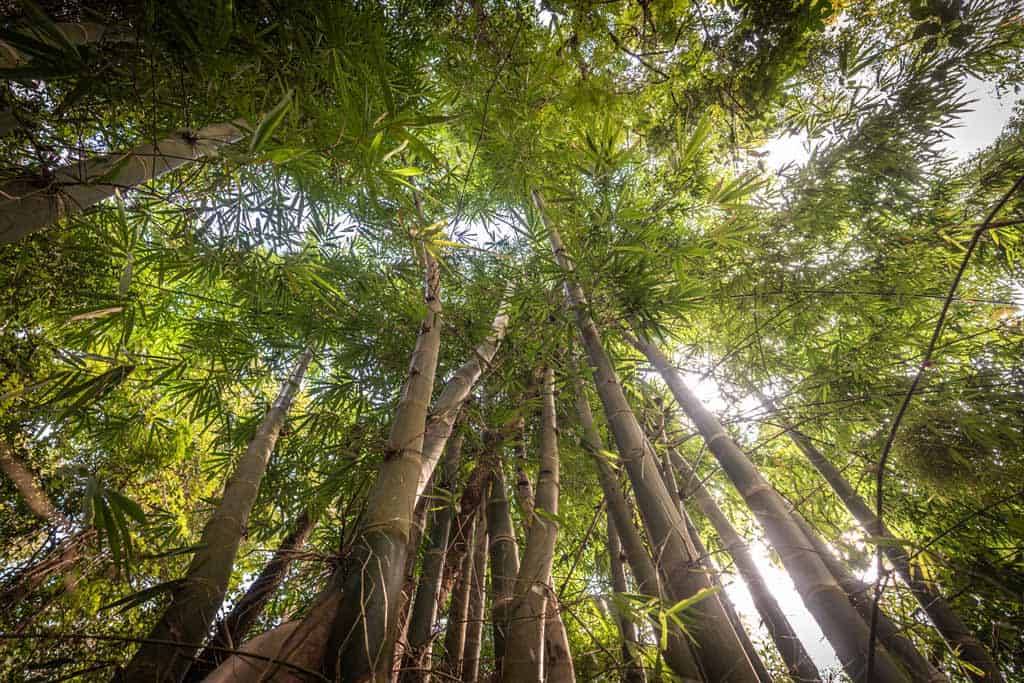 The Best Things to Do in Doi Inthanon National Park
Now that you know all the history, how to get here, and when to visit, it's time to dive into our list of the best things to do in Doi Inthanon National Park!
Most of these can be done on a single Doi Inthanon day trip, although there really is so much to do that you could easily fill multiple days on different visits or by camping up in the national park.
READ MORE: See where else makes our list of the top places to visit in Thailand!
1) Be Amazed at Wachirathan Waterfall
One of the first places you'll visit on a day trip to Doi Inthanon is the Wachirathan Waterfall, and if you're anything like us you'll be shocked at the power of this towering cascade.
The tiered waterfall tumbles 250m down a series of rocky outcrops, with the most impressive section being an 80m torrent that is easily seen from the trail.
Previously a long hike was required to get to the falls, but now a road and car park has been built to provide access to the largest part of Wachirathan Waterfall, making it accessible for anyone with a short walk.
Be aware that the path can be very slippery and muddy, so watch your footing and wear enclosed shoes.
If you're here with your own transport or on a private tour you can hike to the other tiers. This is not a well beaten path though so make sure you're comfortable with trail bashing.
2) Hike to Mae Klang Luang Village on the Pha Dok Siew Nature Trail
Trekking in Doi Inthanon is one of the best activities you can do here, but if you're not planning on doing a full day trip on the trails you can still enjoy a fantastic hike to the Mae Klang Luang Village.
If you're on a small group tour or private tour, your driver will drop off the passengers at the trail head and collect you at the end.
At the beginning of the trail you'll meet a local tribe elder from the Karen village, who will be your guide on this lovely 4km hike, navigating through forests, rice fields and rivers.
Hiking the trail with a local guide from the Karen hill tribes is mandatory, but the small cost is well worth it.
The trail is all downhill, and your local guide will point out lots of interesting sights along the way.
The scenery is spectacular, especially around the Sirithan Waterfall and the sprawling rice fields as you get closer to the Mae Klang Luang Village.
You'll finish in the Karen hill tribe village, where you can enjoy a coffee or bite to eat before being picked up by your driver.
3) Check out a Coffee Plantation in a Karen Hill Tribe Village
When the former King of Thailand visited Doi Inthanon he was shocked and saddened to see the prominence of the opium trade rising in the region.
Farmers were using their land to grow poppies due to the high value of the crop, thus further fuelling the drug crisis.
Wanting to provide a better, safer life for his people, the King launched a Royal Project to encourage farmers to move into other industries.
He promised them that if they grew other, legal plants, the Thai royal family would purchase them at premium rates.
With love and respect for their King, the farmers did just that, and started growing fruits, vegetables, flowers and coffee.
And as promised, the King and his businesses guaranteed a high source of income for everyone who joined the Royal Project, helping lift many of these people out of poverty and away from dangerous industries.
In the Mae Klang Luang village a large portion of land has been turned into a coffee plantation, growing and roasting delicious, organic beans right there in the valley.
After our down to the village we sat down and learned all about the coffee industry here in Doi Inthanon National Park, and of course, tucked into a delicious brew.
Besides roasting and serving the beans right there in the village, the farmers now export all over Southeast Asia. A fantastic example of how the former King's Royal Projects have improved lives throughout Thailand.
4) Visit the Twin Royal Pagodas
Near the highest point of Doi Inthanon is the Twin Royal Pagodas of Phra Mahathat Naphamethanidon and Naphapholphumisiri, two chedis that have been built on the edge of the mountain and surrounded by spectacular gardens.
They were built to commemorate the 60th birthdays of the former King and Queen, and no Doi Inthanon tour is complete without stopping by to admire the stunning views over the surrounding mountains.
They are quite modern compared to the traditional temples you get around other parts in Thailand, but that doesn't make them any less magnificent.
Spend 30 minutes or so checking out the interior of the King and Queen Pagodas, and make sure you save some time to walk through the gardens and soak up the fresh air.
Your entrance fees to Doi Inthanon National Park include a visit to the King and Queen Pagoda.
5) Grab a Selfie at Thailand's Highest Point
Once you've made it to the highest point in Thailand it's almost compulsory to snap a selfie at the top!
There's a sign to mark the Doi Inthanon summit, so grab your shot at 2565m above sea level then keep exploring.
6) Hike the Kew Mae Pan Nature Trail
You'll be getting up your step count for the day with all these awesome outdoor activities in Doi Inthanon National Park, and another walk you shouldn't miss if the weather is nice is the Kew Mae Pan Nature Trail.
Coming in at just under 3km, it's worth setting aside a few hours to truly appreciate the mountain views you'll find along the way.
Kew Mae Pan boasts the most beautiful panoramic view in the entire country, gazing out over the valley and is a perfect spot for sunrise.
If you're not up here early though don't stress. The hike is great at any time of day, especially in the late afternoon when the sun starts to dip and cast its golden rays across the mountains.
The Kew Mae Pan nature trail is closed from June to October in the rainy season. You don't need a tour guide to walk the track.
7) Walk Around Ang Ka Luang Nature Trail
From the Doi Inthanon summit you'll find a sensational boardwalk called the Ang Ka Luang Nature Trail, which cuts through a moss-covered forest and over sphagnum bog.
Despite only being 400m in length the well beaten track feels like you've stepped into another world, and this section alone makes it easy to understand why Doi Inthanon is one of the best national parks in the country.
Most day trips and tours will give you a short amount of time to check out the trail, so make sure you don't miss it.
8) Photograph the Sirithan Waterfall
There are a lot of epic waterfalls you can come across on a Doi Inthanon day trip, but one of our favourites was the Sirithan Waterfall on the way to the small village of Mae Klang Luang.
We came across this on our day tour of Doi Inthanon National Park, and couldn't believe that a place like this exists just a few hours from Chiang Mai old city.
A bamboo bridge stretches across the river at the base of Sirithan Waterfall, which towers above the forest and tumbles from the cliffs in a raging torrent.
If you're into waterfall photography a great spot to snap a shot is to wander downstream and look back at the bridge and falls. Placing someone on the bridge at the same time adds an awesome perspective to just how high it really is.
9) Eat Lunch at a Local Restaurant
Just because it's a national park doesn't mean you have to pack your own lunch to visit. There are a number of great local restaurants around that you can grab a meal at.
If you're on a tour, your guide and drive will drop off the tour group at a local restaurant where you'll be able to tuck into some delicious Thai cuisine.
10) Brichinda Cave
Finally on our list of the best things to do in Doi Inthanon National Park in Thailand is to check out the Brichinda Cave.
While it's not exactly enormous like some of the others you get in Southeast Asia, it more than makes up for its size with the incredible stalactites and stalagmites found throughout the limestone cavern.
A visit to the cave is included in your entrance fee, and if you get there early enough you'll miss the tour groups, leaving the whole place to yourself.
DISCLAIMER: Some of the links in this article are affiliate links, which means if you book accommodation, tours or buy a product, we will receive a small commission at no extra cost to you. These commissions help us keep creating more free travel content to help people plan their holidays and adventures. We only recommend the best accommodations, tours and products, and regularly review these. Thanks for your support, kind friend!