Well, 2020. What in the HELL was that?!
Bushfires, potential wars in Iran, BLM protests, Kobe Bryant, Megxit, Beirut, US elections, and of course the biggest news story of the year – Tiger King.
Oh yea, and a little global pandemic thrown in there for good measure just to really mess things up.
Yep, 2020 was one crazy year that we all want to forget.
But before we go and wash away the memories of what this year has brought about, it's time for us to reflect one last time in our annual recap post!
Every year we try to post a 'year in review' article to share everything we've been up to.
They're just as much for you, the reader, as they are for us to remember this crazy journey called life.
You can read our previous posts here:
This year's post is one like no other. But of course with how 2020 has been, that's to be expected.
What started out as a fully-booked year with business forecasts looking extremely positive suddenly got flipped on its head, and we were forced to quickly pivot and adapt.
In the end the year turned out to be pretty good for us though, both for travels and business, and considering everything that happened we couldn't be happier with how things panned out.
Despite the issues this year has brought, Alesha and I have been extremely fortunate to be back in Australia, safe and healthy, as are all of our family and friends.
Of course the same can't be said for millions around the world, and we are in no way diminishing the struggles that are continuing to be felt for so many.
We acknowledge that we are beyond lucky, and our thoughts are with everyone that has been so badly affected by this.
This post isn't about the global impact of the pandemic though, and we hope you'll forgive us for choosing not to focus on it in this article.
Without further ado, let's dive into our year in review!
2020 – The Original Plan
We had an entire year of exciting travels planned, and here's a rundown of what we originally had booked:
January – Australia
February – Japan and Kyrgyzstan with the tourism boards
March – NSW road trip with DNSW and Toyota
April – California road trip with Visit California
May – Spitsbergen with Quark Expeditions
June – Norway and Iceland
July – Our Mongolia and Kyrgyzstan tours
August – Our Pamir Highway tour
September – Canada with Destination Canada
October – Papua New Guinea with Visit PNG
November – Falkland Islands, South Georgia and Antarctica
December – Patagonia then Australia
Well, the first few months happened as expected, but everything after that failed to eventuate.
That's ok though, because a lot of these trips will hopefully happen once international travel becomes safe again.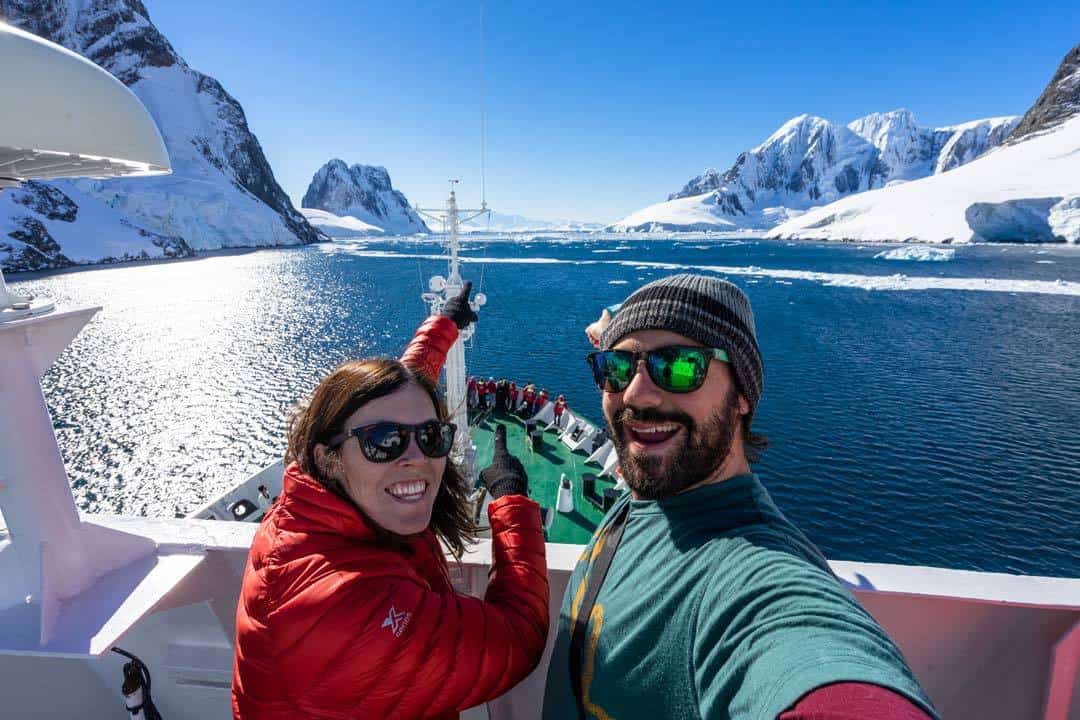 2020 – What Actually Happened
So here's what actually happened in 2020.
January
We woke up for sunrise and watched the start of the new year on the beach in Sydney. Sitting and reflecting on the year that was, and what we wanted to achieve for 2020, was a perfect way to kick things off and we were feeling extremely positive.
The first few weeks of January were a mix of business calls, meetings, contract signings, podcast interviews and work days, as we got things ready for the year ahead.
In the last week of January we jumped on a flight to Tokyo for a winter campaign with 4 different tourism boards in Japan. It was our second visit to the country, and we visited some incredible destinations, including Oita, Nakatsugawa, Chino and Sado Island.
February
Our Japan campaign wrapped up mid-way through February, and Alesha and I parted ways for the next work trip.
Alesha flew home to Perth to spend time with her family, while I headed off to Kyrgyzstan for a winter project with USAID and Helvetas, two government organisations from the USA and Switzerland who focus on international development.
For two weeks I went backcountry snowboarding, snowmobiling, snowshoeing, paragliding and took part in numerous cultural experiences.
The goal was to show that Kyrgyzstan wasn't just a summer destination, and after 8 visits to the country over the last few years, I can honestly say that it's just as epic in winter as it is at any time of year.
I flew back on the 26th of February, and on the 27th we kicked off a two-day media conference where we got to meet and reconnect with a large number of PR and destination reps from around the world.
We attend the IMM event every year, and it's (usually) a great opportunity for us to establish campaigns for the next 12 months.
March
When March rolled around we had three weeks to get on top of work projects, apply for visas, and finalise our life admin stuff. It was going to be the last time we were in Australia for pretty much the rest of the year, and we had a lot to cram in.
While we were finalising things though, this virus on the news kept getting bigger and bigger. We had been paying a bit of attention to it, but nobody could imagine what was about to happen.
People started to panic, toilet paper was selling out, and an air of uncertainty crept over the world.
On March 11th the World Health Organisation declared COVID-19 a pandemic, and everything changed.
In a matter of days, almost all of our trips and work projects were cancelled or postponed. Clients terminated contracts, and our business came to a major halt.
We were still staying positive though, and ended up doing a bunch of media interviews and podcasts about the situation. We knew how lucky we were to be back in Australia when the outbreak happened, so we finished the month by self-isolating and developing new strategies.
April
The first few weeks of April we barely left the house (lockdowns and all that, you know?), so we made the most of that time by getting on top of all the business admin stuff we had sadly been neglecting.
Business was pretty slow, but we managed to get a few contracts and floated through the month in a pretty good position.
One day while we were sitting in our room at my grandparent's house, Alesha looked over to me and said, "What do you think of that campervan I sent you?"
I had missed the ad she sent over, but after reading it I replied, "It looks great. Let's go check it out".
The next day we went to see the van, and 4 days later we bought Marlee. All of a sudden 2020 had come alive again with new opportunity and adventure, and we couldn't wait to hit the road whenever restrictions eased.
You can read all about Marlee here.
Not much happened for the rest of April, other than work and planning for an epic Australian road trip.
May
At the beginning of May we left my grandparent's house on the Northern Beaches and moved out to my mum's place near the Blue Mountains, where we had space to park Marlee up.
The New South Wales government announced that travel would be allowed on June 1st, so the entire month was spent getting the van ready for departure the second restrictions eased.
June
6am on June 1st we drove out of my mum's driveway and headed out to start our new van life road trip!
Our first destination was Cronulla, where we caught up with some buddies and visited some of the nearby national parks.
Afterwards we drove down to the beachside town of Kiama, where we instantly fell in love with the place and ended up extending our stay to a week so we could photograph the stunning coastline.
Next we headed to Jervis Bay, known for having some of the bluest water and whitest sand in Australia. Our stay quickly got pushed back to another week, and before we knew it we had to turn around and head north.
We drove to the Warrumbungles and hiked one of Australia's top 10 trails, the Grand High Tops and Bread Knife Walk, and shot a video for Sony Australia to promote their new ZV-1 vlogging camera.
To finish the month we headed to the lovely coastal region of Port Stephens for a 4-day campaign with Destination New South Wales.
July
We left Port Stephens and headed north, spending 10 days at a small campground in Dunbogan to finish off our content and plan out the next stage of our trip.
Once we left there we made our way up the coast, swinging by South West Rocks, Crescent Head, Coffs Harbour and Dorrigo National Park along the way, with a few nights staying with friends in Nambucca Valley.
A breakout started to occur in New South Wales, and we got a sneaking suspicion that Queensland might close their borders. So on a whim, we packed the van and drove straight through to cross into the Sunshine State.
Lucky we did, because a few days later they did indeed close the border to all travellers from New South Wales.
We parked up on the Gold Coast to visit family, took a trip into Springbrook National Park then headed to Moreton Island to check out the famous Tangalooma Wrecks.
We finished the month in Ipswich on a fam trip with the Australian Society of Travel Writers, who we are now part of.
August
I had never been further north of Brisbane before, so everything this month was new territory for me.
We drove up to Noosa on the Sunshine Coast, Hervey Bay for a bit then spent a week in Agnes Water, the northernmost place you can go surfing in Queensland.
In the middle of August we kicked off a job with Rockhampton Regional Council to promote tourism in the area, and spent a week travelling around the Rockhampton region.
The town is often overlooked by travellers, but we really loved our time there and are glad we had the opportunity to check it out properly.
When our time in Rockhampton finished we drove to Cape Hillsborough National Park then straight to Cairns to pick up the brand new Sony A7Siii camera to shoot a review video.
We spent a few days travelling around the beautiful Waterfall Way in the Atherton Tablelands testing the camera out, then parked up on a beach in the Daintree Rainforest for some R&R.
September
A buddy we had connected with on Instagram and met in Gold Coast, Matthew Littlewood, drove his campervan to Cairns and caught up with us. Neither of us had any plans, but we enjoyed hanging out with each other so much we ended up exploring together for 2.5 months!
From Cairns we re-did the Waterfall Way, headed up to Cape Tribulation to dive deeper into the world's oldest rainforest, took Marlee to Cooktown (the furthest north we could take her on the east coast), then started making our way back down the coast.
October – The Biggest Month of Our Lives?
Our wedding celebrant got in touch with us out of the blue and said that she had a home on Magnetic Island, a stunning tropical paradise in the Great Barrier Reef, but due to travel restrictions she couldn't get there. So she kindly offered it to us to housesit for a month.
With an offer like that, we couldn't say no. (THANK YOU KATE!)
We took Marlee on the ferry to Maggie (as it's affectionately known to locals), and spent a month hanging out with friends, taking photos, working and relaxing.
There's something magical about the island, and it almost feels like you're in Koh Phangan in Thailand.
The island has a pirate vibe, incredible beauty, lots of amazing activities to do, chilled locals, diverse wildlife and a holiday atmosphere.
For the first time in years, Alesha started to read books again. I got back into running and stretching. We made new friends and overall started to feel like we used to when we first started the blog years ago.
During that time we started to toy with the idea buying a place on the island.
We have actually been looking at real estate for years, but didn't really know if and when we'd take the plunge. Or where for that matter.
The details of just how it all came about and why will come in a future post, but long story short, from the first moment we walked into a real estate agent with zero idea of how to even buy a place to us putting in an offer for a block of land took 7 days.
We left the island as proud owners of a 1000m2 (10,700 square feet) landscaped block, with two huge mango trees and lots of space to build our dream home.
This was by far the biggest decision we have ever made together, and we're so excited for this next chapter in our lives.
November
After we got off the island we spent a few days in Townsville getting some mechanic work and upgrades down to Marlee, then headed to the Whitsundays for a sailing adventure with our buddies over at The Rambler.
Then it was time for the long drive back to the Gold Coast.
After a few days there, the Western Australia government opened its borders for the first time since March. Not wanting to miss an opportunity to see her family, Alesha jumped on a last-minute flight out of Brisbane.
Alesha managed to spend two beautiful days with her grandfather before he sadly passed away (she's not sad about this, but rather extremely thankful that she got to see him), then she spent the rest of her time in Western Australia hanging out with her 3 young nieces. She really is a proud and happy aunty.
Meanwhile I hung out on the Gold Coast with Marlee, just in case borders closed again, and plugged away at the business.
December
With the COVID situation calming down in Australia, things looked like they were starting to go back to being normal, so we decided to cross back into New South Wales.
We slowly made our way down the coast then caught up with my family for early Christmas celebrations.
We had decided to book our ferry tickets to Tasmania for January, and made grand plans to spend 2.5 months adventuring down there over the summer.
When we left Sydney we started driving south towards the Victorian border, when suddenly there was another coronavirus outbreak just north of the city and state borders immediately shut again.
Even though we hadn't been to any of the hot spots, we had technically been in the region, so decided to do the right thing and head out into the Snowy Mountains to a remote campground to self-isolate.
When the campground got full we moved on again to a quiet campsite on the beach on the south coast and celebrated Christmas in the most chill way possible – just us, another couple, hiking, lots of food and a few drinks.
We then made our way close to the Victorian border, getting ready to cross on New Years Day when we had been out of the 'Red Zone' for a full 14 days.
The day before our crossing though Victoria announced a border closure, giving everyone six hours to head home. We had missed our window of opportunity to enter Victoria then go to Tasmania by less than one day.
2020 came to an end with uncertainty, but we're not concerned. After all we have our health, each other, and of course our beautiful campervan, Marlee.
The Business – A Roller Coaster Year
2020 was a real roller coaster for us in terms of business and income.
To start with we'll share some of the hits we took, but then we'll finish with the positives!
The Downs
January and February things were looking great, and we were forecasting for large growth. In fact March was our highest month for revenue ever.
But with almost everything we do being focussed on travel and the tourism industry, when the world shut down, most our business shut down with it.
All of our international campaigns were cancelled in a matter of days, then one of our new clients who we had been hired to be brand ambassadors for terminated our contract and shortly after closed down.
This website took a huge hit, losing around 80% of our traffic and income almost overnight. Because the world can't travel, nobody was researching destinations, so our advertising and affiliate revenue plummeted. As a result, we decided to cut our NOMADasaurus team back, which was a tough and sad call to make.
A few months later our contract with Kathmandu came to an end.
We had been working as brand ambassadors for them for nearly 4 years, and we didn't see it coming at all. One week we were planning out the next 6 months of adventures and campaigns with them, the next week we were told all ambassador contracts were being terminated to cut costs.
We completely understand and sympathise with their decision, as they were hit extremely hard by the pandemic. They've been a fantastic company to work for, and we still love the brand.
The saddest part of all this though was having to cancel our adventure and photography tours in Kyrgyzstan, Tajikistan and Mongolia.
This is a passion project of ours that we love – showing intrepid travellers around some of the most beautiful and remote parts of the world.
We put a lot of work into these, as do our fantastic tour partners in each country, and as the world came to a stop, we had to make a decision on whether or not to go ahead with them.
Even though the COVID situation in these three countries was relatively minor at the time (April), we decided to be proactive and cancel all tours.
This wasn't just to protect our guests, but to protect the people of these countries too. We couldn't live with ourselves if someone on our tours brought the virus to a remote village. It would be the worst outcome imaginable.
We offered all of our guests full refunds, and in hindsight we can see that it was the right thing to do.
We hope to be able to run our tours again in the future when it's safe to do so.
The Ups
2020 wasn't all bad for business. In fact there were some huge wins for us as well!
On the NOMADasaurus side of things, we had a number of old clients hire us for some social media and blogging campaigns, and while we couldn't personally visit some of these places, we managed to finish up with 7 major destination marketing jobs for the year.
Truthfully, we spent very little time on this website, but by the end of 2020 traffic and passive income is growing rapidly and will hopefully be nearing our pre-pandemic levels within the next few months.
We were hired by Continental Tyres to be their Australian brand ambassadors, started working with World Animal Protection, and had a few jobs with Sony Australia, one of our dream clients.
Taking that partnership to the next level, I was selected to be one of the official Sony Digital Imaging Advocates, which I'm very excited about.
Beyond NOMADasaurus, we launched a new van life blog, and while we neglected it for most of the year, in the last 2 months we decided to make it a priority in our business.
We hired some expert writers for it, assigned our project manager, Chris, to the site, and we started to see fast growth. It's now generating income, and it will continue to be a major part of our focus for 2021.
Our agency grew this year, and we did more consulting, coaching, SEO and content gigs through it than ever before.
A few of our other affiliate websites also grew in both traffic and income, and while we don't really talk about these for a number of reasons, they form an integral part of our portfolio.
The business managed to stay profitable throughout 2020, and we're excited to say that by the end of December all of our analytics across the board are on an upward cycle again.
Revenue is back to being close to our monthly average for 2019, and with more clients on the horizon and new websites starting to grow, 2021 should be a fantastic year.
Overall we smashed six figures for the fourth year in a row.
What's Next for 2021
We wish we could predict this, but as 2020 has shown, nothing is guaranteed.
Right now we're keeping our travel calendar open. As Australians we still can't actually leave the country, so until that changes and the world is safe and open again, we'll be staying right here.
We're still hoping to be able to get to Tasmania, but only time will tell if that happens.
The biggest thing for us in 2020 will be building our home on Magnetic Island! We've hired a designer and he'll be getting stuck into the project in early January. We've been in talks with a few different builders too, so once the design is finalised and we put it out to tender, we're hoping to sign our building contract by mid-March.
Hopefully wth all things going well, we'll be able to move into our first-ever home in October.
While the house is getting built, we'll probably just drive Marlee around the eastern and central parts of Australia, state borders permitting.
For business we already have secured some major contracts for the year, and we're in talks with a few other clients for various jobs with NOMADasaurus and our agency.
It doesn't look like we'll be able to run the tours again in 2021, but time will tell for that as well.
We're also looking to acquire a number of existing websites to build out our portfolio, and investing in both stocks, property and businesses is now part of our long-term strategy.
The most important thing for us though for 2021 is to be happy and healthy though.
We won't go into all of our resolutions for the year, but in short it comes down to exercising more, doing things that make us happy (mountain biking, hiking, camping, travelling, etc) organising better work systems, scaling the business and spending quality time together.
That's it for our 2020 recap. If you've made it this far, thanks so much for being part of our journey! It means a lot to us, and we appreciate you coming along for the ride.
Here's to 2021 being the best year ever!