Kyrgyzstan is jam-packed with places to visit and things to do. The landlocked Central Asian nation is home to some of the world's most spectacular trekking, both on foot and on a horse.
However, the majority of these trails are not accessible until the summer months due to the country's high altitude.
When planning on what places to visit in Kyrgyzstan it's important to know that there are many places where you can base yourself to take in a large number of different destinations in the surrounding area.
Travelling around the eastern and western portions is reasonably easy but can be time-consuming in some cases. But generally, you can utilise marshrutka to get around.
However, getting from the east to the west or vice versa can be particularly challenging and complex so make sure you plan ahead accordingly. It's usually a good idea to budget an entire day for travel.
READ MORE: Check out our Kyrgyzstan travel guide to help you plan all of the details for your travels.
The Best Places to Visit in Kyrgyzstan
We love Kyrgyzstan! So narrowing down our favourite places to visit was difficult.
But if you're planning your first trip to Kyrgyzstan, be sure to add these to your list of places to visit!
1) Bishkek
For many, this is their entry point into Kyrgyzstan, via Manas Airport or overland from Kazakhstan. Time spent in Bishkek is usually short, with many hot-footing it out to the country's more spectacular destinations.
Kyrgyzstan's only city may not be the reason people visit, however, there is enough to keep you busy for a couple of days. Check out Panfilov and Dubovy Parks for a relaxing afternoon stroll.
The city's heart is Ala-Too Square, which is particularly pretty at night. Heading west from the square is the city's busiest area with plenty of restaurants, bars and shops to check out.
For a slightly stranger experience take a wander around the deserted circus to the north of Ala-Too. If you want to try out your bargaining skills then head over to Osh Bazaar.
One thing to take advantage of here is the food. Bishkek is blessed with a plethora of food options not found elsewhere in Kyrgyzstan.
Trust me you will plenty of shashlik, manti, plov and lagman during your time in Kyrgyzstan (and Central Asia in general) so grasp the opportunity to get some variety.
For some culinary variety, this is absolutely one of the best places to visit in Kyrgyzstan.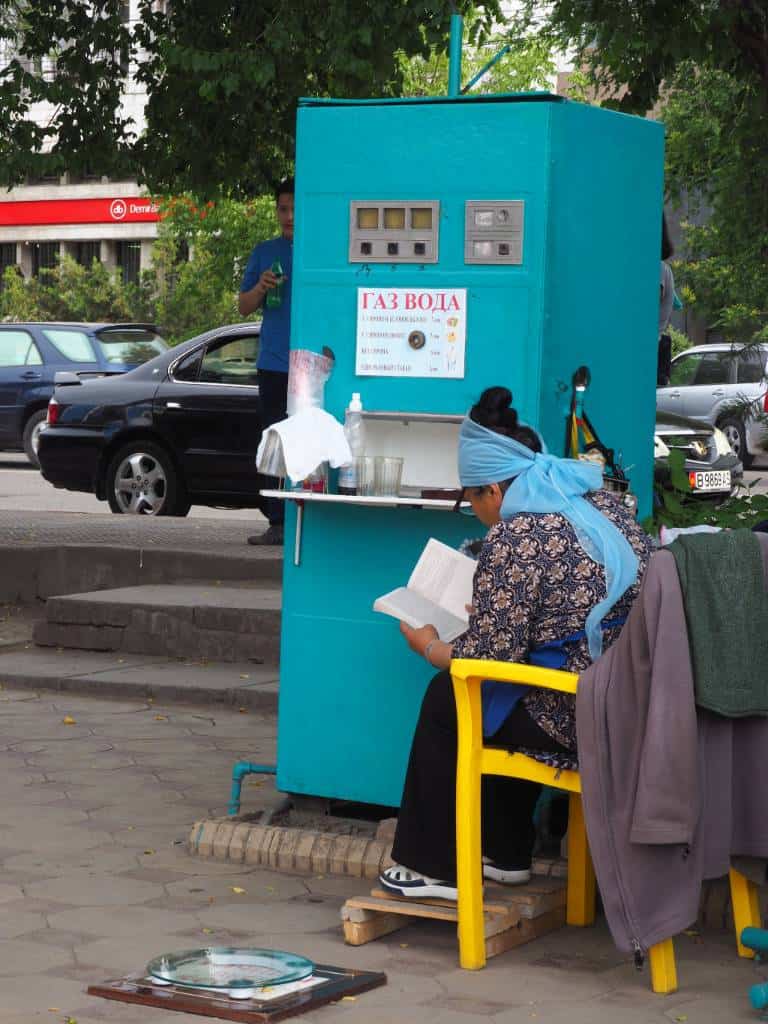 2) Ala Archa
Bishkek is only a short drive from the stunning Ala Aracha National Park. If you're only here for a short period of time then Ala Archa is a great opportunity to get stuck into Kyrgyzstan's famous mountain scenery.
When taking a taxi up here make sure you go to the alplager which is beyond the main gate.
There are quite a few hiking trails on offer and some accommodation in the park itself. However, the vast majority of people will do it as a day trip.
Want to visit Kyrgyzstan on a unique and adventurous small group tour? Check out our incredible Kyrgyzstan tour here!
3) Burana Tower
Poking out of the field with snow-capped mountains as a backdrop, the Bruana Tower is located somewhere between Bishkek and the shore of Issyk Kul.
As Kyrgyzstan is a country with a strong nomadic history, it isn't blessed with the same architectural wonders as it's neighbours, Uzbekistan and China.
However, the Burana Tower is Kyrgyzstan's ode to a distant, non-nomadic past.
Getting here can be a wee bit tricky as not many buses stop en route, so a day trip from Bishkek is probably the best bet.
READ MORE: Check out this post for all you need to know about visiting Burana Tower.
4) Jyrgalan
Jyrgalan is an area of Kyrgyzstan that Alesha and Jarryd know very well! In fact, they helped to plot a number of hiking trails in the area in conjunction with the Kyrgyz tourism authorities!
Located in Kyrgyzstan's northeastern corner close to the Kazakh border Jyrgalan is one of the country's premier hiking destinations.
If you are unsure of which of Kyrgyzstan's epic hiking areas to check out then this is a pretty solid start.
The area is full of awesome day treks. There are also plenty of longer trails in the area as well.
5) Karakol
Karakol is probably the most well-known town in Kyrgyzstan. Nestled in the southeastern corner of Issyk Kul, Karakol is a great place to base yourself for treks into the wilderness and is probably one of the most popular places to visit in Kyrgyzstan.
If you plan on doing some trekking during your time in Kyrgyzstan then this is an excellent place to take advantage of Kyrgyzstan's spectacular mountain scenery.
The town itself is probably not what you would call beautiful. However, its surrounding areas are rather spectacular, and that's what people come to see.
If you have some time in the Karakul itself then the Holy Trinity Church and Dungan Mosque are worth checking out.
6) Altyn Arashan
One of the most popular hiking trails in the Karakol area, Altyn Arashan is a great introduction to Kyrgyzstan at its most spectacular!
Altyn Arashan is connected to a number of other trails, with the Karakol Valley and Jeti-Oguz being the most well known. This makes for some spectacular multi-day options.
Sadly when I visited the previous winter had been a long a brutal one, meaning that these trails were not safely accessible, even in mid-June!
Any Kyrgyzstan trip is likely to include a visit to this area of the country. As a result, the hiking trails in the area are clear and easy to follow.
However, do check in with tour operators for weather advice if planning on heading up to the mountain passes.
Altyn Arashan itself is stunning, with picture-postcard alpine vistas as you descend down into the valley itself. In the valley itself, you can rest and recuperate in the hot springs (do not take the word hot lightly here).
There is a yurt camp at Altyn Arashan that can be booked via tour operators, alternatively, it is possible to camp.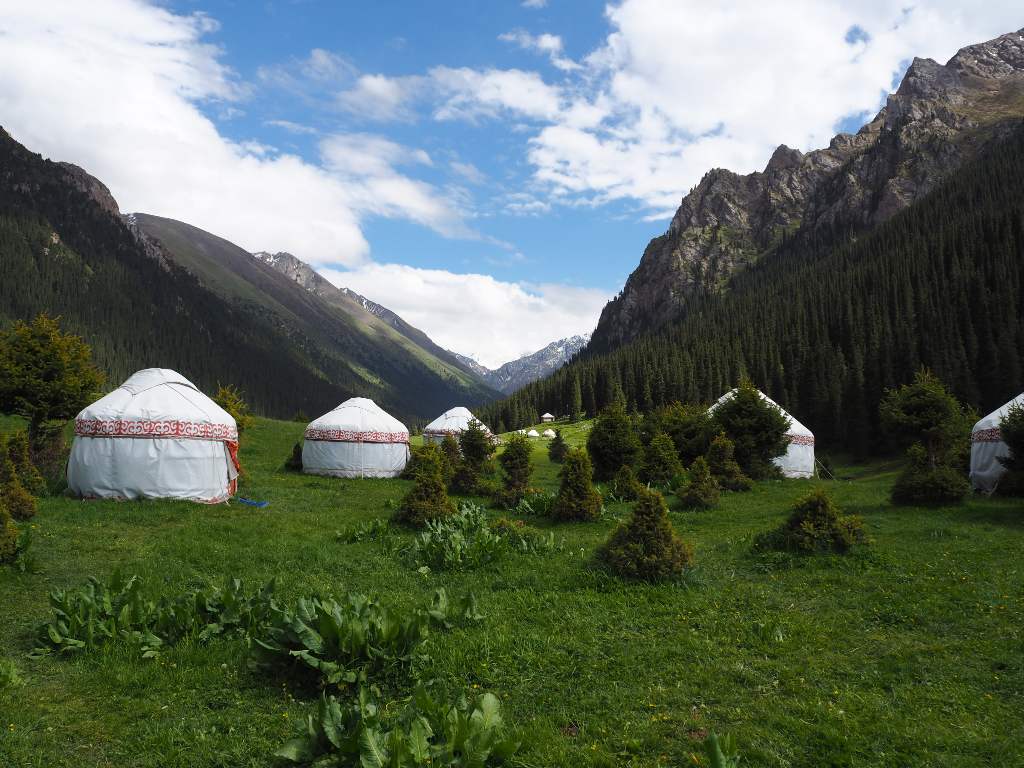 7) Jeti Oguz
A 30 minute or so drive from Karakol is the home of the best one-day hikes in Kyrgyzstan.
Lush jailoos roll through the valleys before giving way to pristine snow-capped peaks. It is possible to spend the night here. However, it's only really worth doing if you're on a multi-day trek.
In Jeti Oguz itself, the best hiking trail is probably one to a hard to find a waterfall in a forest atop hills overlooking the jailoos. Fortunately, this route can be found on the excellent maps.me.
The trail to the waterfall offers some spectacular views over the jailoos, a perfect place to lay down with a book, making it absolutely one of the best places to visit in Kyrgyzstan.
At the entrance of Jeti Oguz itself its the seven bulls, 7 rock formations looking over the trailhead.
A taxi is the only way to get out here. Drivers can be found in the town centre close to the market and central square.
Do not expect drivers to speak English, however. Like elsewhere in Central Asia a little bit of Russian will go a long way.
It's actually surprisingly easy to get a taxi back from the entrance, so it's not necessary to book a return trip.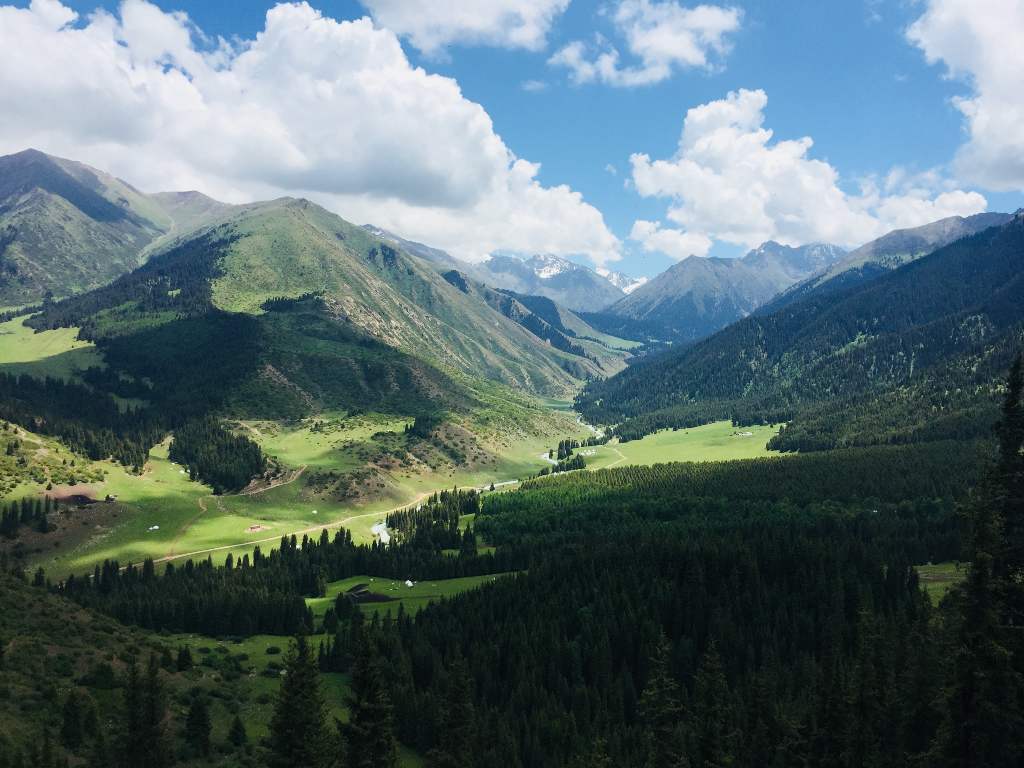 8) Inylchek Glacier
Located in Kyrgyzstan's most western corner, nestled up against the Chinese border, is the Inylchek Glacier.
Even by Kyrgyzstan standards, this is one of the most remote hiking destinations in the country. As a result, a trip out here is going to be at the higher end of your budget.
The glacier itself is one of the longest non-polar glaciers in the world.
In this region of Kyrgyzstan the two highest peaks, Pobedy and Khan Tengri. From treks to the Inylchek glacier's base camp it is possible to catch breathtaking views of these two peaks.
Inylchek Glacier is definitely one of Kyrgyzstan's most rewarding and challenging destinations.
9) Issyk Kul
Issyk Kul is a popular tourist destination for both Kyrgyz and Russian holidaymakers, with the majority visiting the more developed north shore.
In the summertime, beaches fill up and techno music can be heard from some of the bars as the sun sets.
If you prefer things to at a slower pace then the lake's southern shores may be the best bet. The tiny town of Tamga is close to the Skazka canyon, which is absolutely worth a visit.
As a word of warning the lake is very, very cold. However, it's definitely one of the best places to visit in Kyrgyzstan.
10) Chong Kemin
The Chong Kemin Valley is close to Bishkek and worth a visit. Running for 80km it's home to numerous hiking and trekking routes ranging from day hikes to epic 6-day treks through the wilderness.
This is a great place to roll up your sleeping bag and head into the beauty of the vast Kyrgyzstan landscape.
Public transport may be a little tricky getting out there, so a shared taxi maybe your best option.
11) Kochkor
Another excellent town to base yourself, Kochkor is the gateway to Song Kul and Kol-Ukok. Many guesthouses will run their own horse treks to Song-Kul, which can be cheaper and better than the options through CBT.
Additionally, many guesthouse owners can help you to book yurt camps for Kol-Ukok and other multi-day hikes in the area.
There is not a huge amount to do in the town itself, so make sure you have your hiking routes planned.
12) Kol Ukok
One of the most epic hikes around Kochkor is to Kol Ukok. This two day hike takes in some of the most spectacular scenery in the area.
You can book the yurt camp through your guesthouse. The yurt camp is 1.5 days or so from the edges of Kol Ukok, so you have 2 choices: hike to the yurt camp on day 1, and then up to the Kol Ukok and back again on day 2, or vice versa.
Get ready for some very sore legs, but the scenery is absolutely worth it!
13) Osh
Kyrgyzstan's second city is in the heart of the Fergana Range, a mere hop and a skip from Uzbekistan's Fergana Valley. The city has a long history and there's some interesting museums to check out, as well as Osh's famous bazaar.
Getting here can be a tricky affair, with the only link between the eastern and western regions of Kyrgyzstan (essentially Bishkek and Osh) is a seasonal 4wd road over two mountain passes or a 40-minute flight.
Whilst the scenery close to Osh is not some of Kyrgyzstan's most photogenic (to be fair, the competition is quite tough), Kojo Kelen, 110km to the south is a great hiking and trekking destination with plenty of spectacular scenery to drain those camera batteries.
Incidentally, Osh is a budget-friendly flight destination within Central Asia, so it's worth bearing that in mind when you book your flights.
14) Song Kul
Song Kul is simply breathtaking. Of all of the places to visit in Kyrgyzstan, this is one of the most spectacular. Although it is possible to hike here, many will take on this epic trek on the back of a horse.
Whilst your legs will be thanking you for a break, your backside certainly will not be!
Generally, horse treks are done over 3 days, with the second day spent by the lake itself where you can hike around, enjoy the views or even take a cheeky dip in the lake.
Whilst this is breathtaking, my personal favourite section was crossing a pass and descending down towards the lake's edge. Absolutely one of the top places to go in Kyrgyzstan.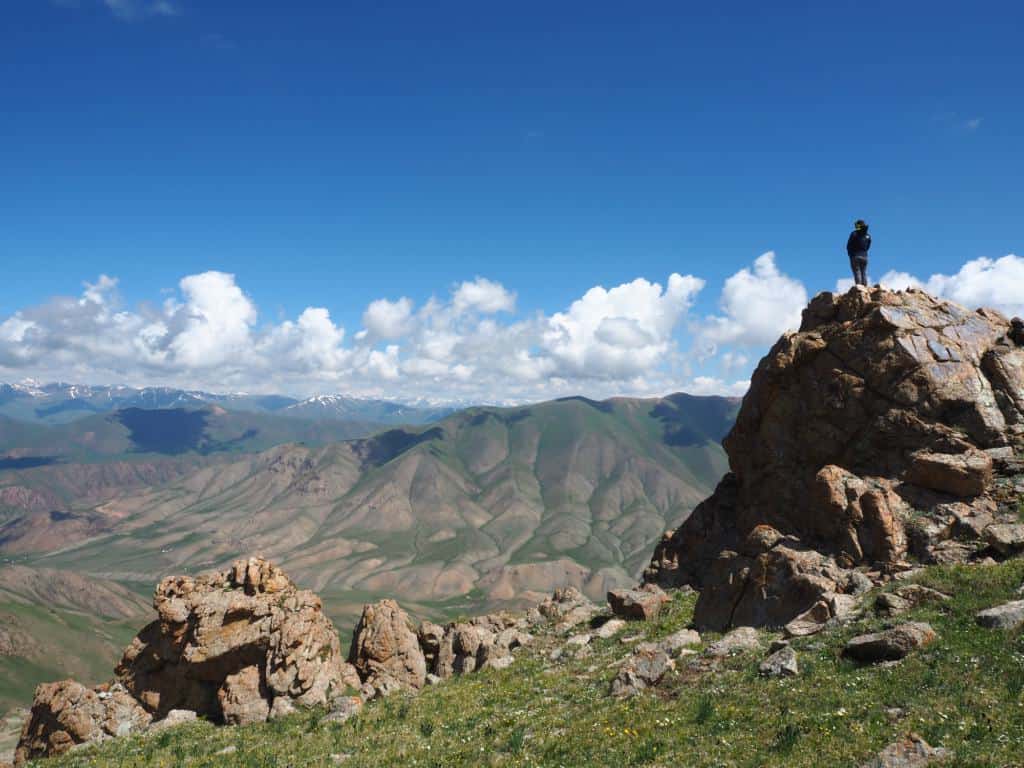 15) Naryn
This tiny little town is the base to access Kol Suu and the surrounding area. There's not much on offer in the town itself but there are quite a few decent hiking trails in the surrounding area.
For all of your hiking needs and questions, the town's CBT office is the best bet. They can also arrange drivers out to places like Kol Suu.
16) Kol Suu
This lake is one of Kyrgyzstan's most spectacular. The journey from Naryn is a long one. However, the scenery en route is rather easy on the eye.
It truly demonstrates the wilderness of Kyrgyzstan, with vast plateaus running up to mountains and shepherds herding their sheep.
The scenery around the yurt camp is amazing, with the light at sunset being particularly lovely. The hike to the lake itself is a tough one.
Keep on following the river uphill and then cross the river near the top. Sadly when we went, the waters were high so we couldn't actually get to the lake, but the scenery around more than made up for it.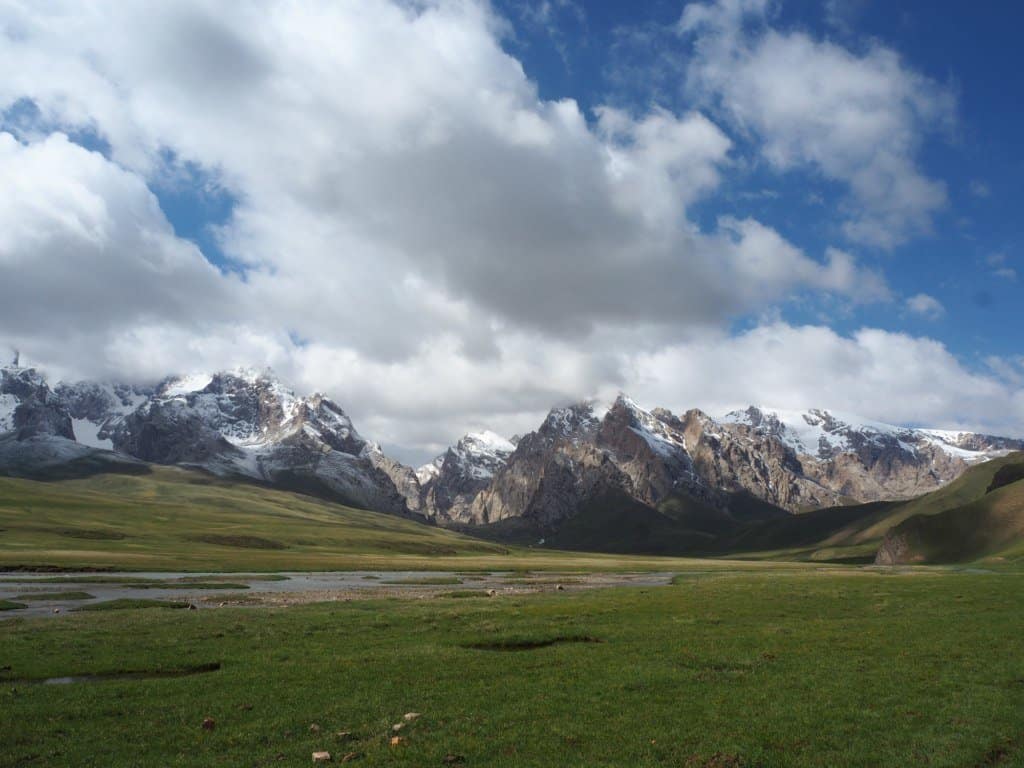 17) Tash Rabat
This deserted caravanserai, close the Torugat Pass is a tip of the hat to Kyrgyzstan's silk road history.
However it's not the caravanserai that it the real draw. It's the spectacular scenery that surrounds it.
It is possible to access Tash Rabat with the aid of a driver when heading to or from the border.
18) Sary Mogol and Sary Tash
Sary Mogol and Sary Tash are both in the very south of Kyrgyzstan on the edges of the Alay Valley, close to the border of Tajikistan.
Sary Tash is the smaller of the two, with minimal infrastructure and stunning scenery. Sary Tash sits at the convergence of roads leading to Osh in Kyrgyzstan and Murgab in Tajikistan, the start, or indeed endpoint of the Pamir Highway.
It is also on the route to the Irkeshtam Pass heading into China.
Sary Mogol has a bit more going on than it's smaller cousin 30km down the road. There is a CBT homestay operating in the centre of the village.
From here you can arrange guides and horse treks into the spectacular scenery that surrounds.
The most popular and well-known trek in the area is the one to Lake Tolpur, this seven-hour trek takes in some absolutely spectacular scenery including amazing views of Lenin-Peak.
This is the closest you can get to Lenin-Peak without requiring a permit (which can be a bit of a hassle).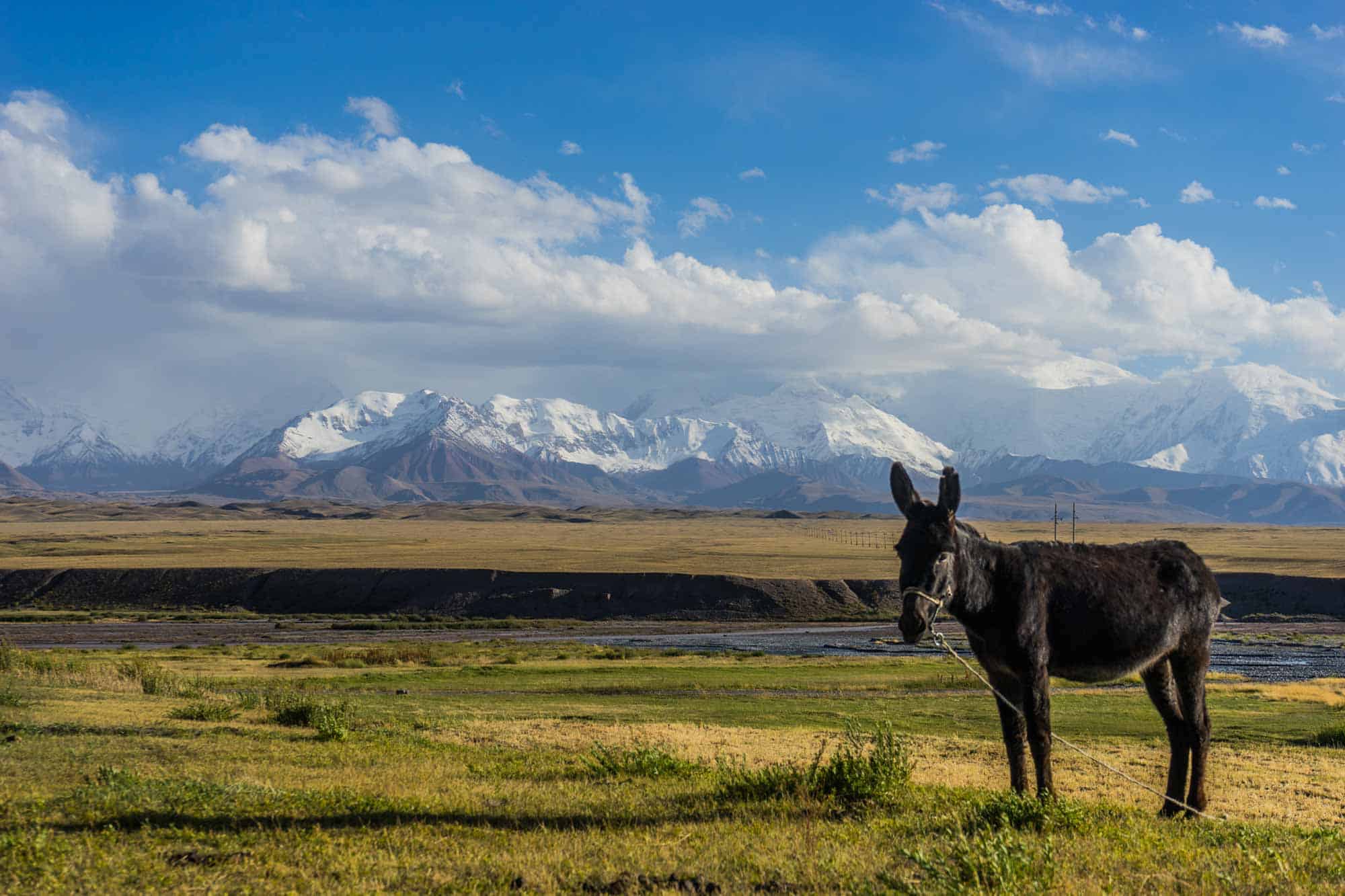 19) Arslanbob
Home to the world's largest walnut forest, Arslanbob is nestled in the heart of the Babash-Ata Mountains. The area plays host to numerous hiking, horse trekking and skiing options, which you can arrange through the town's CBT.
Arslanbob is home to a couple of waterfalls which are popular with locals to take a dip during the summer months if you fancy a break from hiking.
There are numerous multi-day treks that can be arranged from Arslanbob into the surrounding mountains and valleys.
One of the most popular horse treks routes takes in the Kol Mazar, the four holy lakes. On foot, Kon Kol is a bit of a stunner.
20) Kol Tor Lake
Close to Bishkek is the rather spectacular Kol Tor lake. However, it's a challenging hike, roughly 6 kilometres each way with a 1000m ascent.
It is possible to do this as a day trip from Bishkek. There may be some hiking groups that go out there at the weekends.
However, you'll probably be better off getting a private driver.
21) Lenin Peak
One of the highest peaks in Central Asia, Lenin Peak lies on the Kyrgyz/Tajik border, with many hikers accessing from the Kyrgyz side.
The climb is actually surprisingly straightforward, making it one of the most accessible peaks over 7000 metres.
However, the weather and changeable weather can make this climb both challenging and potentially dangerous.
It is possible to visit the base camp from Sary-Mogol. The base camp can be visited by non-climbers. However, you will need a border permit in advance.
22) Ala Bel Mountain Pass
Part of the road route from Bishkek to Osh takes you through the stunning Ala Bel Mountain Pass.
Surprisingly, at 3,175 metres above sea level, it's not quite as high as some of the country's other more famous mountain passes.
The pass is located between two valleys, making the views particular spectacular with the Chicken Valley on one side and the Susamir Valley on the other.
It is possible to get here via marshrutka from Bishkek. However, the driver may not be willing to stop, unsurprisingly.
Therefore if you want to truly soak in the scenery then a private taxi is best. Bishkek's bus station would be the best place to pick up transport.
23) Kyzyl-Oi mountains
This tiny village hidden in the mountains of the same name is located somewhere between Bishkek and Kochkor and is something of a rarity.
It is one of the few silk road villages that existed before the Soviet Union's formation. It is especially unique since Kyrgyzstan is historically a nation of nomads. So a fixed silk road village is certainly a rarity.
There are plenty of hiking and horse trekking trails in the area. And it's one of the less common places to visit in Kyrgyzstan so you'll probably need to take a private taxi.
24) Tuz-Kol Lake
This tiny lake sits on the southwestern shore of Lake Issyk Kol. Known as the Dead Lake of Issyk-Kul due to its high levels of salt, it's believed that it's water has magical healing properties.
Visiting Tuz-Kol Lake is possibly a good place to heal your aching muscles from all the trekking you've done.
DISCLAIMER: Some of the links in this article are affiliate links, which means if you book accommodation, tours or buy a product, we will receive a small commission at no extra cost to you. These commissions help us keep creating more free travel content to help people plan their holidays and adventures. We only recommend the best accommodations, tours and products that ourselves or our fantastic editorial team have personally experienced, and regularly review these. Thanks for your support, kind friend!