Everything you need to know about visiting Chino City in Nagano, Japan. Things to do, where to stay, where to eat and plenty more tips in our ultimate travel guide!
On our last trip to Japan, we planned to visit the city of Chino, in the Nagano prefecture.
Nagano is one of Japan's only landlocked prefectures, located in the centre of Honshu island, and is known for its glorious mountain ranges.
We had heard a bit about it, but an interesting thing came up when we talked to locals about it.
It appeared as though almost nobody had heard of it.
"Are you sure it's called Chino?" they would say as we announced our travel itinerary to them.
Even after saying it was in the Nagano prefecture, only a handful of people would then seem to know where we were talking about.
We started to wonder what we had gotten ourselves in for.
Luckily when we finally arrived at the quaint city of Chino, our doubts were immediately removed as we found stunning shrines, spectacular mountains and friendly locals.
READ MORE: If you're planning a trip to the country, you have to read our comprehensive guide to travelling in Japan.
Home to about 55,000 people, Chino City doesn't usually make it onto a standard Japan itinerary for new travellers.
But being our second visit to the country, we were excited to explore somewhere new, especially as we were there in winter.
And seeing Chino's vast mountains covered in snow was something we were very excited for.
We ended up having a wonderful two days exploring Chino City, and highly recommend it for anybody looking for an off-the-beaten-path adventure in Japan.
We've put together this Chino, Nagano travel guide to help you with your own plans to visit. Enjoy!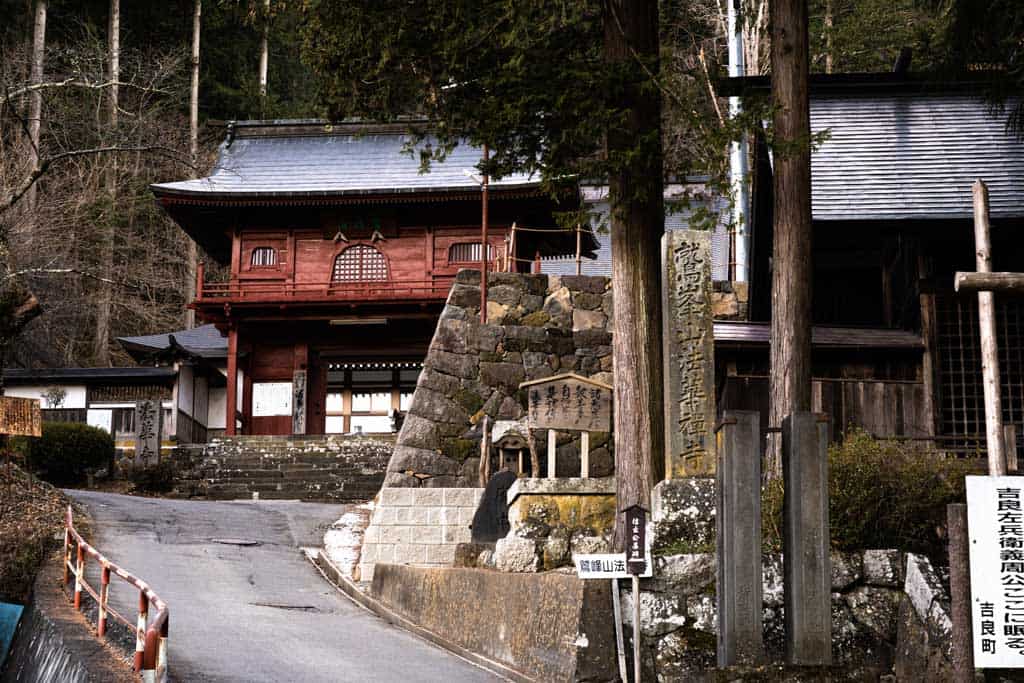 The Best Things to do in Chino City, Nagano
Here are just some of the amazing things to do in Chino City.
Cooking with the Village Grandmas
If you love doing cooking classes when you travel, then this is the perfect Chino City activity for you!
Two local grandmas in a small, traditional village just outside of downtown Chino have come together to create a fantastic product – 'Cooking with the Grannies'.
Yoko and her good friend Masako welcome guests into Yoko's home to teach them how to cook a variety of local dishes.
From the moment we walked in the door we were put to work. They had prepared a few different meals for us to make, even being happy to cater to us as vegetarians.
We spent about two hours with them, making different dishes and then of course sitting down and having an enormous lunch.
They were only too happy to chat away with us (via a translator) and were very curious about life in Australia.
They laughed and joked the entire time, and it was such a cool experience.
It really was like having lunch with your grandma!
Afterwards Yoko's husband came downstairs and met us, apologising that he didn't come down earlier as he had been chatting to some friends in South America using a home-built radio and morse code.
Naturally we had to see this for ourselves, and he excitedly showed us his handmade system. A curious way to top off a great lunch.
Tour Cost

Adults: JPY 3,000 – 5,000 excluding tax (depending if lunch or dinner)
Children under 13: JPY 1,250
Children under 3: Free of charge

PAX: Minimum 2 people, maximum 13 people
Booking: https://chinotabi.jp/en/activity/53/
Masumi Sake Brewery
Chances are that if you are travelling around Japan, you will try sake at some point or another.
There are thousands of sake bars all over the country, and dozens of breweries, all catering to the taste buds of sake connoisseurs.
Little did we know before we arrived that Chino City is actually home to one of the best sake breweries in all of Japan, Masumi Sake.
Founded in 1662, Masumi Sake has always had a stellar reputation for creating high-quality sake, even with 5 competitors all within short distance of their brewery.
Despite its long history, its growth has only been relatively recent, after the owners came back from travelling abroad in 1996 and decided to open a showroom.
Luckily for them the 1998 Nagano Winter Olympics happened shortly after, and business absolutely exploded.
Time went on and the owners started to get confused about which direction to take the Masumi Sake brand. Business was going well, but had stagnated. They needed a new idea.
They toyed with knocking down the showroom and building a bigger and better one, but they could just not afford it.
As fate would have it though, late one night a truck sped out of control right into their showroom, and the insurance company paid out for the construction of their dream design.
Today their reputation stretches around the world, and they happily welcome visitors to tour the property and try their product.
They proudly make about 1.8 million bottles of sake a year, exporting 10% of that to stores internationally.
While some sake breweries have stuck to traditional methods, Masumi have capitalised on their growth by installing new technologies such as robotics and nitrogen tanks.
One thing they have never compromised on though is using the purest ingredients they can source, which has meant their sake stays at the top of the market.
Make sure you set aside 2 hours to properly tour the facility. It will be the absolute best sake brewery tour you find in the entire country.
Tour Fee – JPY 4,000 per person with an English Guide
Address – 1-16 Motomachi, Suwa, Nagano 392-8686, Japan
Suwa Taisha Shrine Complex
Encompassing four Shinto Shrines and located by Lake Suwa in Chino City, the Suwa Taisha Shrine Complex is one of the most popular religions centres in the country for Japanese people to visit.
The four shrines are on different properties, separated by the lake, so the best way to get between them all is to either set aside a few hours to walk around and use public transport, or rent a car to drive between spots.
The grounds are very peaceful, and the temple designs offer their own unique beauty.
You'll find intricate carvings amongst the pillars, towering trees with sacred stories, sprawling worship halls and even a even a sumo ring in one of them.
Entrance to the shrines is free.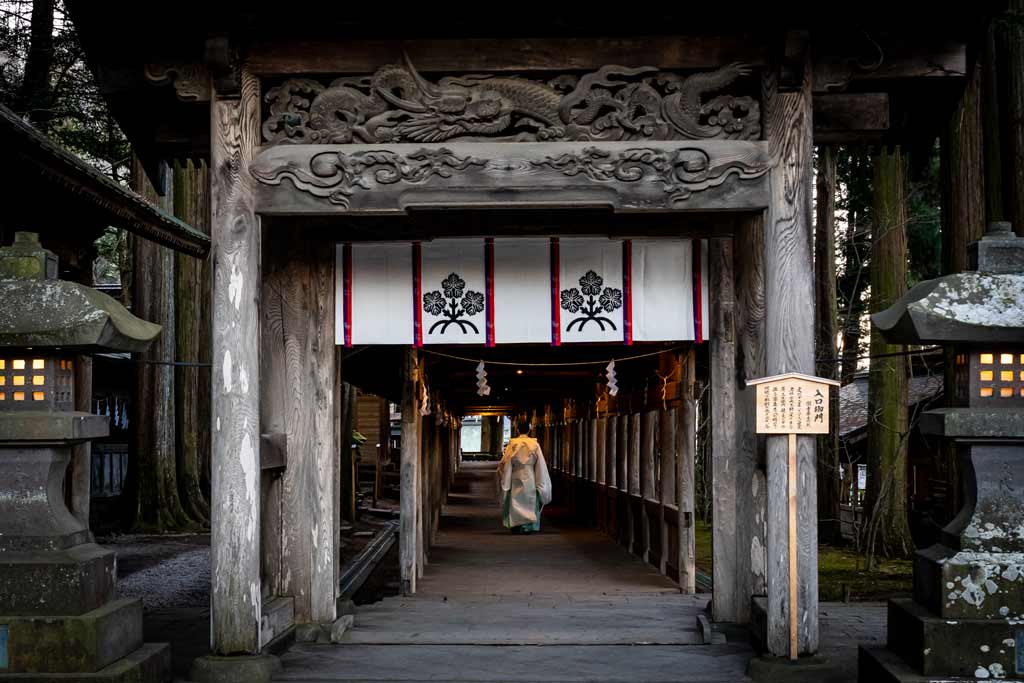 Hiking or Snowshoeing the Kita-Yatsugatake Trail
Now that you've explored a bit around Chino town, it's time to head into those fabled mountains that surround the city.
If you're here in summer, throw on those hiking boots and get ready for a fun day. If you're here in winter, it's time to rent some snowshoes and hit the fresh powder.
About 30 minutes from Chino is the Pilatus Tateshina Snow Resort, a small resort compared to some of the others in Nagano prefecture, but still offering decent terrain.
But you don't need to be a skier or snowboarder, or here in winter, to enjoy the ski resort.
The Ropeway that takes you up the mountain is open to hikers and snowshoers as well, so for your mountain hiking fix, this is where you should go!
We travelled here in February, and with a bunch of snow on the ground, we decided to go snowshoeing.
After buying our lift tickets at the base, we headed up to the peak with our guide Kazuhiko Enomoto, the owner of Pension Poem, and got dressed for the adventure.
With the wind howling it was freezing cold, with temperatures down to -18 degrees. That didn't stop us though!
We rugged up in all of our Kathmandu gear, strapped on our snowshoes, and headed off on the Kita-Yatsugatake trail.
As soon as we entered the forest and got out of the wind we started to warm up, and soon we had a solid rhythm going as we hiked the 5km towards the summit.
Gaining 300m in altitude as we went, it was silent and picturesque wandering through the swaying pine trees.
Eventually we hit the summit, but the winds were so strong we only stuck around for a few minutes before Kazuhiko led us back down the mountain in the direction of the Ropeway.
It was an incredible morning, although to be honest very expensive, and a perfect way to explore Chino's mountains during winter.
During the summer there are even more hiking trails open and you don't need any extra gear.
Snowshoeing Tour
Tour Cost:

JPY 12,900 (tax excl.) – with 2 participants
JPY 9,900 (tax excl.) – with 3~5 participants

Ropeway Pass: JPY 1000 one-way (included with the tour)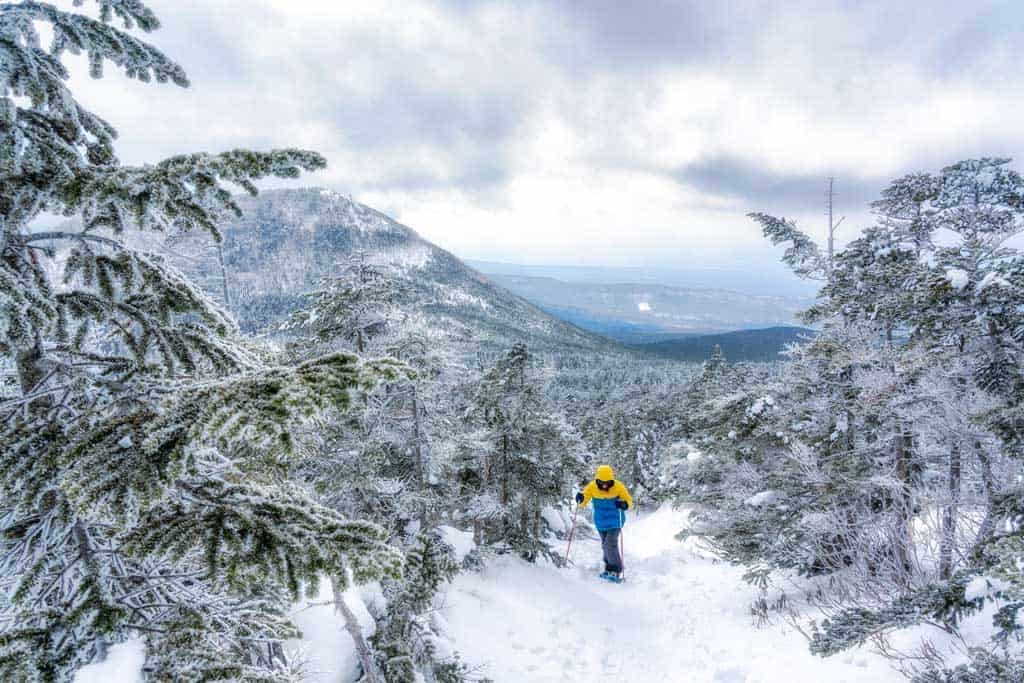 Relax in a Beautiful Onsen at the Tateshina Grand Hotel
After a big hike or snowshoe, there's nothing better than soaking your body in an onsen, and luckily there's a great way a short distance from Pilatus Tateshina Snow Resort.
The Tateshina Grand Hotel is one of the nicest accommodations in the area, but even if you're not staying there, you can enjoy their world-class hot spring facility.
Set at the back of the property overlooking a river and gorge, they have both public and private onsens for visitors.
We really enjoyed this onsen, and it was honestly the loveliest one we've seen so far.
We opted for the private onsen, and loved being able to chill on our own and have the doors open, overlooking the river.
Public Onsen: 1540 JPY per person, no time limit
Private Onsen: 3080 JPY for one hour
Stay in a Traditional Ryokan in the Mountains
No trip to Japan is complete without spending a night in a ryokan (traditional Japanese guesthouse), and there's a fantastic one up in the mountains of Chino.
Pension Poem is the business of Kazuhiko and Haruhi Enomoto, a friendly couple that has opened their home to guests and created one of the most welcoming places to stay in all of Japan.
Slightly different to a more high-end ryokan, like the one we stayed at in Murakami, their one is more like a quaint guesthouse, and we loved every minute we were there.
Surrounded by huge pine trees and an excellent launching point for adventures in the mountains, Pension Poem has a cosy living room and nice dining area for guests to relax in, and basic but comfortable rooms.
The shared bathroom facilities are very clean, and they even have an onsen for you to use.
But the best part about Pension Poem was the food!
After spending about 6 weeks total in Japan, we've had our fair share of food. But the dishes that Haruhi made up was by far the best we've had!
Delicious, healthy and massive in size, even us being vegetarian wasn't too much trouble for her, and she sourced wild mountain vegetables for the ingredients.
After your time in the city, definitely head up into the mountains to spend the night.
Chino, Nagano Travel Guide
Now that you know all of the great things to do in Chino City, it's time to figure out the rest of the plans behind your next trip here.
Based on our personal experiences, we'll share with you where to stay, how to get around, how to get here and some travel tips.
Where to Stay in Chino City
Chino City has a number of decent accommodation options, depending on your budget.
Here is where we stayed in Chino.
Chino Station Hotel
Located right near the train station, Chino Station Hotel is a perfect spot to spend the night when you arrive in town.
The hotel is modern with decent-sized rooms and friendly staff.
Besides being a 2-minute walk to the train station, the location is fantastic, with tonnes of restaurants and bars very close by.
Pension Poem Guesthouse
We've already talked about this place above, but if you have the time to go spend the night in the mountains with a lovely family, you definitely should do it!
Pension Poem is one of the nicest guesthouses we've stayed at in Japan, and the owners Kazuhiko and Haruhi Enomoto will do everything they can to make your stay comfortable.
Kazuhiko is also a very enthusiastic mountain guide, and loves taking people hiking, snowshoeing and skiing.
You can book tours directly with him, or just stay at their guesthouse and use it as a base for further exploration.
Do note that you need a vehicle to get out here. But it's worth it for the food alone!
Address: 4035-2215 Kitayama Tateshina, Chino 391-0301
Phone: +81(0)266-67-4667
Where to Eat in Town
There's plenty of good restaurants located around Chino, so you won't have a problem finding an izakaya or noodle shop anywhere.
If you're after vegetarian food in Chino though, you're in for a tough time. Luckily we found two places that could cater for us!
Wai Wai House
Wai Wai House is a small izakaya that serves up great food.
They were very accommodating for us as well once we explained we were vegetarian.
Plus the food was very cheap, especially by Japanese standards, and absolutely delicious.
Cafe Andante
Located inside the community centre just on the other side of the train tracks from the station, Cafe Andante does excellent Italian food.
Again they could cater for us being vegetarians, but all the dishes on the menu looked great and were reasonably priced.
How to Get Around Chino City
Chino is a relatively small city compared to most in Japan, and public transport can be a bit of a mission to get around.
Bus
There is a decent bus network getting around Chino, but it can be slow and you may still have to walk a bit to get where you need to go.
Check Google Maps for routes and directions.
Rental Car
Having your own wheels is the most efficient way to explore Chino and its surrounding area.
The best way to get around is to rent a car and explore on your own! We recommend Rental Cars, which has the largest range of vehicles for the best value on the market.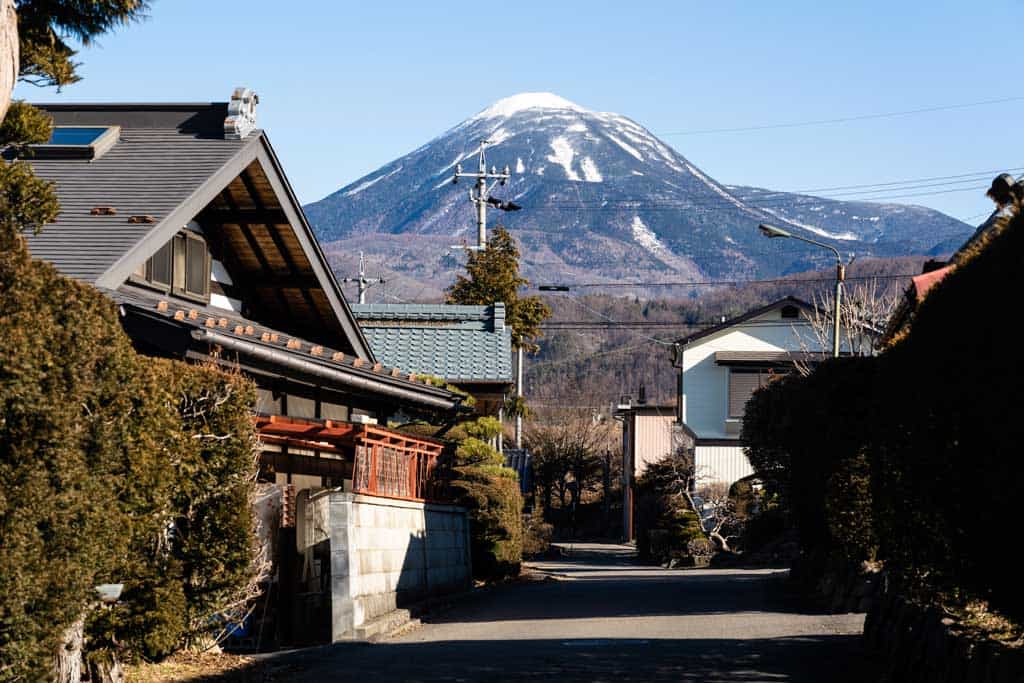 How to Get to Chino, Nagano Prefecture
Getting to Chino is quite easy, especially if you are happy catching trains.
Plane
The closest airport is Shinshu-Matsumoto Airport, about 1.5 hours away by public transport, but the best airports to fly into to get to Chino is either Narita or Haneda airports in Tokyo.
From these airports you'll need to then take trains to get to Chino City.
Train
Trains are by far the best way to get to Chino city.
Make sure you buy yourself a JR Rail Pass to make the most of Japan's expansive rail network.
Tokyo to Chino
There are a number of trains from Tokyo to Chino every day.
Either travel to Tokyo Station or Shinjuku Station, then jump on the JR Chuo Main line to get to Chino.
Tickets cost ¥5000 – ¥7000 and the journey takes 2h 21m.
Nakatsugawa to Chino
We recommend taking the train from Chino to Shiojiri and then taking the train from Shiojiri to Nakatsugawa, which takes around 2 hours.
Nagoya to Chino
We recommend taking the train from Chikusa to Shiojiri, which is the fastest option and takes around 2h 35m.
Osaka to Chino
We recommend taking the train from Shin-Osaka to Nagoya and then taking the train from Nagoya to Shiojiri, which takes around 4h 41m.
Kyoto to Chino
We recommend taking the train from Kyoto to Nagoya and then taking the train from Nagoya to Shiojiri, which takes around 4h 24m.
Bus
There are a number of buses to get you to Chino, but in all honesty unless you don't have a JR Pass or hate trains, there's no need to go for a bus over a train.
JR Bus Kanto operates a bus from Tokyo to Chino hourly. Tickets cost ¥3200 and the journey takes 2h 45m.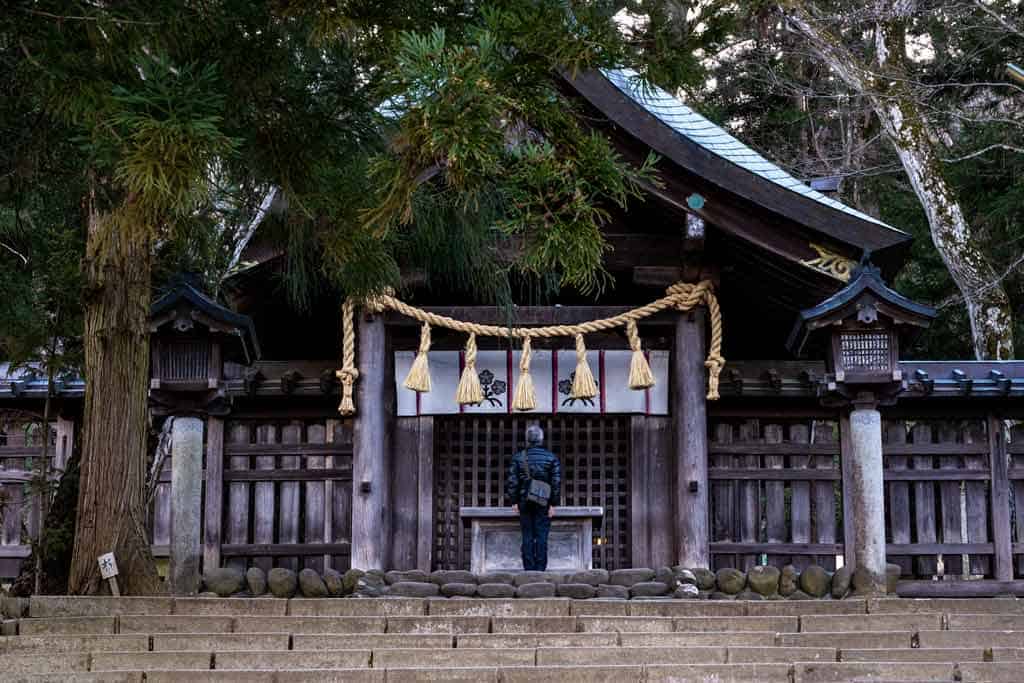 Where to Go After Chino City in Nagano
Once you're finished exploring Chino City, there's a number of cities you could check out.
Nakatsugawa
Nakatsugawa is a lovely city with some incredible natural attractions and historic post towns to see.
Tokyo
No trip to Japan is complete without spending a bunch of time in its eclectic, crazy and fascinating capital.
Nagoya
The city of Nagoya is a great place to explore, that few tourists really get to on their standard Japan itinerary.
Travel Tips for Chino City
Here are some of our travel tips to help you make the most of your time in Chino, Nagano.
Get a Car
By far the best thing you can do is get yourself a rental car.
Public transport is fine, but doesn't get out to many of the spots you want to check out.
Having your own wheels creates a new level of freedom and opportunity.
Book a Tour
The company Chino Tabi has some great tours available on their website.
They can also help out with an English-speaking guide, which is perfect if you don't speak Japanese.
Take Your Time
Just like most places in Japan, the longer you spend here the more you'll enjoy it.
Do yourself a favour and book in two days at least to make the most of the amazing landscapes around Chino.
DISCLAIMER: Some of the links in this article are affiliate links, which means if you book accommodation, tours or buy a product, we will receive a small commission at no extra cost to you. These commissions help us keep creating more free travel content to help people plan their holidays and adventures. We only recommend the best accommodations, tours and products that ourselves or our fantastic editorial team have personally experienced, and regularly review these. Thanks for your support, kind friend!