Whether you're looking to wander the heritage streets or dive into an outdoor adventure, you're going to love this guide to all the best things to do in Ipswich, Queensland!
After spending some time around the Gold Coast and southern Queensland, we made our way towards the Brisbane region and decided to head inland a bit to see what else we could find.
Just a 45-minute drive from Queensland's capital we drove into Ipswich, a place that used to be known as a working-class town but is now growing as an up-and-coming tourist destination
Local businesses and the government tourism board have been working hard to develop activities and attractions to draw people away from Brisbane for a weekend or more.
And the efforts are paying off.
Ipswich really surprised us in a good way. We weren't sure what our experience would be like there, but we discovered plenty of fantastic places during our visit.
The beauty of Ipswich is that not only is the centre of town an attraction, but the surrounding area boasts plenty of incredible things to do.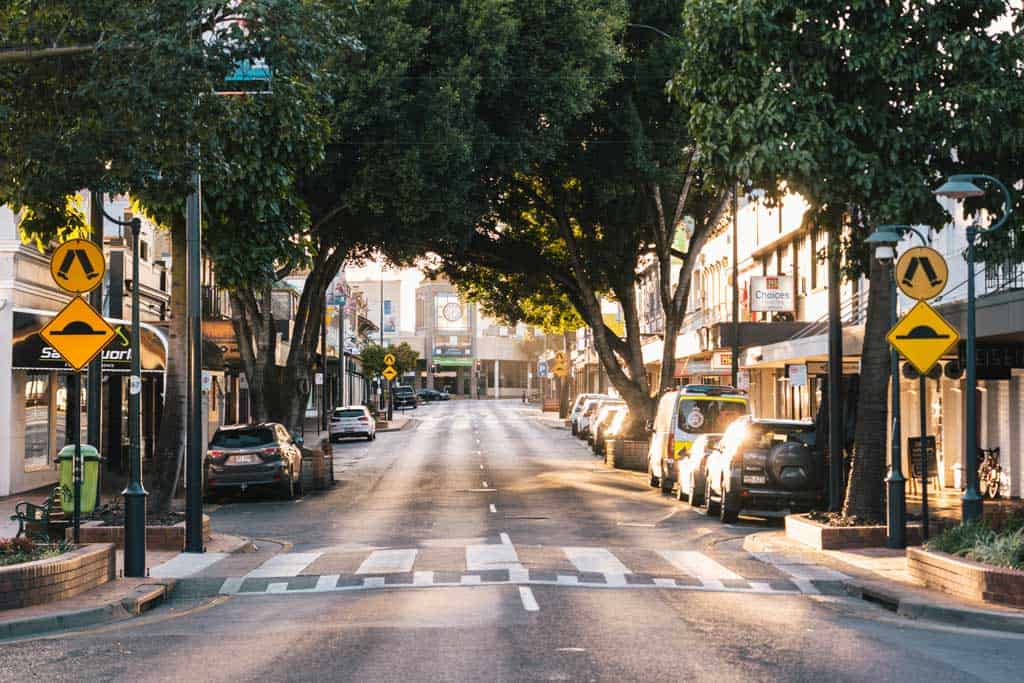 The Top Things to Do in Ipswich, Queensland
Whether you're planning a day trip from Brisbane, trying to tick off all the great Ipswich points of interest over a few days, or making a getaway as a couple, family, friends or solo traveller, this blog post will help you make the most of your time there and know which are the top places to visit in Ipswich.
From visiting Ipswich Art Gallery or Ipswich Nature Centre, to exploring Queens Park to doing dot painting and learning about the Aboriginal culture, here is our list of the best things to do in Ipswich.
Take a Walk Through Queens Park
Queens Park is located in the heart of the Ipswich city centre at the end of Brisbane Street, and you can easily spend a morning or afternoon exploring the grounds.
Queens Park is one of the oldest parks in Queensland and has significant cultural heritage values.
The park's original design goes all the way back to 1862.
When walking through Queen's Park, you will experience old-world charm with modern-day conveniences.
So grab your friends or families and share a picnic on the grass or grab a coffee and go for a walk past the historic buildings and landscaped gardens.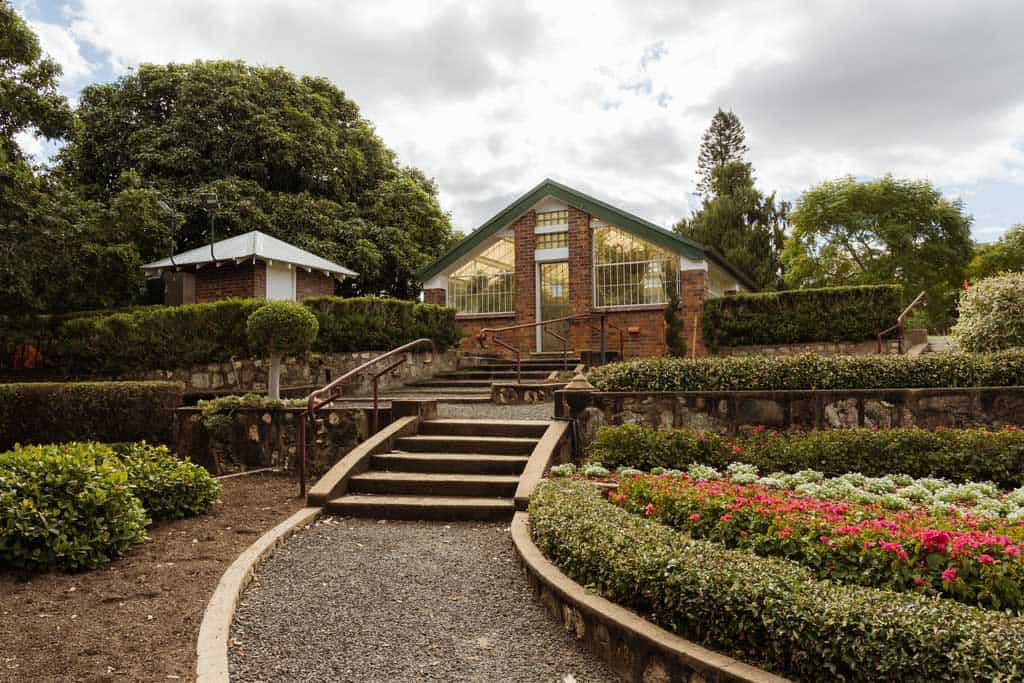 Go for a Sip'n'Dip Indigenous Class in Queens Park
NOTE – Unfortunately Ronald is not doing this tour anymore but Sip'n'Dip hopes to still be able to offer dot classes in the future. Do check out their website for upcoming tours and other tours around the area.
We're strong believers in the importance of learning about a country's history and culture when you travel. And Australia isn't any different.
One of our favourite Ipswich activities was actually doing just this by learning how to do some traditional Aboriginal dot painting.
We joined a guided experience with local indigenous man Ronald from Sip 'n' Dip Ipswich, and he kindly taught us all about the Aboriginal tribes in the area, and how to do their famous dot painting artwork.
Ronald hosts an incredible cultural tour in Queens Park, and he was so open to us asking as many questions as we could think of about his people, art and history.
After a long chat, he then brought out canvases and paint, showing us how to dot the paint in their traditional style, then setting us loose to make our own piece of art, which we got to keep afterwards.
This was a highlight for us, and definitely one of the best things to do in Ipswich.
Visit the Animals at the Ipswich Nature Centre
When you are in Queens Park near the city centre, do not miss a visit to the Ipswich Nature Centre.
The Ipswich Nature Centre has over 42 species and around 200 animals in care – dingos, bilbies, wallabies, a wombat, emus, kangaroos and more.
The animals have been rescued from around the region, but unfortunately cannot go back into the wild as they'd be at risk.
Instead, they live a protected life here at the park, where carers and rangers look after them and offer tours to educate visitors.
Amazingly, it is free to enter or you can get a guided tour for only $8 per person.
If you love the place you can leave a donation which will be used for the care of the animals and future improvements to the Ipswich Nature Centre.
This is one of the great free things to do in Ipswich for all the family.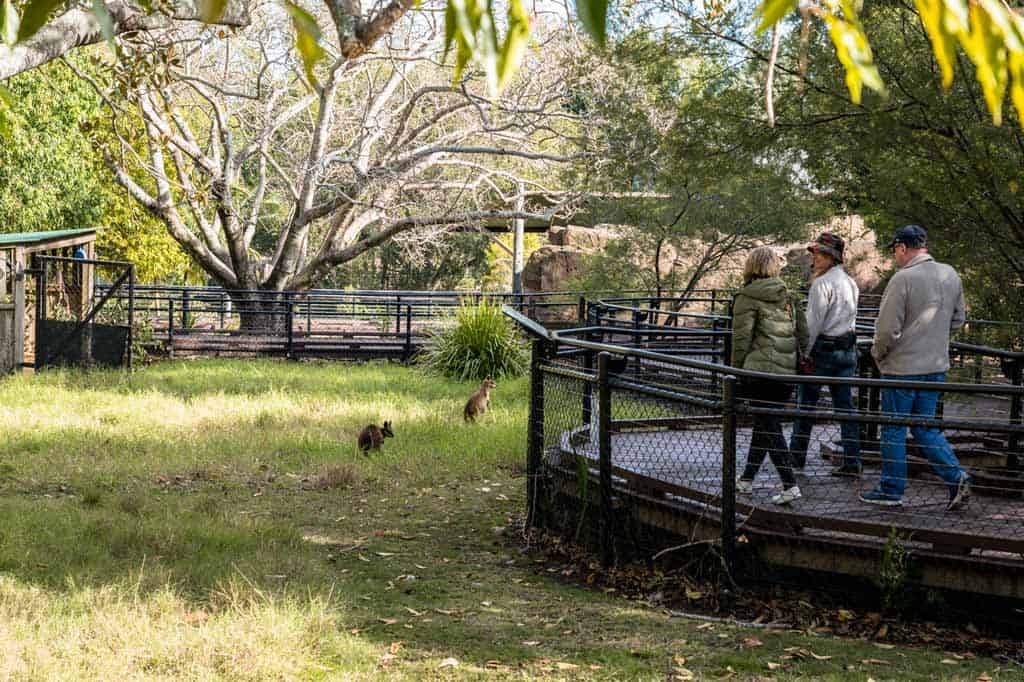 Don't Miss the Nerima Japanese Garden
If you are wondering what to do in Ipswich, just head to the Japanese garden to zen out for a bit before figuring out your plans for the rest of your trip.
This zen garden will clear your mind and take you off to a peaceful place. With stunning paths, vegetation and ponds the garden is a beautiful way to start the day or wind down from a busy one.
The Japanese gardens were designed by Ipswich's Japanese sister city, Nerima, hence the garden's name.
READ MORE: Don't miss out on all these awesome things to do in Brisbane!
Have a Traditional Japanese Tea Ceremony
When we visited Japan we didn't get the chance to do a Japanese tea ceremony, and we were sad we missed out on one.
But here in Ipswich, we took a beautiful walk through the Japanese gardens and came across a traditional Japanese tea house.
And luckily for us, we had the chance to finally do a ceremony!
The tea ceremony is a beautiful experience. It is about harmony, respect, purity and tranquillity.
You do not just drink tea but learn about the ceremony and why things are done the way they are.
These are held on the last Saturday of every month, and you must book ahead through the Discover Ipswich site.
Prices are $45 per person.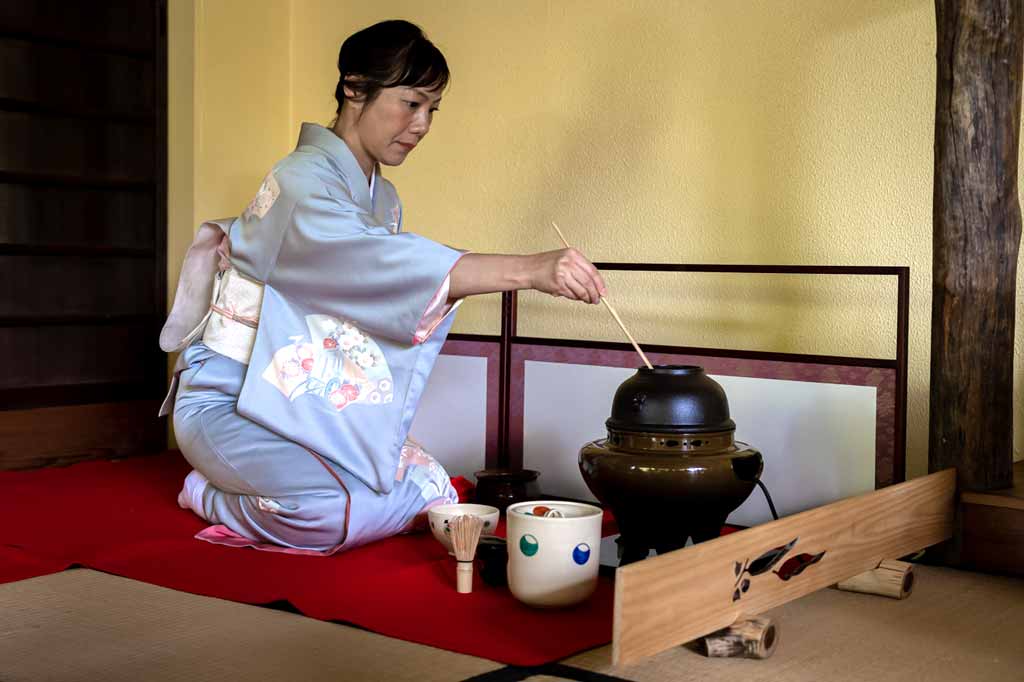 Go on a Historic Tour of the Top of Town
If you are a history buff and want to know about Ipswich's 'Top of Town' history, then pop into the Tourist Centre and book your tour.
Our guide taught us all about the history of Ipswich, why the houses are built on stilts, how the street art scene has been developed and plenty more.
There are so many historic buildings and museums in the Ipswich region, like the Town Hall, the Queensland Pioneer Steam Railway and Rail Museum, and more. Getting a guided tour about the stories behind it all is pretty fascinating.
Check out a Hidden Art Exhibition at the Ipswich Art Gallery
The Ipswich Art Gallery is one of the most visited regional museums in Australia.
So of course you should head to the museum to check out the latest art exhibitions on display.
The Ipswich Art Gallery is a visual art and social history museum presenting a dynamic program of exhibitions and heritage displays with free workshops, performances and an extensive program for children and families.
This place is definitely worth seeing if you love art and are interested in history as well.
Address: D'Arcy Doyle Place, Ipswich QLD 4305
Phone: (07) 3810 7222
Go to a Local Market
If you are looking for more local things to do in Ipswich, head to a farmer's market in the area
There are a few to choose from so it depends on what you are looking for and when you are in town.
Springfield Markets are held on the first Friday of the month from 3pm – 8pm at Robelle Domain. This market has local arts and craft stalls, local produce, multicultural food trucks and live music.
Peak Organic Markets is held at Ivory's Rock in Peak Crossing every Saturday. This small, NAASA certified organic farm opens to the public from 9am – 2pm offering a range of great fresh fruit and vegetables.
Handmade Expo Market is held at the Queensland Pioneer Steam Railway monthly on Saturdays from 8am -1pm at the Ipswich Turf Club. It offers sweet treats, handmade homewares and local produce. Lots of activities for the kids.
Museum Twilight Markets at the Workshops Rail Museum are held twice a year. If you are lucky enough to be in town during this time the market will entertain you with live music, lots of food trucks and local goodies. Get in contact with the local tourism centre to see when the dates are. And check out the Workshops Rail Museum while you're at it!
Twilight Flicks Outdoor Market located at Cameron Park, will be held every second Saturday of the month and feature great flicks, market stalls, live music and food trucks.
Food Fair in the Square located at Ipswich City Mall in the CBD. A great selection of dishes with many food trucks to choose from different countries around the world.
Ipswich Showplace Markets are held every Sunday at Ipswich Showgrounds from 6am -11.30am and entry is a coin donation. These markets are for serious bargain-shoppers. You will find new and secondhand toys, clothes, books, arts and crafts to DVD's, hardware, hot food and local produce.
Sink a Pint at the Pumpyard
Whether it's for an afternoon session or a few drinks in the evening, heading to the Pumpyard for a craft beer needs to be on your Ipswich itinerary.
The 4 Hearts Brewing Company has developed a reputation for themselves for creating a delicious array of boutique beers.
If you're feeling overwhelmed about what to choose, start off with a tasting paddle to sample all their different beers.
The business has refurbished an old building that was once Ipswich's first source of water before being turned into a Technical College, and now a brewery.
This makes the venue ooze with atmosphere and industrial style.
Jarryd loved the Red IPA and my favourite was the Porter.
Address: 88 Limestone St, Ipswich QLD 4305
Phone: (07) 3282 9076
READ MORE: Here's our detailed blog post on all the top things to do in Noosa on the Sunshine Coast!
Go Next Door and Dine at Dovetails Restaurant
*Note: Dovetails Restaurant has apparently closed. We'll update this article after our next visit to let you know our new recommendation.
After your pint head over to the Dovetails Restaurant, where you can have some tasty food.
This is in the same complex as the brewery so you can admire where old meets new with their stylish design.
The food was very delicious with plenty of meat and vegetarian options.
Stop Off for Icecream at Ungermann Brothers
After lots of yummy beer and food, you should finish off the night with ice cream at Ungermann Brothers Ice-Cream Parlour, which is also in the same building.
The flavours were crazy like 'Salted Caramel, Chocolate and Potato Chips', and 'Blue Cheese and Fig', along with more standard flavours.
All their ingredients are locally sourced too.
Take a Road Trip to a Country Town
After exploring the centre of Ipswich, head out of town for a drive to see the countryside.
This is where you really get to know and enjoy the area.
Before you go, pop into the tourist centre and they will give you some ideas and a road trip itinerary to follow.
Hit Up the Cafe Scene
It's no secret that Aussies love their coffee, and we don't settle for a mediocre brew.
Luckily if you're a coffee lover like us, you'll find plenty of good options to grab a drink around the downtown area.
Our favourite was Dancing Bean Espresso tucked away off the main street, where they specialise in boutique roasted blends.
Address: 164 Brisbane St, Ipswich QLD 4305
Say Hi to the Local Llamas at the Llama Farm
Take a little drive out to The Llama Farm. This place has Queensland's biggest herd of llamas, so it will be an experience like no other.
You can even pick a llama to walk on a lead down one of their trails. Cute!
A lot of the llamas here were born on the farm so they are used to humans. They are very friendly and each one has their own name.
There are not just llamas on The Llama Farm – you can also visit the donkeys, miniature ponies, peacocks, geese, turkeys and their 2 beautiful dogs. This is one of the fun things to do in Ipswich with kids.
Address: 563 Riverside Dr, Pine Mountain QLD 4306
Phone: 0403 284 665
Stop Off for a Picnic at Watercress Creek Olives and Limes Farm
Drop into the Watercress Creek Olives and Limes and visit Bernie and Loraine.
They supply limes and olives to all the local bars and restaurants in Greater Brisbane.
During the pandemic, Bernie and Loraine decided to open up a store to sell their products to the public. The idea took off.
Many locals and tourists stop at this attraction now and drop in for produce or to have picnics on the farm.
You can easily spend the afternoon on their farm with a tour, followed by an olive platter to watch the sunset over the olive and lime trees.
Bernie also will spill his secrets and fill you in on how to know a great lime or pick the right olives.
Hot tip that we learnt from Bernie – If you see a yellow lime, it is not bad. In fact it is actually great for cooking or your cocktail drinks as they are ripe, juicier and have more favour.
Address: 53 Bryces Rd, Pine Mountain QLD 4306
Phone: 0416 201 640
Stop Off for a Coffee and Shop at the Soul Nook Collective
On your Ipswich road trip, do pop into the town of Marburg. Taryn from The Soul Nook Collective is based here and has created something unique for the area.
She leased the super cute church in town, put in some bell tents around the property and turned it into a bohemian venue.
You can head here for a coffee and browse through the shop (all local products too) or get a group of friends together and have a picnic in the bell tents.
I really loved what Taryn has done and how she has thought outside of the box to create a unique mobile business.
Address: 89-93 Queen St, Marburg QLD 4346
Phone: 0409 543 512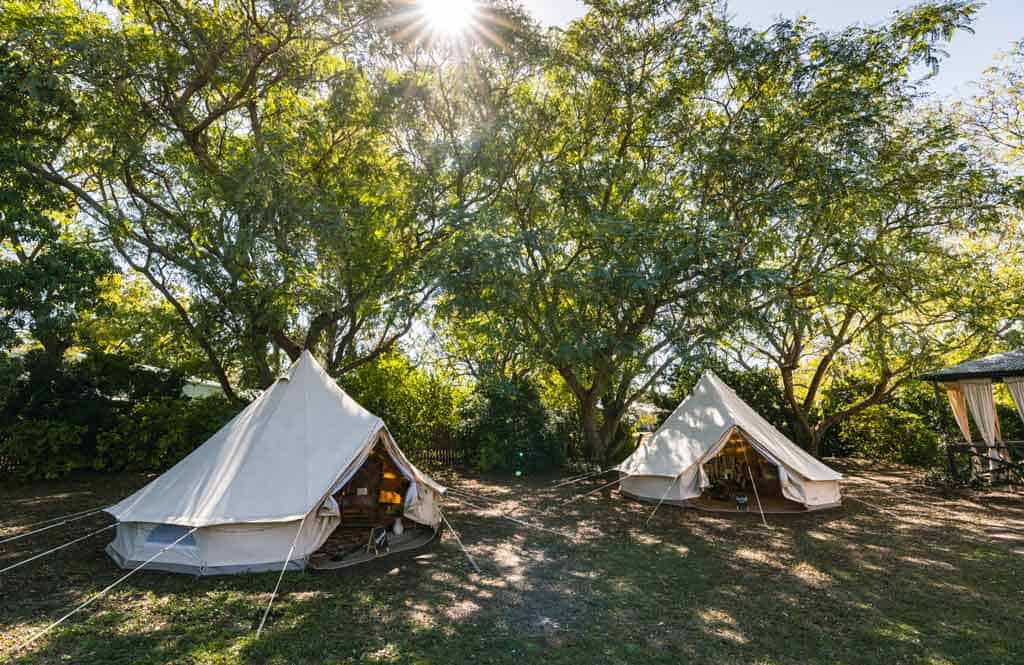 Treat Yourself to a 'Farm to Table' Meal at Spicers Hidden Vale
For a truly amazing idea on this list of things to do near Ipswich, head out to the legendary Spicers Hidden Vale for lunch.
Here you can look out over the valley with a stunning view of the surrounding hills.
But more than just the views, the food is delectable! The award-winning head chef here cooks up the most incredible meals with a real passion for his craft.
He truly believes in the farm to table concept, offering inspired dishes with the vegetables from their garden and meat from the local farmers in the area.
Make sure you make a reservation before coming out because it gets booked quickly.
Address: 617 Grandchester Mount Mort Rd, Grandchester QLD 4340
Phone: 1300 179 340
Take a Tour of the Wildlife Animal Centre on the Spicers Hidden Vale Property
After lunch, organise a tour of their wildlife centre, which is within walking distance from the restaurant.
Here you will learn about what researchers are doing to protect the animals of the area.
It is honestly one of Queensland's best native wildlife centres.
This is a partnership between the University of Queensland and the resort, and it's great to see this has been established near Ipswich.
They house native wildlife where students from the university come and have hands-on training on wildlife management and conservation techniques.
Inside the centre is a variety of reptiles and fat-tail dunnarts (look them up, they're so cute!), with the goal being to care for them and get them back to good health to be released.
They have also found many koalas in the area where they have put trackers on them and monitor their progress.
Go Mountain Biking at Hidden Vale Adventure Park
On the same property, there is a world-class mountain bike trail network, and if love two-wheeled adventures, you're doing to be in heaven here!
Hidden Vale Adventure Park is a 40-minute drive from Ipswich and offers a huge variety of terrain for riders of all skill levels.
There is over 110kms to choose from beginner runs or advanced, depending on your ability.
Head to the Skies in a Hot Air Balloon
Hot air ballooning is one of the most beautiful and enjoyable ways you can experience a new place, and one of the best places to do this near Brisbane is right here in Ipswich.
Nothing beats watching the sunrise from the air, so get in touch with the guys at Floating Images for a morning you'll never forget.
This is definitely one of the best things to do around Ipswich.
The owner and Chief Pilot Graeme guides you through the skies and teaches you all about The Greater Brisbane Region.
There is only one flight a day so make your booking early and don't miss out.
Address: 259 Junction Rd, Karalee QLD 4306
Phone: (07) 3294 8770
Escape into Nature for Some Hiking
Some of the best Ipswich tourist attractions are actually the nearby hiking trails that will get you into nature and let you appreciate the beauty of the Greater Brisbane region.
Check out the Spring Mountain Conservation Estate which is located 20 minutes from the Ipswich CBD for all your hiking needs.
With over 2,500 hectares, the area offers unique rocky outcrops of White Rock and Spring Mountain, extensive forested ridges, escarpments and valleys and of course a huge variety of plants and wildlife.
For the bushwalker, there's everything from an easy 200m walk to a more challenging 19km round-trip trail.
The entry to Spring Mountain Conservation Estate is the Paperbark Flats Picnic Area, at the end of School Road in Redbank Plains.
Another great Estate to check out for hiking is Flinders-Goolman Conservation Estate.
This place has 2,200 hectares and offers extensive forests and rugged volcanic peaks and slopes including Flinders Peak, Mt Blaine, Mt Catherine and Mt Goolman.
The area has different walks from easy to more difficult for all the family. You could easily spend the day out here.
Where to Stay in Ipswich
If you're doing more than just a day trip from Brisbane and are looking to spend the night here, these are some of our recommendations for where to stay in Ipswich when visiting South East Queensland.
Ivory's Rock Campground
If you want to get out of the city and do some camping while listening to the wildlife in the early morning or late evening, then go camping at Ivory's Rock Campground.
The great thing about this camp is you are out of town and in nature, but you still have the luxury of a toilet and hot shower.
The kids, hubby or wife can light a fire and roast marshmallows over it.
Or you can walk around the property and if you are lucky you may even see a koala.
This campground is not too far from the Flinders Peak Conservation Estate for all your hiking needs.
Address: 310 Mount Flinders Rd, Peak Crossing QLD 4306
Phone: 07 3077 9668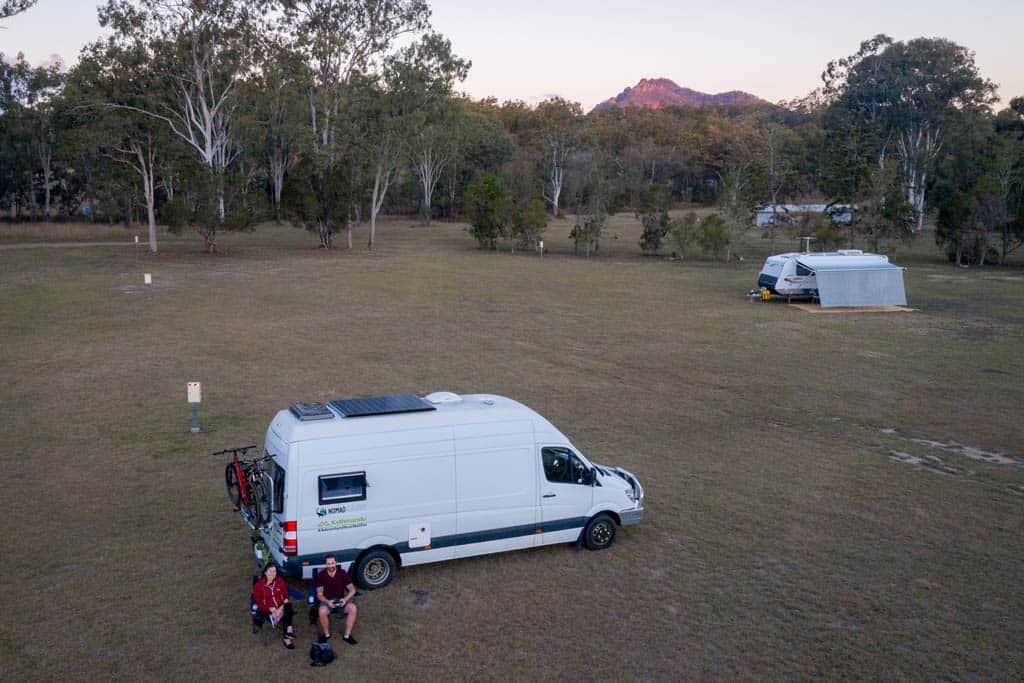 Quest Hotel
These apartment-style rooms are great for families or people who like to be self-sufficient.
The Quest Hotel in Ipswich is located within walking distance from the centre of town with plenty of on-site parking as well.
Address: 57-63 Warwick Rd, Ipswich QLD 4305
Phone: (07) 3813 6000
DISCLAIMER: Our visit to Ipswich was made possible thanks to Discover Ipswich. All thoughts, opinions and Red IPAs consumed are, as always, our own.