Everything you need to know about skiing in Kyrgyzstan. From knowing which are the best ski resorts, backcountry options, unique experiences and whether it's worth coming here or not.
If you're looking to go on a unique skiing holiday, forget about Canada, the USA or France.
For a true winter adventure, where deep powder turns, uncrowded runs, cheap prices and interesting culture are everywhere, add Kyrgyzstan to your bucket list.
This landlocked Central Asian nation has become a growing trend in recent years for travellers who love to get off the beaten path, but until now that tourism boom has been restricted to summertime activities like horse riding, trekking and mountain biking.
That is changing though, and word is getting out that travelling to Kyrgyzstan in winter offers a different type of experience that is no less epic.
READ MORE: Check out our complete guide to travelling in Kyrgyzstan.
Skiing in Kyrgyzstan has long been a popular pastime for many Russians and Kazakhs, who travel to the country to take advantage of its fantastic terrain and rock-bottom lift prices.
The secret is out now though, and slowly more and more people from around the world are checking out Kyrgyzstan for their next winter shred trips.
The upcoming hype is totally understandable too.
Where else in the world can you get long, waist-deep, lift-accessed runs for only $17 a day, or spend a few nights out in the backcountry sleeping in a yurt, with virgin peaks surrounding you on all sides?
Kyrgyzstan is as unique of a winter destination as you can get.
Whether you're into fun and fast groomers, flowy tree runs, alpine bowls, off-piste adventures or simply enjoying the apres-ski life with your friends and family in a natural hot spring, this country has it all.
Read on for the ultimate guide to snowboarding and skiing in Kyrgyzstan.
The Best Ski Resorts in Kyrgyzstan
Whenever we talk about snowboarding or skiing in the best country in Central Asia, we always get asked the same question:
"Wait, there are ski resorts in Kyrgyzstan?"
Yes, there are. And some of them are as good as what you'll find in Europe or North America.
While the backcountry options are undoubtedly what will bring the hardcore skiers and snowboarders, if you're planning a winter trip here, you'd be foolish to not at least spent a couple of days riding up at the best Kyrgyzstan ski resorts.
Whether you're a complete beginner or have been carving double blacks for decades, you'll find something to match your style at these great ski hills.
Karakol Ski Resort
Arguably the best ski base in Kyrgyzstan, Karakol Ski Resort has the terrain, infrastructure and snowfall to keep any skier or snowboarder happy.
The ski base, only a 25-minute drive from the town of Karakol, has a number of hotels, restaurants and even a ski rental and repair shop to cater to all visitors.
The chairlifts are all fixed-grips, and while not the fastest on the planet, the chances of having to wait in a lift line is just about non-existent once the hill has been open for a few minutes.
There are two things that make Karakol Ski Resort so good. The first one to focus on is the calibre of the terrain.
The runs are steep with a great fall line, making it perfect for snowboarders looking to avoid any flat spots.
Trees are widely spaced, and you'll find quite a few gullies and pillows to hit if you're an advanced rider.
There is also a small area of alpine skiing off the top of the chair, with a deep bowl wrapping around beneath a ridge.
In terms of quality of terrain, I'd put Karakol Ski Resort on par with Lake Louise in Canada.
On the day I spent riding here, the hill had a small dusting of fresh snow the night before, but no real dump for a few weeks.
Still, I managed to get countless deep turns and face shots right underneath the chairlift all day. Even being on the weekend, it felt like there was nobody here.
The other the main reasons to come here is to enjoy the spectacular views over the Tian Shan mountain range.
The top lift levels out at 3040m above sea level, and from here you can stare longingly into the back bowls and valleys, while also capturing fantastic vistas all the way to Issyk Kul.
Depending on how much time you have (and if there's fresh snow in the forecast), I'd recommend spending two days riding here.
There is no shuttle bus here, so it's best to either book a taxi or organise a driver through your guesthouse.
Lifts: 5
Vertical Drop: 792m
One-day Lift Pass: 1200KGS (USD$17)
Chunkurchak Ski Resort
The best ski resort close to Bishkek is Chunkurchak, only an hour away from the city.
This fun, well-structured ski hill has a great mix of lift-accessed beginner and intermediate terrain, with long groomers offering fantastic options for first-time skiers.
Straight off the top chair you can drop into a fun little gully, and when the snow coverage is good you'll find lots of laid-out turns to be had.
If you are looking for something a bit more challenging, the slackcountry that can be accessed from the top chair has ample opportunity to find some steep alpine and gladed runs.
The ski base is well developed, with a restaurant serving up traditional Kyrgyz meals and a ski school where you can book some group or private lessons.
Some of the best accommodation in the area is located only a few minutes as well, at Supara Chunkurchak.
Here you can stay in designer yurts or cabins set in a sensational forest with mountain views all around.
If you are based in Bishkek and only have a one or two days to go skiing, Chunkurchak Ski Resort is the place for you.
Lifts: 5
Vertical Drop: 370m
One-day Lift Pass: 1200KGS (USD$17)
Zil Ski Resort
If you have a few hours to kill in Bishkek and want to get some turns in, or are a beginner and would like to ease into your Kyrgyzstan skiing adventure, Zil Ski Resort is the perfect place for you.
Kyrgyzstan's most popular ski resort doesn't have the terrain to keep the pros satisfied, but with mellow fall lines and well-maintained groomers, it's still a fun place to carve some laps.
The ski base also is quite cute, drawing on what appears to be an almost European inspiration in its design (if you ignore the statue of Vladimir Putin standing proudly).
There are restaurants and a bar to kick back at for some apres-ski, as well as accommodation here if you don't feel like making the 30-minute trip back to Bishkek.
Lifts: 5
Vertical Drop: 550m
One Day Lift Pass: 1200KGS (USD$17)
Orlovka Ski Resort
If you head west from Bishkek towards Issyk Kul, you'll enter the Chuy Valley, home to the Orlovka Ski Resort.
This ski field has some nice, varied terrain, so even if you're a seasoned shredder, you'll be sure to have a good time up here.
The runs are wide and open, with no glades to be of concern. A gully does funnel down from the top chair to the bottom of the hill, so just double-check coverage before you drop in.
You can get food, drinks and rental gear at the base, and there's even some accommodation available.
If you're coming out this way from Bishkek, make sure you stop off at the 11th-century Burana Tower in nearby Tokmok.
Lifts: 4
Vertical Drop: 450m
One-Day Lift Pass: 1000KGS (USD$14)
Too Ashuu Ski Resort
120km from Bishkek on the road to Osh is the Too Ashuu Ski Resort, another great option for people looking for the best ski resorts in Kyrgyzstan.
And at only USD$11.50 for a one-day lift ticket, it may even come on top as one of the cheapest places to go skiing in the world!
The resort is another solid favourite for intermediate riders, with long runs giving the legs a good burn.
The chairlift tops out at around 3000m above sea level, and as a result it has one of the longest ski seasons in the country, potentially running from late October until early April.
The Too Ashuu Pass that the resort is built on also gets great snowfall, and when the coverage is good, you can ski right down to the highway and grab a shuttle back to the ski base.
Like most Kyrgyzstan ski resorts, there is a restaurant and accommodation at the base, as well as rental gear.
Lifts: 2
Vertical Drop: 480m
One-Day Lift Pass: 800KGS (USD$11.50)
Kyrgyzstan Backcountry Skiing Options
If you're an experienced skier or snowboarder, you will absolutely love the backcountry skiing in Kyrgyzstan.
With the country being 93% covered in mountains, and having a long and snowy winter season, it's only a matter of time before the enormous peaks of Kyrgystan start to feature in some of the world's best skiing publications and movies.
The backcountry options here can really cater for any skill level.
If you're looking to huck 30-foot cliffs or drop into steep and narrow couloirs, you'll find plenty of lines.
If you'd rather long and consistent untracked blue runs, you'll be in powder heaven.
Feeling fit? The ski touring is absolutely unreal, and opens up a huge range of possibilities.
Prefer to let a machine do the work for you? Not a problem. You can rent a snowcat or snowmobile to charge you to the top of a ridge, or if money isn't an issue, you can even go heliskiing in Kyrgyzstan!
The only limits here really are your imagination.
Disclaimer: Backcountry skiing comes with a substantial amount of risk, and it is a dangerous sport, even for experienced riders. If you do not have avalanche rescue and terrain training, we strongly recommend you connect with a qualified mountain guide in Kyrgyzstan before hitting the backcountry.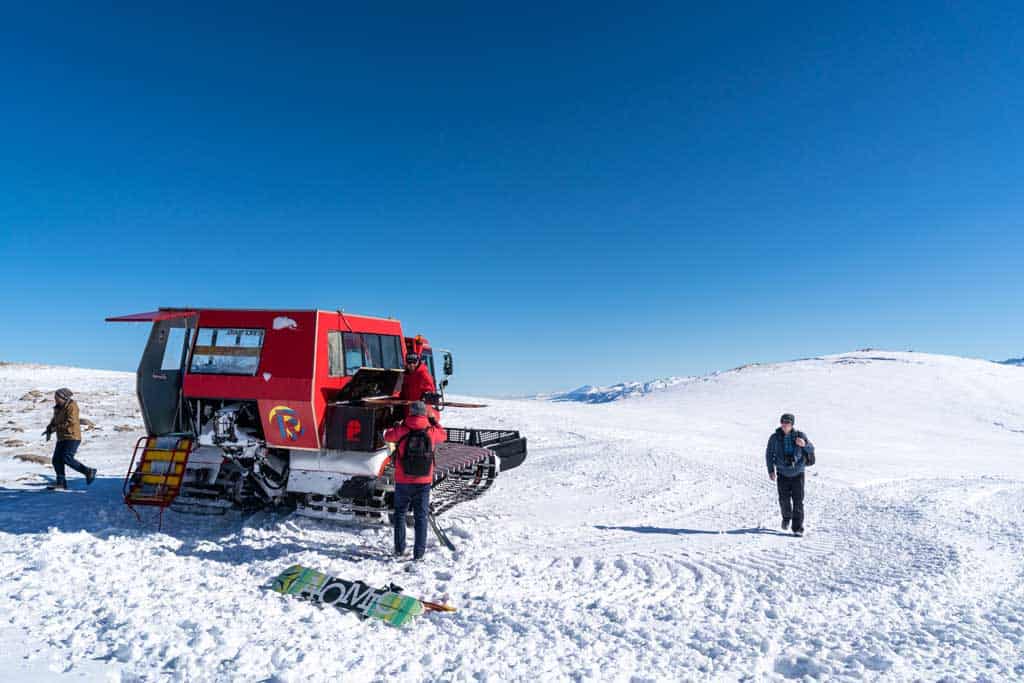 Jyrgalan
Jyrgalan is our favourite place in all of Kyrgyzstan, and it's become one of Central Asia's ultimate adventure hotspots.
During the summer you'll find a whole plethora of mind-blowing hikes to enjoy.
And when the snow has started to fall, these mountains transform into a winter playground.
For backcountry skiing in Jyrgalan you have a few different options.
You can either stick to traditional ski touring, using the village as a base and picking your lines from there.
You'll also have the choice to rent a snowcat if you have at least 6 people in your group (or you can try and team up with some other skiers in the village).
Finally you can rent a snowmobile, which is a lot faster.
READ MORE: Check out our brand new dedicated snow guide to ski touring in Jyrgalan!
Cat Skiing
Cat skiing has always been referred to as 'poor man's heliskiing', and while it definitely isn't as epic as a day out in a chopper, you can often gain almost the same quality of riding for just a fraction of the cost.
Using a snowcat (a truck-sized machine on tracks with an enclosed cab, designed for driving on snow) to go deep into the mountains, you and your buddies pile into the back and relax while the operator drives you to the runs.
Once you get to the top you jump out, inspect the conditions (or let the mountain guide do that for you), pick a run after consulting the cat operator and drop in.
After you've finished shredding the hell out of some untracked faces, you ski right up to the waiting cat, load in and head back to the top to do it all again.
It's an incredible day out, especially if you have a group of similarly-experienced skiers or snowboarders with you.
Cost: 5000KGS (USD$72) per person (minimum 6 people) for the whole day. 3500KGS (USD$50) for half-day.
Snowmobiling
If you are a bit more particular about the runs you want to hit and need some extra manoeuvrability, you can rent a snowmobile for the day from the yurt camp in Jyrgalan.
The experienced operators will use their sleds to get you up to some crazy lines, and the speed of them means you can get plenty of laps in a single day.
For some particular lines you want, you may still need to skin or boot pack up to get in position, but the snowmobiles can get to a lot more places than a snowcat can, which is restricted to roads.
This is the perfect choice for you and your buddies if you want to focus on shorter, steeper runs with certain features, or have a big day of filming planned.
Cost: 6000KGS (USD$85) per snowmobile for the whole day (comes with operator).
Boz Uchuk Valley
A couple of valleys over from Jyrgalan is Boz Uchuk, a place that we have been trekking to in the summer and been absolutely blown away by.
Now that skiing in Kyrgyzstan is gaining popularity, it has become a bit of a hub for backcountry adventures.
To get to Boz Uchuk Valley requires an 8km easy ski tour or snowshoe, gaining 300m in altitude to arrive at the CBT Boz Uchuk Yurt Camp.
From here you have plenty of options for where to ride.
Directly behind the yurt camp are some glorious tree runs and a steep face above the tree line.
For something longer it's best to tour further up towards the end of the valley.
From here the world seems to be your oyster, and you can pick any (safe!) ridge or bowl to hike up.
The terrain in Boz Uchuk Valley is out of this world, and you can even find a few fun, natural features like short couloirs and cliff drops if you know what you are doing.
You could easily spend a few days here and never get sick of the lines.
The CBT Boz Uchuk Yurt Camp
The best part about Boz Uchuk Valley is that you can stay right in the heart of it at the CBT Yurt Camp.
Rather than having to skin in, up and out in a single day, you can make the yurt camp a base and take things at a much more relaxed pace.
At the camp you'll find a dining yurt and two shared sleeping yurts, as well as an outhouse to do your business.
Availability is limited, so if you want to stay here make sure you reach out to the guys at CBT Karakol early.
Cost: USD$60 (4200KGS) per person per night, including breakfast, lunch and dinner
Jalpak Tash – 40 Tribes
Known to be the pioneers for opening up backcountry skiing in Kyrgyzstan to the western world, the winter adventure company 40 Tribes operates a fantastic yurt camp in Jalpak Tash.
Accessed from Ichke-Jergez village not too far from Karakol, Jalpak Tash gets a tremendous amount of snowfall thanks to the moisture and warmth hitting the mountains from nearby Issyk Kul.
The private yurt camp is quite similar to the one you'll find in Boz Uchuk, however it is privately owned, meaning the only way to stay here is to book a tour with 40 Tribes, or rent out the entire place on dates that are available.
Getting from the village to Jalpak Tash Yurt Camp requires a 6km skin in, but once you're there you'll immediately realise why 40 Tribes are known for having the best backcountry skiing options in Kyrgyzstan.
The pristine mountains that surround the camp are just waiting for first descents, and the terrain is some of the best in the country.
40 Tribes work with expert ski guides from around the world and strive to deliver exceptional service to their customers (while supporting the local community as well), so you know you're getting a quality product.
This does however translate into being one of the most expensive Kyrgyzstan skiing tours on the market.
A 7-day tour including accommodation, meals, transport and only 4 days skiing at the yurt camp starts at USD$2225 per person.
Suusamyr Valley
If you prefer to have your backcountry experiences with a dash of luxury, then you can't beat the Suusamyr Valley.
South of Bishkek on the way to Osh, the Suusamyr Valley is a bit of an adventure playground at any time of year, but when the Ullr starts to drop copious amounts of powder on the mountains, it becomes a skier's paradise.
At the base of the valley is the splendid Suuslodge, a large accommodation that is set up to house backcountry enthusiasts without the need to sleep in a yurt.
It's a great base for ski touring, and you could spend a week here finding different lines and features to hit.
They also have two modern snowcats for those who want to try a day (or 5) of catskiing and save the legs for the ride down.
It's more expensive than Jyrgalan at €140 per person for a day, but it's still a bargain when comparing it to North America or Europe prices.
You can book combination packages that include accommodation, meals, freeriding and cat skiing.
Alay Mountains
Down in the south of the country is one of the wildest ranges in Central Asia, the Alay Mountains.
Located along the border of Tajikistan, the Alay Mountains reach as high as 7000m and are home to valleys, peaks and glaciers that have never been touched by humans.
For backcountry skiers and snowboarders, this only adds to the appeal.
While the Alay Mountains don't get quite as much snowfall as the Tian Shan Mountains, their remoteness and rugged terrain make it a formidable challenge for even professionals.
Using Osh or Sary Mogol as a base, you can rent a 4×4 to get you into the valleys, where you'll then need to ski tour up to the ridges and faces you want to ride.
The infrastructure here is pretty much non-existent, and there are very few certified and experienced ski guides in the area, so if you're coming down this way make sure you have all the skills and equipment to play safely in the backcountry.
Click here to see our experience of hiking in the Alay Mountains in summer to see the potential for winter freeriding.
Heliskiing in Kyrgyzstan
If you want to have one of the most epic big mountain, backcountry experiences imaginable, then you can't go past heliskiing in Kyrgyzstan.
Known to be one of the cheapest places in the world to do every skier and snowboarder's bucket list, jumping in a chopper and shredding laps of deep, untracked powder is an absolute dream.
You can book multi-day trips out of Jyrgalan and Suusamyr, and a 7-day tour including accommodation, meals and 4 days in a heli should set you back about USD$4000 per person.
You can get in touch with the company that organises heliskiing here on Facebook.
They are in the middle of building a new website, which should be ready by May 2020.
Skiing in Kyrgyzstan – Everything You Need to Know
Now that you know where to go skiing in Kyrgyzstan depending on your skill level and what you want to do, it's time to dive into some of the other logistics of what it takes to come riding here.
Ski Rental in Kyrgyzstan
Yes, you can rent your ski gear once you get in the country. However we would recommend that if you are an experienced skier or snowboarder, and have your own gear back home, to bring it with you, as you likely won't find similar quality equipment in Kyrgyzstan that you can find back in your home country.
Bishkek
The best rental shops are in Bishkek, with Gergert Sport having the greatest selection of gear.
Their ski range is quite diverse, and for 600KGS (USD$8.50) per day, you can get skis, poles and boots.
They also have snowboards for rent, and while the range here is more limited, you should be able to find something sufficient.
Address: 182 Gorky St, Bishkek 720054, Kyrgyzstan
Phone: +996 772 921 002
Karakol
Options for rental gear in Karakol are also pretty good, and the Extreme Tour shop is your go-to for anything you need.
They have a good selection of skis, boots, and a medicore snowboard collection (but they do have one decent splitboard), as well as all the camping and mountaineering gear you could imagine.
You can also rent avalanche rescue gear, such as transceivers, probes and shovels.
Igor, the owner, is a bit of a legend in the mountaineering scene in Kyrgyzstan, so he knows his stuff.
The only issue with this shop is that they don't appear to use set prices for any of their ski rental.
Best bet is to show up and sweet talk Igor and his wife to try and get the best deal.
Address: Gagarin st. 28/26, Karakol, Kyrgyzstan, Karakol
Phone: +996 551 451 515
What Is Kyrgyzstan Like During Winter?
Kyrgyzstan in general is a very safe country, and there's little to be concerned about from a safety point of view.
The main issues to take into account when planning a Kyrgyzstan ski trip is the weather and avalanche conditions.
Weather
As you can imagine, travelling to Kyrgyzstan in winter will have some difficulties when it comes to cold temperatures and extreme weather if you are not prepared.
You can expect to find temperatures in Bishkek to be around 0°C during the day, and around -8°C at night, although it's not unheard of for temperatures to drop to -20°C.
Karakol is slighty colder, and you'll find temperatures in the winter range from -5°C to -14°C.
In the mountains it can of course be colder. Best to be prepared for all conditions, with wind chill factor potentially bringing temperatures down to -30°C at night.
Avalanche Awareness
A major concern for any backcountry skiing adventure is the avalanche risk.
Kyrgyzstan in general doesn't get notorious avalanche danger, due to the relatively light snowfall.
Sluff rather than slab avalanches are the norm here, but don't get complacent as sluff avalanches can still be deadly.
If you have undertaken avalanche rescue training you will already know what to look for in the backcountry, and the usual practices remain.
Never enter the backcountry alone, continuously monitor conditions, dig a snow pit if unsure, traverse and ski steep slopes and known avalance paths one at a time, keep up your practice with your rescue gear, etc.
If you are unfamiliar with skiing or snowboarding in the backcountry, or are just a bit out of practice, always ski with an experienced guide.
Play safe in the backcountry, and you'll reap the rewards for years to come.
Transport
For the most part, public transport is the same in Kyrgyzstan during the winter, although there may be slightly less departures than the summertime.
Getting around also takes a lot longer due to icy roads, snowfall and possible road closures.
When planning your Kyrgyzstan ski vacation make sure you take these longer transport times into account.
If you're booking a tour or looking to hire a driver to get you around, it's highly recommended you get a 4×4.
Most of the reputable companies will have drivers who own 4x4s, so this shouldn't be an issue.
How Much Snow Does Kyrgyzstan Get?
Even though I've visited Kyrgyzstan 7 times since 2015 and am constantly trying to find out this information, finding accurate data on how much snowfall the country gets is almost impossible.
Some locals will say they get huge amounts, then indicate that it's around 30cm. Others will say they get metres in a single night.
From what I experienced in Kyrgyzstan, it is highly likely they get around 2m of snow around Bishkek, and perhaps 3m around Karakol.
Jyrgalan valley gets more, possibly up to 4m according to our friends who live there.
During our trip in February 2020, the bases in Zil and Chunkurchak were perhaps around 30cm, Karakol would have been about 60cm, and Jyrgalan around 80cm.
That was considered a low snow year too.
What we will say is that while Kyrgyzstan doesn't get the huge snowfalls that Japan or North America gets, the cold weather means the snow stays around a lot longer and the lack of people skiing means the powder stays untracked for a lot longer.
The snow is also quite dry, meaning that when it does snow, the conditions are going to be all-time.
When is the Best Time to Go Skiing in Kyrgyzstan?
The winter season in Kyrgyzstan can be long, potentially stretching from October right through to April.
The Kyrgyzstan ski season however is usually from late December through to mid-March.
The best month to go skiing in Kyrgyzstan is February, when there is good snow coverage on the ground, and temperatures haven't started to warm up yet to create freeze-thaw conditions.
I Need a Ski Guide. Who Do You Recommend?
If you're planning on hitting the backcountry and need a good ski guide, we recommend you get in touch with Pavel Vorobiev.
He is the guide we had for Boz Uchuk and Jyrgalan, and he is an absolute legend.
Highly experienced, incredible skills and he also speaks excellent English.
Get in touch with him here, and tell him NOMADasaurus sent you:
Is it Expensive?
One of the main attractions that bring people to Kyrgyzstan for skiing (besides epic terrain with no people riding it) is just how inexpensive it is.
As you can see from above, the average price for a one-day ski pass is USD$17.
A day of catskiing will set you back around USD$70.
Let's compare that to Whistler, where a one-day lift pass is USD$115, or Chamonix, where a lift pass is USD$75.
So if you're planning on coming for a few weeks, your trip is going to be very, very cheap.
Accommodation during the winter will set you back around USD$50 a night on average, including breakfast.
An average price for a meal is about USD$3-5.
Expect to budget about USD$100 per day for a winter trip in Kyrgyzstan, including accommodation, lift tickets, meals, drinks and transport (if travelling as part of a group).
What Should You Pack?
Here's a general idea of what gear you should bring with you for a winter trip to Kyrgyzstan.
Waterproof ski jacket and pants (we use the Kathmandu Styper range)
Merino wool thermals
Ski socks
Glove liners
Warm gloves for walking around town
Ski gloves
Ski goggles (we use SunGod)
Face mask
Beanie
Helmet
Fleece jumper
Down jacket
Heavy pants for around town
Waterproof hiking boots
A GoPro to capture all your epic pow turns
And if not renting gear:
Ski/snowboard boots
Skis/snowboard and bindings
Finally if you're planning on going into the backcountry:
Transceiver (buy here)
Shovel (buy here)
Probe (buy here)
Backpack
Touring skins
A splitboard (if a snowboarder)
Snowshoes (you can rent these)
Is Skiing in Kyrgyzstan Good for Families?
The answer is yes, Kyrgyzstan is a great ski destination for families.
The low cost of transport, meals, accommodation, rental gear and ski passes makes it a very affordable place to visit for a family vacation.
Throw in the varied terrain that will keep beginners, intermediates and pros happy, and you'll find there's something for just about anybody here.
Besides the skiing, Kyrgyzstan is a fascinating country in its own right, with incredible cultural and historic sites to see, with very hospitable people.
Your family will love their time in Kyrgyzstan in winter.
The only issue you may find is that it would be hard to find ski instructors who speak perfect English (they tend to speak Russian), but this is changing rapidly.
DISCLAIMER: This publication is made possible by the Sustainable Winter Tourism Development Project financed by the Government of Switzerland through the State Secretariat for Economic Affairs (SECO) and implemented by Helvetas Kyrgyzstan as well as by the support of the American People through the United States Agency for International Development (USAID) Competitiveness, Trade, and Jobs Activity in Central Asia. The contents of this publication are the sole responsibility of Jarryd Salem of NOMADasaurus Adventure Travel Blog and do not necessarily reflect the views of the Government of Switzerland and Helvetas Swiss Intercooperation or USAID and the United States Government.