ANNOUNCEMENT: Dates for our 2024 Mongolia Adventure Tour will be announced shortly! Join the waiting list found at the bottom of this page to be the first to hear when registrations open.
We are beyond thrilled to open up registrations for our first-ever exclusive, small group tour of Mongolia, departing in July 2024!
The NOMADasaurus Tour Company launched in 2018 with two adventures around Kyrgyzstan, and since then has expanded to run trips in Antarctica, Kyrgyzstan, Tajikistan, and now Mongolia.
Our passion is showing people around unique places in the world, focusing on community, adventure activities, epic landscapes, culture and photography. As such, it was only natural that our next expedition ventures into the first nomadic country that captured our hearts during an overland journey quite a few years ago.
We're very excited to be offering this incredible two-week Mongolia tour, exploring the best highlights of the country, including the magical Gobi Desert and the spectacular Khuvsgul Lake region.
"I would travel with Alesha and Jarryd anywhere!"

Randy, 2018 Kyrgyzstan and 2019 Tajikistan tour particpant
Just like our personal travels, this tour of Mongolia is designed to be a fun, interesting and culturally fascinating experience, with a big focus on outdoor adventures.
We have partnered with the top local tour operator in the entire country to bring you this adventure, however rather than being a general tour, it's structured to be more like a small group of friends coming together to explore a new country.
The concept of our NOMADasaurus PhotoVenture Tours is simple – We seek out superb photography opportunities in offbeat locations, and mix our days up with exciting adventures and local experiences.
This isn't a photography workshop though. We won't be hiking for 6 hours in the dark to get to a sunrise location and sleep the entire day. Instead, we treat it as an adventure tour, with a photography element to help ensure you go home with the best pictures possible from your trip.
For our Mongolia tour we have designed an incredible itinerary to follow, but just like in independent travel, things can change due to unexpected opportunities. This is especially true for the 2024 tour of Mongolia, as we've chosen early July to coincide with the legendary Naadam Festival!
This nomadic sporting event has been bringing travellers to the country for years, but most people watch the festival in Ulaanbaatar, in a large stadium and surrounded by tourists and media outlets.
Not on our tour. Few people even realise that Naadams actually happen all over Mongolia in early July, not just in Ulaanbaatar.
We are going to visit a number of local Naadams in small sums (villages), ensuring we have an up-close-and-personal experience with the athletes without thousands of other tourists around.
This means the itinerary is set, but we'll keep it flexible. Perhaps we'll hear that the next village is holding their Naadam in the morning (exact dates are rarely announced in the sums more than a few weeks ahead of schedule), so we'll swap our activities around to make sure we can see the events.
Or perhaps we'll come across a nomadic family herding their camels at sunset, and we'll halt the tour to capture spectacular photos. Weather can also play a part in our plans. We'll be dedicated, enthusiastic, yet also open to change.
So why should you consider travelling to Mongolia on a NOMADasaurus tour?
Back in 2015 we spent two months travelling through Mongolia. We fell in love with the country and its people, but we quickly discovered something – Independent travel in Mongolia is difficult.
Transport is unreliable and slow, the few options for good accommodation books out months in advance, and unless you have a local with you communication can be hard to manage.
That's why we've carefully selected the best experiences and landscapes around the Gobi Desert and Khuvsgol Lake region, and organised this small-group tour to visit them all in comfort and ease.
I travelled to a country I knew nothing about with NOMADasaurus and will rave about how magnificent it was! Jarryd was beyond the best…not only do Jarryd and Alesha have a top notch blog, photography and tour company, they are true humanitrians making a difference in this world and creating connection for us all. Thank you for striving to bring us all together no matter where we are from. Bravo and thank you from the bottom of my heart!

Joan – 2019 Kyrgyzstan tour participant
This brand new and personalised 14-day tour of Mongolia will start off in the capital of Ulaanbaatar, where we'll have a night to get to know each other before jumping on a flight and heading into the Gobi Desert.
From here we'll meet up with our modern 4×4 vans to go on a road trip in style. We'll visit nomadic families, go hunting for dinosaur fossils in the Flaming Cliffs, ride camels next to the largest sand dunes in the country, explore lush gorges and river confluences and dive deep into the history of the country through ancient ruins and Buddhist monasteries.
Having seen the absolute best highlights of the Gobi Desert we'll start our drive north, watching as the landscape changes from desert to steppe and eventually into volcanic flow.
We'll soon head into the Khuvsgul Mountains, a dramatic region home to what is known as the Blue Pearl of Mongolia, the enormous and glistening Khuvsgul Lake.
We'll ride horses, go kayaking and hike along its shores before flying back to Ulaanbaatar for a final exploration of the city.
There'll be plenty of incredible activities and sights along the way, and for the entire duration we're staying in traditional Mongolian yurts, known as gers.
These aren't ordinary gers though. We've booked the best tourist camps in every town to ensure comfort is at a maximum after the long driving days.
Jarryd was an OUTSTANDING Trip Leader in every way. Along with his love of the country and his great personality, he was very organized and knowledgeable, which made for a great adventure. I can highly recommend traveling with Jarryd and NOMADasaurus!

2019 Kyrgyzstan tour participant
For the entire tour you will be transported in 4×4, modern Japanese vans. Most ours use old Russian bans, but we've upgraded the vehicles for ours. This is a Mongolian road trip, and by using 4×4 vans we make sure we can navigate every track that twists its away across the country.
Mongolia is famous for having very few paved roads, and we'll go days without seeing one. This is an adventure in every sense of the word.
Your tour leader will be one half of NOMADasaurus! Jarryd will be joining you for the entire experience, giving photography workshops, answering any questions you might have and sharing his expertise from more than a decade on the road.
In addition there will be a certified, experienced Mongolian guide who is fluent in English joining us. This will allow you to get an in-depth insight into the local culture, and ask any of the people you meet questions without fear of having words lost in translation.
"A fantastic tour in a spectacular country. Alesha and Jarryd have used their vast travel experience to put together an absolutely superb tour, suitable for all ages of intrepid tourists who are ready for an off the tourist track adventure. One of the best tours I have ever done!"

Veronica, 2018 Kyrgyzstan tour participant
While the itinerary is filled with exciting activities and cultural interactions, we've also left in some free time so you can pursue your own interests, practice your photography or simply relax in your beautiful surroundings.
This is going to be an incredible adventure to discover the highlights of Mongolia – an offbeat nation that is truly one of the most sensational travel destinations in the world.
2024 Mongolia Tour Dates: July 3rd to July 16th
Duration: 14 Days
Start/Finish: Ulaanbaatar, Mongolia
Minimum Group Size: 6 people
Maximum Group Size: 10 people
Fitness Level: Medium
Trip Leader: Jarryd Salem (plus one local guide)
2024 MONGOLIA TOUR ITINERARY
This is the brand new NOMADasaurus Mongolia tour itinerary that we have put together in partnership with our local operator, who also happens to be the country's best tour company.
The accommodation is already booked and confirmed, but the itinerary should be read as a guide, as some days might change if we come across local Naadams or find unique experiences along the way.
Legend: B (Breakfast), L (Lunch), D (Dinner), S (Hot Showers), E (Electricity), W (WiFi)
July 3rd – Ulaanbaatar
Accommodation – 4 Star Hotel
Upon arriving in Ulaanbaatar, you will be met at the airport by our local team and transferred to our lovely 4-star hotel. As everybody will be arriving at different times, the day is free for you to relax, get some sleep if need be, or even go exploring the city. We will have our first group dinner tonight at a nice, traditional restaurant.
Meals Included: D
Facilities: S, E, W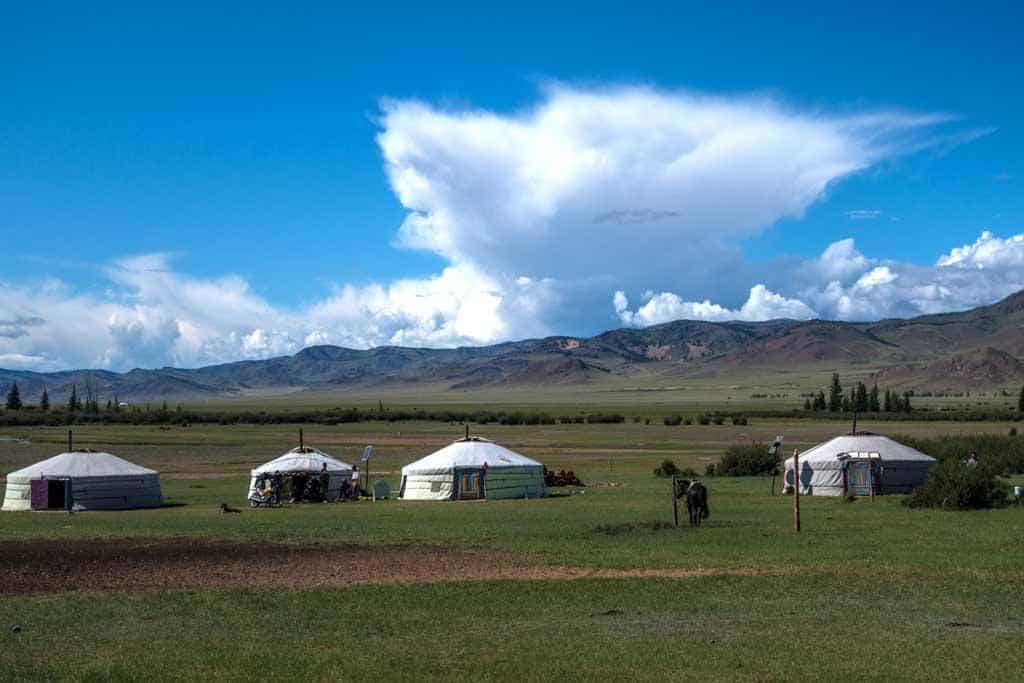 July 4th – Ulaanbaatar to Yolyn Am Gorge (Flight)
Accommodation – Ger Camp
We wake early and head back to the airport to catch a domestic flight to the legendary Gobi Desert. We'll meet our drivers at the airport and make our way into the Yolyn Am Gorge, located in the Gurvan Saikhan National Park. Despite being in the desert, here we can find a most unusual sight – a frozen river! We'll spend two hours hiking through the gorge, then will drive to our ger camp for the night.
Meals Included: B, L, D
Facilities: S, E
July 5th – Yolyn Am Gorge to Khongor Sand Dunes
Accommodation – Ger Camp
In the morning we check out from our ger camp and travel a few hours to the awe-inspiring Khongor Sand Dunes. The drive takes us directly alongside the dunes and into the Khongor River Valley, which is at the end of the Altai Mountain Range. We'll make some stops along the way for photos and to see the river flowing through the sand.
We'll check-in to our ger camp just in time for lunch and can freshen up after the meal. In the afternoon we will drive out to Seruun Bulag, which is a natural cold-water spring located between the Khongor River and the immense dunes. Afterwards we'll pay a visit to camel-breeding family, where we will learn about their livelihood taking care of the two-humped Bactrian camels. Once we're acquainted it's time to actually ride one! We'll go on a one-hour camel ride around the Singing Dunes. It's a truly Mongolian experience, and makes for some incredible photos.
If you're feeling up for the challenge we can then try to climb one of the tallest dunes in the country and catch the sunset from what feels like the top of the world, admiring the sprawling landscapes of the Gobi Desert. Dinner will be back at our ger camp
Meals Included: B, L, D
Facilities: S, E
July 6th – Khongor to Bayanzag (The Flaming Cliffs)
Accommodation – Ger Camp
We'll wake up early for a sunrise shoot, have breakfast then get on the road. The drive to Bayanzag, also known as the Flaming Cliffs, takes 4 hours, passing through vast desert badlands that stretch as far as the eye can see, punctuated with distant mountains on the horizon. The drive may be long, but you never know what will come across. From lone gers appearing through mirages to colourful rock formations and perhaps even nomads herding their livestock, the Gobi Desert is far from boring.
Once we arrive to our ger camp we'll have lunch and check-in. The afternoon is busy, as we'll go searching for ancient dinosaur fossils (this is one of the best place to see them in the world) and explore the saxaul forest. Before sunset we'll have the chance to watch how a Mongolian ger is actually built. Dinner is at the camp, and we'll have an early night after such a big day.
Meals Included: B, L, D
Facilities: S, E
July 7th – Bayanzag to Ongii
Accommodation – Ger Camp
From the Flaming Cliffs we have a 5-hour drive to our next destination. The views are as typically Mongolian as you can get – wide open steppe stretching in every direction. We'll stop to stretch our legs along the way, and will stop for any cool sights we come across, but it will be more of a driving day today.
Once we get to our ger camp we'll have lunch, then visit the ruins of the 18th century Ongi Monastery. It's a wonderful and unique sight, and there's the chance to go for some short hikes as well. The afternoon will be yours to relax. Dinner is at the ger camp, and there is an optional sauna or massage services available.
Meals Included: B, L, D
Facilities: S, E
July 8th – Ongi to Karakorum
Accommodation – Ger Camp
We'll have breakfast at camp and then drive to Karakorum, the ancient capital of the Mongol Empire. During the drive we'll stop off to visit a nomadic family and learn how to make one of their traditional Mongolian dishes, which will also be served for our lunch. Meeting the family is a great experience, and they are happy to have their photos taken too.
Once we make it to Karakorum we will visit the Erdenezuu Monastery, which was the first Buddhist monastery in the entire country. Dinner will be at our ger camp.
NOTE: Today is one of the days that we will have the chance to visit a local Naadam Festival. Because of this, our itinerary may change in order to make the most of the event schedule. We may end up visiting the family for dinner rather than lunch, or will drive to a smaller village. We'll endeavour to make the most of any opportunity that comes our way.
Meals Included: B, L, D
Facilities: S, E
July 9th – Karakorum to Tsenkher Hot Springs
Accommodation – Ger Camp
The Naadam Festival will be in full swing in Mongolia's ancient capital, and we will visit the grounds to learn more about some of the sports and games they play, including knuckle-bone shooting, horse racing and wrestling. It is dusty, busy and incredibly fascinating. Our local guide will explain what is happening and the history of Naadam, while we all keep an eye out for some unique photographic opportunities.
It's a couple of hours to drive from Karakorum to Tsenkher Hot Springs, and we will either have lunch in Karakorum or at our ger camp, depending on how the group feels. Of course, we will also have a chance to soak in the natural hot springs in the evening, either before or after dinner.
Meals Included: B, L, D
Facilities: S, E, W
July 10th – Tsenkher Hot Springs to Khorgo Terkh National Park
Accommodation – Ger Camp
We have a big day today as we leave Tsenkher and start making our way to Khorgo Terkh National Park. The landscape will start to change from the desert and steppe we're used to as we head towards the town of Tsetserleg. Here we'll pay a short visit to the historical Zayiin Gegeen Temple Museum, then continue on the road towards Taikhar Rock. This spot has around 150 inscriptions carved into the cliff written in a variety of different languages, including Turkic, Uyghur, Mongolian, Tibetan, Manchu and Chinese. It goes to show that this place really was a crossroad during ancient trading days.
We'll enjoy a picnic lunch out in nature then drive to Lake Terkhiin Tsaagan, also known as the Great White Lake. Surrounded by volcanic landscapes, the lake shimmers in the sun with tall hills rising from its sandy shores. After a stop at the lake we'll continue along the road past black lava and the 10'000-foot extinct Khorgo Volcano, which is revered by local nomads. We'll have the chance to go for a walk to the crater rim, looking into the chasm and back down to the lake, which is a spectacular view. We will have dinner at our ger camp with is by the lake.
Meals Included: B, L, D
Facilities: S, E
July 11th – Khorgo Terkh National Park to Five Rivers
Accommodation: Ger Camp
It's time to make our way into the Khuvsgul Mountains, and after breakfast at the ger camp we'll start our 7-hour drive north. The views will continually change from rocky escarpments to rising green peaks, punctuated by river valleys and nomadic ger camps. We'll break up the drive with another picnic lunch on the way.
Tonight's ger camp is in one of the most beautiful places in the region – a spot where five different rivers all merge together a spectacular valley. This confluence sees the Bugsei, Ider, Chuluut and Delgermurun Rivers all flow into the Selenge River, which flows all the way into Lake Baikal in Russia. In the afternoon we'll hike to Borivt Mountain, where there's a panoramic view of this confluence. If you're feeling active you can also sign up for some optional kayaking or fishing on the river before dinner.
Meals Included: B, L, D
Facilities: S, E
July 12th – Five Rivers to Khuvsgul Lake
Accommodation – Ger Camp
It's time to drive to the 'Blue Pearl of Mongolia', a place that countless locals fondly consider to be the most beautiful place in the country – Khuvsgul Lake. We'll leave early as the drive is truly stunning once we pass the town of Murun, and we'll likely stop for plenty of pictures of the lush and mountainous terrain. There'll be a stop at the Uushig Deer Stones and lunch in a ger restaurant before we finally arrive at the lakeside village of Khatgal. Our ger camp is located past the village though, on the western shores of Khuvsgol, in a remarkable and isolated position. The afternoon is free to explore the area.
Meal Included: B, L, D
Facilities: S, E
July 13th – Khuvsgul Lake
Accommodation: Ger Camp
Today is a day of leisure to do as much or as little as you'd like after the long road trip. If feel like being active though, in the morning we have included a one-hour horseback ride along the lake's shore, as well as a one-hour kayaking trip. The rest of the day is free, but some of the optional activities include hiking, a boat trip or a visit to a local Darkhad family.
Meals Included: B, L, D
Facilities: S, E
Optional Activities: Extended horseback ride, extended kayak trip, hiking (free), boat trip.
July 14th – Khuvsgul Lake to Ulaanbaatar (Flight)
Accommodation: 4-Star Hotel
After breakfast we'll start our bumpy drive back to the town of Murun, where we'll board our domestic flight back to Ulaanbaatar. Upon arrival we'll be transferred to our 4-star hotel in the city. The afternoon is free and dinner is not included in the itinerary, so you can choose to visit any restaurant you like at your leisure.
Meals Included: B, L
Facilities: S, E, W
July 15th – Ulaanbaatar
Accommodation: 4-Star Hotel
It's our final day together in Mongolia, and we'll set off on a guided tour of some of Ulaanbaatar's most iconic and famous sights. We'll meet our guide in the morning and explore the city, including the Gandan Monastery, home to a 26m-high statue of Buddha. We'll also drive out to visit the giant statue of Ghengis Khan. In the afternoon we'll also visit a cashmere factory to see the entire process of how they make this product. This evening there'll be a traditional folklore concert by the fantastic Tumen Ekh ensemble, followed by the last farewell group dinner.
Meals Included: B, L, D
Facilities: S, E, W
July 16th – Depart Ulaanbaatar
We will transfer you to either the airport so you can catch your flight home, or to the train station if you are planning to continue your journey on board the Trans-Siberian.
Meals Included: B
WHAT'S INCLUDED
Accommodation: Twin-share in high-quality tourist ger camps, and twin-share in 4-star hotel in Ulaanbaatar.
All meals mentioned in the itinerary. Tea and water during meal times.
Transport: Three modern Japanese 4×4 vans.
Airport/Train Station transfers: Pick up and drop-off at the airport for your flight when arriving and departing on the designated dates in this itinerary, or at the train station if you are travelling via the Trans-Siberian.
All activities included in the itinerary.
English-speaking certified, experienced local guide.
Photography workshops and advice.
One trip leader and photography expert (Jarryd Salem from NOMADasaurus).
Two litres of bottled or filtered water per person, per day.
Entrance fees to museums and archeological sites.
WHAT'S NOT INCLUDED
International airfares or train tickets to and from Ulaanbaatar.
Mongolia tourist visa (we can provide a letter of invitation if required for your nationality)
Travel insurance (mandatory to join our tour). We recommend 1Cover for Australians and New Zealanders, and World Nomads for other nationalities, but please do your own research on travel insurance providers.
Any meals or snacks not included in the itinerary.
Alcoholic beverages or drinks other than water and tea.
Personal items such as laundry, medication, etc.
Optional activities.
Tips for drivers and local guide (Optional)
FREQUENTLY ASKED QUESTIONS
Do I need a visa to visit Mongolia?
Citizens of 24 countries can visit Mongolia visa-free, including those from United States and Canada. Visa-on-arrival is available for many Europeans. For everybody else a visa must be obtained through your local embassy. Please read this article to find out your particular circumstance. Official letters of invitation can be provided for anybody requiring one.
What is the food like in Mongolia?
Food in Mongolia is often quite meaty with lots of carbs, but surprisingly delicious. The ger gamps we will be eating at are designed for tourists and make excellent quality food. In Ulaanbaatar we will be eating at nice restaurants.
I'm a vegetarian/vegan. Will I be ok with the food in Mongolia?
While most traditional meals are served with meat or dairy products in Mongolia, all the places we will be eating at are used to serving tourists and can cater to vegetarians. Please keep in mind that the variety of fresh fruit and vegetables isn't as plentiful in Mongolia as they are in other parts of the world, but the food will still be delicious.
If you are vegan things are slightly more difficult, but you will be catered for on this trip.
Is Mongolia safe?
We are very pleased to say that Mongolia is an incredibly safe country. Crime is low, and petty crime against tourists is very rare. As we will be spending most of our time in the countryside, we'll be seeing more families and nomads than large crowds. The only exception to this is in Karakorum during Naadam. Here we encourage all guests to be aware of horses, and to keep their personal items close.
What is it like sleeping in a ger?
A Mongolian yurt is known as a ger, and while traditionally they house entire families, the ones we will be staying in are large, spacious, warm, have a solid floor, and sleep two people maximum. The sleeping situation is often two single beds with proper mattresses and blankets.
What is the other accommodation like?
In Ulaanbaatar we will be staying in a very nice 4-star hotel in the city.
Is there a single supplement?
Yes, there is a single supplement option for an additional fee of USD$500. Spaces for this are very limited though, so we will be evaluating who signs up for the tour first before confirming.
What will the bathroom facilities be like around the country?
In all of our accommodation western-style toilets will be available, even at the ger camps. In the ger camps these will be shared facilities.
On the road, things are far less glamorous. Toilets at gas stations and remote restaurants are often squat toilets and far from clean. We recommend 'bush toilets' if you need to go on the road. It's what the locals do, so embrace it.
Will there be WiFi or phone service?
In Ulaanbaatar there is fast internet and 4G phone service. Outside of the capital phone reception can be spotty at best. Some of the ger camps may have slow wifi, but this can't be relied on. If you need to stay connected we recommend purchasing a local sim card with data for your phone upon arrival in Ulaanbaatar. You won't be connected 24/7, but you'll pick up signal at times while we're driving around and at some of the ger camps.
The tour guide, leader and drivers will have access to a phone in case of emergency.
What transport will you have organised for us?
We have organised three modern Japanese Mitsubishi Delica 4×4 vans with a capacity of 7 people each to transport the group around. We'll keep the number of guests in each van to 4 or 5 maximum. This ensures we won't be overcrowding the vehicles and will have room for luggage. This also allows us to have one van available in case of emergencies.
What is the weather like in July in Mongolia?
The weather in Mongolia in July is quite hot. In the evenings in the desert, the temperature may drop enough to require long pants and a sweater, but in general you'll be wearing clothes for warm weather. Khuvsgul Lake will be slightly cooler, but still warm. We will be sending out a complete packing list to confirmed participants on this tour.
Will we be at altitude during this trip?
Not really. We will be staying below 2000m above sea level for most of the trip, so altitude should not be an issue. Consult your doctor if you are concerned.
Can I charge my electronics during the tour?
In the ger camps electricity is available at night so you can charge your equipment. We recommend also bringing a USB power bank to keep your phone and other smaller items charged during the day if required.
What is involved with the photography aspect of the tour?
The tour leader will be on hand at all times to answer any questions you may have about photography, whether it is about settings, composition, lighting, technical gear, editing, etc. He will also be holding informal workshops throughout the tour such as how to use Adobe Lightroom, how to shoot astrophotography, and more.
Can I take pictures of the people in Mongolia?
Yes! In general the people in Mongolia are very friendly and open to having their pictures taken. Usually all it takes is a smile and to ask if you can, and they'll happily pose for you. In some places like the markets and bazaars the vendors prefer not to be photographed, so always ask before pointing a camera in their face. Our local guide can always assist when communicating with people.
What kind of fitness level is required to join this tour?
A decent level of fitness is required to take part in this tour, as we will be spending many hours driving on bumpy roads, as well as hiking, horse riding and kayaking.
If for any reason you feel uncomfortable with some of the adventure activities you can choose not to do them, and other, lighter alternatives will be found for you.
Is there an age limit for this tour?
There is a minimum age of 18 to join this tour. There is no maximum age limit to join, but please keep in mind the fitness levels as specified above.
How much spending money should I bring with me?
ATMs that accept foreign debit cards like MasterCard and Visa are available in Ulaanbaatar, so you can choose how much spending money you want once you are in the country. As a general idea, USD$250 should be plenty for snacks, alcohol and souvenirs for the 14 days.
Can I take the Trans-Siberian Train before or after the tour?
Absolutely! In fact many people that ride the Trans-Siberian will get off in Ulaanbaatar to explore Mongolia. If you would like help booking this bucket-list train journey let us know and we can put you in touch with our local tour operator to organise this.
TOUR COST – USD$3500
(Maximum 10 People)
A non-refundable deposit of USD$500 is required to secure your position on this tour.
The remainder of the cost is required by 3rd of May, 2024
Payment can be made by credit card in USD, or via bank transfer in USD, AUD, EUR or GBP.
As places are limited we will be sending out payment details in order of when the registration forms have been received. The earlier you complete the form, the sooner we will send you the payment information.
Once you receive the payment information you will have 24 hours to pay the deposit before we forward details to the next person in line. For this reason we recommend only completing the registration details once you're ready to pay the deposit. Thanks very much for your understanding.
Cancellation Policy
If for any reason you need to cancel your position on this tour you will forfeit your deposit (unfortunately we will be using the deposit to pay for accommodation and activities as soon as it is received. We strongly recommend you purchase travel insurance with trip cancellation options.)
If you have already paid in full this is the percentage of refund available:
Before 4th March 2024 – 100% of total trip cost (minus deposit)
Between 5th March and 3rd April 2024 — 70% of total trip cost (minus deposit)
Between 4th April and 32nd May 2024 – 50% of total trip cost (minus deposit)
After 3rd May 2024 – No refund available.
If we cancel this tour for any reason, whether it is personal or political, you will receive 100% of your money back, including deposit.
July 3rd Tour – Join the Waiting List