Whether you're looking for epic beach adventures, delicious food or anything in between, this list of the best things to do in Port Stephens will keep you busy for weeks!
If you're the kind of person that loves having fun on gorgeous beaches, and is always looking for something extra to do on your holiday besides laying around reading a book, Port Stephens is the place for you.
Located only 2.5 hours north of Sydney, Port Stephens is a popular vacation spot for many Aussies, and it's quickly growing a reputation with international travellers too.
The Port Stephens area consists of multiple different geographies and small towns. Nelson Bay is the main town, and you can find islands, wildlife reserves, mountains, and more all packed into the area.
You can even find the largest moving sand dunes in the Southern Hemisphere!
There's also a cool local brewery you have to check out, amazing seafood restaurants, and great places to stay.
Mountains to Beaches to Sand Dunes – The Best Things to Do in Port Stephens
There are so many things to do in Port Stephens, and we're happy to share some of our favourite activities in this coastal paradise.
From Sydney Harbour, you only have to drive a few hours north and you've reached the diverse and stunning Port Stephens and Nelson Bay area!
Our personal list of the best things to do in Port Stephens includes:
Climb Tomaree Mountain for sunrise
Go whale watching
Explore the Stockton Sand Dunes, the largest moving sand dunes in the southern hemisphere
Visit an award-winning brewery for lunch and drinks
Ride a camel on the beach
Enjoy the bustling food scene of Port Stephens and Nelson Bay
And a whole lot more things to do!
Let's get into it…
READ MORE: Make sure you check out our brand new Port Stephens Itinerary post to make the most of your time in the region.
1) Climb Tomaree Mountain for those Legendary Views
The Tomaree Head Summit Walk in Tomaree National Park offers the best views of Port Stephens.
It is steep (and slippery after the rain) so you may need to take your time to reach the summit. But anyone who can climb stairs can do this 2-kilometre return walk, and it's definitely worth the effort.
The panoramic views from up there, 161 meters above sea level, will take your breath away.
If you own binoculars, you can take them out to try to spot marine life, especially whales between May and October.
If you only have time to do one thing on this list of the top Port Stephens activities, do this walk. Tomaree National Park is too beautiful to miss!
The view from the top is one of the best things to see in Port Stephens, and possible all of New South Wales.
The way to the summit is easy to find. Head to the car park at the end of Shoal Bay Road, and you should see the path going up from there.
If Tomaree Head Summit walk sounds too challenging for you, the Nelson Head Light is another alternative for a short and easy walk with magnificent views of the Port Stephens waters.
It's also the best spot for a coffee break if you go there before 4 pm.
READ MORE: Don't miss our complete guide to travel to Australia!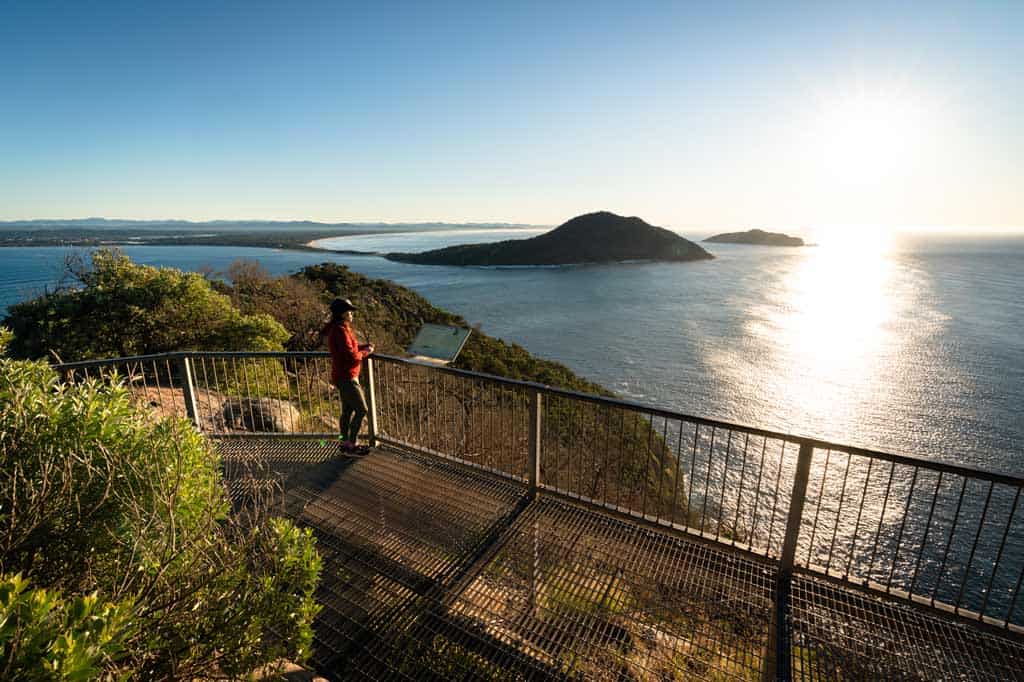 2) Visit the Best Beaches in Port Stephens
It comes as no surprise that beaches are the most popular out of the many Port Stephens tourist attractions.
They are some of the best ones on the east coast of Australia. Here are some of our favourites.
Zenith Beach
From the summit of Tomaree Head, you will notice a pristine beach between the two conical headlands.
That's Zenith Beach.
It is easy to reach from the car park where you started the Tomaree Head Summit Walk, hence a perfect opportunity for a refreshing dip after your hike.
The views from the beach of the surrounding park are stunning.
Check out Eloise's great article on bucket list activities when you visit Australia.
Wreck Beach
Wreck Beach is the next beach along in the national park, and it's an absolute beauty.
It requires a bit of a short hike to get to it, but once you arrive you'll be rewarded with epic views of the bordering headlands, Tomaree Mountain and nearby islands.
It's great for sunrise and sunset and is more of a local favourite.
Fingal Bay
Fingal Bay is located just after Box Beach, along the coastal walk.
It's famous for its postcard-perfect C-shape beach, and is one of the best places to go surfing if that's your interest in what to do in Port Stephens.
It's also well known for the Fingal sand spit across to Shark Island, that has unfortunately surprised some visitors over the past few years.
While it's tempting to try to walk over to the island, the soft sand does make it look like a clear path, it is actually quite dangerous, with ocean currents and swells making the crossing treacherous at even the best times.
READ MORE: Get your beach fix with our guide to the beaches of Port Stephens!
3) Go Whale Watching or Dolphin Cruising
Port Stephens is one of the best places in Australia to spot bottlenose dolphins.
It's often referred to as the Dolphin Capital of Australia, so it's not surprising to see this activity high on the list of the best things to do in Port Stephens.
With more than 100 bottlenose dolphins living in the Port Stephens waters all year round, local cruise operators announce a 99% success rate at spotting them during their tours.
The larger species of more common wild dolphins live just outside the bay.
If you're looking for a once-in-a-lifetime experience, book a tour that allows you to get up close to these intelligent and beautiful creatures.
A local tour company in Port Stephens offers the unique opportunity to be dragged by a boat to swim with a pod of dolphins.
While a dolphin watching cruise is the easiest way to encounter dolphins, you can also often spot them from the shore as they come very close to the beach. It's no wonder Port Stephens is the dolphin capital of Australia!
Unlike wild dolphins, humpback whales are seasonal visitors.
You can spot them in the Port Stephens waters from May to October as they migrate along Australia's east coast.
It's always fun to see them from the shore, but there's nothing like a whale watch cruise to get a sense of their size and be impressed by these giants of the sea.
The best cruise company in Port Stephens to go whale watching with is Moonshadow TQC.
They have the largest fleet and spend a huge amount of time out looking for the whales.
We went with them this year and absolutely loved our time with them. Highly recommended.
4) Quad Biking, Sandboarding and Cultural Tours in Worimi National Park
If you thought that playing in the sand was only for kids, a visit to Port Stephens will change your mind.
In Worimi National Park you'll find Stockton Sand Dunes, Australia's largest sand dunes, and the largest moving dunes in the Southern Hemisphere!
There's no shortage of awesome activities you can try in the main launching points at Stockton Beach, Anna Bay and Birubi Beach.
If you have a 4WD, beach driving can be a fun way to explore the Port Stephens dunes (permits required).
Just make sure you be respectful, as the Worimi National Park is extremely important to the local Worimi indigenous people, and there are lots of historical and cultural sites found around the place.
If you don't have a 4WD, there are a couple of ways you can still get out there to explore the sand dunes.
Quad biking is perhaps the most fun, and the legends at Sand Dune Adventures organise a fantastic quad biking experience.
This non-profit company not only puts together great ATV and Aboriginal tours, but they also put their money back into the conservation of the site and employ local indigenous people as well.
The dunes of Worimi National Park are also a popular place to try sandboarding. You can slide with your bodyboard if you own one, or rent a sandboard.
This Port Stephens dunes are one of the top attractions in the area, so don't miss this chance to try it out!
5) Check Out the Oakvale Wildlife Park
If you prefer more intimate encounters that involve petting and photo opportunities, head to the Oakvale Wildlife Park.
They have an impressive list of animals in the exhibit and offer unique encounters with a dingo, wombat, snakes and a koala.
Oakvale Farm is located in Salt Ash, which is a 25-minute drive from Nelson Bay in central Port Stephens.
6) Look for Koalas in Tilligerry Habitat
Koalas are regularly spotted around Port Stephens, so keep your eyes up when you're around eucalyptus trees.
If you want to increase your chances, Tilligerry Habitat is particularly known to be the koalas' favourite spot in the region, and provides an opportunity to learn more about the other native fauna and flora.
Tilligerry Habitat is located in Tanilba Bay, free to visit and run by friendly volunteers.
Even if you don't spot any koalas, strolling through the fresh air and enjoying the serenity of the area is worth it.
7) Swim with Sharks and Rays at the Irukandji Centre
The Irukandji Centre wants to educate, raise awareness and make a difference to protect the ocean.
Their interactive aquarium allows anyone to experience close encounters with rays and sharks, even those who cannot swim, so people learn to love them and take action to protect them.
It's definitely one of the best activities in Port Stephens when it's raining.
Irukandji Shark and Ray Centre is located in Anna Bay.
8) Try to Find the Soldier Crabs
Thousands of soldier crabs come out at low tide and in the evening on the beaches around Port Stephens.
Find a spot on the hard sand and stop moving: you'll quickly be surrounded by a regiment of crabs!
9) Snorkelling and Scuba Diving Around the Bay
Port Stephens has some of New South Wales' best scuba diving and snorkelling sites.
The best shore dives and snorkelling are Fly Point and Pipeline, both in the town of Port Stephens between Nelson Bay and Little Beach.
But you'll have to plan this activity at high tide because of the strong current.
It's heaven for those interested in macro, but that's not all you get. You can also see wobbegong sharks, colossal sea hares and occasionally sea turtles.
If you're among the luckiest, you may even spot a dolphin.
Divers can also join a boat trip to dive with grey nurse sharks, Port Jackson sharks or even seals near on the different islands nearby.
You'll find dive centres to organise your equipment or a guided tour for scuba diving, making it perfect for the best things to do in Nelson Bay.
10) Have a Drink at the Famous Murray's Brewery
If you come to Port Stephens and don't grab a drink at Murray's, did you really visit?
Located on Nelson Bay Road just outside of town, Murray's Brewery is best known for their Whale Ale, but that's not all they do.
Their IPAs, ciders and other beers are all seriously tasty, so grab a tasting tray and get stuck into them. Perfect to wash down the wood-fired pizzas they make on-site.
They have a public brewery tour daily at 2.15 pm if you're interested in learning about their process, and you can even book a bus shuttle, so you don't have to drive back to your hotel.
If you're more into wine than beer, you can also do a wine tasting at the same place, organised by the oldest vineyard of the region. And there's a small vineyard a bit further up on the hill.
Location: 3443 Nelson Bay Rd, Bob's Farm
Opening hours: every day from 10 AM – 6 PM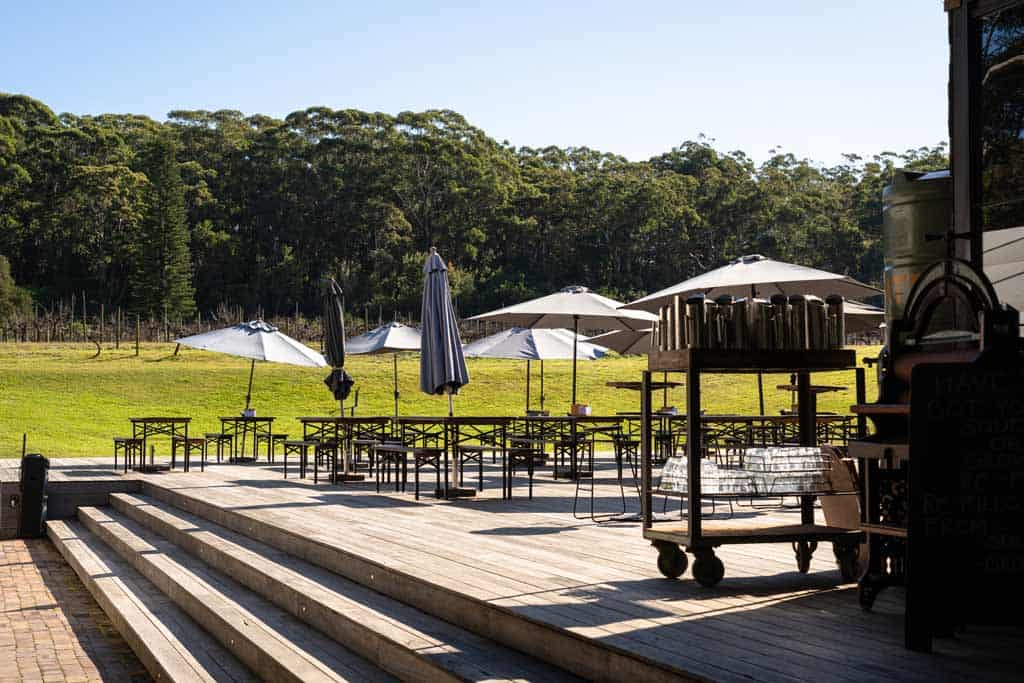 11) Eat All the Fresh Local Seafood
A list of the best things to do in Port Stephens wouldn't be complete without mentioning the food and a visit to a seafood restaurant.
Nelson Bay marina restaurants receive fresh seafood daily and serve it in a lovely setting near the water. For a fancy meal with fantastic views of Nelson Bay, try Catch at Shoal Bay or The Anchorage in Corlette.
Kookaburra Restaurant in Bobs Farm is reputed for its fresh Barramundi: they have their own Barramundi and hydroponic vegetable farm on-site!
Try to plan your lunch so you can take a tour of their farm at 11 am or 2 pm.
If you love oysters, or if you're curious and want to learn more about them, head to the Holbert's Oyster Farm. From the customer area, you can watch the professional oyster shuckers at work.
A visit to the real oyster farm can be organised for groups.
Just near the shop, you can taste the oyster while enjoying the beautiful views of the bay. Holbert's Oyster Farm is located in Salamander Bay.
12) Stand-Up Paddleboarding
There are many ways to enjoy the beautiful waters of Port Stephens Bay.
You can go sailing on a luxury yacht with a glass of champagne, fishing out in the bay, jet skiing, kayaking around the coves, or do our personal favourite Port Stephens activity.
When wondering what are the things to do in Shoal Bay, don't miss out on stand-up paddleboarding, and the local legend Rod from Shoal Bay SUP is the guy to see for all your paddleboarding needs.
Give him a call, tell him NOMADasaurus sent you, and he'll look after you for a special day out on the water.
If the weather is nice, request a sunset paddleboard. Watching the sun drop over the horizon while out on the water is an experience you'll never forget.
13) Grab a Bike and Go Cycling
Whether you're looking for an easy scenic ride or more serious mountain biking, you'll find a bike path to please you in Port Stephens.
With around 50 km of shared cycleways announced by the Council and mostly quiet streets, cycling here is safe and fun.
You can choose a scenic coastal ride with amazing views from Corlette to Nelson Bay to Port Stephens, Shoal Bay or Fingal Bay.
You can also go wild and explore the park trails with a mountain bike: it's more physical, but you'll get a chance to spot wildlife.
You can hire a bike in town, so if you're wondering what to do in Nelson Bay (there's even a bike hire station opened 24/7), that's a top option!
14) Grab Breakfast at a Nice Cafe
If there's one thing Port Stephens does well, it's breakfast. There are so many amazing cafe options in the Port Stephens area that is can be hard to choose where to eat.
Luckily, you really can't go wrong!
The Little Nel is a very popular spot, with bright and airy outdoor seating and a quaint indoor area.
When you come by for breakfast, you absolutely have to try their fritters – they're unlike anything you'll ever try again! Divine.
Other top-notch cafes include Inner Light Tea Rooms for a relaxing cup of tea, or Essence Espresso in Nelson Bay, for a delicious cup of coffee. Long Boat Cafe in Fingal Bay is another local favorite.
15) Camel Riding at Birubi Beach
Did you know that Australia is home to the largest number of camels in the world?
And right here in Port Stephens, you can actually ride a camel on the beach!
One of the most unique things to do in the area is jump on a camel at Birubi Beach, and ride through the Port Stephens sand dunes and right up to the ocean.
Get in touch with the guys at Oakfield Ranch to book your camel riding.
It's $35 per adult ($30 for kids) for a 20-minute ride, or $90 per adult ($70 for kids) for a 60-minute sunset sand dune ride.
16) Go Surfing
There are plenty of great surf beaches in Port Stephens, but if you're a beginner to intermediate and wondering where to go, then definitely head to One Mile Beach.
This huge stretch of sand gets perfect rolling sells coming in, making it great for longboarders as well.
You can rent a board from next to the caravan park if you don't have one.
Port Stephens Surf School also offers lessons if you've never surfed before and you're keen to learn.
17) Admire the Views at Gan Gan Lookout
If you want to enjoy the endless Port Stephens views, but don't feel like climbing Tomaree Mountain, then Gan Gan Lookout is your best bet.
This beautiful viewpoint can be accessed by car via Lily Hill Road, and offers 360-degree views over the whole area.
You can overlook the Port Stephens Boat Harbour and the entirety of Nelson Bay.
This blog post is a collaboration between NOMADasaurus and Eloise from My Favourite Escapes.

Eloise lives in Brisbane (Australia), but you won't find her often in the city. When she is not disconnected underwater or in a park, she loves sharing her travel tips on her blog MyFavouriteEscapes.com and inspiring her readers to take care of our beautiful planet. She considers every weekend as a two-day holiday break. Her approach: you don't always need to go far to travel. Still, she also enjoys exploring the world and discovering new cultures. Follow her adventures on Facebook and Instagram!
Where to Stay in Port Stephens
There's plenty of great places to stay in the area, from caravan parks to resorts and little bed and breakfasts.
If you're looking for an awesome place to stay in Port Stephens, we personally love using Airbnb. If you've never used the platform before, sign up using this link to get USD$35 off your first booking.
DISCLAIMER: Some of the links in this article are affiliate links, which means if you book accommodation, tours or buy a product, we will receive a small commission at no extra cost to you. These commissions help us keep creating more free travel content to help people plan their holidays and adventures. We only recommend the best accommodations, tours and products that ourselves or our fantastic editorial team have personally experienced, and regularly review these. Thanks for your support, kind friend!