Dear Phong Nha,
It pains me to know that we are no longer sitting in the shadows of your limestone peaks, breathing in the bucolic air as our eyes admiringly survey the Son River. Some of the best months of our entire lives were spent enveloped by your charming setting. Each day that past had us admiring every aspect of your splendour more and more. Never before have we been anywhere with such fascinating layers of history, culture, adversity, resilience, natural beauty and potential. The surface has barely been scratched during our attempts at exploring every adventure that hides in your pastures and jungles.
Our 2.5 months in Phong Nha came and went in a blur of amazement and joy. Trying to write our emotions down in an accurate and coherent manner has proved to be far more difficult than anticipated. It is impossible to translate our memories into words, to truly portray just how special this place really is. Maybe such perfection cannot be described? Perhaps it is best to just try and let our images tell Phong Nha's story…
Check out our new guide to Travelling In Vietnam.
Phong Nha-Ke Bang National Park is home to the world's largest cave – Hang Son Doong. The cave was first discovered by a local man, Ho Khanh, in 1990 while he was out hunting in the jungle. He noticed clouds and wind coming from the entrance, but moved on without further exploration. He then forgot its exact location.
In 2008 he found the cave again, and in 2009 he took members of the British Cave Research Association there on an exploratory expedition. By the end of 2010 they had finished surveying the caverns, and determined that it was the largest ever found. With less than 25% of the park properly explored, there is still a chance that an even bigger cave will be found one day.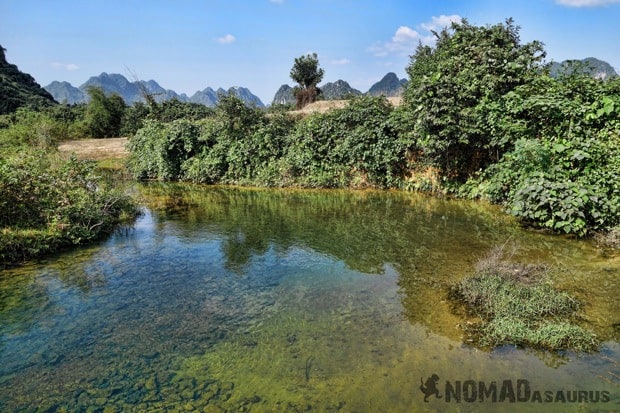 We had probably ridden our motorbikes past this spot at least 30 times, as it was less than 500m from our house. It was only when we were out walking one day that we noticed just how beautiful this swimming hole actually is. How many other pristine spots had we missed that sat there in the open just like this one?
Riding bicycles or walking around town leads to far more interactions with the locals than riding a scooter does. Here a young boy jumped on the back of Jazza's bike, hitching a ride back to his house. Something that happens often, but still made us smile.
As we walked towards 'downtown' from our house in Phong Nha village, this view accompanied us the entire way. How could we not love this place?
The sun sets over the Rau Con River, in the Bong Lai Valley of Phong Nha. This shot was taken from the iconic Pub With Cold Beer – a restaurant that is almost as famous as the caves themselves.
In the Quang Binh province, of which Phong Nha is located, 70% of the residents work in the agricultural industry. Rice farming is among the lowest paid jobs in all of Vietnam. Locals expect that in 2015 the average farmer in Phong Nha will only earn $800 for the entire year, due to low rainfall last wet season. Luckily for residents, new opportunities are being presented thanks to a new industry developing in town – Tourism.
Standing at the exit of an unnamed cave that was only first discovered late in 2014, despite being less than 100m to the colossal Paradise Cave. Less than 20 tourists had ever stepped foot inside when we went on the first commercial tour there. So much is yet to be explored in Phong Nha.
The local traffic in Phong Nha is an interesting mix of cows, buffalo, dogs, chickens, goats, children and the quintessential scooter. Every time you step out of your front door, you never know what you are going to encounter.
Remnants of the past are everywhere you look in Phong Nha. Those circular holes in the middle of the rice fields are bomb craters left over from the American War. You can find them peppered all over the region. Locals are forced to work around them, often in fear of uncovering one that remains unexploded.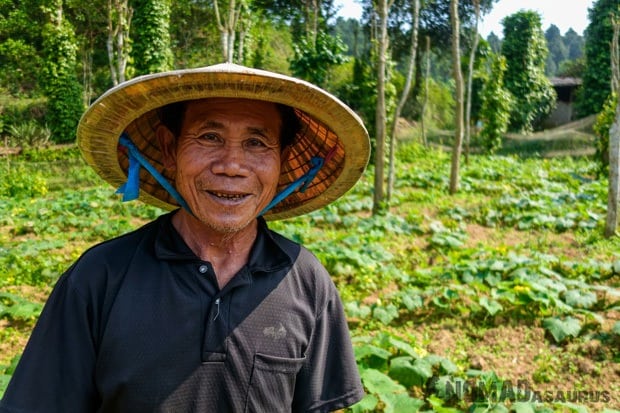 During the American War, Mr Vi was part of the Viet Cong, fighting against the US Army while they dropped millions of bombs on his homeland. Life in this part of the world was like a living hell, but luckily he managed to survive. During one air raid, a bomb was dropped near to where he was stationed, detonating and causing immense damage. He still has pieces of shrapnel in his leg today.
Now he owns a beautiful piece of land on the Rau Con River just outside of town, where he farms pumpkins, tapioca, pepper, watermelon and pineapple. With his warm smile and gentle nature, he wants to welcome tourists from all around the world to his property. Another amazing person with an incredible story in Phong Nha.
Hang En, meaning 'swallow cave' after the birds that inhabit it, is currently considered to be the third largest cave in the world. The exit is one of the most impressive natural archways we have ever seen. For a true idea of the size of it, check the scale compared to the three people standing at the bottom of the shot.
Fast flowing rivers emerge from underground, bringing more questions than answers about their origins. Many of the caves in the area have been forged by these raging torrents, but local experts are still unaware of where the majority of them start from. This particular one is Nuoc Mooc springs. Jungle men think that this underground river springs back up to the surface somewhere across the border in Laos.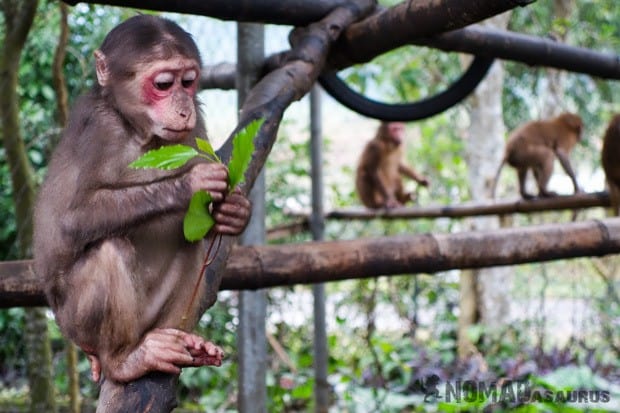 Phong Nha is home to 10 different primate species, including the critically endangered Hatinh langur. Not many people are aware that Phong Nha also has two wildlife rescue centres, which aids in the rehabilitation of different species, including this macaque that was saved from a hunter's trap. Unfortunately many are still under threat as local's hunt them for food, traditional medicine, or to sell on the black market as pets.
Meet Phong Nha's first ever pilot – Madam Tham!
During the Vietnam/American War, a US jet was shot down just outside of town, with an American solider managing to eject and parachute his way to safety. When he landed, he apparently ditched his equipment in a field.
Madam Tham and a group of villagers found the equipment and started analysing it. Madam Tham was holding the parachute when a strong gust of wind came through, sending the parachute high into the sky – with Madam Tham still holding on!
She managed to survive her brief foray into human flight, and is now known throughout the region as Phong Nha's first ever pilot. She has since traded aerial acrobatics for aquatic endeavours, and you can find her transporting passengers and scooters across the Son River in town.
Only discovered in 2005, the 31.4km Paradise Cave opened up to the public in 2010. After 1km of boardwalk was installed and tactful LED lights put in, this masterpiece really helped to generate interest in tourism to the area. Including the historic Phong Nha Cave, the region now had more than one major attraction commercially available.
Less than 150m from our house, a local man was doing some construction work on his land. He wants to turn his current house into a restaurant, so he is building a new structure out the back for him and his family to live in. Unfortunately as they were doing the groundwork for his new home, they discovered something which is all too common in this region.
They discovered a live bomb.
It lay there for two weeks as they waited for it to be professionally detonated by a NGO. Before the professionals could find time to come out there to remove it, the bomb disappeared. Locals took matters into their own hands. We went around to the house this morning to see the bomb for ourselves.
Phong Nha was one of the most heavily bombed regions during the American War in Vietnam. As it is the narrowest part of the country, two of the Ho Chi Minh Trails diverged just outside of town. This made the agricultural village a main target for the US fighter planes as they peppered millions of ammunition across the landscape in an attempt to defeat the Viet Cong.
Almost 40 years after the war ended, there are still thousands of pieces of unexploded ordinances (UXOs) scattered across Vietnam and Laos. It is an ever-present reminder of the monstrosities of war, that even today people are being affected from the dangerous litter left behind by past invaders.
In July 2014, two young children died in Phong Nha town when they discovered a live bomb, and it detonated as they started playing games with it.
Our landlady's brother and four friends were killed when they found one in the jungle. They were trying to dismantle it so they could sell the metal for scrap when it detonated.
The not-for-profit organisation MAG (Mines Advisory Group) does incredible work around the world in trying to clear up UXOs, and they have a formidable presence in Phong Nha and the surrounding Quang Binh province. They are still years away from making the region completely bomb-free. A terrible situation for the millions of people still affected daily by the terrible results of our haphazard war actions.
In the meantime thousands more bombs are scattered around the area. Children sometimes run and play games just metres from them, unaware of the dangers.
We bashed our way through the jungle as part of Hai's eco conservation tour, and reached the bottom of the Thac Gio Falls inside the national park. The cascades can be seen from the edge of Victory Road 20, however the only way to (legally) reach them is part of a tour.
The children of Phong Nha are some of the happiest and most curious we have ever come across. Every morning as we left our house kids would come running down the road after us, screaming out "hello" and throwing their hands out for a high 5.
Water buffalo are highly valued in the farming community. In a place mostly void of modern machinery, buffalo are still used to work the pastures and transport grain. Often they are one of the most expensive things a family will own. In Phong Nha, water buffalo are a common sight as they wander through the fields and streets.
The sun sets over the Son River in Phong Nha. We will miss this place more than any other we have ever been. But just like the sun will rise again, we too will return someday.
Phong Nha, we love you…