No trip to the Shoalhaven is complete without checking out all these incredible things to do in Jervis Bay!
Jervis Bay is a stunning corner of New South Wales that, surprisingly, not many people outside of the state know about.
This humble little section of coastline is only a 2.5-hour drive south of Sydney, and it is full of forest, rivers, campgrounds, villages, white sand beaches, and other great attractions.
Hyams Beach, which is known to have some of the whitest sand in the world, is probably the most famous of the best Jervis Bay attractions.
But there are so many more incredible things to do in Jervis Bay in addition to strolling along the soft, gleaming white sand of Hyams Beach.
From hiking trails and bush walks to charming little beach towns and restaurants, to some of the most gorgeous beaches you've ever seen, Jervis Bay has plenty of entertainment for travellers and locals alike.
Despite how visually incredible the place is, it never feels too touristy or overcrowded (unless you're here during school holidays of course).
It's all too easy to find your own private patch of white sand beaches in Jervis Bay, or seek out an isolated swimming spot.
And with the recent bushfires that devastated so much of this part of Australia, if you choose to visit you are directly contributing to the local community and helping rebuild what was lost for some many people, businesses and livelihoods.
So if you are looking for a gorgeous weekend getaway in Australia, Jervis Bay is the perfect place.
READ MORE: Check out our Australia Travel Guide when planning your trip to Australia!
The Best Things to do in Jervis Bay
The activities in Jervis Bay, Australia, are mainly centred around two areas – Huskisson and Hyams Beach, which are in the centre of the bay,
From there, the land curves to create an upper peninsula, where you'll find Currarong, and a lower peninsula, where you'll find Booderee National Park.
Within these three general areas, there are lots of opportunities for fun, relaxation, and adventure.
So here is our list of the best things to do in Jervis Bay!
1) Complete the White Sands Walk and see the Best Jervis Bay Beaches
No list of the best Jervis Bay attractions would be complete without the White Sands Walk. If you are dying to see all the most beautiful beaches in Jervis Bay area, this coastal walk is the jackpot.
The walking trail snakes along the coast, weaving in and out of the forest. You'll pass a number of breathtaking beaches, including Greenfield Beach and Chinamans Beach.
Each and every beach on the White Sands Walk has velvety white sand and clear turquoise water.
Because the bay is enclosed, the waves never get too big so the beaches are perfect for swimming, relaxing, and playing with children.
There are many other amazing beaches in Jervis Bay outside the White Sands Walk, including Murrays Beach, Caves Beach, Nelsons Beach, and Honeymoon Bay Beach.
But to see the best Jervis Bay beaches all in one area, the White Sands Walk is the thing to do.
Location: Park at Greenfield Beach Picnic Area, and follow the signs for the White Sands Walk.
Duration: About 1.5 hours return with no stops
Visit the website for more info!
2) Relax on Hyams Beach
The last beach along the White Sands Walk is Hyams Beach, the world's whitest sand beach.
You already know that you can find white sand here, and that's pretty much the only selling point as there isn't too many other things to do in Hyams Beach besides swimming and taking photos.
But don't underestimate how beautiful Hyams beach really is! It's pretty touristy but it is actually as stunning as people say.
If you're visiting Jervis Bay, you can't skip Hyams Beach. The white sand stretches on for 2.8 kilometres so you can easily escape the crowds and score a little slice of paradise all to yourself.
3) Grab a Delicious Beer at Jervis Bay Brewing Co
If you've built up a thirst after checking out what to do in Huskisson, Hyams Beach and the rest of the bay, head down to the region's newest and most delicious drinking hole, Jervis Bay Brewing Co.
Run by a couple of passionate locals, the guys here whip up some of the tastiest brews on the South Coast, and their beer garden is a fantastic place to spend a sunny afternoon.
Seriously, try their XPA or stout and you'll never look at beer the same way again.
The venue is buzzing, the tunes are great, and to add to the atmosphere they even have local food vans regularly set up in the garden to serve up delicious meals.
In case you needed more of a reason to stop by, when the bushfires ravaged the area at the beginning of 2020, the team at Jervis Bay Brewing Co partnered up with other breweries in the area to create a limited-edition pale ale, with proceeds going to bushfire reliefs.
The whole team is incredibly community-focused, and in the short time they've been open they have quickly become the best place in town to grab a drink for locals and tourists alike.
Seriously, get down here and be part of something special!
Address: 3 Duranbah Dr, Huskisson
Hours: Wednesday to Sunday, 12pm to 8pm (10pm on Fridays and Saturdays)
Check out our video interview with Paul Walker, one of the co-founders of Jervis Bay Brewing Co.
4) Go Whale Watching
If you're keen to see some whales but don't feel like diving into some cold water to swim alongside them, you can book a whale watching tour!
Jervis Bay is one of the best places in all of Australia to see humpback whales migrating between Antarctica and the warmer seas in the north, and from May to November they come right past, and sometimes into, the bay.
There are a number of whale watching companies to go with, but we personally recommend Dolphin Watch Cruises.
They are the longest operating cruise company in Jervis Bay, and work closely with the marine park to monitor and protect the wildlife here.
We went on their 2-hour whale-watching cruise and were lucky enough to see a whole bunch of humpbacks playing just past Point Perpendicular, as well as bottlenose dolphins close to shore.
The guides onboard are experienced and very knowledgable, and they absolutely love their job.
You can choose between the larger, more stable ship they operate, or a jetboat, which is faster and creates a safer environment for marine life.
Address: 50 Owen St, Huskisson
Phone: (02) 4441 6311
5) Head Out for Some Camping
One of the top things to do on the South Coast for people who love nature is camping.
Luckily there are plenty of campgrounds in Jervis Bay with spacious, grassy areas for setting up a tent or parking your van.
Some of the campgrounds even have facilities like toilets, showers, kitchens, picnic tables, and barbeque stations.
The most popular campgrounds in Jervis Bay are Bristol Point Camping Ground, Green Patch Campground and Honeymoon Bay Campground.
Cave Beach Camping is also popular. Cave Beach is perfect for light packers who have minimal camping gear, as you have to walk to the campground through the bush. You can't drive in with camper vans.
Cave Beach isn't the World's Whitest Sand Beach, but it's a less touristy gem that is a bit rugged and perfect for travelers looking to escape the crowds.
If you don't have camping gear, you can also rent a caravan at Bream Beach Caravan Park or Jervis Bay Caravan Park.
READ MORE: Check out our guide to the best places to visit in Australia!
6) Wander through Huskisson
Huskisson is one of the main places to visit in Jervis Bay so if you're staying for the weekend, you'll probably end up here at some point.
Exploring the best things to do in Huskisson is a great way to pass the time in Jervis Bay. There are some adorable cafes, a bookshop, a cinema, a spa centre, and all the usual amenities like food stores and a post office.
If you're camping and need to buy groceries and supplies, Huskisson is a convenient place to go, although it is slightly pricey. For cheaper groceries, go to the big complex on the main road near Vincentia.
Or if you encounter some rain, there is plenty of entertainment here to pass the time. Huskisson is a centrally located hub for all the best Jervis Bay attractions.
7) Check Out the Jervis Bay Maritime Museum
Any history buffs or people who just love learning should stop by this museum.
Located in Huskisson, the Jervis Bay Maritime Museum has lots of exhibitions, photographs, and artifacts on display that showcase how the maritime industry has evolved over time.
You can see historical vessels and ships, as well as interesting maritime instruments that were used back in the day.
Jervis Bay Maritime Museum also has a gift shop and a nice garden with a pond and a boardwalk.
Address: Woollamia Rd, Huskisson NSW 2540
Hours: Open 10 am to 4 pm every day
Cost: $10
8) Go Stand Up Paddle Boarding
For people who want a nice relaxing day out on the water, stand up paddleboarding is an amazing Jervis Bay activity.
Stand up paddleboarding is a super easy and family-friendly water sport. The boards are big and sturdy so you can cruise along the water without worrying too much about athletic ability.
The conditions in Jervis Bay are also perfect for paddle boarding because the water is clear and calm.
Jervis Bay Stand Up Paddle is the best company in the area for hiring paddleboards.
They also offer lessons and tours for beginners or for those who want a guide to show them the best spots.
You can cruise past the most beautiful Jervis Bay beaches and get a new perspective.
Address: 3/2 Erina Road, Huskisson, NSW, 2540
Hours: They recommend you call them at 0403 354 716 or email them for inquiries.
9) Go Kayaking
Another exciting water sport to try in Jervis Bay is kayaking.
Kayaking provides a bit more stability than paddleboarding because your centre of gravity is lower.
One of the best places to kayak in Jervis Bay is Currambene Creek, where the water is smooth and clear and the views are beautiful.
You can also rent kayaks at Jervis Bay Stand Up Paddle, and they even have glass-bottom kayaks so you can see underwater while paddling!
Jervis Bay Kayak Hire is another great kayak rental company you can visit. Here are their details:
Address: 13 Hawke Street, Huskisson, NSW, 2540
Hours: 9:30 am to 4:30 pm on Monday and Friday, 9:30 am to 3 pm on Saturday and Sunday, closed Tuesday through Thursday
Website: https://jervisbaykayaks.com.au/
10) Visit Booderee National Park
Anyone wondering what to see in Jervis Bay should head to Booderee National Park. This lush section of Jervis Bay set on a peninsula and is full of fun things to do.
Visit the Cape St. George Lighthouse, go hiking in the forest, spot some local kangaroos, or soak up the sun on one of the beautiful beaches like Iluka Beach, Caves Beach or Murrays Beach.
You could also check out the fascinating natural rock formations of the Scottish Rocks or the Hole In The Wall.
The entry fee to Booderee National Park is $13 per vehicle for 48 hours. The money is so worth it for one of the best Jervis Bay attractions!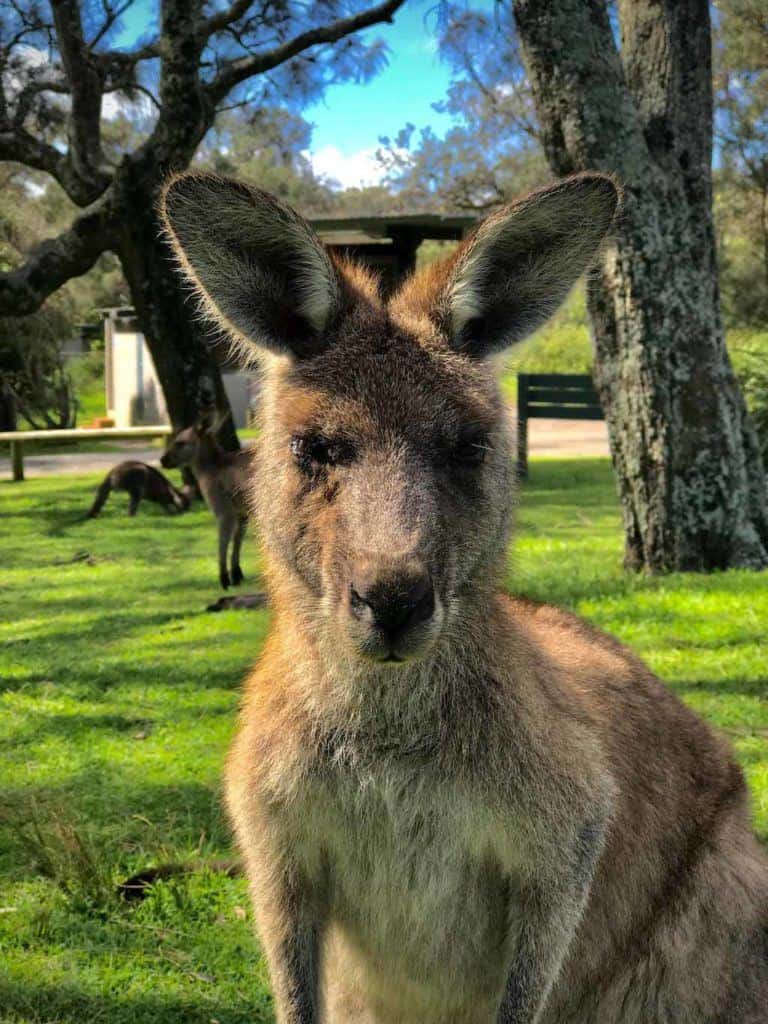 11) Check out the Booderee Botanic Gardens
It's not just all about chilling at popular spots like Hyams Beach, Greenfield Beach or Murrays Beach when in Jervis Bay – One of the highlights of Booderee National Park is the botanic gardens.
Anyone with even the slightest interest in plants and flowers will enjoy their visit here.
You can learn all about the native plants and their significance to the indigenous Koori people of the area, and you can stretch your legs on the nature trails that circle through the gardens.
Exploring the botanic gardens is one of the top things to do at Jervis Bay for those who want to immerse themselves in nature without actually camping or getting too deep into the forest.
Address: Booderee National Park, Jervis Bay, 2540
Hours: Open 9 am to 4 pm every day
Cost: Included in the entry fee to Booderee National Park
READ MORE: Looking for more things to do in New South Wales? Check out our list of the best Sydney day trips!
12) Book A Dolphin-Sightseeing Cruise
The ocean lining the state of New South Wales is packed with dolphins. Sometimes you can see them from the shore, but the best way to spot dolphins is by booking a boat tour.
You can book a 1.5-hour boat tour where you're likely to see a large number of dolphins frolicking in the ocean.
The local Jervis Bay tour guide will also teach you some fun facts about Jervis Bay, and you'll get to enjoy a lovely view of the bay from the water.
13) Hike to Gosangs Tunnel
For any hikers and adventurous travellers wondering what to do in Jervis Bay, head to the Currarong area and hike to Gosangs Tunnel.
Start at Abraham's Bosom Reserve in Currarong and follow the trail along the coast.
The views along this walk are dramatic and rugged. You'll see some interesting natural rock formations, the serene and beautiful Mermaid's Inlet and, eventually, you'll get to crawl through Gosangs Tunnel which is about 20 meters long.
Taking about 1.5 hours and covering just under 5 km, this hike is relatively easy. But you'll cover some rocky terrain so it isn't really suitable for young children.
14) Rent a Bicycle
A fun way to explore Jervis Bay is by bicycle.
Because the towns are small and the car traffic moves very slowly, Jervis Bay is a very pedestrian and biker friendly zone.
Head to the town of Vincentia and visit Jervis Bay Bike Hire. This family-owned companyv is loved by locals and rents out high-quality bicycles so you can make the most of your time in Jervis Bay.
Address: 311 Elizabeth Dr, Vincentia NSW 2540
Hours: Call them at 0410 335 015 to check the times
15) Venture to the Point Perpendicular Lighthouse
Located at the southernmost tip of Jervis Bay's upper peninsula (called the Beecroft Peninsula), Point Perpendicular Lighthouse can seem like it is suspended in the middle of the ocean.
Because this lighthouse was first lit in 1899, it is sometimes called the Turn-Of-The-Century Lighthouse.
Drive into Currarong along Currarong Road, then turn right onto Lighthouse Road. You'll have to drive along that rocky, dusty road for about 7km before you reach the lighthouse.
But once you're there, you can absorb the amazing views of the surrounding ocean and coastline.
The 90m-high coastal cliff is the second-highest in the state, and if you're real lucky you can even see whales cruising by.
16) Go Snorkelling
While visiting any of the beaches in Jervis Bay, snorkelling is one of the most fun activities you can do.
More often than not, the water is crystal clear and filled with interesting fish and sea plants.
Jervis Bay Marine Park and Booderee National Park have lots of amazing beaches for snorkelling.
Any of the SUP and kayak rental places previously mentioned also offer snorkelling gear, as do most tourism companies in Jervis Bay.
17) Dive with Seals or Whales
One of the most exhilarating activities in Jervis Bay is to go swimming alongside seals or whales in the ocean.
The local diving company, Dive Jervis Bay, offers so many different options for diving and swimming with wildlife, so there is something for everyone.
They have two different tours on their website that include swimming with seals or whales. And they also offer scuba diving courses for people who want to learn.
This company is super reputable and has so many exciting diving options, so definitely check them out if you want some memorable experiences in Jervis Bay!
Address: 64 Owen Street, Huskisson, NSW 2540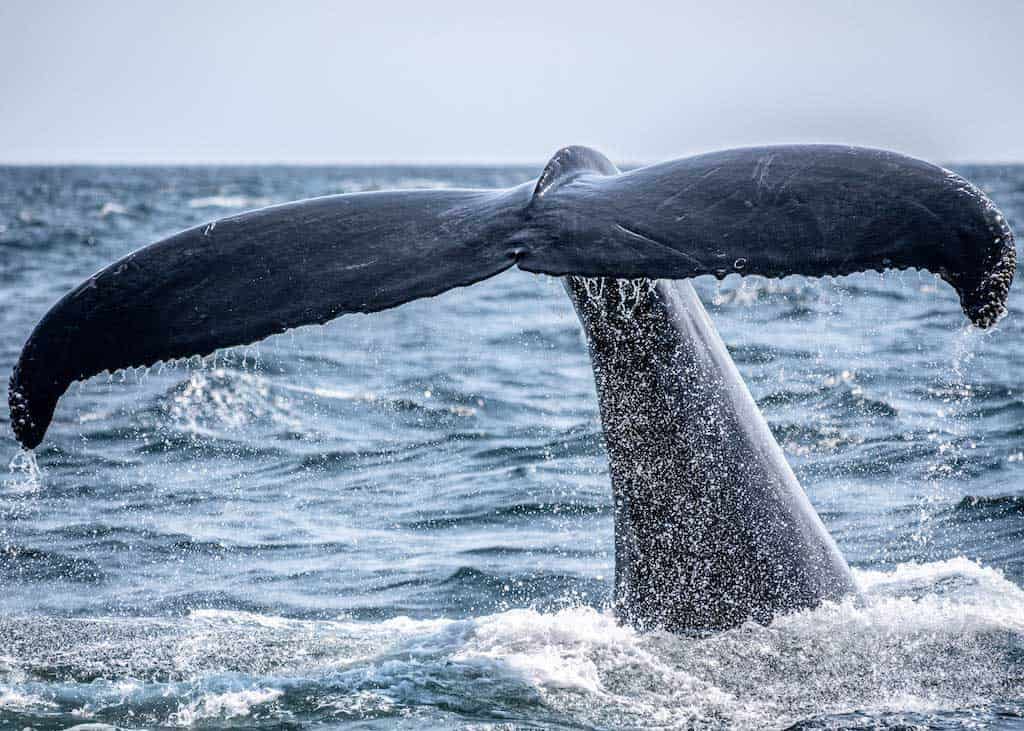 18) Bird-Watch
In addition to the underwater wildlife like dolphins, seals, and whales, Jervis Bay is home to a number of fascinating local bird species.
Any bird-lovers or wildlife photographers will have a blast exploring the bush here and trying to spot some beautiful winged creatures.
Booderee National Park is one of the best places for birdwatching. There are so many walking trails along the coast and in the bush, so ask at the information desk for their recommendations for that day.
Early morning is the best time for bird-watching unless you're looking for owls!
Some of the notable species in Jervis Bay include albatrosses, rainbow lorikeets, robins, and wattlebirds.
19) Stroll Along the Mangrove Boardwalk
This peaceful walk showcases some of the local bio-diversity and is one of the best Jervis Bay attractions for the whole family.
This is another perfect spot for bird-watching, and you can also check out the mangroves and the crabs and fish that live there.
This walk starts behind the Jervis Bay Maritime Museum and stretches on for about 1.5 km along Currambene Creek.
20) Learn About Aboriginal Culture in Booderee National Park
The Aboriginal culture is very prominent in Jervis Bay, so it is very interesting to learn about the history and ways of life that have thrived here for generations.
In Booderee National Park, head to Galamban Aboriginal Experiences to book a tour or a class led by the traditional owners of the land.
You'll get to learn all about the indigenous culture of the area and even take part in a few workshops and classes like traditional weaving and survival skills.
Address: Jervis Bay Rd, Jervis Bay JBT 2540
Hours: Call them at 0493 375 155
21) Watch the Sunset
The perfect ending to a day of sun, ocean, and adventure is relaxing with an amazing view of the sunset.
Cozying up with a drink in hand or a loved one by your side and watching the sunset is definitely one of the best things to do in Jervis Bay.
Hyams Beach and Point Perpendicular Lighthouse are two lovely sunset-viewing spots.
Another one is Plantation Point near the town of Vincentia. This headland is situated between Nelsons Beach on the south and Barfleur Beach on the north, and it's an amazing spot to watch the sunset.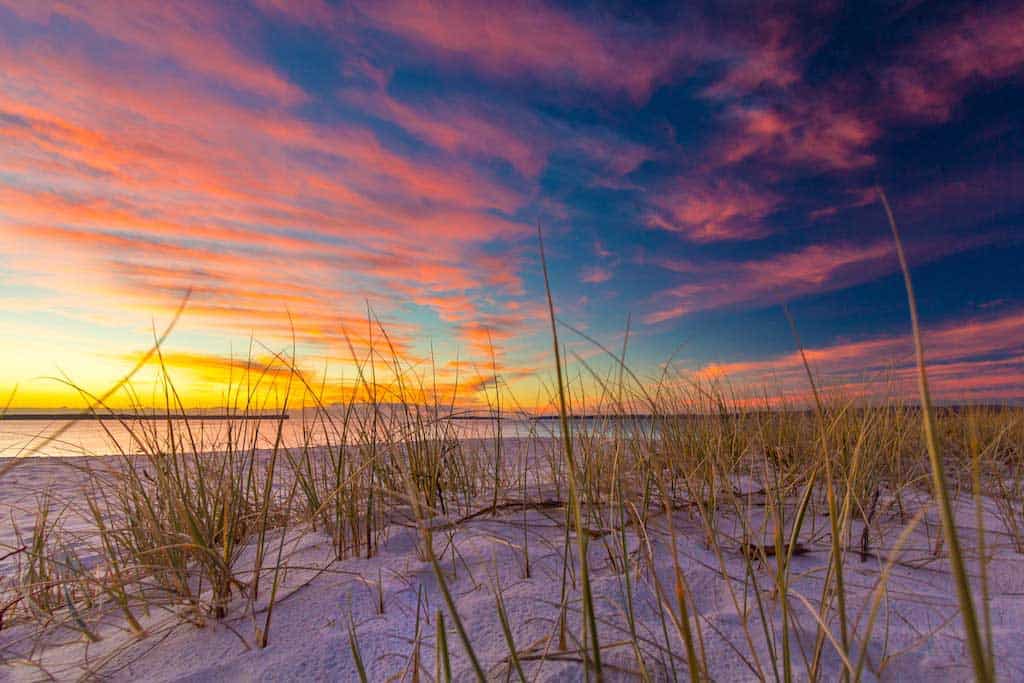 Jervis Bay Travel Guide
So hopefully you've had the chance to enjoy Greenfield Beach and the White Sands Walk, Jervis Bay Brewing Company, the Point Perpendicular Lighthouse, and all the other Jervis Bay attractions.
Now that you know what to do in Jervis Bay, you can start thinking about where to stay and what to eat in the area.
Best Accommodation – Where to Stay in Jervis Bay
Jervis Bay has some amazing accommodation options. Unfortunately for solo travellers and backpackers, there aren't any hostels in the area.
But for anyone wondering how to explore Jervis Bay on a budget, there are still some great motels that have cheap rooms.
If you really want to save the most money, camping is the cheapest option. But you'd have to have your own tent and gear.
For those with higher budgets, there are some gorgeous hotels and resorts where you can spend the weekend relaxing and enjoying your magical surroundings.
There are also lots of houses and apartments that are rented out so you can enjoy the coziness of staying in an actual home.
The Best Motel in Jervis Bay – Jervis Bay Motel
Budget travellers in Jervis Bay could stay at this highly-rated yet affordable motel.
Located in the town of Huskisson near lots of shops and restaurants, this motel is comfortable and gets lots of positive reviews regarding customer service and cleanliness.
A standard motel room costs less than $100 a night. Sure it's not a $20 hostel dorm room, but it's still a decent price for such a stunning area.
Best Budget Accommodation for Couples – Wildwood Homestay
For couples who want a nice place to stay in Jervis Bay that doesn't break the bank, Wildwood Homestay is a fantastic option.
At only $160 per night, you get to rent out the entire house so this is also a good option for families (and it's pet friendly!)
You'll feel right at home in this cozy place and it's only 5 minutes away from the beach.
Best Mid-Range Hotel in Jervis Bay- The Edgewater Bed and Breakfast
This beautiful bed and breakfast in Jervis Bay has a 9.6 out of 10 rating, and previous customers rave about the clean rooms and the quiet, peaceful atmosphere.
A King Room costs $230 per night and includes breakfast and free Wifi. There is also a swimming pool and garden for your enjoyment.
Best Luxury Accommodation in Jervis Bay – By The Sea on Culburra Beach On The Beach
If you're willing to splurge a bit of money on an incredible stay in Jervis Bay, I highly recommend you stay in a gorgeous beachfront home.
Enjoy having an entire luxury house to yourself. By The Sea is literally just steps away from Culburra Beach, so you can enjoy ocean views from the home and pop down for a swim at any time.
Best Restaurants in Jervis Bay
There isn't a huge selection of eateries in Jervis Bay because the area is mainly for camping, exploring, and heading to the beach.
But in the towns of Huskisson and Vincentia, there are some great restaurants and cafes that serve up traditional Australian food for decent prices.
The Absolute Best in Town – Wandering Woodfire Oven
We're going to let you in on a little secret – the best place to eat in Jervis Bay is actually a mobile woodfire pizza trailer!
Run by the incredibly friendly and pizza extraordinaire powerhouse couple Wes and Mary, these guys have a few authentic woodfire pizza ovens mounted on trailers and the back of utes that they take all over the South Coast.
Remarkably affordable and as mouthwatering as anything you'll ever taste, their pizza is guaranteed to have you seeking them out wherever you go.
It's so good, we ate there twice!
The best place to find them is parked up in the carpark at Jervis Bay Brewing Co, but you'll have to check out their schedule to see when they'll be there. They're active on social media, or you can just give them a call.
Alternatively they can be booked for events as well.
NOMADasaurus Tip – Ask them about their secret menu…
Budget: World Famous Fish n Chips Huskisson
If you're looking for a cheap meal in Jervis Bay, head to the World Famous Fish N Chips Huskisson.
Whether the fish and chips here are actually world-famous or not, they are delicious and make a nice quick and easy lunch after a long day at the beach.
Mid-range: Pilgrim's Vegetarian Cafe
Pilgrim's Vegetarian Cafe is an incredibly popular health-conscious restaurant in New South Wales that has a few locations around the state.
For a healthy but filling meal in Jervis Bay, come here for their famous "Bliss Burger," a plant-based patty topped with so much goodness.
The Millenium Burger is also a hot favourite.
High-End: Husky Pub
One of the top places to eat in Jervis Bay and a favourite among locals is the Husky Pub.
This restaurant is part of the Huskisson Hotel and offers some delicious, high-quality classic Australian dishes.
DISCLAIMER: Some of the links in this article are affiliate links, which means if you book accommodation, tours or buy a product, we will receive a small commission at no extra cost to you. These commissions help us keep creating more free travel content to help people plan their holidays and adventures. We only recommend the best accommodations, tours and products that ourselves or our fantastic editorial team have personally experienced, and regularly review these. Thanks for your support, kind friend!