This list of the best things to do in Kyrgyzstan in winter will have you packing the snow gear and booking a trip immediately!
Known for having some of the most mesmerising mountain ranges in the world, Kyrgyzstan is a true paradise for anybody looking to get out for some long hikes or horse treks.
Along with its fascinating nomadic culture, hospitable people and Silk Road history, there's little wonder Kyrgyzstan has been making constant appearances on travel lists as one of the best places to visit in the world.
Kyrgyzstan has traditionally always been a summer destination for adventure-seeking travellers.
However that is starting to change, and word is getting out that winter in Kyrgyzstan is one of the most incredible times to travel here.
After 7 visits to the country, each time making me fall more and more in love with it, I finally had the chance to come back in the wintertime.
I had high expectations, based on pictures from my friends who live there, but besides skiing in Kyrgyzstan, I didn't really know what else to see and do when the snow had fallen.
Turns out there are a lot of adventures to be had!
Kyrgyzstan in Winter – What to Do for an Epic Holiday!
If you're looking for things to do in Kyrgyzstan in winter, or just wondering whether or not you should come in the colder months, this list will answer all of your questions!
READ MORE: Check out our complete travel guide for Kyrgyzstan!
Go Skiing at Karakol Ski Resort
Being a mountainous country with a long winter and heavy snowfall, it's little wonder that skiing in Kyrgyzstan has become a favourite pastime for locals and tourists from nearby countries like Kazakhstan and Russia.
It's still relatively unknown amongst the wider travel world though.
Much to the surprise of many people who choose hotspots like the Alps and North America for their winter vacations, Kyrgyzstan actually has a number of incredible ski resorts, with terrain that can cater for any skill level.
You heard it here first – one of the top Kyrgyzstan winter activities for your next trip is definitely skiing!
So where should you do it?
The best ski field in Kyrgyzstan is without a doubt Karakol Ski Resort, located on the eastern side of lake Issyk Kul.
With an impressive 740m of lift-accessed vertical drop and a variety of terrain that would suit anybody from a complete beginner to a hardcore shredder, Karakol is a must-visit for any Kyrgyzstan winter trip.
Lift tickets are an absolute bargain at USD$17 a day, and you can get rental gear at the hill or in the town of Karakol.
If you are experienced with avalanche rescue and know how to read and monitor snow conditions, the slackcountry that can be accessed from the top chair is fantastic.
While you can also go skiing close to Bishkek, or in some of the backcountry camps in Jyrgalan and Jalpak Tash, we recommend you set aside at least a few days to ride in Karakol.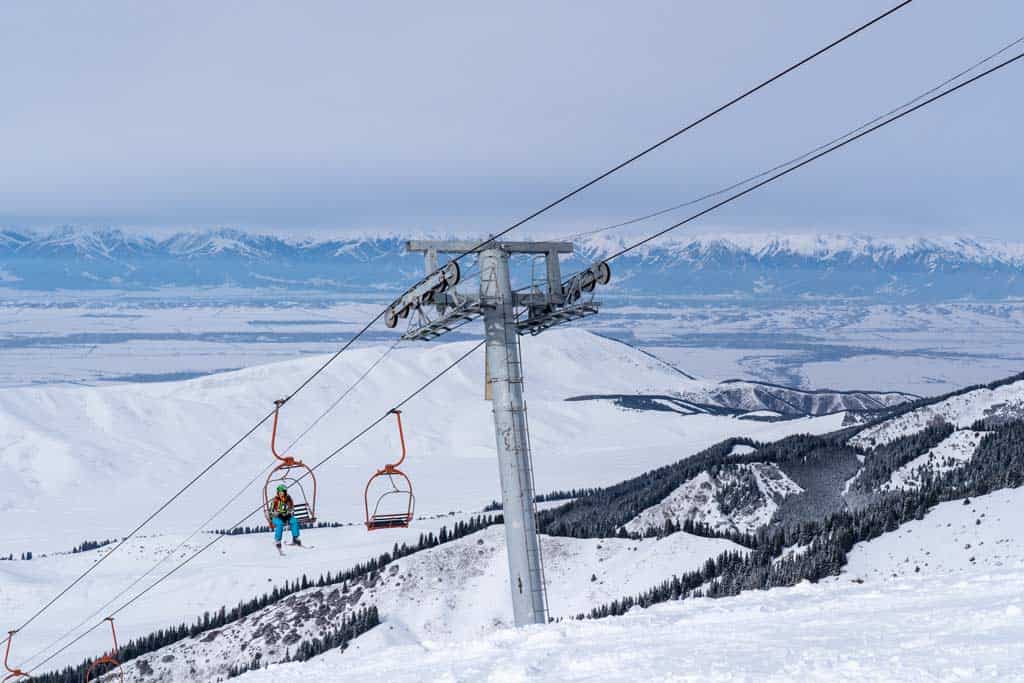 Hang out with a Real Eagle Hunter
Scenes of the stately eagle hunters of Kyrgyzstan, riding atop a horse dressed in traditional outfits with a golden eagle proudly perched on their arm, have become synonymous with the country's image.
Seeing an eagle hunter demonstration is definitely one of those bucket list Kyrgyz experiences, and while you can organise a show at any time of year, winter is the normal time for these hunters to be out with their birds of prey.
The best place to get up close and personal with an eagle hunter is on the south shore of Issyk Kul.
Here you'll find a couple of professional (and in some cases, world champion) eagle hunters who offer demonstrations for tourists when they're not out in the mountains.
The most notable ones are the Salbuurun Federation, based in Bokonbayevo, and these are the same guys we meet with every year for our NOMADasaurus Kyrgyzstan Tours.
For my recent winter trip though we met with Ruslan, an eagle hunter from the small village of Jaichy near the south shore.
Against one of the most incredible backdrops imaginable of a striking snowy mountain, Ruslan and his gorgeous eagle, Karakuz, put on an amazing demonstration using horses and a live rabbit (yes it's gory, but remember this is an ancient cultural tradition) for our group.
Afterwards Ruslan was kind enough to pose for photos, and even allowed us to hold Karakuz to get our own eagle hunter shots.
You can get in touch with Ruslan through the CBT Bokonbaevo office, or the Jaichy Yurt Camp.
Explore Kyrgyzstan's Incredible Landscapes Covered in Snow
Kyrgyzstan is a wonderfully diverse country with a plethora of mind-blowing landscapes to explore.
From postcard-worthy alpine lakes such as Kel Suu and Song Kul to the red rock rainbows in Skazka Canyon, you could literally fill an entire month-long itinerary bouncing between some of the most stunning vistas on earth.
They are undoubtedly beautiful at any time of year, but these places become especially magical when covered in a fresh layer of snow.
One of the most unique places to see is the sandstone formations at Jeti Oguz, a short drive from Karakol.
If you can, get up here early in the morning or late afternoon when the light is golden.
My recommendation is to simply rent a car and drive around, giving yourself plenty of time to stop off at all the magnificent viewpoints of Kyrgyzstan in winter.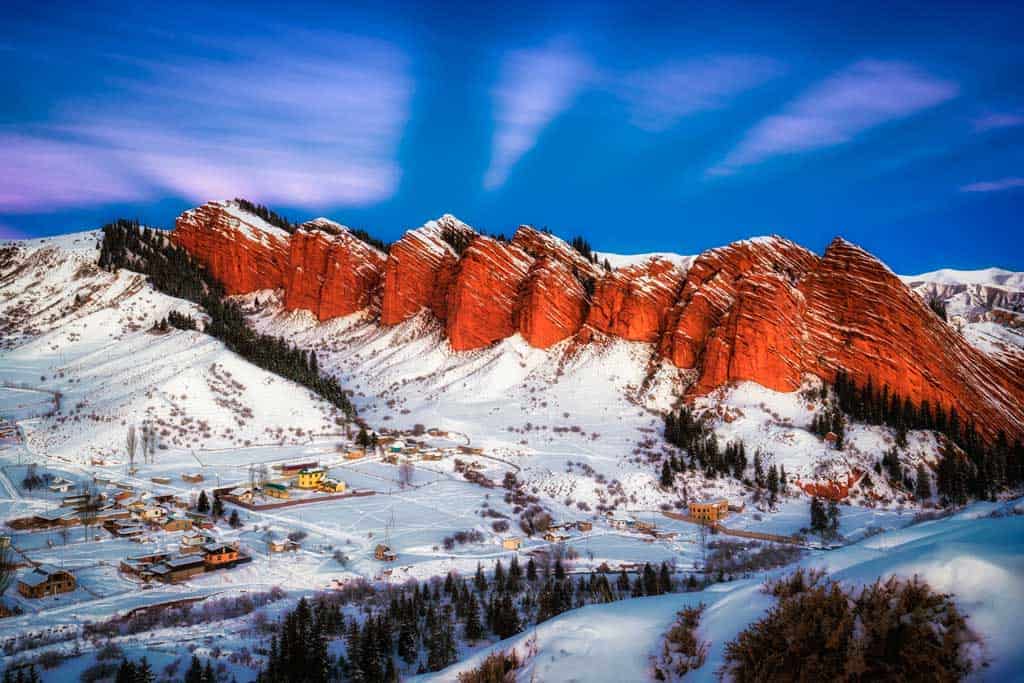 Stay in a Yurt
Up there with eagle hunting as one of those quintessential things to do in Kyrgyzstan, staying in a yurt is a truly unique local experience.
Sleeping in a yurt in Kyrgyzstan in winter definitely adds to the bad-ass factor, and luckily there are a couple of places you can do this around the country.
Yurts are a traditional domicile used by nomadic families for centuries, and they can be packed up and transported with surprising ease.
Check out this video below for a better idea of how yurts are built.
Knowing that visitors are often interested in yurts, you can find a number of excellent yurt camps all around Kyrgyzstan.
Most of these are only open in the summertime, but there are some that stay open year-round.
The one we checked out was the Boz Uchuk Yurt Camp, managed by CBT Karakol, deep in the Boz Uchuk Valley.
You can only get here by snowshoeing or ski touring 8km into the mountains, but once you arrive you're guaranteed to be blown away with its jaw-dropping location.
Surrounded by towering peaks and dense pine forest, the Boz Uchuk Yurt Camp has two guest yurts and a dining yurt, which keeps things comfortable and intimate at the same time.
The yurts are cosy in the evenings, and there's a wood-fire stove that you can keep alight all night to warm it up.
It makes a great base for exploration of the Boz Uchuk Valley in winter, and if you are a skier or snowboarder, you're guaranteed to find endless powder lines all around.
In my humble opinion, if you didn't stay in a yurt camp on your trip, you missed out on one of the best things to do in Kyrgyzstan in winter!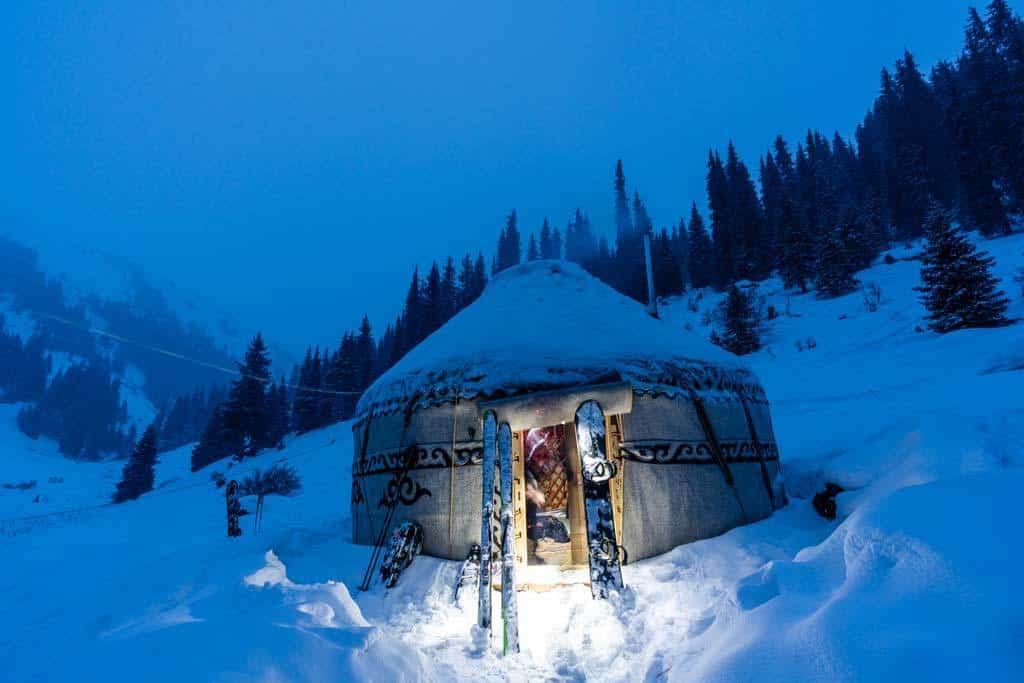 Venture into Jyrgalan's Wild Backcountry
I've made no secret of it on this website that Jyrgalan is our favourite place in Kyrgyzstan, and having now been here in winter, it is firmly cemented at the top of my list.
It's not just the bucolic village life that we love so much. Jyrgalan is a mecca for adventure, being right in the heart of the Tian Shan mountains.
We've been lucky enough to go on some legendary hikes around Jyrgalan, and have always wondered what the potential for winter sports would be like in the valley.
On our recent trip, we had the chance to spend two days exploring the backcountry skiing here, and it really is incredible.
Jyrgalan doesn't have any ski lifts, meaning if you want to get out into the mountains in winter, you have to snowshoe, ski tour, or rent a snowcat or snowmobile.
It's worth the effort though, because once you make it to the summit of these peaks you'll be rewarded with spectacular views all around (even into Kazakhstan from some perspectives), and untracked snow waiting to be carved.
Jyrgalan has become the go-to backcountry skiing and snowboarding spot in the country, so make sure you add it to your Kyrgyzstan winter itinerary.
To organise your trip here, we recommend getting in touch with Emil and Gulmira at Destination Jyrgalan.
Soak in a Hotspring
After a big day of skiing, snowshoeing or wandering around in the snow, there's nothing better than soaking in a hot spring.
The mountains around the eastern side of Issyk Kul have quite a few natural hot springs, with the most famous one for travellers being at Altyn Arashan.
There are plenty of easier-to-access pools though, and the Ak-Suu Kench Hot Springs just a 30-minute drive from Karakol is a great spot to check out.
With 3 large outdoor pools varying in temperature from pleasant to "Oh my God my skin is melting", it's one of the best hot springs in Kyrgyzstan to kick back and relax with gorgeous mountain views all around.
Entry is only 200KGS per person, and if you need, you can hire lockers and towels.
There's also a restaurant onsite in case you are feeling hungry.
Watch a Kok Boru Match
Central Asia has a number of unique sports that have become ingrained in their culture over the centuries.
Eagle hunting is of course one. Wrestling is another. But if there's one sport that really draws the curiosity and intrigue of international travellers, it's Kok Boru.
Known to the western world as 'headless goat polo' due to the fact there is indeed a headless goat involved, Kok Boru is one of the craziest sports on the planet.
In a nutshell, there are two teams made up of 12 people each. On a large open field, there are two circular goals made of tyres and mud placed at each end.
With each player on horseback, the aim is to pick up a decapitated goat that has been killed just before the game starts (the winners eat the goat afterwards) and carry it to the other end of the field to throw it in the goal.
If that doesn't sound difficult enough, keep in mind that this goat can weigh up to 80 pounds, and while the player with the goat is trying to make it to the end of the field, the players on the other team are constantly charging and wrestling the goat-holder to try and take it off them.
It's an incredible spectator sport that really made headlines around the globe at the World Nomads Games.
While you can see a Kok Boru match at any time of year, it is mostly played during the winter.
Stumbling across a Kok Boru match when travelling around Kyrgyzstan in winter is a very fortunate experience, but definitely not uncommon compared to summer.
If you'd like to know when a match is happening, ask around in the smaller villages around Issyk Kul to see if there's one scheduled.
The locals are usually pretty receptive to having foreign tourists watch their games. Just make sure you keep your wits about you, as there are no fences and it can be very dangerous if you get too close to the action.
DISCLAIMER: This publication is made possible by the Sustainable Winter Tourism Development Project financed by the Government of Switzerland through the State Secretariat for Economic Affairs (SECO) and implemented by Helvetas Kyrgyzstan as well as by the support of the American People through the United States Agency for International Development (USAID) Competitiveness, Trade, and Jobs Activity in Central Asia. The contents of this publication are the sole responsibility of Jarryd Salem of NOMADasaurus Adventure Travel Blog and do not necessarily reflect the views of the Government of Switzerland and Helvetas Swiss Intercooperation or USAID and the United States Government.