ANNOUNCEMENT: Dates for our 2024 Pamir Highway Adventure Tour will be announced shortly! Join the waiting list found at the bottom of this page to be the first to hear when registrations open.
After the huge success of our 2019 Pamir Highway tour, we are excited to announce that registrations are now open for our exclusive 2024 group tour of Tajikistan!
This incredible once-in-a-lifetime adventure follows what has been dubbed the greatest road trip in the world, traversing through the fabled Wakhan Valley along the border of Afghanistan.
With the Pamir Mountains on one side, and the imposing Hindu Kush on the other, this tour will take you into the heart of one of the world's most spectacular, and least-visited regions.
Just like our personal travels, this tour of Tajikistan is structured to be off-the-beaten-path, giving an insight into fascinating local cultures, with a big focus on outdoor adventures. While the tour is professionally backed by a local, licensed tour operator, it is designed to be more like a small group of good friends exploring a wonderful country together.
Our NOMADasaurus PhotoVenture Tours are unique in that not only do we seek out the most amazing experiences in a country, we have a photography workshop element included as well. This means that we will be giving advice on various aspects of photography as we go, helping you get the absolute best images out of your holiday.
"A trip of a lifetime, we were overwhelmed by the beauty of The Pamir Highway. NOMADasaurus Tours gave us the confidence to travel to this "off the beaten path" location. We cannot say enough about the care shown by the team they put together, and the warmth of the welcome by the people of Kyrgyzstan and Tajikistan. The breathtaking views, the hiking, the cultural experiences, and the photography components, all created a deep and varied tour with something for everyone. We've made new friends through our experiences, been inspired to see more of the world, and will share with people back home our great adventure."

Cynthia H. – 2019 Pamir Highway Tour Guest
Alongside our famous Kyrgyzstan tour, and our new highlights of Mongolia tour, our goal is to open traveller's minds to this fascinating region and offer an experience that is unrivalled in the adventure tour industry.
These tours are also different in that even though we have a set schedule, we encourage all participants to be open to change, because in this part of the world we never know what we may come across.
As an example we might have a hike planned, but discover last minute that a local village is holding a nomadic sports festival, and it'll offer a unique cultural experience that you just cannot pre-organise. We also need to make decisions for the group's safety when it comes to weather, as it can change quickly in the alpine. If there's a chance a storm may roll in, we do not want to be in a meadow at 5000m above sea level, so will instead seek alternative activities.
So why Tajikistan and the Pamir Highway? When we first travelled to this country in 2015 we immediately fell in love with it and saw huge potential for adventure tourism in the coming years.
An absolutely amazing tour for intrepid travellers. Every day presented fabulous new vistas and experiences. Recommended for those who want to learn more about the world ands gain a deeper understanding of its people in these troubled times. NOMADasaurus Tours is an ethically run sustainable operation that employs local people and supports community projects. Fabulous!

Veronika M. – 2019 Pamir Highway Tour Guest
It's raw, it's beautiful, and truth be told it's a difficult place to navigate independently. Still we believe it's a place any intrepid traveller should explore at least once in their lives, and that's why we have put together this fantastic Pamir Highway tour package.
This isn't just any standard jaunt around Tajikistan, this is potentially the most epic road trip you'll ever take in your whole life!
Forget the buses, we have four heavy duty 4x4s to take us deep into the mountains!
This brand new 16-day tour will start off with the busy Kyrgyz city of Osh, before crossing the border into Tajikistan and hanging out in the Silk Road-era town of Khujand.
The next stop is Iskanderkul, a majestic lake that has only recently started to make an appearance in traveller's itineraries, then we head to Tajikistan's curious capital Dushanbe.
Then it's time to hit the world-famous Pamir Highway, and follow the border of Afghanistan for the next 7 days. After a night in Khalikum we leave the 4x4s behind and hike into the Bartang Valley to stay with a local family in the isolated Jizeu Village, which doesn't have any road access.
Only a hundred or so travellers make it to the Jizeu Valley every year, so this will be an adventure you'll never forget.
When we make it Khorog we take a well-earned rest day, and may have the opportunity to visit an authentic Afghan market. Feeling rejuvenated, we'll drive to Yamchun, stopping off at a number of ancient fortresses.
We will have a full-day trek to the alpine meadows at Engel's Peak. This 9-hour hike is going to be challenging, but stunningly beautiful. Afterwards it's onto Langar, then we'll push on to Alichur, with a trek up Panorama Peak, boasting views of the Hindu Kush of Afghanistan, and taking a detour to the alpine lakes of Bulunkul and Yashilkul.
Karakul Lake is our last spot in Tajikistan, and there's another hike we can do before we re-enter Kyrgyzstan. We'll spend two nights at one of the country's most picturesque yurt camps, right on the shores of Tulparkul Lake at the base of Peak Lenin. There's a free day available at the lake so you can either relax, or trek up to Traveller's Pass overlooking Lenin's Glacier, before we finish our trip back in Osh.
For the entire tour you will be transported in four, Toyota Land Cruisers (or similar models), and your accommodation will be a range of 3-star hotels, family-run guesthouses, homestays and traditional yurts. Included meals will be in reputable local restaurants or home-cooked meals with families.
It was a great trip and fulfilled my dream to travel the Pamir Highway. Many diverse experiences, good accommodation and activities. Great views, great adventure!

Ro – 2019 Pamir Highway Tour Guest
Your tour leader will be one of the experienced members of the NOMADasaurus team, who will be joining you for the entire experience.
In addition there will be a licensed, experienced local Tajik guide who is fluent in English. This will allow you to get an in-depth insight into the local culture, and ask any of the people you meet questions without fear of having words lost in translation.
The itinerary is jam-packed, filled with adventure and intrigue, history and culture, and it's guaranteed to give you an unrivalled insight into a destination very few people will ever see in their lives.
This is going to be an incredible adventure to discover the magical wonders of Tajikistan – an offbeat nation that is destined to blow your mind
Tour Dates: August, 2024

Duration: 16 Days

Start: Osh, Kyrgyzstan

Finish: Osh, Kyrgyzstan

Maximum Group Size: 10 people

Fitness Level: High
Trip Leader: Jarryd Salem (plus one local guide)
2024 Tajikistan and the Pamir Highway Tour Itinerary
We have spent countless hours researching and conversing with our local partners to put together this fully-customised itinerary through Tajikistan and the Pamir Highway. We're extremely proud of this schedule, and believe this may just be the best, most comprehensive Tajikistan tour on the market!
This tour is an epic road trip amongst some of the world's highest mountains and through a truly remarkable and remote part of Asia. Please have a read of our Tajikistan and Pamir Highway tour itinerary below and get excited for this amazing adventure!
Legend: B (Breakfast), L (Lunch), D (Dinner), S (Hot Showers), E (Electricity), W (WiFi)
Day 1 – Osh, Kyrgyzstan
Upon arrival at Osh International Airport you will be met by us in the terminal and transferred to our comfortable, 3-star hotel in the city. As everybody will be arriving at different times, today is a day of leisure. You can choose to relax in the hotel, visit the local bazaar, take part in an optional food tour or climb the Sulayman Hill. We will have our first group meeting at 5pm, followed by a delicious dinner in one of our favourite restaurants in the city. Please note that flights to and from Osh are not included in the tour price.
Accommodation: 3 Star hotel
Meals Included: D
Facilities: S, E, W
Day 2 – Osh, Kyrgyzstan to Khujand, Tajikistan
We will have an early breakfast at the hotel, load up our 4x4s and then make our way to the Tajik border. The drive will be more-or-less direct, and as with any international border crossing in Central Asia, we could experience slight delays with customs and immigrations. Once we have entered Tajikistan we will drive to the city of Khujand, famous for its collection of ancient Silk Road buildings, including the Mausoleum of Sheikh Muslihiddin and the Khujand Fortress. We will spend the afternoon exploring these attractions before having a group dinner in a nice, local restaurant. Today's drive may take up to 8 hours.
Accommodation: 3 Star Hotel
Meals Included: B, L, D
Facilities: S, E, W
Day 3 – Khujand to Sarytag and Iskanderkul, Tajikistan
After breakfast we will travel to one of Tajikistan's most beautiful lakes, Iskanderkul. Named after Alexander the Great, we will visit a nearby waterfall and go for a short hike by the lake, surrounded by beehive-shaped peaks. Afterwards we will drive around the lake to the small, idylic village of Sarytag. In the evening we will stay in a local homestay, having our first experience of wonderful Tajik hospitality, and enjoying a delicious home-cooked meal. Today's drive will be about 5 hours.
Accommodation: Local Homestay (Shared Rooms)
Meals Included: B, L, D
Facilities: E, S
Day 4 – Sarytag to Dushanbe, Tajikistan
Today we drive to Tajikistan's capital city, Dushanbe, having lunch along the way. With a population of 800'000 it is by far the busiest metropolis in the country. We will spend the afternoon walking around the city centre, checking out some of the main sights, including one of the tallest flag poles in the world, the picturesque Rudaki Park and the statue of Ismoil Somoni. We will have dinner at a restaurant in the city.
Accommodation: 3 Star Hotel
Meals Included: B, L, D
Facilities: S, W, E
Day 5 – Dushanbe to Khalikhum, Tajikistan
Welcome to the Pamir Highway! Today we start our drive towards the gorgeous village of Khalikhum. We will visit the 11th-century Hulbuk Palace along the way before finally entering the iconic Pamir Mountains. After driving through the spectacular valleys of the Shurobod Pass we will arrive in the village of Khalaikhum. Here we will join the Panj River, which we will be following for the next few days, and have our first views into mysterious Afghanistan, just over the border. We will have dinner and overnight in a guesthouse.
Accommodation: Local Guesthouse
Meals Included: B, L, D
Facilities: E
Day 6 – Khalikhum to Jizeu Village, Tajikistan
Today we drive towards the Bartang Valley and begin an adventure that proved to be the highlight of 2019's inaugural trip. The 4x4s will drop us off at the trailhead to Jizeu Valley and we will commence a truly spectacular 2-hour hike to the remote Jizeu Village. The views we will discover on this hike are barren and wild, and this is known for being one of the real highlights of the Pamir Highway, that very few travellers visit. There are no roads to this village, so we will need to take our supplies with us for one night staying with local families. You do not need to bring much with you – just a change of clothes, medication, water for the hike and your camera gear, and everything else will stay with our drivers in the 4x4s. We will have lunch and dinner in Jizeu Village. This is an isolated region, and we will only be able to organise our accommodation once we arrive in the village. Don't worry – there's enough room for everybody, although we may need to split the group up between homestays. Food, blankets, pillows and water is provided at the homestay.
Accommodation: Homestay
Meals Included: B, L, D
Facilities: No facilities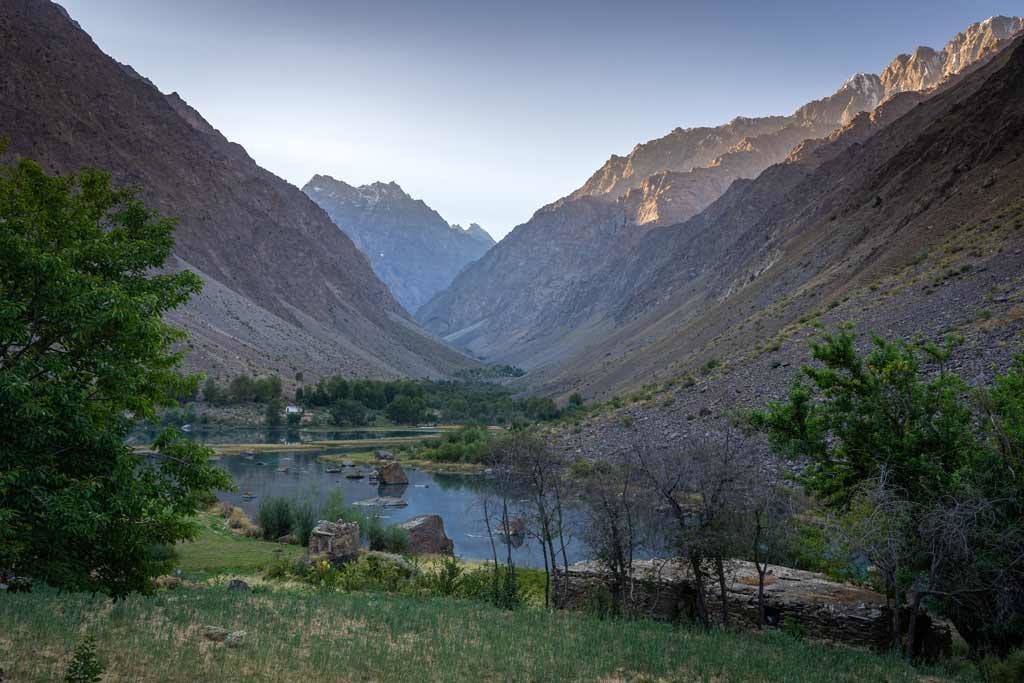 Day 7 – Jizeu Village to Khorog, Tajikistan
We will wake up for sunrise in the remote Jizeu Valley before having breakfast. Once we collect our belongings we say goodbye to our wonderful hosts and hike back towards the main road. Our drivers will meet us there and we will continue our journey towards Khorog, one of the main towns along the Pamir Highway, with plenty of photo stops along the way. In Khorog we will stay in a comfortable hotel downtown.
Accommodation: Comfortable Hotel
Meals Included: B, L, D
Facilities: S, W, E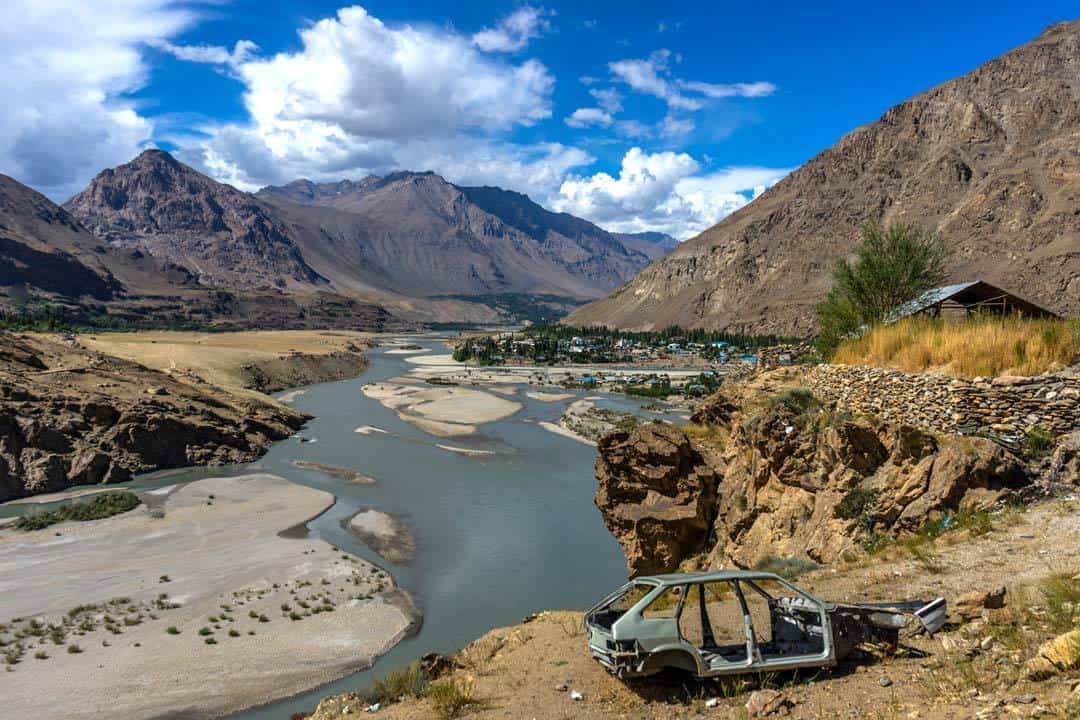 Day 8 – Khorog, Tajikistan
Today is a free day for you to do as much, or as little, as you'd like in the pretty town of Khorog, however if our luck holds out we may have a wonderful attraction to see. Khorog is famous for being a gateway into Afghanistan, and every Saturday a small island on the Panj River between Afghanistan and Tajikistan opens up to host an Afghan bazaar. Here locals from across the border come to sell various items and handicrafts. This is not a tourist market, is very authentic, and will be your best chance at having an inside look into Afghani culture without actually having to enter the country or acquire a visa. As a full disclaimer this market is not guaranteed, and it often closes if important political figures are in town. But we'll keep our fingers crossed! Besides the Afghan market we can explore the famous Khorog Botanical Gardens, go for some short walks or simply kick back and catch up on things like laundry, emails, etc. Lunch and dinner are not included in the itinerary today, so you are free to eat at whatever restaurant you choose, whenever you feel like it, although we have our own favourite Indian place and you are welcome to join us there!
Accommodation: Comfortable Hotel
Meals Included: B
Facilities: S, W, E
Day 9 – Khorog to Langar, Tajikistan
While the traditional Pamir Highway traverses through the interior mountains of Tajikistan, we will choose to follow the Panj River and enter the famous Wakhan Valley! We leave the town of Khorog and continue to gain altitude as we make our way towards Langar. Be amazed as the imposing Afghan and distant Pakistani mountains rise up on our right-hand side and local farmers across the river go about their daily lives. We'll stop off at the Ishkashim Fortress along the way then climb up towards the village of Yamchun. Here we will find the 12th-century Yamchun Fortress, with one of the most sensational views along the entire region. The nearby Babi Fatima Hot Springs is also a great spot to stop, and for those who are interested, you can bathe in their natural waters (note that clothing is prohibited inside the hot springs, and men and women are separated). After these highlights, we'll drive back down towards the popular village of Langar, our home for two nights. Dinner will be in our homestay tonight.
Accommodation: Local Homestay
Meals Included: B, L, D
Facilities: S, E
Day 10 – Trekking to Engel's Peak, Tajikistan
Today we have the opportunity to trek one of the most beautiful trails along the entire Wakhan Valley: The challenging 9-hour return trip to the 4000m-high meadows at the base of Engel's Peak. You will be rewarded with remarkable views of the Hindu Kush and alpine streams. This is known as being one of the best side trips along the Pamir Highway, and we have no doubt that you'll be blown away with this unique opportunity to get deeper into the Pamir Mountains. We'll have a packed lunch with us to enjoy on the edge of a lake at the meadows, before climbing back down to the highway to meet our drivers. Afterwards we'll return to our homestay in Langar for showers and dinner.
Accommodation: Local Homestay in Langar
Meal Included: B, L, D
Facilities: S, E
Day 11 – Langar to Alichur via Bulunkul, Tajikistan
Today we leave Langar early and drive over the Kargush Pass. Once we arrive at the security checkpoint at Kargush we say goodbye to the Pamir River and the nomadic Afghan farmers across the way, and drive a short distance further to start another trek. The 4-hour hike up Panorama Ridge reaches 4800m above sea level and has insane views of the Hindu Kush and Afghanistan's Big Pamir mountains and remote lakes. It's a difficult hike, but the views at the top are worth it. Once we descend we'll continue to the tiny village of Bulunkul and have the chance to see the high alpine lakes of Bulunkul and Yashikul. We will take a secret backroad past a geyser and stunning mountains, known only to locals, to drive to the nearby Alichur Village for our local homestay tonight.
Accommodation: Local Homestay
Meals Included: B, L, D
Facilities: S, E
Day 12 – Alichur to Karakul, Tajikistan
We'll have breakfast cooked by the family and soon will drive off towards Murghab, the largest town on the Pamir Highway. We shall have lunch in a local restaurant, stock up on supplies, then continue onwards to Karakul Lake. Today we cross over the 4655m high Akbaital Pass then drive down to Karakul. The vistas, as you can appreciate, are phenomenal, and the landscapes are unlike anything we have encountered so far. Tonight's accommodation will be in a local homestay near the shores of Karakul Lake.
Accommodation: Local Homestay
Meals Included: B, L, D
Facilities: E
Day 13 – Karakul, Tajikistan to Tulparkul, Kyrgyzstan
Today we leave Karakul early and make our way to the Kyrgyz border. Just like last time this could either be very straightforward, or take quite a bit of time, so we'll give ourselves plenty of hours spare and ask for your patience. Once we enter Kyrgyzstan we'll have views of stunning glaciers as we make the drive down to the beautiful village of Sary Moghul for lunch, and much-appreciated showers and wifi connectivity. When we're all cleaned up and fed, we continue on another hour or so to the stunning Tulparkul Lake. We'll be staying a traditional yurt camp, which has been called the prettiest yurt stay in all of Kyrgyzstan. Tulparkul Lake is at the base of Peak Lenin, standing at 7134m tall. We'll be here for two nights.
Accommodation: Yurt Camp
Meals Included: B, L, D
Facilities: Electricity and Showers in Sary Mogol, no facilities in the Yurt Camp
Day 14 – Tulparkul, Kyrgyzstan
Today is a free day to either relax by the lake, or to trek up to Peak Lenin Base Camp, home to people attempting to climb the legendary mountain. For those feeling fit we can continue onto Traveller's Pass and catch a glimpse of Peak Lenin's glacier. Afterwards we'll return to the lake for the afternoon.
Accommodation: Yurt Camp
Meals Included: B, L, D
Facilities: No facilities at the yurt camp
Day 15 – Tulparkul to Osh, Kyrgyzstan
Today we drive back to Osh, completing our amazing loop of Tajikistan. We will check in to our hotel in the afternoon, and you can then shower, connect to the internet and repack your gear. We will have a final farewell dinner in the city tonight.
Accommodation: 3 Star Hotel
Meals Included: B, L, D
Facilities: S, E, W
Day 16 – Depart Osh, Kyrgyzstan
We will transfer you to the Osh International Airport for your departure flight.
Meals Included: B
Facilities: S, E, W
What's Included
Accommodation: Twin rooms in 3-star hotels and local guesthouses where possible. In some of the homestays we may be required to share rooms between 4-6 people.
All meals mentioned in itinerary.
Transport: Four air-conditioned Toyota Land Cruisers (or their equivalent) for the entire journey.
Airport transfers: Pick up and drop-off at the airport for your flight when arriving and departing on the designated dates in this itinerary.
All activities included in itinerary.
English-speaking, certified and experienced local guide.
Photography workshops and advice.
One trip leader to accompany the tour.
Two litres of filtered water per person, per day. Please bring a reusable water bottle with you on this trip.
Entrance fees to museums and archeological sites.
Permits where required.
What's Not Included
International airfares to and from Osh.
Travel insurance (mandatory to join our tour). We recommend 1Cover for Australians and New Zealanders, and World Nomads for other nationalities, but please do your own research on travel insurance providers.
Any meals or snacks not included in the itinerary.
Alcoholic beverages.
Optional activities.
Tajikistan visa and GBAO permit (mandatory). E-visas are now available for most nationalities.
Tips for drivers and local guide (Optional)
Frequently Asked Questions
Before we launch into the FAQs of our Tajikistan and Pamir Highway tour, we want to start off with a disclaimer:
This is an adventure tour, travelling to a very remote part of the world. While we will do everything in our power to ensure the highest level of comfort and service is available, the reality is that in some of these villages modern luxuries like electricity, hot showers and wifi just don't exist.
There will be long drive days, rough and dusty road conditions, basic accommodation at times and high altitudes.
There will also be some of the most incredible scenery you ever see, an insight into the fascinating Pamiri and Tajik cultures, and memories and friendships that will last you a lifetime.
We ask that you please take this into consideration before applying to join this tour. Thank you for your understanding.
Do I need a visa to visit Tajikistan?
Yes, most nationalities need a visa to visit Tajikistan. In addition you will need to acquire a Gorno-Badakhshan Autonomous Region (GBAO) permit to travel along the Wakhan Corridor and the Pamir Highway. Both the visa and the permit can be applied for through the new Tajikistan e-visa scheme. The cost is USD$50, plus USD$20 for the GBAO permit. We recommend calling your nearest Tajik embassy if you would prefer to apply in person or have any questions. A letter of invitation is not required.
Most nationalities are granted a free 60-day visa-on-arrival for Kyrgyzstan.
What is the food like in Tajikistan and along the Pamir Highway?
Food in Tajikistan varies in terms of ingredients and quality. You can expect a lot of rice and noodle dishes, with meat such as mutton, yak, beef, etc, and plenty of bread. Along the Pamir Highway the food options are less varied, and we will be eating dinners in local homestays. These are home-cooked, safe to eat, filling, and usually quite delicious.
For some lunches we will opt to have a picnic in nature, as the quality of restaurants can be questionable. This will include sandwiches, fruits, coffee, tea and snacks, and is a much nicer option than eating in the local diners.
I'm a vegetarian. Will I be ok with the food on this tour?
While most traditional meals are served with meat in Tajikistan, many of the places we will be eating at are used to serving tourists and can cater to vegetarians. Please keep in mind that the variety of fresh fruit and vegetables isn't as plentiful in Central Asia as they are in other parts of the world. Being a vegetarian is fine, but may be difficult in some home stays, as the families often cook meals in one large dish. If you don't eat meat, they may simply separate the meat from the rest of the dish to serve to you. If you are at all concerned, you can always stock up on fruit and snacks in Osh, Khujand, Dushanbe or Khorog.
If you are a vegan you will have a very hard time in Tajikstan, as dairy products are used in the preparation of many dishes. Please seriously consider this before booking your trip.
Is Tajikistan and the Pamir Highway safe?
While there has been a very small number of tragic attacks against tourists in recent years, the truth is that these are extremely rare, and have only occurred in regions that we are not visiting on this trip. In fact we would consider travelling in parts of the US or Europe to be much more dangerous. Our Tajikistan and Pamir Highway tour will be visiting some of the more popular tourist areas in the country, and as such the police authorities have a higher presence there, ordered by the local governments. We are 100% confident in the safety and wellbeing of all our guests on this trip. That being said if we hear of any particular places on our route that may have warnings, we will avoid them and find alternative destinations to visit.
What about following the Afghanistan border? Is that safe?
Yes. The area of Afghanistan we will be following is actually part of the isolated and remote Badakshan province, home to nomadic farmers and shepherds, and far away from the troubles in the rest of the country.
Why are we starting in Kyrgyzstan?
The reason we are starting in Kyrgyzstan and not Tajikistan is that Kyrgyzstan has very relaxed visa laws, meaning you do not have to worry about applying for a double-entry Tajik visas. We also believe that if you chose to spend some extra time either before or after our tour somewhere, Kyrgyzstan would be a better place to do so, and you could even tag on some further exploration of Central Asia quite easily.
How do I get to Osh?
Osh has a number of direct flights connecting with Moscow, however the most common way to reach Osh is to fly into Bishkek and take a short 1-hour flight to Osh.
Bishkek has direct connections with many major airports, such as Dubai, Istanbul, Moscow, Almaty and New Delhi.
What is it like sleeping in a traditional homestay?
Tajik and Pamiri homes are quite a sight to behold. They are very colourful, with elements of ancient tradition and culture placed throughout. We'll have the opportunity to learn about the history of these homes while we stay in them.
The sleeping arrangements in the homestays will most likely be very basic. Expect thin mattresses and blankets laid directly on the floor of a curtained-off corner of the home. The beds are surprisingly comfortable and warm, but they are not luxurious. There may be 4-6 people sleeping in one room. Occasionally we may be lucky and have our own rooms, but this is not guaranteed. There may also be other travellers not part of our tour staying in some of the homestays. In these remote villages this is the absolute best accommodation available, but it all adds to the adventure!
Our yurt camp at the base of Peak Lenin is one of the most beautiful ones in the country, however there is no electricity, hot showers or wifi available.
Do you have single supplements available?
For this trip we cannot offer single supplements, however if you would prefer, we can help you with making your own single-room bookings for accommodaiton in Osh, Khujand, Dushanbe and Khorog closer to the departure date. This won't be guaranteed though. Many of the homestays have open-plan living arrangements, and there isn't enough space to house anyone that would like their own room. Where possible we will keep the number of guests to a room to an absolute minimum.
What is the other accommodation like?
In Osh, Khujand, Dushanbe and Khorog we will be staying in nice, clean and comfortable hotels that have all the amenities you would expect in a 3-star hotel in Central Asia. Hot showers, private twin rooms, wifi, etc. We will do everything we can to house all of our guests in the best rooms available in each city.
What will the bathroom facilities be like around the country?
In the major towns and some of the homestays there will be western-style flush toilets. For the rest of the time though it will most likely be squat, or even hole-in-the-ground drop toilets, particularly if we stop off at any gas stations or roadside cafes to use the bathroom. In Osh, Khujand, Dushanbe and Khorog you will have your own private bathroom (to be shared with your room mate). In the other destinations these will be shared bathrooms. During the treks you may need to go to the bathroom out in nature. At least the views will be awesome!
In some places we stay there are no hot showers. We've done our best to not have consecutive days without hot showers where possible. However if you'd like to bathe in some of the smaller villages there is often a very basic bathhouse you can use.
Will there be WiFi or phone service?
In Osh, Khujand, Dushanbe and Khorog we will have access to (slow) wifi. There will also be limited 3G phone reception along the Pamir Highway and other sections of the road trip. There will be times where we go a couple of days without access to the outside world. If this will be a problem for you, we recommend considering our Kyrgyzstan tour instead.
The tour guide, leader and drivers will have access to phones and radios in case of emergency.
What transport will you have organised for us?
We have gone all out and organised four Toyota Land Cruiser 4x4s for this epic adventure tour. This will allow us to spread everybody out to 4 people maximum per vehicle. One vehicle will have the tour guide and two guests (plus driver), another will have the tour leader and two guests (plus driver) and the last two will have three guests (plus drivers).
As the road conditions are often seriously bad, and the views are seriously good, we want to make sure everyone was as comfortable as possible and has their own window. This also allows people to put their camera gear in the middle seat if they'd like. The 4x4s mean we can navigate any road we encounter, even if it has been raining. This is a serious adventure road trip, and you're going to love it!
Luggage will go securely in the back of the Land Cruisers, not on the roof.
What is the weather like in August in Tajikistan?
When we are in Osh, Khujand and Dushanbe you can expect temperatures to be up to 35 degrees. As we start to climb in altitude though the temperatures will likely drop to around 10 degrees, and sometimes around freezing at night. Please bring adequate clothing for any conditions. We will be sending out a complete packing list to confirmed participants on this tour.
Will we be at altitude during this trip?
Yes. The highest altitude we will be reaching on this trip is the Ak-Baital Pass, which is at a staggering 4655m above sea level. Besides that, if you complete the Karakul trek you will reach 5000m above sea level. While the terrain itself isn't overly difficult, the altitude can definitely take your breath away. If you have ever had any issues with altitude sickness before please seek medical advice before booking this tour. We recommend bringing Diamox if you are at all concerned, and talk to your doctor.
Can I charge my electronics during the tour?
In all of the hotels and guesthouses except for Jizeu Village and the yurt camp, there is electricity available, although sometimes it is only for a few hours at night. Please keep in mind that with the number of people on the tour there will be times when we need to 'share' the electricity. We recommend bringing a USB power bank to keep your accessories charged, and definitely bring extra batteries for your cameras.
Can I take pictures of the people in Tajikistan?
Yes! In general the people in Tajikistan are very friendly and open to having their pictures taken. Usually all it takes is a smile and to ask if you can, and they'll happily pose for you. In some places like the markets and bazaars the vendors prefer not to be photographed, so always ask before pointing a camera in their face. Never, and we mean never, take pictures of military, police or government officials, or bases. Our local guide can always assist when communicating with people.
What kind of fitness level is required to join this Tajikistan tour?
For this Tajikistan tour you need to have a good level of fitness to make the most of this experience. We will have quite a few opportunities to go trekking, and while these won't be overly difficult treks, they will be at altitude and potentially long days. The Engel's Peak trek is an all-day adventure, and staying in Jizeu Village requires a 2-hour hike carrying your camera gear and clothing for one night (blankets, pillows and mattresses are provided in the homestays).
At times we will approach 5000m above sea level, and altitude sickness can affect anybody differently, regardless of fitness levels. Please seek medical advice from your doctor if you are at all concerned about this, and bring medication such as Diamox.
Is there an age limit for this tour?
There is a minimum age of 18 to join this tour. There is no maximum age limit to join, but please keep in mind the fitness levels as specified above.
How much spending money should I bring with me?
ATMs that accept foreign debit cards like Mastercard and Visa are available in Osh, Khujand and Dushanbe, so you can choose how much spending money you want once you are in the country. We recommend bringing US dollars with you to exchange once we arrive in Osh so you have some Tajik Somonis for day-to-day transactions. As a general rule USD$200 should be plenty for snacks, alcohol and souvenirs for the 16 days.
Tour Cost – USD$3250 Per Person
(Maximum 10 People)
A non-refundable deposit of USD$500 is required to secure your position on this tour.
The remainder of the cost is required by 1st May, 2024
Payment can be made via PayPal, credit card or by bank transfer.
As places are limited we will be sending out payment details in order of when the registration forms have been received. The earlier you complete the form, the sooner we will send you the payment information.
Once you receive the payment information you will have 24 hours to pay the deposit before we forward details to the next person in line. For this reason we recommend only completing the registration details once you're ready to pay the deposit. Thanks very much for your understanding.
Cancellation Policy
If for any reason you need to cancel your position on this tour you will forfeit your deposit (we will be using the deposit to pay for accommodation and activities as soon as it is received. We strongly recommend you purchase travel insurance with trip cancellation options.)
If you have already paid in full this is the percentage of refund available:
121 days or more before the start of tour – 100% of total trip cost (minus deposit)

91-120 days before start of tour — 70% of total trip cost (minus deposit)

61-90 days before start of tour – 50% of total trip cost (minus deposit)

After 1st of June – No refund available.
If we cancel this tour for any reason, whether it is personal or political, you will receive 100% of your money back, including deposit.
Applications Currently Open
Click here to fill out our registration form, or click on the button below.
Tajikistan and Pamir Highway Adventure Tour - 2024 Departure
Join the most comprehensive Pamir Highway tour on the market! This 16-day adventure Tajikistan tour visits some of the most remarkable regions on the planet.
Product Brand: NOMADasaurus Adventure Tours
Product Currency: USD
Product Price: $3250
Product In-Stock: PreOrder