If you're looking for a list of the top things to see and the absolute best places to visit in Tasmania, you've come to the right place.
Located across the Bass Strait, Tasmania is Australia's smallest state. But for its size, it surely packs a punch with all of the great things to see and do.
From relaxing on white-sand beaches to climbing jagged mountain peaks, to exploring bustling city markets, we've got some awesome things to do in Tasmania for every kind of traveller.
READ MORE: Here's our Australia travel guide to make the most of your trip.
One thing to note upfront before your trip: Tasmania is bigger than you might think, and many of the great places to visit in Tasmania are best reached with your own set of wheels.
The best way to get around is to rent a car and explore on your own! We recommend Rental Cars, which has the largest range of vehicles for the best value on the market.
So if you can, plan to road trip through Tasmania to get the full Tassie experience.
Get ready for epic national parks, west coast wilderness and famous places like Bay of Fires, Bruny Island, Wineglass Bay and Mount Wellington.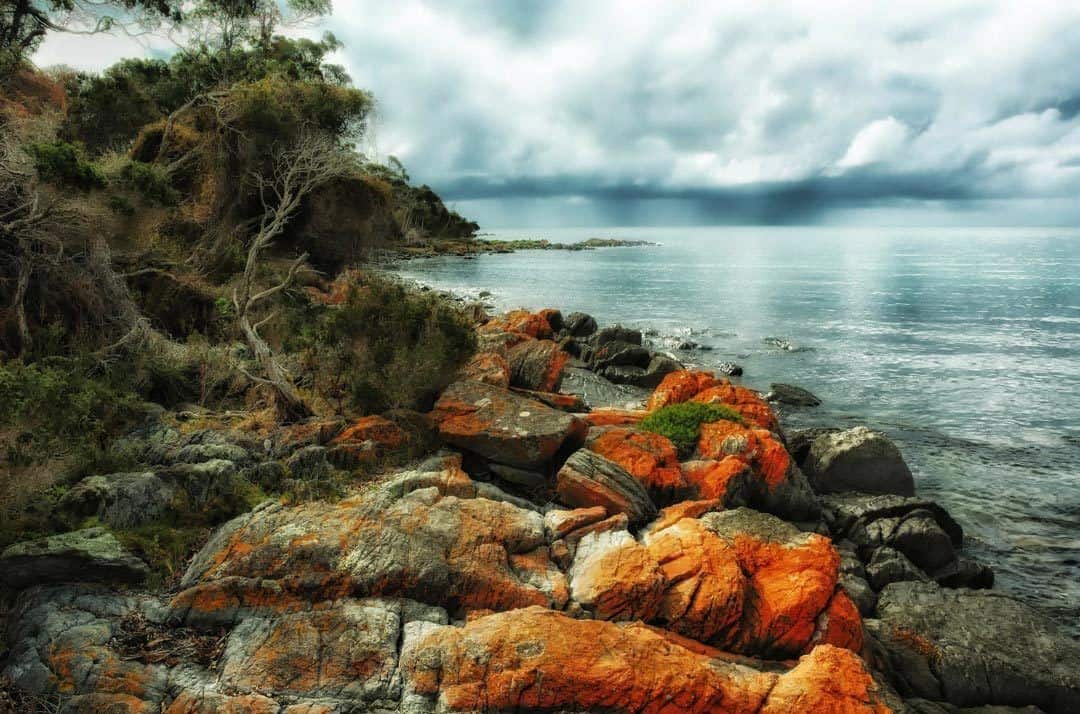 The Absolute Best Places to Visit in Tasmania
However you visit Tasmania, just be sure to check out these 10 amazing places before you leave the island:
1) Freycinet National Park
This national park is of the most popular places to visit in Tasmania for a reason. Freycinet National Park, on Tasmania's east coast, is famed for its iconic vistas of Wineglass Bay, a curved stretch of sand filled with water so blue it seems almost otherworldly.
Stop in at Coles Bay to check out any opportunities to see what activities are planned throughout the national park or to rent kayaks or hop on this amazing cruise of Wineglass Bay.
Despite its popularity with visitors, it's still possible to escape the crowds by heading out on one of the many hiking trails that wind through the park.
Before long, you're likely to find yourself alone in the national park with your own private stretch of sand. Or on the top of a peak, if you decide to do the Mount Amos walk (highly recommended).
Actually, you may not be entirely alone. Watch out for the many friendly wallabies that ply these parts. And, yes, they've been known to hold still for some pretty epic selfies!
Price: AUD $24 (daily pass per vehicle)
2) Soak in the City of Hobart
Sure, most people visit Tasmania to bask in its natural beauty. But that doesn't mean you should neglect its capital of Hobart, a stunning and charming city that will bring out the urbanite in you.
There are so many incredible things to do in Hobart. Wander the stalls of the world-famous Salamanca Market. Stroll through the Royal Tasmanian Botanical Gardens.
Or head to the top of nearby Mount Wellington to admire the vistas of Hobart set against the Derwent River.
And be sure that you don't miss out on the Museum of Old and New Art (MONA).
Beware because MONA isn't just another boring old museum. Many of its exhibits are interactive, immersive, and downright provocative.
Even getting to the museum is an experience. You arrive by ferry from downtown!
Just 40 minutes north of Hobart is Richmond Bridge, Australia's oldest bridge. If you find yourself driving out that way, stop and take a look because it's pretty cool.
Oh, and if you're the backpacker type (or even if you're not!), be sure to stay at Montacute Boutique Bunkhouse – which is consistently rated as one of the best hostels in the entire world!
Why not book a city tour with a local? It's a great way to explore Hobart in a unique way!
READ MORE: Plan your 2-week Tasmania itinerary using this guide!
3) Cradle Mountain National Park
Cradle Mountain is part of the UNESCO World Heritage Tasmania Wilderness. It's not the highest mountain in Tasmania, but it's definitely the most famous!
In fact, apart from that little fiend the Tasmanian Devil, the jagged peaks of Cradle Mountain are probably Tassie's most recognisable symbol (that is, when you can see them through the clouds!).
Climbing Cradle Mountain is something of a rite of passage for backpackers travelling Tasmania.
And though the trek is manageable for most fit people, don't underestimate the final rocky ascent, where you'll have to scramble over boulders to make it to the top.
But regardless of whether you plan to summit it or not, a visit to the stunning scenery around Cradle Mountain is not to be missed as one of the best places to see in Tasmania.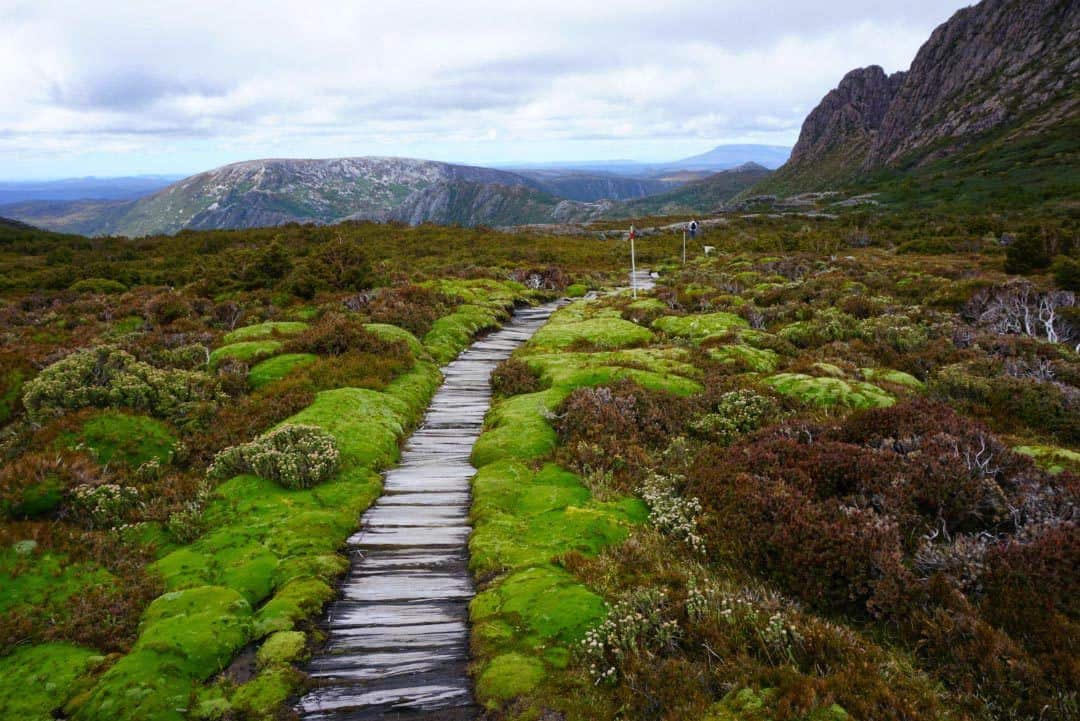 4) Get on the Water at Lake St. Clair
Technically part of the same UNESCO World Heritage Park, Lake St. Clair is very much worth its own spot on your list of places to visit in Tasmania.
Created by glaciers two million years ago, today Lake St. Clair offers a tranquil retreat for escaping it all, kayaking, boating, or just surrounding yourself with Mother Nature.
It's also the finishing point for the famous Overland Track, one of the most famous hiking trails in the world. Be sure to plan in advance if you want to tackle the 6-day Overland Track hike.
5) Marvel at the Bay of Fires
Orange-red rocks, coloured by a unique moss, dot the shoreline of the Bay of Fires on Tasmania's east coast and light up in the sunset glow each evening at this bay just north of Binalong Bay.
The rocks make for a spectacular view, and one that you would assume was the inspiration for the bay's name.
Not so.
In fact, the name was bestowed by a ship captain after witnessing the fires of the Aboriginal people on the beaches.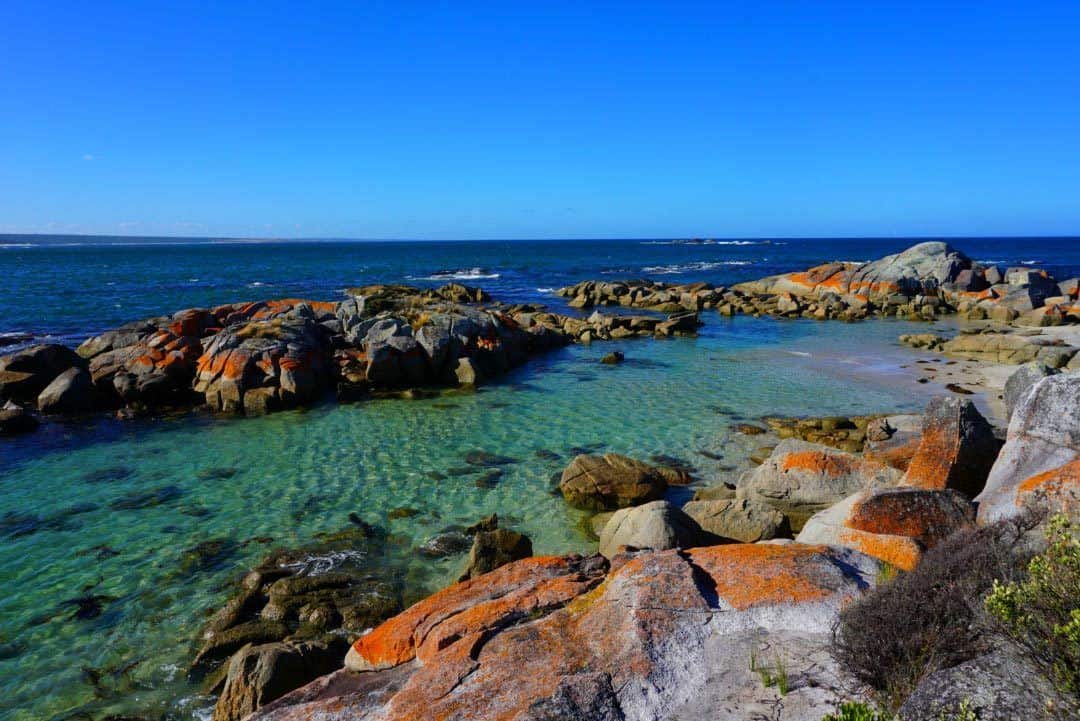 6) Get Local in Bicheno
No visit to Tasmania is complete without at least one stopover at a quintessentially Tasmanian town.
And what better place to check that experience off your list of awesome things to do in Tasmania than Bicheno, a village of fewer than a thousand people on Tassie's east coast.
If you're the scuba type, Bicheno is a great base for exploring the Governor's Island Marine Reserve, where you'll find some of the best diving in Australia.
And don't miss a visit to Diamond Island, a rocky outcropping just off the shore that's only accessible via a thin sandbar.
Just be sure to wear your swimsuit, because when the tide comes up you'll have to wade the several hundred meters back to shore!
READ MORE: Check out our camping guide for all the best places to camp in Tasmania.
7) Venture to Strahan
Owing to its remote location on the far west coast of Tasmania, Strahan isn't the easiest place to reach. But those who make the journey will be welcomed into one of the most charming port towns on the planet.
Nearby beaches and sand dunes call out to be explored here, or you can take a ride on the West Coast Wilderness railway to soak in the scenery from the luxury of a train car.
The top thing to do in Strahan, though, is to take a riverboat cruise down the Gordon River.
The journey will take you through lush rain forest and wilderness so untouched that you may feel as though you are on the edge of the entire world.
This west coast gem and all the Gordon River has to show you will be remembered for years.
8) Get Your Culture On in Launceston
Tasmania's second city is a culinary paradise and a must-visit stop for any foodie. It's also got culture to offer in spades, with plenty of art studios, museums, and boutique shops to explore.
Oenophiles won't want to miss a tour of the many vineyards strewn about the surrounding Tamar Valley wine region.
And if you're too tipsy from all that wine tasting to make the drive back into town, splash out a little bit with an overnight stay at the amazing Armalong Winery Chalets in Rosevears.
And while most people visiting the area look forward to the delicious food and drink of the Tamar Valley wine region, maybe you would better enjoy the sights from the water and book a Launceston cruise along Cataract Gorge.
9) Chase Waterfalls at Mount Field National Park
Just a short drive from Hobart, Mount Field National Park is an accessible option for experiencing the magic of the Tasmanian wilderness.
One of the most popular Tasmania tourist attractions in the national park is Russel Falls, a gorgeous cascade of water accessible via a short and easy stroll from the visitor's centre.
But here's a tip for a really unique thing to do in Tasmania: come back to the falls in the dark of night and turn off your flashlight.
Why? Well, thousands of glowworms light up the nearby trees is a show-stopping spectacle!
Price: AUD $24 (daily pass per vehicle)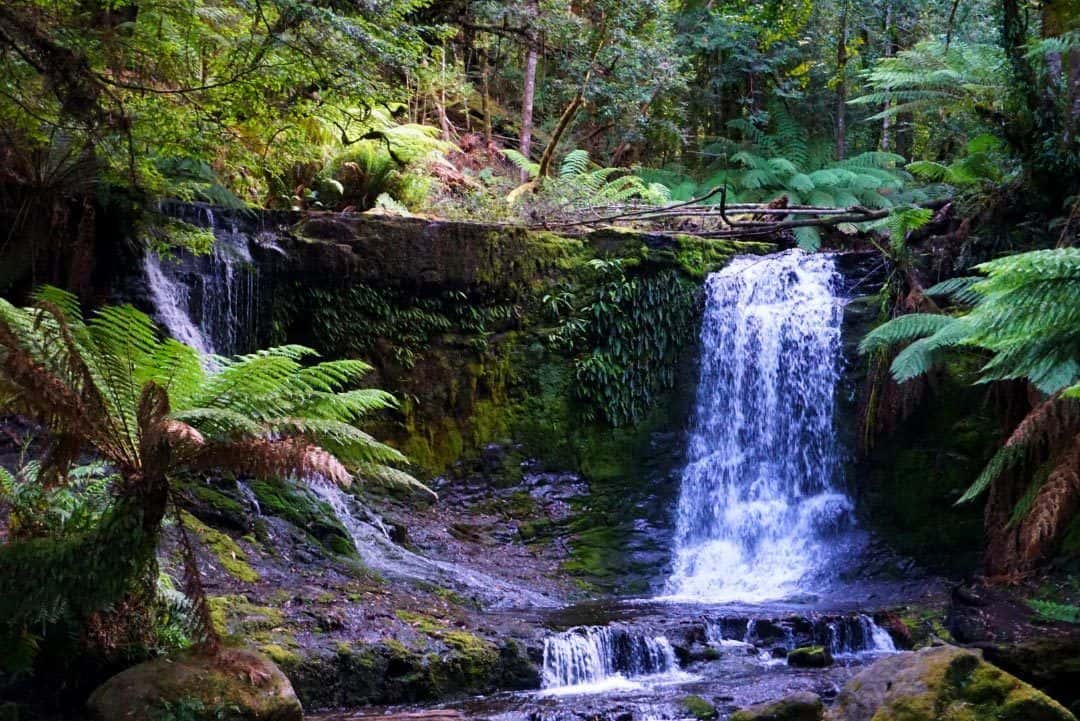 10) Check Out the Wildlife at Bruny Island
One of the most beautiful places to visit in Tasmania, you'll need to hop on a short car ferry to check out all the epic things to do on Bruny Island.
Once there, you'll be rewarded with beautiful cliff-side views, plenty to do, and tons of delicious dining options.
Be sure to find your way to Truganini Lookout, a popular viewpoint for admiring a stunning narrow isthmus of sand.
Animal lovers will especially be at home on Bruny Island, where you can visit seals, dolphins, penguins, whales, and more.
For a unique way to experience Bruny Island, consider visiting as part of an organised boat tour. This will save you the car ferry journey and allow you to take in the island's views from an entirely different angle!
11) The Tasman Peninsula (Port Arthur & Cape Raoul)
The Port Arthur Historic Site on the Tasman Peninsula is a Tasmanian UNESCO World Heritage site. It is here where Tasmania's history merged with that of the Western world.
Founded as a lumber camp in 1830, shortly thereafter Port Arthur became a holding pen for thousands of British convicts, particularly those re-offenders who had already been transported to Australia.
You can tour the incredibly well-preserved Port Arthur historic site and easily stay busy for a day wandering through this part of Tasman history.
If you're feeling really adventurous, this is also the starting point of the legendary Three Capes Track!
Further up the Tasman Peninsula is the Coal Mines Historic Site. This World Heritage listed historic site has preserved the living quarters and working conditions of the hundreds of convicts used to mine the region.
12) Maria Island
Maria Island is a 45-minute minute ferry ride from Triabunna. and is home to some awesome biking and hiking trails, as well as some awesome wildlife!
A lot of people come over on a day trip, but we personally recommend spending a few days camping on the island, or book a bunkhouse in the old penitentiary.
We wrote a whole travel guide to Maria Island, but some of our favourite things to do here are checking out the Painted Cliffs, hike to the summit of Bishop and Clerk and explore all the old convict buildings.
Maria Island is also home to wallabies, kangaroos, wombats, Cape Barron geese, and even the world-famous Tasmanian devil.
You won't find shops or vehicles on the island so be sure to take everything you need with you.
READ MORE: Check out these other great things to do in Tasmania.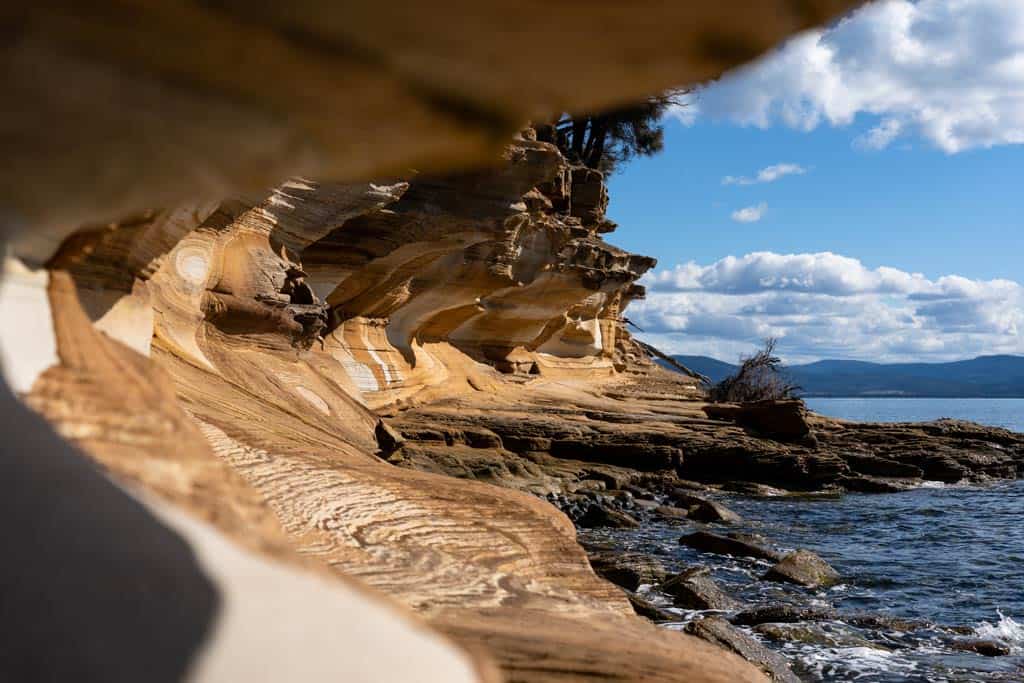 Wrapping up the most amazing places to visit in Tasmania
There's a lot to explore on this wonderful island, and Tasmania is deceptively large, so be sure to plan enough time to pack it all in!
You could definitely spend a few weeks exploring Tasmania, taking as much or as little time wandering between the east coast and west coast. Certainly, you want to be sure to have at least one week at a minimum.
If you have more time head out to the northwest and check out the Tarkine Drive – one of the wildest and most remote parts of Tasmania.
We hope you planned enough time to visit every national park on your list, to enjoy places like Wineglass Bay and Binalong Bay, and to have as much delicious food and wine as you can pack in at the Tamar Valley and Gordon River.
That's it for this list of the best places to visit in Tasmania.
Do you love Tasmania? Drop a comment below with your favourite thing to see or place to visit in Tasmania.
DISCLAIMER: Some of the links in this article are affiliate links, which means if you book accommodation, tours or buy a product, we will receive a small commission at no extra cost to you. These commissions help us keep creating more free travel content to help people plan their holidays and adventures. We only recommend the best accommodations, tours and products that ourselves or our fantastic editorial team have personally experienced, and regularly review these. Thanks for your support, kind friend!