BREAKING NEWS: Dates for our 2024 NOMADasaurus Kyrgyzstan Tour have just been announced, and registrations are now open!
After three successful tours through this majestic nomadic country, we're beyond thrilled to share that the dates and details for our 2024 tour of Kyrgyzstan have now been released.
Since launching our NOMADasaurus Kyrgyzstan group tours in 2018, we have been working hard to develop the absolute best adventure tour itinerary on the market for this fascinating Central Asian nation.
We have been visiting Kyrgyzstan every year since 2015, working closely with national and international tourism development organisations to help create and promote new initiatives and products for travellers.
The NOMADasaurus Tour Company is now in its fifth year of operating, and our exclusive, small-group Kyrgyzstan adventure tour hits all of the real highlights of the country, along with a few unique surprises!
"A fantastic tour in a spectacular country. Alesha and Jarryd have used their vast travel experience to put together an absolutely superb tour, suitable for all ages of intrepid tourists who are ready for an off the tourist track adventure. One of the best tours I have ever done!"

Veronica, 2018 Kyrgyzstan tour participant
Just like our personal travels, this tour of Kyrgyzstan is designed to be a fun, interesting and culturally fascinating experience, with a big focus on outdoor adventures. While the tour is professionally backed by a local, licensed tour operator, it is structured to be more like a small group of good friends exploring a wonderful country together.
The concept of our NOMADasaurus Tours is simple – We seek out superb tourism opportunities in offbeat locations and mix our days up with exciting adventures, photography workshops and cultural interactions. We have an incredible itinerary, but just like in real travel, things can change due to unforeseen circumstances. Perhaps we'll come across a local kok boru match, or we encounter a phenomenal sunset and we halt the tour to capture spectacular photos. Weather can also play a part in our plans. We'll be dedicated, enthusiastic, yet also flexible.
So why should you consider travelling to Kyrgyzstan? We've been lucky enough to travel to Kyrgyzstan eight times since 2015, and it is honestly one of our favourite countries. The scenery, the people, the culture, the adventures, it's a destination we love dearly and want you to experience for yourself.
Having the opportunity to show groups of amazing people around Kyrgyzstan in 2018 and 2019 was an incredible experience, and we are so pleased to say that each and every one of them left a piece of their hearts behind, just like we have.
"Take a leap into the unknown and stretch your horizons. Sleep in a yurt, explore wide open plains, ride a horse and learn to build a yurt. Experience the Kyrgyz culture and friendly people. Unmissable!"

2018 Kyrgyzstan tour participant
This brand new and personalised 14-day tour of Kyrgyzstan will start off in the surprisingly cosmopolitan ex-Soviet city of Bishkek, before heading into the Kochkor.
We'll then drive to the high alpine lake of Song Kul, where we will have the chance to go horse trekking and hiking around the lake, and learn more about the nomadic shepherds that call this area home. To make it even better we will be staying in the best yurt camp at Song Kul! Staying in a yurt is a real Kyrgyz experience that you're sure to love.
The next stop is Tong, on the edge of Issyk Kul. We've timed this trip perfectly to attend the Ethno Festival Teskei Jeek, a miniature version of the World Nomad Games, where we'll see a fascinating array of nomadic sports, games, cultural shows and plenty more. This is an experience you'll never forget.
Afterwards it's onto Karakol, with a detour through the rock formations at Fairytale Canyon, the waterfall at Barskoon Valley and the Seven Bulls. In Karakol you'll feast on delicious ethnic-minority cuisine, go kayaking on the lake and visit the famous livestock bazaar.
The next destination of Jyrgalan is sure to become one of your favourite places on the planet. We have two and half days to explore this captivating mountain village, and will be spending lots of time horse trekking and hiking in the peaks surrounding the town.
To finish off this amazing trip you will see some of the oldest petroglyphs in Central Asia at Cholpon Ata, and even get to try a bit of trout fishing.
"Touring Kyrgyzstan with NOMADasaurus was an amazing experience. Jarryd and Alesha known the country very well and developed a well-paced and varied itinerary with the perfect mix of cultural and outdoor activities."

Hope, 2018 Kyrgyzstan tour participant
For the entire tour you will be transported in a modern Mercedes Sprinter van, and your accommodation will be a range of 3-star hotels, family-run guesthouses and traditional yurts. Included meals will be in reputable local restaurants or home-cooked meals with families.
You will be accompanied by an experienced Western tour leader, a dear friend of NOMADasaurus, who has been living in Kyrgyzstan. His knowledge and passion for the country even surpasses our own.
In addition there will be a certified, experienced Kyrgyz guide who is fluent in English. This will allow you to get an in-depth insight into the local culture, and ask any of the people you meet questions without fear of having words lost in translation.
I travelled to a country I knew nothing about with NOMADasaurus Tours and will rave about how magnificent it was! Not only do Jarryd and Alesha have a top notch blog, photography and tour company, they are true humanitrians making a difference in this world and creating connection for us all. Thank you for striving to bring us all together no matter where we are from. Bravo and thank you from the bottom of my heart!

Joan, 2019 Kyrgyzstan tour participant
While the itinerary is filled with exciting activities and cultural interactions, we've also left in some free time so you can pursue your own interests, practice your photography or simply relax in your beautiful surroundings.
This is going to be an incredible adventure to discover the highlights of Kyrgyzstan – an offbeat nation that is truly one of the most sensational travel destinations in the world.
2024 Kyrgyzstan Tour Dates: 12th – 25th August
Start: Bishkek, Kyrgyzstan
Finish: Bishkek, Kyrgyzstan
Maximum Group Size: 10 people
2024 Kyrgyzstan Tour Itinerary
This is the very exciting, new-and-improved itinerary that we have put together for the third year of our Adventure Kyrgyzstan Tours.
We will be revisiting the best places from the last few years, as well as adding a couple of new destinations and activities!
Daily Schedule
Legend: B (Breakfast), L (Lunch), D (Dinner), S (Hot Showers), E (Electricity), W (WiFi)
August 12th – Bishkek
Accommodation – 3 Star Hotel
Upon arrival at Manas International Airport in Bishkek you will be met by us in the terminal and transferred to our comfortable, 3-star hotel in the city. As everybody will be arriving at different times, today is a day of leisure. You can choose to relax in the hotel, check out one of the many lovely cafes Bishkek has to offer or go on a self-guided walking tour. There will be our first group meeting at 6pm, followed by a delicious dinner in one of our favourite restaurants in the city.
Meals Included: D
Facilities: S, E, W
August 13th – Bishkek to Kochkor
Accommodation – Guesthouse
We'll have breakfast at our hotel before leaving early in the morning for Kochkor, a busy town on the road to Song Kul. The drive goes through some stunning scenery, including past an enormous reservoir. Once we arrive in Kochkor we will take part in a felt-making workshop to learn all about this fascinating handicraft, then have lunch. In the afternoon we will visit an underground salt mine, which is a very unique attraction in Kyrgyzstan, and a brand new tourist product for the country. Dinner will be in the guesthouse.
Meals Included: B, L, D
Facilities: S, E, W
Optional Activities: Salt Mine – Free, Handicraft souvenirs
August 14th – Kochkor to Song Kul
Accommodation – Luxury Yurt Camp
After breakfast in our guesthouse, we will start driving towards Song Kul, one of the jewels of the country.
This alpine lake sits above 3000m and is surrounded by nomadic shepherds, looking after yaks, donkeys, goats and horses. We will be staying in a luxury yurt camp, the best one on the lake, and isolated from the other main yurt accommodations. Once we check in to our yurts we will go for a horse trek in the afternoon, then enjoy a sunset photoshoot. Dinner will be prepared by the family in the yurt camp.
Meals Included: B, L, D
Facilities: E
Note: Showers may be available at this yurt camp, but there is no wifi or phone reception.
August 15th – Song Kul
Accommodation – Luxury Yurt Camp
We'll wake early to catch what will hopefully be a gorgeous sunrise, and then have breakfast in the dining yurt. Today is a free day for you to do as much or as little as you like. You can choose to go on a horse trek, go hiking, or simply walk by the lake (and maybe swim). In the afternoon the family will put on a boorsok show, teaching us how to make this famous, doughy snack that is a staple all around the country, and then there will be free time to relax before dinner. If the skies are clear we'll do an astrophotography workshop to learn how to capture images of the Milky Way.
Meals Included: B, L, D
Facilities: E
Optional Activities: Horse trekking or hiking
August 16th – Song Kul to Ak Sai Canyon
Accommodation – Luxury Yurt Camp
In the morning we'll have breakfast with our family at Song Kul before saying goodbye and driving down to Kyrgyzstan's other legendary lake – Issyk Kul. Here we'll stay in another high-end yurt camp near the shores of the lake. We'll have lunch in Kochkor on the way, and then will head to our camp via the 33 Parrots Pass. After arrival we'll go on a short hike through the Ak Sai Canyon before enjoying dinner and a traditional folklore show back at camp.
Meals Included: B, L, D
Facilities: S, W, E
August 17th – Ethno Festival Teskei Jeek
Accommodation – Luxury Yurt Camp
Today is a very special day, as we have timed our itinerary to be on the South Shore of Issyk Kul during the fantastic Ethno Festival Teskei Jeek. This event highlights the best of the Kyrgyz culture, with traditional music demonstrations, yurt building workshops, eagle hunting demonstrations, nomadic sporting games and plenty more. It is like a one-day version of the World Nomad Games, and is guaranteed to be a highlight of the entire trip.
We will be staying in the same yurt camp tonight. Breakfast, lunch and dinner will be at the yurt camp, as food at the festival can't be quality controlled.
Meals Included: B, L, D
Facilities: S, W, E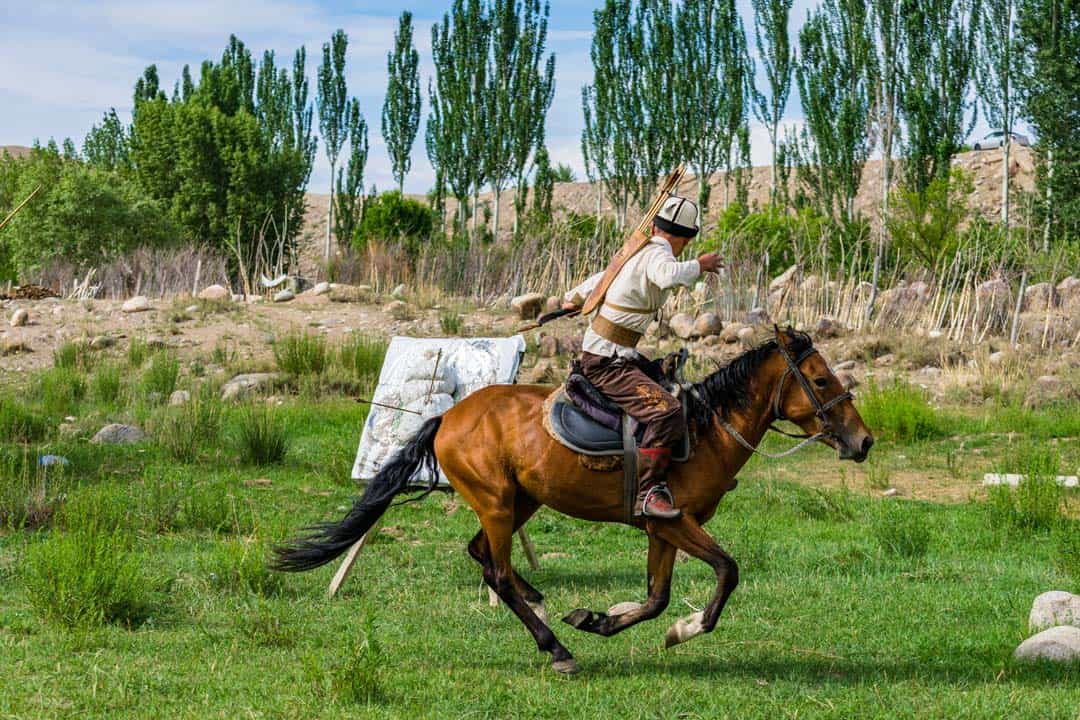 August 18th – Ak Sai Canyon to Karakol
Accommodation – 3 Star Hotel
We'll hit the road quite early and start off the day's adventures with a visit to Skazka Canyon, also known as Fairytale Canyon. This spectacular sandstone formation is like one giant playground for adults, and we'll spend around an hour to climb all over the gorgeous canyon and take pictures of the rainbow-like formations. Afterwards we'll continue on our way towards the Barskoon Valley, home to a lovely waterfall, then Jeti Oguz to get a gorgeous view of the Seven Bulls rock formation. In the late afternoon we'll arrive in the cool town of Karakol, and check in to our awesome 3 star hotel. Dinner will be in an excellent local restaurant.
Meals Included: B, L, D
Facilities: S, E, W
August 19th – Karakol
Accommodation – 3 Star Hotel
After breakfast we will go on a walking tour of Karakol city with a local guide and visit the famous Dungan mosque, the Russian Orthodox Cathedral and other highlights of the city. For lunch we will be experiencing a traditional cooking class with a Dungan family. The Dungans are a Chinese-Muslim ethnic minority group that fled persecution in their homeland and settled in the valleys around Karakol. After learning about their history and visiting one of their mosques you will be taught how to make ashlanfu, one of their most famous dishes. Then enjoy one of the most amazing feasts you can imagine.
The afternoon is free, then we will head off on a sunset kayaking mission on Issyk Kul. This is a brand new activity, and having the opportunity to go for a paddle around the stunning lake is definitely not to be missed. We'll finish with dinner in a great local restaurant.
Meals Included: B, L, D
Facilities: S, E, W
August 20th – Karakol to Jyrgalan
Accommodation – Local Guesthouse
Today we'll wake up at a reasonable time for breakfast at our hotel before driving out to Jyrgalan, our favourite place in all of Kyrgyzstan! This mountain village proved to be everyone's favourite as well on our last three tours, and we're sure you'll fall in love with it. We have a couple of days jam-packed with adventure for you, and we'll start with a hike in the afternoon before enjoying a traditional Finnish sauna and dinner with the local family.
Meals Included: B, L, D
Facilities: S, E, W
August 21st – Jyrgalan
Accommodation – Local Guesthouse
As tempting as it is to simply relax around the village of Jyrgalan, the real beauty is out in the mountains, and that's exactly where we're headed today. We're going to go on a full-day horse trek to a beautiful alpine lake. Lunchboxes will be provided, and we'll return again to the guesthouse for dinner. For those that don't want to horse trek for an entire day, there are plenty of other options to do around the village or the mountains.
Meal Included: B, L, D
Facilities: S, E, W
Optional Activities: If you would prefer not to ride a horse in Jyrgalan you can go on a number of guided hikes depending on your ability, or relax at the beautiful guesthouse and explore the village. For those feeling real adventurous, it's possible to book an overnight horse trek or hike, camping in the mountains.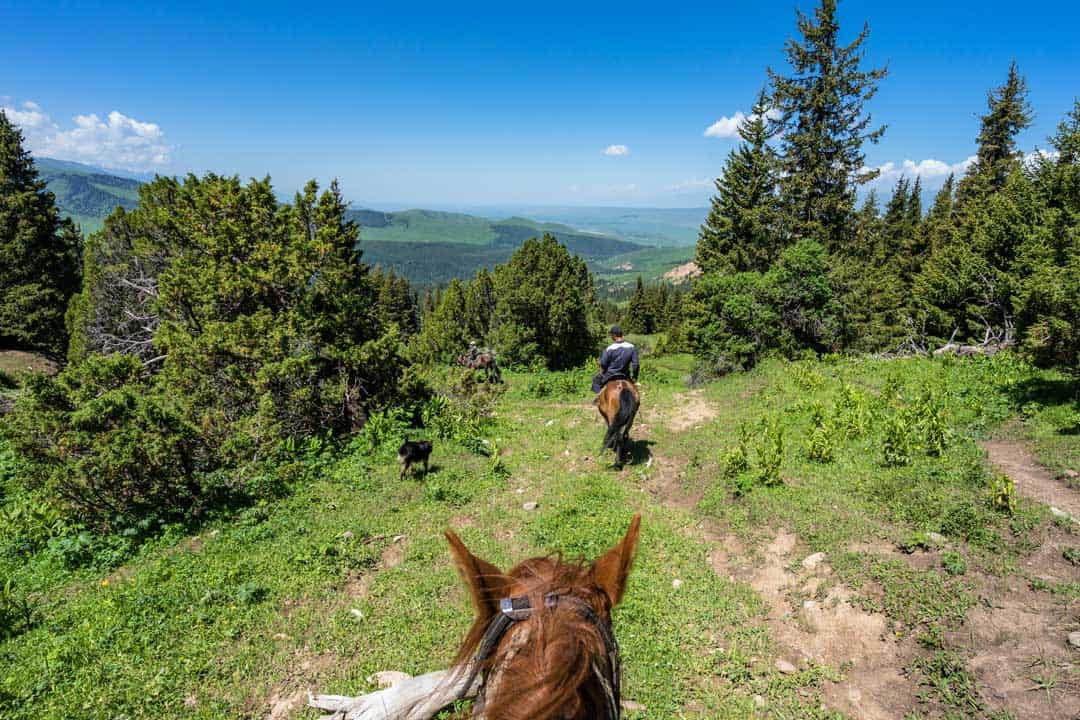 August 22nd – Jyrgalan
Accommodation – Local Guesthouse
Today we have another full-day guided hike planned, this time to a nearby mountain ridge that offers gorgeous views over the border into Kazakhstan. It's of moderate difficulty, so decent fitness is required. Lunchboxes will be provided along the way. We'll have dinner back at the guesthouse.
Meals Included: B, L, D
Facilities: S, E, W
Optional Activities: If you would prefer not to go on a full-day hike you can choose to relax at the guest house, or go for a half-day hike instead to a stunning valley.
August 23rd – Jyrgalan to Chon Kemin
Accommodation – Local Guesthouse
Today we say our reluctant goodbyes to Jyrgalan and drive towards Chon Kemin, a small village close to the north shore of Issyk Kul. For lunch we will visit a golden trout mountain farm for a delicious fresh fish spread, and then continue to the ancient petroglyphs spread out over hundreds of boulders in an open sky museum. Then we'll check out the new Rukh Ordo Cultural Centre. We'll be staying in a lovely guesthouse in the village of Chon Kemin.
Meals Included: B, L, D
Facilities: S, E, W
August 24th – Chon Kemin to Bishkek
Accommodation: 3 Star Hotel
It's a short 3-hour drive to Bishkek, so we will have a leisurely breakfast and then get on the road. Along the way we'll stop off at the Burana Tower, an 11th-century minaret from the days of the Silk Road. When we arrive back in the city we'll check in to our hotel, and the afternoon is free to relax, pack your bags or get in a last bit of souvenir shopping. Lunch is included today, and we'll have a final group dinner in the evening.
Meals Included: B, L, D
Facilities: S, E, W
August 25th – Depart Bishkek
The final goodbyes will be sad, but it's onto the next adventure! We'll transfer you to the Manas International Airport in time to catch your departing flights.
What's Included
Accommodation: Twin rooms in 3-star hotels and local guesthouses. Maximum 4 people to a yurt.
All meals mentioned in the itinerary.
Transport: One air-conditioned, modern Mercedes Sprinter van for all passengers throughout the entire tour.
Airport transfers: Pick up and drop-off at the airport for your flight when arriving and departing on the designated dates in this itinerary.
All activities included in the itinerary.
English-speaking, certified and experienced local guide.
Photography workshops and advice.
One Western trip leader (Jarryd or Alesha from NOMADasaurus)
Two litres of bottled or filtered water per person, per day.
Entrance fees to museums and archeological sites.
What's Not Included
International airfares to and from Bishkek.
Travel insurance (mandatory to join our tour). We recommend CoverMore for Australians and New Zealanders, and World Nomads for other nationalities, but please do your own research on travel insurance providers.
Any meals or snacks not included in the itinerary.
Alcoholic beverages.
Optional activities.
Tips for drivers and local guide (Optional)
Frequently Asked Questions
What is your COVID-19 Policy?
We understand that we live in difficult times and that things like travel are not as certain as they once was. That is why we have put in place a robust COVID-19 policy to ensure all guests feel comfortable in their booking.
If the tour is forced to be cancelled due to border closures or lockdowns in Kyrgyzstan as a result of COVID-19 prior to departure, we will refund 100% of your money including deposit.
If you cannot travel to Kyrgyzstan due to a border closure or lockdown in your home country as a result of COVID-19, but this is not a worldwide restriction and most countries including Kyrgyzstan remain open, we will offer you a full credit of money paid to be used on a future tour.
Will I be required to be fully-vaccinated to take part in this tour?
Yes. In order to travel to Kyrgyzstan and join this tour you will need to be fully-vaccinated against COVID-19. We understand that this can be a controversial topic, however it is part of our insurance policy. The tour leaders, tour guide, drivers and staff at the guesthouses we stay at will all be vaccinated.
Will I need to present a negative PCR or rapid antigen test in order to join the tour?
As the global pandemic is an ever-evolving situation, this is a particular requirement that will be assessed closer to the date. At this stage it is not required to present a negative test result to enter Kyrgyzstan, however this may change. In the interest of all guest safety and the health of the remote communities we will be visiting, we may request that all our tour guests self-test prior to joining the group. We're all adults and depending on health recommendations, this may or may not be mandatory.
Do I need a visa to visit Kyrgyzstan?
For many nationalities a 60-day visa waiver program is granted for free when landing in Kyrgyzstan. There is no need for a letter of invitation or to visit your embassy beforehand. Double-check your status here, or with your local embassy.
What is the food like in Kyrgyzstan?
Food in Kyrgyzstan is surprisingly hearty and delicious. Noodle dishes and soups are common, as are fried samosas and vegetables. The most common meat is mutton, beef and chicken. On our Kyrgyzstan tours we eat in high quality restaurants and enjoy home-cooked meals in local guesthouses.
I'm a vegetarian. Will I be ok with the food in Kyrgyzstan?
While most traditional meals are served with meat in Kyrgyzstan, all the places we will be eating at are used to serving tourists and can cater to vegetarians. Please keep in mind that the variety of fresh fruit and vegetables isn't as plentiful in Central Asia as they are in other parts of the world, but the food will still be delicious.
If you are a vegan you will have a very hard time in Kyrgyzstan, as dairy products are used in the preparation of many dishes. Please seriously consider this before booking your trip.
Is Kyrgyzstan safe?
We are very pleased to say that Kyrgyzstan is one of the safest countries in all of Asia. Crime is low, and petty crime against tourists is very rare. Unlike some of its neighbours, Kyrgyzstan is also relatively free of political and religious turmoil. There is one region of the country that has some issues, but we won't be travelling anywhere near it. Safety is our number one priority.
What is it like sleeping in a yurt?
The yurts we will be staying in are large, spacious, have a solid floor, and while they typically sleep 4-5 people, on our tours we'll be doing our best to try and keep the numbers at 2 maximum to a yurt, although this is not guaranteed. We have upgraded our yurt accommodation this year to be of a higher quality, and you will be provided with proper mattresses and blankets.
What is the other accommodation like?
We will be staying in a mixture of 3 star hotels and local, comfortable guesthouses. In most destinations, we have selected the absolute best options for accommodation in each town and village.
Is there a single supplement?
While in previous years we have had single supplements, for 2024 we have decided to do away with them as our new itinerary means that while there are plenty of excellent twin accommodation, single rooms aren't as plentiful. After much consideration we believe it is best not to offer it as it will not result in excellent value for the customer. If you are a single traveller you will be paired with another person for the duration of the tour. If you would like to upgrade to single rooms in Bishkek and Karakol please let us know after booking your spot on the tour.
What will the bathroom facilities be like around the country?
In all of our accommodation western-style toilets will be available, even at the yurt camps. Facilities 'on the road' might not be so glamorous, and if you need to use a bathroom in one of the gas stations or restaurants en route you may find they are squat toilets.
Our accommodation in Song Kul, Ak Sai and Chong Kemin can only offer clean, shared bathroom facilities. Please keep this in mind before booking our trip.
Will there be WiFi or phone service?
There will be wifi or phone service available in all places except for Song Kul. The speeds do vary from quite fast in Bishkek and Karakol, to very slow in smaller towns and villages. 3G and 4G is available in many places around the country.
The tour guide, leader and drivers will have access to phones in case of emergency. If you would like to purchase a local SIM card we recommend you do so on the day of arrival in Bishkek.
What transport will you have organised for us?
We have organised one modern Mercedes Sprinters with a capacity of 17 people each to transport the group around. This ensures we won't be overcrowding the vehicle and will have room for luggage.
What is the weather like in August in Kyrgyzstan?
While temperatures around 40 degrees are possible in Bishkek, up in the mountains of Jyrgalan and Son Kul the temperature can drop to below freezing at night. Please bring adequate clothing for any conditions. We will be sending out a complete packing list to confirmed participants on this tour.
Will we be at altitude during this trip?
Yes. The highest altitude we will be reaching on this trip is in Song Kul, which is just over 3000m above sea level. On some of the hikes in Jyrgalan you can reach altitudes of over 3500m. If you have ever had any issues with altitude sickness before please seek medical advice before booking this tour. If you do experience any altitude sickness during the trip we will immediately take you to lower elevations.
Can I charge my electronics during the tour?
In all of the hotels and guesthouses except for Song Kul there are electrical outlets to charge your devices. Our accommodation in Ak Sai also has limited electricity in some of the yurts and dining area. We recommend bringing a USB power bank to keep your accessories charged.
Can I take pictures of the people in Kyrgyzstan?
Yes! In general the people in Kyrgyzstan are very friendly and open to having their pictures taken. Usually all it takes is a smile and to ask if you can, and they'll happily pose for you. In some places like the markets and bazaars the vendors prefer not to be photographed, so always ask before pointing a camera in their face. Our local guide can always assist when communicating with people.
What kind of fitness level is required to join this tour?
A decent level of fitness is required to take part in this tour, as many of the activities involve hiking, horse trekking and spending time at altitude.
If for any reason you feel uncomfortable with some of the adventure activities you can choose not to do them, and other, lighter alternatives will be found for you.
Is there an age limit for this tour?
There is a minimum age of 18 to join this tour. There is no maximum age limit to join, but please keep in mind the fitness levels as specified above.
How much spending money should I bring with me?
ATMs that accept foreign debit cards like MasterCard and Visa are available in Bishkek and Karakol, so you can choose how much spending money you want once you are in the country. As a general idea though USD$200 should be plenty for snacks, alcohol and souvenirs for the 14 days.
Kyrgyzstan Tour Cost – USD$3200
(Maximum 10 People)
A non-refundable deposit of USD$500 is required to secure your position on this tour.
The remainder of the cost is required by 1st of May, 2024
Payment can be made via bank transfer.
As places are limited we will be sending out payment details in order of when the registration forms have been received. The earlier you complete the form, the sooner we will send you the payment information.
Once you receive the payment information you will have 24 hours to pay the deposit before we forward details to the next person in line. For this reason we recommend only completing the registration details once you're ready to pay the deposit. Thanks very much for your understanding.
Cancellation Policy
If for any reason you need to cancel your position on this tour you will forfeit your deposit (unfortunately we will be using the deposit to pay for accommodation and activities as soon as it is received. We strongly recommend you purchase travel insurance with trip cancellation options.)
If you have already paid in full this is the percentage of refund available:
Before 28th February 2024 – 100% of total trip cost (minus deposit)

Between 1st March and 31st March 2024 — 70% of total trip cost (minus deposit)

Between 1st April and 30th April 2024 – 50% of total trip cost (minus deposit)

After 1st May 2024 – No refund available.
If we cancel this tour for any reason, whether it is personal or political, you will receive 100% of your money back, including deposit.
August 12th Tour – SOLD OUT