Everything you need to know about climbing Mount Kosciuszko in the Snowy Mountains.
There's something about summiting the world's tallest mountains that stirs the adventurer hidden inside of us. The idea of climbing Mount Everest, Mont Blanc and Aconcagua has been attracting explorers and mountaineers for decades.
However when it comes to the Mount Kosciuszko summit walk, Australia's highest mountain at 2228m, it is not quite so intrepid. But that doesn't mean it's not worth doing!
Having unexpectedly returned to travelling in Australia for two months, we started to get itchy feet and decided it was time to hit the road in our own country.
As we spend most of our time overseas, this is something that we hadn't really done on the East Coast. So we sorted out a rental car with Economy Bookings and headed off on a New South Wales road trip.
Our first direction was to head south for some hiking in Kosciuszko National Park.
After an incredible drive down the coast, and a fantastic night camping in a small town called Gundaroo outside Canberra, we arrived in the mountain resort town of Jindabyne on our second afternoon.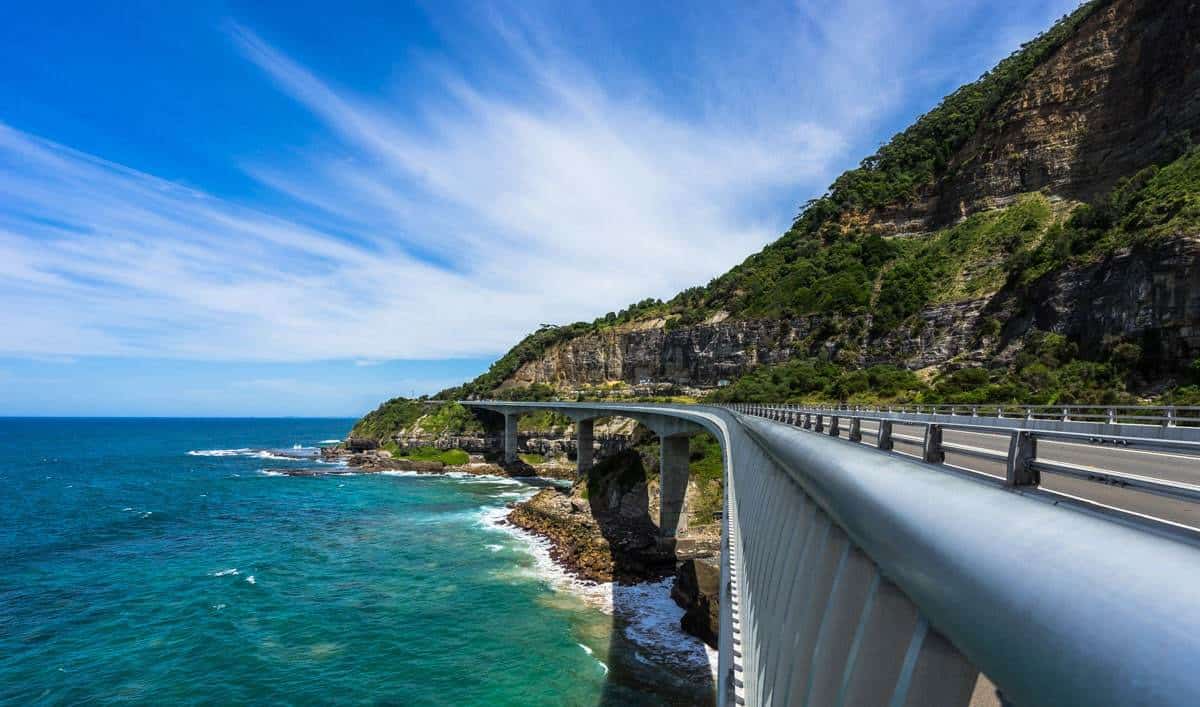 We had no plans, no idea where to stay and no clue of what to do in Kosciuszko National Park. A quick stop off at the visitors centre gave us all the information we needed, and we decided that we would spend the next day tackling the 22km Main Range Track.
With the end result of tackling the Mount Kosciuszko walk and standing on the roof of Australia, there was no way we were going to miss this opportunity!
It was a beautiful afternoon, so we hung out around Jindabyne for a few more hours before moving into the Mt Kosciuszko national park.
After handing over the $17 for 24 hours access to Mount Kosciuszko National Park (the most expensive in the country), we immediately felt the price was justified as we drove through the dense forest and rolling valleys that make up the alpine landscape of the Snowy Mountains.
Even though the entrance fee is expensive, one added benefit is that there are plenty of free camping spots all over the place.
We pulled into Island Bend Campsite and were stoked to see that we were the only ones there (besides the dozens of kangaroos that hopped around the grounds).
The moment we set up the tent a massive lightning storm rolled in, and we had to seek shelter in the car. In between lulls in the rain and darting electrical bolts we cooked up a steak on our gas cooker (benefit of car camping – being able to carry great food with you) and hit the sack.
Morning came and there was barely a cloud in the sky. We packed up our soaking wet camp and left Island Bend before sunrise, and beelined it for the top of Charlotte Pass.
Charlotte Pass is normally a popular ski resort, and it's common to park at the Charlotte Pass car park for the start of the Mt Kosciuszko summit walk.
Because we decided to camp, we just woke up, packed, and started the Mount Kosciuszko walk from Charlotte Pass.
Climbing Mount Kosciuszko
Even though it was the middle of summer, there was a distinct chill as we packed our day packs and set off to begin our Mount Kosciuszko summit walk.
A gentle paved slope led down to our first river crossing, and we rock hopped to get over the famous and historical Snowy River.
This spot is one of the most beautiful on the trail, and despite having just started the Main Range Track to Mt Kosciuszko, we stopped for a quick water break and admired the elegant mountain scenery and crisp air before heading to Blue Lake.
We started to ascend towards Hedley Tarn and Blue Lake when we caught up with a fit couple in their 60s named Joan and Rick, and struck up a conversation.
They were from the United States but spend a good portion of their lives travelling the world. We instantly formed a great bond, and when they told us that they, "would rather spend our money on experiences than things", we wanted to know more about the adventures they had been on. For the next 21km, we would not stop chatting.
We instantly formed a great bond, and when they told us that they, "would rather spend our money on experiences than things", we wanted to know more about the adventures they had been on. For the next 21km past Blue Lake, we would not stop chatting.
Passing Blue Lake we ended up on the ridge of the Main Range Track, and passed what remaining wildflowers were left from the early summer.
The higher we gained in altitude the more of the endless alpine peaks came into view. Australia might not be known for its mountain scenery, but standing on this ridge gazing out at the glorious Snowy Mountains stretching for an eternity made us fall back in love with our nation.
Joan, Rick and we kept trekking as the temperature began to rise. The Main Range Track was very well maintained, and not very steep, and we kept up a great pace.
Alpine lakes were sprawled out in valleys below us and, besides a few brief water break, we kept climbing the Mount Kosciuszko summit walk with barely a rest. The entire time we barely saw a single soul.
Around lunch time we made it to where the Mount Kosciuszko Summit Walk joins up with the Main Range Walk, and couldn't believe the sheer number of people we encountered.
It seemed that most had taken advantage of the Mt Kosciuszko express chairlift up Thredbo to make their goal of climbing Mount Kosciuszko a reality. We joined in the stream of walkers to circle around the last part of Australia's highest mountain.
Within minutes we had finally made it to the summit of Mount Kosciuszko! 2228m above sea level. We hugged Joan and Rick and sat down for a quick snack. We shared our nuts, tuna and crackers with them, and they offered us some trail mix and fruit.
We stared out over the valley, knowing that we couldn't get any higher on this vast country. After growing up in Australia, we had finally made it to the summit of Mount Kosciuszko!
After taking our celebratory photos, we started back down the Mt Kosciuszko. Lesh stayed with Joan while Rick and I kept chatting like we were old friends.
The final few kilometres to the trailhead flew by, and before too long we were standing back at our cars and swapping details. The entire 22km, including lunch, had only taken 7 hours.
Climbing Mount Kosciuszko was a true highlight of our east coast road trip, and proved to be one of the best things to do in New South Wales.
After wanting to summit Australia's highest peak for our entire lives we were stoked to have finally accomplished it. It might not have been one of the harder trek we had done, but hiking in Kosciuszko National Park was still a sensational experience.
We drove back into town and picked a campsite at Jindabyne Holiday Park on the edge of Lake Jindabyne. It was a bit pricier than we had expected ($27 AUD for an unpowered site), but the facilities were flawless and a hot shower was amazing.
Joan and Rick kindly invited us out that night, and would not accept a "no" when they offered to buy us dinner. We were absolutely humbled and appreciative, and ended up joining them for a meal and few beers at a great pub in Jindabyne that night. After saying our goodbyes we returned to our campsite and crawled back into our tent.
Our satisfaction from climbing Mt Kosciuszko was huge, but it was the added surprise of making new friends which made the hike so much more rewarding. You should always stop to chat to people on the trail – you'll never know what interesting experiences you will be treated with.
Our rental car was provided by Economy Bookings. All the kilometres and fun times we put on it on Mt Kosciuszko are entirely our own.