From seeing the iconic Whitehaven Beach, to sailing through the Coral Sea, here are the best things to do in Airlie Beach.
On Australia's East Coast, midway between Rockhampton and Cairns exists a slice of paradise.
Airlie Beach, also known as the gateway to the Whitsunday Islands, is one of the country's most beautiful beach towns.
Sitting pretty on the Great Barrier Reef and the Coral Sea, Airlie Beach is full of beautiful attractions and has a vibrant and colourful vibe. But it is often overlooked by travelers heading to other Queensland destinations like Cairns and Brisbane.
Boasting a sub-tropical climate, Airlie Beach is warm all year round, although the wet season and jellyfish season both occur during Australia's summers.
However, Winter (June to October) in Airlie Beach is absolutely gorgeous with highs of 25'c and consistent sunshine.
To help you enjoy the perfect weather, here are some of the best Airlie Beach attractions and activities.
Airlie Beach town has lots of fun things to do, like swimming in the Airlie Beach Lagoon and perusing the Saturday morning market. There are also some incredible day trips to surrounding islands and local beaches including Whitehaven Beach, Boathaven Beach. Not to mention, it's the perfect place for Great Barrier Reef tours or a sailing trip.
Whether you're on the classic backpacker trail along Australia's East Coast or looking for the perfect beach holiday location, Airlie Beach is a must-visit location for everyone.
READ MORE: Plan your trip to Australia with our Australia Travel Guide!
The Best Things to do in Airlie Beach
Airlie Beach is the perfect base for exploring any of the 74 Whitsunday Islands, so you'll have many stunning islands to explore.
It's also near the famous Whitehaven Beach, which is one of the most beautiful beach on the planet.
If you want a luxurious day full of pampering, lunch on the ocean and maybe a round of golf, Hamilton Island is the place to go.
Adventure seekers can spend their days in Airlie Beach ocean rafting, snorkeling, scuba diving, or even skydiving.
The list of Airlie Beach attractions is endless, so this list of 20 things to do in Airlie Beach is just the beginning of your best Australian holiday.
1) Lay Out at the Airlie Beach Lagoon
One of the top Airlie Beach activities on everyone's list is a visit to the Airlie Beach Lagoon. Located in the heart of town right on the shoreline of the ocean, this is the perfect place to relax.
The Airlie Beach Lagoon is a 4,300 sqm swimming pool that has 4.5 million litres of fresh water pumped through the pools here.
There are several pools to choose from, including a sheltered children's wading pool and pools of 1 meter and 2.5-meter depths to enjoy.
Plus there are designated swimming lanes for those looking to get a workout in.
Free admission to the swimming pool makes this a great option for those who want to lay out and swim even during stinger season.
You'll get the gorgeous ocean views, a great spot to cool off and sheltered areas perfect for picnics nearby.
This is one of the best free things to do in Airlie Beach, and the year round warm weather means a swim here is always a good idea!
Location: 275 Shute Harbour Rd, Airlie Beach 4802
Time: 6am – 6pm
Tickets: Free Entry for all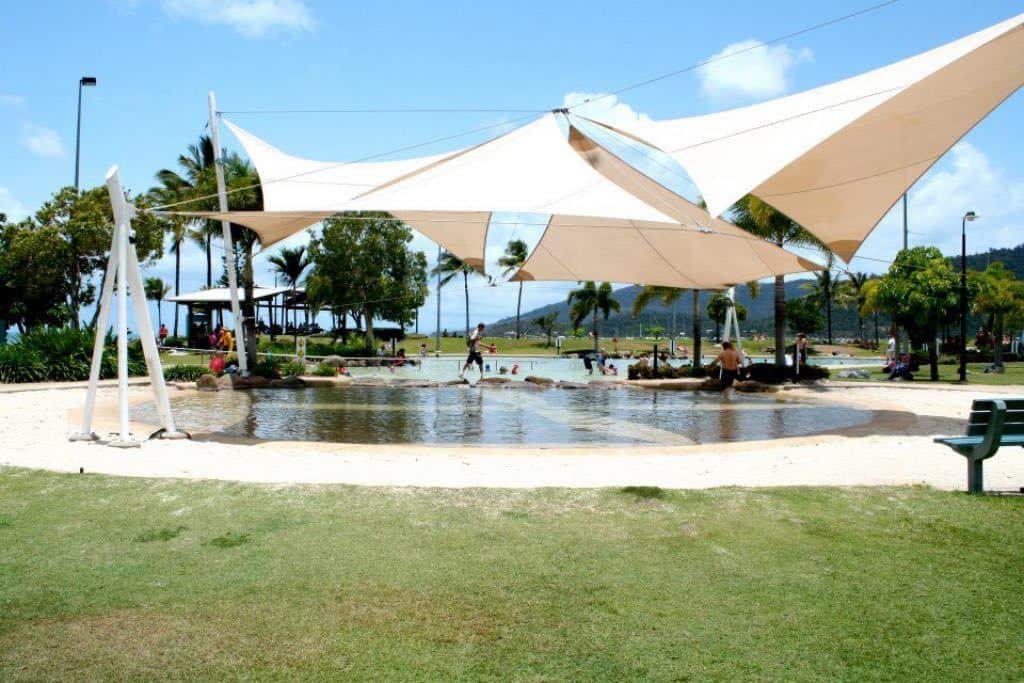 2) Visit Honeyeater Lookout
Everybody loves a good viewpoint. And Honeyeater Lookout will not only give you a chance to check out panoramic views but also a chance to spot some local wildlife.
This trail is easily accessible on foot from Airlie Beach town centre, or by car.
Start off at the top of Kara Crescent and then follow signs for Honeyeater Lookout along the 8.2km roundtrip trail.
Hikers should keep an eye out for lace monitor lizards (aka Goannas) as they have been seen on the trail often and look like tiny dinosaurs with large claws.
The first portion of the trail is pretty steep and travels through the gumtree forest and along the coastline.
Then it becomes pretty sheltered from the sun, which is a great bonus especially in the hottest months (October – April).
It takes about an hour to reach the top, depending on your pace.
Once reach the summit you'll be gifted with the most amazing views of Airlie Beach and the beautiful bays and islands in the area.
This is another one of the best free things to do in Airlie Beach.
3) Wander the Whitsunday Markets
One of the best things to do in Airlie Beach on a Saturday morning is to head down to the Whitsunday Markets.
Every Saturday from 7 am – 1:30 pm the Lions Airlie Beach Community puts on a beautiful market.
Right on the foreshore of Airlie Beach, you'll find tons of market stalls to peruse to start your weekend off right.
Grab a coffee from any one of the local vendors and then stroll through the market stalls as the coastal town begins to wake up.
You'll find local crafts and jewellery being made onsite, food stalls, and massage and reflexology tents to relax in.
You'll also likely find a perfect souvenir to bring home. This is a fun Airlie Beach activity for wet season when the rain drives you away from the beach.
In addition to the market stalls on Saturdays, there is also the Whitsunday Farmers Market which happens on the first and third Sunday of every month from 6 am – 1 pm.
Here you'll find local fresh produce from farmers around the area, fresh-baked treats to take away and even locally sourced goods for purchase.
If you want to go for a swim after shopping, Boathaven Beach is a lovely strip of white sand and refreshing sea right behind the market.
READ MORE: Be sure to add these things to do in Cairns to your Australia itinerary!
4) Go on the Whitsunday Great Walk
Also known as the Conway Circuit, this walk is one of the best things to do in Airlie Beach if you need a little dose of nature.
The start of this trail is actually in nearby Proserpine and ends in Airlie Beach (or vice versa) and it is a 27km circuit.
This is the perfect spot to escape the hustle and bustle of town, especially during the holidays when it can get quite hectic.
Hiking the entire 27km circuit is quite a commitment, so you can just walk portions of the trail if you want something a little shorter.
The trail will take you through the lush rainforest and along different streams.
If you do opt for the full circuit you'll find yourself with some pretty steep climbs but be gifted with incredible viewpoints along the way.
The Whitsunday Great Walk is actually part of a larger series of trails that can be done over 3-4 days while camping. To camp along the way, permits are required.
There are several water tanks on the trail for refilling water bottles. But water should be treated before use.
5) Snorkel or Scuba Dive the Great Barrier Reef
Airlie Beach is conveniently located right next to the world's largest coral reef system, the Great Barrier Reef.
One of the top day trips in Airlie Beach for water lovers is to take to the ocean with a snorkel and fins and explore the Great Barrier Reef.
Located in the Coral Sea, there are tons of day trips from Airlie Beach offered by many tour companies where you'll be able to see this world wonder for yourself.
You can choose one of the half-day snorkel trips that bring you out to the Whitsunday Islands. Most tours provide masks and fins (and stinger suits depending on the time of year).
You can also book scuba diving tours, or scuba diving lessons if you're a beginner.
With trained instructors aboard the boat, you'll be given all the equipment and instructions necessary for you to start your scuba journey in one of the most beautiful parts of the ocean.
Popular spots to visit on reef day trips include Heart Reef, Hardy Reef, and more.
The Great Barrier Reef is home to some amazing marine life, including tropical fish, sea turtles, sharks, rays, and more.
Most reputable day tour operators take all necessary precautions to ensure that the Reef is protected and respected by tourists.
If you are in doubt of whether your tour company is responsible with the reef, please do your research and check reviews prior to giving them your business.
6) Explore Conway National Park
Conway National Park should be on everyone's list of things to do in Airlie Beach.
On the coast between Airlie Beach and Shute Harbour, you'll find the entrance to the park where you can leave your car and go off exploring for the day.
There are several shorter trails including the coastal Fringe Circuit and Hayward Gully.
Both are perfect for those with less time, or if the weather becomes too hot and you only want a short walk.
The Mt Rooper Circuit takes hikers on a 5.5 km hike through the beautiful rainforests.
There are tons of trails to choose from so it's best to check out the National Parks website.
This national park near Airlie Beach is a mix of beautiful hilly rainforest, gorgeous beaches and bay areas, and lookouts with panoramic views.
There are picnic areas along many of the trails, and opportunities for camping (with permits) in certain areas too if you're looking to get out on the trails for a few days.
7) Go Ocean Rafting over the Waves
Ocean Rafting is one of the best ways to explore Airlie Beach for anyone who wants a bit of a thrill with a side of sightseeing.
You may have been whitewater rafting before, but ocean rafting takes it to a whole different level.
The ocean rafts are semi-rigid but still inflatable, travel at up to 65km/h and were actually designed as rescue vehicles.
Several tour companies offer multiple tours including a day trip from Airlie Beach out to the Whitsunday Islands, one of the most iconic Airlie Beach attractions.
You'll head out on the water on an ocean raft towards the infamous Hill Inlet Lookout. Then you have the opportunity to walk around, explore, and see one of the world's most beautiful views of the famous Whitehaven Beach.
There are multiple full day or half day ocean rafting tour options in Airlie Beach. Some offer more relaxing on the beach, and some offer more walking in the jungle depending on what you're looking for.
However, both ocean rafting tour options include a snorkel stop (gear included) over the Great Barrier Reef and the Hill Inlet lookout stop.
The sand on Whitehaven Beach is the whitest you'll ever see, and once you step foot onto the sand you'll hear the squeak under your feet.
The turquoise water is perfect for floating around, and you may even get the chance to see a flat plane land nearby.
This ocean rafting day trip from Airlie Beach is a great mix of adventure and sightseeing which makes it perfect for everyone.
8) Sail the Whitsundays Islands
You can't visit Airlie Beach, the gateway to the Whitsundays region, and not actually explore the Whitsundays.
The best way to do that? Sailing of course!
One of the most iconic things to do in Airlie Beach is to board a boat and make for the open water.
Whether you're looking for a day trip, a private charter, or even (if you have the money) a million-dollar yacht experience you'll be able to take your pick of sailing trips in the Whitsundays region.
With most tours, you'll sail out of Airlie Beach and cruise around the beautiful archipelago on a gorgeous sailboat.
The boat will likely have all equipment, including paddleboards, floaties and snorkelling equipment on board.
Most tours have the option of full day or half day as well, so you can fit your tour into your Airlie Beach itinerary nicely.
No matter what you're looking for or what your budget is, there is a sailing trip for everyone in Airlie Beach.
9) Find Heaven on Hamilton Island
The largest of the Whitsunday Islands and the only one with its own airport, Hamilton Island has won many awards over the years including Australian Travellers 'Most Desirable Island Escape' title.
If you are headed over to stay on the Island, some resorts offer private transfers.
But if you want to head over on your own you can grab the ferry from Airlie Beach and in about an hour you'll be stepping off into paradise.
Swimming should be at the top of your list of things to do in Hamilton Island.
Catseye Beach is the best slice of beach on the island and makes for the perfect place to lay out and float in the ocean.
Sail's Pool, Main Pool and Bougainvillea Pool are all available to the public as well in case you want to trade in some beach time for the pool.
There are several walking trails on the island worth exploring as well, including the steep but with a spectacular view, Passage Peak.
Resort Lookout is the second-highest point on the island so you know the views from here will be amazing.
If you're looking for a bit more privacy check out Coral Cove for a secluded beach to enjoy.
Water sports are a must here. From stand-up paddleboarding, kayaking, jet skis, and even snorkel gear, you can hire it all when you get to the island.
Indulge in some world-class dining options and even take in a spa treatment. There's no shortage of luxuries to treat yourself with.
And to top it all off Hamilton Island is one of the best sunset spots in the Whitsundays and the Airlie Beach area.
READ MORE: While you're in the area be sure to check out these things to do in Brisbane.
10) Get Sky High with a Helicopter Flight
While getting out on the ocean is one of the best ways to experience Queensland and Airlie Beach, the next best option is to get high above it.
With a scenic flight, passengers get the chance to experience the absolute beauty of the islands and the Great Barrier Reef in a whole new way.
Several companies give you the opportunity to choose from a fixed-wing plane, a helicopter or even a flight + cruise adventure.
The signature scenic helicopter flight option includes incredible aerial views over the Whitsundays and the Reef.
You'll be able to see the gorgeous Heart Reef, Hill Inlet, and Whitehaven Beach as you soar above the ocean.
And as every passenger gets a window seat, you'll see better than any drone could with your own two eyes.
Location: 1/384 Shute Harbour Rd, 4802
11) Take a Day Trip to Daydream Island
One of the most magical Airlie Beach activities for anyone is to head out for a day on Daydream Island.
Most likely named after the fact that this place literally looks like what people daydream about, Daydream Island is part of the Molle group of islands.
Measuring only 1 km in length, Daydream Island may be small but it is packed with amazing things to do. And it is is only 10km from Airlie Beach by ferry.
Similar to Hamilton Island, there is a luxury resort on the island and guests of the resort will have access to amazing amenities.
But those on a day trip from Airlie Beach can also indulge too.
Discover the natural beauty that surrounds the island by renting out glass bottom boats and exploring the ocean.
There are also kayaking and paddleboard rentals on the beaches, as well as parasailing tour companies.
Lover's Cove is the perfect spot to take in a beautiful sunset, and Daydream Island Resort boardwalk is a great spot to go for an afternoon stroll.
Stop in for lunch at the resort or even book in for a day of pampering at the spa.
Everything you'll find on this island near Airlie Beach will be better than even you could dream up.
12) Go Golfing
For those looking to get out on the back nine and give your clubs a swing, Airlie Beach has some fantastic golf courses to visit.
You don't need to be a professional to take to the greens, and these courses aren't a bad place to check out the views either.
If you're outside of Airlie Beach and on Hamilton Island, you'll be hitting balls on one of Australia's most scenic courses.
You'll have your choice of several courses within Airlie Beach including The Whitsundays Country Golf Club on Shute Harbour Road.
This is a championship, 18 hole course with one of the best views in the state.
Just outside of Airlie Beach you can head to Proserpine Golf Course where you'll find 18 holes open 7 days a week with the opportunity to spot some wildlife on the course.
While some courses may be for members only, if you are with a guest of the club you'll have access to the course.
If golf isn't your idea of a fun day out, stop in for a cocktail or lunch at the course club and take in the lovely views just the same.
13) Visit Cedar Creek Falls
Less than a 30 minute drive and you'll find one of the top free things to do in Airlie Beach.
Cedar Creek Falls is a gorgeous natural waterhole in the Queensland hinterland.
The drive from Airlie Beach will take you past sugar cane fields out into the rainforest.
Once you arrive, the Cedar Creek Falls are beautiful, especially after a big rainfall.
Pack up the car with all the necessities for a full day out because you probably won't want to leave once you arrive.
Swim underneath the falls in the natural freshwater swimming pool at the base of the waterfall. If you're feeling brave enough, you can actually climb to the top of the falls and look down.
There are several runoff streams from the main pool which are perfect for sitting in to cool down on the hottest days.
There are a few areas around the falls to explore on foot so be sure to keep your eyes peeled for butterflies, beautiful birds and lush vegetation.
Cedar Creek Falls is one of the most serene day trips from Airlie Beach.
14) Treat Yourself on Hayman Island
One of the most decadent things to do in Airlie Beach is to treat yourself to a day on Hayman Island.
Hayman Island is a private island that is open to the public and made famous by a luxury resort opened in the 1950s.
It is a highly sought after wedding destination, but not to be missed by anyone looking for a bit of fun in the sun with the most beautiful setting.
Head to Cook Lookout, the highest point on the island, for an awesome vantage point to soak in all the views.
Or try out some water sports like kayaking, paddleboarding, and even riding a futuristic underwater scooter.
Scooter riders will glide on top of the water while being able to get a fantastic view of the islands.
If you're hoping for a dreamy day of pampering, the Hayman Spa is world-class.
With 11 treatment rooms offering massages, facials, and specialty water treatments, this is is the perfect oasis.
Dine at the world-class resort restaurant or check out the oceanfront bar. Honestly, everything on Hayman Island is absolutely divine.
15) Fly Above the Ocean
One of the best ways to do some Airlie Beach sightseeing is definitely from above.
Add some adrenaline-pumping fun to your trip by booking in for a skydive.
Get the thrill of a lifetime by freefalling at over 220 km/hour for 60 seconds.
After the epic drop, you'll float under the parachute as you make your way down to the drop zone on the beach.
No matter what your experience level is, you'll be in for a treat. The experienced guides will be diving tandem with you to ensure you are safe.
Soar above the ocean before jumping over the most beautiful bays and islands in the country and maybe even the world.
Be sure to keep your eyes open as you jump, you wouldn't want to miss any of the stunning views!
You might be able to catch a glimpse of Heart Reef and Whitehaven Beach, as well as the natural beauty around Airlie Beach.
16) Head out to Cannonvale
Barely 5 minutes away from the bustling shores of Airlie Beach is the quiet and cute town of Cannonvale.
This is considered to be the main centre for Airlie Beach when it comes to grocery shopping, getting petrol, and eating at big chain restaurants.
But it also has some great things to do.
Cannonvale Beach is a perfect refuge for anyone looking to dodge the crowds.
There are also stinger nets at Cannonvale Beach so you can swim in the ocean even during the summer months.
You'll also find tons of BBQ facilities along the shores of Cannonvale Beach as well. There are also parks and some really cool tidal pools to soak in.
If you just need to stretch your legs then the walking from Airlie Beach to Cannonvale Beach is a great option to see a more local side of the city.
Pop into the Fat Frog Beach cafe for homemade treats or an awesome lunch with a fantastic view of the ocean.
With tons of lovely little parks all throughout Cannonvale, it's the perfect location for those who love a good wander and want to see the more local side of Airlie Beach.
READ MORE: Add more adventure to your Australia holiday with these 10 activities.
17) Visit Whitehaven Beach
Rated the #1 beach in the South Pacific more than once, Whitehaven Beach should not be missed when looking for things to do in Airlie Beach.
Accessible by boat, plane or helicopter, this 7km stretch of beach is like no other.
Your first views of Whitehaven Beach will have you thinking you've stepped into a postcard.
You'll see the stunning white sand of one of the world's most unspoiled beaches, and the turquoise waters are calm, clear, and inviting.
Whitehaven Beach is located off the Great Barrier Reef, so you'll have amazing opportunities to snorkel and get up-close and personal with the sea creatures who call this place home.
Not only is the sand as white as snow, but it's also as soft as the coziest thing you've ever felt. The sand is so soft that it squeaks underneath your feet as you walk along the shore.
At the northern end of the Whitehaven Beach is Hill Inlet lookout, accessible by a short bushwalk and well worth the small hike.
The view from the top is one of the best vantage points in the Whitsundays.
It's highly recommended that you book a cruise that will take you out to here, as it is the easiest way to get to Whitehaven Beach from Airlie Beach.
18) Venture out to Hydeaway Bay
One of the best day trips from Airlie Beach is Hydeaway Bay.
If you're the kind of traveller who loves an off the beaten track adventure full of natural beauty then this destination is definitely for you.
About 50km from Airlie Beach, follow Gregory-Cannon Valley Road to Dingo Beach Road and watch for the Hydeaway Bay turn off.
The beach has 5 public access points and there is a good chance you could spend the day here and not see another person.
It's the perfect place to bring a blanket, pack the cooler and head out for an afternoon on the beach, no matter the weather.
Throw a frisbee around or go looking for washed up seashells and the odd jellyfish or two.
You'll feel like you've stepped foot in a different place, especially if you're visiting Airlie Beach during the busy Christmas holidays.
Hydeaway Bay is the perfect escape from the crowds of Airlie Beach
19) Learn to Sail
Chances are if you're visiting Airlie Beach you'll be taking part in a sailing trip or boating adventure out to the Whitsundays.
But what if you want to try your hand at sailing yourself?
This is definitely a unique and fun option for those who like a bit of a challenge.
If you're looking for cheap or free things to do in Airlie Beach check out The Whitsunday Sailing Club.
Every Wednesday from 3 pm – 7 pm they offer twilight yacht racing.
For the price of your curiosity and your willingness to learn something new, you can become a deckhand for the evening and learn the ropes from the pros.
All you need to do is sign up by 2 pm on the day at the Sailing Club in Airlie Beach and you'll be off to the races in no time.
20) Stroll to Shute Harbour
One of the most easy-going Airlie Beach activities would definitely be heading out in the evening and strolling to Shute Harbour.
Approximately 10km from Airlie Beach is a sheltered port for vessels and the ferry dock for boats going to and from the Whitsunday Islands.
This small residential area is full of lovely holiday homes and actually runs by Conway National Park too.
The walk is a great thing to do after the hot sun of the day has dipped, post-dinner or pre-drinks.
Or head to the Shute Harbour Jetty in the morning and do a little fishing if you fancy.
Even if you're not an avid fisherman, this spot is a favorite among photographers in Airlie Beach, especially at sunset.
Arlie Beach Travel Guide
Now you should have an idea of all of the great things to do in Airlie Beach, including day trips, reef cruises, local beaches, and more.
From the local swimming pool, to the islands in the Coral Sea, to Cannonvale Beach, Boathaven Beach, and more, there are so many amazing things to see in Airlie Beach.
After exploring all the Airlie Beach attractions, we want to make sure you know where to stay and what to eat while you're there!
The best way to get around is to rent a car and explore on your own! We recommend Rental Cars, which has the largest range of vehicles for the best value on the market.
Best Accommodation – Where to stay in Airlie Beach
After exploring all of the Airlie Beach attractions you can find, you'll need a great place to rest up. The town may be small but the Airlie Beach accommodation options are huge.
The Best Hostel in Airlie Beach – Magnums
Within a stone's throw from the beach and the lagoon, you won't spend an arm and a leg to stay at this hostel.
Magnum's is the place to be with lovely dorms and private rooms plus a great onsite bar & great discounts on tours too!
The Best Mid-Range Hotel in Airlie Beach – Coral Sea Resort/Boathaven Bay Holiday Apartments
After a day of Airlie Beach activities, the Coral Sea Resort is the perfect place to come back and relax.
The gorgeous rooms carry the ocean vibes through and through. There is also a poolside restaurant, a charming cafe and even spa facilities.
Another top option for mid-range accommodation in Airlie Beach is Boathaven Bay Holiday Apartments.
Located right on Boathaven Beach, these adorable little apartments are conveniently located right in downtown Airlie Beach.
Boathaven Bay Holiday Apartments are extremely popular so book well in advance!
The Best Luxury Hotel in Airlie Beach – Peninsula Airlie Beach
With its prime waterfront location, Peninsula Airlie Beach not only has the most luxurious views but has accommodation options ranging from 1 bedroom apartments to spectacular penthouse suites.
Close to Abell Point Marina, this is a great spot to spend the night after a day on the water.
Best Restaurants in Airlie Beach
With freshly caught seafood and picturesque ocean views, there are some amazing places to eat in Airlie Beach.
The food and drink scene in Airlie Beach is something not to be missed no matter your tastes.
Budget – Beagles Pizza
What's better than a pizza picnic on the beach? Pizza that doesn't break the bank of course!
With lots of daily deals and dishes besides pizza, Beagles Pizza is a great spot to grab a bite to eat on a budget or have delivered if you're too exhausted after a day of adventuring.
Mid-Range – The Deck Restaurant & Bar
With a menu offering seafood, vegetarian dishes and delicious healthy options, The Deck Restaurant & Bar is the perfect place to catch a view and try something completely delicious like their fresh Buddha Bowls.
Luxury – Fish D'Vine
The oldest and most iconic restaurant in town, Fish D'Vine is a must-visit spot for that perfect seafood creation.
From traditional fish & chips to the locally sourced and amazing mud crab, there's something for everyone.
Not to mention the rum bar on site too adds a great option for those looking for a nightcap.
DISCLAIMER: Some of the links in this article are affiliate links, which means if you book accommodation, tours or buy a product, we will receive a small commission at no extra cost to you. These commissions help us keep creating more free travel content to help people plan their holidays and adventures. We only recommend the best accommodations, tours and products that ourselves or our fantastic editorial team have personally experienced, and regularly review these. Thanks for your support, kind friend!