There really is no shortage of ideas when it comes to the best things to do on the Gold Coast. Whether you're looking to go surfing at Snapper Rocks, enjoying theme parks with the kids, whale watching out at sea (or from the coast) or just spending a day in the Currumbin Wildlife Sanctuary, here's our guide to what to do on the Gold Coast, Australia.
When you mention the Gold Coast to Aussies and international tourists alike, many people just think of the white sand beaches and skyscrapers of Surfers Paradise. But trust us, there is so much more to this incredible part of Queensland.
The Gold Coast's coast line stretches along 57kms, all the way to the New South Wales border. It's quite a large area, with a huge amount of diversity to enjoy.
Queensland's Gold Coast is a vibrant, sun-soaked blend of glistening beaches, thrilling theme parks, lush countryside, wildlife encounters, and a lively food and nightlife scene.
It's a place where the high-rise skyline meets the Pacific Ocean, creating a unique blend of city life and world class surf culture.
And not too far away is the stunning Hinterland, where you can chase waterfalls, fly in hot air balloons, go hiking amongst natural wonders or just seek out all the other great things to do on the Gold Coast that many people miss out!
Whether you're seeking adrenaline-pumping activities, sporting events, quiet escapes into nature, family-friendly attractions, or gourmet dining experiences, the Gold Coast offers an incredible array of things to do.
In this guide, we'll explore some of the top attractions and outdoor activities that make this part of Australia a true paradise for both local and international visitors.
From surfing at iconic Surfers Paradise Beach to soaring over the stunning landscape in a hot air balloon, prepare for a diverse and exciting journey across the Gold Coast.
READ MORE: Planning on sticking around for a few days? Don't miss our brand new, comprehensive Gold Coast itinerary to plan your trip to perfection.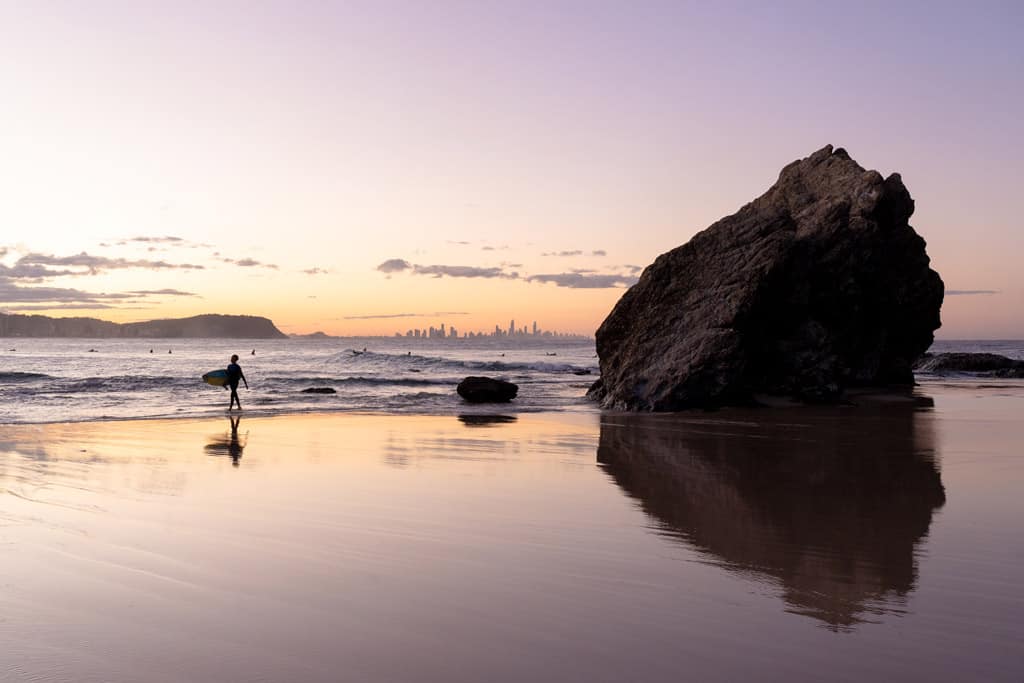 The Best Things to Do in the Gold Coast
If you've been before, you already know that the Gold Coast is a vibrant and dynamic destination with a multitude of attractions.
If it's your first time however, you'll probably be surprised at just how many things to do on the Gold Coast there are!
Let's dive into our list of the best Gold Coast tours, attractions, activities and sightseeing opportunities for your next trip.
Trust us, you're going to need to visit a second, third and fourth time…
READ MORE: Check out our epic guide to the best things to do in Brisbane!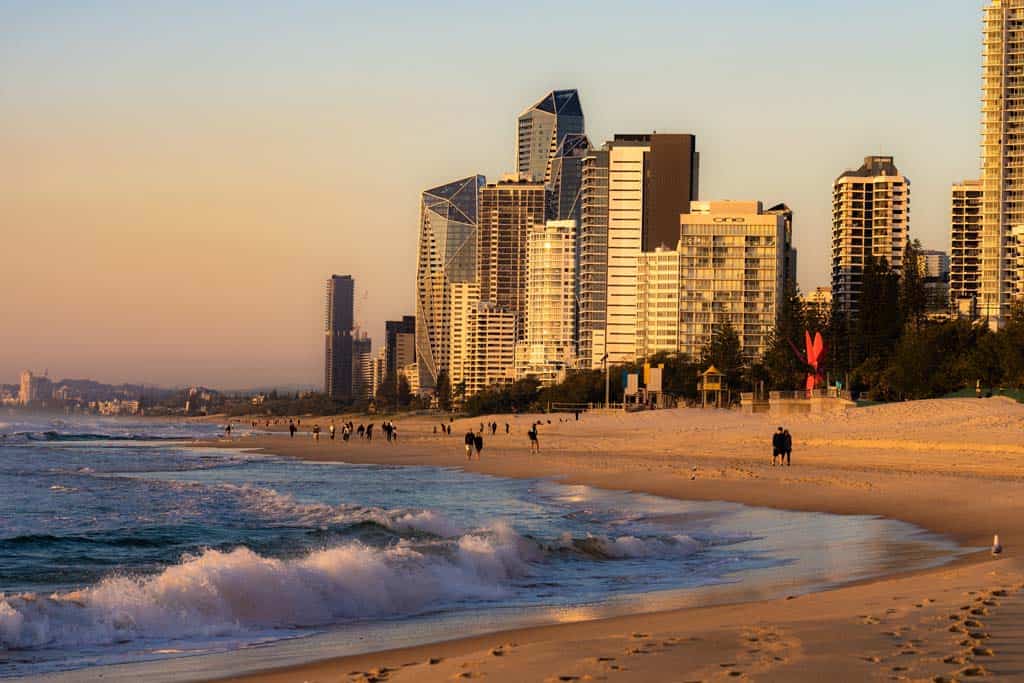 1) Beaches, Beaches And More Beaches
The Gold Coast is world-renowned for its stretch of pristine coastline adorned with white sandy beaches, some of the most beautiful in Australia.
From bustling Surfers Paradise to the relaxed vibes of Burleigh Heads, there's a beach to suit every taste.
There are so many amazing Gold Coast beaches, so where to go first?
Surfers Paradise Beach is perhaps the most iconic, renowned for its gleaming skyline backdrop and rolling surf. It's a hive of activity, with lifeguards always on duty, and is a popular spot for both locals and tourists. Swimming here is a delightful experience, with the Pacific Ocean offering an enticing blend of cool refreshment and playful waves.
Burleigh Heads Beach or Currumbin Beach are more of a laid-back beach experience to enjoy at your own pace, and if this is what you are looking for then these are your beaches. Their expansive shorelines and less crowded sands make them perfect for long, leisurely strolls along the water's edge. The waves are also excellent for swimming and body surfing, with areas patrolled by lifeguards for safety.
NOMADasaurus tip – Currumbin is our favourite beach on the Gold Coast.
Broadbeach, just south of Surfers Paradise, is another favourite spot. It's slightly quieter than its northern neighbour and is backed by a wonderful array of restaurants and shops. It's a great beach for swimming, with consistent surf conditions and regular patrols.
Main Beach is known for its stunning white sandy beaches. This beach offers a more relaxed, sophisticated feel compared to the hustle and bustle of Surfers Paradise. The beach itself is perfect for a range of activities. The surf here is known for its excellent conditions, making it a popular spot for surfers. For those who prefer calmer waters, the nearby Broadwater is ideal for swimming, jet-skiing, and other water sports.
One of the unique experiences the Gold Coast offers is the opportunity to walk along these extensive stretches of sand.
Whether it's at dawn, with the first rays of sunlight reflecting off the crystalline water, or at dusk, as the sky transforms into hues of pink and orange, walking on the soft, white sand is a serene and memorable experience.
The Gold Coast beaches are also interconnected by a network of coastal pathways, so you can easily switch from a beach walk to a more structured track if you prefer.
These pathways are also excellent for jogging, cycling, or simply enjoying the beautiful beach views away from the sand.
No matter which Gold Coast beach you choose, they are all beautiful. If you are swimming, please swim between the red and yellow flags, indicating that the area is patrolled by lifeguards. Some of the Gold Coast beaches have powerful currents. Enjoy!
READ MORE: Looking to travel to Australia? Our destination guide will help you!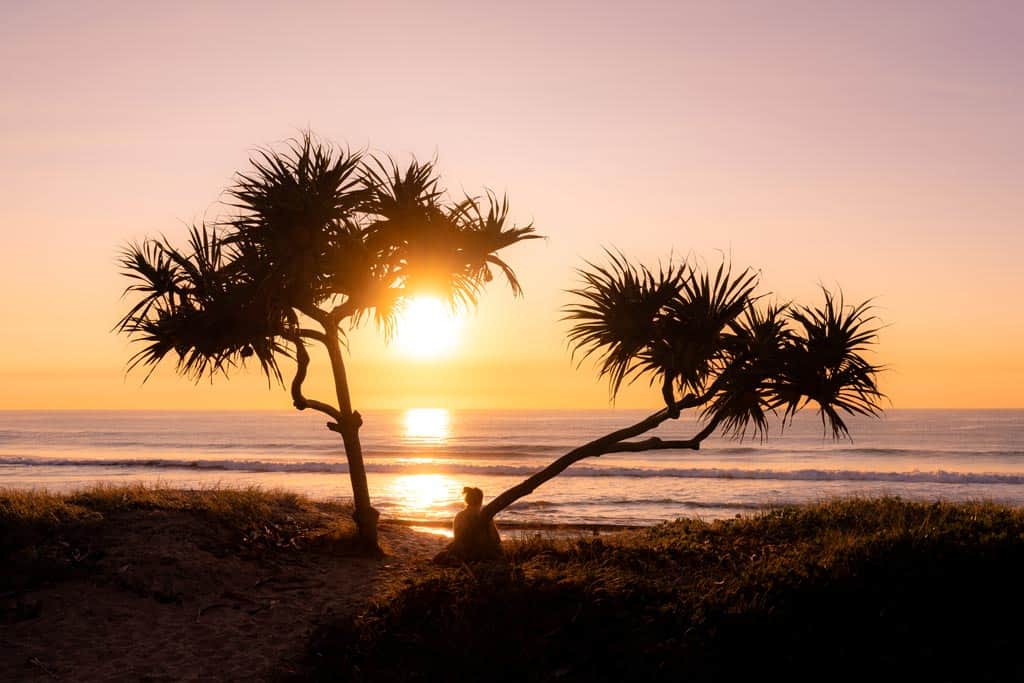 2) Surfing at Surfers Paradise or Snapper Rocks
There really is no denying that surfing really is one of the best things to do on the Gold Coast – they go hand in hand. The Gold Coast is a paradise for beginners and experienced surfers alike.
The region is home to some of the most reliable surf conditions in the world, with waves suitable for all levels of ability.
Here are a few of the best beaches for surfing in the Gold Coast:
Snapper Rocks: Located in Coolangatta, Snapper Rocks is renowned worldwide for its perfect point break. It's the first point in the Superbank chain of spots and hosts the annual Quiksilver Pro surf competition. This spot is recommended for experienced surfers.
Burleigh Heads: Known for its right-hand point break, Burleigh Heads is great for intermediate to advanced surfers. The break can produce some long, fast barrels especially when the swell is up.
Currumbin Alley: This is a popular spot for beginners and long boarders due to its reliable and gentle right-hand break.
Greenmount and Rainbow Bay: These neighbouring beaches in Coolangatta offer gentle, rolling waves that are perfect for beginners and less experienced surfers.
Surfers Paradise: As the name suggests, this beach is a favourite among surfers. It's exposed to plenty of swell and can produce excellent surf, but it can get crowded.
If you're new to surfing or if you are looking to improve your skills, there are plenty of surf schools on the Gold Coast that offer lessons for all ages and skill levels. The surf schools offer surf lessons private or group lessons all along the gold coast attractions here. You will find lessons starting from $79 per person and will go for about 2 hours.
Most surf schools provide all the necessary equipment, including surfboards and wetsuits. Just wear your bathers. They also ensure safety by conducting lessons in waist-deep water with accredited surf coaches.
If you are an experienced surfer and just want to rent a surf board, there are places up and down the Gold Coast to do this.
3) Spend the Day at One of the Many Gold Coast Theme Parks
The Gold Coast is often referred to as Australia's theme park capital, home to a bunch of amusement parks that cater to thrill-seekers, families, and those in search of fun and entertainment.
Growing up in Australia, it's always been one of the most popular places for family vacations because the kids are always entertained.
But as an adult, we still love the theme parks! And really, you can't have a list of the top things to do on the Gold Coast without mentioning them.
Here are the most common ones:
Warner Brothers Movie World
Step into a world of film and fantasy at Movie World, where you can experience exhilarating roller coasters, meet your favourite superheroes and cartoon characters, and watch high-quality performances and stunts.
The park features numerous attractions and rides themed after popular Warner Bros. franchises.
Dreamworld
As the largest theme park in Australia, Dreamworld offers an array of attractions and thrilling rides for all ages.
From adrenaline-pumping thrill rides to Tiger Island, where you can get up close to majestic tigers, and the Dreamworld Corroboree, where you can learn about Indigenous Australian heritage and wildlife, there's something for everyone.
Sea World
Combining amusement rides with marine life, Sea World offers a unique experience for people of all ages.
We've included Sea World here on our list, mainly because they do conservation work and marine life rescue. And it's a good place to get kids interested in the ocean.
Sea World Cruises also have great whale watching tours.
However Sea World still offers live captive animal shows, which is extremely disappointing and should be outright banned in a country as responsible as Australia in 2023.
If you go to Sea World, we recommend you boycott the live animal shows.
Wet'n'Wild Water World
Ideal for the warm Gold Coast weather, Wet'n'Wild offers an array of water-based attractions.
From extreme water slides for thrill-seekers to calmer waters for those just wanting to cool off, it's a great aqua park for family fun.
WhiteWater World
Located right next to Dreamworld, WhiteWater World is a modern water park with some of the most advanced water rides in the country.
Its attractions range from family-friendly slides and pools to adrenaline-inducing water coasters.
Australian Outback Spectacular
Although not a traditional theme park, this dinner and show attraction offers a taste of Australia's outback heritage. It features an arena spectacle with animals, music, and a hearty meal.
Please note that prices, opening hours, and attraction availability may vary, so it's recommended to check each park's official website for the most up-to-date information.
You can usually get multi day passes or multi theme park passes too to make it a bit more cost effective.
4) Go for a Walk in the Burleigh Head National Park
Burleigh Head National Park is located in the south of the Gold Coast. It has a fantastic walk along the coast which looks back on the city skyline and is great place to watch the surfers or even dolphins and whales in the winter months.
The park offers a few walking tracks that allow you to explore the lush rainforest, enjoy stunning coastal views, and possibly spot some local wildlife.
We've written an article with all of our favourite Gold Coast hikes, but you can find a snippet of the Burleigh ones here:
Ocean View Walk: This one is one of the most popular ones. This walking track is approximately 1.3 kilometres and takes about 30 minutes to complete one way. Starting at the northern entrance of the park, the Ocean View Walk ascends over the rocky headland towards Palm Beach. This section of the trail is fine for wheelchairs or prams. Once over the other side, you will head up and look back around to the northern entrance of the park. Throughout the trail you will be able to see views of Burleigh Beach, Gold Coast Skyline, Palm Beach and views of the coastline along the way.
Rainforest Circuit: If you prefer a flat and easy trail, the Rainforest Circuit may be a good choice. This track is 900 metres long and takes about 20 minutes to complete. It starts from the southern entrance of the park and winds through the dense, cool rainforest. Along the way, you can learn about the local plant species from the information signs. This one is not suited for wheelchairs or prams.
Along the upper trails, you will come across Jebbribillum Lookout and Tumgun Lookout. These are a little bit of a challenge to get up there but the view is worth it. From the lookout, you can enjoy sweeping views over Palm Beach, Burleigh Beach and the southern sections of the park.
5) Visit Currumbin Wildlife Sanctuary
Get up close and personal with native Australian animals like kangaroos, koalas, and lorikeets at this incredible sanctuary that focuses on conservation and provides a unique experience to interact with animals.
Currumbin Wildlife Sanctuary, located in the suburb of Currumbin in the Gold Coast area, is a natural haven and an acclaimed conservation organisation dedicated to preserving the country's unique wildlife and their habitats.
One of the most prominent features of the sanctuary is the Currumbin Wildlife Hospital, which plays a critical role in wildlife conservation.
The hospital operates to provide necessary medical care to sick, injured, and orphaned wildlife that is brought in by the public and sometimes ones within the park.
Their open-door policy means they'll treat any native Australian animal, regardless of the nature of its condition.
The hospital includes an operating theatre, treatment rooms, and a dedicated recovery ward for the wildlife patients.
It's known particularly for its work with koalas, treating and rehabilitating hundreds of these iconic animals every, year round.
As a visitor, you can see operations being done through the glass window. Some times they commentate what is wrong with the animal and what they are doing.
Definitely do not miss this place. This transparency and engagement with the public play a crucial role in raising awareness about wildlife conservation and the challenges faced by Australia's unique wildlife.
The sanctuary also operates educational programs to increase awareness about wildlife issues. Currumbin Wildlife Sanctuary undertakes significant conservation work, both within its borders and in cooperation with other organisations.
The sanctuary participates in several breeding programs for endangered species. By maintaining diverse and genetically healthy populations of these animals, they contribute to the overall survival of these species.
Despite its pivotal role in wildlife conservation, Currumbin Wildlife Sanctuary is entirely self-funded and receives no operational funding from the government.
It relies on visitor admissions, donations, and the tireless work of volunteers to continue its work. The Wildlife Hospital Foundation has been set up specifically to raise funds for the hospital and its vital work.
The sanctuary is also a member of the Zoo and Aquarium Association (ZAA) and participates in numerous regional and global conservation programs.
It's a great place to learn more about Australia's unique wildlife and contribute to their survival for future generations.
Whether you're an animal lover, a budding conservationist, or just someone looking for a unique and meaningful experience, a visit to the Currumbin Wildlife Sanctuary is sure to be rewarding.
Take a look at a Currumbin Wildlife Sanctuary Review for more information.
6) Try your Skills on the Treetops Challenge
If you are up for a challenge, Currumbin Wildlife Sanctuary also has a Treetops Challenge. Jarryd had a ball at this and he definitely felt challenged.
The TreeTops Challenge offers an opportunity to test your physical skills by climbing through a high ropes course set among the green canopy of Currumbin Wildlife Sanctuary so don't be distracted by the animals below.
There's also the opportunity to glide over the crocodiles and kangaroos within the sanctuary, making this experience one that you won't forget.
It consists of a series of ropes course, ziplines, suspension bridges, and other aerial challenges designed to test your balance, strength, and nerve.
The TreeTops Challenge is designed to cater to a range of ages and abilities, with various courses providing different levels of difficulty. You can start at the easier level and work your way to the harder level.
Book your tour for the Treetops Challenge here. Your ticket includes your entrance to Currumbin Wildlife Sanctuary so you can explore after you are finished.
7) Take to the Skies in a Helicopter!
With so many great things to do on the Gold Coast, how do you pick something that is really going to blow your mind?
Well, we have just the thing for you – go for a Gold Coast sightseeing flight in a helicopter!
Gold Coast HeliTours provides an exhilarating and unforgettable experience, allowing you to witness the breathtaking beauty of the Gold Coast from a unique perspective.
As you soar high above the stunning coastline and lush hinterland, the professional and friendly pilots narrate your journey, sharing interesting facts and pointing out landmarks.
We were lucky enough to have company owner and very experienced pilot Scott flying us around, and he was fantastic.
Each flight is smooth and comfortable, thanks to the state-of-the-art helicopters.
Whether it's the sparkling blue ocean, towering skyscrapers, or serene waterways, the panoramic views are simply unmatched.
A helicopter tour with Gold Coast HeliTours is truly an exceptional way to experience the diverse beauty of the Gold Coast.
You can go on a range of flights from 5 minutes all the way to 45 minutes.
8) Rent Some Jet Skis and Explore the Gold Coast Waterways
Exploring the Gold Coast waters by jet ski is an exhilarating experience.
Jet Ski Safaris Gold Coast is the leading company providing this thrilling service. They are family-owned and operated, offering unique guided Gold Coast day tours, that depart from Marine Parade, Main Beach, at Mariners Cove Marina and head up the Nerang River.
We had a blast with the team. Pandora and Connor took us out and showed us the area all the way to South Stradbroke Island.
Jet Ski Safaris Gold Coast has a longstanding reputation for its high safety standards, superior equipment, and experienced guides.
I was a beginner rider and Jarryd had a little bit of prior experience, so the team catered to our levels.
Tours may venture through beautiful mangroves, around islands, and across open waters, providing awesome speed stretches and often wildlife sightings, including dolphins, wallabies, and various birds.
You can head out from 30 minutes to 2.5 hours depending on how much time you have and your budget. Check out their website for prices.
It's a wonderful, unforgettable experience that provides a unique perspective on the Gold Coast's natural beauty. Definitely one of our favourite Gold Coast activities.
9) Go Scuba Diving in the Gold Coast
Who would have thought that the scuba diving would be so good in the Gold Coast? Definitely not us until we tried it!
Jarryd had the opportunity to go out for a couple of dives so with the guys from Gold Coast Dive Adventures and was blown away at our spectacular the conditions and marine life were.
The waters were warmish (it was coming into winter) at 20 degrees, with great visibility, and lots and lots of fish.
Whether you're a beginner or a seasoned diver, there are a wide variety of sites where you can explore the underwater wonders.
Palm Beach Artificial Reef: This man-made structure attracts a variety of marine life, including rays, octopuses, and lots of fish species. The depth ranges from 10 to 16 meters. This was one of the dives Jarryd was able to do.
Cook Island Marine Reserve: Located off Fingal Head, this site is known for its population of friendly green and loggerhead turtles. Cook Island is also home to a wide variety of fish species, making it a great site for underwater photography. The depth ranges from 5 to 15 meters, so it's suitable for beginners and intermediate divers. Some dive sites around Cook Island are: Mary's Rock, Bullseye Alley, Coral Gardens, Fido's Reef, Northern Wall, Turtle Sanctuary.
Nine Mile Reef: This site is located off Tweed Heads and is an excellent place for spotting pelagic fish species, including manta rays, leopard sharks, and even the occasional hammerhead shark. It's a drift dive suitable for intermediate to advanced divers, with depths ranging from 15 to 30 meters.
Kirra Reef: A collection of rocky outcrops located close to shore, Kirra Reef is home to a variety of smaller marine species, including octopuses, nudibranchs, and a wide variety of fish. The depth ranges from 5 to 15 meters, making it suitable for beginners and intermediate divers.
The Scottish Prince Wreck: Located just off Southport, this 64-meter-long shipwreck lies in about 10 meters of water and is home to a variety of marine life, including schools of baitfish, wobbegong sharks, and even the occasional leopard shark. This dive site is best for intermediate divers due to its potential currents and lower visibility. Jarryd loved this dive also. He saw a lot of wobbegong sharks.
They also head out to North Stradbroke Island if you are interested. Check Gold Coast Dive Adventures website for pricing.
From colourful coral gardens to majestic sea creatures, the underwater world of the Gold Coast is sure to amaze you.
Always remember to respect marine life (please no touching), follow safety guidelines, and dive within your certification level to ensure a safe and enjoyable experience.
10) Go Hiking in Lamington National Park
Lamington National Park, part of the Gondwana Rainforests of Australia World Heritage Area, is a stunning natural region located in the Gold Coast's hinterland.
The park is renowned for its lush rainforests, ancient trees, spectacular waterfalls, and diverse wildlife.
The best time to hike in Lamington National Park is during the cooler months, from April to October
During this time, the temperatures are more comfortable for hiking, and there's generally less rainfall in the national parks compared to the summer months.
If you are hiking in the summer months, just be prepared with extra water and sun protections.
We stayed out in the Binna Burra area of the Lamington National Park at the Binna Burra Lodge. From the Binna Burra Lodge you can do a few of walks from the accommodation.
These hikes below started from or just nearby the Binna Burra Lodge reception building:
Check out our full guide to the best Lamington National Park walks!
Binna Burra Rainforest Circuit: This hike is a relatively easy loop that is about 1.2 km and takes around 30 minutes to complete. The trail introduces hikers to the rainforest's unique ecosystem, including strangler figs, epiphytic ferns, and bird species like the noisy pitta and green catbird. We really enjoyed this hike, taking lots of photos of the rainforest.
Tullawallal Circuit: This 5km trail is the most accessible trail leading to the Antarctic beech cool temperate rainforest, and requires roughly two hours to complete. It's a reasonably easy hike and offers a gentle retreat, even on hot summer days.
Caves Circuit: This 5km circuit offers breathtaking views of Coomera Valley and takes about 1.5 hours to complete. With the open forest and diverse plant communities, it was a great hike to see the area.
When planning a hike in Lamington National Park, do be prepared. Take plenty of water, a map of the walking tracks (there are great apps too) and wear sturdy footwear. It's also a good idea to let someone know your planned route and expected return time.
The park is a natural environment with risks, so it's crucial to stay on the marked tracks and follow all signage for a safe and enjoyable visit. Happy hiking.
11) Take a Hot Air Balloon Ride over the Gold Coast Hinterlands
Hot air ballooning over the Gold Coast Hinterland is an unforgettable way to experience.
On our last day, we went up with Hot Air Balloon Gold Coast and they were brilliant. We had such an amazing experience.
The ballooning experience begins before sunrise so you have to get up early. You meet in the town of Canungra and jump in the company's shuttle bus get to the launch site.
Even though it is an early start, it is all worth it when you are up in the air with those breathtaking views. We met Kelly, who picked us up in Canungra but they also do pickup from the downtown Gold Coast area.
We drove out and met our pilot, Stu, and the ground crew helper, Wayne. As the light started appearing we could see the giant balloon start to be inflated.
Once airborne, we floated silently above the countryside, guided by the winds and the skill of our pilot. It was so peaceful, such a surreal experience, and the views are simply incredible.
The Hinterland provides a beautiful, serene backdrop for ballooning, with its rolling hills, lush vineyards, and patches of rainforest.
From the air, you'll have a unique perspective of the Hinterland's enchanting landscape, plus breathtaking views stretching out to the Pacific Ocean and the Gold Coast skyline.
READ MORE: See what we recommend as our favourite day trips from Brisbane!
On clear days, it's possible to see all the way to Brisbane in the north and Byron Bay in the south.
The precise flight path varies each day, depending on the wind conditions, but regardless of the direction you take, you're sure to see some amazing sights.
The farmers in the area have contracts with the hot air balloon companies where they can land on certain properties.
The local farmers get a landing payment to say thank you. The pilots can control the take off but where they land will all depend on the winds and conditions so it is always great to have multiple spots.
Hot air ballooning is a gentle, relaxing activity, suitable for all ages. There's no sensation of motion or height, just the thrill of seeing the world from a whole new perspective.
Don't miss this on your Gold Coast trip. It's a must-do experience that provides a wonderful contrast to the hustle and bustle of the city and the beaches.
It does have a high price tag on it but it is so worth it. You can book you Hot Air Ballooning experience here.
12) Climb the Q1 Skypoint Observation Deck
For panoramic views of the Gold Coast, head to the Skypoint Observation Deck at the Q1 Building. It's the tallest building in Australia and one of the tallest residential towers in the world.
The Q1 Skypoint Observation Deck is a must-visit attraction on the Gold Coast if you want to get a view of the whole area.
Located in the Q1 building, one of the tallest residential towers in the world, the observation deck offers stunning 360-degree panoramic views over the Gold Coast, the Pacific Ocean, and the hinterland.
There's plenty to do on the observation deck beyond just enjoying the views. Informative displays provide insights into the region's landmarks and attractions.
You can enjoy a meal or snack at the Seventy7 Café and Bar, which serves a range of food and drinks throughout the day, or try the SkyPoint Bistro + Bar for a dining experience with a view.
For thrill-seekers, the Skypoint Climb offers an adrenaline-pumping adventure. This additional experience involves a guided climb up the exterior of the building to the very top, 270 meters above the ground.
The climb is safe and fully supervised, with all safety equipment provided, but it does come with an extra cost.
The best time to visit the Skypoint Observation Deck depends on what you want to see. During the day, you can admire the sparkling ocean and the city's expanse.
Sunset visits provide a truly magical experience, with the changing light creating stunning hues across the skyline and ocean.
Night visits offer a different perspective again, with the city lights creating a glittering spectacle. We would recommend getting there before sunset and you can see all three times.
Remember that the weather can greatly affect the views from the observation deck. On clear days, you can see for miles, while cloudy or rainy weather might obscure the views.
Personally, we wouldn't bother with this activity if the weather isn't great.
It's worth checking the weather forecast before you plan your visit to make the most of this incredible Gold Coast attraction.
13) Tour the Gold Coast's Waterways and Canals on your own boat
Why not hire your own boat to explore the Gold Coast? Duffy Down Under Boat Hire is an excellent option for those looking for a unique and leisurely way to explore the Gold Coast waterways.
You can hire a self-skippered boat from Duffy Down Under Boat Hire for 1 to 5 hours, which seats up to 10 people. The cool thing is no boat licence is needed.
These amazing boats are electric. They are easy to operate, environmentally-friendly, and a perfect way to enjoy a day of Gold Coast sightseeing with family or friends.
Jarryd and I took one of the boats out and explored the Gold Coast canals and waterways around the Nerang River. We picked up some cheese and crackers and headed out along the Gold Coast canals.
It was so calm and peaceful floating among the canals checking out the large mansions and watching the world unfold from the water.
Nitsa went through all the rules of the waterways and a route we could do. It was so great to have some direction.
Boat hire includes a full orientation and training, ensuring even beginners can confidently navigate the Gold Coast's beautiful waterways.
The boats are also equipped with amenities like a full canopy top, full window enclosures, and a built-in cooler. Some boats even have a Bluetooth sound system, so you can enjoy your favourite music while cruising.
Remember, while on the water, it's important to follow all boating regulations for a safe and enjoyable trip. And don't forget your camera – the scenic Gold Coast waterways offer plenty of fantastic photo opportunities.
14) Go for More Hikes in Springbrook National Park
An easy hour drive from the main city, Springbrook National Park makes for a great day trip from the Gold Coast. Take your time winding through the beautiful countryside to enjoy some of the natural sights.
One of the biggest draws here is the Natural Bridge and the glow worm cave! The perfect easy hike for beginners or little legs, the Natural Bridge circuit is only about 1km but does have some stairs involved.
Here are some short hikes and free things you can do while exploring the Springbrook National Park"
Natural Bridge Circuit: An easy and highly recommended 1km circuit that leads to the famous Natural Bridge, a unique rock formation where a waterfall has created a natural arch over Cave Creek. It takes about 1 hour (at leisure pace) and is suitable for all fitness levels. When you are at the beginning of the walk, make sure you look down the drop first and see the top of the waterfall. Then you can continue down to the base.
Twin Falls Circuit: This 4km circuit is one of the park's most famous walks, leading you to the beautiful Twin Falls. It usually takes around 2 hours to complete and requires a medium level of fitness due to some steep sections and stairs. We really enjoyed this hike.
Purling Brook Falls Circuit and Warringa Pool: This circuit is 4km, but with a 2km side track to Warringa Pool, it becomes a 6km walk. This track offers impressive views of Purling Brook Falls and the opportunity to swim in the Warringa Pool.
If you don't have your own car, you can book a tour here and explore the Springbrook National Park.
Check out our article for more Springbrook National Park walks and what to do in the Gold Coast to escape the city.
15) Head out on a Jet Boat for some Adrenaline
Jet boating is one of the thrilling experiences that makes our list of the top things to do on the Gold Coast.
Harnessing the power of high-speed boats, these rides offer an adrenaline-pumping way to take in the sights of the Gold Coast Broadwater, the main waterway connected to the Pacific Ocean.
These boats are known for their speed and manoeuvrability, capable of incredible, heart-stopping spins, power slides, and other tricks.
The captains are highly trained and skilled at performing these stunts while maintaining the safety of passengers. They will take you out on a 55-minute heart pumping ride that you will not forget.
During the jet boat ride, you're likely to take in the sights of the Broadwater's sandbanks, mangroves, and marine life, including dolphins, wallabies, and a variety of bird species.
Prepare to get quite wet, so it's advisable to wear comfortable, quick-drying clothing and to leave any valuables or items that shouldn't get wet in a safe place.
It's also recommended to hold on tightly during the ride, as the boats can move quite fast and execute sudden manoeuvres. The driver will warn you with hand gestures so keep an eye out.
16) Whale Watching Tours on the Gold Coast
Whale watching is a popular Gold Coast activity, thanks to its prime location on the annual migration route of humpback whales.
The whale watching season on the Gold Coast typically runs from early June to early November.
The peak of the season usually falls around July and August when the whales migrate north to the warmer waters to breed and give birth, and again around September and October as they journey back south with their new calves.
There are heaps of tour operators that offer whale watching cruises from the Gold Coast.
These guided tours typically last 2-3 hours and provide an exciting opportunity to see these magnificent marine mammals up close in their natural environment.
Crew members provide fun and informative commentary about the whales and their migration habits, enhancing the overall experience.
It's not uncommon to see whales breaching, tail slapping, and even "mugging" (when whales approach the boat closely) during these trips.
Many tour operators also guarantee sightings, meaning if you don't spot any whales, you can often go again for free.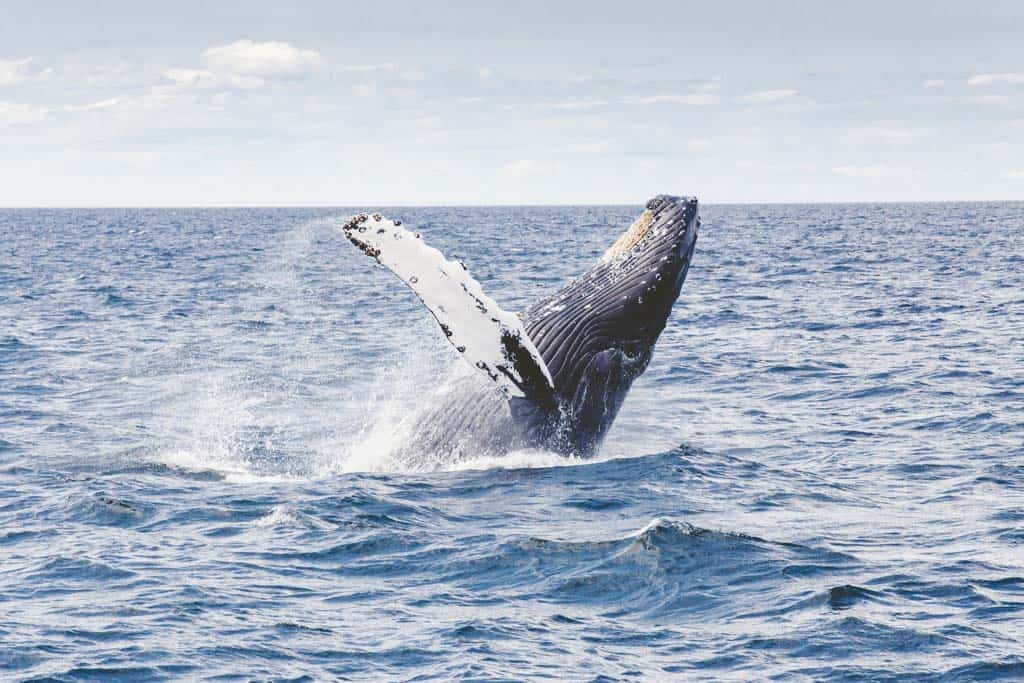 17) Head out to the Weekend Farmers Markets
Depending where you are staying in the Gold Coast, there may be a weekend farmers market near you.
Whether it's homemade crafts and gifts or beautiful fresh produce from the surrounding Gold Coast Hinterland, there will be something for everyone.
The Gold Coast is home to several bustling farmers' markets where locals and visitors alike can enjoy a wide range of local produce, gourmet foods, and artisan goods. Here are a few of the most popular ones:
Burleigh Heads Farmers Markets: Located at Burleigh Heads State School, these markets are open every Saturday from 7 am to 12 noon. Stalls here sell a range of items including fresh fruits and vegetables, organic produce, locally sourced honey, homemade jams, baked goods, gourmet foods, and even craft items and plants.
Palm Beach Currumbin Farmers Markets: Held every Saturday from 6 am to 11:30 am at Palm Beach Currumbin State High School, you can find a variety of organic and farm-direct produce, artisan bread, gourmet treats, fresh flowers, homewares, and much more.
Marina Mirage Farmers Market: Operating every Saturday from 7 am to 12 noon, this farmers market at Marina Mirage offers a range of organic and farm-fresh produce, gourmet foods, freshly baked bread, artisanal products, and fresh flowers.
Helensvale Farmers Market: This market operates every Saturday from 6 am to 11:30 am at Helensvale State High School, offering a wide variety of locally sourced produce, delicious baked goods, fresh seafood, international foods, and health and wellness products.
Miami Organic Farmers Markets: These markets operate every Sunday from 6 am to 11:30 am at Miami State High School. You can expect to find a range of organic fruits and vegetables, locally made jams and honey, homemade skincare, sustainable and eco-friendly products, and much more.
Bundall Farmers' Market: Held every Sunday from 6 am to 11:30 am at the HOTA (Home of the Arts), this market offers a variety of fresh produce, gourmet foods, fresh flowers, and even live music.
All these markets are a great way to support local farmers and artisans, and a great opportunity to enjoy the Gold Coast's vibrant community spirit.
Please note that timings and offerings may have changed, it's always a good idea to check their official websites or social media pages for the most current information.
READ MORE: Driving around Australia? Check out our epic Sydney to Brisbane road trip itinerary!
18) Head Out on a Mount Tamborine Wine Tasting Tour
If you're starting to get a bit tired after all the activity why not try something a bit more relaxing like a guided wine tour.
If you don't fancy a guided tour, Witches Falls winery offers a bit more of a casual option where a member of staff will guide you through a tasting and you can create your own cheese platter to accompany.
This is a fantastic opportunity to relax and unwind after a morning of exploring the surrounding hinterlands. Definitely one of the top things to do on the Gold Coast if you love a cheeky drink.
19) Go On a Sunset Cruise
For stunning views of the Gold Coast from a new perspective, a boat cruise is the perfect activity, especially in the late afternoon as the sky turns vibrant shades of pinks and oranges.
There are a number of tour companies who operate sunset cruises on the calm Broadwaters and surrounds.
The tours only accept small groups so they are very intimate and relaxing, making the perfect romantic evening for a couple.
Most of the trips include sparkling wine and appetisers with the option to add a seafood dinner at an extra cost.
Make sure to check out the luxury super yachts as you cruise past the Southport Yacht Club.
Then keep an eye out for pelicans and if you're really lucky you may even get to spot dolphins pop up alongside the boat.
Where to Eat in the Gold Coast
Now that you have a solid list of the top things to do on the Gold Coast, it's time to figure out where to eat.
And after surfing in Surfers Paradise or whale watching or having a blast at a theme park, you're sure to be hungry.
There's a whole range of awesome places to eat and drink on the Gold Coast, from award-winning restaurants to chill, super cheap cafes.
The Gold Coast's cafe scene is huge and wherever you go, you'll find cafes offering delicious food and coffee amongst super trendy décor.
Here's our recommendations of the best places to eat on the Gold Coast.
Dune Cafe, Currumbin Lagoon
Located in scenic Palm Beach, Dune Cafe offers stunning views of the nearby lagoon and beach. It's a perfect spot for a post-beach or post-Currumbin Wildlife Sanctuary visit for a meal or coffee.
With a relaxed and pet-friendly atmosphere and outdoor seating, it's a hit among locals and tourists alike.
The cafe serves tasty breakfast items like avocado on sourdough or pancakes and a variety of lunch options, including salads, burgers, wraps, and sandwiches.
There's also a handy grab-and-go menu and quality coffee.
Moreover, the kid-friendly venue features a playground next to the cafe, providing a relaxing dining experience for parents.
Address: 945 Gold Coast Hwy, Palm Beach
Yard Café, Nobby Beach/Mermaid Beach
This is a real favourite cafe on the Gold Coast! We love the breakfast, the coffee is great quality and the atmosphere is relaxed.
It's one of our favourite spots to take the laptops and get some work done when we're in town.
Address: 17 Lavarack Rd, Mermaid Beach
Burleigh Pavilion, Burleigh Heads
Overlooking the beachfront, Burleigh Pavilion offers an ideal location for a relaxed meal or drink in Burleigh Heads.
The venue, featuring a casual, beach-friendly ambiance, provides a menu with a variety of shareable plates, including seafood, pizza, and salads, complemented by a vast choice of beverages.
Its open-air bar, The Terrace, is a notable highlight, offering mesmerising views of the beach and surf, ideal for enjoying a sundowner.
Address: 3b/43 Goodwin Terrace, Burleigh Heads
The Tropic, Burleigh Heads
Next to Burleigh Pavilion, The Tropic offers a more upscale dining experience while retaining a relaxed beach atmosphere.
It provides expansive ocean views and a menu featuring fresh, local produce with a special focus on seafood.
The food is aesthetically pleasing and flavourful, ranging from seafood platters to succulent steaks and innovative vegetarian dishes.
The drink selection includes a well-chosen assortment of local and international wines and inventive cocktails.
This venue offers superb food and stunning views, making them a must-visit in the Gold Coast.
Address: 3b/43 Goodwin Terrace, Burleigh Heads
Elk Espresso, Broadbeach
Elk has been a popular spot for years. It's probably one of the Gold Coast's best cafes, so you may have to wait for a table on weekends.
Think uber-trendy industrial décor and concrete with a splash of mint green furnishings.
The seasonal menus are always bursting with delicious options and they have a great selection of coffees to try.
Breakfast panna cotta anyone?
Address: Oasis Shopping Centre, Shop G044/2 Charles Ave, Broadbeach
BSKT, Nobby Beach
Another super trendy spot in Nobby Beach, BSKT caters to the health conscious customer.
They offer a huge selection of delicious healthy meals and breakfasts, with a favourite of ours being the pancakes.
Again, great coffee and they have a separate coffee counter, which opens extra early, so it's the perfect spot to grab a coffee on the go during your morning stroll along the beach.
Address: 4 Lavarack Rd, Mermaid Beach
Commune Cafe, Burleigh Heads
This is one of the best spots to get a coffee and a bite to eat on the Gold Coast Highway and it's a bit of an institution in the area.
Commune has a bright and funky interior and serves up some delicious cakes, snacks and meals with a healthy twist.
Address: 1844 Gold Coast Highway, Burleigh Heads
Surf Life Saving Clubs
The best way to find some budget friendly food is to check out one of the Gold Coast's many surf clubs. They offer great pub style meals at affordable prices.
There are so many you can guarantee, wherever you choose to stay, there will be one close by.
The best thing about the surf clubs is they always have fantastic views, perched right on the shoreline.
They have great food, a laid back environment, are usually reasonably priced and boast awesome views. What more could you want?
Check out Currumbin Beach Viking Surf Life Saving Club. We loved the view there all the way to the Gold Coast skyline. Take a walk along the beach after.
Govindas, Burleigh Heads
This is an absolute favourite place to eat. Govindas is a vegetarian restaurant and takeaway run by Hare Krishna volunteers and the food is delicious and fresh.
They always have a great range of options and a very good sized meal will only set you back between $10 and $15.
As soon as you see the place, you'll realise just how popular it is as there always seems to be full tables and a queue to be served.
Don't be put off though, it's well worth the wait!
Address: Shop 1/20 James St, Burleigh Heads
Miami Marketta, Miami
Miami Marketta is a must on any visit to the Gold Coast.
It's a trendy, street food style event held every weekend and it's very popular with the locals.
Tucked away a couple of streets back from the main highway, it's unusual to see too many tourists here and it really is a hidden gem.
They showcase delicious international dishes from local businesses and have a great bar serving cocktails and a great range of beers.
There's live music from local artists and it starts early between 4pm and 5pm, making it family friendly as well.
Address: 23 Hillcrest Parade, Miami
The Collective, Palm Beach
The Collective Palm Beach is a unique Gold Coast dining venue, hosting five different kitchens under one roof, blending the diversity of a food hall with the ambiance of a high-end restaurant.
With a wide-ranging food and drinks menu featuring craft beers, wines, and cocktails, it's loved by locals and tourists alike.
The trendy venue showcases a modern industrial design with multiple dining spaces, including a rooftop bar with panoramic views.
It's an ideal choice for any occasion, offering the flexibility to order from any kitchen.
There are five kitchens represent a diverse range of global cuisines:
American Italian: Offers wood-fired pizzas, pasta dishes, and hearty mains like ribs and steak.
Mexican: Offers a variety of tacos, nachos, and quesadillas. It also has a selection of vegan and vegetarian options.
Asian: From Chinese dumplings to Japanese tempura, this kitchen offers a fusion of Asian flavours. Look for options like bao buns, stir-fried noodles, and different types of sushi.
Modern Australian: This kitchen showcases a range of contemporary Australian dishes. Expect fresh seafood, local meats, and a variety of vegetarian and gluten-free options.
Desserts: No meal is complete without dessert. The Collective Palm Beach offers a mouthwatering selection of sweet treats, from classic pavlova to decadent chocolate brownies.
We loved the Japanese food when we visited!
Address: 1128 Gold Coast Hwy, Palm Beach QLD 4221
Rainforest Restaurant and Bar at Cedar Creek Lodge
Nestled in Mount Tamborine, the Rainforest Restaurant and Bar at Cedar Creek Lodges provides a unique, tranquil dining experience in the midst of a rainforest setting overlooking the Scenic Rim.
The carefully crafted menu caters to various dietary preferences, featuring seasonal ingredients that harmonise with the time of year.
There is a dish for everyone. Whether you are pescatarian or vegetarian, there are so many options. From fresh seafood to duck to steaks, and a variety of vegetarian dishes.
We had the calamari and it was the best we have ever had.
The standout wine list boasts local and international options. Noteworthy desserts like the chocolate torte and crème brûlée offer a delightful end to the meal.
The restaurant transforms into an enchanting space at night with stunning lighting. It also features both indoor and outdoor dining and an adjoining Lounge Bar with a wide range of drinks. Reservation is recommended.
Where to Stay on the Gold Coast
There really is no shortage of great Gold Coast accommodation, ranging from 5-star resorts to budget-friendly hostels, boutique motels and even tiny homes and glamping!
Here are some great spots to stay to experience all the best things to do in the Gold Coast.
Mysa Motel – Palm Beach
If you're staying in the southern part of the Golf Coast definitely check out Mysa Motel.
A refurbished motel from the 50s, the Mysa Motel now is a really trendy boutique stay with a fantastic pool and comfortable rooms.
It's the little touches that we like – free mini bar included with gourmet items, filtered water straight from the bathroom tap and a very comfy bed!
Meriton Suites Surfers Paradise
Over the past few months we've actually been staying at a few different Meriton Suites in Australia (not sponsored), and have found them to be centrally-located, clean, modern and with great amenities all at a reasonable price.
The Meriton Suites Surfers Paradise is no exception.
Located right in the heart of Surfers, near lots of restaurants, activities such as mini golf and quick access to the Gold Coast seaway, these self-contained apartments have everything you'd ever need.
It's also one of the tallest buildings in Queensland so there's no missing it.
Tiny Wild Houses at Binna Burra Lodge
If you're heading up into the Gold Coast Hinterland, definitely book a stay at one of the brand new Tiny Wild Houses at Binna Burra Lodge.
Located right on the edge of the Scenic Rim with fantastic views out the massive window, this accommodation is an actual, legit tiny home, with lots of luxury touches.
It was our favourite place to stay during our Gold Coast adventure.
Glamping at Cedar Creek Lodge
Cedar Creek Lodge is a sprawling complex with a caravan park, cabins and lots of activities for the kids.
It's in a great location near Cedar Creek Falls, making it perfect for day hikes too.
What we loved about it though was the glamping tents you can stay in, and wow they are amazing!
Our glamping setup was a massive bell tent with two huge beds, work area, a TV and heaters.
It also had an outdoor bathroom that was fully enclosed so nobody else in the park can see you.
But the real highlight was the private, heated plunge pool right next to the barbecue area! Nothing better than sitting in the pool with a drink in hand admiring all the birds flying around the bush.
They also have board games to enjoy and a fire pit.
That's it for our full article on the best things to do on the Gold Coast! Did we miss anything? Have a favourite activity you think we should add?
Leave a comment below and let us know!
DISCLAIMER: Some of the links in this article are affiliate links, which means if you book accommodation, tours or buy a product, we will receive a small commission at no extra cost to you. These commissions help us keep creating more free travel content to help people plan their holidays and adventures. We only recommend the best accommodations, tours and products that ourselves or our fantastic editorial team have personally experienced, and regularly review these. Thanks for your support, kind friend!