From wine tasting to watching surfing legends shred some waves, to seeing lots of natural beauty, here are the best things to do in Margaret River!
Better known to locals as "Margs," Margaret River is one of the most popular outdoor destinations to visit in Australia.
Known for its award-winning wineries, beautiful beaches and stunning natural wonders, a trip to WA isn't complete without a visit to Margaret River.
The best time to visit Margaret River is during the Australian summer when it's lovely and sunny (from December to February) but this is also the busiest time to visit.
If peak season tourist numbers don't appeal to you, the shoulder season on either side of these months is still a great time to visit.
Regardless of when you'd like to visit, you'll need this awesome list of top activities in Margaret River Australia when you're there so you know what to do!
The 25 Best Things to Do in Margaret River
The weather in the Margaret River region is what allows it to be one of the top wine producers in the country and around the world.
When people think of Margaret River, they think of wine. In less than fifty years, the Margaret River region has built an international reputation on first-class cabernet sauvignon and chardonnay. Visiting a vineyard or a cellar door is a top activity in the area.
In addition to wine, the Margaret River Chocolate Factory, dairy company, breweries, and restaurants all add to the culinary elegance of the area. And with forests, caves, beaches, national parks, and spots like Hamelin Bay and Bramley National Park, there is plenty of fun to be had in addition to eating and drinking.
Located three hour's drive from Perth, the Margaret River region is a heavenly slice of paradise for locals and international visitors wanting to sit back, relax and enjoy the gorgeous natural beauty and culture of Western Australia.
Here is our list of the best things to do in Margaret River.
READ MORE: Start your travel in West Aus with these fun things to do in Perth!
1) DIY Wine Tasting Tour
Given that this is what it's known for, one of the must-do activities in the Margaret River region and in the southwest is, of course, wine tasting.
The Margaret River region offers some of Western Australia's best wineries, so wine lovers have to indulge in plenty of tastings.
If you aren't keen to go on an organised tasting tour and have a designated driver willing to stay responsible, you could put together your own tour.
With a seemingly endless list of award-winning wineries to choose from, the best thing is to mix up your list with some of the bigger and known wineries with smaller hidden gems.
You should certainly try to visit Voyager, Leeuwin and/or Vasse Felix Estates.
Visit a world class cellar door, taste some unique wines, and have an awesome time in the Margaret River wine region.
2) Visit Wineries on Eco-Friendly Electric Bikes
Alternatively, rather than driving, you could hop on some specialised Turbo Levo bikes which have an electric motor that gives you a bit of a boost as you pedal.
The bikes allow for easy exploring of the wineries in a fun and natural environment as you roll through nature and enjoy all the great produce the Margaret River region has to offer.
Easy Ride Tours offers a winery cellar door and brewery guided tour which includes a tasting and lunch.
Price: $195 AUD for a group size of 2 – 4.
READ MORE: Consider visiting the Margaret River region as part of a road trip between Perth and Esperance.
3) Try Some Craft Beers
There are some great Margaret River breweries in the region which offer a family-fun environment and great food options.
A few of the very popular breweries in town are Cheeky Monkey, Cowaramup Brewing Company and Brewhouse Margaret River.
Some of them have live music as well, so ask around about upcoming events when you visit Margaret River.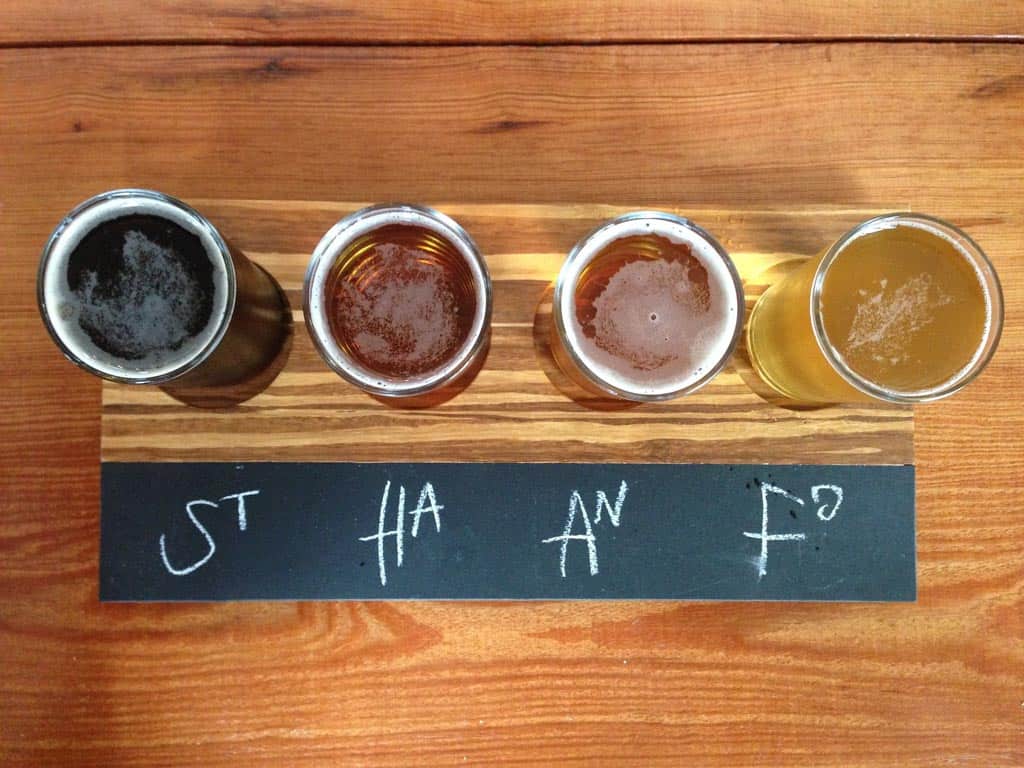 4) Catch the Margaret River Pro in Western Australia
Whether you're an avid fan of surfing or not, if you're in town during the Margaret River Pro, you can't miss the event.
The Pro forms part of the World Surf League World Championship Tour (WCT) where the top-ranked male and female surfers compete over a 12-day period.
The Margaret River Pro is one of eleven WCT events globally thanks to its incredible surf conditions.
The event is free for spectators and draws in massive crowds along the beach as it's one of the top Margaret River WA attractions.
The Pro is typically held around March or April. Check out the World Surf League website for dates of the next upcoming Margaret River Pro.
5) Explore Beneath the Earth at Lake Cave
Lake Cave is an incredible crystal chamber of underground caves accessed from the floor of a sunken forest surrounded by karri trees. It's one of the coolest day trips near Margaret River.
A lake inside the cave mirrors the delicate crystal formations that grow from the cave roof. It's one of the natural wonders of the area that you simply can't miss.
Lake Cave is the most 'actively dripping' cave in the southwest and is also the deepest of the show caves on the Leeuwin-Naturaliste Ridge.
Above ground, you can enjoy the stunning scenic views from the Lake Cave Deck, a spectacular viewing platform suspended in the treetops over the sunken entry to the cave.
You must take a fully guided tour through the underground caves and adventure tours depart every 40 minutes starting from 9:20 am with the last tour operating at 4:00pm.
Mammoth Cave is also nearby, and Jewel Cave is the largest show cave in the state with three massive chambers full of crystals.
Jewel Cave is 25 minutes away from Lake Cave and Mammoth Cave, with Caves Road being the connecting route between them all. Definitely check them out when visiting Margaret River!
6) Cruise Along the Blackwood River in a Houseboat
Embrace the perfect getaway by taking an entire weekend aboard a houseboat and enjoying the tranquillity of nature along the Blackwood River.
The houseboat is easy to drive and you don't need a skipper's licence, just a current regular driver's licence.
With no distractions or disruptions, this is one of the best outdoor activities to do in Margaret River to get away from the hustle and bustle.
You can enjoy the sound of the water, different bird calls and the wind blowing in the tall trees along the banks of the river.
There are a few different houseboats to choose from but all are equipped with beds, bedding, bathroom and lounge area.
The lower Blackwood River is popular for water skiing, wakeboarding, fishing, kayaking, wildflowers and wildlife so bring your equipment on board to make the most of your time.
7) Take a Surfing Lesson
You are, after all, visiting one of the stops on the World Championship Tour. Just outside of town you'll find amazing waves to suit any level and you'll definitely find a beach perfect for beginners too.
You can take group or private lessons and enjoy an awesome morning out on the water!
Even if you don't need a lesson but you want to surf, the top beaches for surfing and relaxing in the area include Prevelly beach, Gnarabup Beach, and Meelup Beach.
Meelup Beach doesn't get many big waves, but it's one of the most beautiful Margaret River beaches.
READ MORE: Read this post for everything you need to know about travelling in Australia.
8) Try Riding an Electric Quad Bike
You've probably never heard of an eco-friendly electric quad bike but right here in Margaret River you'll find one!
The unique EcoBikes are smooth, quiet, comfortable and have been specifically designed to float over the trails in the National Park.
With wide, load spreading, low inflation tyres, the EcoBikes are a great alternative for exploring the sensitive natural environment in an ethical and fun way.
Just to add a little more jazz to your nature tour, each bike also comes equipped with an iPad mini which brings to life all the facts and legends contained in the presentations at each destination.
This is definitely a unique way to take a scenic drive around Margaret River!
Cost: $110 AUD for a driver, $175 AUD for a driver and passenger
9) Go on a Coasteering Adventure
What happens when you blend rock-hopping, beach-scrambling, swell-riding and even rock jumping? Coasteering apparently.
This epic aquatic adventure is perfect for adrenaline junkies and anyone game to try something new and fun in Margaret River.
You'll discover wildlife and beautiful scenery from a different perspective as you scale along the coast in your wetsuit, lifejacket and helmet.
Being the only coasteering company in Australia, Margaret River Adventure makes sure that you'll get to explore the Indian Ocean up close and in a unique, fun and safe way.
The adventure starts in Ngari Marine Park and from there, you'll scramble and jump your way around the rocks across the natural canal. Depending on the season, you may even see wildlife like whales and sea lions!
READ MORE: Don't miss our brand new guide to all the epic things to do in Busselton!
10) Wine and Row
There is, in fact, a river in Margaret River and you can go on kayaking and winery tours which take you on a kayaking adventure in the morning before spending the afternoon enjoying fine wine.
With a flexible schedule that can be tailored to suit your preferences, your guide will discuss the range of winery, scenic and gourmet food options available to find the best tour for you.
As you row down the river and experience the natural beauty of Margaret River, you'll have the chance to spot local wildlife in the water while also enjoying the different bird species in the area.
The clear, pristine water also offers a wild swimming experience like no other!
11) Canoe + Winery Tour Instead
Alternatively, if kayaking isn't your thing, you could combine some Margaret River sightseeing with wine tasting by going on a canoe and winery tour.
Enjoy the tranquillity of the river on a canoe before exploring the Margaret River region's waterfalls and other off-road locations only found with a local's knowledge.
You'll then enjoy some wine tasting, a gourmet lunch and finish the day on the Cape to Cape Track viewing the spectacular Wilyabrup cliffs.
This is a great way to combine the natural environment with wine tasting in Margaret River!
12) Have Some Group Fun on a SUP
If the ocean isn't too rough, you can book a stand-up paddleboard and enjoy a fun activity in Margaret River on the water.
Many surf places hire out SUPs and some places also offer SUP lessons if you'd like to improve your paddling skills.
SUP is one of the hidden gems of the area, as most people tend to stick with surfing or kayaking in Margaret River. But it's so worth it!
13) Get Your Cheese Fix at Margaret River Dairy Company
In 1966, a group of Italian artisan cheesemakers began selling their farmhouse and ricotta cheeses in a small store in Perth. This was the birthplace of the Margaret River Dairy Company.
In 1990, the group moved to the South West to be close to the rich soils and rolling green pastures beloved by dairy cattle.
Since then, the family owned company has grown to be one of the region's most iconic brands known for its delicious gourmet cheeses.
Take a short scenic drive and drop in to sample products and buy some to enjoy with wine from a Margaret River vineyard.
Cost: FREE
Opening hours: Daily 9:30 am – 5:00 pm
Address: 8063 Bussell Hwy, Metricup WA 6280
14) Try Some Handmade Chocolate at Margaret River Chocolate Company
Located a short drive out of town, stop by the Margaret River Chocolate Company original factory that was opened in 1999.
Also called the Margaret River Chocolate Factory, this remains one of the best things to see in Western Australia with a delectable range of chocolate products with free entry and free tastings.
The factory even has viewing windows to see the products being made. It's a great place to buy a delicious sweet treat to take home with you!
Cost: FREE
Opening hours: Daily 9 am – 5 pm
Address: 415 Harman's Mill Rd, Metricup 6280
15) Learn How to Kitesurf
Despite the Margaret River region being known for its epic surfing, there are flat water locations in the region which allow for complete newbies to kitesurfing to learn.
Book a discovery or beginner program which includes all your gear and safety equipment and spend 2 hours learning what you need to get started.
For those more experienced, Margaret River offers some great locations to progress or challenge yourself further so bring your gear along and get kiting!
16) Satisfy Your Sweet Tooth with Ice Cream
Pay a visit to Millers Ice Cream Farm Cafe, only a 10-minute drive from Margaret River town centre, and treat yourself to some of the creamiest ice creams of your life.
The ice creamery is located on a farm site with an adventure playground perfect for children and even a bushwalking trail to enjoy.
The ice cream is handmade in Margaret River and in the past, was made from milk that came from the Millers' own cows.
Now, the Millers have stopped milking and just focus on ice cream. With loads of ice cream flavours to enjoy (including dairy-free), this is just the perfect sweet treat for the family.
Those on a foodie adventure through Margaret River should definitely add this place to their bucket list.
Address: 314 Wirring Road, Cowaramup
Opening Hours: Daily 10:00 am – 4:30 pm
17 ) Walk Through Boranup Karri Forest
A bushwalk through Boranup Karri Forest will take you into a stunning and quiet area surrounded with towering Karri trees (some over 60 metres high) and make you feel like you're in a jungle elsewhere in the world.
The Boranup Forest is also home to shady peppermint trees, wildflowers, orchids and fungi as well as some iconic Australian wildlife like the kookaburra! It's a gem of the Margaret River area.
Be sure to bring your camera, some water and your walking shoes as you enjoy the natural wonders and the serenity of Mother Nature.
Another option for exploring nature is Bramley National Park.
Bramley National Park is a stunning area just north of Margaret River township which has been renamed to Wooditjup National Park in recognition of the Aboriginal heritage of the area. There are lovely walking trails and mountain biking trails here where you can spot local flora and fauna.
18) Learn About Biodynamic Wine Making at Cullen
Visit Cullen Wines' Biodynamic Wine Room for a range of experiences including seated tastings, dining and a self-guided biodynamic garden tour.
Cullen Wines is known for its biodynamic viticulture, a philosophy combining the 'maintenance of sustainable soil fertility and the recognition of the link between plant growth and the rhythms of the cosmos.'
Cullen Wines says that biodynamics means 'healthy, tasty, nutrient-dense, food grown with natural products and using the planets to grow alive wine and food for you!'
Healthy, sustainable, guilt-free wine and fresh food made with local produce? Yes, please. Tours are offered daily but it is recommended that you book reservations in advance.
Those interested in sustainable travel should check this place out, as it's one of Margaret River's hidden gems.
19) Get Lost in a Giant Maze
Amaze'n Margaret River is home to a 25-year-old, 3 metres high, giant hedge maze, 18 hole mini golf and many other mazes and outdoor puzzles.
Situated on 5 hectares of stunning landscaped gardens, this is a popular spot to spend the day with friends or as a family if you have any children.
There are shaded picnic areas, gas BBQs, table puzzles, a playground and a cafe that sells award-winning scones – everything you need for the perfect day out.
Address: 9978 Bussell Highway, Margaret River
20) Visit Margaret River Old Settlement
Transport yourself back to the days of Group Settlement farms by visiting the Old Settlement in Margaret River.
Established in 1977 by members of the local Rotary Club, the little village depicts the beginnings of the Augusta-Margaret River dairy industry in the 1920s.
Here you'll see what it was like to live in the state during settlement times, with full displays of living conditions together with old artifacts and machinery. The settlement is an interesting site for visitors of all ages!
Cost: FREE
Opening hours: Tue 10 am – 12:30 pm; Thurs 1:30 pm – 4:00 pm and Sat – Sun 10 am – 3 pm
Address: 69 Bussell Hwy, Margaret River Western Australia
Website: https://mrdhs.com.au
21) Whale Watching in Winter
From June to December, the Margaret River's waters are host to 35,000 whales migrating from the Antarctic each year.
If you're lucky, you can see whales without a whale watching tour. Head to the shore along the Cape to Cape track or from the top of a lighthouse and you might spot some whales breaching in the distance.
Alternatively, you can also go on a whale-watching cruise departing from Augusta, Dunsborough or Busselton throughout the season.
A whale watching tour is the best way to guarantee whale sightings, as you'll be with a knowledgable local guide.
This is one of Margaret River's best options for adventure tours.
22) Try Your Hand at Glassmaking
For a very unique experience in the Margaret River region, pick from any of the glassmaking workshops available at the Melting Pot Glass Studio.
You can choose from simply watching a glassmaking demonstration to a hands-on workshop where you can blow your own bauble, create your own glass or enjoy glassmaking tours from 1 hour to 6 hours long!
Cost: Glassmaking Demonstration workshop is $5 AUD. Hands-on experiences cost more.
23) Enjoy the Thrill of Mountain Biking
The Margaret River region is considered the mecca of mountain biking in Western Australia.
Riders of all abilities can find awesome scenic tracks suited to them. Beginners will enjoy Wadandi Track, a 30km off-road trail crossing historic bridges which once formed part of the railway line to Busselton. Intermediate riders can check out 10 Mile Brook or Boranup Forest.
There is also a plan rolling out with nearly 500km of new trails planned in the south-west so hopefully, by the time you visit, some of these mountain biking trails will be ready to go!
There are also lots of trails in Wooditjup National Park (formerly known as Bramley National Park).
24) Participate in the Cape to Cape MTB Race
First held in 2008 with only 100 participants, the race is now in its ninth year and holds the titles as Australasia's biggest MTB multi-stage endurance race with over 1300 competitors.
The event is held over 4 days as riders make their way from Cape Leeuwin through the forest, across beaches, past wineries and finishing at Cape Naturaliste Lighthouse.
The event is fun and friendly and riders often return year after year just to partake in the race in Western Australia.
25) Day Trip to Hamelin Bay
Only a half an hour drive from town, one of the best places to visit in the Margaret River region in Western Australia is Hamelin Bay.
Famous for its stingrays, Hamelin Bay has a stunning beach with white sand, turquoise waters filled and spectacular cliff walks.
Spend the day in Hamelin Bay swimming, snorkelling, fishing, diving and meeting the local stingrays!
When driving from Margaret River to Hamelin Bay, you'll pass through the Boranup Forest. Full of wildlife and serene nature, the Boranup Forest is a highlight of Western Australia.
Just 20 minutes south of Hamelin Bay is another amazing Margaret River attraction, the Cape Leeuwin Lighthouse. As Australia's tallest mainland lighthouse, the Cape Leeuwin Lighthouse is a fun stop for the whole family while driving around Western Australia.
Turn this day trip into a mini road trip through the Boranup Forest and to the lighthouse in addition to Hamelin Bay. It's a gorgeous corner of Western Australia that makes an easy excursion from Margaret River.
Margaret River Travel Guide
Now that you know what to do in the beautiful Margaret River region, we want to help you make your other plans as well by sharing the best accommodations and places to eat in the city.
Best Accommodation – Where to Stay in Margaret River Western Australia
Being the tourist hotspot that it is, the infamous Margaret River region doesn't offer too many affordable options when it comes to accommodation.
Most visitors on a budget will tend to steer towards caravan parks to set up a tent for a few nights.
If you don't have your own camping equipment or just don't like camping, you have a variety of options to choose from between chalets, apartment-style hotels, hotels, houses and resorts in Margaret River.
If you're on a campervan trip through the area and are self-sufficient, you can save money by learning about free camping in Western Australia to find a safe and wallet-friendly place to stay.
The Best Hostel in Margaret River
There aren't too many hostel options in Margaret River as most people tend to opt for Airbnbs. However, if you're a solo traveller, your best bet is to book the Margaret River YHA.
This YHA is conveniently located in the center of Margaret River and is only a few hundred metres from the bus stop and visitor centre. It's a modern hostel with 4, 6, 8 and 10-bed dorms all with air conditioning (a must in an Aussie summer).
If you're travelling as a group and need more affordable accommodation, the best thing to do is to book out a room at RAC Margaret River Nature Park with 5 bunk beds.
The caravan park is located in Bramley National Park providing a tranquil nature experience and only a 2-minute drive from the Margaret River town centre.
If you're looking for an awesome place to stay in Port Stephens, we personally love using Airbnb. If you've never used the platform before, sign up using this link to get USD$35 off your first booking.
Best Budget Accommodation for Couples – Admiral Stirling Inn
Situated in the heart of Margaret River, Admiral Stirling Inn offers couples the best budget and no-frills accommodation.
The Inn is close to everything and within walking distance of many sights in Margaret River so it's hard to beat this place when it comes to value for money balanced with access to everything you need.
The Inn has a rustic feel to it and is very clean and well kept. Facilities on site include a beautiful and tranquil garden, car park, family room, BBQ facilities and restaurant.
Wifi is available in public areas and only in some rooms so be sure to check this when booking.
So if you're planning a romantic getaway, consider staying here on your next trip to Margaret River.
Best Mid-Range Hotel in Margaret River – Margaret River Resort
For great value for money and simple accommodation, book Margaret River Resort for the perfect location in town.
The Margaret River Hotel, formerly known as Knights Inn, is another popular option, however it is temporarily closed. Check their website for updates!
Best Luxury Hotel in Margaret River – Losari Retreat
When it comes to luxury accommodation in Margaret River, you have two options: book out a big beautiful house or go to a resort.
Around town, you'll find that luxury homes are more popular and plentiful than resorts since Margaret River town is located inland and not on the coast.
Travellers in larger groups or families considering booking a luxury home needn't look any further than Margaret River Bungalows.
Well-placed in town near all the conveniences such as restaurants and supermarkets, the property offers easy access to the Margeret River region's must-visit destinations. The property also features free wifi, a large living room, a fireplace, equipped kitchen and BBQ facilities.
Those looking to spoil themselves will be in paradise at Losari Retreat. The name itself suggests what you would expect, a place to truly retreat and feel the tranquility of the region.
The facilities are well thought-out down to every detail as you find heated flooring in the bathroom, eco fire, coffee machine with pods and a fully appointed state of the art kitchen.
Opt to book the villa with a hot outdoor spa to enjoy a glass of wine while looking out into the wilderness.
The grounds of the retreat are picturesque showcasing the native Margaret River countryside making it ideal for relaxing walks in the day and star gazing at night.
If you're looking to treat yourself and get some much needed R&R in a luxurious location in Margaret River, this is the place to be.
Best Restaurants in Margaret River Western Australia
While you may think that the Margaret River township is only known for its wine, the food in the region is equally worthy to praised.
With plenty of options all around the region and in town, you won't be left short of options to check out as you dine your way through the area.
After visiting the Margaret River Chocolate Company, Dairy Company, and all the wineries, check out these restaurants.
Margaret River Western Australia can provide a real foodie adventure for those who want it!
Budget – Kingston Bakery Cafe
Kingston Bakery Cafe is a little family-run bakery with delicious baked goods and Vietnamese food. Here you'll find some yummy pies, pastries, cakes and Vietnamese banh mi (baguette roll) too.
This humble cafe is all about tasty food and popular among locals. It's one of the hidden gems of the area.
White Elephant Cafe is another great budget option to add to your foodie adventure in Margaret River.
Mid-range – Margaret River Brewhouse
Pop into Margaret River Brewhouse for a family-friendly and lively brewery that serves craft beers and well-executed simple food.
With plenty of outdoor seating, the brewery is an awesome place to spend a summer afternoon tasting its world-class beers, a full menu of great pub-style food and friendly service from the team.
High-End – Voyager Estate
If you're keen to treat yourself at least once in Margaret River, you must try the degustation menu made with local produce and ingredients on offer at Voyager Estate. Each of the courses in Voyager's 7-course signature experience is inspired by one of their wines.
The vineyard itself is stunning and picturesque and with an extensive wine list and impeccable food, a night at Voyager is worthy of a special occasion in Margaret River.
DISCLAIMER: Some of the links in this article are affiliate links, which means if you book accommodation, tours or buy a product, we will receive a small commission at no extra cost to you. These commissions help us keep creating more free travel content to help people plan their holidays and adventures. We only recommend the best accommodations, tours and products that ourselves or our fantastic editorial team have personally experienced, and regularly review these. Thanks for your support, kind friend!