You might be wondering 'Is Perth worth visiting?' Well after checking out this list of the best things to do in Perth you'll be sure to add it to your Australian bucket list in no time!
Ask anybody who truly knows Australia – West is best.
While most travellers to Australia flock to the east coast, home to world-famous cities like Sydney and Melbourne, the state of Western Australia oozes charm, nature, culture, adventure food and wine without the crowds!
Nature and urban life coexist in a symbiotic bond in Perth, the sunniest capital city in Australia and a wonderful place to visit year-round.
It's the kind of place that you fall in love with once you get there, and you'll be blown away with all the fun things you can do around in this part of the country.
The Best Things to Do in Perth
If you're interested in the local culture, wander through the city of Fremantle's winding streets and around Perth city centre's museum and gallery precinct.
If you grow tired with the bustle of Perth capital city you can visit Rottnest Island, take a day trip to Margaret River, walk among the foliage of the botanic garden in Kings Park or take a food and wine tour through Swan Valley vineyards.
Our list of the best things to do in Perth includes:
Visiting the epic beaches
Enjoying the views from Kings Park
Taking an afternoon Walk on the Lotterywest Federation Walkway
Checking out the Fremantle Markets
Getting a selfie with a Quokka on Rottnest Island
Taking a cruise on the Swan River
Visiting an island in the inner city Perth
Exploring the local wineries
And plenty, plenty more!
READ MORE: Don't visit Australia without reading our ultimate travel guide!
1) Visit Many of the Gorgeous Beaches
Definitely one of the best perks of living in Perth is its beaches.
Backed up to the Indian Ocean, Perth is home to crystal clear water and glistening white sand. And it's little wonder most people will spend at least one day chilling at the beach on a holiday here.
Being on the west coast, the sunsets are of course sensational, so make sure you come down in the afternoons to enjoy one of the best things to do in Perth.
But which Perth beaches should you check out?
Cottesloe Beach
Cottesloe Beach, or as the locals refer to it 'Cott', is one of Australia's most iconic beaches, and it's only 20 minutes away from Perth city by public transport!
It is wildly popular due to its laid-back surf culture and clear aqua waters, and nearby pubs and restaurants to grab a bite or beer.
It's honestly like one big natural water park!
Don't miss out on a Sunday Session at the Ocean Beach Hotel (OBH), for those that like a drink with new friends.
Mullaloo Beach
Mullaloo Beach is a favourite for people visit Perth with kids, whether it's during the school holidays or not.
The waves aren't too big, so it's safe even for swimming beginners.
The beach has a grassed area at the top with barbecues and sheltered benches for a picnic. There is a lot of space and a playground for kids to play.
Scarborough Beach
Scarborough (or 'Scabs' as it's known to us locals) is a perfect gem, and one of our personal favourite places to visit in Perth.
The reconstruction of the beach strip began in 2017 with a $100 million investment and was just recently reopened.
The new additions to the beach include a large play space for families, a beach pool and a skate bowl.
City Beach
It's a fantastic beach for surfers with constant strong waves year round.
There are plenty of open-air cafes and upscale seafood restaurants overlooking the Indian Ocean, perfect for an after-swim nibble
Exploring more of Western Australia? Don't miss this awesome list of the fun things to do in Broome!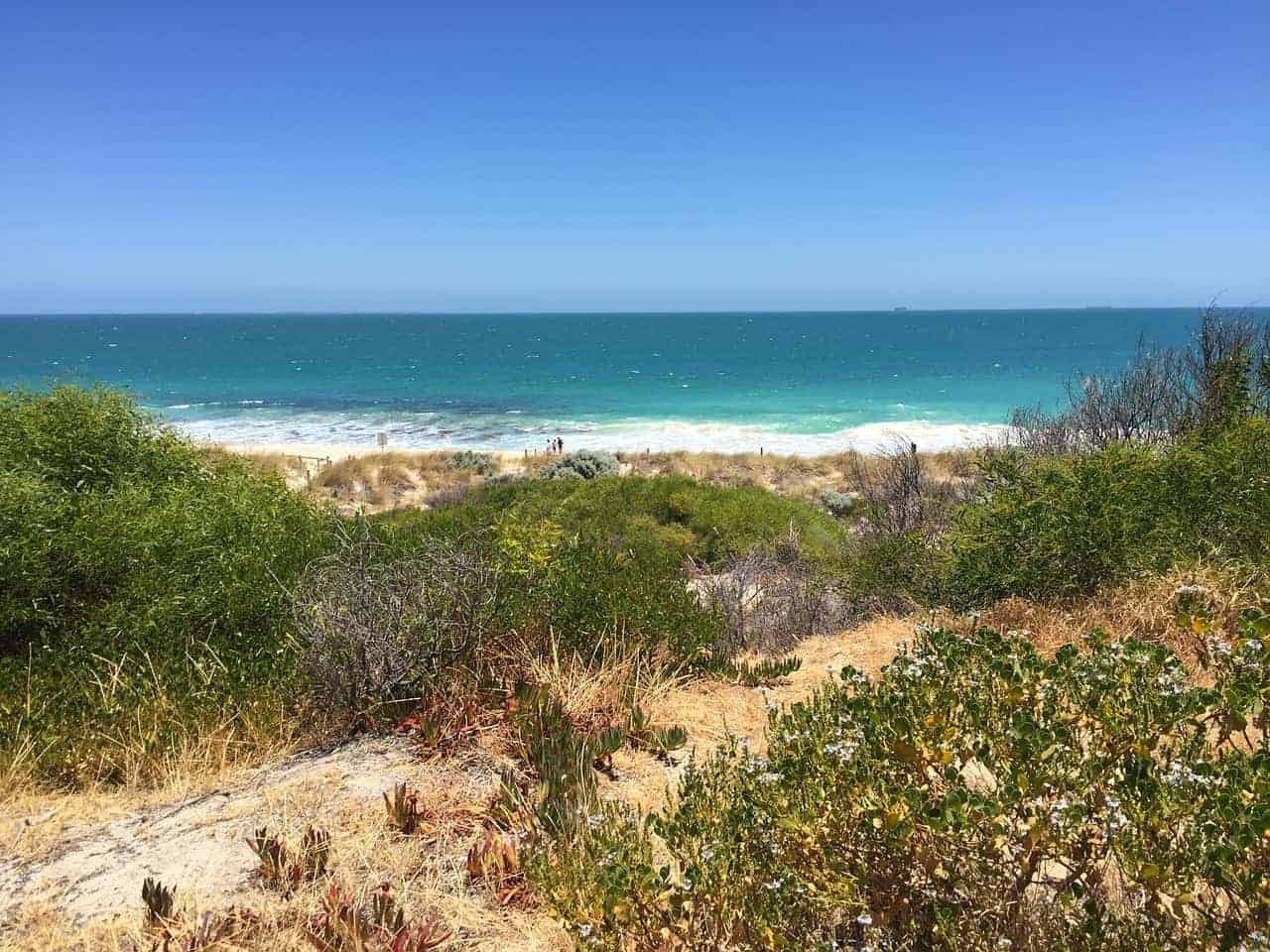 2) Enjoy the Views at Kings Park
Kings Park is not only one of the top tourist attractions in Perth – it's incredibly popular with locals too!
Boasting a mix of European and Aboriginal heritage throughout the gardens, it's well known in the fields of horticulture for its conservation efforts and scientific research.
The park is largely famous due to the fact that it houses the Western Australian Botanic Garden and has over 400 acres of protected bushland right next to the city with an epic vantage point.
One of the garden's highlights is definitely the DNA Tower. It was inspired by a staircase in a Chateau at Blois in France, that also happened to resemble the DNA molecule.
We recommend going on a Perth city tour, where you will get to enjoy not only Botanic garden but also scenic views during a coastal drive, a trip to the beach as well as an opportunity to have lunch at a winery.
This is definitely one of the best things to do in Perth!
Address: Fraser Ave, Perth WA 6005, Australia
3) Explore the Wineries of the Swan Valley
Another reason to head to the Swan Valley, but this time leave the kids at home!
As one of the oldest valleys in Australia, the wine culture has grown and evolved with the help of migrants from Europe that moved to the region after World War I and II.
Like Margaret River to the south and nearby Avon Valley, the majority of the 40 or so wineries are family-owned and you can witness the unique passed-down traditions in the wide array of a variety of flavours on offer.
You can self-drive around the area, but then you won't be able to sample all the delicious wine.
Instead what we recommend is booking a Swan Valley Wine Tour so that you can hit up all the best spots, enjoy as much delicious wine as you'd like and still get home safely.
There's a new company in Perth called King Mini Bus Charter, and they have a few different options whether you're solo traveller, small group of friends or a whole party.
They pick you up from your home or hotel and cruise around to the best venues in the Swan Valley. Best part is when you're done at the end of the day they drop you back at your accommodation or somewhere else in the city.
King Mini Bus Charter has a range of vehicles including 13-seater or 14-seater mini buses, a bigger 20-seater luxury bus or even large 25-seater and 35-seater buses if you have a whole party to head out to the Swan Valley.
Check them out if you're looking to book a Swan Valley wine tour.
4) Go for an Afternoon Walk on the Lotterywest Federation Walkway
Lotterywest Federation Walkway is a botanical garden in Kings Park.
There is no better way to spend an afternoon than walking 16 meters above the ground amidst the tall eucalyptus trees and wildflower gardens while enjoying the views of the Swan River.
Among the Perth attractions, this is one is a great blend to learn more about the indigenous culture and the rich flora of Western Australia.
Some attractions you will be able to see here are wildflowers of Western Australia, plants from the Mediterranean Climatic Zone, Kimberley flora, bushland flora, Oak Heritage Woodland and more.
READ MORE: Why not go on an epic road trip from Perth to Exmouth? Check out our ultimate itinerary guide.
5) Check Out the Fremantle Markets
Fremantle Markets is the most famous weekend markets in Western Australia, and one of the best in the entire country.
It offers fresh and local produce, handcrafted souvenirs, clothing, delicious meals and an eclectic atmosphere of over 100 years of culture and heritage.
But best of all, there's no entrance fee, which makes it a perfect day out for family fun!
Visiting the Freo Markets is one of the best things to do in Perth for sure, even if you don't enjoy shopping.
So what else can you do besides shopping?
You can stroll along the Freo Markets Heritage Trail to learn about the weekend markets' role in the city's history, visit the baby animal farm or taste some of the specialties sold in the Hall.
Or do what we personally do and catch the buskers performing outside. It's actually this market where John Butler got his start in the music industry!
Address: South Terrace &, Henderson St, Fremantle
Opening hours: Friday from 9 AM – 8 PM, Saturday – Sunday from 9 AM – 6 PM
The best way to get around is to rent a car and explore on your own! We recommend Rental Cars, which has the largest range of vehicles for the best value on the market.
6) Get a Selfie with a Quokka on Rottnest Island
A short ferry ride away from the city is the beautiful Rottnest Island, which is an amazing day trip from Perth you can do.
Jump on a boat from the city or from Fremantle and spend the day cycling around the island, snorkelling in the stunning bays, eating in some of the restaurants or just kicking back on a beach.
But what has made Rottnest Island really famous in the last few years is its native population of Quokkas.
These cute creatures wander the island and are extremely friendly. So much so that it's possible to get right up to one and take a selfie with it!
We don't recommend feeding them as they are wild animals still, and definitely don't touch them, but they are so cute that you can't help but want to take a pic with them.
To get out to the island you need to book a ferry ahead of time. Do that here.
7) Get the Kids out of the City
If you head north from Perth city you will stumble upon one of Australia's oldest wine regions, with an impressive 180 years of viticulture.
The Swan Valley is a wine-cheese nirvana, with a 32km driving loop rich with food and wine.
It's one of the best things to do in Perth with kids as you can explore the wildlife, cuddle with farm animals, visit a water park, play Supa Golf or check out a chocolate factory!
If you're looking for a fun way to spend the day around Perth, this is the place to go.
The area is populated by bright foliage of shrubs, red coloured banks of the river and a vantage point view of the mountains – making it a truly picturesque bicycle ride or walk.
It's a year-round destination, but the best time to visit is September-December due to its beautiful spring weather (and you can witness the blooming of wildflowers).
Another area worth checking out is the Avon Valley.
8) Take a Cruise on the Swan River
If the sun is out and it's looking awesome in Perth, jump on a cruise down the Swan River!
You will get to enjoy a scenic cruise along the river and enjoy magnificent views as you cruise between Perth and the Port of Fremantle.
You can check off a lot of things to see in Perth with this cruise.
Keep an eye out for points of interest like the towering glass spire of the Bell Tower, the restored Swan Brewery, the famous park and many more.
Most of the cruises include a complimentary lunch, wine tastings and some even pay a visit to a winery.
9) Visit an Island in the Middle of the City
Heirisson Island, at the eastern end of the river, is one of the best places to go in Perth that few tourists know about.
Heirisson Island has a number of different facilities such as picnic spots, seating areas for barbecues, a children's playground, and what people find the most interesting – a kangaroo sanctuary.
This area is known as "Matagarup" which means that the river here is only leg-deep. It is an important place for the Noongar people.
If you're heading south, make sure you check out Penguin Island too.
10) Take the Kids to Scitech
If you want to spend a fun weekend in Perth with kids, take them to Scitech.
It is an interactive science museum that includes a planetarium and located in West Perth.
SciTech hosts a number of fantastic exhibitions on different topics – from science and technology to engineering and mathematics.
If you want to inspire an interest in science when visiting Perth with kids, this is the place to take them to.
Address: City West Centre, Sutherland St
Opening hours: Monday – Friday from 9.30 AM – 4 PM, Saturday – Sunday from 10 AM – 5 PM
Price: $19 for adult, $12 for kids
11) Caversham Wildlife Park
Another one the awesome attractions, if you're here in Perth with kids, is the award winning Wildlife Park in Caversham, which is home to about 200 species of fauna and over 2000 unique animals.
Some of the animals they house you probably haven't even heard of are flying foxes, kookaburras, cassowaries, quokkas, echidnas and many more!
The park's friendly staff will gladly chat with you about animals, show you how to hand-feed a kangaroo or take your photo as you pose with your favourite Aussie animal!
Book an adventure-filled tour to Caversham Park and Pinnacles Desert with Get Your Guide.
Address: 33B Drumpellier Dr
Opening hours: every day from 9 AM – 5:30 PM
12) Visit the Perth Mint
If you want to check out one of the Perth activities that is a bit different, head to the Mint!
Established in 1899, this heritage building has a number of interesting exhibits to explore.
You can find out all about the Mint's history starting from gold-digging legends to many other fascinating events that shaped the history of Western Australia.
You can even see the original melting house, where pure gold gets melted down.
Don't miss the Australian Kangaroo One-Tonne Gold Coin – the largest and most valuable coin in the world.
Address: 310 Hay St
Opening hours: every day from 9 AM – 5 PM
Price: $19
READ MORE: Heading out for a trip from the city? Don't miss our detailed guide to all the best things to do in Busselton!
13) Ride Along the Perth Cycle Trails
If you're on a budget this is one of the top free things to do in Perth.
We've already talked about the dreamy beaches and mind-blowing sunsets. Why not experience all of it while cycling along the coast?
This great cycling trail includes many informative signs about native fauna, flora and the history of the area.
The highlights include the Marmion Marine Park, Burns Beach and Hillarys Boat Harbour.
The Marmion Marine Park is a great area for snorkelling while Hillarys is known for its cafes, family-friendly swimming beach and shops.
Burns Beach interlaces a stunning natural coastline and epic views.
If you don't have your own bike, you can rent one in Scarborough.
The South Perth Foreshore is also a great spot to ride your bike around, and has great views of the city.
14) Play a Round Of Supa Golf
You might think it's for kids, but trust us – Supa Golf is high on the list of top things to do in Perth for adults!
Take a small par 3 golf course, add oversized foam balls and you have Supa Golf!
Tucked away in the beautiful Swan Valley, it's a great way to kill a few hours while bouncing around vineyards and restaurants.
It's a great activity to do with friends or family. And here's a secret local tip – they let you take an esky with cold beers on the course with you, as long as you don't get too rowdy.
15) Visit the Fremantle Prison
You might not think to add prison to your itinerary, but its historical significance has made it one of the main Perth tourist attractions.
It was used to incarcerate convicts transported from Britain, but since 1991 it has been renovated and turned into a great place to visit.
The Fremantle Prison offers 5 different tours to visitors. You can choose between the "Convict Prison", "Behind bars", "True crime", "Tunnels tour" or the "Torchlight tour".
If you're looking for the top things to do in Perth at night, this is for you!
Address: 1 The Terrace
Opening hours: every day from 9 AM – 5 PM
16) Go to an AFL Game or Cricket Match
If you're in Western Australia during winter, then you need to know what's on in Perth – AFL!
AFL is the Australian Football League and is the most popular winter sport in the country.
Perth is home to two big teams -the West Coast Eagles and Fremantle Dockers Football Club.
Catching an AFL game is one of the best things to do in Perth, and the crowd will leave you absolutely electrified, even if you don't understand what is going on.
If you can't see a match live, go to one of the city's pubs to enjoy the action. Or join in on a pretty cool stadium tour where you get the chance to go behind the scenes to spots that are normally only reserved for the world's best athletes.
If you're travelling in the summer try and catch a cricket game instead. The crowds are just as excited, especially for one-day internationals and Twenty-20 games!
Here's a list of what's on at Perth Stadium.
READ MORE: Ready to explore more places in WA? Don't miss out on our incredible Perth to Esperance road trip itinerary!
17) Visit an Art Gallery
Perth has several fantastic art galleries, with the Art Gallery of Western Australia, Perth Institute of Contemporary Arts, and Aboriginal Art and Craft Gallery being the best.
The Art Gallery of Western Australia has more than 17,000 pieces of art, with exhibitions including indigenous and contemporary art from Western Australia.
Perth Institute of Contemporary Arts is one of the leading centres for the presentation of contemporary arts. It's housed in a beautiful heritage building at 53 James Street.
If you're interested in seeing Aboriginal art the best place to go to is the Aboriginal Art and Craft Gallery, located in Kings Park.
The gallery presents art, crafts, music and dance performances from Aboriginal culture.
18) Visit Perth's Culture Centre
With so many fun activities in Perth, you might be wondering where a lot of it is centred? Now you know.
With a massive redevelopment that has just taken place, the Perth Culture Centre is a hive of music, arts, food, entertainment and festivals, and a good mix of free things to do in Perth as well.
Come on down to enjoy the sunshine, sample some delicious food, go to a concert, or simply learn about sustainable gardening.
Address: Francis Street and, William St
Opening hours: Monday – Friday from 9 AM – 5 PM
19) Wander Around the New Elizabeth Quay
This landmark waterfront development project reconnects the city with the Swan River.
Some locals were torn when it started, but now that it has been completed, everyone agrees that it really is a fantastic place to wander around and one of the best things to do in Perth.
There are restaurants, bars and lots of public art, such as Spanda – a 29-meter tall abstract sculpture, and a statue of Bessie Rischbieth.
The New Elizabeth Quay is a launching point for a lot of the activities to do in Perth, like the Perth Zoo and Rottnest island, and walking distance to Yagan Square and the state library.
20) Have Some Laughs at a Comedy Night
Perth has some really awesome comedy night events, so if you love having a laugh you've come to the right place.
Perhaps one of the most famous comedy rooms in all of Western Australia is Lazy Susan's Comedy Den.
There are three unique shows per week, so there really is something for everyone.
Tuesdays are reserved for edgy comedies and experimentation, Fridays for stand up comedies with Perth's best comedians and Saturdays host battles of two teams of comedians.
Lazy Susan's is located upstairs at the Brisbane Hotel, in the Highgate area of the city.
Definitely one of the best cheap things to do in Perth.
21) Catch a Film at the Rooftop Movies
The Rooftop Movies is an open-air cinema like no other, making a visit there one of the best things to do in Perth.
The city skyline and panoramic views from here are absolutely amazing, so much so that it might be a little bit difficult to focus on the movie.
The cinema is located above the streets of Northbridge and it's a must-have rooftop movie experience in the city.
You can sit in the comfortable bean bags, and enjoy the sunset with a drink in your hand before the movie starts.
The cinema screens a wide array of genres – from cult classics to recent releases.
If you want a memorable night in Perth, this is the place to go.
Address: 68 Roe St
Opening hours: Monday – Friday from 9 AM – 5 PM
Price: AUS $13
22) Go Surfing
Western Australia is home to some of the world's best surfing beaches. And while Perth City isn't the best destination in Australia for pros, it is a fantastic place to learn how to surf.
Head to Scarborough if you're new to the sport, or rent a car and drive up to Lancelin.
The more experienced surfers will most likely want to head south west to Margaret River, or over to Rottnest if the swell is pumping on the Indian Ocean.
23) Hit Up Perth's Small Bars
In recent years, Perth has become famous for its "small bar culture". They are scattered all over the city, mostly in the CBD, Northbridge, Victoria Park, Fremantle and Mount Lawley area.
Here are some small bars you need to visit while in Perth;
Henry Summer, Northbridge – famous for their Coco Kafe and cocktails
Mrs Brown's, North Fremantle – housed in an old Victorian terrace, this bar has a rich wine list and fantastic cheese platters
El Publico, Highgate – if you love tequila and Mexican food this is the place you should go to
Varnish on King, Perth – whiskey and bacon flights is what will bring you here
Shadow Wine Bar, Northbridge – a great place for brunch, as they also have a full food menu
Percy Flint, Fremantle – Percy Flint is well-known for its buttermilk fried chicken and for having lots of craft beers on offer
Peaky Bodega, Mount Lawley – the place to go for cocktails and New York vibe
Mechanics Institute, Northbridge – the perfect place to try artisan wine or any of the craft beers on offer
To truly get to know a city, you have to experience its nightlife! Make sure to include these bars when venturing on your Perth sightseeing quest.
That's it for our list of the top things to do in Perth. What would you add? Did you find the list useful? Leave a comment below and let us know!
DISCLAIMER: Some of the links in this article are affiliate links, which means if you book accommodation, tours or buy a product, we will receive a small commission at no extra cost to you. These commissions help us keep creating more free travel content to help people plan their holidays and adventures. We only recommend the best accommodations, tours and products that ourselves or our fantastic editorial team have personally experienced, and regularly review these. Thanks for your support, kind friend!