It's one of Australia's most popular destinations, and one look at all the best things to do in Byron Bay will have you keen as to visit!
If you're planning a trip to Australia's east coast, there's a very good chance you've heard of this place!
Out of all of the nation's travel highlights, Byron Bay is one of those unforgettable gems that really sticks out.
This bustling coastal town in the north of New South Wales is a scenic paradise that truly feels like it has come out of a fantasy book.
It boasts stunning views from high vantage points, a soul-soothing ocean, a charmingly welcoming local culture that you just can't get enough of, and so much more.
With Brunswick Heads and the Brunswick River to the north, Lennox Head and Lake Ainsworth to the south, and the Hinterland to the west, Byron Bay is sandwiched between heaps of natural beauty.
So whether you're flying into Byron Bay for a weekend, or traveling along the coast of NSW or southern Queensland, the entire area is full of sightseeing and opportunities for adventure.
READ MORE: Here's everything you need to know about travel to Australia.
Our Guide to the Best Things to Do in Byron Bay
When you're looking at what to do in Byron Bay, there's a wide range of activities and day trips, each one more captivating than the last.
Whether it's visiting local landmarks like the world-famous lighthouse or enjoying the delightful sunset over the Pacific Ocean, everything simply feels magical here.
And because tourism is a big part of the town, there are lots of opportunities to go snorkelling, scuba diving, whale watching, or exploring the nearby Byron Bay hinterland.
Its beaches are quite phenomenal too. Even though they might be responsible for putting Byron Bay on the map, there are just so many more things to love about the town.
Here's our list of 15 awesome things to do in Byron Bay.
1) Take a Stroll Through Cumbebin Wetland Sanctuary
In the past, before it was urbanised, Byron Bay used to be a swamp. And while today it's a very modern and trendy place, there's still a spot in the town that's used to preserve its history.
It's a relatively small place that's an actual wetland. Even though it's controlled, it does have an unbridled feel to it. Some call it the tree sanctuary as well because of its massive, gnarly trees.
But not to worry, if you choose to take a stroll through the sanctuary, there's a boardwalk that elevates you above the swampy ground.
The Cumbebin Swamp Nature Reserve is a wonderful place to explore for a few hours, and offers quite a different experience to the more common activities around Byron Bay that revolve around the beaches.
What's unique is that it's still a wetland, so naturally, there are plenty of mosquitoes. It would be wise to carry repellant with you at all times when strolling.
One of the solutions to the mosquito problem is the presence of the Eastern long-eared bat.
But this is not a regular bat, in fact, it's a micro-bat that's just 5cm long.
It's a threatened species, unfortunately, but there are quite a few places in Cumbebin Swamp Nature Reserve that the bats have made their home in order to feast on their natural prey – the mosquitoes.
READ MORE – Check out our guide to the best things to do in Gold Coast.
2) Explore Arakwal National Park
A very important national park, Arakwal is absolutely stunning, both when looking at it from near and far.
It's a beautiful place filled with forests, hills, dunes, and a beach, each interwoven so intricately that it's a real treat to explore this park.
It's also a very accessible place to visit. There is plenty of available parking and it's easy to drive to from Byron Bay.
Arakwal National Park is important for the native community, which is why the park is co-managed by the state of New South Wales and by the Arakwal Aboriginal Community.
Everything is constantly maintained and in excellent shape, with the crown jewel of this park being Tallow Beach. One of the best beaches in the area, this long strip of white sand is stunning.
The ocean next to Arakwal is part of Cape Byron Marine Park, a protected area of coastline where biodiversity flourishes. So if you wanted to swim, kayak, or go scuba diving in the waters, you might see turtles, rays, starfish, and lots of coral reefs here.
3) Visit the World Famous Cape Byron Lighthouse
When sightseeing around Byron Bay, it would be quite a shame not to see one of Australia's most beautiful lighthouses.
Positioned at the edge of Cape Byron near Tallow Beach, this is actually the easternmost point on mainland Australia
The Byron Bay lighthouse history is interconnected with that of the city, as it was built in the very start of the 20th century and has remained functioning ever since.
While Cape Byron Lighthouse has been spinning continuously since the day it opened, in 1989 it changed to an automated light. Amazingly before then, it was kept working by resident lighthouse keepers.
The lighthouse is an iconic building whose light can be easily seen in the town, and it has been one of the most important landmarks of Byron Bay for a long time.
Cape Byron Lighthouse itself is not only one of the great things to see in Byron Bay, but it's viewing platform is a great spot to view the nature and marine life of the area.
The ocean on one side, with dolphins and turtles splashing about, and the Byron Bay hinterland on the other side – it's no wonder that the lighthouse has become the symbol it is today.
4) See Killen Falls
There are many Byron Bay activities that feel designed especially for tourists – which is not necessarily a bad thing at all, especially if they're designed to be memorable and fun.
But the nature that surrounds Byron Bay is what truly makes this small town feel as unique as it is, because it doesn't matter which way you look, you're bound to find something beautiful.
That's exactly the case with Killen Falls.
In a secluded spot located about a 20 minute drive from the town, it feels like heaven if you're looking for a place to relax and have a little quiet time.
Killen Falls consists of a small swimming hole with a 10m waterfall that also has a cave underneath it. It's a soothing place, one that's ideal for a little bit of romance, and to add an extra spark to an already amazing journey.
This could be one of the best day trips from Byron Bay if you pack a picnic and just hang out by the falls all day.
READ MORE: Be sure to look into adding these great things to do in Brisbane to your trip.
5) Check Out 'The Farm'
One of the more unique things you can find in Byron Bay, The Farm is in fact just that – a farm.
But what's great is that it represents so much more than agriculture — it has become another symbol of the town.
It's an 80-acre working farm, and it represents individual businesses whose sole intentions are to grow, to feed, but also to educate because the farm is actually a modern rendition of a co-operative.
The Farm offers guided tours of their property. Wandering around for yourself too can be quite good, because that way you'd get to see everything at your own pace, and The Farm is nothing if not peaceful and calm.
You can stop by for a snack or a meal, and also to pick up some of the produce that has been grown on The Farm.
It's a great place to contemplate on what it means to live a healthier lifestyle, and how to help the environment at the same time.
6) Visit the Farmers' Market
What originally began as a dream has grown into quite the attraction over the years.
Inspired by the local people that wanted something better for the community, the Farmers' Market is an event that takes place every Thursday from 8-11 AM.
There are plenty of different goods for sale, and while produce is the focus of the markets, there are various other items for sale too.
The Farmers' Market has risen in popularity in recent years, and it has spread to the neighbouring town of Bangalow, which together with Byron Bay, supply the Farmers' Markets with as much variety as the seasons allow.
But the market isn't just a place to buy and sell – it's also a community where you can regularly find live music, and people chatting, exchanging recipes, and trying to find a way to improve the lives of everyone they can.
Visiting the Market is definitely of the top things to do when visiting Byron Bay.
7) Go Whale Watching
The wildlife in Australia is quite famous for its diversity and uniqueness.
And with the vastness of the ocean, along with modern technology, witnessing the magnificence of the sea creatures has never been easier or more fun.
Whale watching is one of the top Byron Bay attractions, not only because it's fun, but also very educational.
Seeing these magnificent beasts surface is amazing, and they're nearly always accompanied by some of the sea's most fascinating creatures – dolphins and sea turtles.
Joining a whale watching tour gives the unique opportunity to see a diverse range of marine life in their natural habitat, while simultaneously educating about the whales, dolphins, turtles, and any other species that you might encounter on your tour.
The famous humpback whales are practically guaranteed to make an appearance, during the migration season from June to September.
Just seeing them not enough? Many vessels come equipped with a hydrophone so that you can listen to the amazing whale songs that they constantly sing.
In winter and spring, you can even see whales from Tallows Beach with a decent pair of binoculars.
It's an experience like no other, so whale watching is definitely one of the most unforgettable things to do in Byron Bay.
8) Visit the Wonderful Local Cafes
As a whole, Byron Bay is decidedly casual, even if it has grown in popularity over recent years.
What started as something of a hippy commune has developed into a trendy beach town with dozens of activities, but it hasn't lost that chilled-out charm.
Not that it doesn't have its share of speed and action, but that has never been the point of Byron Bay.
The stunning scenery in the region is perfect for casually relaxing with a nice meal and a cup of coffee, which is why in recent times a wide variety of great cafes and interesting restaurants have popped up all over the place.
It doesn't matter which part of the town you're visiting, whether it's along Main Beach, the Byron Bay CBD, or even the Byron Bay Hinterlands, there can always be found a relaxing café ideal for a low-key or a romantic evening.
Ask locals which cafes and eateries are their personal favourite as there are many places to visit in Byron Bay. You can also expect to find live music at many cafes around town.
9) Witness a Magnificent Sunrise Over the Sea
There are few places in the world that give out such picturesque and relaxed ambience such as that found in Byron Bay.
The relaxed nature of the place, even despite the occasional traffic jams, gives off a feeling of surreal calmness that's perfect for soothing the soul.
And this is characterised with some of the best sunrises in Australia.
With the Byron Bay lighthouse being on the most eastern point of Australia's mainland, there's absolutely nothing obscuring the view of the sun rising over the calm azure waters of the Pacific.
And there are many more points scattered all around the town that are just as amazing as the lighthouse.
It's worth waking up early to catch this colourful view, or perhaps staying up all night to watch the start of a new day.
10) Skydive Over the Majestic Coastline
Not everything in Byron Bay is experienced on the ground. Sky diving has become incredibly popular in the past few decades, and for a very good reason.
It's a thrilling activity – one that will have your heart pumping quickly as you're plummeting through the air from an extreme altitude at intense speeds.
And sky diving at Byron Bay is no different – except for the views.
Because it's on the easternmost point of the mainland, everything is visible for miles and miles around, and the diversity of the land makes it much clearer just how amazing the scenery and the terrain around Byron Bay really is.
Sky diving is truly the experience of a lifetime – it's absolutely exciting, but most importantly it's very safe.
11) Spend Some Time in the Ocean
You don't have to go out in the deep sea in order to experience some of the finest waters in the Pacific Ocean.
In fact, Byron Bay is quite known for its amazing beaches, so all sorts of water sports, or even some casual swimming and relaxing in the water, feels downright perfect.
Some of the most popular beaches include Tallows Beach, Main Beach, Clarkes Beach, Wategos Beach, and Little Wategos Beach. But there are plenty of other beaches worth visiting, especially if you're driving north towards Brunswick Heads or south towards Lennox Head.
If you prefer to do something more active, then kayaking might be right up your alley, as that is a great way to go a bit deeper in the sea – and you might even spot a dolphin or two. Check out this amazing tour with Klook.
Best of all you might even want to enjoy world-renowned waves if you want to do some surfing. The Pass, a point break next to Clarkes Beach, is the most popular surfing spot in the area.
Because the temperatures are perfect and the visibility is great, scuba diving and snorkelling are some things you might want to try in the summertime.
There's a great diversity of schools of fishes and corals underneath the sea levels, especially because the waters are protected by Cape Byron Marine Park. Even if you have no experience scuba diving or snorkelling then this is the perfect place to learn.
They definitely can be some of the most fun things to do in Byron Bay.
12) Rejuvenate in the Tea Tree Lakes
One of the most unique aspects of Byron Bay is its surrounding tea tree lakes.
These are bodies of water found all around the landscape near Byron Bay, and they're peculiar both in appearance and in substance.
On the surface, the water in these lakes looks as black as tar, but once you're inside it appears to change colours slightly, and these lakes are most known for their healing properties due to the tea trees encircling the lakes.
But even despite that, the ambience around the lakes is extraordinarily calming, feeling almost magical, with the sun shining and the birds singing around you.
A day trip or a quick visit to these lakes is definitely one of the best things to do in Byron Bay.
13) Check Out the Arts Factory Lodge
Make sure to visit the Arts Factory Lodge as it is one of those places that feels like a paradise perfect for relaxation.
Originally created in the 70s by hippies, it has seen its share of phases – like an excellent rock and roll venue in the 80s – but it still retains that hippy spirit to this day.
It's not only a place to find budget lodgings for backpackers, but also a wide variety of other activities as well, like learning how to make your very own didgeridoo – Australia's most unique instrument – or trying out African drumming.
It's a place for yoga and meditation, as well as communing with other people. The Arts Factory Lodge is an interesting assortment of activities and people all banding together to make a very interesting community.
Bonus tip: if you're wondering what to see in Byron Bay go there for advice from the friendly staff or fellow backpackers!
Address: 1 Skinners Shoot Rd
Opening hours: 24h/7
14) Explore Nightcap National Park
The sheer proof that nature is the absolute highlight to a visit of Byron Bay, this national park is a UNESCO World Heritage Site that's just a treat to explore.
Part of the park is the stunningly beautiful Minyon Falls, below which there's a beautiful pool. However, no swimming is allowed.
The reason for that is the biodiversity and the wildlife, because part of the animals that have made Nightcap their home is the endangered Fleay's barred frog, and disturbing their natural habitat just endangers them further.
Another great thing about the park is the collection of excellent hiking trails, like the one that loops over Minyon Falls.
It's a tough trail, but worth the effort, because it ends right below the waterfall and is the perfect place to relax after a long day trekking through the park.
With the many different species of animals and scenery so gorgeous, Nightcap National Park is one of the best things to see in Byron Bay, and one of the best day trips to take from town.
Location: Tuntable Trail
Opening hours: every day from 7 AM – 7 PM
Price: Free of charge
15) Crash One of the Legendary Beach Parties
The parties on the beaches of Byron Bay are epic happenings – which is why many of them are mostly spread by word of mouth.
There are plenty of nightclubs in Byron Bay, even despite the relaxing atmosphere of the town, and the city has been often described as the Australian mecca for parties.
For locals and 'doofers' in the know though, they skip the clubs and hit up secret parties instead.
These events can last for entire days, and even sometimes cause a little bit of trouble here and there. But if you're looking for a place to simply let go and dance like nobody's watching, then Byron Bay's beach parties are exactly what you need.
And if you catch word of one happening at the moment, don't hesitate and just see for yourself what the ruckus is all about.
How do you find out about these parties? You'll have to make friends with a local…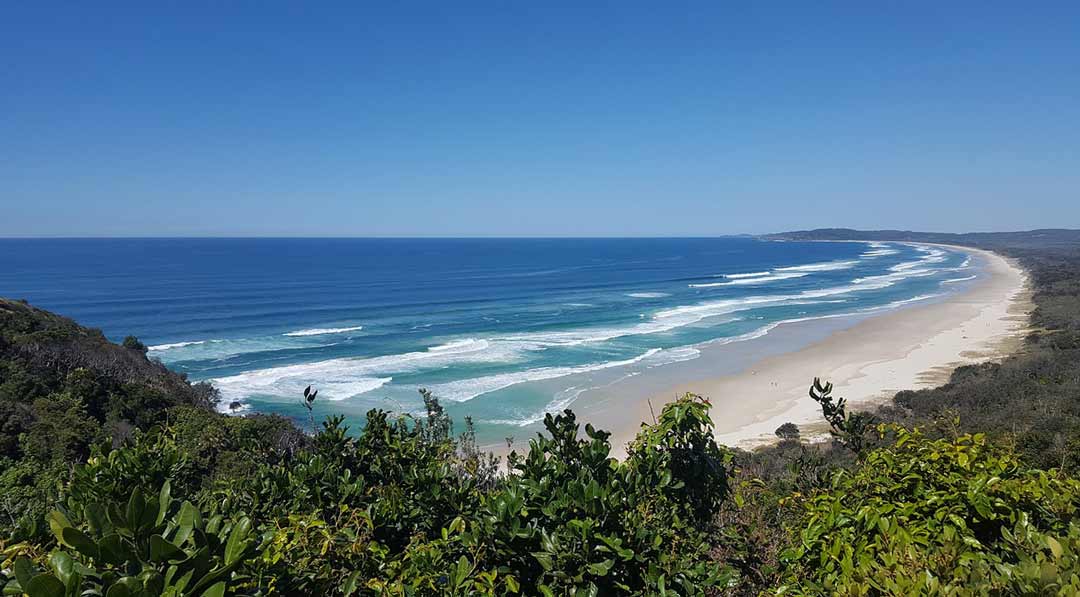 There are a great many things to see and do in Byron Bay. It's a calm and relaxing place, true, but also a haven for parties.
Its beaches and views are incredible, whether you're whale watching, scuba diving, or just walking on the sand. It's worth visiting just for the coastline, but there's also the beautiful town.
With a charm so irresistible, and atmosphere so perfect, Byron Bay is absolutely one of the best places to explore in Australia
You can visit it any time of the year, because the climate is pretty much perfect, so no matter the season make sure to visit the town as soon as you can.
Byron Bay Travel Guide
You've made your full itinerary including most popular Byron Bay tourist attractions and now it's time to book you accommodation. Read our short Byron Bay travel guide to help you choose!
Where to Stay in Byron Bay
Byron Bay has changed from being the tiny little hippy village it used to be, and is now one of the most popular tourist destinations in Australia.
This kind of growth has meant there is now accommodation for all kinds of travellers, from budget backpackers to luxury resort seekers.
We love using Airbnb when we travel, and Byron Bay's Airbnb options are incredible.
Sign up using this link and you'll get $35 off of your first stay.
For those that prefer not to use Airbnb, here are our three best places to stay in Byron Bay for every budget. Consider these on your next trip!
Best Backpacker Hostel – Wake Up! Byron Bay
There's a number of amazing hostels in Byron Bay, but the guys over at Wake Up! are taking things to the next level.
Located close to Main Beach, you're already in the best spot in the town, but when you see all the amazing things they throw in for free, you might decide to live here forever.
Guests have access to the standard things like free high-speed wifi and air-conditioned rooms, which is already a great deal for the price. But you'll also get free surfboard and paddleboard hire, free yoga, free bike hire and a bunch of awesome free events.

Best Mid-Range Hotel – Byron Sunseeker Motel
Not all of Byron Bay's nice accommodation is super expensive, and the Byron Sunseeker Motel proves just that.
If you are just looking for a place that is clean, comfortable and has all the amenities you'd expect from a quality motel, we recommend staying here.
There's a pool for those hot summer days, the managers are wonderful hosts and the beds are very comfortable.
And at less than $150 a night, you can't go wrong with a stay at Byron Sunseeker Motel!
Best Luxury Hotel – The Lord Byron
The Lord Byron is an icon in town, and staying at this legendary beach hotel is quite the experience for all travellers.
All of the rooms have been renovated in recent years, and offer immense comfort for short and long term stays.
The level of service you receive is next level, and with amenities like tennis courts and swimming pools, it's just as good outside of the rooms as inside.
Located very close to downtown and Main Beach, this is one of Byron Bay's best accommodation options for those looking to splurge.
That's it for our article on the best things to do in Byron Bay. Have we missed anything? Did our list help you plan your trip? Leave a comment below and let us know!
DISCLAIMER: Some of the links in this article are affiliate links, which means if you book accommodation, tours or buy a product, we will receive a small commission at no extra cost to you. These commissions help us keep creating more free travel content to help people plan their holidays and adventures. We only recommend the best accommodations, tours and products that ourselves or our fantastic editorial team have personally experienced, and regularly review these. Thanks for your support, kind friend!