From exploring unique wildlife to sailing along the breathtaking coastline, here are some of the best things to do in Kangaroo Island.
Australia is home to unique wildlife, no surprise here.
Kangaroo Island, south of Adelaide, offers a chance to see many of Australia's wonders within a relatively short distance, making it one of the best places to visit in South Australia.
Kangaroo Island is also Australia's third-largest island at almost 160km long!
With several national parks, abundant wild animals, and a landscape mostly untouched by tourism, Kangaroo Island should definitely be on your Australia travel plan.
So if you're wondering what to do in Kangaroo Island, here are our best recommendations!
READ MORE: Be sure to add these great things to do in Adelaide while you are in South Australia.
Top Things To See And Things Do In Kangaroo Island, South Australia
Kangaroo Island is packed with outdoor activities and wildlife watching, but also offers many comforts in the form of local delicacies and wine tasting.
We've put together this simple list of the best things to do in Kangaroo Island, from meeting the local wildlife to having all kinds of adventures!
1) Meet The Wildlife
Abundant wildlife is a top reason to visit this South Australia gem.
Be prepared to stop for wildlife watching regularly. From Kangaroos, Kingscote penguins, brushtail possums, sea lions, fur seals, Tammar wallabies, birds, to short-beaked echidnas, and goannas – you will see them all.
Make sure to visit the Hanson Bay Wildlife Sanctuary for a chance of seeing wild Koalas in their natural habitat, hanging and sleeping in eucalyptus trees.
Kangaroo Island Wildlife Park is a good place to go with kids if you just want to see everything all in one place.
Between Hanson Bay Wildlife Sanctuary and Kangaroo Island Wildlife Park, and just the overall scenery of the island, you're sure to spot some wildlife.
2) Check Out The National Parks And Conversations Parks
Tourist attractions on Kangaroo Island mainly take the form of natural landscapes. Kangaroo Island hosts seven national parks, of which Flinders Chase National park is the most popular.
The other parks and conservation areas are Cape Borda Lightstation, Lashmar Conservation Park, Kelly Hill Conservation Park, Seal Bay Conservation Park, Cape Gantheaume Conservation Park, and Cape Willoughby Conservation Park.
South Australia is known for its preserved nature, so checking out the national parks is one of the top things to do in Kangaroo Island.
READ MORE: Here's our brand new guide to travelling to Australia!
3) Don't Miss The Water Activities
With such a long coastline, you are bound to find a fun activity to get your feet wet.
A sailing trip can take you fishing or dolphin-watching. Surfers will enjoy the waves of Vivonne Bay.
Kayakers will explore many of the sheltered areas along the coast.
Also consider going on a snorkeling tour to spot marine life in Kangaroo Island.
Kangaroo Island has so many opportunities for water sports and adventures, so get out there and have a blast.
4) Get Underwater And Go Scuba Diving
Given the abundant marine life around Kangaroo Island, chances are you will encounter Truncate coralfish, Blue Devil, Boarfish, and Harlequin. You might even see a Leafy Sea Dragon.
For an opportunity to dive with seals or sea lions, head to Western River Cove. Or check one of the 50 recorded shipwrecks.
Note that rip currents and undertows might make diving challenging, and better reserved for those with diving experience.
5) Fall In Love With Hiking On Kangaroo Island
With so many parks to explore on Kangaroo Island, hikers can choose from leisurely walks to the Remarkable Rocks (0.5 miles / 1 km) or around the Platypus Waterholes (3 miles / 4.5 km).
Alternatively, if you have more time and ambition you can take on more challenging hikes like the Hanson Bay Hike (11 miles / 18 km).
A multi-day trek is also possible along the Kangaroo Island Wilderness Trail, a 45-mile 5-day trek that traverses the Flinders Chase National Park.
6) Get The Adrenaline Pumping With Some Adventure Activities
With such a rugged and wild landscape, South Australia is perfect for trying some adventerous sports and activites.
Go ATV or horseback riding, try sandboarding, or explore the caves in Kelly Hills.
There really is a lot of amazing adventures to do in Kangaroo Island, if you're feeling up for it.
7) Enjoy The Sightseeing
The best sightseeing on Kangaroo Island is checking out the beaches. Emu Bay, Vivonne Bay, and Kingscote are some of the most beautiful beaches to check out.
Kangaroo Island also has some cool sights to see in addition to wildlife and natural landscapes.
Both the Emu Ridge Eucalyptus Oil Distillery and the Cape Willoughby Lighthouse are appealing Kangaroo Island attractions and offer a glimpse into its history.
8) Food & Wine Tasting
South Australia is a culinary mecca of Australia, yet it's still not very popular among travelers.
On Kangaroo Island there is lots of local dishes and fresh seafood ready to delight visitors. Accompany food with wine tasting from the local productions and you're set!
A great way to explore Kangaroo Island is with your taste buds.
Bonus: Our 3-Day Kangaroo Island Road Trip Itinerary
Unless you fly into Kingscote, you will most likely reach Kangaroo Island via the SeaLink Ferry from Cape Jervis to Penneshaw.
The little town offers several accommodations, from small hotels to resorts. A campground is available for budget-conscious travelers.
With such a long island and given the number of things to do on Kangaroo Island, you can spend several days on the island.
See what we recommend for the perfect 3-day itinerary Kangaroo Island tour.
Only have one day to explore Kangaroo Island? We recommend this tour from Adelaide to make the most of your time!
Day 1 – North Shore
American River is a great first stop on Kangaroo Island as you head north from the ferry terminal at Penneshaw. The town itself is small and built on the oyster industry.
The American River has a stretch of beaches great for swimming or sunbathing and you can't beat views of the mainland from there.
A short 10-minute drive from Kingscote or about 1 hour from the American River over a paved road takes you to Emu Bay.
Emu Bay is large with only a few houses scattered around the waterfront.
There are no shops, no restaurants, nothing else than the beach all for yourself.
With shallow waters and a long white sand beach, Emu Bay is a popular swimming destination on Kangaroo Island.
From Emu Bay it's only a 30 minute drive to Kangaroo Island Wildlife Park.
The main paved road leads towards the south of the island. However, if you want to experience the Australian "outback," take the North Coast Road.
The red dirt, the green eucalyptuses, the blue sky – this is Australia! Several side trails take you to small beaches and coves.
Stokes Bay is another large bay in Kangaroo Island with white sand and rocky coast. But beware as it also has strong waves.
However, several rocks formed a broad pool, providing a more tranquil swim option if the surf is not appealing to you.
The road continues and passes by Cape Borda Lighthouse which was initially lighted for the first time in 1858.
Officially situated within the Flinders Chase National Park, the lighthouse offers sweeping views of the Investigator Strait and is the starting point of several hiking trails.
End your day with a 90-minute evening walk at the Hanson Bay Sanctuary, where several koalas live in the eucalyptus trees.
The koalas are most active at night, and the guided tour provides knowledgeable information on the nocturne animals.
The sanctuary is also home to Tammar wallabies, echidnas, and kangaroos.
Spend your first night in Kangaroo Island at a luxurious retreat, lodge, cabin around Flinders Chase National Park.
In the park, camp in one of the four campsites, or stay in the historic cottage previously used by the lighthouse keeper.
Day 2 – Flinders Chase National Park
The Flinders Chase National Park is a must-see while on Kangaroo Island so make sure to allocate time to visit and explore.
Start your day early for a walk around the Platypus Waterholes, and a chance of seeing the elusive animals.
Continue to Admirals Arch, one of Kangaroo Island's most famous tourist attractions. Admiral's Arch is by far one of the places to visit in Kangaroo Island for spectacular views.
Watch for the New Zealand fur seals, and try to spot the whales that pass the coast between May and October.
Another one of the iconic Kangaroo Island tourist attractions is the nearby Remarkable Rocks.
The unusual granite boulders were shaped by the rain and wind for over 500 million years.
The views from the Remarkable Rocks are stunning, and a must-see on Kangaroo Island!
If wildlife is high on your travel list, head back to Hanson Bay Sanctuary for a daytime visit and watch the koalas at your own pace.
If you are interested in unusual underground formations, the caves of Kelly Hill or Admiral Arch offer exploration opportunities.
The last stop of the day is Vivonne Bay, considered one the of best beaches in South Australia.
The bay is a favorite surfing spot in Kangaroo Island, but beware of the strong undertow and high swells.
A colony of Australian sea lions resides at Vivonne Bay, making Vivonne Bay a popular wildlife-watching area. This area also has lots of sand dunes. A day of sand boarding down the sand dunes is one of the top Kangaroo Island tours!
The Hanson Bay Wildlife Sanctuary is also nearby, as is the Kelly Hill Conservation Park and Kelly Hill Caves.
Day 3 – Southern Shore and Seal Bay
Your next stop on Kangaroo Island is Seal Bay, which features a colony of animals of the same name reachable by a long boardwalk.
Visit Seal Bay Conservation Park to admire the Australian sea lions as they wander between dunes and the sea.
The Cape Gantheaume National Park is an extension of Vivonne Bay and Seal Bay.
From the park, you can go onto several epic Kangaroo Island hikes around Seal Bay, including Murray Lagoon and the Coastal Trek.
The drive along the Estrees Bay Road is quite lovely and features a different landscape than the Flanders Chase National Park.
Head to Prospect Hill, also called Mount Thisby, for your last stop.
Hike up the 512 steps that take you to a 360-degree view of the island.
A historical side note: Captain Matthew Flinders hiked the trail – minus the steps – when he explored the island in 1802.
As you complete your 3-day trip around Kangaroo Island, drive up to Penneshaw to catch your afternoon ferry back to Cape Jervis.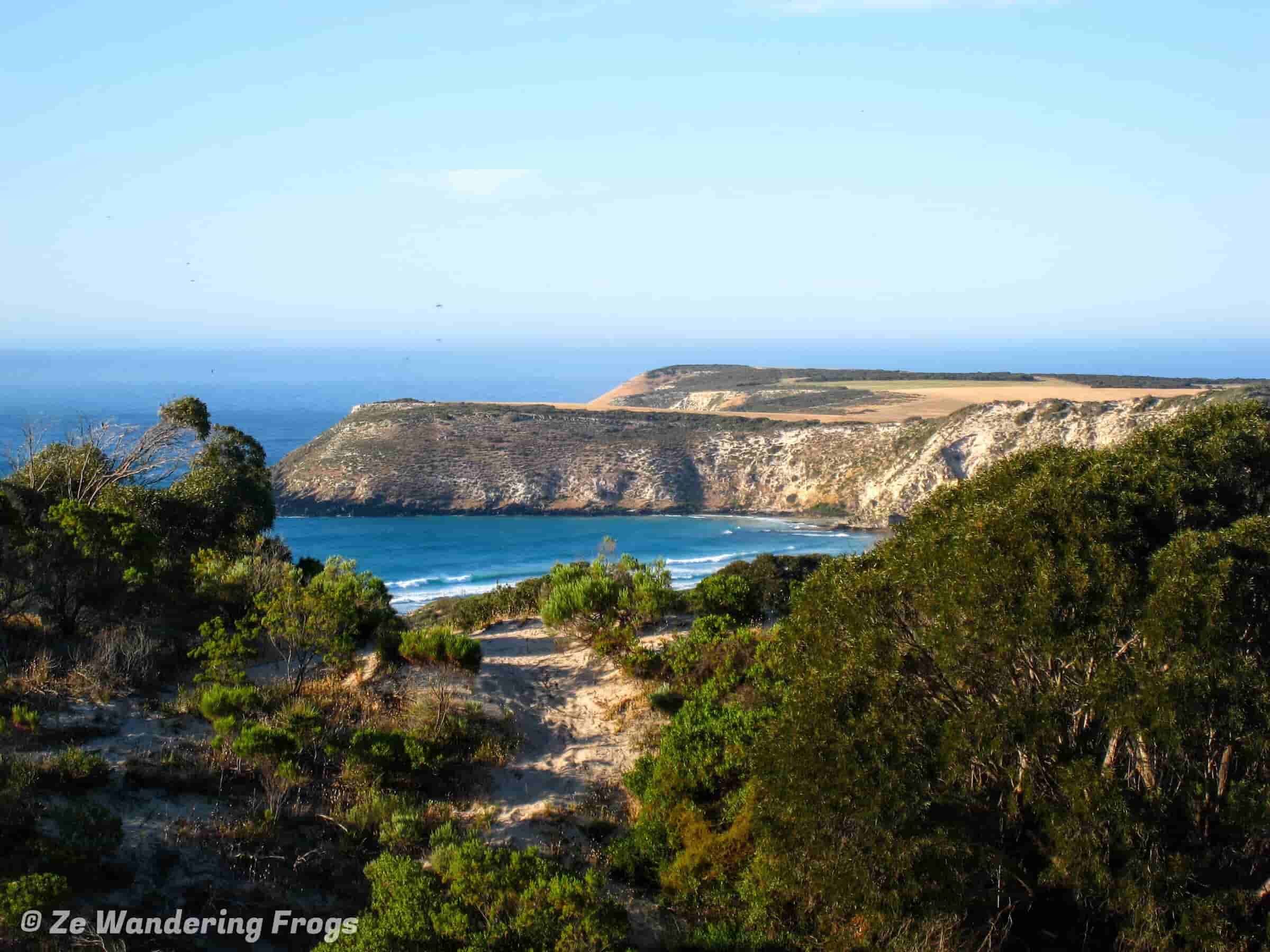 Kangaroo Island Travel Guide
You have marked down what to see on Kangaroo Island and now you need to plan the rest of your trip!
To help you organise better, we are sharing our best tips on how to get to Kangaroo Island and where to stay!
How To Get To Kangaroo Island South Australia
You can either fly to Kingscote or take the Kangaroo Island Ferry from Cape Jervis.
Kangaroo Island can easily be explored as a self-drive with a rental car, or through a guided tour from Adelaide.
Tour options include a simple day trip, but we recommend staying two to three to enjoy the island thoroughly.
If you drive, make sure to keep your car tank full, as you might drive a while before finding a gas station.
Avoid driving around Kangaroo Island at night to prevent from hurting the wildlife.
Remember that the island is rather long, so plan enough driving time to go between locations.
Best Time To Visit Kangaroo Island
October to April, the Australian summer months, is usually the best time to visit Kangaroo Island. The temperatures are warm at around 95°F (35 ℃) and dry weather.
During the winter months, June to September, the temperatures drop to 60°F (14 ℃) with rainy conditions.
Where To Stay On Kangaroo Island
From camping to luxurious resorts, you can find options for all budgets once you cross the Kangaroo Island Ferry to the island.
The type of hotels might vary from town to town, so check before leaving as to where you would want to spend the night, and check what accommodations might be available.
During the warm months, plan to book in advance.
What To Eat & Drink on Kangaroo Island
Given its extensive coastline, seafood is prevalent and fresh, including the freshwater crayfish locally called marron.
Dairy products are produced locally by farms like Island Pure Sheep Dairy.
Sweet tooth enthusiasts will enjoy the local honey ice cream made from the Kangaroo Island Ligurian honey.
Kangaroo Iisland also holds about 30 wine growers and 12 wineries.
Sip the locally-produced Gin at Kangaroo Island Spirits, South Australia's first distillery, wine taste at the Snow Dragon Wines cellar, or splurge on fresh oysters at the Oyster Farm Shop.
Important – Quarantine
To protect its unique wildlife, Kangaroo Island holds quarantine to stop pests and diseases from mainland Australia to enter the island.
Restricted items included bees and honey products, potatoes, foxes, and rabbits.
Check the Australian Interstate Quarantine website for the latest on this topic.
Have you been to this beautiful place before? Let us know your favourite Kangaroo Island attractions below!
DISCLAIMER: Some of the links in this article are affiliate links, which means if you book accommodation, tours or buy a product, we will receive a small commission at no extra cost to you. These commissions help us keep creating more free travel content to help people plan their holidays and adventures. We only recommend the best accommodations, tours and products that ourselves or our fantastic editorial team have personally experienced, and regularly review these. Thanks for your support, kind friend!