From roaming through the wilderness of the Blue Mountains or the Royal National Park to tasting world-class wines in the Hunter Valley, these are the best day trips from Sydney.
If you are lucky enough to have already visited Sydney before and are out of new ideas on what to see and do – don't stress, because I'm here to help!
Even though Sydney is an epicentre of culture, there is also an abundance of interesting sights and things to do outside of Sydney too.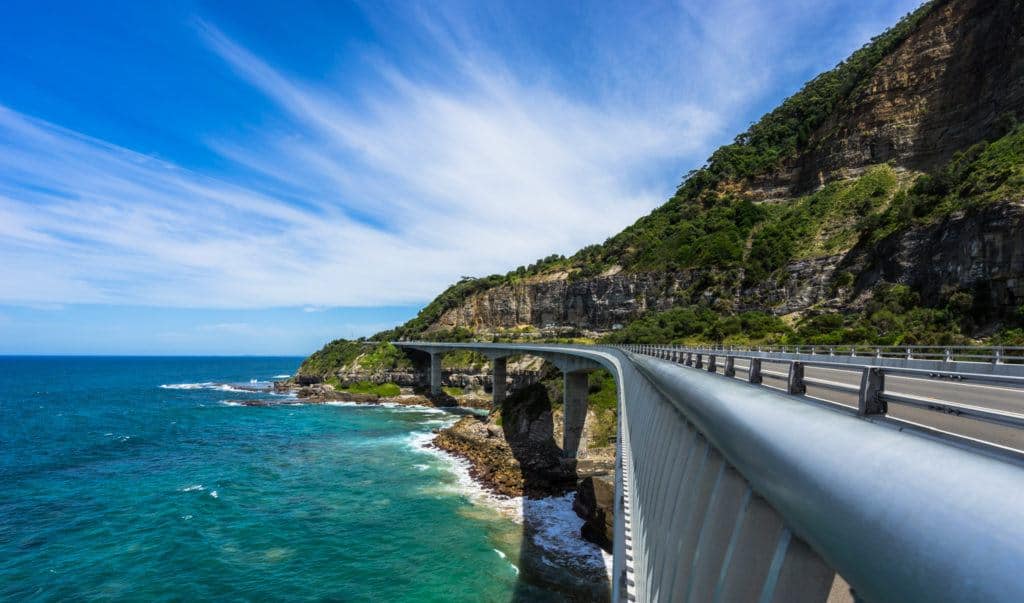 The Best Day Trips from Sydney
After you've seen all the Sydney highlights, including the famous Sydney Harbour Bridge, the National Portrait Gallery, and Sydney Opera House, it's time to get out and explore the surrounding areas.
Here is my list of the best Sydney day trips, most of which are easily accessible by public transport. Many of these could be weekend trips as well if you have time.
While on your epic Australian journey, make sure you get out of the city and check out these amazing spots too.
The best way to get around is to rent a car and explore on your own! We recommend Rental Cars, which has the largest range of vehicles for the best value on the market.
1) The Blue Mountains National Park
I think it is only fair to start the list with the Blue Mountains, one of Sydney's most iconic and picturesque locations.
The intense blue colour of the mountains is due to the native eucalyptus trees dispersing their oil in the atmosphere.
Droplets of oil mixed with water vapour scatter long rays of light, which are predominantly blue in colour.
READ MORE: Check out our detailed guide on the best things to do in the Blue Mountains.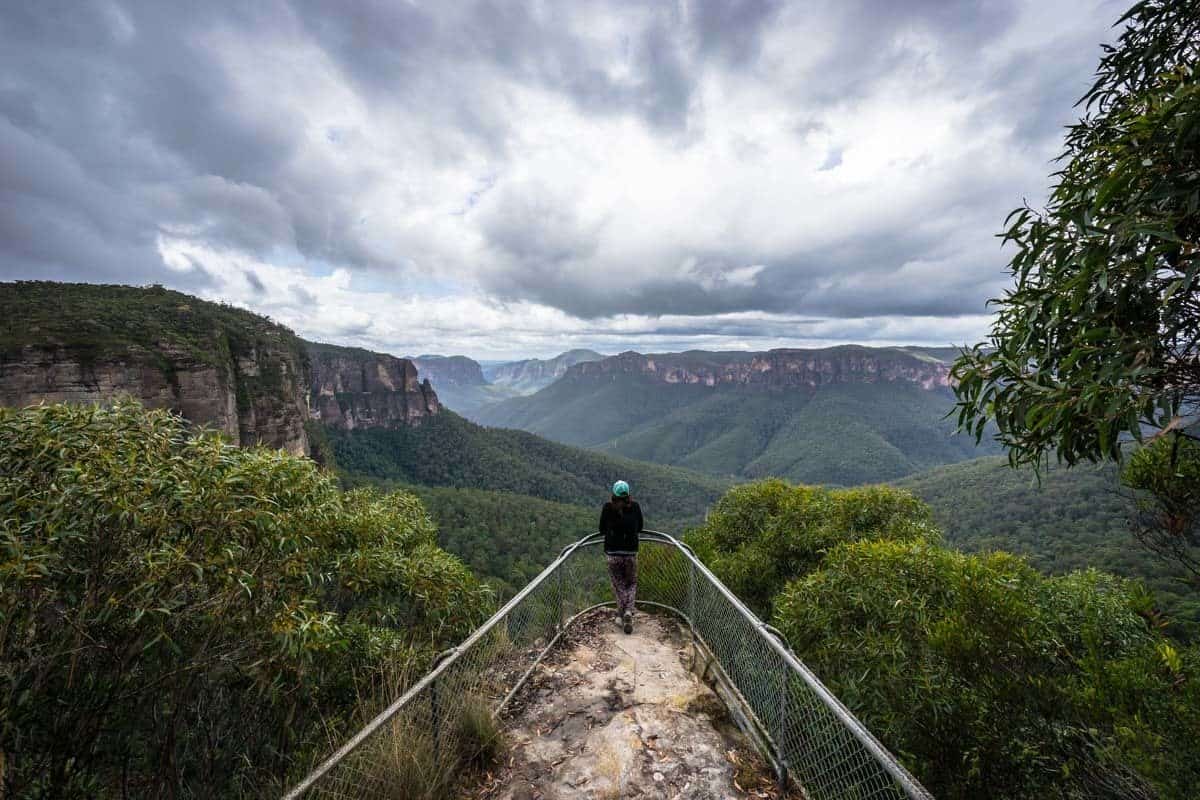 What To Do In The Blue Mountains
A World Heritage site, Blue Mountains National Park is located 130 km South West of Sydney. It takes about 1.5 – 2 hours to reach the mountains from the Sydney CBD, depending upon whether you are driving or using public transport.
If using public transport from the city, take a train ride from Central Station to Katoomba. From Katoomba, you can either walk to some of the great attractions or take a hop-on hop-off bus to Echo Point, a great launching point for adventures.
Famous for its dramatic scenery, stunning mountains, beautiful valleys, towering waterfalls, rock formations, art galleries, Aboriginal art centres, and eucalyptus forests, there is a huge array of amazing things to see and do in the area. It is easy to see why it is a World Heritage site!
The Three Sisters, Echo Point, Scenic World (offering rides on the railway, skyway, and cable car) & Wentworth Falls are the major attractions, and they will all fill up your time in the area quickly.
There are also quite a few single-day & multi-day hikes in the area which can help extend your time up there. If you're not a big hiker, consider strolling through the Blue Mountains Botanic Garden.
And if you love local festivals, this is the place to be, with the Blue Mountains Music Festival happening in March, The Winter Magic Festival in June, the fun 'Christmas in July' event, and the Leura Garden Festival in October.
Speaking of Leura, this nearby village is a good detour about one hour drive on your way out of Sydney.
If you're lucky enough to be visiting during the months of July and August, you will even get the chance to witness stunning cherry blooms.
Though the Blue Mountains is a year-round day trip destination, summers can get really hot and winters can get real cold (sometimes even snow!). So having appropriate gear is very important (and a lot of sunscreen!).
If you're looking to book a day tour including transport from Sydney, lunch and all the best activities to do, the best one available is on Get Your Guide.
2) Wollongong & Kiama
Just an hour's drive south of Sydney lies the beautiful coastal suburb of Wollongong. And a bit further south from there is Kiama.
If you haven't already added these spots to your list of day trips from Sydney, add it now!
You can easily travel to Wollongong via public transport. But since the 'Grand Pacific Drive' is one of the 'must-dos' of Sydney, driving would be a better option.
We recommend renting a car from Rental Cars, the largest and most affordable platform on the net.
While driving along the Grand Pacific Drive, make sure to stop at the Sea Cliff Bridge to get a panoramic view of the bridge and the coastline. Bald Hill is another amazing lookout spot on the route.
Don't worry, there will be no difficulty in spotting this as you will see many cars parked along it. The only problem will be to find a parking spot!
Not comfortable with driving? No worries – you can book a Grand Pacific Drive day trip from Sydney here.
READ MORE: We've just published a complete travel guide to Australia! Don't miss it.
What to Do in Wollongong and Kiama
Port Kembla beach makes a fantastic day trip, only 10km from Wollongong and one of the most stunning beaches in the region.
If surfing is your thing you'll be in heaven. Wollongong is home to many surf schools, offering everything from one-hour lessons to four-week intensive classes.
If you are interested in Chinese culture & Buddhism, Nan Tien temple is another interesting stop. You can take the bus from the Unanderra Station, and conveniently enough the bus stops just outside the temple.
Into cycling? The bike trail from Wollongong to Thirroul is another attraction.
The most exciting out of all for me was the Tandem Sky Diving, where I had my very first (and only) skydiving experience.
It is such an incredible sight to behold the coastal line from above and I highly recommend it.
About 30km south of Wollongong lies Kiama, a real gem on the south coast of New South Wales.
The main attraction of Kiama is the natural blowhole which keeps blowing high depending upon the tides. Also, there is a lighthouse located just a short walk away.
Kiama is quite a busy area – the beautiful beaches and the coastal walk are the reason why.
With plenty of food options along the coast, Kiama is an ideal place for a perfect afternoon on the beach.
If you're planning on making Kiama a day trip from Sydney, we recommend driving though so you can get out to the best spots and back in time for dinner.
Hanging out in Sydney longer? Check out our to have the perfect 3-5 day itinerary here!
3) Newcastle
Newcastle is located across the Hawkesbury River about two hours north of Sydney and 100 km from Central Coast.
There are regular trains departing from Sydney, or you can drive north as well. Both will take approximately 2:30 – 3 hours and make for a long day trip.
If you are driving and want to explore some beautiful beaches, stop by Pearl Beach near Gosford on the way up. There is a nice walking track that makes for a good place to stretch the legs while driving up to Newcastle.
What To Do In Newcastle
If you decide to drive, The Entrance is a nice pit stop along the way where you'll find you can have a cup of coffee or brunch at the wharf.
Newcastle is famous for its beers, beaches & food scene, so make sure you set some time aside to hit up places like Merriweather Beach and try some fish and chips!
Blackbutt Reserve is a nature park that has a lot of wildlife and a few picnic areas. A great spot to hit in case the waves are too rough at the beach.
There is no entry fee, and you get to see peacocks & kangaroos roaming freely.
Fort Scratchley boasts over one hundred years of history of protecting the land from invading naval vessels and is also a great spot for whale watching during winters. There is no entry fee and the guided tour is only $12.50!
Merriweather Ocean Baths are popular sea baths/swimming pools, where locals and tourists enjoy their summer (similar to Bondi Iceberg Pool).
Bogey Hole is a rock pool and another brilliant spot for swimming. The view of the Newcastle coastal line from here is spectacular.
Nobby's Light House and Newcastle Memorial walk are other interesting things to do.
4) Hunter Valley
Hunter Valley is a bit of a long day trip as it's 4 hours north of Sydney past Central Coast and Newcastle. But it's a great destination for all wine aficionados.
The region is the most proclaimed wine region in NSW and showcases dozens of different vineyards.
This is an ideal opportunity to learn about winemaking, the impact of the Australian weather and soil on the winemaking process, and of course to taste world-class wines!
If you don't know much about wines, the best way to pick and choose a bottle for yourself is to consult the information centre or ask the experts in the cellar doors.
What To Do In The Hunter Valley
There are other things to see/do in the Hunter region in addition to wine tasting, such as biking through the vineyards, enjoying a romantic stay in one of the boutique vineyards, etc.
Hot Air Balloon Safaris over the wineries is another amazing activity that you don't want to miss.
Hunter Valley Gardens situated in the heart of the region are a beautiful and serene spot to visit. You will feel like you are in a whole new world compared to the city life you left behind.
5) The Southern Highlands
If you want to relax and enjoy some of the best countryside in NSW, drive south down to the Southern Highlands, located just 2 hours south of Sydney.
This region is for those who would love to see rolling mountains, countryside living, charming village markets, and beautiful wineries.
You'll find the Southern Highlands is also famous for the beautiful spring colours, and a visit during the month of April will take your breath away!
What To Do In The Southern Highlands
Day trips to Bowral will bring you to the birthplace of Don Bradman, the greatest cricketer the world has ever seen.
Here you can visit the Bradman Museum and the International Cricket Hall of Fame. Learn all about Bradman's milestones in his private life as well as in the world of cricket.
Also worth mentioning is that Bowral hosts the Tulip Time Festival in the month of September at Corbett Gardens.
Berrima has a Court House, Heritage Walk, Harper's Mansion (Gregorian Style mansion), Art Galleries and lots of food shopping centres to keep you engaged.
Also to be found is one of the oldest licensed pubs in Australia, the Surveyor General Inn.
Fitzroy Falls & Mittagong (famous for its stunning wineries and countryside living) are two other places worth paying a visit.
Kangaroo Valley is another great stop in the Southern Highlands about two hours along the south coast from Sydney. It's wedged between Bowral and Kiama.
A most notable reason to visit Kangaroo Valley is that it is a jumping-off point to explore Fitzroy Falls.
Also when you're in Kangaroo Valley be sure to walk over the Hampden Bridge Victorian-era suspension bridge over the Kangaroo River.
If you have the time, continue exploring further south into Morton National Park for more hiking trails and wildlife.
6) Royal National Park
Royal National Park is perhaps the most famous national park in all of Australia. It is the oldest national park in Australia and the second oldest in the world behind Yellowstone National Park in the US.
The park is full of stunning coastal scenery and home to many great walks, including the epic Royal Coast Track.
Some other highlights of Royal National Park include Wedding Cake Rock, Wattamolla Beach, Marley Beach, Garie Beach, Jibbon Point, and Eagle Rock. Keep an eye peeled for several places where you can view Aboriginal rock carvings indicating the historical and cultural importance of this park.
You can reach the Royal National Park by public transportation from Central Station as it is only around a 45-minute ride. Of course, if you have your own vehicle this is an easy day trip to make.
READ MORE: Love to hike? Check out our guide to all of the great Royal National Park walks!
7) Ku Ring Gai Chase National Park
Ku Ring Gai Chase National Park is located just over an hour north of Sydney in the Northern Beaches region along the Hawkesbury River. As the second oldest national park in Australia, Ku Ring Gai Chase National Park hosts a variety of wildlife and history.
Whether you want to explore the coastland, rainforest or bush Ku Ring Gai Chase offers it all. The West Head lookout is one of the more popular vistas within the national park.
Where cultural sites such as ancient Aboriginal rock art meet European exploration, the national park gives you the chance to hike, picnic, and explore trails that run through the tributaries and along the Hawkesbury River.
With Royal National Park being the oldest, closest and most popular national park for day trips from Sydney, Ku Ring Gai Chase National Park is the second oldest national park and is well worth your time.
Another nearby option for hiking and exploring the wilderness is Brisbane Water National Park, also on the Hawkesbury River. So for more Sydney day trip ideas, this national park is just in between Ku Ring Gai Chase National Park and Newcastle on the Central Coast. It's also near the lovely Pearl Beach is you fancy a swim in the ocean.
8) Port Stephens
Port Stephens is another great day trip just over two hours from Sydney to the north. A hot destination among Aussie travellers, Port Stephens offers enough to attract visitors from all over the world.
With many epic beaches, a handful of gorgeous bays and plenty of outdoor activities to enjoy, Port Stephens is a playground for outdoor enthusiasts.
The Stockton sand dunes are a unique attraction to the area. Here you can quad bike through the sand dunes, try sandboarding down the slopes or even ride a camel through the sand.
Port Stephens is also recognized as the dolphin capital of Australia as you are all but guaranteed to see them when you visit. The waters around the area make up Great Lakes Marine Park, so there is lots of marine life. Take a dolphin tour, watch from the beach or cliffs or even go for a swim with the adorable mammals.
If you really want to see some wildlife, koalas are abundant in the area if you can spot them. And you can also spot humpback whales between May to October.
Or hedge your bets and check out dingos, wombats, snakes, koalas, and other native Australian animals at the Oakvale Wildlife Park.
READ MORE: Stay a few extra days in Port Stephens with this itinerary!
9) Palm Beach
Palm Beach is one of the easiest Sydney day trips ideas, as it is just under an hour north of the city on the coastal side of Ku Ring Gai Chase National Park. Known by locals as "Palmy," Palm Beach is one of the wealthiest suburbs in Australia and part of the northern beaches region of Sydney.
The most popular attraction at Palm Beach is the Barrenjoey Lighthouse at the end of the narrow peninsula.
If you climb to the top of the Barrenjoey Lighthouse you can look out over Ku Rung Gai Chase National Park at the famous West Head beach and rock formations or stare off over the seemingly never-ending Tasman Sea.
But gold sandy beaches and crystal clear water of Palm Beach also attract visitors looking for a beautiful getaway from the city. Dine at some fantastic restaurants and sip your favorite cocktails on the beach.
If you're interested in hiking there are some great walks around Palm Beach.
There is also great paddleboarding and kayaking around Palm Beach as it is surrounded by plenty of salt water and sunshine!
That's it for our list of the best day trips from Sydney! What would you add? Let us know in the comments below!
DISCLAIMER: Some of the links in this article are affiliate links, which means if you book accommodation, tours or buy a product, we will receive a small commission at no extra cost to you. These commissions help us keep creating more free travel content to help people plan their holidays and adventures. We only recommend the best accommodations, tours and products that ourselves or our fantastic editorial team have personally experienced, and regularly review these. Thanks for your support, kind friend!