There are so many amazing free things to do in Sydney, Australia's most popular city and the heart of New South Wales! These are a few of our favourite!
For most travellers who visit Australia, their big trip Down Under starts in Sydney. The country's most populated city is truly beautiful, with a stunning skyline, captivating harbour, world-class beaches and top-quality museums.
Sydney is also very multi-cultural, giving it a vibrant and youthful atmosphere.
It can be very overwhelming for the first-time visitor to get their head around what to do in Sydney.
With so many epic attractions, where should one start? And unfortunately, Australia is not a cheap destination.
So for anyone backpacking in Sydney it can be pretty difficult to figure out what activities won't break the bank.
READ MORE: Spending a few days in the city? Check out our comprehensive Sydney itinerary guide!
Free Things to Do in Sydney
Even though we know Sydney well, every time we return we always find new things to do.
This time around we decided to base ourselves in the city and try to explore the best ways to spend a few days without handing over much money.
After a few days of research, we figured it out. We've put together this great guide on 16 things to do in Sydney at no cost – from taking a free walking tour of the city to checking out an awesome art gallery to hiking around the beaches and everything in between.
From the Royal Botanic Gardens, to the Museum of Contemporary Art, to Darling Harbour, Centennial Park, and free walking tours, there are so many free attractions in Sydney city.
1)

Go On A Free Guided Tour
Just like elsewhere around the world, there are some great places to find a free walking tour in Sydney. It is a perfect way to learn about the city's history and get some secret insider tips from a local.
If you've ever been on a free walking tour in Europe then you know exactly how they work. You join an organised group at a designated meeting spot and walk around for 2-3 hours or so with a couple of breaks in between.
There's no cost to join a walking tour. But at the end of the guided tour, you can leave a donation at your discretion. In Sydney, there is usually a walking tour in the morning and one in the afternoon.
Make sure you wear good walking shoes!
Here are two companies that provide free walking tours around Sydney, and they operate every day:
I'm Free Sydney
Times:

10:30 and 14:30 (Sydney Tour)
18:00 (The Rocks Tour)

Meeting Point:

Town Hall Square (Sydney Tour)
Cadmans Cottage (Rocks Tour)

Check out their website for more information
Free Tours Sydney
Times:

May – October: 10:30
November – April : 10:30am & 14:30

Meeting Point:

Near Archibald Fountain at Hyde Park every day at 10.30.
Look for a tour guide in an orange t-shirt.

Check out their website for more information.
READ MORE: Everything you need to know about Australia travel in our new guide!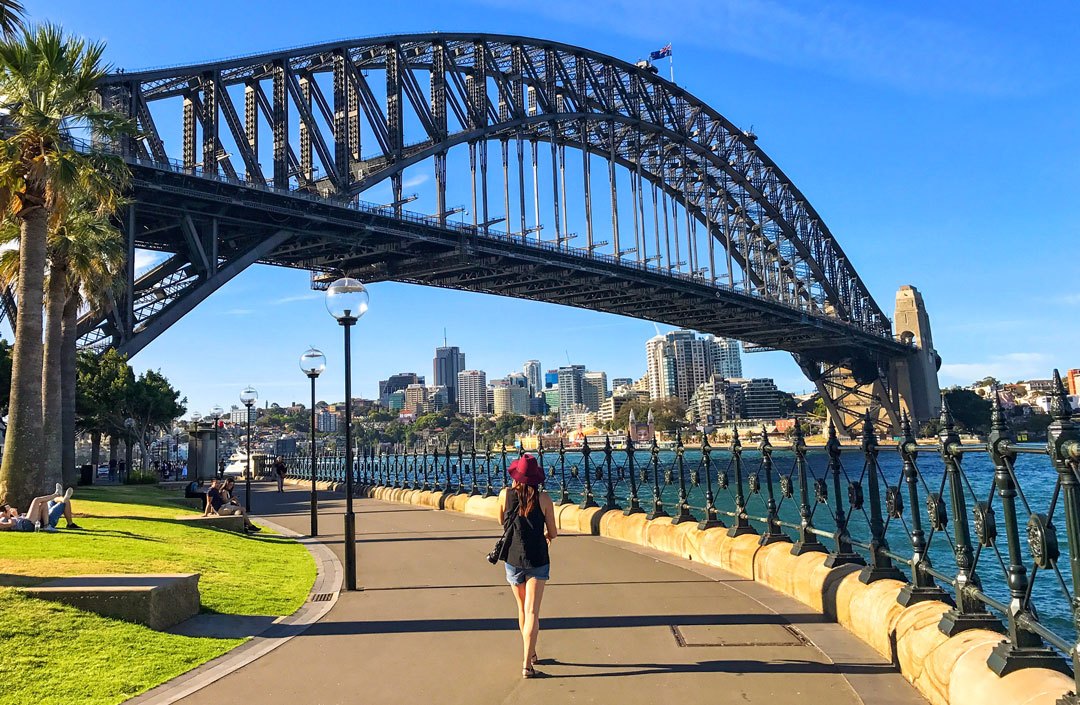 2) Take A Stroll Through The Queen Victoria Building
The beautiful Queen Victoria Building was built in 1898, and over the years has evolved into a whole bunch of different things:
The Sydney Markets, a concert hall, the City Library, offices for the City Council.
At one point it was nearly demolished, and today is a vibrant complex that is occupied by 150 retail stores, cafes and restaurants over 4 floors.
Queen Victoria Building is open from 09:00 to 18:00 daily. The best way to enjoy it is to simply have a coffee and take it all in. If you need it there is free Internet now available inside.
If you are still interested in the building and its history, you can join a tour for AU$15 per person, and it is about 45 minutes long.
The tour starts at 11:30 on Tuesdays, Thursdays and Saturdays. Just go and see the Concierge Desk on the ground floor.
Another great thing to do is to explore the rest of the building and head up to Level 3. Up here you can see the two clocks chime every hour.
The Royal Clock shows scenes of English royalty from King John signing the Magna Carta to the execution of King Charles I. This clock chimes on the hour from 9 am until 9 pm.
The Great Australian Clock includes 33 scenes from Australian history seen from both Aboriginal and European perspectives.
Hours:

Monday – Saturday: 09:00 – 18:00
Sunday and Public Holidays: 11:00 – 17:00

Location: 455 George Street (Next to the Town Hall)
Nearest Train Station: Town Hall
READ MORE: Short on time? Check out our travel guide on how to spend one day in Sydney!
3) Get Lost In The Royal Botanic Gardens
One of the best things to do in Sydney is to take a walk through this is a stunning garden, escape the hustle and bustle and smell the flowers, literally.
The Royal Botanic Gardens are located near the Sydney Harbour Opera House and has some of the best views of the city and Sydney Harbour.
If you are really into plants or want to find out more about the gardens, check out the Royal Botanic Gardens Visitor Centre.
There are even free guided walks from the centre, or you can follow a self-guided tour.
The Royal Botanic Gardens are a Sydney must-see!
The hours are different every season, but the Gardens are open every day. Check out their website for the most accurate hours.
Nearest Train Stations: Martin Place or Circular Quay
4) Do the Coogee to Bondi Coastal Walk
If you're the kind of person who loves getting outdoors, then Sydney is a perfect place for you!
One of the best things to do in Sydney is to just go out and explore all the amazing hiking trails that wind their way around the city.
The one that should not be missed is the famous Coogee to Bondi walk that follows the coastline. This gorgeous hike goes for 6km and connects some of Sydney's most famous beaches.
There are epic views, funky cafes, pretty parklands, secluded coves and of course white sand beaches to swim at.
It actually starts in Maroubra and ends in Bondi Beach. But you can do it in either direction (we recommend finishing in Bondi).
It isn't a strenuous hike, but make sure you bring water with you. There are plenty of places you can fill up your water bottle along the way too.
If you want to make the most of this epic beachside location, why not decide to stay at Mad Monkey Hostels right on Coogee Beach? It's the newest and most epic hostel in Sydney!
Getting There: Take a bus to either Bondi Beach or Coogee Beach
Note: There's no direct transport connecting Bondi and Coogee. Take bus 313 or 314 between Coogee and Bondi Junction. From the city take a train to Bondi Junction.
5) Hang Out At Manly Beach
While Bondi Beach is by far the most famous beach in Australia, we personally believe Manly Beach is much, much better (which is why we tell everyone to go there when recommending the best beaches in Sydney).
On a hot day (and especially on a weekend) you will find quite literally thousands and thousands of people spread out all over the place at Bondi, whereas Manly has a much more chilled vibe and better opportunities to escape the crowds.
The appeal in Manly is the absolutely beautiful setting, with clean yellow sand, towering trees, a fun boardwalk and amazing cafes and restaurants the entire length of the beach.
The Corso is the pedestrian mall that leads up to the beach, with tonnes of great shops and galleries in every nook and cranny.
Manly is also the best jumping-off point to explore more of Sydney's Northern Beaches, which is one of the nicest places in all of New South Wales.
Make a day of it and head over on the ferry. And our tip – it's better to learn to surf in Manly than Bondi. A great day trip from Sydney.
As all beaches are free in Sydney, other cool spots to check out include Palm Beach, Shelly Beach, or any of the beaches in the Royal National Park.
Location: North Steyne Road, Manly
Getting There: Jump on board the ferry from Circular Quay to visit Manly. This also gives you a great opportunity to experience the sensational views of Sydney Harbour from the water.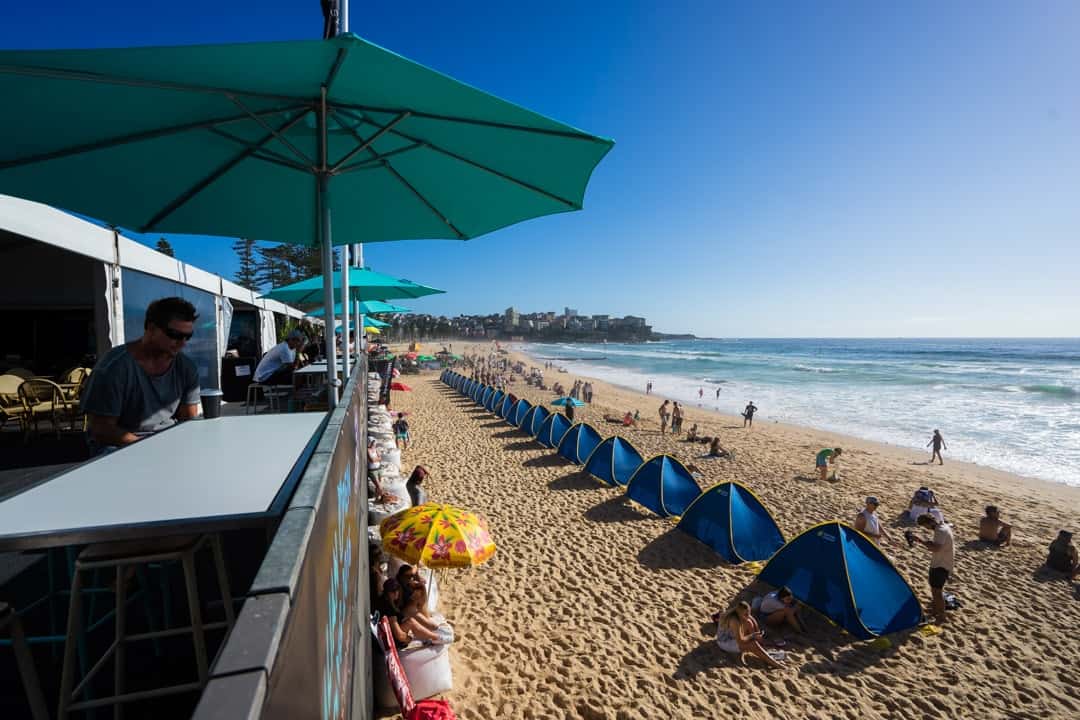 6) Walk Through Hyde Park
Hyde Park is a gorgeous green field spread out over 40 acres right in the heart of Sydney. It's also the oldest public park in the city!
Hyde Park is surrounded by some of the best things to do in Sydney, such as St Mary's Cathedral (below) and the Archibald Fountain in the centre of the park.
On a sunny day, you can find lots of Sydney-siders chilling out on their lunch breaks, feeding the birds and just relaxing.
Location: Elizabeth Street
Nearest Train Stations: Museum Station or St James Station
7) Admire The Architecture Of St Mary's Cathedral
The St Mary's Cathedral on College Street at the end of Hyde Park is the oldest church in Australia.
The idea for the church was first developed when Captain Arthur Phillip settled in Australia back in 1788, but it wasn't until 1821 that construction first began.
The original St Mary's Cathedral was actually destroyed by fire in 1865. In 1868 the new church started to be built but became an ongoing project that didn't finish until 2000.
Today with its spectacular Gothic-style design and prominent location, it is a wonderful place to visit.
Make sure you go inside to check out the stained glass panels and huge pipe organs. The entrance doesn't cost anything, which is why it's on our free things to do in Sydney guide.
Hours: Monday to Friday: 08.30 – 17:00
Location: In the heart of the CBD on St Mary's Road
Nearest Train Station: St James Station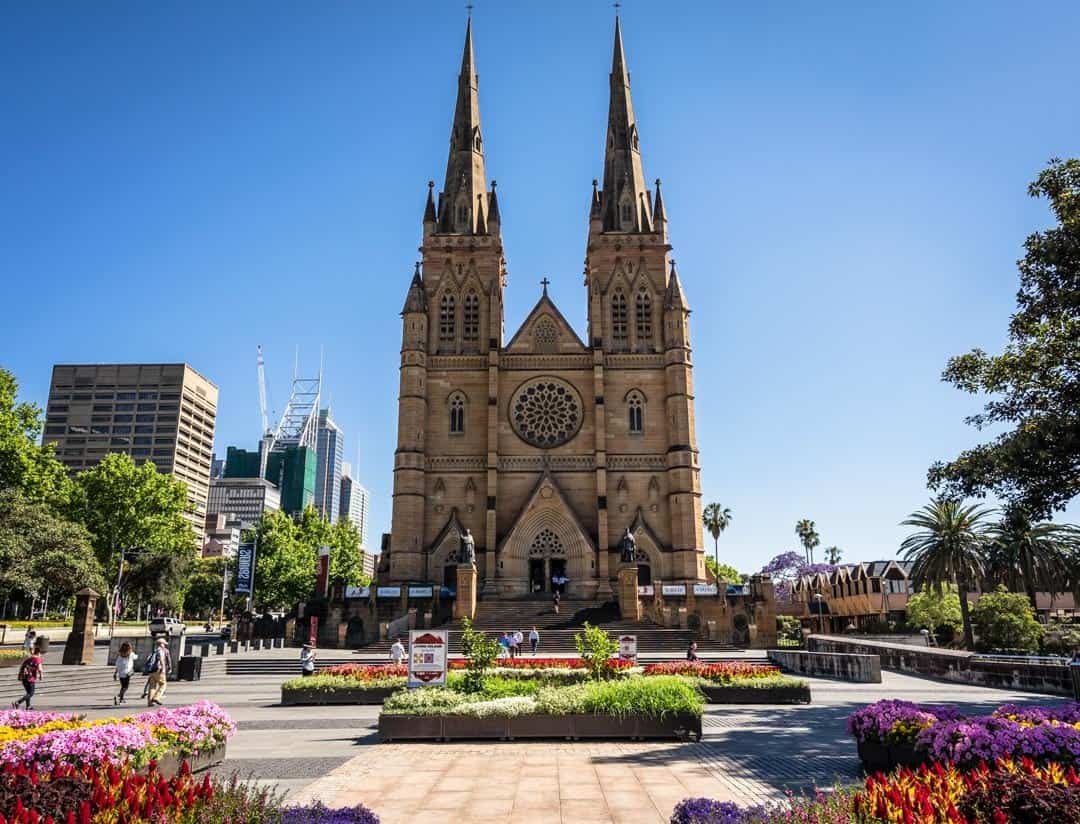 8) Listen To The Buskers At Circular Quay
Sydney sightseeing isn't complete without a visit to the Circular Quay at the heart of Sydney Harbour.
Circular Quay holds the title for being Sydney's most Instagrammed place.
This sensational harbourside location is constantly buzzing with people who bask in the unrivalled views of the Sydney Opera House and the Harbour Bridge.
It is also the spot to jump on a ferry to Manly, North Sydney or Darling Harbour.
Besides the huge number of cafes and restaurants around Circular Quay, one of our favourite things to do in Sydney is enjoy the Aboriginal music that the buskers play during the day.
Every time we walk around the area we stop by next to the piers and listen to the hypnotising sounds of the didgeridoo from the very talented indigenous musicians who hang out.
If you've got some coins in your pocket make sure you leave a donation. Or if you're really in love with the music you can buy their albums.
Otherwise enjoy the splendid atmosphere that Australia's traditional instrument creates.
9) Wander Around the Sydney Opera House
Alongside the Harbour Bridge, the Sydney Opera House is Sydney's most famous landmark.
Perfectly located on Bennelong Point at the end of Circular Quay, the Sydney Opera House has epic views over the harbour and towards the bridge.
Designed by award-winning Danish architect Jørn Utzon, the Sydney Opera House was officially opened on the 20th of October, 1973.
It is one of the most famous performance halls in the entire world, and more than 1.2 million people attend concerts, plays, theatre shows and symphonies at the venue every single year.
Getting up close to this work of art is a wonderful experience, and one of the best things to do in Sydney and all of New South Wales.
If you're interested in going inside the Opera House, there are a whole range of amazing tours you can do. If not, just admiring from the outside is one of the best free things to do in Sydney.
Location: Bennelong Point, Circular Quay
Nearest Train Station: Circular Quay
10) Enjoy an Art Gallery
The fact that you can enjoy some of the most amazing art galleries in the country without spending a dime is awesome!
Both the Art Gallery of New South Wales and the Museum of Contemporary Art Australia are completely free to enter.
Each art gallery is very different and hugely fascinating. Even if you are not an art lover, just take a little peek inside and you will be surprised.
The Art Gallery of NSW is a collection of modern, indigenous and contemporary art displayed in a super cool classical-style building, founded in 1871.
The Museum of Contemporary Art is a funky building down by the water near Circular Quay.
Some of the exhibits do require an entrance fee, and these change every few months. It's worth checking to see what is on when you get to each art gallery.
Art Gallery of NSW

Location: Art Gallery Rd. Near the Botanical Gardens
Nearest Train Station: St James Station

Museum of Contemporary Art Australia

Location: George Street
Nearest Train Station: Circular Quay
11) Walk Over the Sydney Harbour Bridge
Climbing the Sydney Harbour Bridge costs quite a lot of money. But walking across it doesn't cost a penny!
This is one of Sydney's biggest icons, and definitely should not be missed!
There is a walking path on either side of the Sydney Harbour Bridge so you can enjoy different views of harbour.
The bridge was opened on the 19th March 1932 and joins the Sydney CBD across the Sydney Harbour to the North Shore.
There are 8 lanes for motor traffic and two rail lines.
Like everyone and everything in Australia, the Sydney Harbour Bridge has a nickname: "The Coathanger."
This is because of its arch-based design. The arch has a whooping span of 504m and reaches 134m above sea level.
It took 1400 men eight years to build the bridge and cost 4.2 million dollars. When you walk across it, you are surrounded by 53'000 tonnes of steel. So crazy.
Location: Sydney Harbour. Trust us, you'll see it.
Nearest Train Stations: Milsons Point Station (Northside)
12) Learn Some History at the Rocks Discovery Centre
We spent a surprising amount of time in this 3-story museum learning about the history and tales of The Rocks, from pre-European days right through to today.
In case you don't know, The Rocks is a historic suburb of Sydney, located right on the harbour and near Circular Quay.
It used to be quite a poor, dirty neighbourhood reserved for the working class. But today it is a hip and trendy location with some of the best bars and restaurants in the entire country found inside the old, brickwork buildings.
The Rocks Discovery Centre is free, family-friendly and is housed in a restored 1850s sandstone warehouse. The exhibits are really well done making it feel like you are back time.
Adding to the education are sections with touch screens, audio and visual elements to bring history alive. We highly recommend visiting this museum as one of the great free things to do in Sydney!
Hours: Open daily from 10:00 – 17:00 (closed Good Friday and Christmas Day)
Location: Kendall Lane, The Rocks (enter via Argyle Street)
Nearest Train Station: Circular Quay Station
13) Have a Romantic Moment at Observatory Hill
Observatory Hill is a very romantic place to enjoy the sweeping panoramic views of the Sydney Harbour Bridge and Darling Harbour.
Bring some cheese and crackers and kick back while the world goes by. It is a grassy park with public artwork, a rotunda, tennis court and toilets.
It doesn't get much better here than in the evening during sunset when the city is lit up beautifully and the views are magical.
Location: Upper Fort St, Millers Point
Nearest Train Station: Circular Quay
14) Check Out Some Markets
Sydney is famous for its weekend markets. And even if you aren't in the mood to buy anything it's always worth stopping by to check them out.
Some of the most popular ones are listed below.
Paddy's Markets
One of Sydney's most popular markets where you can find unique souvenirs, some great clothes or some food to treat your taste buds. It really does have it all.
Hours: Wednesday to Sunday: 10:00 – 18:00
Nearest Train Station: Town Hall or Central Stations. Walk to the market.
The Rocks Markets
This weekend market is a great place to walk around, buy some goodies or have a coffee and take it all in.
Combine it with a tour of The Rocks and get lost wandering around the alleyways between the old buildings.
Hours: Saturday and Sunday: 10:00 – 17:00
Nearest Train Station: Circular Quay
Bondi Markets
Another great weekend market, Bondi Markets has everything from vintage clothing to retro furniture to homemade jewellery to arts and crafts.
If you want something unique and old school then this is your market.
Located a short walk from the famous Bondi Beach, you will find a vibrant, happening, festive event on the weekends.
Hours:

Saturday: 09:00 – 13:00
Sunday: 10:00 – 16:00

Location: Bondi Beach Primary School, Campbell Parade, Bondi
Getting There: Get the train to Bondi Junction, then the 333 bus to Bondi Beach. Walk to the markets.
Rozelle Collectors Market
Rozelle Collector's Market is open on the weekend-only as well. It is an open-air market featuring used and vintage fashion stalls and food vendors.
The market is one of Sydney's favourite pre-loved antique, vintage and retro market. Stallholders have been selling secondhand gear here for over 20 years.
As they say, someone's trash is someone else's treasure, and we are certain you will find a real treasure here!
Hours: Saturday and Sunday 09:00 – 15:00
Location: Rozelle Public School, 663 Darling Street, Sydney
Getting There: Take bus routes 440, 433, 445, or any bus in the 500's.
15) Have a Picnic in Bicentennial Park
If you are coming to Australia then you just have to have a picnic or a barbecue! Known as "barbies", these get-togethers are what we Aussies do best!
Bicentennial Park is 40 hectares of beautiful parkland just waiting to be enjoyed. From mangrove wetlands to gentle rolling hills to lakeside meadows and so much more, you really need to go see it for yourself.
It is about an hour on the train so we recommend spending the afternoon there and making the most of it.
There are all the facilities you could ever need such as picnic shelters, FREE electric BBQs, playgrounds, toilets. And if you decide to drive there is plenty of parking.
It is a beautiful place to get away from the busyness of the city and take in the fresh air.
There are many paths to walk around and you can even take the stairs to the top of the Treillage Tower for a great view over the wetlands, Homebush Bay and city skyline.
If you want a break from all your walking, have a coffee or a snack at the café. If you want to get around on two wheels there is a bike hire shop there for your convenience.
Do keep an eye out on their events calendar, as there are a lot of events on near the park during the year.
Hours: Daily from 06:00 – 19:30
Location: Herb Elliott Avenue, Homebush Bay
Nearest Train Station: Olympic Park Station or Concord West Train Station
16) Explore Centennial Park
Centennial Park, wedged between the cities of Sydney and Randwick is to Sydney what Central Park is to New York City.
With the opportunity to view various wildlife such as foxes, rabbits and a variety of birds, Centennial Park is a way to escape the city without really leaving it.
You can also go horse riding if you're interested. But that will set you back a little bit. Instead, cycle or walk through Centennial Park, stop for a picnic or cup of coffee and enjoy the day!
Sydney Travel Guide
There are many things to see in Sydney as it's a big city with a brimming cultural scene and fun outdoor activities.
From exploring a contemporary art gallery, to roaming the Royal Botanic Gardens, to visiting the Rocks Discovery Museum, to strolling through Darling Harbour and Centennial Park, there are so many free things to do here.
While being an amazing trip destination that has a lot to offer to its visitors, Sydney is an expensive city, too.
To help you stay on budget while scoping out all Sydney attractions, we have created this list adjacent to free things to do in Sydney list.
Read below for tips on the most inexpensive ways to go around Sydney.
Cheap Transport In Sydney
When you first get to Sydney, get yourself an Opal Card. This is what you will use for the buses, trains and public ferries. It is a card that you can top up with money and use to pay for your fees.
You can get a card from any 7/11 or store that has the Opal symbol displayed, as well as at all major train stations in the city (Town Hall, Central, etc).
You can also top it up from these places. By using Opal Cards on public transport, you'll enjoy daily travel caps and the $2.50 per person Sunday cap.
Visiting On A Sunday?
Family Funday allows you to explore Sydney with unlimited travel on buses, trains and light rail for only $2.50 per person, while kids under 4 travel free.
How cool is that! Purchase tickets from news agencies, convenience stores, train and ferry ticket offices.
If you are unsure, ask the information offices or the reception at your hotel/hostel.
Have you been to Australia's most popular city? What are your tips for the best free things to do in Sydney?