Check out this perfect 2-week self drive Tasmania road trip itinerary to help you plan your epic adventure around Australia's most beautiful state!
Tasmania, that bit of Australia that everyone knows exists but few seem to visit.
I first visited Australia in 2008 and sadly did not make it to Tasmania. Since then it's been a place that has been on my bucket list.
In January 2018 my wife and I finally made it down that far south to check out all the best places to visit in Tasmania.
This stunning island may just be Australia's best-kept secret. Although I cannot imagine it staying that way for long.
Unlike the rest of Australia, Tasmania is small and compact. The journeys are short, the roads are winding and the sea is cold. It's perfect for a road trip.
The scenery is simply breathtaking. Of all the places I have been in Australia, this may just be my favourite state.
Highlights of a 2-Week Tasmania Itinerary
* Visiting Port Arthur Historic Site
* Bicycle around Maria Island
* Hiking and Exploring Freycinet National Park
* Explore Wineglass Bay
* Enjoy the beaches along the Bay of Fires and Binalong Bay
* Hike around Cradle Mountain & relax along Lake St Clair
* Day trip to Bruny Island
From the beauty of a national park to the natural beauty from nearly any side of the road views, a road trip through Tasmania is truly spectacular.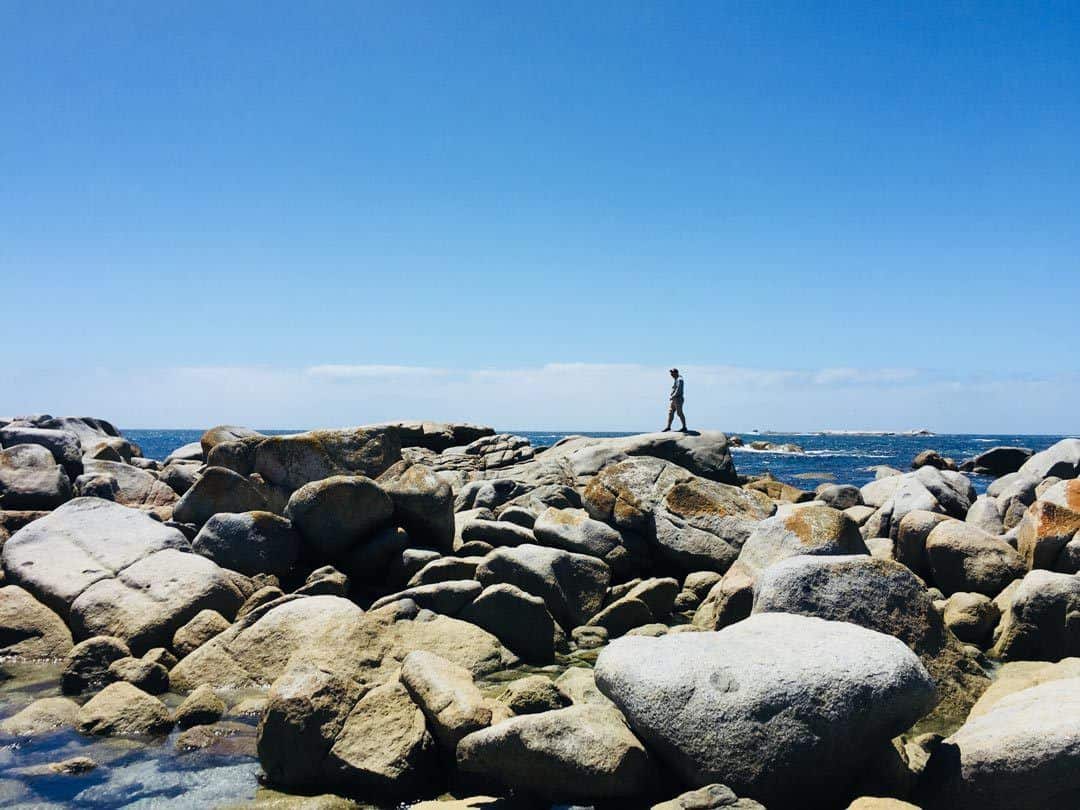 Tips for a Self Drive Tasmania Road Trip
Below is our 2-week Tasmania itinerary that took us all the way around this beautiful island. Obviously there are parts that can be extended or chopped off as you wish.
However, we found this Tasmania itinerary gave us plenty of time to see the vast majority of what we wanted to see without being rushed.
Be warned though, Tasmania is not like mainland Australia.
It does rain, especially around Cradle Mountain. So even in the middle of summer, do not be surprised if you encounter a fair few showers during your road trip.
READ MORE: Don't miss our new travel to Australia guide.
How to Get Around – Car vs Campervan
You cannot road trip Tasmania by public transport alone. To really enjoy and experience everything this incredible place has to offer you need your own set of wheels.
Luckily renting a car in Tasmania is cheap, we rented a car for $66 dollars a day, which included zero excess insurance.
The cheapest campervan we found was 3 times this amount. But if you love this style of travel, then this could be a good option. Check out Spaceships for affordable vans for rent.
We would recommend hiring a car for Tasmania for the following reasons:
Cost
The overall cost of renting a car is substantially cheaper. However, in effect, you need to work out if car rental + accommodation is going to be cheaper than camper-van + holiday parks.
From our pre-trip calculations, a car turned out to be our best bet.
We averaged $150 on car + accommodation on our trip, which was cheaper than the rental cost of a camper van.
Petrol
Cars drink less fuel, period. We had a lovely Toyota Prius Hybrid which meant our fuel costs were minimal. This is a big plus on a Tasmania road trip, where fuel prices can be quite high.
Driving Comfort
I personally prefer driving cars to camper vans due to the manoeuvrability, ease of parking in cities and less stress driving on winding roads.
Of course, this is all up to you though. With an epic Tasmania itinerary, you'll have an amazing time no matter how you choose to get around.
The best way to get around is to rent a car and explore on your own! We recommend Rental Cars, which has the largest range of vehicles for the best value on the market.
Buying a National Parks Pass
Buying a National Park Pass is a must for anyone planning to visit Tasmania's National Parks.
It costs $58 AUD per vehicle and gives you unlimited entry to Tasmania's National Parks for 2 months.
You can buy it at any National Park visitor centre. Just remember to display it on your dashboard or you will be fined.
It also saves $10 AUD on the ferry to Maria Island. The alternative is paying $24 AUD per 24 hours. So long as you visit national parks for a minimum 3 days then you've made your money back.
Eating and Drinking in Tasmania
Like mainland Australia, eating out can be quite expensive at times. As a result, the vast majority of travellers will be cooking for themselves at numerous points on their travels.
Pick up a cheap cool bag to keep food fresh, as you cannot always guarantee a fridge (unless of course, you have a campervan).
We stayed in a mixture of holiday parks, AirBnBs, hotels and guesthouses on this Tasmania itinerary. We only had a couple of nights without a kitchen which helped us keep our spending down.
Click here to get $35 off of your first AirBnB booking!
That being said, Tasmania's gourmet produce is both popular and delicious so don't forget to indulge now and then, especially on the Cradle to Coast Tasting Trail!
2-Week Tasmania Road Trip Itinerary
Without further ado, let's hit the road with my ultimate Tasmania road trip itinerary!
Day 1: Hobart
Fly into Hobart and pick up your rental car.
After getting to our AirBnB and dumping our stuff head up Mount Wellington for stunning views over Hobart and the wider area, even as far as Bruny Island.
Then head to the Museum of Tasmania before spending the evening wandering around Battery Point and beautiful Salamanca.
Day 2: Port Arthur
From Hobart, it's a short drive to Port Arthur on the east coast. This excellent historical site gives you the opportunity to understand more about Tasmania's fascinating convict history.
You can book a guided tour or a ghost tour to learn more about the history and spookiness around the historic site. Also consider booking your entry ticket online in advance during peak season to save yourself some time.
Port Arthur is also home to Australia's worst-ever massacre. While this is a pretty morbid topic, it's important to pay homage to the victims at the Port Arthur Memorial Garden.
Day 3: Tasman Peninsula
On Day 3 of your Tasmania road trip, you are likely to first experience the island's infamously temperamental weather.
Spend the morning exploring the convict coal mines located on the north west coast of the Tasman peninsula.
From there, head back to quirky little Doo Town for some gorgeous coastal scenery and excellent food from the fish and chip van next to the blowhole.
Close to Doo Town are some beautiful coastal viewpoints which a well worth exploring.
After crossing back across the Eagles Neck, check out the dog line museum before heading on towards the tessellated pavements. Here there is a lovely walk along the coast giving some wonderful views of the Tasman peninsula.
From here, head up to the tiny coastal town of Triabunna, in preparation for your journey to Maria Island.
Check out our full guide to the best things to do on the Tasman Peninsula!
Day 4: Maria Island
Catch the ferry from the Tiabunna Visitor Centre at 10:30. You should aim to get to the ferry terminal around 30 minutes before departure.
Incidentally, you can also pick up you National Park Pass here and save yourself $10 AUD on the ferry ride.
The journey only takes around 30 minutes. And if the weather is looking good, you can stake out space at the front to sunbathe.
We only spent one day on Maria Island. If you want to stay the night there are campsites and cabins that can be booked.
READ MORE: Check out our brand new guide to the best things to do in Tasmania!
You are also able to rent mountain bikes, which can be arranged at the visitor centre in Triabunna and picked up in Darlington.
If you are only doing 1 day, a bike gives you the opportunity to cover a decent amount of ground.
From Darlington, we headed for the painted cliffs which are leisurely 30-minute ride. We dumped our bikes and went to explore the amazing coastline.
We carried on further down the track stopping at various points along the way to explore the coastline and find a place to have our picnic.
It was here we encountered wombats, wallabies and pademelons.
We carried on further down the coast before heading back to snorkel around the painted cliffs.
The area from Darlington to just beyond the painted cliffs is a protected marine reserve. The snorkelling is pretty good, but the visibility isn't great.
This wasn't helped by the huge thunderstorm that hit not long after getting in.
As I was coming back in I got the fright of my life in the form of a 2-meter wide stingray coming out of nowhere.
Do be aware that the water here is cold too. I went in without a wet suit and was okay, but you will definitely have a more pleasant experience with one.
We spent the remaining couple of hours dropping the bikes off, spotting roos on the hills close the jetty and avoiding the rain.
After getting the last ferry back we drove up to Bicheno. Coles Bay is the other popular option for accommodation in the park. Coles Bay is closer to the attractions, but Bicheno is a bit bigger and has more going on.
We chose this as it was cheaper than anything else close to Freycinet and after camping in the rain in Triabunna a tent wasn't on the agenda for Miranda.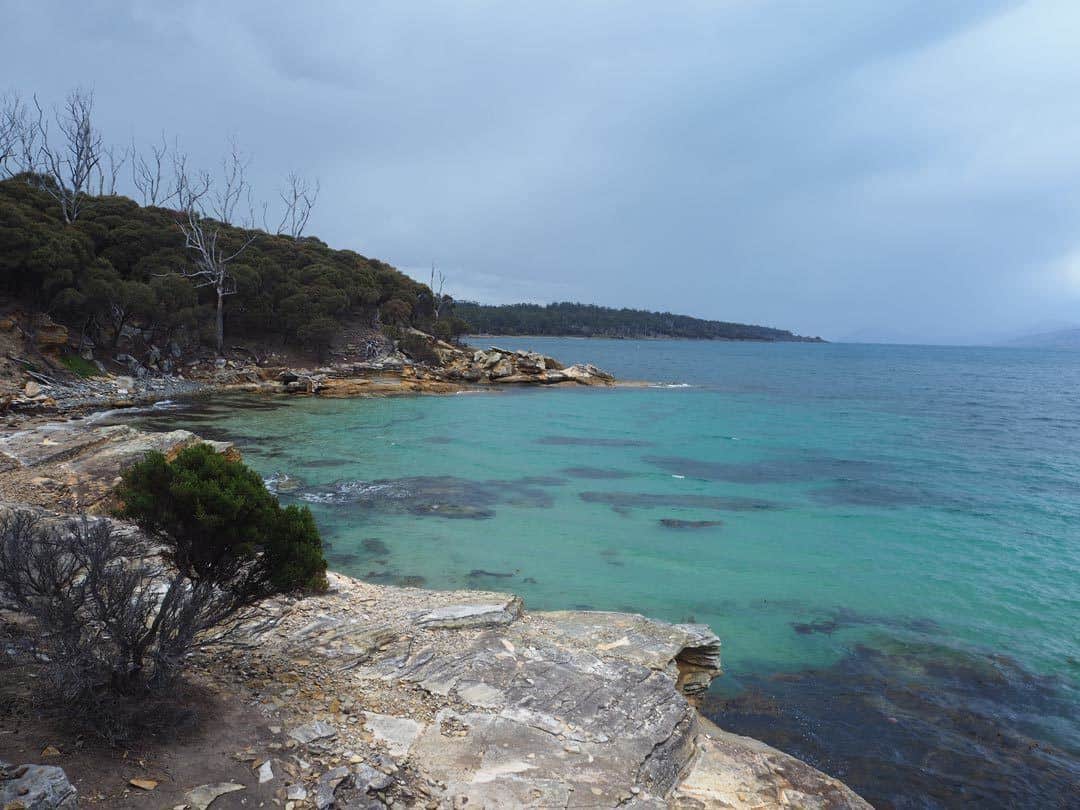 Day 5: Freycinet National Park and Wineglass Bay
We hopped in our car and headed for the Freycinet National Park for day 5 on our Tasmania road trip.
From Bicheno, it's around a 30-minute drive. Probably more during dawn or dusk as the risk of wildlife jumping out increases dramatically in and around the national park.
We headed down to the visitor centre to check out some of the walks to come up with our plan of action. We ended up doing the Wineglass Beach Walk overlooking Wineglass Bay.
Understandably this is one of the most popular walks in Tasmania, so don't be surprised if it's busy. To avoid the crowds simply walk down to Wineglass Bay Beach from the lookout.
The vast majority of tourists head up to the Wineglass Bay Lookout and back down again. As a result, the beach is actually very quiet in comparison. This is a great spot to pull out that picnic basket.
Alternatively, if you have the time, consider this Wineglass Bay cruise from Coles Bay.
There are plenty of other great walks in the national park. The Hazards Beach walk, in particular, gets rave reviews, and you can't really beat the Mount Amos hike at sunrise.
Don't forget to display your Parks Pass if you are doing any longer than 2 days in Tasmania's parks.
That evening it was back to our AirBnB in Bicheno and dinner at a Pasini's, a great little restaurant on the edge of Bicheno.
Day 6: Freycinet National Park and Bay Of Fires
Day 6 of the road trip, we spent the morning at Freycinet checking out Sleepy Bay and the beautiful friendly beaches. The latter giving the iconic windswept beach vibe that Tasmania is known for.
We grabbed something to eat in Bicheno and headed up towards the Bay of Fires. This drive is spectacular, a real highlight of any road trip around Tasmania. So have your camera ready and keep your eyes peeled for places to park.
Accommodation in the Bay of Fires area around St Helens in the summer can be eye-wateringly expensive. We actually stayed 30 minutes south of St Helens at Scamander Sanctuary Holiday Park in possibly the nicest tent I have ever seen.
After dumping our stuff we carried on up Tasmania's other famous beach, Binalong Bay along the east coast. Head to the Northern section of Binalong Bay, by taking the C848, to avoid the crowds.
The water here actually wasn't too cold, although it can get really windy, so a tent or windbreaker could be a lifesaver on the beach.
The park has a fully equipped kitchen and fantastic glamping style tents. It's awesome for a Tasmania road trip.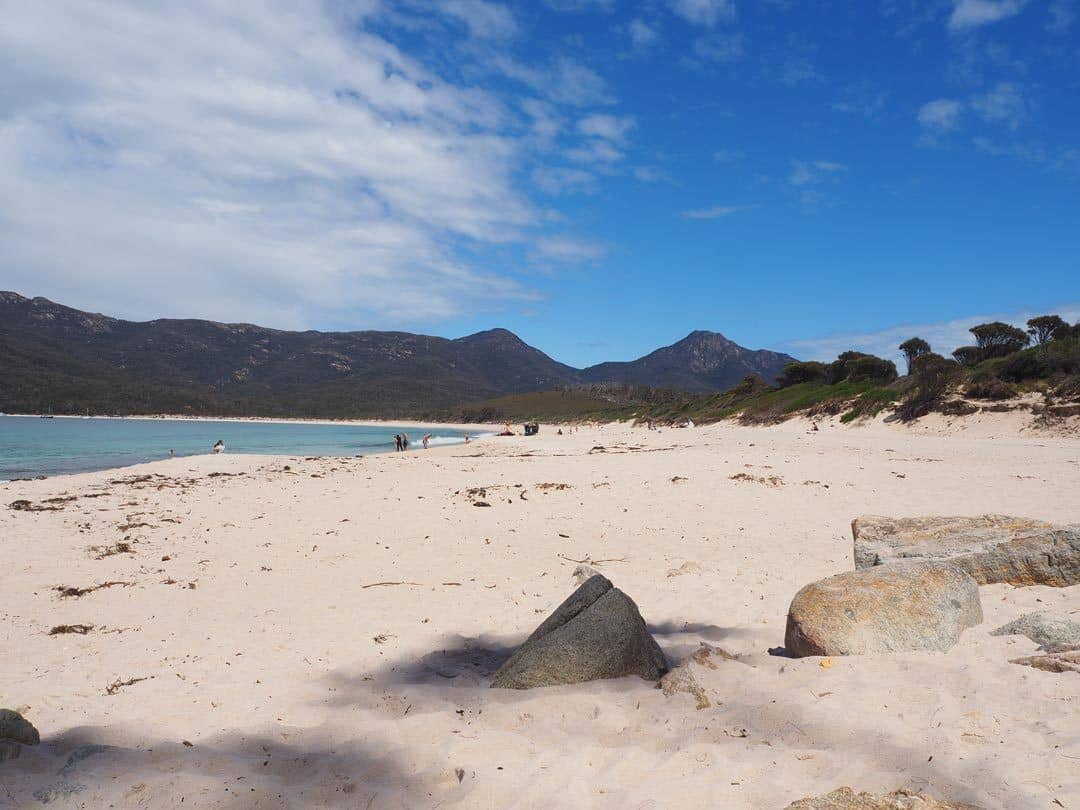 Day 7: Bay of Fires
On Day 7 of your Tasmania road trip itinerary you're in for a treat.
From Scamander towards St Helens and the Bay of Fires, the coastline is absolutely stunning and the chances are you will have it all to yourself.
Even in mid-January, one of the busiest times in Tasmania, we had whole beaches to ourselves.
Following this, we headed beyond Binalong Bay up to the Gardens for some beautiful coastal scenery and a bit of bouldering.
Once you get beyond one of Tasmania's most famous beaches you have a plethora of beautiful places to stop and explore.
We headed as far as the road would take us hopped out of our car and went exploring. Half the fun of the Bay of Fires is exploring. Just park up somewhere that looks pretty and go for a wander.
Late afternoon we headed for little Launceston, Tasmania's second city, for want of a better description.
We still had some picnic food so we took it down to the marina for dinner as the sunset.
This was definitely a highlight of our road trip along Tasmania's east coast.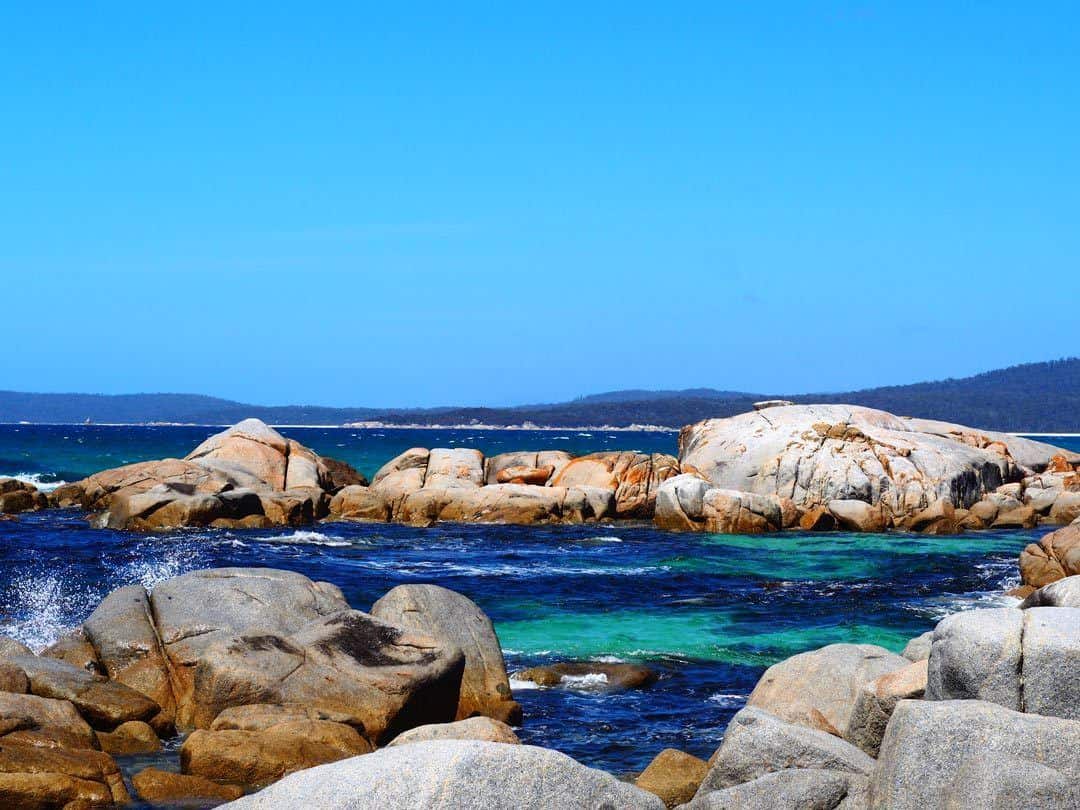 Day 8: Tamar Valley
We took a slightly more relaxed pace in our road trip today taking in the gorgeous Tamar Valley.
We did plan on heading over the Bridestowe Lavender Farm. However, we ended up in Seahorse World and Platypus House at the northwestern end of the Tamar Valley.
This was a little pricey, but pretty interesting. The platypuses and echidnas are extremely adorable.
From Tamar Valley we headed back down towards to Cataract Gorge stopping in at the Exeter bakery for a curry rice pie (a must if you're passing).
At Cataract Gorge, there is a lovely walk or you can do like most and hop straight in the lake.
Day 9: Cradle to Coast Tasting Trail
This was one of our highlights during our two-week road trip in Tasmania.
Effectively this is a 150km trail that you drive and stop off at gourmet produce places and eateries on the route. If you are in any way a foodie, this is an absolute must.
Most of the eateries are between Deloraine and the wonderfully named town of Penguin. However, we carried on beyond Penguin to beautiful Stanley for our final stop on the trail.
After an amazing seafood dinner, we hiked up the Nut for some stunning sunset views. Whilst it's not a long hike, the initial climb is extremely steep.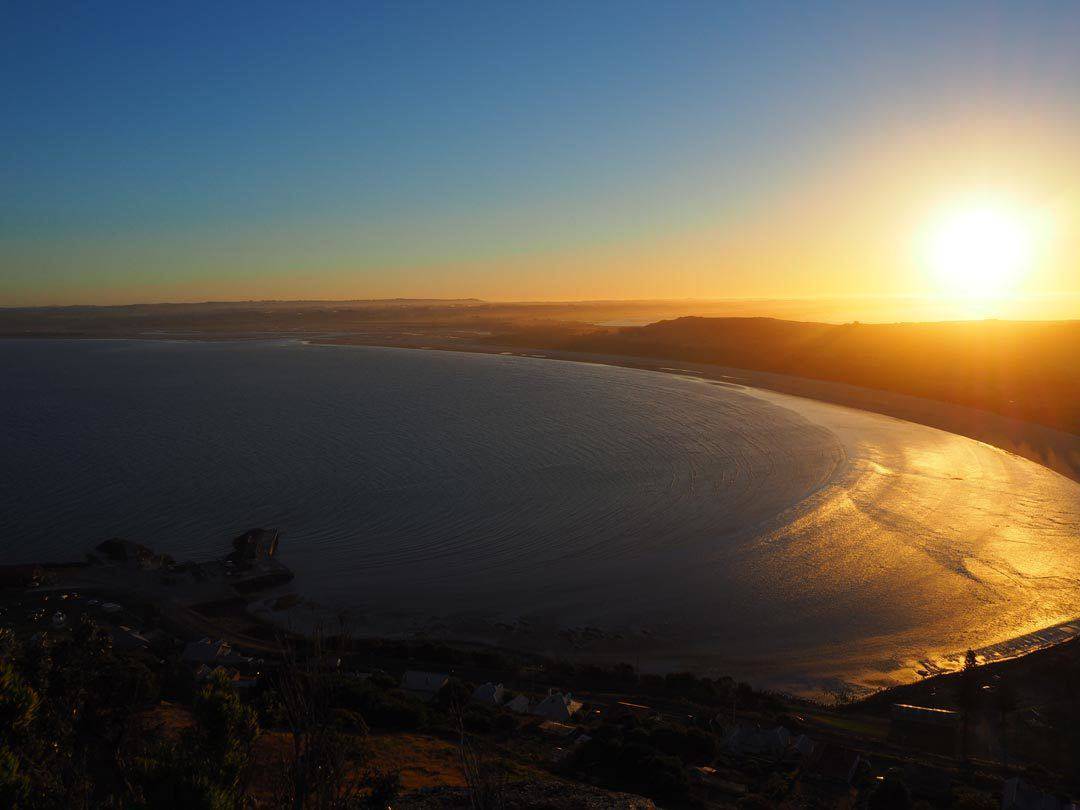 Day 10: Boat Harbour Beach and Cradle Mountain
On day 10 of the road trip, we spent the morning at the beach and the afternoon in the mountains.
We spent the morning at the beautiful Boat Harbour Beach with golden sands, clear blue water and gorgeous coastal scenery!
From here it was a 1.5-hour drive down to one of Tasmania's highlights; Cradle Mountain.
After checking into our hotel, we headed down to complete the Dove Lake hike. Here we found a gorgeous, easy hike that is perfect to do around sunset.
The Cradle Mountain Hotel was above our budget. But the convenience and lack of more affordable accommodation close to the park made this a winner in our eyes.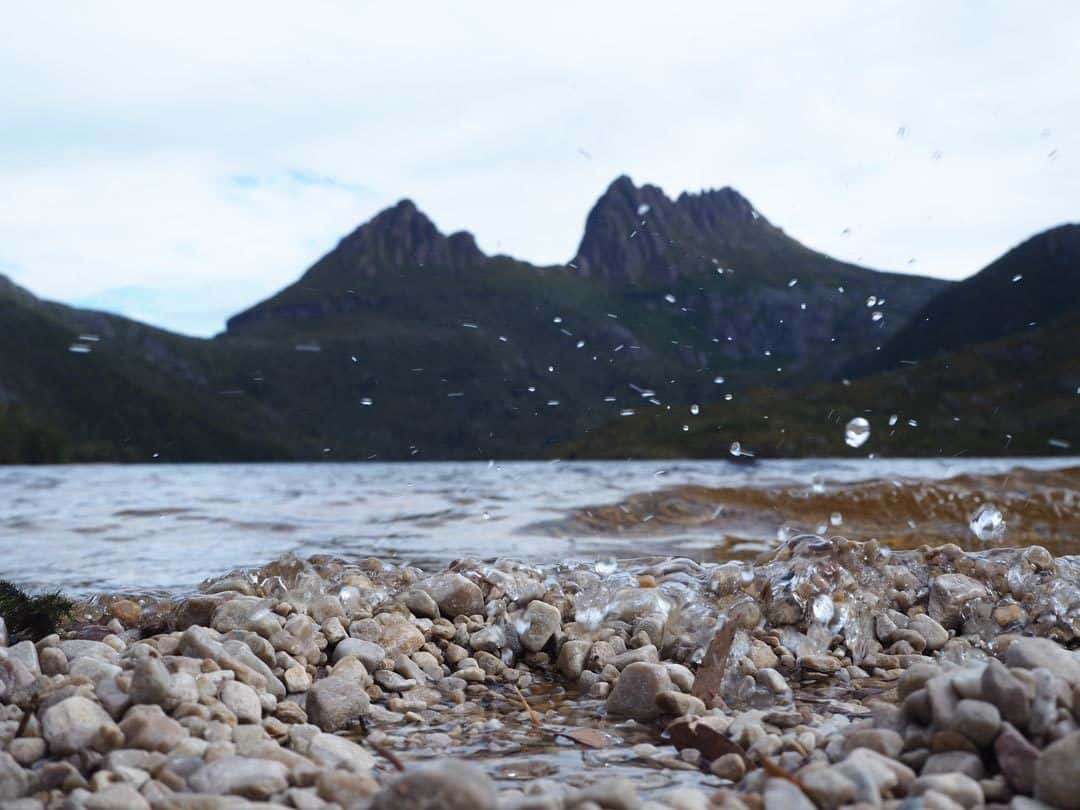 Day 11: Cradle Mountain Summit
Cradle Mountain- Lake St Clair National Park has some of the best hiking in Tasmania and is a must-see on a road trip. It is the beginning of the Overland Track, as well as being the stage for some phenomenal day walks.
Sadly we did not have enough time to do the Overland Track so I settled for the summit hike. (Although you can read all about the founders of this website's experience of hiking the Overland Track by clicking here.)
Safe to say this is a tough hike and it absolutely should not be attempted in wet or snowy conditions since it will make the final rock scrambling and bouldering sections extremely dangerous.
This hike is an absolute must if you are heading to Cradle Mountain. And you can easily spend a few hours relaxing along Lake St Clair after the hike.
Don't miss the NOMADasaurus guide to hiking the Larapinta Trail, one of Australia's other great walks.
Day 12: Cradle Mountain, Horse Riding and onto The West Coast
We checked out some of the shorter walks that began around the experience centre in the morning.
Afterwards, we headed out with Cradle Country Adventures to go horse riding around their Belvoir Area track taking us up for a stunning view of Cradle Mountain.
From here we headed down towards the old mining town of Queenstown stopping in a Zeehan on the way.
Whilst it makes an interesting place to look around, Zeehan does have a slight "straight out of a horror film" kind of vibe, fascinating in an odd kind of way.
Queenstown is littered with relics and reminders of the mining boom. It was a great place to spend the night.
This excellent old hotel is a stark reminder of the gold era time of the west coast. The food here is great!
If you want a real adventure from Cradle Mountain and have a bit more time, head out to the Tarkine for this 2-day road trip extension!
Day 13: Strahan and the Western Wilderness Way
On Day 13 of our road trip, we drove down the west coast to the quaint seaside village town of Strahan. If you head due west from here the next bit of land you would hit would be Argentina.
Along with Zeehan and Queenstown, Strahan also benefitted hugely from the gold rush times. Now it's a much more sedate and laid back affair.
It's a decent place to explore for a morning, but probably not worth much more time than that. From here it was a long drive down to Hobart.
The west coast is Tasmania at its most desolate. There is one road from Strahan to Hobart. At times, it almost seems like the outback but with more trees.
There are plenty of viewpoints, short hikes and sights on route to break up this long drive.
Day 14: Bruny Island
This gorgeous little island is only an hour or so away from Hobart. As a result, Bruny Island can get pretty busy at weekends or during the holidays.
It pays to show up half an hour early than you really need to as the queue to get on the boat can be pretty long.
We immediately headed for the Neck viewpoint, which since it is one of the best viewpoints can be pretty busy. However, the views are absolutely spectacular.
From here we headed down to grass point for a beautiful coastal and then spent to rest of the day beach hopping around the rest of the island.
A great idea is to go ahead and book this tour in advance so you get the best of Bruny Island in a 3-hour cruise. If you have more time, consider this highly-rated full-day tour.
Alternatively, if you missed it on Day 1 of your Tasmania road trip you could spend the day exploring Mount Wellington for some incredible views over Hobart.
What Did We Miss on our Tasmania Road Trip Itinerary?
Well in our 2 week Tasmania road trip we managed to see a huge amount of the island. But there were a few things we sadly did not get the opportunity to visit.
The list below were places that we planned on visiting on the road trip. However, unfortunately for us, time ran out.
Haast Caves
Mole Creek National Park
MONA
Coles Bay
There are probably plenty of other amazing things that we missed on our road trip, but that just gives us a reason to return to this incredible island.
Hope you enjoyed my 2-week Tasmania road trip itinerary. If you did leave a comment below! Happy travels.