Having done this drive countless times, I'm thrilled to put together my epic guide for the perfect Perth to Exmouth road trip itinerary.
As the largest state in Australia, Western Australia offers an incredible variety of destinations for adventure and nature lovers spanning over 33% of the entire country.
If you love road trips, WA is the place for you! This Perth to Exmouth road trip itinerary is a classic route for anyone keen on exploring WA.
Through WAs rugged outback and its stunning coastline, we will take you all the way to the famous Ningaloo Reef.
Perth to Exmouth Road Trip Itinerary
Driving from Perth to Exmouth is about 2,000km following our route, which you'll want to do to make sure you see all the fantastic attractions along the way.
This Perth to Exmouth drive can be done in as little as 3 days. And you can certainly take however many days or weeks you'd like by cutting out some of the full days spent in places or by breaking up the stops into individual days.
You'll be driving along the North West Coastal Highway for most of the Perth to Exmouth road trip, with side trips to places like Coral Bay, the Pink Lake, and more.
If you have your own car, you're just about ready for the trip. But if you need to hire one, then the best and most affordable option is to get one through Rental Cars.
DRIVING PERTH TO EXMOUTH – HIGHLIGHTS AND NUMBERS
Distance: 2,000 km (one way)
Total Drive Time: 22 hrs (one way)
Recommended length of time: 10 – 14 days
Highlights:
* Sandboarding in Lancelin
* Kalbarri National Park
* Shark Bay
* Surfing at Red Bluff near Quobba
* Swimming with whale sharks in the Ningaloo Reef
More information on purchasing passes can be found here.
National Parks in Western Australia typically charge by vehicle rather than per person so the pass will cover everyone in your car.
NOTE: For access to the different national parks in Western Australia, you should buy the Holiday Pass (5 days for $25, 14 days for $40 or 4 weeks for $60) or the Annual All Parks Pass which is valid for 12 months and only costs $120.
Also note that it's easy to underestimate the incredible distances between locations when seeing the route on Google Maps. So don't let the map fool you. There are plenty of stops along the way full of must-visit places and things to do!
Now let's begin our awesome road trip from Perth to Exmouth!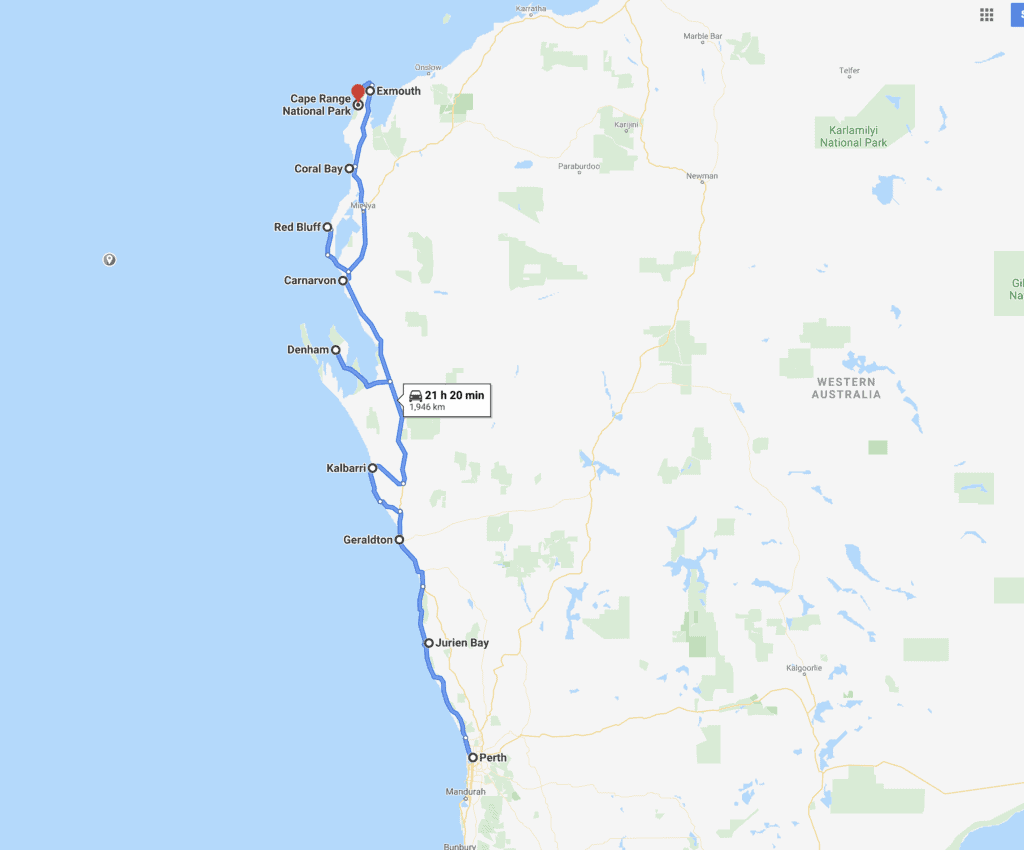 Day 1: Perth to Jurien Bay
Distance: 230km
Time: 2.5 – 3 hours
Driving out of Perth through city traffic may take a bit of time depending on the time of the year (expect heavier traffic during school holidays).
Once you're out of the main area of Perth, the roads are long and fast through mostly flat landscapes surrounded by bush.
Though there isn't a lot of distance to cover today. But this part of the drive from Perth to Jurien Bay has many awesome stops where you can spend a good chunk of time.
READ MORE: If you have a few days to spare in Perth, check out these awesome activities to keep you busy.
Stop 1: Yanchep National Park
Located only 50km (around 40 minutes) north of Perth, Yanchep National Park is open every day and is a beautiful stop to enjoy the coastal woodlands, wildlife and limestone caves. Stroll along the 240-metre koala boardwalk to spot some koalas in their natural habitat.
Yanchep National Park is also home to western grey kangaroos which can be seen early and late in the day. The park has nine walk trails suitable for any ages, interests and fitness abilities as well as over 400 caves to enjoy.
For those wanting to extend their Perth to Exmouth road trip, this is a great spot to spend a day or two.
Stop 2: Adventure Sand Dunes in Lancelin
After enjoying some wildlife spotting and the caves at Yanchep National Park, continue onwards towards Lancelin which is a further 72km.
Here, you can enjoy some sand dunes adventures either on your own or through a company.
Lancelin is known for its sand dunes so if you have a 4WD and are experienced in off-roading, you'll have a lot of fun here.
If you're wanting to extend this road trip, Lancelin is also a great spot to stay for a couple of nights. There are campsites here and you can also enjoy the beautiful local beaches.
Stop 3: Visit The Pinnacles Desert
The Pinnacles Desert is located in Nambung National Park near Cervantes.
The Pinnacles are incredible natural limestone structures that were formed approximately 25,000 to 30,000 years ago after the sea receded and left deposits of seashells.
Over time, the pillars have been exposed to the elements as coastal winds removed the surrounding sand.
Walking through the desert is something you'd imagine in a movie in a scene on the moon! The Pinnacles are best enjoyed in the late afternoon when the weather is cooler.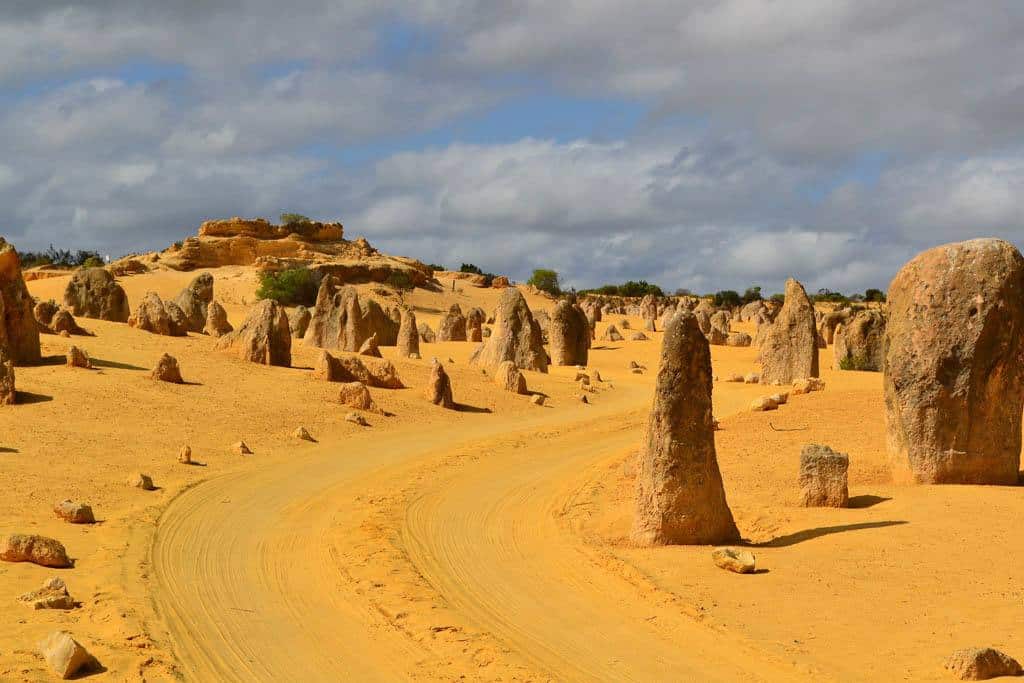 Stop 4: Cervantes and Lake Thetis
Aim to arrive at Lake Thetis for some stunning sunset photos of the thrombolites in the lake.
These rock-like structures are built by micro-organisms too small for the human eye to see. The thrombolite-building micro-organisms of Lake Thetis resemble the earliest forms of life on Earth!
An easy 1.5-kilometre trail around the shores of the lake offers insight about the living communities within the structures and the environment that supports them.
After your visit at Lake Thetis, head into Cervantes town for some dinner at any of the popular seafood restaurants and try the infamous Western rock lobster.
Stop 5: Jurien Bay
For your first overnight stay, we recommend Jurien Bay as there are more campsites available and the town is a bit bigger than Cervantes.
As it's a big day, we recommend booking something before you get there so you don't spend hours driving around trying to find somewhere to say.
Check out the options on Booking.com.
If you're feeling tired from the first big day though, feel free to stay in Cervantes overnight and continue the drive to Jurien Bay in the morning.
READ MORE: Plan your trip to Australia with our comprehensive trip planner!
Day 2: Jurien Bay to Geraldton
Distance: 200km
Time: 2.5 hours
The drive from Jurien Bay to Geraldton is all on sealed roads travelling along the stunning Western Australian coast.
Stop 1: Jurien Bay
Since you won't be making many stops today, spend the morning enjoying the tranquillity of Jurien Bay along the coast at any of the beaches. If you've got your snorkelling gear, head towards the old wooden jetty and check out some of the coral around there.
You can also rent stand up paddleboards and enjoy some paddling.
For an extra special experience, definitely consider booking a 'swimming with the sea lions' tour. I personally recommend Turquoise Safaris.
Stop 2: Leaning Tree
Between Jurien Bay and Geraldton, there isn't too much to see. You can stop off in Dongora for fuel and coffee but otherwise just power on through towards Geraldton.
You'll start noticing some leaning trees as you make your way closer to Geraldton.
The most photographed leaning tree is this River Gum that leans due to constant strong southerly winds.
This is a quick photo stop with easy access and parking and a great opportunity to give your legs a little stretch!
Stop 3: Geraldton
Geraldton is a small town that has grown over the last few years to become a primary road trip location for people not wanting to go too far out of Perth.
It is home to some fabulous beaches, charming cafes, weekend markets, the Yamaji Aboriginal Art Centre and the Museum of Geraldton.
Head to Ellendale Pool for a waterhole swim or cliff jumping form the beautiful rocky gorge along one side of the pool.
Day 3: Geraldton to Kalbarri
Distance: 155 km
Time: 2 hours
The sealed road from Geraldton to Kalbarri is mostly an inland road and fairly flat and fast.
Stop 1: Morning in Geraldton
Your stay in Geraldton can be as long or as short as you like. If you have some extra time, we highly recommend you make a trip to the Abrolhos Islands, located 60-kilometres offshore from Geraldton.
The islands are filled with sea lions, dolphins, turtles, birdlife, coral and other marine life.
The 1629 Batavia Shipwreck is an underwater museum and is a spectacular diving site for experienced divers. You can take scenic flights or fishing charters out to the islands.
If you're short on time, spend the morning in Geraldton grabbing some breakfast at any of the cafes, go for a swim in the beach and then continue onwards north towards our next stop.
Stop 2: Pink Lake
Continue heading north out of Geraldton towards Kalbarri and after an hour, you'll arrive at Hutt Lagoon – one of WA's iconic pink lakes.
The colour comes from the presence of the carotenoid-producing algae, Dunaliella salina. The best viewing spot of the Pink Lake from land is along Port Gregory Road where you can park and walk down to the edge of the water.
The best time of the day to visit the lake is between 10 am and 2 pm when the sun is overhead and at its highest. This will bring out the most impressive shades.
Cloudless days are also great as clouds will block sunlight and can sometimes make the lake look paler.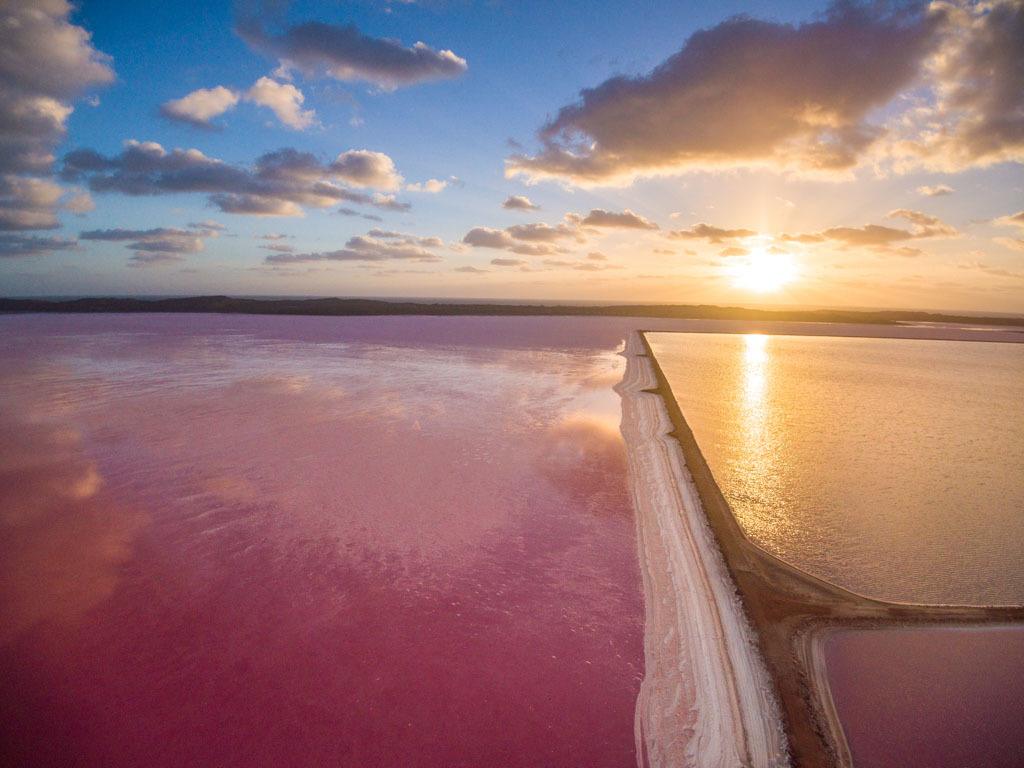 Stop 3: Kalbarri
You'll be spending the entire day in the inland of the national park tomorrow so today is a good chance to wind down and take it easy.
Explore the Coral Coast and check out the dramatic coastal cliffs at Red Bluff which overs incredible views over the ocean and is a good spot for whale watching.
If you're up for a couple of short hikes, the 3km trail to Mushroom Rock will take you to a spectacular sight.
Check out Island Rock and Natural Bridge for some epic sunset views and photos, go for a swim at Pot Alley or bring your snorkelling gear for some fun at Blue Holes.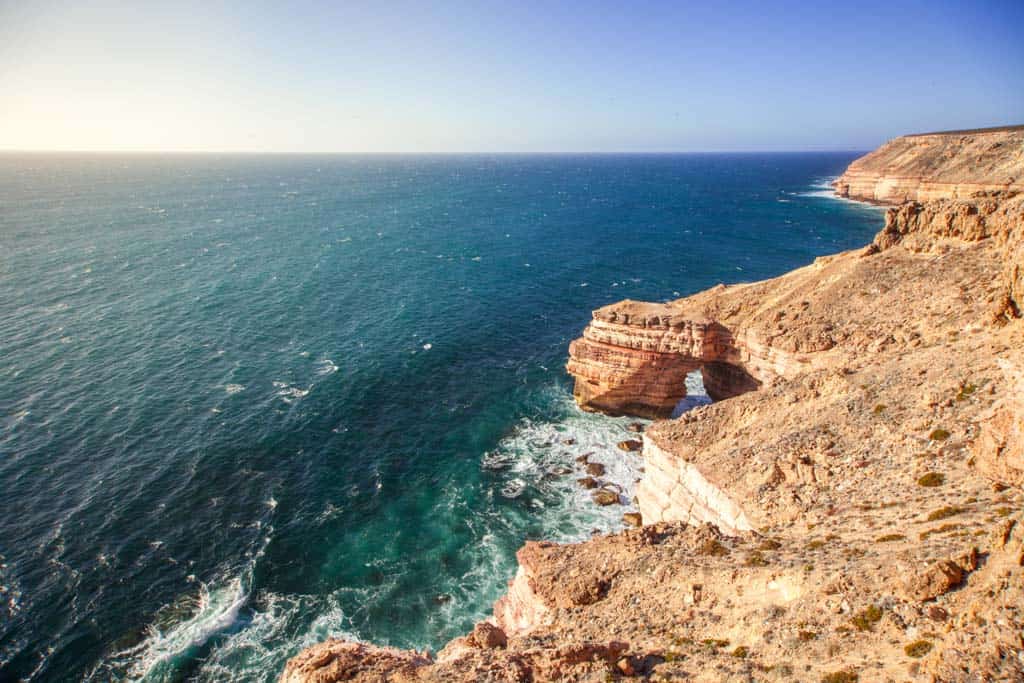 Day 4: Kalbarri National Park
Kalbarri in itself could warrant a 3-day trip. So you can easily extend this leg as part of your Perth to Exmouth drive to enjoy the wonders of the national park.
Kalbarri National Park offers many different hiking options of varying classes that are suitable for any level.
You can enjoy gorge views from the picnic area and follow a short path to Hawks Head which overlooks the Murchison River or take the Z Bend Lookout trail which overlooks the river.
The Loop trail to Nature's Window is only 800m and has views of the Murchison Riber's switchback course from a natural rock arch that frames the upstream view.
You can also continue the trail along an 8km loop for those who want to get moving.
The Four Ways Trail (Idinggada Yina) is a 6km return more challenging hike that descends to the river exposing interesting scenery, geology and landforms.
For hikers who have time, you have the option of a 4-day hike covering a 38km route through the gorge with river crossings.
Most of these hikes are much better in the early morning when the sun isn't as harsh.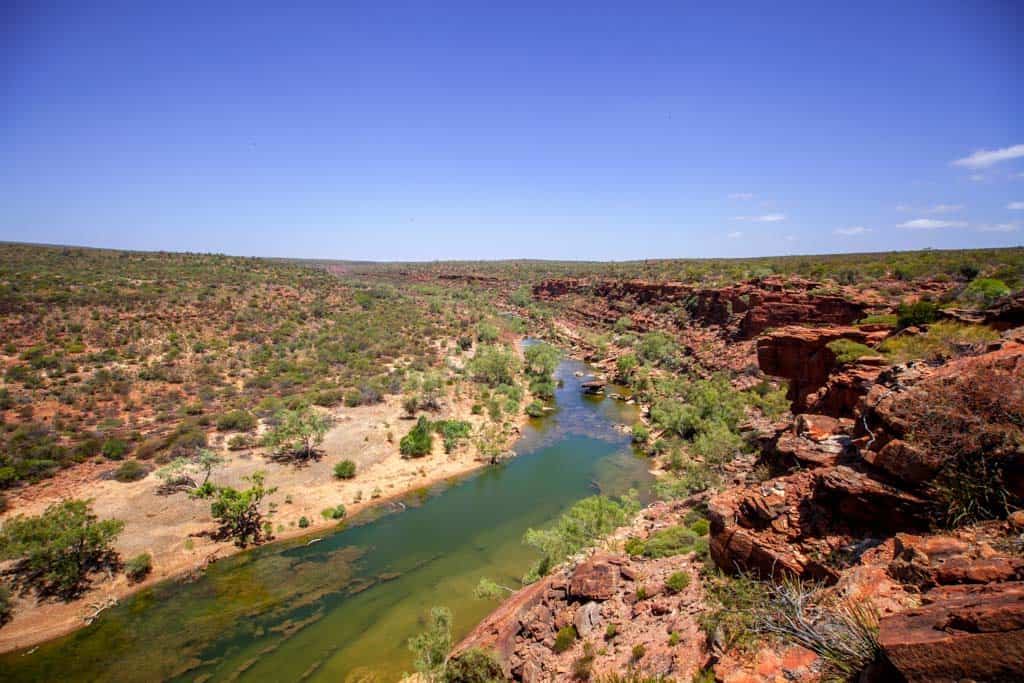 Day 5: Kalbarri to Shark Bay
Distance: 374km
Time: 4 hours
You won't have too many great views driving the main highway from Kalbarri to Shark Bay but the road is accessible and easy to drive.
Stop 1: Hamelin Pool
The most diverse and abundant examples of living marine stromatolites (or 'living fossils') in the world are found right here in WA!
The stromatolites can be viewed from the boardwalk which extends out in the ocean for everyone to enjoy. Boating, swimming, diving and snorkelling are not permitted over stromatolites or within 300m of the shore.
Stop 2: Shell Beach
Shell Beach is a beautiful white beach made up of billions of tiny shells up to 10 metres deep and stretching over 70km! There is no sand here, only shells!
This is one of the only places on earth where shells replace beach sand and is a must-visit on your way into Shark Bay. The ocean here is hypersaline so it is very salty, making it easy to float – just don't get the water in your eyes!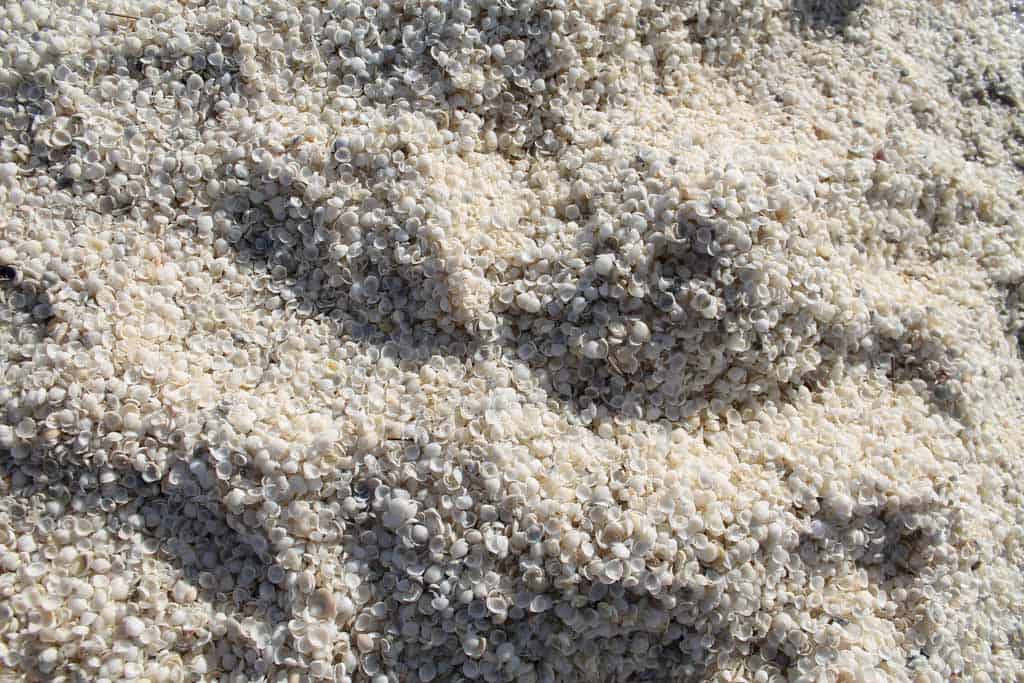 Stop 3: Denham
Denham is the gateway for exploring the Shark Bay World Heritage Area and is a friendly coastal town of approximately 1,000 residents.
The town provides many accommodation options, has safe swimming beaches, restaurants and a golf course.
The beaches are perfect for beginner kite surfers if you want to book a lesson. Or simply spend the day in Denham relaxing on the beach and enjoying what the town has to offer.
Be sure to stock up on supplies and fuel before moving on tomorrow!
READ MORE: If you're looking for other places to visit in Australia, check out our inspirational guide here!
Day 6: Shark Bay / Monkey Mia
Francois Person National Park is one of WA's best-hidden gems but requires a high-clearance 4WD and experience driving.
There aren't any sealed roads and you should be prepared to get bogged and know how to get out.
Stop 1: Francois National Park
Known for its contrasting red cliffs, white beaches and blue waters, the park offers great opportunities for canoeing, kayaking, swimming, snorkelling, fishing and bushwalking.
There is a small campground with gas BBQs and toilets located at Big Lagoon. Be sure to read all signs carefully as some beaches aren't safe to swim in due to strong currents.
If you have more time available, you should definitely consider camping in the park and staying for a couple of days. No bookings are taken for camping and sites are available on a first-come-first-served basis.
For those without a 4WD, you can access Little Lagoon – a natural swimming pool full of fish – and Peron Homestead which has a self-guided station walk trail, picnic facilities and a hot tub.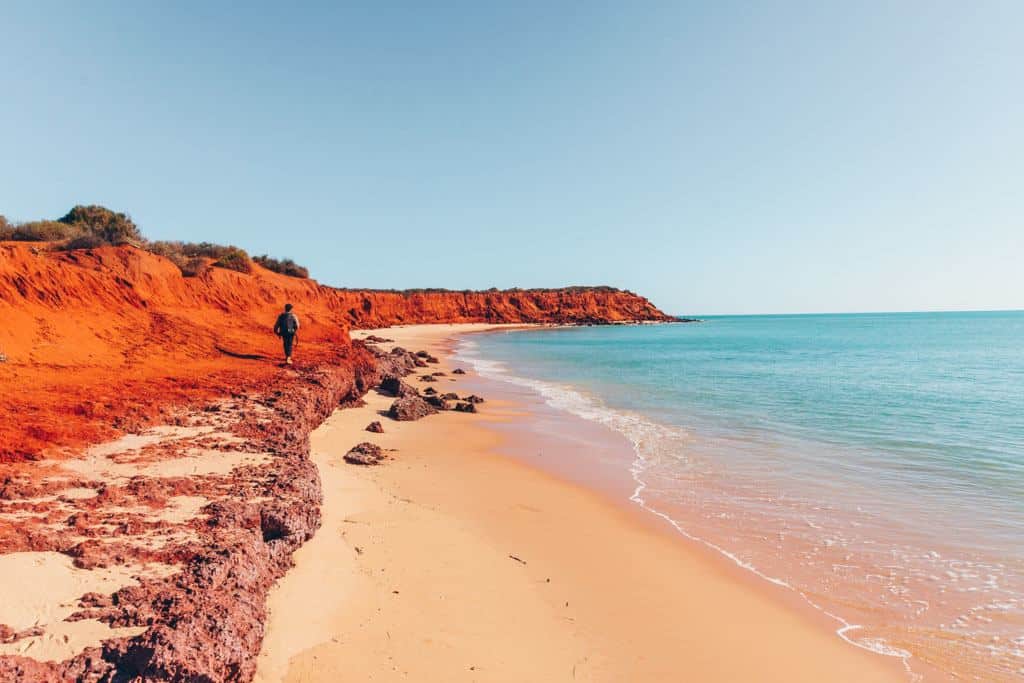 Stop 2: Monkey Mia
Located around 24 km away from Denham is Monkey Mia which is famous for its wild dolphin experience. Monkey Mia is surrounded by rusty red sand dunes, white sandy beaches and its waters are full of marine life.
Here, you might see dugongs, sharks, rays, turtles and loads of other fish outside of the dolphins.
A day permit of $15 per adult applies for Monkey Mia.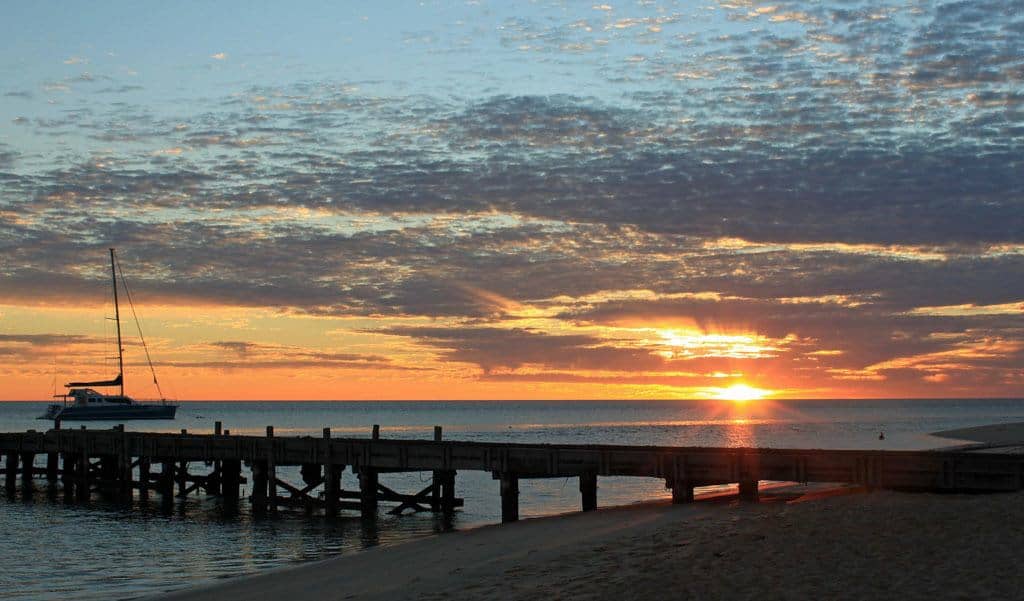 Day 7: Shark Bay to Carnarvon
Distance: 330 km
Time: 3.5 hours
Driving from Shark Bay to Carnarvon is back on a sealed road through flat landscapes, lots of bush and desert views.
Stop 1: Eagle Bluff
On your way out of Denham or Monkey Mia, stop by Eagle Bluff – a high cliff that overlooks the Denham Sound.
A well-built boardwalk allows you to see breathtaking views out across the water where you can see sea eagles flying, dugongs feeding and perhaps some fish jumping about.
If you have the time, you can also get in the water and enjoy the abundance of coral and fish in the water.
Stop 2: Gladstone Scenic Lookout
As you continue to head north, this lookout is a good spot for a quick stop to take in 360-degree views of the surrounding desert landscape.
On the fringe of a plateau, this scenic lookout also features a collection of garden gnomes and rocks facing Shark Bay.
Over time, this spot has become a memorial with the gnomes and rocks placed there with names and messages to remember deceased friends and loved ones.
Stop 3: Carnarvon
Carnarvon is most popular with visitors in the Australian winter months as visitors come to chase the winter sun. The town is known for its fruit farms making it a delicious stop for local produce.
Check out the local markets filled with produce, food stands and handmade goodies.
Walk along the One Mile Jetty which is perfect for visiting in the late afternoon for sunset.
You can also head to the Carnarvon Space and Technology Museum that was built in 1964 to support NASA's Gemini, Apollo and Skylab programs.
Make sure you book a room ahead of time in Carnarvon if travelling during the school holidays.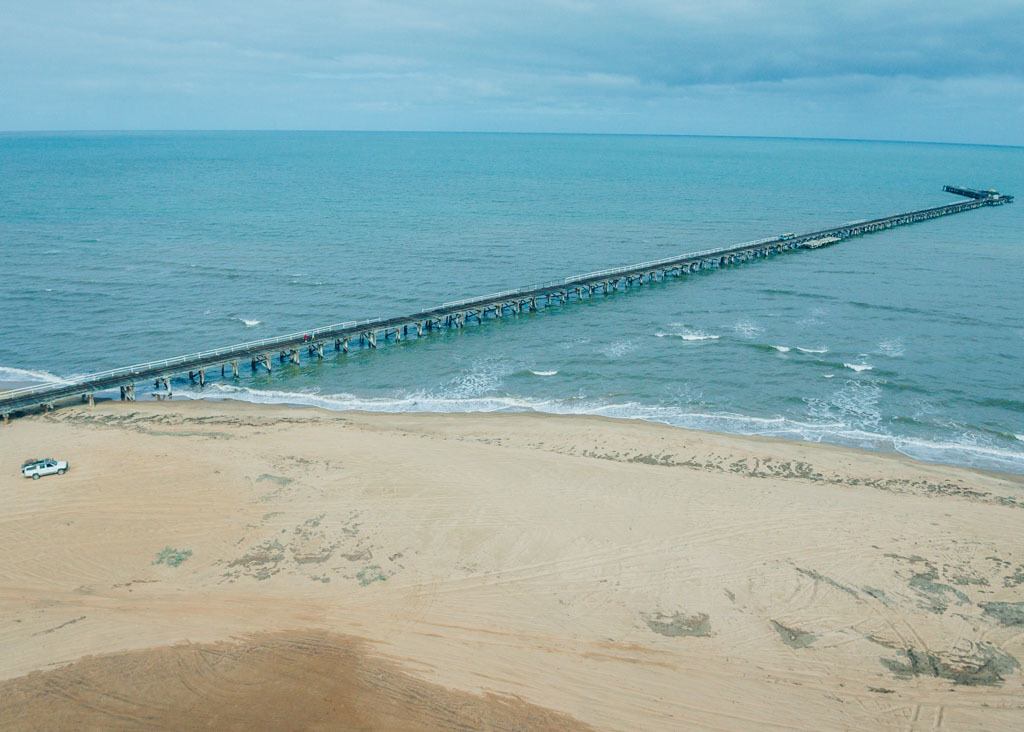 Day 8: Carnarvon to Point Quobba and Red Bluff
Distance: 125 km
Time: 2 hours
The road from Carnarvon to the Blowholes is sealed but from that point, the road is unsealed.
From the Blowholes, it is 10km to the Quobba Homestead and a further 60km to Red Bluff but is accessible by 2WD. Take it easy on the roads and be prepared for punctures.
Stop 1: Quobba Blowholes
The Blowholes at Quobba demonstrate the incredible force of nature as powerful ocean swells force water through sea caves and out of narrow holes in the rocks.
This natural phenomenon sees eruptions of water into the air, sometimes to a height of 20 metres!
Stop 2: Red Bluff
Positioned on the southernmost tip of the Ningaloo Marine Park, Red Bluff is the ultimate destination to zone out and rejuvenate the body and mind.
The panoramic ocean vista showcases an abundance of marine life in its turquoise water making Red Bluff popular for surfing, fishing and diving.
The camp overlooks the pristine Indian Ocean and is the ultimate spot for disconnecting from technology, enjoying nature and stargazing without light pollution.
Stay the night in Red Bluff or at Quobba Station.
Day 9: Carnarvon to Coral Bay
Distance: 330 km
Time: 3.5 hours
Coming out from Red Bluff or Quobba Station will take you along an unsealed road before you reach the sealed road again.
From here, the road is sealed all the way to Coral Bay, is very flat, red and vast.
Stop 1: Coral Bay
Without much to see between Carnarvon and Coral Bay, head straight here and get yourself into the water of the Indian Ocean. The beach at Coral Bay is calm, crystal clear and is perfect for snorkelling and diving.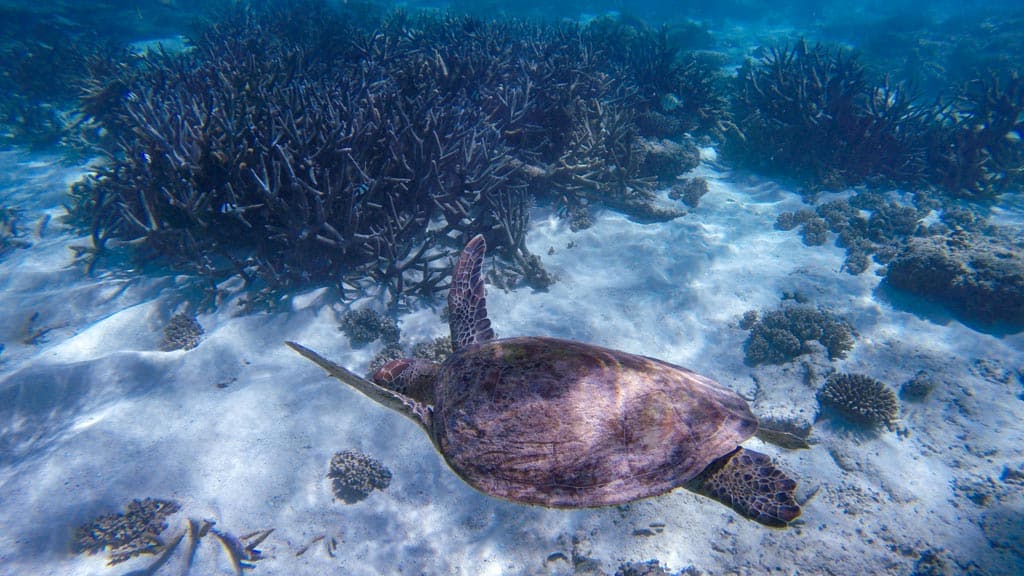 Walk to the right of Coral Bay beach to Skeleton Bay, a reef shark nursery where you can see some shark pups!
You can also go quad biking on the sand dunes, go out on diving, fishing or boat routs.
Spend the day and night here in Coral Bay or even stay longer if time permits.
The Ningaloo Coral Bay – Bayview is a fantastic spot to sleep after this Coral Bay day.
Day 10: Coral Bay to Exmouth
Distance: 155 km
Time: 2 hours
Continue along the main sealed road from Coral Bay all the way to Exmouth! There isn't much to see along the way and the road is mostly flat with dry desert views.
Stop 1: Ningaloo Visitor Centre
Your first stop is the Ningaloo Visitor Centre where you can pick up all the information and maps you need for Cape Range National Park and for insight on weather and local's tips on where to swim at that current time.
Here, you can also learn about whale sharks and other marine life in the area and how conservation works in Ningaloo Reef.
Stop 2: Adrift Cafe for the BEST Sausage Roll
Does this sausage roll warrant a whole stop on its own accord? Absolutely. I will say no more. Take my word for it. Go there!
Stop 3: Go for a quick swim at Town Beach
If you've got a 4WD, you can drive along the Town Beach and find your own private spot to swim. Otherwise, just head down for a quick dip and enjoy the ocean views.
Stop 4: Vlamingh Head Lighthouse
Drive to the lighthouse for sweeping views over Exmouth and the ocean. If you have binoculars, be sure to bring it along to spot whales breaching in the distance.
Head up in the late afternoon to take in the serenity and enjoy watching the sunset. This is also one of the best stargazing spots you'll ever find!
Day 11: Cape Range National Park
Distance: 60 km
Time: 1 hour
On the last day of your Perth to Exmouth 11 day road trip, drive from Exmouth into Cape Range National Park along the sealed access road.
Skip this drive at sunrise or sunset as kangaroos are always out and about at these times!
Boasting 50 km of pristine beaches, breathtaking deep canyons and rugged limestone ranges, Cape Range National Park is absolutely spectacular and warrants as many days as you have available to fully enjoy it.
Be sure to book a tour to swim with whale sharks early to reserve your place.
Swimming with whale sharks in the Ningaloo Reef is very controlled and there are loads of rules around it to ensure that it doesn't negatively impact whale sharks.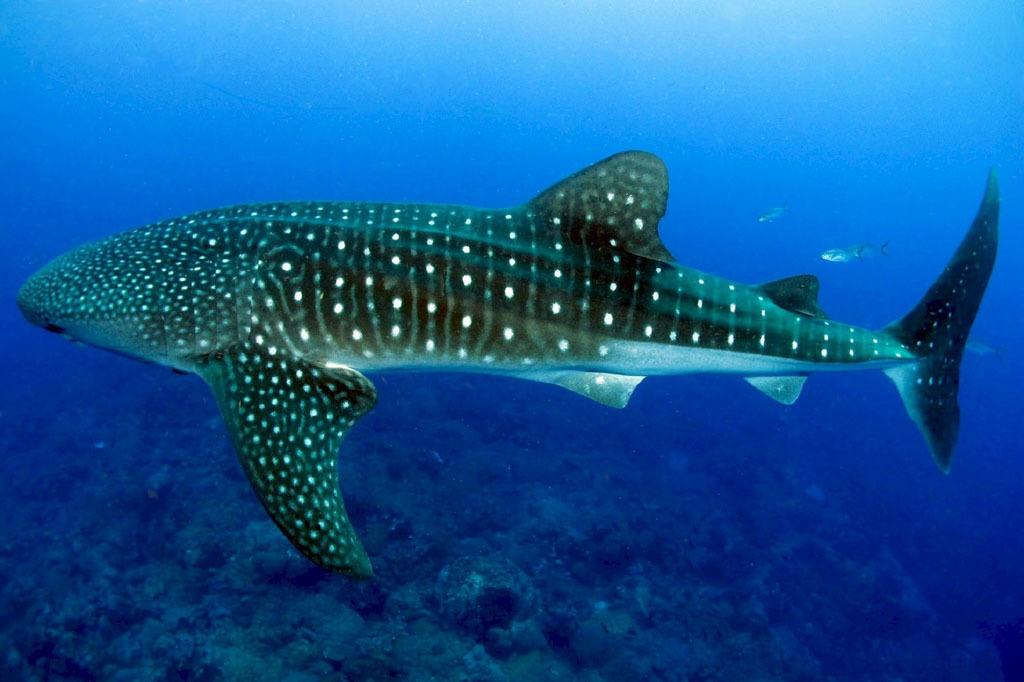 Head to Turquoise Bay, Oyster Stacks and Sandy Bay for epic snorkelling alongside turtles, stingrays, reef sharks and plenty of other fish and coral.
Bushwalkers and hikers can enjoy the 3 km return trail through Mandu Mandu Gorge, the 1.5 km Yardie Gorge Trail, the 3.5 km Charles Knife Edge Walk or some longer trails such Shothole Canyon's 24.5 km trail.
As summer gets as hot as 50 degrees Celcius (122 degrees Fahrenheit), the walks and hikes through the park should only be done between April and September when temperatures are cooler.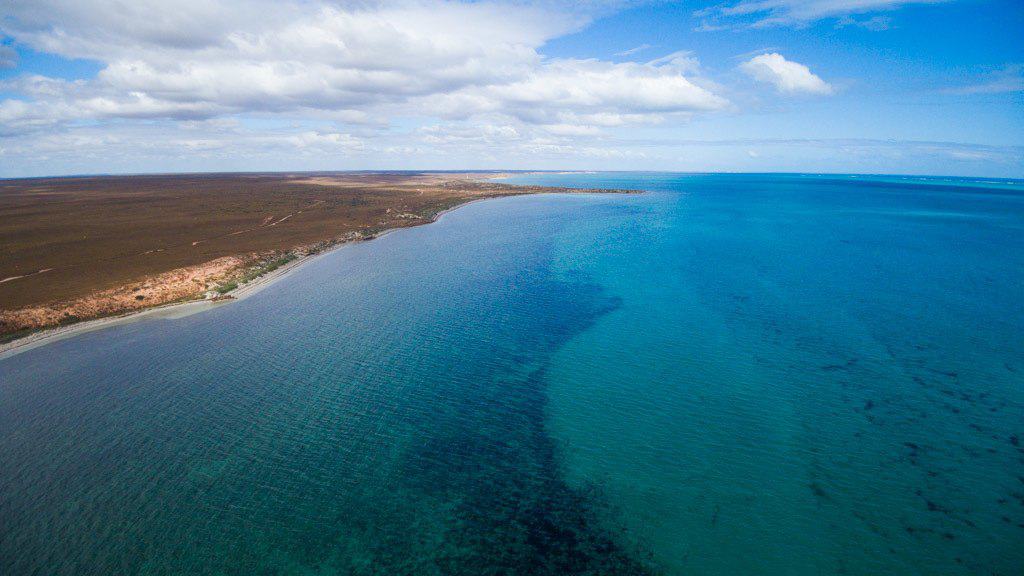 Wrapping Up Your Perth to Exmouth Drive
That wraps up your epic Perth to Exmouth road trip itinerary! This itinerary can be modified to suit any length of time you have but we definitely recommend extending it out if you have time available.
Don't forget to have plenty of water, supplies and tools handy in the car as driving in remote Western Australia will often leave you out of range and a flat tyre is a nightmare.
Wanting to drive further than Perth to Exmouth? Why not consider driving all the way to Broome!
Check out our detailed Perth to Broome road trip itinerary post so you can continue your adventures in Western Australia.
Drive safe and let us know if you're planning a trip soon and what you're looking forward to most!
Looking for a Car for Hire?
If you're looking for a car to hire for this epic Perth to Exmouth road trip, we recommend Rental Cars to help you find exactly what you need.
Check out options that will give you the ability to go a little offroad and explore parts of Western Australia that few people see!
The best way to get around is to rent a car and explore on your own! We recommend Rental Cars, which has the largest range of vehicles for the best value on the market.
DISCLAIMER: Some of the links in this article are affiliate links, which means if you book accommodation, tours or buy a product, we will receive a small commission at no extra cost to you. These commissions help us keep creating more free travel content to help people plan their holidays and adventures. We only recommend the best accommodations, tours and products that ourselves or our fantastic editorial team have personally experienced, and regularly review these. Thanks for your support, kind friend!