My expert guide to the best things to do in Broome, Western Australia will make sure you have the best time possible in this coastal outback paradise!
Not many people visit Western Australia when they're travelling in Australia. And even fewer venture all the way up north to the Kimberley region, where Broome is located.
Broome lies pretty much in the middle of nowhere. It is extremely isolated, that's for sure. Its closest towns are Derby, a three-hour drive to the east, and Port Hedland, six hours to the south.
However, the township of Broome has heaps of great things to offer, from unique cultural experiences to show-stopping natural beauty.
It's a gorgeous place to visit, whether you're backpacking Australia or just seeking a unique place to get some winter sun!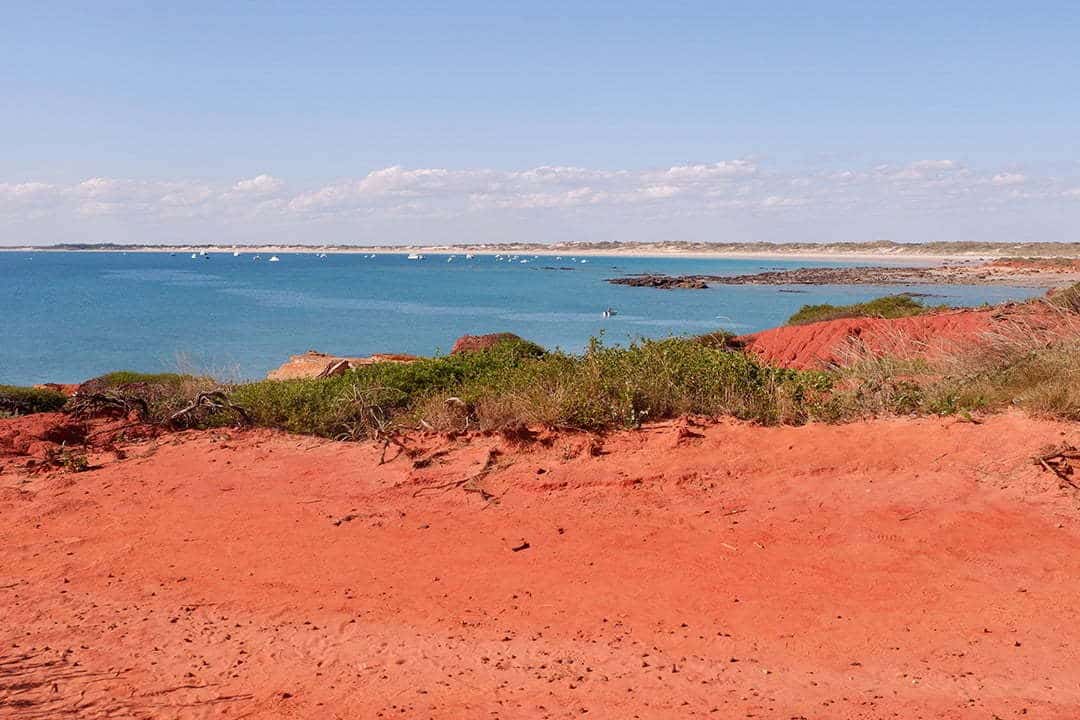 The Top Things to Do in Broome
There are dozens of things to do in Broome, and chances are you'll need more than one visit to do them all.
From witnessing the Staircase to the Moon at high tide, enjoying the landscapes of Roebuck Bay, or cliff jumping and seeing dinosaur footprints, there are plenty of great outdoor things to do in Broome.
Or explore the town and check out the Sun Pictures Cinema, various art galleries, breweries and museums that display the unique side of Western Australia.
But to get you started on the right track, these are the best activities in Broome for you to choose from.
1) Staircase to the Moon
The staircase to the moon is a marvel that happens only on a full moon, and only at certain parts of the year. As the moon 'rises', it creates a 'staircase' like effect over the waters below. It's a real spectacle.
When the Staircase to the Moon is scheduled to occur, the first two days host the markets at Town Beach. Here you'll find local produce, entertainment, souvenirs and delicious dinners from all corners of the globe.
If you happen to visit Broome at the right time, the Staircase to the Moon is certain to impress!
READ MORE: Planning a road trip? Check out our guide to driving from Perth to Broome, with all the epic spots not to miss along the way!
2) Visit Chinatown
Broome is a town rich in history, which can be experienced on a walk around Chinatown. The town's popularity rose as it was discovered to be a prominent destination for pearling.
In the first days of the industry, many migrants from Asia came to work on the pearling boats. This gives Broome the diverse society that it has retained to this day. Thus the town has named this area 'Chinatown'.
The area just north of Town Beach contains many pearling shops, Aboriginal art galleries, cafes and restaurants, and the unique architecture is truly one of a kind.
It's one of the more popular Broome attractions, not only among tourists but locals as well.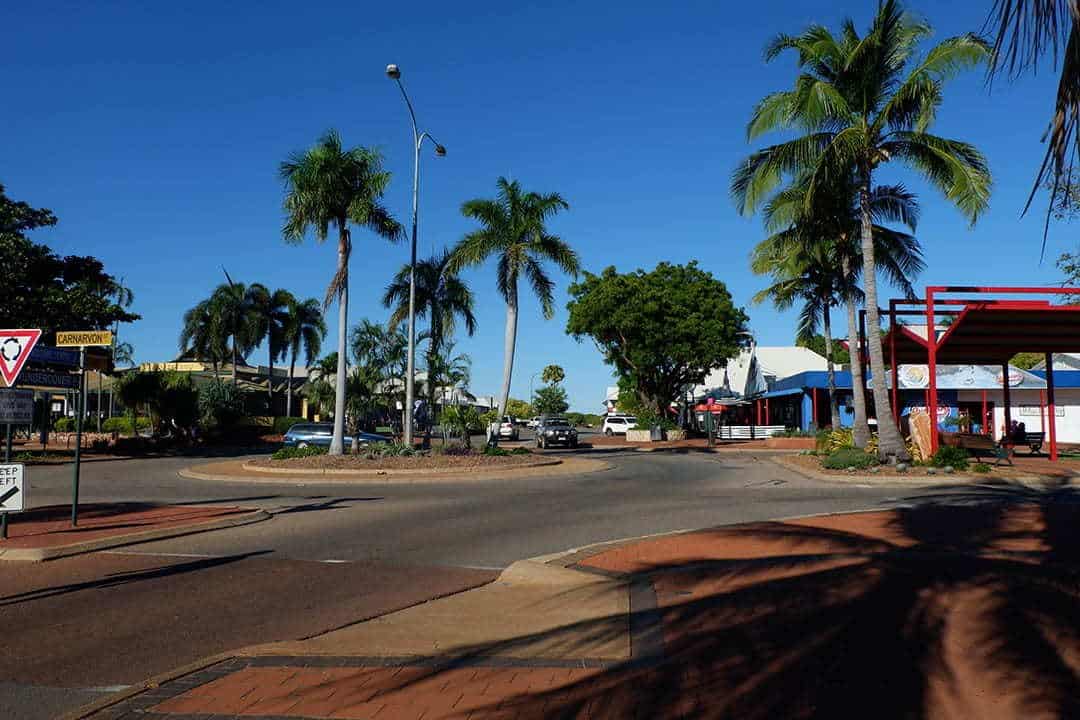 3) Japanese Cemetery
The pearling industry was not without its horrors. In fact, while 80% of the world's mother of pearl was found in Broome before WWI, many divers met tragedy under the water.
The cemetery demonstrates the extraordinary scale of this, as it shows row upon row of tombstones, inscribed with Japanese writing.
Address: 1 Port Drive, Broome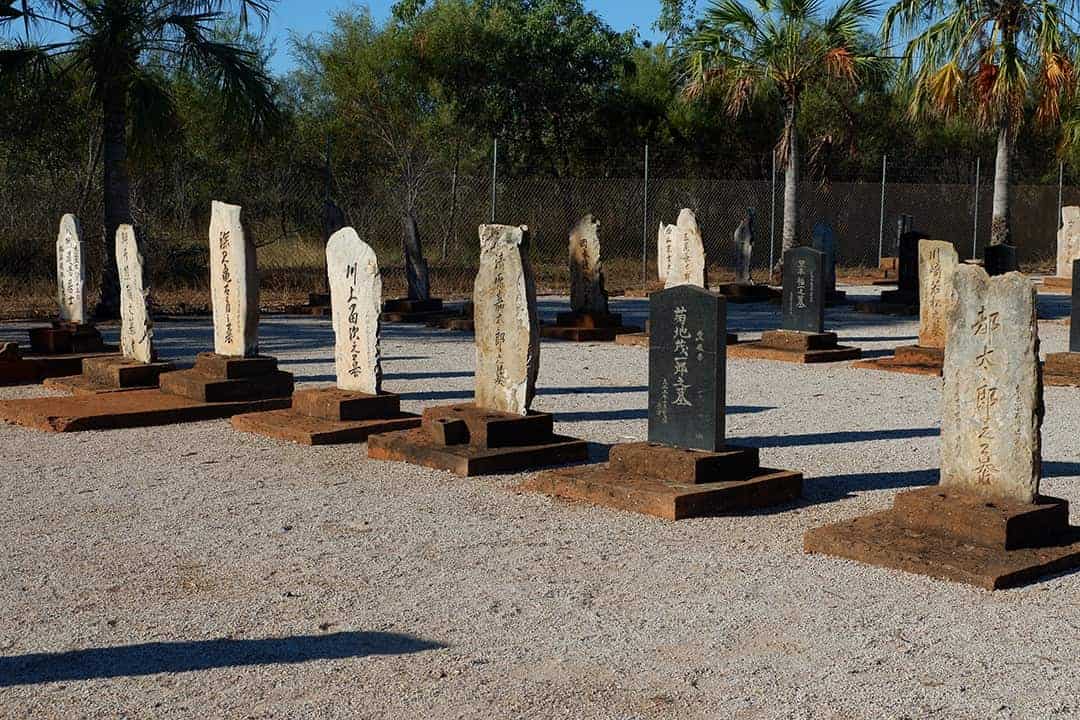 4) Broome Historical Museum
The Broome Historical Museum discusses this entire history in further detail.
Its exhibitions mention the rich Aboriginal history in the area, how pearling saw the founding of the isolated town and the future of the pearling industry in north Western Australia.
It's a great place to go to learn the background of this incredibly unique town.
Visit the Broome Historical Museum website for more in-depth info!
Address: 67 Robinson St
Opening hours: every day from 10 AM – 1 PM (Temporarily closed until April 2022)
Price: AUS $12 (Adults), AUS $8 (Seniors), Free of charge (Children under 16)
5) Aboriginal Art Galleries
The Kimberly Region in Western Australia is an area rich in Aboriginal heritage. As such, there are lots of art galleries to admire in Broome.
Some of these art galleries are from local communities, and some are further afield. All of them display some of the best Aboriginal artwork from Central Australia and the southern part of the country.
Most of these art galleries are free to enter, and the artwork can often be purchased.
The art galleries are a Broome must-see for all art lovers!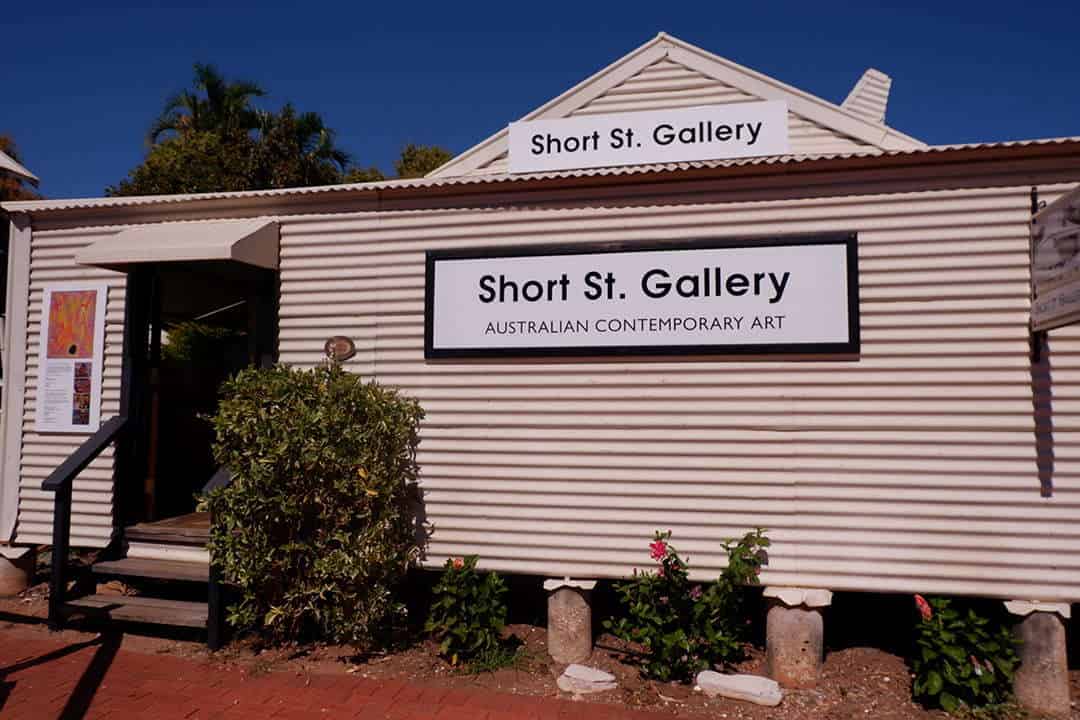 6) Matso's Brewery
Head down to Matso's near Town Beach to sample some local Broome beer and locally sourced food.
If you're feeling adventurous, opt to try some of the flavoured beers. They sell them in full or half pints or a sample tray with try flavours such as ginger, lemon or even chilli!
Address: 60 Hamersley St
Opening hours: Friday from 7 AM – 10:30 PM
7) Sun Pictures Cinema
The world's longest-running open-air cinema, Sun Pictures is a novelty spot to visit and plays several movies every evening.
The interior is decorated with quirky decor and memorabilia, so even if you can't make it to watch a film, it's worth a quick visit!
If you're travelling with a partner and wish to go on a quiet date night, Sun Pictures is one of the best places to visit in Broome.
Address: 27 Carnarvon Street, Broome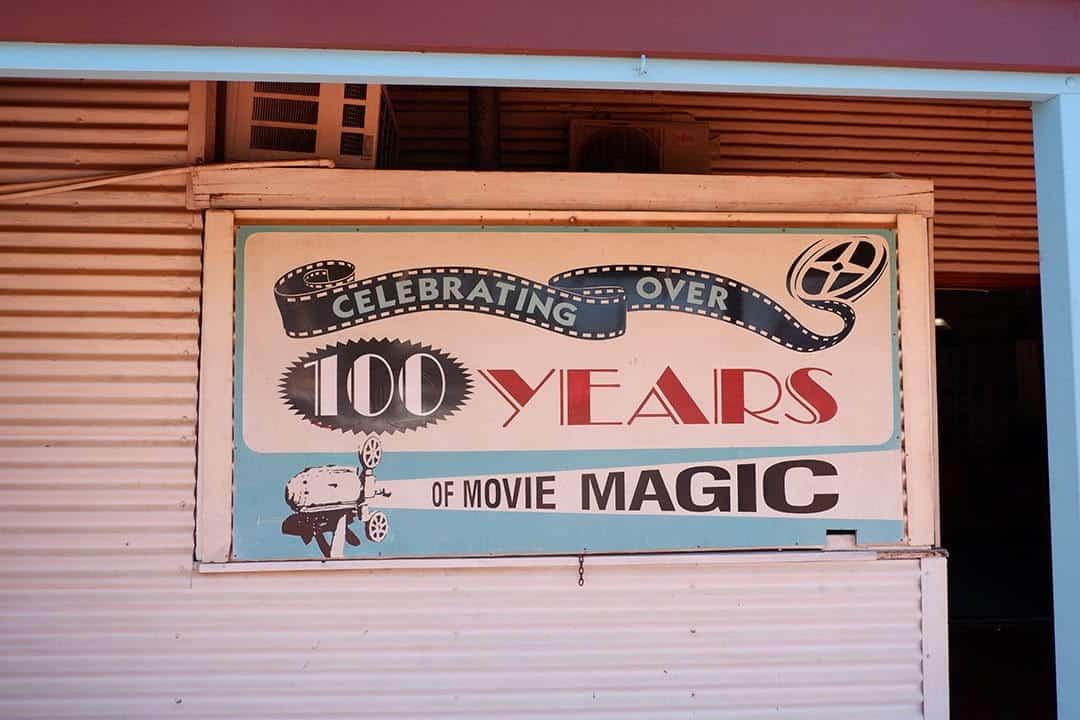 Things to Do in Cable Beach
Cable Beach, on the edge of the Indian Ocean, is a popular beach stretch with bars, restaurants and accommodation.
It's easily the most famous of the Broome beaches!
It's long too – 22km long to be precise- and stretches from Gantheaume Point all the way back to town.
8) Cable Beach Sunsets
Cable Beach sunsets are world-renowned, and for great reason. Experiencing the sunset over the Indian Ocean from a tropical beach is a spectacular experience.
Enjoy a sunset with your favourite Western Australia brew while sitting on the beach. Or if you have a 4WD car, take it past the rocks and drive it down the beach on the hunt for your own private sunset spot.
Sunsets at the beach are part of the Broome sightseeing experience that no one can resist!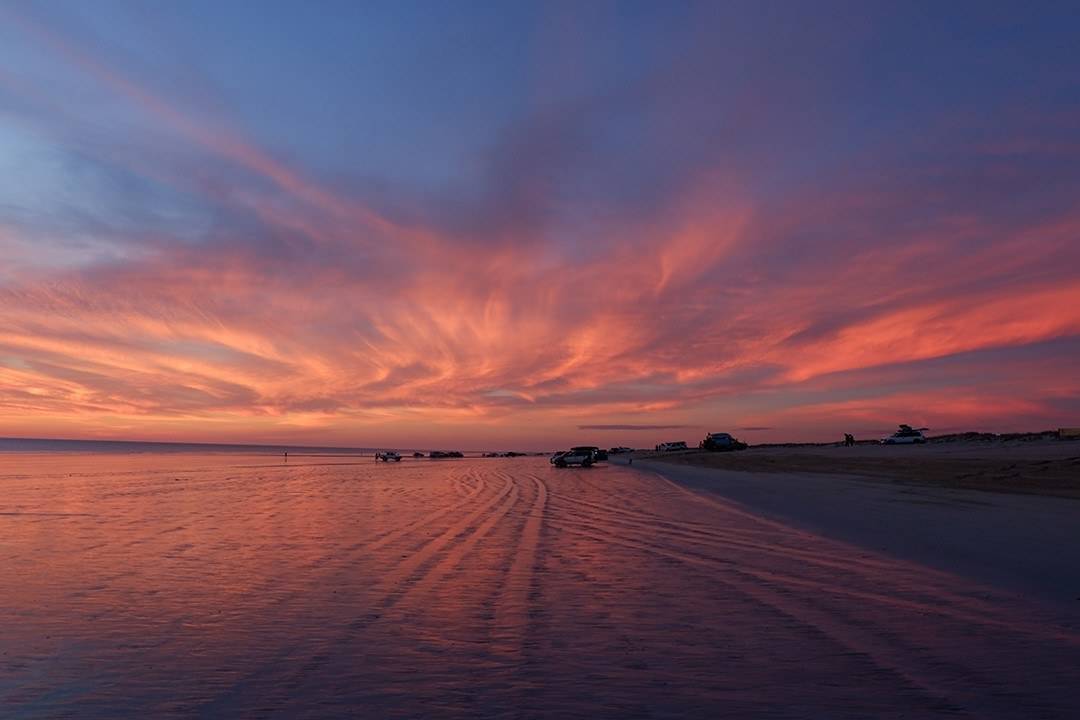 9) Stand Up Paddleboarding
You can rent out SUPs from various companies around Cable Beach and take them out into the calm, clear waters of the Indian Ocean.
If you've never tried it before, stand up paddleboarding is a lot of fun, and good for you as well! Definitely give it a go when looking for what to do in Broome.
10) Hang Out At The Bars And Restaurants
With a collection of bars and restaurants in the Cable Beach area, you won't have to go too far to find a great feed.
Popular options include the Zookeepers Café for breakfast, Zanders and Sunset Bar and Grill for amazing views of Cable Beach and Divers for drinks until 1 am.
Willie Creek Pearl Farm
Easily drivable from Broome, the Willie Creek Pearl Farm offers tours that demonstrate exactly how a pearl is farmed in this part of the world.
As well as learning everything you could ever want to know about the pearling industry, you can get right in the action, cruise on the waters of the creek, or take a scenic helicopter flight over the area.
Location: Willie Creek Road
Opening hours: Sunday-Monday, Wednesday-Thursday from 8:30 AM – 2 PM
11) Coconut Wells
About half an hour from Broome is Coconut Wells, a beach area where, at high tide, one of the dips fills up with water.
It's a great spot for swimming, four-wheel driving, and marvelling at the astonishing coastal beauty of the Kimberley region.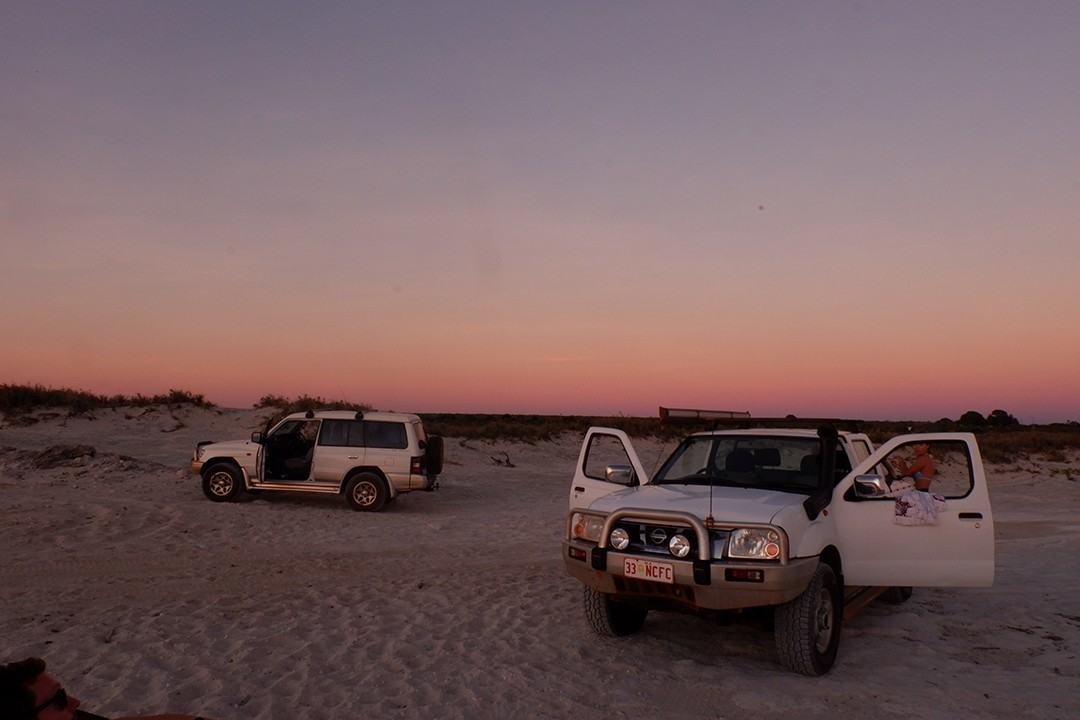 12) Cape Leveque
What used to be a rugged 3-hour ride to Cape Leveque on 4WD tracks is now fully sealed, making it a great trip from town.
A great destination for those who want to really get off the beaten track, Cape Leveque offers isolated beaches and wild camping opportunities.
Book your guided tour to the vast wilderness of Cape Leveque with a visit to the local Aborigines communities for the full Broome sightseeing experience!
Must have – a reliable car and a sense of adventure!
13) Horizontal Falls
Not one for the budget travellers, but definitely something to put on your bucket list which shows you the very best of the coastal Kimberley region.
The Horizontal Falls is a spectacle consisting of two gorges facing each other. At high tide, the water creates a waterfall effect as it passes through the gap.
Horizontal Falls day trips show the Kimberley region at its finest, where red rock meets blue waters, using seaplanes and boats to help you experience the magic of this part of Western Australia.
14) The Gibb River Road
A little further out – on the other side of Derby – is the almighty Gibb River Road. This is one of the most jaw-droppingly beautiful things to see in Broome as well in Australia.
Here the Kimberley region is in its element, with dramatic gorges, seemingly enchanted waterfalls and rugged 4WD tracks.
From Broome, it's easy to reach Windjana Gorge – which is one of the best places in the country to see freshwater crocodiles.
You can also reach Tunnel Creek, which is a network of underwater caves, with Aboriginal art and unique wildlife. If you wish to see these majestic beasts up close, book this guided tour with Get Your Guide.
From these points of interest, you can loop back onto the highway to return to Broome.
If your travels are taking you west, there are plenty more highlights further up the Gibb River Road, such as Bell Gorge, Galvan's Gorge and El Questro Park.
The Gibb River Road ends near the Northern Territory border where you can reward yourself with a dip in an infinity pool overlooking Lake Argyle – Australia's second-largest lake!
15) Gantheaume Point & Roebuck Bay
A popular spot for cliff jumping, Gantheaume Point juts out into the Indian Ocean at the height of around eight metres. Also in the area are ancient dinosaur footprints!
Just around this headland is Riddell Beach, and you'll be able to look over Roebuck Bay which is one of the most scenic places near Broome.
Roebuck Bay is located just south of the Broome town centre. It's a thriving wetland that is home to many local birds and animals in addition to the cool, red rock formations.
16) Whale Watching
From June to September, huge numbers of humpback whales migrate north to breed. They travel from Antarctica to the warm Indian Ocean waters near Broome.
If you're visiting Broome during whale season, there is a good chance you'll see humpback whales as they spend a few months in the area mating and nursing their young.
Iso if you visit Broome during these months, definitely get out for a whale watching tour!
Broome Travel Guide
Now that you know what to see in Broome, we made a guide to help you make the most of your trip, from how to get to Broome to where to stay.
If you need any more specific info, check out the official Tourism Western Australia website!
How to Get to Broome
Many people visit Broome on a western Australia road trip. Sometimes it is the start or end of the trip. For others, it is a key stop on the way from Perth to Darwin.
Broome can also be accessed via plane, with flights leaving from Perth, Sydney, Brisbane, Darwin and Melbourne.
No matter how you choose to visit Broome, you're just about guaranteed to fall in love with it once you arrive.
READ MORE: Check out this great road trip itinerary from Perth to Broome!
Where To Stay In Broome
All of these recommendations are centrally located in Broome, close to all the art galleries, beaches, amenities and other tourist attractions. Here are some options for all budgets.
The Kimberley Travellers Lodge
Part of the popular and reliable YHA brand, Kimberley Travellers Lodge features a games room, pool table and BBQ area, as well as a poolside bar which serves drinks and snacks.
The rooms are spacious and clean, and the hostel offers complimentary bus service to Cable Beach.
The Kimberley Sands Resort and Spa
One of Broome's most popular hotels, the 5-star Kimberley Sands Resort offers deluxe pool facilities in a gorgeous setting, idyllic rooms all with a private balcony, and fantastic extras such as a great restaurant and free breakfast.
Where To Stay In Cable Beach
Cable Beach Backpackers
A fun hostel with a lively atmosphere, Cable Beach Backpackers is great if you're looking to meet some fellow travellers over a few drinks.
Set in an outdoors environment, with dorms opening out onto a large common area and pool, this spacious hostel also offers a roomy kitchen and BBQ facilities.
Oaks Cable Beach Sanctuary
Located close to Cable Beach and other Broome beaches, this sanctuary style accommodation offers studios and apartments set around gorgeous lagoon-style pools.
Each apartment has its own kitchenette, luxury bathroom, and a clean and modern bedroom with all the necessary amenities for a comfortable stay.
Have you been to this iconic Australian town? Let us know in the comments what your favourite things to do in Broome are!
DISCLAIMER: Some of the links in this article are affiliate links, which means if you book accommodation, tours or buy a product, we will receive a small commission at no extra cost to you. These commissions help us keep creating more free travel content to help people plan their holidays and adventures. We only recommend the best accommodations, tours and products that ourselves or our fantastic editorial team have personally experienced, and regularly review these. Thanks for your support, kind friend!