How to make the most of your Thailand itinerary, whether you have 1 week, 2 weeks or 3 weeks, written by an expert!
Thailand is an incredibly diverse country in Southeast Asia that can be explored in any sort of time frame.
But of course, the longer you have to visit Thailand, the better.
More time means you aren't rushing around, constantly hopping on flights and buses, and you have more time to stay in one spot and soak it all in before moving on.
But thankfully, Thailand is pretty small, very affordable, and easy to get around.
So if you have one week, two weeks, three weeks, or more, you can easily see different parts of the country without sacrificing too much time and money on travelling around.
You can explore both northern Thailand and the islands of the south easily in just one week, though of course, you can see more exciting things in two or three weeks.
Budget airlines make it very cheap and easy to fly around Thailand, and flights are often only an hour or two.
So even in just one week, you can explore the culture and cuisine of the mainland before jumping on a quick flight down to the islands for some swimming, snorkelling, and kayaking.
In this article, you'll find three samples for a possible Thailand itinerary.
Of course, these can be modified depending on what you want to see and how much time you actually have.
For example, you could spend all of your time hopping around the islands if you want, or you could spend all of your time up in the mountains and cities of the mainland if you're not much of a beach person.
You could even spend your entire Thailand trip in one place, or you might feel intrigued to visit places not mentioned in these itineraries.
This article serves more as a guide for those who are visiting Thailand for the first time and are unsure of what they want.
These itineraries will combine a bit of culture in the mainland with a bit of beach time in the islands, so travellers can get a taste of the different parts of Thailand.
Make sure you get your travel insurance before you embark on your Thailand trip. It is pretty much essential.
---
7-Day Thailand Itinerary
This Thailand itinerary is for those who have one week in this beautiful corner of Southeast Asia.
Though a week goes by quickly, it is definitely enough time to dabble in the culture and natural beauty of Thailand.
You'll most likely fly in and out of Bangkok for any Thailand trip, as this is where most international flights go.
READ MORE: Here's our guide to the best places to visit in Thailand. You'll find all these destinations in our Thailand itinerary in there.
2 Days in Bangkok
As the capital city of Thailand, Bangkok is crazy and crowded but absolutely packed with culture and things to do.
No Thailand itinerary would be complete without at least 2 days in Bangkok.
Some fun activities you can fill your days with include tasting street food on Khao San Road, checking out the massive government buildings in the Dusit District, taking a riverboat tour along the Chao Phraya River, and exploring the local temples.
Here are some notable temples to visit in Bangkok during your Thailand trip.
Wat Pho
Wat Pho temple is famous for its giant reclining Buddha.
Location: 2 Sanam Chai Rd, Phra Borom Maha Ratchawang
Hours: 8 am to 6 pm
Cost: 100 Baht
Wat Arun
Located in a scenic spot right on the river bank, this temple has a mix of Buddhist and Hindu influences.
Location: 158 Thanon Wang Doem, Bangkok Yai
Hours: 8 am to 6 pm
Cost: 100 Baht
Wat Saket
This temple has a massive golden pagoda and is located on top of a man-made hill known as the Golden Mountain
Location: 344 Boriphat Rd, off Ratchadamnoen Klang
Hours: 9 am to 7 pm
Cost: 50 Baht
Probably the most beautiful landmark in Bangkok is the Grand Palace, a huge property filled with glittering temples, incredible statues, towering pagodas, and overall fascinating architecture.
Located inside the Grand Palace is Wat Phra Kaew, one of the most sacred temples in Thailand and home to the Emerald Buddha.
Built in only 1782, the Grand Palace is a true work of art, so travellers should brave the crowds to check out this famous attraction.
Grand Palace Location: Na Phra Lan Road, Phra Borom Maha Ratchawang
Hours: 8:30 am to 3:30 pm
Cost: 500 Baht
After two days of exploring the highlights of Bangkok like Wat Pho and the Grand Palace, fly north to Chiang Mai.
READ MORE: 10 awesome things to do while travelling in Bangkok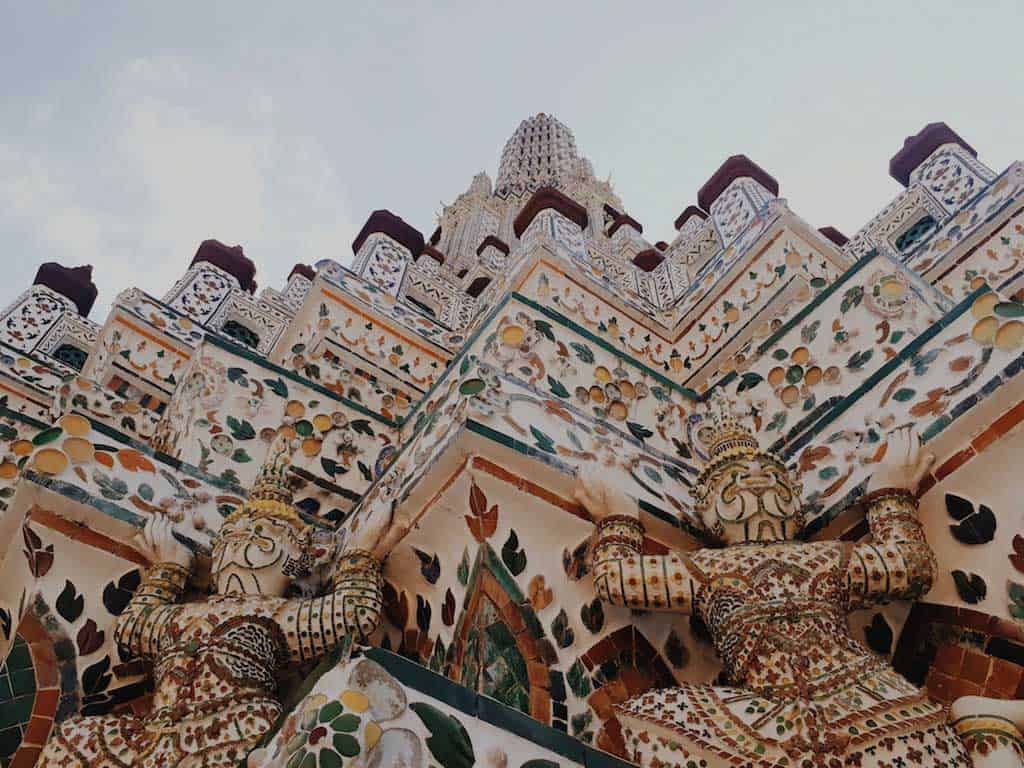 2 Days in Chiang Mai
Chiang Mai is a bit more relaxed than Bangkok, but there are still plenty of things to do.
This city in northern Thailand has over 300 Buddhist temples and is surrounded by lush jungles.
You can take a Thai cooking class, get a Thai massage, or watch a Muay Thai Boxing match to immerse yourself in the culture.
Make sure you taste a traditional Khao Soi, which is a creamy curry and egg noodle dish famous in northern Thailand.
Khao Soi Khun Yai in a cheap and authentic local restaurant in Chiang Mai where you can try a delicious Khao Soi.
If you're looking for a nice place to stay in Chiang Mai, check out the Floral Hotel at Thapae Gate.
Located right in the Old City and close to all Chiang Mai's attractions this gorgeous hotel has comfortable rooms, a nice swimming pool, and only costs between 50 and 70 USD per night.
For exactly what there is to see and do there, check out our list of what to do in Chiang Mai.
Once you're finished with your time in the city, fly from Chiang Mai to Phuket.
---
2 Days in Phuket
After arriving at the Phuket airport on the north of the island, catch a taxi down to the beautiful white sands of Karon Beach.
All-Star Guesthouse is a great place to stay near Karon Beach, as it is a small, cozy, family-run place that is centrally located and very affordable.
For more accommodation options in Phuket, check out this article on all the best places to stay in Phuket for every budget.
Here's a more detailed article we wrote on how to make the most of your Phuket itinerary.
During your two days in Phuket, you can visit the Big Buddha, go sightseeing in Phuket Old Town, go parasailing at Patong Beach, and watch the sunset from one of the island's many viewpoints.
Head over to Rassada Pier to take the ferry to Koh Phi Phi, a gem of any Thailand trip.
READ MORE: Add these to your list of things to do in Phuket.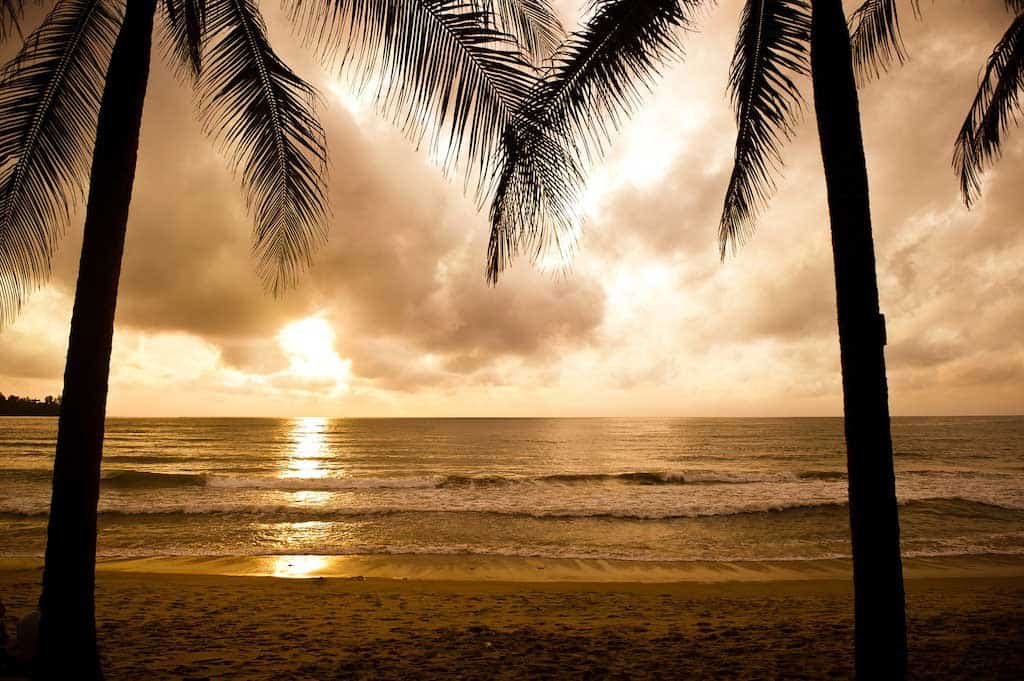 1 Day in Koh Phi Phi
For the last day in your 7 day Thailand itinerary, soak in the picturesque views at Koh Phi Phi.
Koh Phi Phi is actually a chain of three tiny islands, though only one of them, Phi Phi Don, is inhabited.
On Phi Phi Don you can find lots of cheap backpacker hostels, bars, clubs, clothing stores, and souvenir shops.
Make sure you save time for sunbathing next to the turquoise waters of Loh Dalam Bay, and for hiking up to the viewpoint that looks over the whole island.
Koh Phi Phi doesn't have an airport, so you can either take the ferry back to Phuket and fly out of there, or take the ferry to Krabi on the mainland and fly out of there.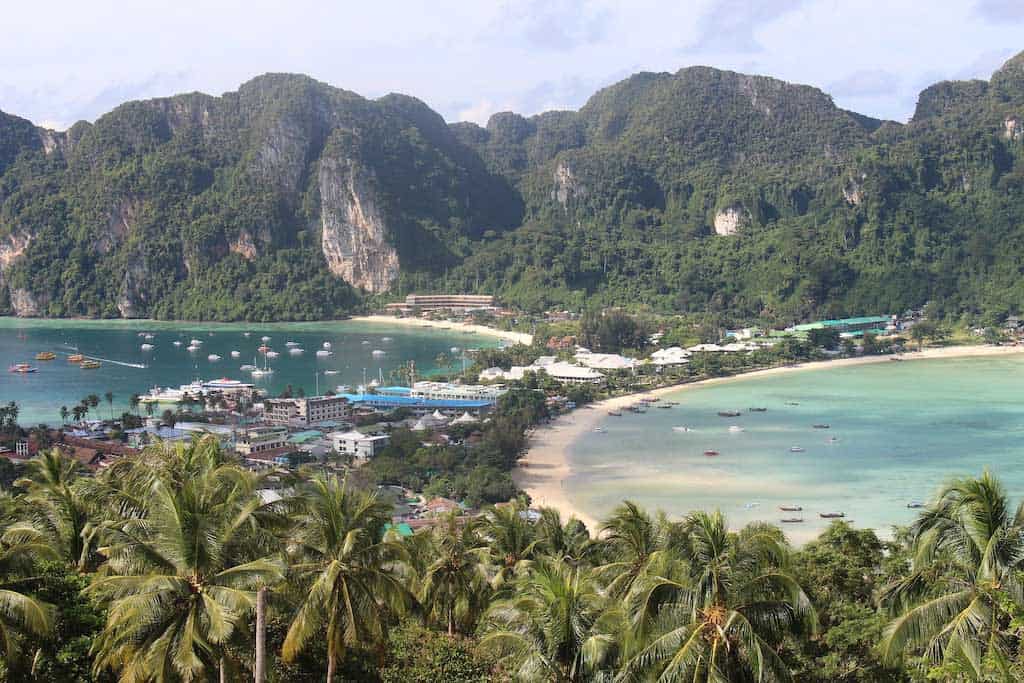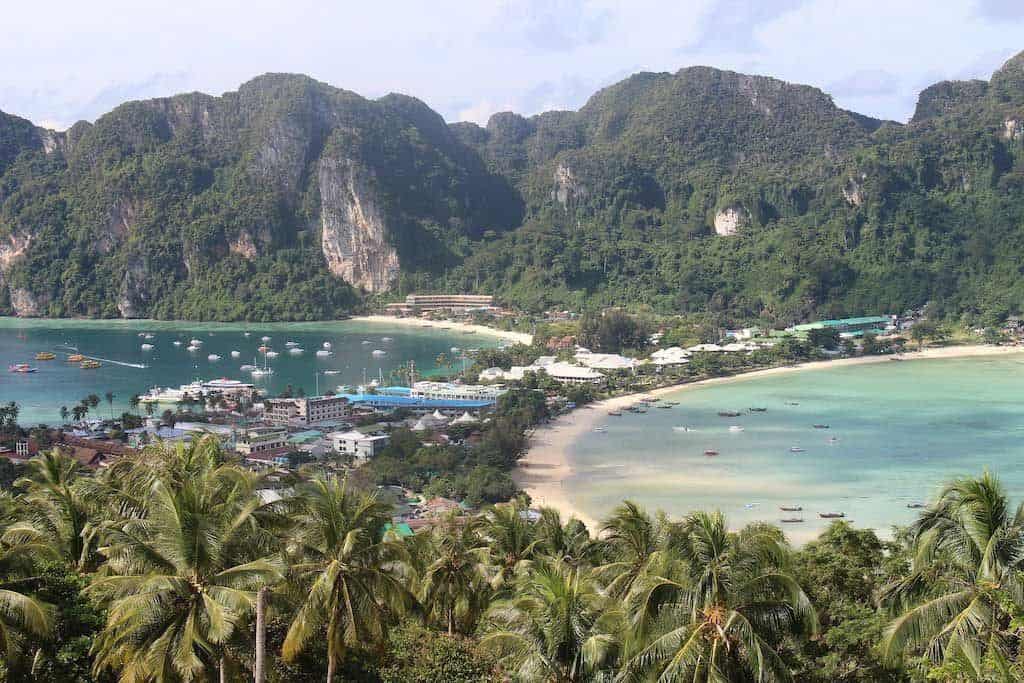 2 Week Thailand Itinerary
This 2 weeks in Thailand itinerary is great for those who can't take loads of time off work but still want to get a good feel for the country.
---
2 Days in Bangkok
If you've seen enough during your first day in Bangkok, you can switch things up by taking a day trip out of the city.
The best day trip from Bangkok is visiting Ayutthaya, the former capital of the Siamese Empire.
This ancient city is about 85 km north of Bangkok and was founded in the 14th century.
Ayutthaya is a UNESCO World Heritage Site and is full of old but well-preserved temples, monuments, and national parks.
Next on the agenda for 2 weeks in Thailand, fly from Bangkok to Chiang Mai.
READ MORE: 12 awesome things to do while travelling in Bangkok
---
3 Days in Chiang Mai
No 2 weeks in Thailand itinerary is complete without stopping in Chiang Mai.
If you'd like to make a day trip for one of your 3 days in Chiang Mai, Doi Inthanon National Park is a great place to go nearby.
Located about 70 km away from Chiang Mai, Doi Inthanon National Park is a massive green space filled with temples, local villages, gardens, hiking trails, waterfalls, and lots of peaceful forests.
You can take a songtaew to reach the park from Chiang Mai, which is a red pick-up truck that serves as a collective taxi.
Try and find other travellers to share the ride with you so the overall price becomes cheaper!
Another option is visiting Elephant Nature Park, an elephant rescue sancutary. If you are tempted to see elephants on your Thailand trip, just remember to visit somewhere ethical that protects the animals and forbids riding. Elephant Nature Park is a great place to visit elephants ethically!
Check out this Chiang Mai 3 Day Itinerary for more inspiration on things to do in this charming northern Thai city.
Take a minibus from Chiang Mai to Chiang Rai. We recommend booking this on the 12go.asia website.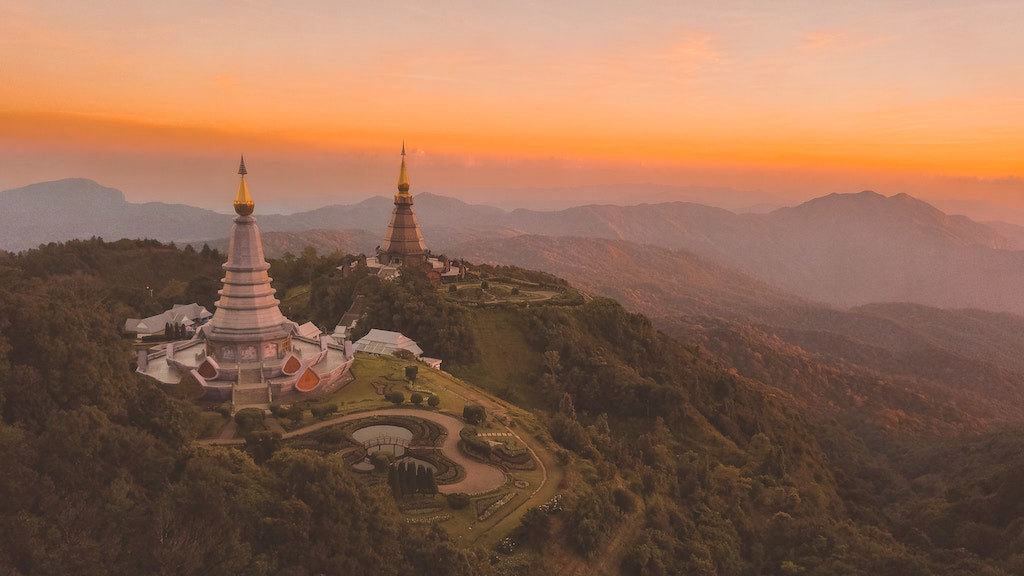 2 Days in Chiang Rai
Chiang Rai is a quiet and beautiful city in the north of Thailand. If you have time to visit it on your Thailand trip, definitely do so!
Stroll through the small town centre and chat with friendly locals, or drive up to the northernmost tip of Thailand which is connected to Myanmar by a bridge.
The breathtaking temples are definitely the highlights of Chiang Rai.
The White Temple (Wat Rong Khun)
Probably the most visited temple in Chiang Rai, the unique decoration and detail of this whitewashed temple will blow your mind.
Location: 1 Phahonyothin Rd
Hours: 8 am to 6 pm
Cost: 50 Baht
The Blue Temple (Wat Rong Suea Ten)
Slathered in deep blue colours and adorned with Buddhist relics, the Blue Temple is a feast for the eyes.
Location: 306 Maekok Rd
Hours: 7 am to 8 pm
Cost: Free
If you're travelling on a budget, Chiang Rai has lots of really nice and affordable accommodation options.
Connect Hostel has high ratings from travellers and costs only 8-9 USD per night for a dorm room or 37 USD per night for a private room.
Fly from Chiang Rai to Phuket
READ MORE: Learn all about these incredible things to do in Chiang Rai.
---
2 Days in Phuket
Because Phuket is such a mountainous island, there are lots of hilltop restaurants with open views where you can look over the beautiful scenery while you dine.
Head to Heaven Restaurant & Bar for a view over Kata Noi Beach, the Palace Restaurant and Sky Lounge for a view over Patong Beach, or Tung Ka Café for a view over Phuket Town.
Or take a day trip to the James Bond Island, located in Phanga Nga Bay.
Next, take the ferry from Phuket's Rassada Pier down to Koh Lanta.
READ MORE: Add these to your list of things to do in Phuket.
---
2 Days in Koh Lanta
Koh Lanta is an island in the Andaman Sea that is far less touristy than some of Thailand's other islands.
Snorkelling, swimming, kayaking, diving and sunbathing are all incredible here as there are few crowds to distract from the tropical scenery.
Explore the natural phenomenon of the Emerald Cave, stroll through the tiny and rustic Old Town, or go hiking in the Mu Ko Lanta National Park.
A gorgeous place to stay in Koh Lanta is the Crown Lanta Resort and Spa (has recently been renamed to Avani Plus Koh Lanta Krabi Resort).
Read the full, NOMADasaurus detailed review of this luxury hotel here.
Take the ferry from Koh Lanta to Ao Nang to finish off 2 weeks in Thailand.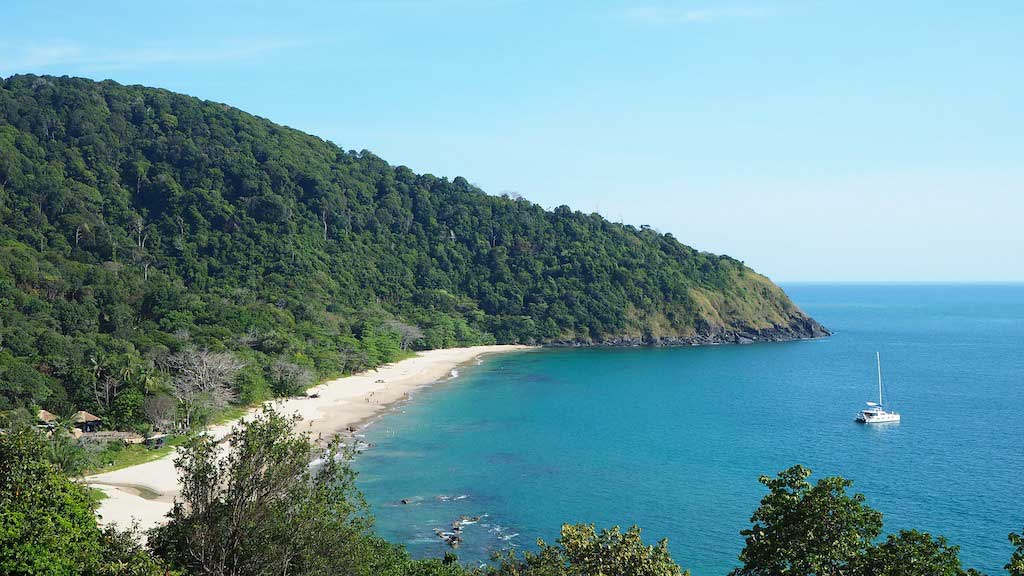 2 Days in Ao Nang
Ao Nang is relaxing and quaint, but still leaves travellers awestruck with its towering limestone cliffs and postcard-worthy beaches.
Railay Beach is the most popular attraction here, and you can hop on a cheap long tail boat from Ao Nang Beach to reach this little cove of cliffs and turquoise water.
Ao Nang is ideal for rock climbing enthusiasts, as the abundance of massive, jagged rocks makes for challenging but rewarding climbing spots.
You can also hike Hang Mak Mountain or go zip lining over the jungle for a bit of excitement.
Any 2 week Thailand itinerary must include a day of snorkelling or diving.
Ao Nang is an amazing place for snorkelling or diving as the water is warm and clean and there is lots of wildlife thriving in the area.
After an action-packed 2 days in Ao Nang, fly from Krabi back to Bangkok to catch your departing international flight.
READ MORE: Add these to your list of things to do in Ao Nang.
---
3 Week Thailand Itinerary
A 3 week Thailand itinerary is great for those who really want to explore Thailand.
Aside from the big cities, you'll get to visit small towns, national parks, and islands in the Andaman Sea and the Gulf of Thailand.
---
3 Days in Bangkok
Between checking out the tourist attractions and taking a day trip to Ayutthaya, you'll have an incredible 3 days in Thailand's capital city.
An awesome activity in Bangkok is visiting a rooftop bar in a giant skyscraper, with a panoramic view of the city.
Outside of the Old Town, Bangkok is super modern and cosmopolitan, so it can be fun to treat yourself to a nice cocktail or meal overlooking the metropolis.
Keep in mind that most rooftop bars are classy and have a dress code, so try to dress fancier than usual.
Here are some of the best rooftop bars in Bangkok, all of which sell high-quality food and beverages and have a crazy view of the city sprawled below.
Octave Rooftop Bar
Location: 45th floor, Bangkok Marriott Hotel Sukhumvit, 2 Ban Kluai Nuea Alley, Khlong Tan Nuea, Watthana, Bangkok 10110
Hours: 5 pm to 1:30 am
Scarlett Rooftop Bar
Location: 37th floor, Pullman Bangkok Hotel G, 188 Silom Rd, Khwaeng Suriya Wong, Khet Bang Rak, Krung Thep Maha Nakhon 10500
Hours: 5 pm to 12 am
Red Sky Rooftop Bar
Location: 55th floor, Centara Grand at CentralWorld, 999/99 Rama 1 Road, Pathumwan, Bangkok 10330
Hours: 5 pm to 1 am
For additional things to do in Bangkok, consider checking out the Airplane Graveyard or celebrating Songkran, the Buddhist New Year, in the city.
Next on your Thailand trip, fly from Bangkok to Chiang Mai.
---
4 Days in Chiang Mai
With an extra day in Chiang Mai, you have time to take another day trip out of the city to explore the surrounding nature.
One of the coolest places to visit near Chiang Mai is the Sticky Waterfall, or "Bua Tong Waterfall" located in the Jedsee Fountain Forest Park.
Here you can climb the vertical waterfall using just your hands and feet because the rocks are coated with rough mineral deposits so they aren't slippery.
Spend a few hours here swimming, splashing, climbing, and having a picnic (there aren't any shops in this remote area near Chiang Mai so bring your own food and drinks!).
After your 4 days in Chiang Mai, take a minibus to Pai.
---
2 Days in Pai
Pai is a relaxing jungle paradise where backpackers love to chill out and spend quality time with nature.
There are so many natural wonders to explore near Pai, such as the Pambok Waterfall, the Tham Lod Caves full of stalactites and stalagmites, the soothing Tha Pai Hot Springs, and the massive Pai Canyon.
Rent a scooter for a couple of days and enjoy the freedom of zooming through the jungle, and stroll through the local walking street market at night for some cheap local street food.
Spend your two nights in Pai at one of the local backpacker hostels.
Tribal Pai Backpackers is a great choice for accommodation because it is social and fun, but a bit less crazy than a party hostel.
A dorm here costs as little as 4 USD per night, and private rooms are about 33 USD per night. Accommodation can be super cheap when you visit Thailand!
Catch a minibus from Pai to Chiang Rai.
READ MORE: Add these to your list of things to do in Pai.
2 Days in Chiang Rai
If you haven't yet taken a cooking class in Thailand, Chiang Rai is a great place to do it.
You can book a full-day cooking class that starts with a tour of the local market to pick up fresh ingredients.
Then you can learn all about the rich flavours and simple techniques of Thai cuisine and eat all the delicious food you cook.
This is a great insight into the culture of Thailand, so you should definitely try and squeeze a cooking class into a 3 week Thailand itinerary.
Fly from Chiang Rai to Phuket.
---
2 Days in Phuket
After spending a decent amount of time soaking in the sun on Phuket's pristine beaches, entertain yourself by watching a famous ladyboy cabaret show.
A ladyboy performance is a must-see when you visit Thailand.
Phuket's Simon Cabaret was established in 1991, and now hosts some of the best cabarets in the country.
Ladyboy cabarets consist of drag queens wearing fantastic costumes and putting on a show full of dancing, acting, lip-syncing, sometimes real singing, and a whole lot of energy and pizazz.
Location: 8 Sirirach Road, Patong Beach, Kathu, Phuket 83150
Hours: Shows start at 7:30 pm and 9 pm, every day
Cost: 1,000 Baht
Take the ferry from Phuket to Ao Nang.
---
2 Days in Ao Nang
In addition to the outdoor activities mentioned in the 2 week Thailand itinerary, you can try to explore a little more of the islands surrounding Ao Nang by doing an island hopping tour.
A 3 week Thailand itinerary still can't cover all of the country's stunning islands, so a guided day tour by speedboat is a great way to pack lots of cool places into a short time.
On a day tour, you'll see gorgeous beaches, huge cliffs, snorkelling sights, and just a lot of mind-blowing natural beauty.
Then, take a shuttle from Ao Nang to Khao Sok National Park.
---
2 Days in Khao Sok National Park
Khao Sok National Park is an oasis of serenity and scenery that looks like it came out of a fairy tale. It's often a highlight for those who visit Thailand.
Dense jungle, hanging vines, limestone cliffs, caves, rivers, lakes, animals and insects are just a few of the things you'll find here.
You can go hiking and kayaking, or take a boat tour through the park, or just relax and soak in the serenity from your lakeside wooden bungalow.
Cheow Lan Lake is the most beautiful area to stay in, but you can also stay in the Khao Son Riverside if you don't want to be so deep in the jungle.
1 Day Spent Travelling from Khao Sok National Park to Koh Samui.
Travelling from Khao Sok National Park over to Koh Samui in the Gulf of Thailand can be done by some combination of shuttle and minibus, but you'll have to dedicate one full day to the trip.
The transport prices are usually very cheap, but it will take quite a while since you have to cross the Malay Peninsula.
After reaching the ferry port on the eastern side of the peninsula, just hop on a ferry and make your way to Koh Samui!
Check out this website for planning your trip.
---
3 Days in Koh Samui
Spend the last 3 days of your 3 week Thailand itinerary relaxing on the white sands of Koh Samui.
Chaweng Beach, Lamai Beach, and Choeng Mon Beach are the three most popular beaches on Koh Samui and they all offer beautiful scenery and turquoise water for swimming.
Koh Samui is the second-largest island in Thailand, so there is plenty to do here in addition to just being a beach bum.
Head to the north of the island to check out the Big Buddha and the Fisherman's Village Street Market, held every Friday from 5 pm to 11 pm.
Take a fruit carving class or visit the Secret Buddha Garden, full of mysterious statues and peaceful forest.
Definitely spend one of your days in Koh Samui taking a day trip to Ang Thong National Marine Park.
This protected area consists of 42 little islands, and you can only visit by government approved tour boat.
There are lots of affordable day tours that can bring you into the park and take you hiking, snorkelling, kayaking, and exploring throughout the diverse and impressive national marine park.
Other things to do in Koh Samui include visiting Koh Tao for snorkeling or Koh Phangan for the Full Moon Party. Both Koh Tao and Koh Phangan can be visited as day trips via local boat.
If you have even more than 3 weeks in Thailand, you can continue exploring Koh Tao and Koh Phangan for even longer, as there are plenty of fun things to do here.
If your Thailand trip is coming to a close after Koh Samui, fly back to Bangkok to catch your departing international flight.
DISCLAIMER: Some of the links in this article are affiliate links, which means if you book accommodation, tours or buy a product, we will receive a small commission at no extra cost to you. These commissions help us keep creating more free travel content to help people plan their holidays and adventures. We only recommend the best accommodations, tours and products that ourselves or our fantastic editorial team have personally experienced, and regularly review these. Thanks for your support, kind friend!