Two years ago we showed up on the quiet island paradise that is Koh Lanta, and lost ourselves for a week. Our days were filled with hammocks, swimming in the sea, drinking beers, sampling happy shakes and soaking up the sun. The place quickly became our favourite island in Thailand. While we were shoestring backpackers the first time, our return saw us coming as different travellers, and we would be staying at one of the best luxury hotels in Koh Lanta, the Crown Lanta Resort and Spa. And we couldn't be more excited!
The Crown Lanta – The Best Luxury Hotel In Koh Lanta
Our ferry left Phuket on a sweltering Saturday. As we rounded the north end of Koh Lanta a jungled peninsula reached towards us, with towering trees fringing on the edge of jagged cliffs.
Through the greenery we caught glimpses of cream-coloured bungalows, peeking over the glistening water, and capturing the imaginations of all on board.
As the boat docked at Saladan Pier we stepped past the collection of tuk tuk touts and immediately met a smiling driver who was waiting to meet us, organised by the Crown Lanta.
Before we knew it we were zipping through town, reliving our first impressions two years prior, and quickly arrived at the resort.
Proudly claiming one of the island's most precious spots, the Crown Lanta is a lush oasis, which feels like an escape from reality.
We checked in at the reception and were greeted with welcome drinks of fresh ice tea. Soon a buggy pulled up and we were ushered into the back of it.
At first we were hesitant – we love to walk – but it was quickly made apparent that the grounds of the Crown Lanta are enormous and hilly. In the midday heat we were glad for not trudging through the canopy.
Rather than feeling characterless like many high-end hotels, the Crown Lanta Resort and Spa has been designed to complement and embrace nature. Swaying palms and green shrubs surround every inch of space, and many of the buildings are hidden by soaring trees.
Our buggy pulled up outside our Ocean Sunset Villa, which was directly opposite the resort's gorgeous main pool.
We have slept in hundreds of accommodations in our time, but this room was by far the largest we had ever stayed in. Even the bathroom was bigger than most of our previous hotel rooms.
The Ocean Sunset Villa has an enormous bedroom complete with a work desk and couch, and is very tastefully decorated.
A huge separate living area makes up the entrance, but it was the outside that made this place so incredible.
A spacious private balcony jutted out into the trees, offering a sensational view straight out over the Andaman Sea. Koh Lanta has some of the best sunsets in Thailand, and this balcony was in prime location to appreciate the evening splendour.
But as amazing as our room was, we spent most of our time out by the pool and on Crown Lanta's private beach.
Comfortable lounge chairs encircle the pool, and a swim-up bar sits on the edge. As we had just commenced our detox in Thailand, we didn't sample the cocktails but instead drank gallons of fresh fruit shakes!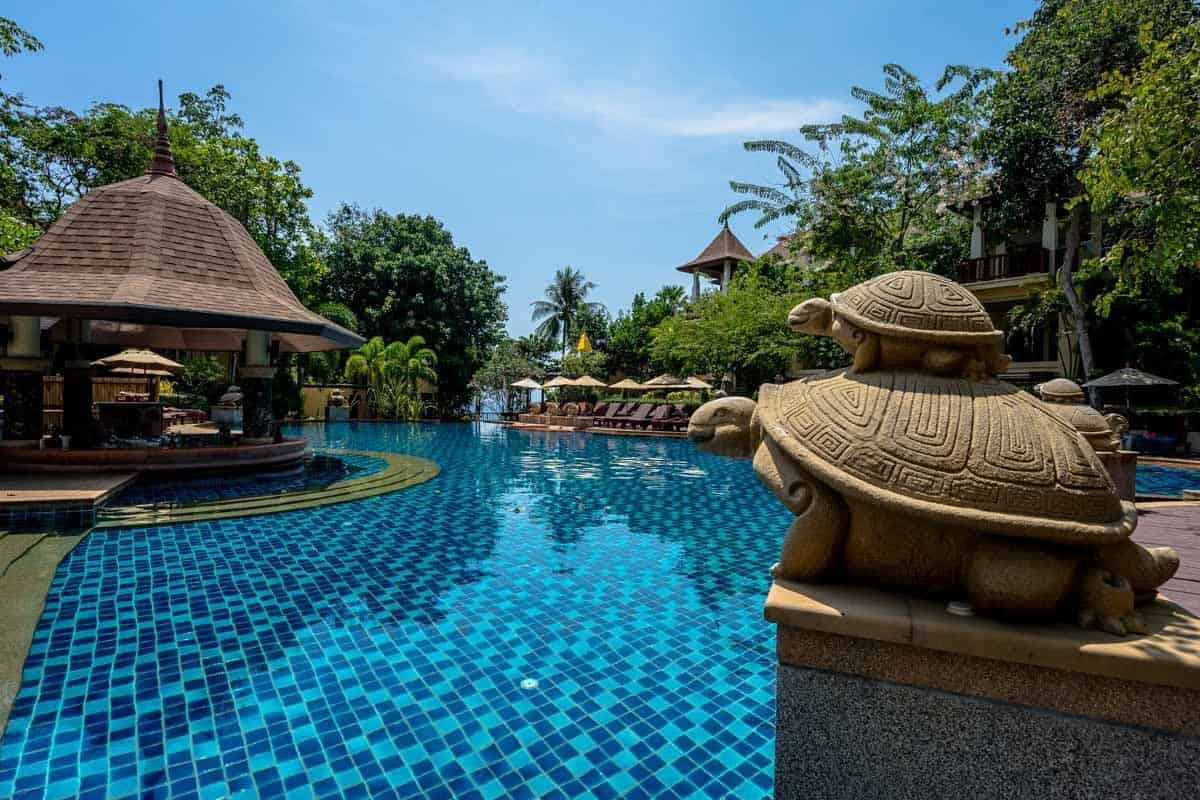 The adjoining patio is is also where the delectable seafood buffet is served. Not much needs to be said about this other than the food is fresh and simply divine, and incredible value for what is on offer. They even have traditional Thai dancing to accompany your meal.
Following the stairs away from the pool, the Crown Lanta Resort and Spa boasts a sandy cove peppered with boulders and enclosed by precipitous cliffs. This cove can only be accessed through the resort, and is a tranquil place to chill during the day.
Free kayaks are available for use, or if you aren't feeling active you can simply relax on the beach chairs. Coming to the Crown Lanta and not spending a few hours on this beach would be a crying shame…
In the mornings we made the most of the fitness centre that is on site to work up an appetite for the amazing buffet breakfast.
We don't normally get excited about breakfast, but the food available is not only diverse, but also incredible healthy! Being right into our health kick we loved beginning each day with tasty fruit, fresh natural juices, muesli and salad.
Most people got right into the made-to-order omelettes, huge selection of breads, Asian dishes and delicious meats that were on offer. It took everything in our willpower to not give in to temptation!
Seeing as we were soaking up the resort atmosphere of the Crown Lanta, we couldn't miss out on trying some of their spa treatments! A traditional Thai massage is a great experience to work your muscles in ways that haven't been tweaked for years!
In the evenings most of the guests head down to arguably Crown Lanta Resort and Spa's most enjoyable feature – the Reggae Bar.
It just wouldn't be Southern Thailand without sipping on a cold beer, watching a fire show and listening to Bob Marley, and that is exactly what the Reggae Bar offers, without some of the shenanigans that you can in similar venues on the islands.
Before we knew it our three days at the Crown Lanta had come to an end, and it was time for us to find a new home for the remainder of our 11 days in Koh Lanta.
Two years ago when we had fallen in love with the island we never expected to be back and staying in the best luxury hotel in Koh Lanta. It's funny how things change over time.
As we packed our bags on the buggy and headed out to town once more, we were once more convinced – Koh Lanta really is our favourite island in Thailand, and the Crown Lanta helped cement that realisation.