Everything you need to know about exploring Yaowarat, otherwise known as Chinatown Bangkok, on a sensational guided day tour with the incredible local, social enterprise HiveSters.
Bangkok is one of the world's most fascinating cities, and you could spend a lifetime exploring every street and alleyway of its bustling, vibrant neighbourhoods.
Backpackers will flock to Banglamphu to party on Khao San Road, and shoppers and restaurant diners will hang around Sukhumvit and Ko Rattanakosin is home to the city's most incredible attractions such as Wat Pho and the Grand Palace.
For a taste of local life and a colourful historic community though it's worth spending some time in Yaowarat, Bangkok's Chinatown area.
Wandering Around Bangkok's Chinatown on a Walking Tour with HiveSters
On our most recent trip to Bangkok we spent the day exploring Bangkok Chinatown with one of Thailand's best tour companies, HiveSters.
Operating as a social enterprise with profits going back into local communities, HiveSters have been up and running since 2014, with unique tours forming a significant part of their positive impact strategy.
We joined their 'Hidden Chinatown' tour, led by the wonderful guides Pum and Pizza, and had what proved to be one of the best days we've ever spent in Bangkok.
If you're looking for a Bangkok Chinatown day tour, you won't be disappointed with what's on offer with HiveSters.
10 Things to See in Chinatown Bangkok
There are so many things to see and do in Chinatown Bangkok that you could easily spend a week wandering around and never grow bored.
If you love history, architecture, Chinese and Thai cultures, great food stalls and beautiful temples, you're going to love this part of town.
Here's our recommendations for the best things to do in Yaowarat.
1) See the Golden Buddha at Wat Traimit
We started our day at Wat Traimit, and even if you're only coming through Chinatown for a few minutes you need to make this your first stop!
This temple is famous for housing the largest Golden Buddha in the world. The Golden Buddha temple is located not far from the China Gate and is free to enter.
While the exterior is a sight to behold, the real highlight is the 5.5 ton Golden Buddha statue on the inside, valued at over $250 million!
While no one knows quite what the origins are of the Golden Buddha, it is thought to have been created in the 13th century and at one point in time it was covered in plaster to disguise its value.
The stucco-covered statue was later installed in Wat Chotanaram, and when the temple closed it was being transported to a new location it was accidentally dropped, chipping away the plaster and revealing the gold interior.
Upon analysis the Buddha was discovered to actually be made of 9 tight-fitting parts. A key was soon found which allowed each section to come apart for easier transport.
In 2010 a new building was constructed at Wat Traimit to properly house the Golden Buddha.
Location: 661 Charoen Krung Rd, Talat Noi, Samphanthawong, Bangkok
Open: Daily from 8 am to 5 pm
2) Check Out the Chinatown Gate at Odeon Circle
As you are walking along Yaowarat Road you will come across the enormous Odeon Circle, with the Chinatown Gate featuring in its centre marking the official entrance to Chinatown.
Odeon Circle is the beginning of the main thoroughfare of Yaowart, which gave the spot the nickname the 'Dragon's Head'.
3) Stop by Wat Mangkon Kamalawat
The largest Chinese-Buddhist Temple in Bangkok is Wat Mangkon Kamalawat, centrally located on Charoen Krung Road and a hive of activity around Chinese New Year.
Meaning Dragon Lotus Temple, Wat Mangkon Kamalawat is home to a number of special shines from Buddhism, Taoism and Confucian beliefs.
You can find the temple a few hundred metres to the northwest of Wat Mangkok MRT Station.
Location: 423 Charoen Krung Road, Pom Prap, Pom Prap Sattru Phai, Bangkok
4) Feast at Chinatown's Street Food Markets
Forget the temples and Golden Buddha – If there's one thing Chinatown is most famous for, it's the food!
With hundreds of street food stalls, restaurants and even a wet market scattered throughout the small neighbourhood, make sure you skip breakfast on the day you come here.
You'll find every type of food your imagination can dream of here, from exotic fruits to spicy meat skewers to boutique pastries, and the more adventurous you are the more your taste buds will thank you.
READ MORE: Don't miss our expert guide to the food in Thailand!
Our knowledgeable guide Pum knew where all the best spots to eat were, including a little curry puff store so famous that the biggest Thailand celebrities have stopped by to sample the cuisine and snap a selfie with the owner.
During our walking tour with HiveSters we sampled divine Chinese food, stopped by half-a-dozen street food vendors, drank traditional tea, ate desserts and even made our own spring rolls with a local family in their home.
That last option is only available on their Hidden Chinatown tour though.
5) Photograph the Talat Noi Street Art
You may not expect it, but the street art in Chinatown is surprisingly good, and one of our favourite things to do was simply wander through the narrow alleyways looking out for the murals and paintings.
The area around Talat Noi has some of the best examples of Chinatown street art, so make sure you bring your camera with you and marvel at the talent of these artists.
6) Stop by So Heng Thai Mansion
This 200-year-old building is one of the last beautifully-preserved treasures in Bangkok's Chinatown, and supposedly the oldest private residence in the city.
This gorgeous courtyard house was constructed by a very prominent Chinese farmer in the 19th century and still belongs to his family.
A deep pool was built in the courtyard in 2004 and it now operates as a diving school, but the real appeal (if you're not looking to do scuba in the middle of the city) is the intricate architecture inspired by the old Chinese community.
Address: 282 Soi Wanit 2, Talat Noi, Samphanthawong, Bangkok
READ MORE: Wondering what else to do in Bangkok? Check out our perfect 3 days in Bangkok itinerary!
7) Grab a Drink on the Rooftop of Luk Hostel
Nothing beats a 360-degree view, and if you're looking the best one in Chinatown then head to Rise Bar on the rooftop of Luk Hostel.
Grab yourself a drink (they have some boutique Thai craft beers available!) and grab a seat on the balcony overlooking the Chao Phraya River and the speckled roofs of Chinatown.
You don't have to be staying here to drink at Rise Bar, but stop by reception before taking the elevator to let them know you're there.
Address: 382, 384-386 Vanich 1 Rd, Chakkrawat, Samphanthawong, Bangkok
8) Stop in for a Coffee at Hong Sieng Kong
Bangkok is home to hundreds of funky cafes and bakeries, and if you're the kind of person who loves nothing more than sipping on a freshly-roasted brew in a unique setting, then you cannot miss Hong Sieng Kong.
Built in an 200-year-old warehouse on the riverside of Talat Noi, Hong Sieng Kong recently opened to critical acclaim and instantly became the city's go-to hipster cafe.
Hong Sieng Kong serves up a variety of baked goods and tasty coffee, and the best place to enjoy it is right here in their renovated grounds.
There's all kinds of interesting antiques and artwork found around the warehouse, and if the sun is shining grab a table outside by the river.
Address: Room 734-736, Wanit Soi 2, Bangkok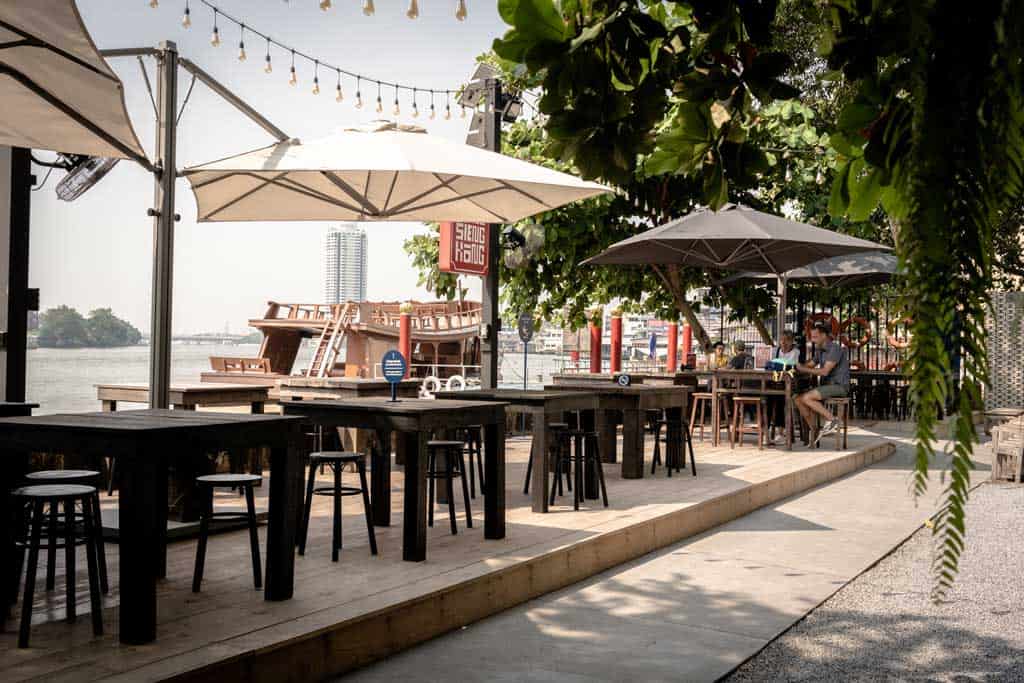 9) Chat to the Locals to Learn About Chinese and Thai Cultures
Thai people are renowned for their friendliness and hospitality, and you'll find this in spades when walking around Chinatown.
Very much a local neighbourhood, the people who reside in Yaowarat aren't exactly strangers to seeing tourists wandering through the side streets and alleys, but they love showing off their city.
Our guides Pum and Pizza did a wonderful job of introducing us to as many as possible during our walking tour, and as they are regulars there they have gotten to know quite a few of them very well.
We were welcomed into a blacksmith's workshop (where Jarryd was promptly put to work smashing some hot iron), into a mechanic's storefront to talk about the various tuk tuk parts he had for sale and even into a local seamstress' shop to see how the talented lady made mesmerising patchworks.
The best part was leaning how to make deep-fried spring rolls in one of the local lady's homes, an experience that is not possible without a guide with you.
Joining a guided tour with HiveSters allowed us to not only communicate with the locals, but also learn more about the way they live and get a unique insight into exactly what life is like in Yaowarat.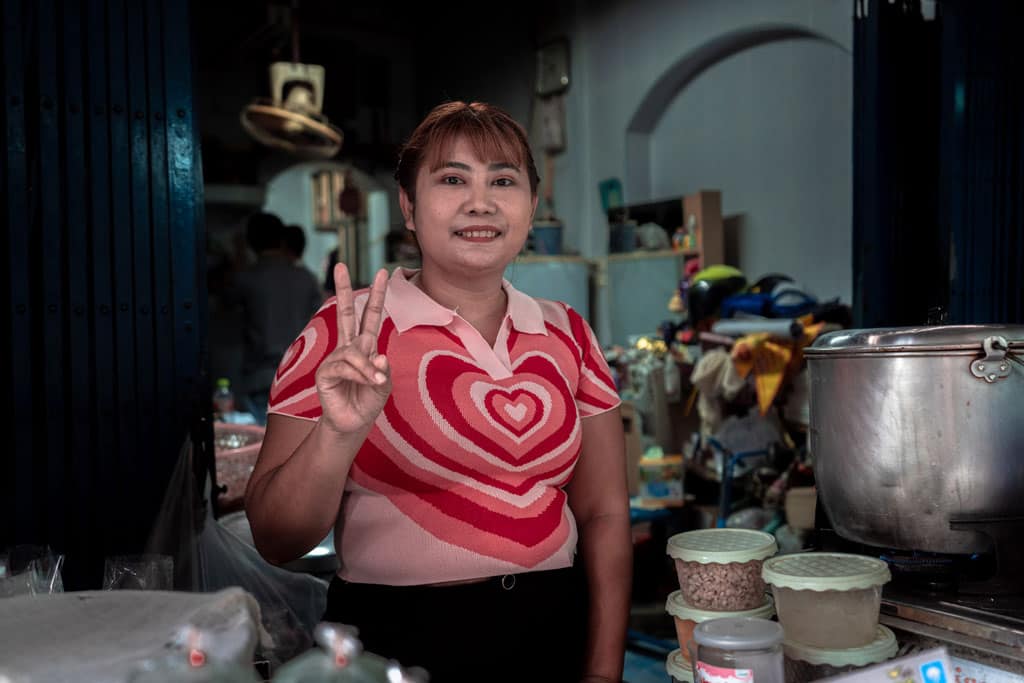 10) See All the Chinese Temples and Alleyways
Chinese temples are truly a sight to behold, with their roaring dragons, red interiors and lanterns creating a design that is instantly recognisable.
Yaowarat has dozens of temples, both large and small, and you are welcome to enter almost all of them.
The Crocodile Temple, or Wat Chakrawatrachawat Woramahawihan as it's formally known, is legendary for its crocs that supposedly were enclosed after eating young monks, and can be found on the edge of Chinatown.
Some of the other best places to visit in Chinatown are Sampeng Lane (Soi Wanit), the Flower Market and Yaowarat Road, which is the main street filled with shops selling household goods, food markets and souvenir stores.
Chinatown in Bangkok – A Mini-Guide
Now let's dive into some FAQs and information about Chinatown in Bangkok.
READ MORE: Here's our comprehensive guide to travelling in Thailand to help you plan your trip!
Is Bangkok Chinatown Worth Visiting?
If you're wondering whether or not it is worth visiting Chinatown in Bangkok, the answer is yes, absolutely!
This part of Bangkok is truly amazing and unlike anywhere else in the city, and is now one of the largest Chinatowns in the world.
Filled with colourful alleyways, gorgeous Chinese temples, historic buildings, delicious street food and of course the famous Yaowarat Road, spending a day in China Town is a must-do during your visit to Bangkok.
A Brief History of Chinatown in Bangkok
One of the best parts about walking around Chinatown is learning about its captivating history, which is one reason we highly recommend going on a guided tour.
In 1767 King Taksin brought in thousands of Taochew immigrants from China to work as merchants in his new Thai capital of Thonburi.
They settled on the east side of the Chao Phraya River opposite his palace, where they formed a thriving community.
In 1782 King Taksin was ousted during a coup and the nation's General built the new Grand Palace where the Taochew lived, forcing them to relocate to the swampy area of Sampheng.
It was meant to be a way to suppress the Taochew, but being as industrious as they were, they soon started utilising the Chao Phraya River to bring in fresh produce and goods, turning Sampheng into a bustling trading hub with intricate Chinese temples and food markets.
Over the years Yaowarat morphed into one of the busiest neighbourhood's in Bangkok, and while it is considered a tourist attraction for thousands of visitors, it has not lost its authentic, local atmosphere.
How to Get to Chinatown Bangkok
There are a number of ways to reach Chinatown Bangkok, and it all depends which direction you are coming from.
Chinatown can easily be reached by boat, MRT and taxi.
Boat/Ferry
You can catch one of the local ferries to Chinatown. The best way to get there is to get off the ferry at the Ratchawong Pier.
From the Ratchawong Pier ferry station you can access Yaowarat Road.
Alternatively you can catch the ferry to Marine Department Pier which is near So Heng Thai Villa, Talat Noi and other small temples.
If you want to get to the Flower Market, take the boat to Memorial Bridge Station. It is a little off the beaten track of the other attractions in Chinatown but if you are into flowers this is a place to start and walk to the other attractions from here.
MRT
The MRT is another great way to get to Chinatown Bangkok. Take the MRT to Hua Lamphong station and from here you are a short walk to Wat Traimit and the China Gate.
Just note that Chinatown Bangkok is not connected to the BTS Skytrain. You will have to transfer to the MRT if you are on the BTS lines.
Taxi
Getting a taxi there is another great way if you are not too far from Chinatown Bangkok, and can be cheap if you know what you're doing.
Hot tip – Always ask for the driver to use the metre. There are some cheeky drivers that will refuse and instead offer a fixed price, which is always heavily inflated. Please do not support these drivers.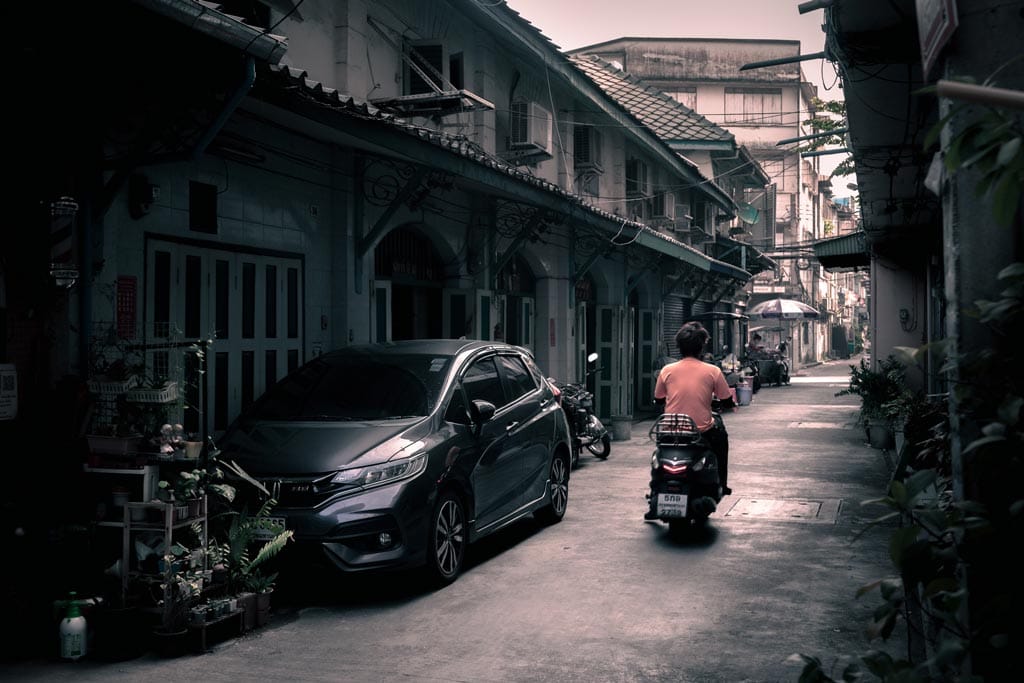 Booking a Walking Tour of Chinatown
While you don't need to book a guided tour to explore Chinatown, we highly recommend jumping on one.
You'll gain so much more from the day by learning about the history, finding secret little alleyways that most tourists miss and knowing exactly where to find the best food.
We went out with HiveSters and highly recommend their 'Hidden Chinatown' tour.
You'll be accompanied by an experienced, English-speaking guide who knows the area around Talat Noi and Chinatown like the back of their hand.
In addition though the company operates as a social enterprise with a mission of preserving Thai culture and empowering local people.
They are experts in sustainable tourism, even working as consultants for other businesses in Thailand, and donate their profits into charitable endeavours.
HiveSters also run a number of tours in other places around Thailand, including Chiang Mai, Ayuthaya and Phuket.
To book a tour with HiveSters go directly through their website: https://hivesters.com/contact/
Disclaimer: Our walking tour of Chinatown in Bangkok was made in partnership with the Tourism Authority of Thailand. All thoughts, opinions and dozens of curry puffs consumed are, as always, our own.