From exploring canyons in Pai to partying it up in Bangkok, here's our list of the absolute best places to visit in Thailand.
Thailand is one of the most popular countries in the world for tourists, and for a very good reason.
There's just so much to see and do in Thailand that any type of traveller will easily feel at home there, whether they're looking for parties, adventures, or just casual relaxation.
The Best Places to Visit in Thailand
The entire country is very welcoming and it's heaven for all tourists as there are a lot of diverse places to visit in Thailand.
From the amazing Bangkok to tropical rainforests and ancient temples, Thailand is just an incredible destination to visit.
Khao Sok National Park
This national park is one of the most well-known natural places to visit in Thailand.
Khao Sok is located on the mainland in southern Thailand, and it's a large rainforest that was made into a national park in 1980.
The national park itself is quite sizeable and is home to a wide variety of wildlife such as elephants, porcupines, bears, hornbills, and so much more.
On top of being one of the oldest rainforests in the world and a viable home to some of the world's largest mammals, Khao Sok is most known for its unique and one-of-a-kind flowers like the Bua Phut.
The national park is very well maintained.
Hiking is one of the most popular activities here, although there are only two maintained trails.
There are floating bungalows on Cheow Lan Lake, which are immensely popular, and the million-years-old limestone cavers are a sight to see as well.
READ MORE: Read all about our time at Khao Sok National Park.
Koh Lipe
Thailand is known for its incredible tropical paradise feel, and while there are a million spots like that in the country, few are as vibrant, charming, and relaxing as Koh Lipe.
Koh Lipe is the southernmost island in Thailand, and it's sparsely populated in contrast to many of its counterparts.
Unlike many of the other islands in Thailand, Koh Lipe is not too developed.
You will find some of the most Zen and charming white sand beaches in the country, as well as pure and almost untouched nature, which make it one of the most beautiful places to visit in Thailand.
The beautiful beaches with their crystal-clear turquoise waters and very fine white sand are stunning.
Scuba diving, watching sunsets, yoga, observing bioluminescent planktons, hiking, and so much more is possible on the island paradise that is Koh Lipe.
We suggest this eco snorkeling tour when you visit Koh Lipe.
Pai
Anyone who is not sure where to go in Thailand but wants to see something totally unique and chilled vibe should definitely opt for a trip to check out the best things to do in Pai.
It's a charming little town that's very close to Chiang Mai – the second largest city in Thailand – and for such a small town, there is a mind-bogglingly large number of activities to explore.
The entire atmosphere of Pai is very calm and relaxing, and it's considered something like a hippie commune in the middle of Thailand, where backpackers and visitors go to relax.
There is so much to explore and so much to see in Pai.
Some of the popular things to do in Pai are exploring the canyon, Pembok Waterfall, and driving around with a scooter amidst gorgeous nature while some of the friendliest folk you'll ever meet are surrounding you.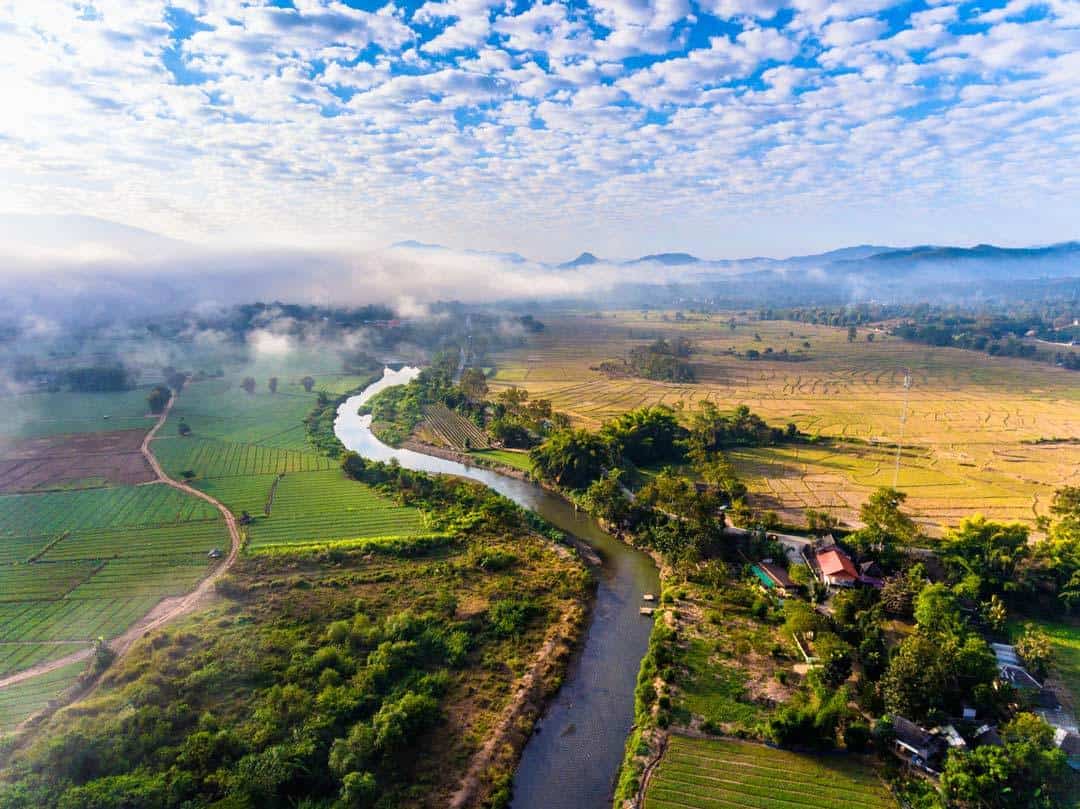 Ayutthaya
The history of South East Asia is incredibly vibrant, turbulent, and diverse, and it's filled with tales of old kingdoms in the form of old ruins left behind after their fall.
Ayutthaya, the old capital city of one of those thriving kingdoms, Siam, was sacked and looted after a conflict with Burmese forces.
The ancient city of Ayutthaya used to be one of the most important trading posts in this part of the world, but it was also a centre for arts, culture, and religion, which is what most of the ruins are all about.
Here you'll find plenty of old temples, whose silhouettes shape the sunset skies, and enormous stupas that evoke a lost feeling of grandeur.
We suggest you book a tour of ancient Ayutthaya to get the most out of your time in the ancient city.
The Historical Park of Ayutthaya is one of the most unique places to visit in Thailand because it looks and feels entirely magical.
Chiang Mai
As the former capital city of the Lanna Kingdom, Chiang Mai is a cultural city that offers plenty of rest and relaxation for those who seek that.
It has hundreds of temples and unique streets and shops that make Chiang Mai one of the best places to visit in Thailand all on their own.
However, the real charm of Chiang Mai is the sheer amount of outdoor activities it has to offer, mainly because the surrounding nature is so pristine and varied that you'll have a hard time trying to do anything else but have outdoor adventures.
Trekking is something everyone should do while visiting Chiang Mai, especially exploring the many trails in the Mae Tang and Chiang Dao districts.
You can also cycle, which is one of the most recommended things to do here, particularly if you like exploring the more rustic backdrop of Chiang Mai.
A unique way to get the adrenaline flowing is by taking the zip-line through the jungle.
There are plenty of other adventurous things to do here in northern Thailand, like rafting, zip-lining, and kayaking, all of which are very streamlined and incredibly easy to start doing.
Chiang Mai is easily one of the best places to visit in Thailand!
Don't miss our epic guide of the top things to do in Chiang Mai.
Kanchanaburi
The town of Kanchanaburi has a long but dark history.
It used to be an important strategic location in World War II, mainly because of the Death Railway Bridge, which was one of the most important things built there in WWII.
Most of the things to see here are concerned with the war, and that's why there are plenty of important and haunting museums.
To learn firsthand about this history, we suggest that you join a tour to visit the famous River Kwai Bridge and the Death Railway.
However, this city is also considered to be a gateway of sorts into the nearby gorgeous and pristine national parks.
The Erawan National Park is one of them, which is one of the most beautiful things to see in Thailand, as it has a multi-tiered waterfall that's the perfect spot to visit for any nature lover.
History buffs will also enjoy this region because of the centuries-old ruins, like the Prasat Muang Singh, which used to be an old trading post and town in the 12th century.
READ MORE: Check out this post about the best things to do in Kanchanaburi!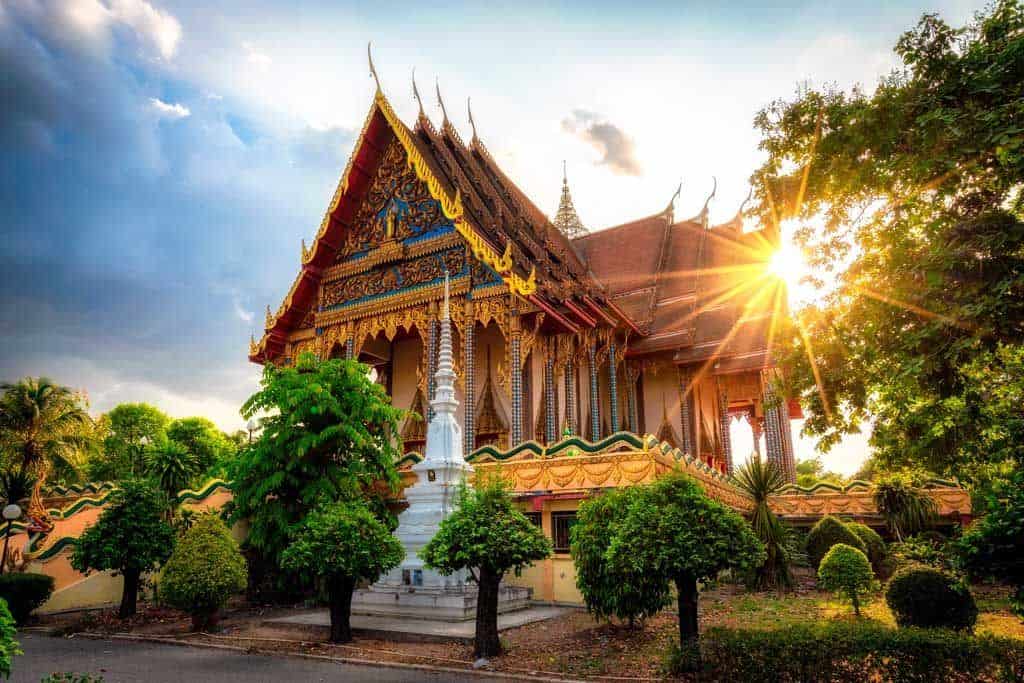 Chiang Rai
Chiang Rai is the sister town of Chiang Mai, and even though it's not considered as popular, it's still a fantastic destination on its own that deserves a lot more love.
It's found in the northern Thailand, close to the borders of Laos and Myanmar.
Chiang Rai is a destination filled with temples and historic buildings, but also spots ideal for trekking and exploring.
You'll find historic buildings like the White, Black, and Blue temples, each with its own vibrant and unique aesthetics.
Join a private tour today and enjoy the beauty of these majestic buildings.
One thing that every visitor should do is visit the northernmost point of the country, as it's only a short drive from the city.
It is a signpost marked location that's found on the border with Myanmar that connects the two countries via a bridge.
Among many other things, the nearby Tree Top Adventure Park is considered one of the best adventure activities in Thailand, where you can find rope bridges and zip lines surrounded by gorgeous scenery.
READ MORE: Check out these awesome things to do in Chiang Rai.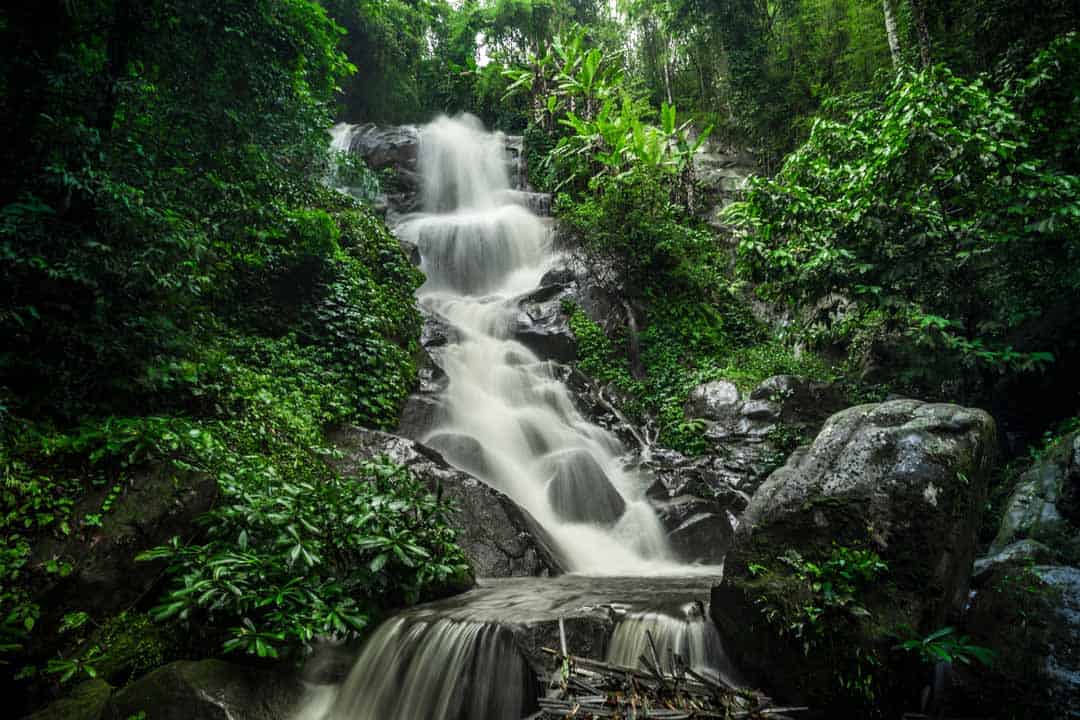 Khao Yai National Park
Khao Yai National Park is the first national park in Thailand and is also one of the largest ones.
It's one of the most biodiverse parts of Thailand where you'll find wildlife like monkeys, elephants, deer, macaques, and hundreds of other unique species.
Khao Yai is incredibly beautiful too – it's filled with stunning waterfalls, natural caves, deep rainforests, and gorgeous scenery, which is why it's no surprise that it's one of the most popular Thailand attractions.
Camping is one of the most popular things to do here, which is why there are plenty of campsites dotted around Khao Yai National Park.
Due to the sheer number of parks, they're often visited by critters, for which there are strict rules on how visitors should handle them.
Koh Tao
Koh Tao, a picturesque island nestled in the Gulf of Thailand, has become a sought-after destination for travelers seeking an idyllic tropical getaway.
With its white sandy beaches, lush greenery, and crystal-clear turquoise waters, Koh Tao offers visitors a serene escape from the hustle and bustle of everyday life.
The island's captivating beauty and laid-back atmosphere create a perfect setting for relaxation and adventure.
Not only does Koh Tao boast some stunning landscapes in Thailand, but it is also the country's premier destination for learning how to scuba dive.
The calm, warm waters surrounding the island provide excellent visibility and an abundance of vibrant marine life, making it the ideal location for novice divers to gain confidence and master their skills.
Furthermore, Koh Tao is home to numerous professional dive centers offering PADI certification courses at competitive prices, making it the most affordable and accessible place in the country for scuba diving enthusiasts.
In addition to its underwater allure, Koh Tao offers a diverse range of activities, such as hiking, rock climbing, and yoga, as well as mouthwatering Thai cuisine and bustling nightlife.
With its unique blend of natural beauty, thrilling adventures, and welcoming atmosphere, Koh Tao truly is a must-visit destination in Thailand.
Check out our guide on the best things to do in Koh Tao!
Bangkok
Bangkok is the single most visited place in Thailand, and it's an enormous metropolis that offers just about anything for anyone.
It's considered the pillar of tourism in Thailand, and even though it might often feel like a place filled with tourists, it's actually perfect for a visit.
Bangkok is one of the most popular places to visit in Thailand because there's an excellent mix of urban and outdoor things to do.
You'll be able to explore the city properly and subsequently fall in love with Thai culture.
One of our favourite things to do in Bangkok was to tour the floating markets.
However, having an adventure is also highly recommended, especially if you like adventurous activities like leaping from a plane, wakeboarding at Taco Lake, cycling, trekking, zip-lining, and so much more.
There is no shortage of things to do in Bangkok, and it's the capital city of the country and truly one of the finest places to visit in Thailand.
Check out our full guide to the best things to do in Bangkok.

Koh Mook
Down in the far south of Thailand, not too far from the Malaysian border, are some of the most spectacular islands in the Andaman Sea.
From Lipe to Libong, Kradan to Ngai, there's no shortage of awesome places to explore down here.
One of our favourites though is the picture-perfect island of Koh Mook.
This old-fashioned paradise is the perfect place to use as a base for exploring all the other islands, and there's plenty to do there to keep you occupied for a few days.
It's laidback, beautiful, has lots of good spots to stay and some great restaurants. Well worth a visit!
READ MORE: Plan your trip with our guide to the best things to do on Koh Mook.
Kamphaeng Phet
The quaint town of Kamphaeng Phet is an underrated destination.
In many ways, it's the opposite of the regular Thailand tourist attractions because it rarely sees many tourists, at least not international ones.
However, this is a town with a wide palette of things to see and do, especially if you're a fan of history and tradition.
One of the coolest locations is the Kamphaeng Phet Historical Park, which is a UNESCO World Heritage Site, as well an archeological dig site that's dotted with numerous temples and old ruins.
In the historical park, you're free to wander and explore as much as you like, although make sure not to climb anything that resembles a Buddha statue.
The nearby Phra Ruang Hot Springs are just a pleasure to visit as they're literally filled with hot water with healing and therapeutic properties.
On top of that, you have a very welcoming local culture, which makes this town one of the best places to go in Thailand.
READ MORE: Be sure to add these things to do in Kamphaeng Phet to your itinerary.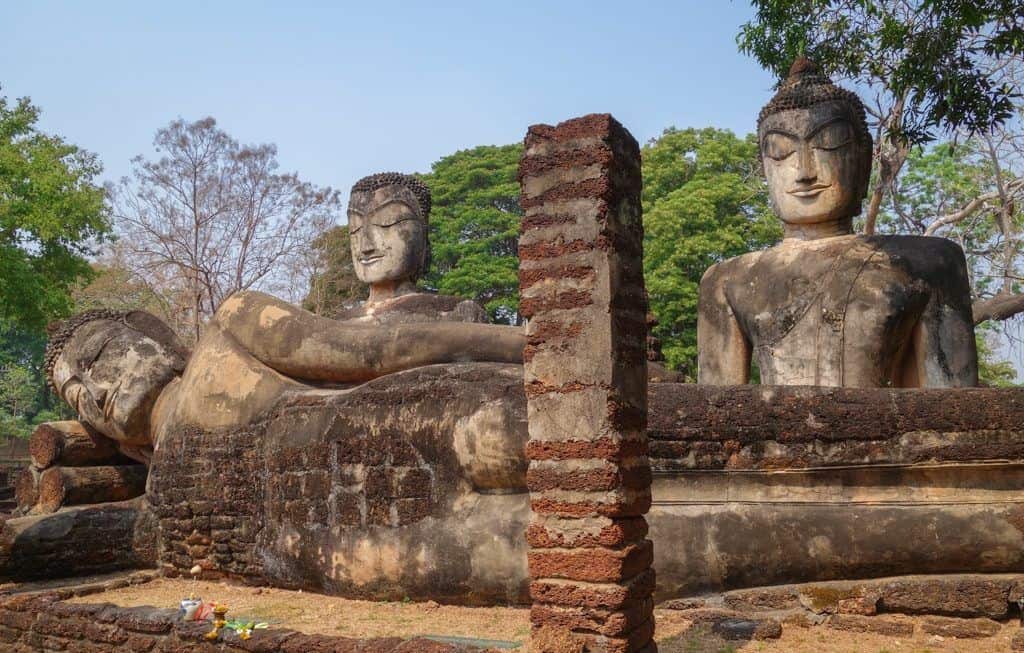 Koh Lanta
From kayaking to motorbike exploration, the beautiful island of Koh Lanta offers everything.
It's a totally laidback and charming destination, one that offers a lot more activities than it may initially lead on.
It's a perfect destination for travellers on all budgets and there's just so much to see and do.
Because it's not as visited as many other islands, it's not as developed, but that gives it a much more relaxed and homely vibe.
The long and empty beaches are ideal for relaxation, and the roads are perfect for driving a motorcycle.
This is a destination that you'll definitely want to stay for as long as possible, especially in a place like the Crown Lanta Hotel.
The street food is also unbelievably good, and there are also restaurants that serve traditional and unchanged recipes from centuries ago.
From hiking and exploring the stunning and unforgettable Koh Lanta National Park to scuba diving and kayaking through water caves, Koh Lanta is just an ideal traveller's destination.
Ao Nang
Due to it being in a unique position on the west coast of southern Thailand and flanked by limestone cliffs, Ao Nang is practically impossible to develop more than it already is.
However, being slightly underdeveloped is just one of the main draws of Ao Nang because that lends it a very specific atmosphere of adventure.
You'll be able to explore some of the finest backdrops in Thailand such as jungles and beaches.
Rock climbing is one of the most popular things to do here because of the limestone cliffs, which are natural borders that separate Ao Nang from the rest of Thailand.
You can also go trekking, kayaking, scuba diving, snorkelling, and basically anything that's involves the outdoors, all the while enjoying one of the hippest and relaxing atmospheres in Thailand.
We definitely recommend that you explore the underwater world by snorkelling or diving while you're there.
Here's our guide to the best things to do in Ao Nang.
Phuket
If anyone says "paradise" doesn't exist, they haven't been to the islands of Thailand.
Postcard-worthy beaches rest underneath limestone cliffs and the shining Southeast Asian sun.
Rich Thai culture complements the beauty of nature, with elaborate temples, crowded street markets, and friendly locals inhabiting the land.
For the best introduction to the stunning scenery and warm culture of Thailand, visit Phuket, the country's largest island.
At roughly 576 square kilometres, the list of things to do in Phuket is quite long.
For those who want to relax and soak in the sun, you can spend quality time with Phuket's many beaches and dine out at the island's best restaurants.
For those who want to experience authentic Thai culture, you can tour the Buddhist temples, take a cooking class or visit a local boxing match.
For those who want to have a little adventure and explore nature, you can go island hopping, swimming in waterfalls, or hiking to a scenic lookout point.
There are so many things to see in Phuket that cater to any sort of traveller.
Phuket's attractions can suit budget, mid-range, and luxury travel styles, and Phuket also makes a great starting point for venturing out to Thailand's other islands.
Cheap ferries and boat tours connect Phuket with the other islands in the Andaman Sea, so you can easily base yourself in Phuket and take day trips to the other surrounding islands.
Or, you could conveniently fit Phuket into an island-hopping extravaganza, which we highly recommend!
Either way, Phuket is definitely a must-see island of Thailand.
Plan your trip to Phuket with our comprehensive guide.
Koh Kood
Even though Koh Kood is one of the largest islands in Thailand, it has the feel and atmosphere of a much smaller one.
That's because the island is barely inhabited, and there aren't even any towns, just fishing communities.
Its main draws are the beaches and pure relaxation – along with a little snorkelling.
The beaches on Koh Kood are often considered to be the best beaches in Thailand.
There are resorts on the island, but due to its size and number of stunning beaches, you'll want to explore and get around, which isn't an ideal situation.
The roads aren't perfectly maintained, but they're more than good enough for scooters.
However, the quality of the beaches is so good that it's entirely worth visiting this island, even with the mild inconvenience of poor roads.
Koh Samui
Planning a trip through the many islands of Thailand can seem overwhelming.
There are over a thousand Thai islands and they all have something different to offer.
The big developed islands have lots of accessible tourist attractions, and the small uninhabited islands have raw, untouched natural beauty.
To make your trip-planning easier, visit the bigger islands that have a diverse range of landscapes and activities and explore them thoroughly.
One of the most rewarding islands to visit is Koh Samui, the second largest island in Thailand after Phuket.
Located in the Gulf of Thailand, Koh Samui is a huge island covered in forest and fringed with pristine beaches.
Koh Samui has had a reputation for being quite ritzy and expensive.
There are lots of luxury resorts, fancy hotels and vacation packages that appeal to the wealthy, but recently the more local, affordable side of Koh Samui is beginning to surface.
Backpacker hostels, street markets, cheap tours and a long list of attractions are starting to pull more young budget travellers to Koh Samui.
READ MORE: Be sure to add these activities to your Koh Samui itinerary!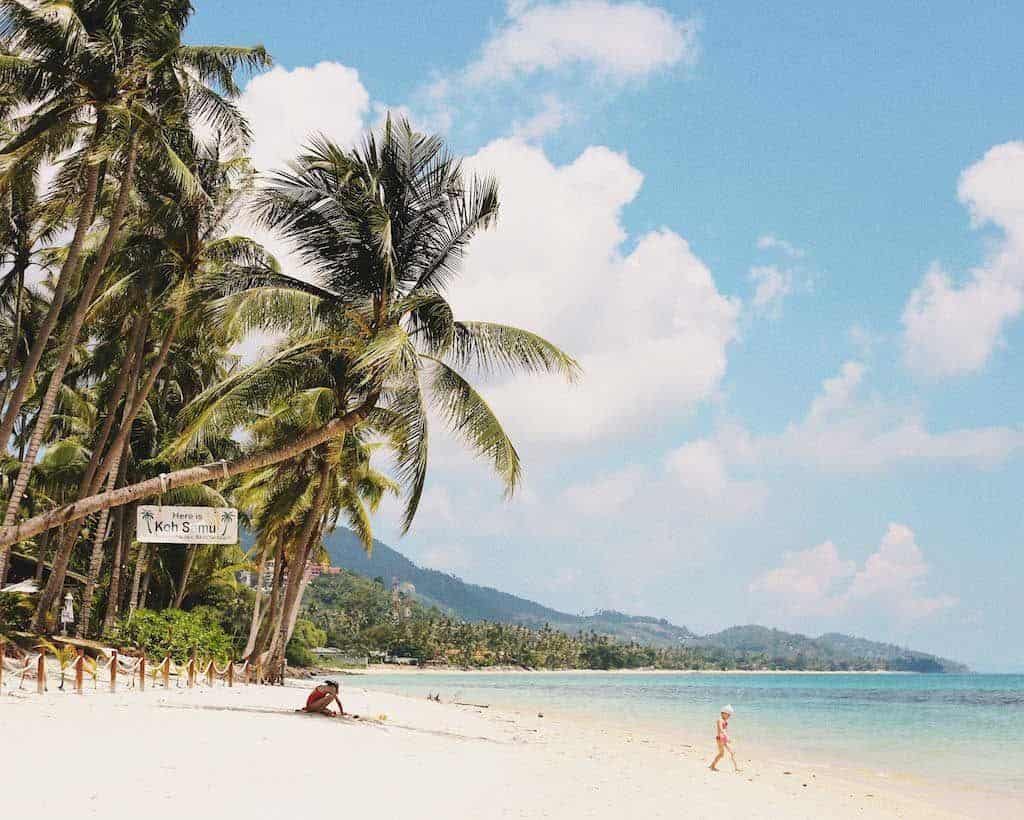 Koh Surin
Koh Surin is an archipelago that consists of two main islands, Surin North and Surin South, but it's actually part of a larger national park, called Mu Koh Surin National Park.
The islands of Thailand are often considered some of the best reasons for visiting the country, and if that's the case, then Koh Surin is the best of the best in the country.
They're arguably the most biodiverse part of Thailand, and even though they're known most for their marine life, the land wildlife is just as diverse.
The beauty of Koh Surin is so stunning, it's almost unbelievable.
From the pristine nature to incredible hidden beaches to perfect camping spots, Koh Surin is a remarkable sight.
It's absolutely worth a visit, though it's also worth mentioning that a large portion of the islands are off-limits to everyone.
Lopburi
As one of the oldest cities in Thailand, Lopburi offers a lot of different things for every type of visitor.
There are plenty of attractions in Lopburi, from historic landmarks to natural retreats.
Spots like Wat Phra Sri Ratana Mahatat and the old spiritual site, Phra Khan Shrine, are old ruins that perfectly encapsulate what Lopburi was all about.
However, the thing that Lopburi is most known for is the sizeable population of macaques that live freely in the city and are found everywhere.
We'd recommend that you check out the monkey temple when you visit.
Here you can easily find plenty of natural spots, too, like Ang Sub Lek, which is a reservoir outside of town that's ideal for an afternoon of relaxation.
Tonsai Beach
Southern Thailand is known for its white sand, crystal clear waters, dramatic islands and laid-back lifestyle.
It is also a hub of adventure and activity, such as rock climbing, diving, kayaking, snorkelling, and plenty more.
Tonsai Beach, in the Krabi province, is a small village based in a bay on the Thai mainland, which is only accessible by boat.
We'd recommend you check Tonsai Beach out on this tour, along with several other great beach spots.
Its neighbours, Ao Nang and Railay have long been favourite traveller destinations because of their imposing limestone cliffs, drawing a huge crowd of dedicated rock climbers and BASE jumpers.
Tonsai is the lesser-known of its counterparts, and as a result, is a lot more rustic. But in this lies its beauty, and it is the kind of place you come for a day and stay for a week or longer.
The typical crowd that congregates at the beach are budget-focused, bohemian backpackers.
Rock climbing is the main daytime activity, but for those who prefer to keep both feet on the ground, sea kayaking, slacklining, hiking and exploring tend to chew up the hours.
In the evenings, the art of fire dancing takes over the scene, and all up and down the beach, the hypnotising views of twirling flames is dominant.
Reggae music drifts from all the bars, and exhausted adventurers lounge on the cushions, in a slight conversation between intermittent naps.
The haze of "herbal smoke" floats in the air, and everyone is happy and relaxed.
Sukhothai
The little market town of Sukhothai might appear uninteresting and unremarkable at first but it's actually an important spot of old historical ruins: Sukhothai Historical Park.
This town used to be a kingdom in the 13th century, which is considered to be the golden age of Thailand, and the Sukhothai Kingdom was one of the most prosperous of the time.
Today, the town has a quaint and charming feel, but it's entirely worth visiting to explore the ruins of the old quarters.
One of the best ways to see the old town is by taking a bike tour.
The Sukhothai Historical Park is also a UNESCO World Heritage Site that's one of the most impressive ones in Thailand. It's worth coming here to see Sukhothai Historical Park alone!
Koh Phangan
This is one of the quietest and most relaxing islands in Thailand, even though it used to be one of the main party spots in the country a few decades ago.
However, developments of other islands led Koh Phangan to be slightly sidetracked, leaving its developments at a slow pace.
That's not a bad thing, however, because that means the island today is just the ideal place for those that want to get away from the hustle and bustle of modern Thailand.
The beaches are absolutely stunning and are arguably the main draw of the island.
You may also enroll in cooking classes, go boating, or just relax in a pub while you're watching the sunset.
We'd recommend you spend some time on the water enjoying the beauty of island life.
READ MORE: Check out all of the great things to do on Koh Phangan!
Trang
Located in the south of Thailand, home to towering limestone karsts and white sand beaches is the stunning Trang province.
For those looking to get off the beaten path in one of the world's most touristed nations, Trang offers a multitude of incredible attractions and activities without the crowds.
The main hub in the province is Trang City, an interesting town filled with delicious street food, curious artwork, and heavy Chinese influence.
Most people that come through Trang City use it as a launching point to get out to the nearby islands of Koh Mook, Koh Kradan, and Koh Ngai.
And while those islands are indeed gorgeous, it's worth spending at least one day here to experience an authentic Thai city that hasn't been spoilt by tourism.
Split into two sections, Trang City and Trang Old Town, you'll find an eclectic culture where Buddhists, Catholics, and Muslims live in harmony, celebrating life and food with pride.
Locals are proud of their heritage and feel a distinct connection with the nearby sea.
Dugongs live in the Andaman Sea right next to Trang, and residents happily display their fondness of these captivating creatures through paintings, statues and monuments all around the city.
What really sets Trang apart from the rest of the country though is its unique cuisine. Thais from all around the nation visit Trang on holiday purely to sample their delicious versions of seafood, dim sums, and pastries.
It's a truly wonderful place, and well worth a stopover when looking for unique places to visit in Thailand.
Be sure to add these great things to do in Trang to your itinerary!
Ang Thong National Marine Park
As one of the most beautiful destinations in Thailand, Ang Thong National Marine Park is just a joy to explore.
It's not only gorgeous and scenic but it's also filled with mystery as it is believed to be the place where sea gypsies live.
This archipelago, specifically Emerald Lake, was also featured in the movie The Beach.
There are over 40 islands that are part of Ang Thong, each more beautiful than the last. Book a boat tour to visit the national marine park and see the best of the islands while you're here.
You can explore to your heart's content some of the most diverse marine life in Thailand here.
Koh Phi Phi
The islands of Koh Phi Phi are very popular among tourists in Thailand, but with good reason.
The natural scenery here is nothing short of jaw-dropping.
Everything you'd expect to see on a postcard from a tropical island paradise, like soft white sand, brilliant turquoise water, and lush green palm forests, you can find all over the Phi Phi Islands.
Koh Phi Phi is actually an archipelago of six different islands.
The only inhabited island is Koh Phi Phi Don. This is the biggest island out of the six and it is still no bigger than 10 square kilometres.
Travellers can only stay on Koh Phi Phi Don, and there are tons of hostels, resorts, restaurants, bars, and tourist attractions.
The island is so small that you can walk everywhere, and you can visit the other islands by kayak, long tail boat, or speed boat.
Koh Phi Phi Leh is the second largest island and is home to great snorkelling sites and picturesque beaches and lagoons.
We'd recommend you check out this snorkelling eco tour when you visit Koh Phi Phi.
READ MORE: Plan to do these exciting things whilst visiting Koh Phi Phi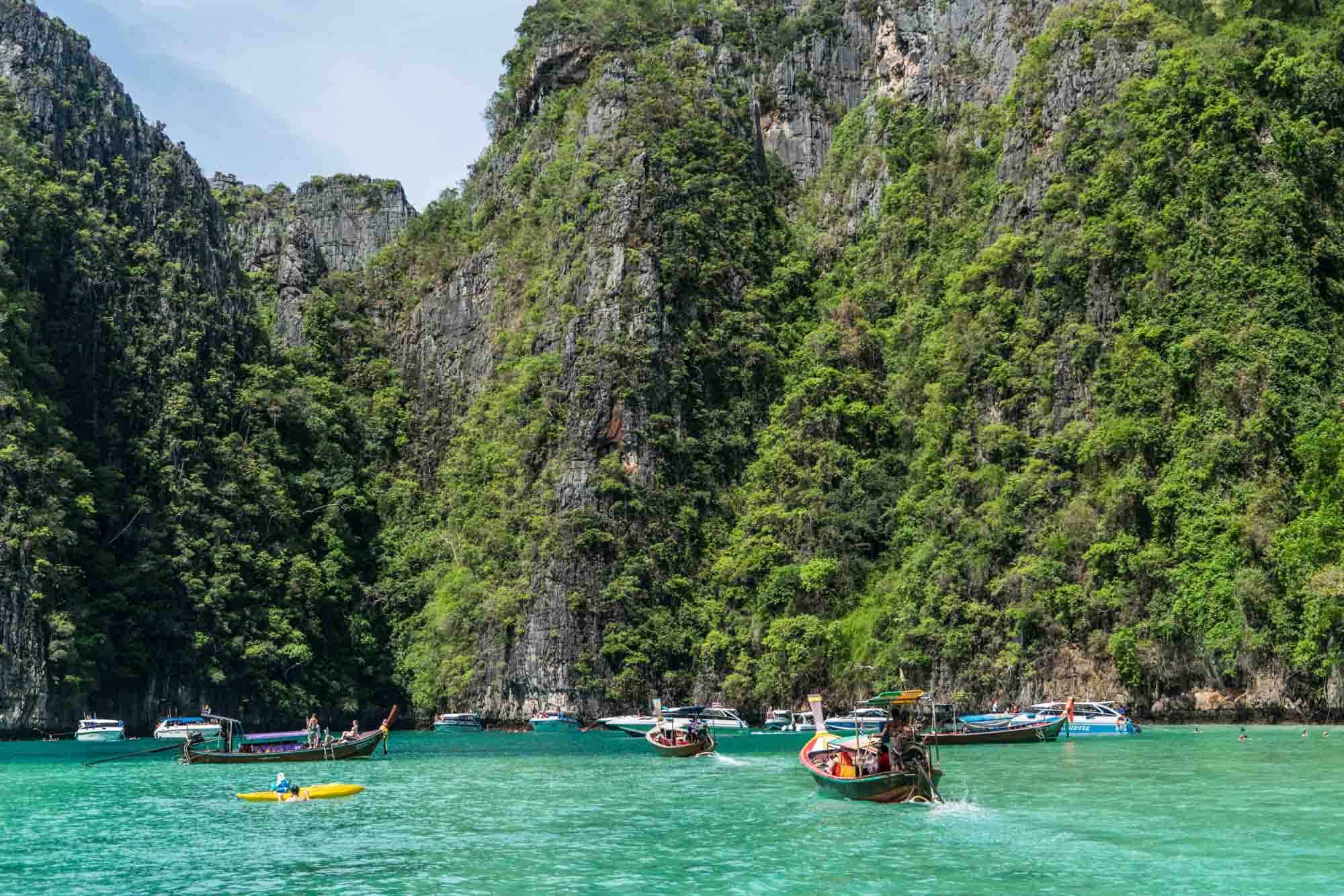 Phanom Rung Historical Park
Even though Buddhism is the most represented religion in Thailand, Phanom Rung is a Hindu temple that has persisted over the region that was first ruled by the Khmer.
While this temple isn't quite on the same level as the magnificent Angkor Wat, it's still a stunning and unique temple as it is the only Khmer temple that's built on an extinct volcano.
The surroundings around the temple are breathtaking; however, the real star of the show is its sanctuaries.
From the top sanctuary, you have a great view of the rest of the region.
The Phanom Rung Festival is something that every visitor should strive to attend, as it happens only in April.
It is a gorgeous parade of traditional sounds and sights, as well as dances and even fireworks.
Mae Hong Son
As a decidedly provincial town with obvious Burmese influences, Mae Hong Son is ideal for those that don't really know what to do in Thailand but prefer to have a relaxing and calm time.
This town in northern Thailand is relatively small, and at times, it hardly looks like a normal Thai town.
Unlike the rest of Thailand, Mae Hong Son has a mostly different culture, where it has far fewer tourists as it focuses more on domestic tourism rather than international.
Most of the visitors are Thai, which is why there is almost no party culture in this town, but rather calm and quiet activities for those that want to get away from other places in Thailand full of tourists.
On the other hand, trekking in Mae Hong Son is definitely one of the best things to do in Thailand as the terrain and landscape are so perfect that you'll never want to leave.
Want a real adventure? Check out the Mae Hong Son Loop – the best motorcycle adventure in the country.
DISCLAIMER: Some of the links in this article are affiliate links, which means if you book accommodation, tours or buy a product, we will receive a small commission at no extra cost to you. These commissions help us keep creating more free travel content to help people plan their holidays and adventures. We only recommend the best accommodations, tours and products that ourselves or our fantastic editorial team have personally experienced, and regularly review these. Thanks for your support, kind friend!