Travel tips, advice and activities for the perfect 3 days in Chiang Mai itinerary.
No trip around Thailand would be complete without stopping in Chiang Mai.
Located in the north of the country, Chiang Mai reveals authentic Thai culture and history but still manages to have a thriving and modern entertainment scene.
It is more relaxed than the capital city of Bangkok, but still packed with things to do.
CHECK OUT OUR FULL SEPARATE GUIDE TO THE BEST THINGS TO DO IN CHIANG MAI, THAILAND!
This humble yet thriving city dates back to the 13th Century, and the square-shaped "Old City" is still surrounded by a moat with four bridges guarded by gates that used to connect people to the outside world.
Most of Chiang Mai's attractions lie within the Old City, so this is where travellers tend to congregate.
There are a fair few tourists in the Old City of Chiang Mai, but it still retains a laid back atmosphere.
Stunning Buddhist temples and Thai massage centres are scattered all over the city, beckoning travellers to come to relax and soak in the culture.
At the same time, bustling street markets, drag shows and Muay Thai boxing matches occur every night, where locals and travellers alike can indulge in the sensory explosions of Chiang Mai's nightlife.
To really absorb all the charm of the area, all you need is 3 perfect days in Chiang Mai itinerary.
This gives you enough time to explore the city, check out the nightlife, and even take a day trip into the surrounding nature.
This Chiang Mai 3 day itinerary will outline the best things to do in the area and include some tips on where to stay, where to eat, when to go, and how to get around.
READ MORE: Check out our awesome travelling in Thailand guide!
How to Spend a Perfect 3 Days in Chiang Mai Itinerary
There are plenty of things to do in any Chiang Mai itinerary! So get ready to spend your three days exploring the best parts of the city!
Day 1 – Morning
To get acquainted with the city, spend the first morning of your Chiang Mai itinerary exploring on foot.
With over 300 Buddhist temples and lots of unique local shops, you can enjoy a lovely introduction to the local culture and lifestyle with a little sightseeing.
Explore the Temples and Shops
There are too many shops and boutiques in Chiang Mai to list, but just wandering around you'll definitely stumble upon a few little stores run by smiling locals.
Common finds in Chiang Mai's shops include ceramics and sculptures, paintings and art, and beautiful jewellery and clothes.
Elephants inspire lots of figurines and art, and you'll also find lots of health stores selling natural beauty products infused with coconut, rice, ginger, lemongrass, and other types of classic Thai ingredients.
In addition to Chiang Mai's charming shops, you'll definitely see lots of impressive and ornamented Buddhist temples. Wat Chedi Luang and Wat Phra Singh are popular ones.
Most temples are open from 6 am until 9 pm, and you must wear appropriate clothes that cover the shoulders and knees and remove your shoes before entering.
Also, make sure you double-check that photography is allowed inside at the temple before snapping photos.
A few noteworthy temples to visit during your 3 days in Chiang Mai itinerary include:
Wat Chiang Man: the oldest temple in Chiang Mai
Location: 171 Ratchaphakhinai Road
Wat Sri Suphan
Location: 100 Wua Lai Road
Wat Chedi Luang and Wat Phan Tao: Right next to each other
Location: right next to each other at the crossing of Ratchadamnoen and Prapokkloa Roads.
Wat Phra Singh: The most popular temple in Chiang Mai and home to the famous "Lion Buddha" image.
Location: 2 Samlarn Road
Cost: 40 Baht (The only temple in the Old City with an entrance fee, all the others are free!)
READ MORE: Here's our guide to the best spots to visit in Thailand!
Day 1 – Afternoon
Thai food has become a worldwide phenomenon, with spring rolls, green curries and pad thai being readily available all over the globe.
While visiting Chiang Mai, take a cooking class to learn more about this healthy and flavorful cuisine at the source.
Take a Thai Cooking Class
There are plenty of reputable cooking schools all over the city and most are very reasonably priced (~USD$25-30).
Almost all cooking schools take you on a tour through the local market to buy the ingredients for the day.
You'll learn about the staple ingredients and flavours of Thai cuisine, such as garlic, chilli, ginger, Thai basil, turmeric, shallots, peanuts, oyster sauce, fish sauce, coconut milk and coriander.
After this brief education, the rest of the day consists of cooking and eating.
Popular dishes to cook in a class include pad thai, spicy tom yum soup, cashew stir fry, coconut soup, papaya salad, mango and sticky rice, Thai iced tea, and curry using your own, hand-ground curry paste.
Make sure you arrive at your cooking class with an empty stomach because you'll have an abundance of food to try.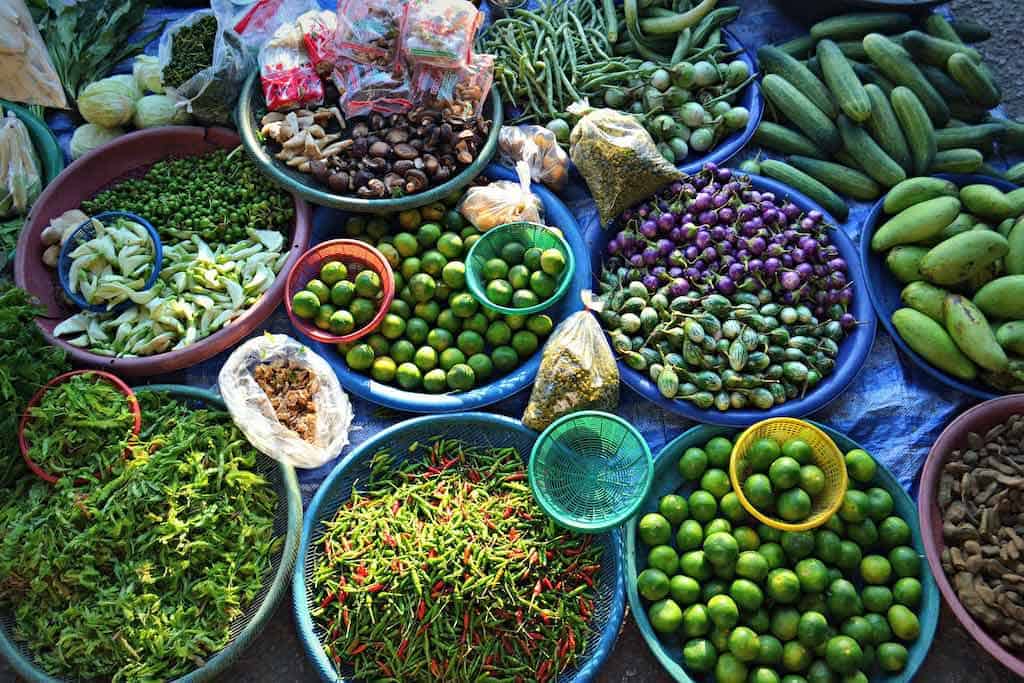 Day 1 – Evening
Spend one night of your 3 days in Chiang Mai itinerary watching Thailand's favourite sport, Muay Thai boxing.
Muay Thai Boxing Match
This combat sport evolved from fighting techniques during the Siamese empire and the athletes are quick and agile.
Muay Thai boxing is very fast-paced and exciting to watch, so buy yourself a ticket and go cheer among the locals.
There are three main boxing stadiums in Chiang Mai:
Thaphae Boxing Stadium
The most popular stadium among tourists
Cost: 500 Baht for a standard ticket
Hours: The matches usually run from 9 pm until midnight every night except Sunday
Location: 319 Moon Muang Road near the Thapae Gate of the Old City.
Outside the Old City, there are two more boxing stadiums where you'll find more locals and fewer tourists.
Chiang Mai Boxing Stadium
Cost: 600, 1000, or 1500 Baht depending on the quality of seat you want
Hours: Fights run from 8:30pm until 11:30pm, every day except Sundays
Location: 177 Chang Phuak Road
Loi Kroh Boxing Stadium
Cost: Tickets ranging from 400 to 600 Baht
Hours: Fights run from 8:45 pm until midnight, Tuesday through Saturday
Location: 96/98 Loi Kroh Road
Day 2 – Morning and Afternoon
You've made it to day 2 of your 3-day Chiang Mai itinerary, and today I recommend you head out of the city to check out one of the city's most beautiful natural wonders.
Sticky Waterfalls Day Trip
One of northern Thailand's coolest attractions is the sticky waterfalls, located about 50 km from Chiang Mai in the Jedsee Fountain Forest Park.
This is an easy and affordable day trip from the city and it is perfect for anyone who loves nature and a bit of adventure.
Formally known as the Bua Tong Waterfall, the sticky waterfalls are so special because you can climb them!
Though the falls are pretty steep, the rocks are covered with mineral deposits that create friction and make the rocks easy to grab on to.
You don't need any gear or even any shoes. Just throw on a bathing suit and start climbing like Spiderman.
There are a few ropes to help you up in the steeper parts, but overall climbing the waterfalls is easy and fun, and it's a great way to cool down in the heat of the day.
From the top of the falls, you have an amazing view of the lush green jungle.
And at the bottom of the falls, there are wide pools for swimming.
There is no entrance fee, but bring your own drinks and snacks as there are no shops in this remote area.
To reach the sticky waterfalls from Chiang Mai, you can take a songtaew with other travelers.
Just ask at your accommodation's reception where to find the songtaews, and they'll point you to the closest pickup spot.
The price of the ride will depend on how many people are splitting the cost, though one way the total cost is usually about 1,000 Baht.
READ MORE: Looking for more Chiang Mai attractions to fill your itinerary?
Day 2 – Evening
After an adventurous day at the Sticky Waterfalls, relax for a couple of hours when you arrive back in Chiang Mai to prepare for a fun evening.
Go to the Ladyboy Cabaret
Any Chiang Mai itinerary must include a ladyboy show, as this is an amazing form of local entertainment in Thailand.
Ladyboys (kathoey, in Thai) are men who look like women.
Whether they are actual transgenders or just dressing in drag, the ladyboys in Thailand are incredibly feminine and beautiful.
Ladyboys are a very well-accepted part of Thai society and face little discrimination, so they host wildly entertaining shows and cabarets around the country.
Chiang Mai has a wonderful Ladyboy Cabaret at the Chiang Mai Cabaret venue located in the Anusarn Market section of the Night Bazaar.
This is a 15-minute walk outside the Old City, but you can always take a tuk-tuk for convenience.
Grab some dinner at the Night Bazaar, which opens at 5 pm and is full of restaurants, food courts and street food stalls, then head over to the Chiang Mai Cabaret for the show.
Prepare to be dazzled as you enter the venue, for the Ladyboys put on an extravagant performance.
There will be singing, dancing, lip-syncing, games with the audience and fabulous costumes, so you will undoubtedly feel impressed by the gorgeous Thai ladyboys.
Day 3 – Morning
I hope you didn't have too many drinks at the Ladyboy Cabaret last night, because we have another great day lined up today! Let's get into day 3 of your Chiang Mai itinerary.
Visit the Hilltop Temple, Wat Phra That Doi Suthep
One of Chiang Mai's most impressive temples lies just outside the city atop a large hill.
Many people refer to the temple as just "Doi Suthep", though its full name is Wat Phra That Doi Suthep and "Doi Suthep" just refers to the name of the mountain it sits on.
To reach Wat Phra That Doi Suthep, take a songtaew from the Old City for about 80 Baht one way and ride for 45 minutes outside the city.
You'll have to pay a 20 Baht entrance fee and climb a monstrous staircase of 306 steps to reach the temple, but the views at the top make the climb very much worth it.
Wat Phra That Doi Suthep is truly stunning, with towering pagodas, glittering temples and Buddha statues bathed in gold.
You can easily spend a couple of hours here admiring all the detailed and captivating religious artwork and architecture.
There is also a nearby viewpoint where you can gaze over Chiang Mai from above, and across from the temple lies a Jade factory specializing in jewelry and trinkets made from the beautiful green mineral.
This is also a great place to try out a Vipassana course in Chiang Mai.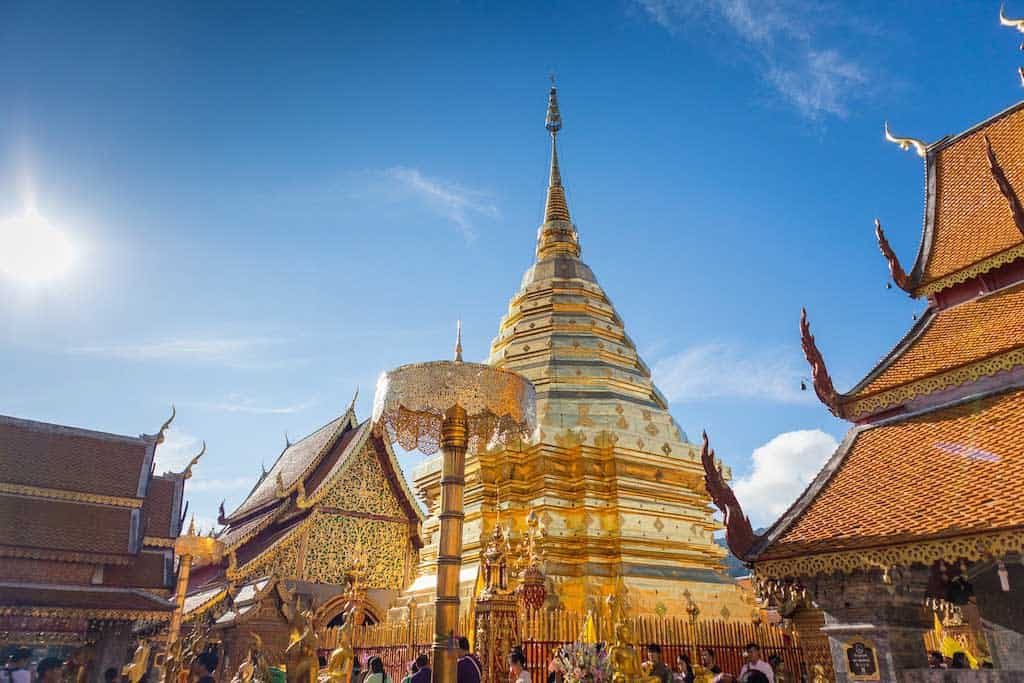 Day 3 – Afternoon
Head on back to town after your visit to the Doi Suthep, and treat yourself! No Chiang Mai itinerary is complete without a Thai massage.
Get a Thai Massage
Thai massage is an ancient practice that is a bit different from the more well-known types of massage.
Rather than just lying down flat and enjoying a relaxed, soothing massage, Thai massage is more energetic.
The trained masseuses stretch and bend your body into different shapes and positions that are meant to heal and strengthen the body, and you usually keep your clothes on.
For a first-timer, Thai massage can seem quite intense and you may feel like a contortionist as you twist and turn at the mercy of the Thai masseuses.
But consider it a unique, cultural experience that can benefit the body and has been practised in Thailand for centuries.
One of the most famous places to get a Thai massage in Chiang Mai is the Women's Massage Center by Ex-Prisoners.
Exactly as it sounds, this organization helps improve the lives of former prisoners by employing them as professional masseuses.
A massage here costs 250 baht for one hour, the facility is located at 35/1 Jahban Road and is open daily from 9 am to 9 pm.
Throughout Chiang Mai, there are plenty of other traditional Thai massage centers and spas ranging from cheap to expensive.
A cheap Thai massage is usually performed in a communal space so the atmosphere is less private.
Day 3 – Evening
Are you feeling hungry? Good! Because it's time to explore the markets and eat your weight in delicious Thai food at a Chiang Mai night market.
Explore the Street Markets
Street markets are an essential aspect of Southeast Asian culture.
They showcase all the best food, art and local crafts at very cheap prices, so budget travelers would be wise to do most of their eating and shopping in the streets.
Chiang Mai is loaded with street markets, some big and some small.
The biggest markets occur on Saturday and Sunday nights, so definitely stop by these markets if you're visiting Chiang Mai on a weekend.
Saturday Walking Street Market
Location: Wua Lai street on the southern edge of the Old City
Hours: 5 pm until 10 pm
Sunday Night Market
The biggest market in Chiang Mai
Location: Fills the entire centrally located Rachadamnoen Road
Hours: 5 pm until Midnight
Both Chiang Mai markets have a massive assortment of food and crafts on display.
You'll see beautiful paintings, sculptures, jewelry, pottery, handmade dreamcatchers and clothes, Buddha figurines, and more traditional handicrafts.
Between the long rows of stalls, the street performers, the food carts, and all the tourists, you may feel a bit overwhelmed or even claustrophobic at these markets.
But they are an incredible representation of the culture so it is definitely worth braving the crowds.
If you aren't in Chiang Mai on a weekend, the Night Bazaar is open daily and is great for shopping for souvenirs.
Another reliable street market in Chiang Mai that specializes in food is the Chang Phuak Gate Night Market which is located on Manee Nopparat Road and opens at 5 pm.
This is the perfect spot to try classic Thai street food for cheap, such as dumplings, pad thai, sweet Thai pancakes and crepes, spring rolls, fried banana and pumpkin, lots of meat and rice dishes, and fresh fruit smoothies.
This place is a food lover's heaven!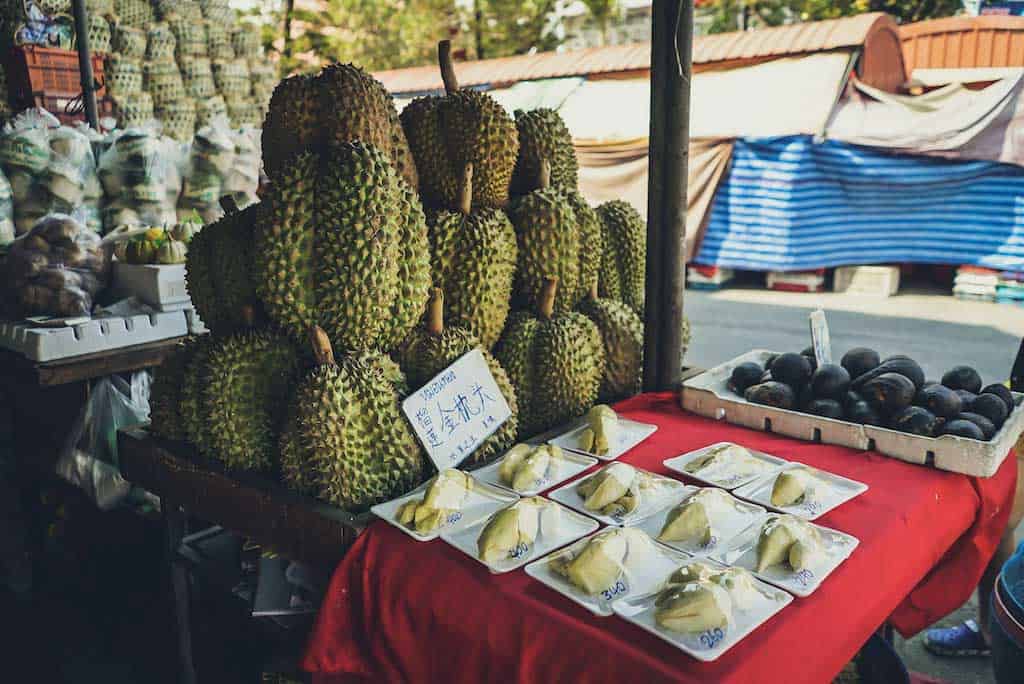 Bonus Activities for Extra Days in Chiang Mai
Are there a few things on my Chiang Mai itinerary that you feel like might not be your scene, or have extra days up your sleeve?
Then check out these bonus activities to fill up your time in Chiang Mai!
Visit Elephant Nature Park
Thailand has a large elephant population, however many of these beautiful creatures are often exploited for tourism.
You will see plenty of advertisements for elephant riding around Chiang Mai. DO NOT RIDE AN ELEPHANT!
The whole practice of riding an elephant is extremely horrible for the animal and causes immense pain and stress on them.
If you want to spend time with an elephant though, you can do so ethically by visiting Elephant Nature Park in Chiang Mai.
The owner of Elephant Nature Park, Lek, rescues elephants from various companies and mahouts around Southeast Asia and brings them to her gorgeous property to let them live out their lives in peace.
As a visitor, you can watch these beautiful animals wander around happily the way nature intended, and with a select few, you can even get up close to them.
Elephant Nature Park is not the cheapest elephant visit in Chiang Mai, but it's by far the most responsible and ethical.
Get a Sak Yant Tattoo
You probably have seen those amazing Buddhist tattoos done by monks around the place (Angelina Jolie famously got one), and you can get one yourself in Chiang Mai!
For more on this, check out our dedicated blog post on getting a traditional Sak Yant tattoo in Chiang Mai.
Visit Doi Inthanon National Park
Just 1.5 hours away from Chiang Mai is Doi Inthanon National Park, home to the tallest mountain Thailand and an impressive array of waterfalls, nature trails and cultural experiences.
If you want to visit Doi Inthanon on a day trip, check out our blog post here.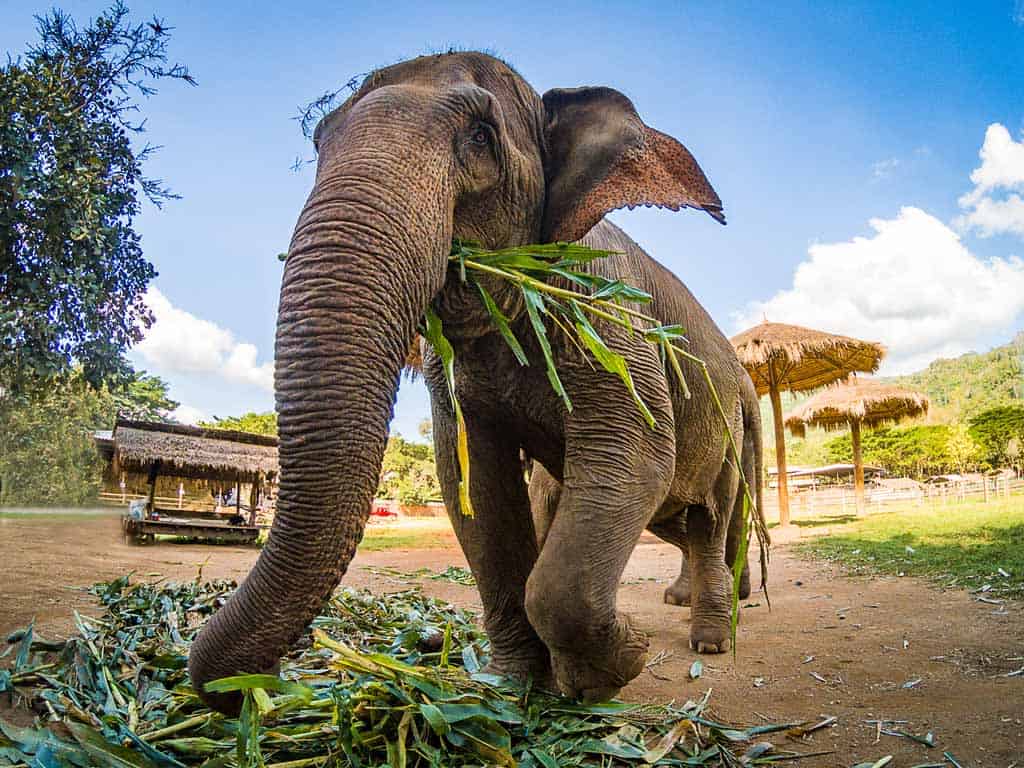 Chiang Mai Itinerary Travel Guide
Now that you know what to do during your 3 day Chiang Mai itinerary here are some highlights to help you plan when to visit, where to stay, what to eat, and how to get around the city.
When to Visit Chiang Mai
There is no bad time to visit Chiang Mai.
Thailand is hot all year round and has basically two seasons: rainy season and dry season.
October through April is dry season and has the best weather, with sunny days and little rain. But it is peak tourist season so the whole country gets more crowded.
May through September is the rainy season in Chiang Mai, so the weather is hotter, more humid, and it rains more frequently.
But even during the rainy season, it usually only rains in the afternoon so you can still get a good day of exploring. Flights to Thailand also tend to be cheaper during the rainy season.
If you want to witness the famous Chiang Mai Lantern Festival, visit from mid-October to mid-November.
Chiang Mai used to be the capital of the Lanna Kingdom, and the Lantern Festival is a cherished Lanna tradition where locals release lanterns made of rice paper into the sky, in hopes of obtaining good fortune.
This lantern festival, locally known as Yi Peng, is not to be confused with the Loy Krathong, a similar festival where people release floating baskets made of banana leaves adorned with candles, incense, flowers into the water.
Both festivals are beautiful to watch, though the exact dates change every year because they depend on the lunar cycles of the Lanna calendar.
Double-check the dates before you go, but the festivals usually occur in October or November in Chiang Mai.
Getting Around Chiang Mai
It is very easy to have 3 perfect days in Chiang Mai itinerary because most of the attractions are inside or near the Old City.
Walking
The square of the Chiang Mai Old City is roughly 1.5km on each side, so it is quick and easy to walk everywhere within the surrounding moat.
You can even walk to most attractions outside the Old City, such as the bustling indoor market hall known as the Night Bazaar. Walking is free, great exercise, and the best way to catch all the details of the city during your Chiang Mai itinerary.
Tuk Tuks
If you want to save time, take a tuk tuk around Chiang Mai. These little three-wheeled, open-air taxis are super cheap and convenient for whizzing around the city.
Rides within the Old City usually cost around 100 baht, but you try negotiating the price down a bit.
Songtaews
If you're taking a day trip outside Chiang Mai, the best and cheapest form of transport is a songtaew.
These are red pick-up trucks that act as shared taxis, so you can wait for the truck bed to fill up and split the cost of the journey between everyone.
The maximum capacity is normally 10 people.
Street Directions
Another tip to keep in mind when reading directions in Chiang Mai: "Soi" means "side street."
So a street address will often have "Soi" with a number before the main road, indicating the side street that branches off from the main street.
Where to Stay in Chiang Mai
To easily see Chiang Mai in 3 days, stay within the Old City.
All the best things to see in Chiang Mai are set within this square, and there are countless accommodation and food options here that suit every budget.
All attractions are accessible on foot, and it never feels too crowded or overly touristy even though this is where most travelers stay.
Because Chiang Mai is growing as a popular tourist destination in Thailand, it is crawling with wonderful backpacker hostels, guesthouses and Airbnbs, and nice hotels.
Here are a few top-rated Chiang Mai accommodations that suit budget, mid-range, and luxury travel styles.
Budget: The Islander Hostel
Located right in the middle of the Chiang Mai Old City, The Islander Hostel is cozy, welcoming, and most importantly, cheap.
Dorm beds cost only $6 USD per night, and there are 300+ positive reviews on Hostelworld with a 10/10 rating.
Mid-Range: Art House
This guesthouse is laid back and run by a local Chiang Mai family dedicated to excellent customer service. It feels homey but has all the amenities of a nice hotel.
Located at 11/2 Soi 7, Moon Muang Road, Arte House is a great place to stay in Chiang Mai.
Best Luxury Hotel in Chiang Mai – 137 Pillars
If money isn't an option and you really want to splurge out on the most brilliant accommodation in Chiang Mai, then you need to check out the beautiful and historic 137 Pillars.
We stayed here on our most recent visit to Chiang Mai and absolutely fell in love with it.
It is arguably the best 5-star hotel in the city, and when you see it for yourself you'll understand why. The suites surround private courtyards, and there are art galleries and delicious cafes and restaurants on-site.
The history of the place is unrivalled, and the service provided is seriously next level. The rooms feature deep, ancient teak timbers and huge 4-post beds like you'd see in the movies.
Seriously, if you want to live in pure luxury in Chiang Mai, this is the place to do it.
Best Places to Eat in Chiang Mai
Supplement your Thai cooking class and local street market tastings with high-quality meals at some of Chiang Mai's best restaurants.
Food in northern Thailand is extremely affordable, so even the expensive meals at nice restaurants won't break the bank.
Budget: Khao Soi Khun Yai
Khao Soi Khun Yai is a small local Chiang Mai restaurant perfect for trying the classic northern Thailand dish of egg noodles and pork in a spicy, creamy curry broth, known as Khao Soi.
Location: 8 Sri Poom Road near the Chang Phuak Gate
Hours: Open from 10 am to 2 pm and closed on Sundays.
Mid-Range: Dash Restaurant and Bar
This Chiang Mai restaurant has peaceful outdoor seating and rustic architecture and is a great place to try traditional Thai dishes like spring rolls and fresh papaya salad.
Location: 83/2 Moon Muang Road
Hours: 8:30am – 2pm and 5:30pm – 9pm every day except Monday
Luxury: Ginger & Kafe
This trendy bistro puts a unique and modern twist on Thai cuisine.
The restaurant is part of the whole House by Ginger establishment, which combines Ginger & Kafe with a snazzy cocktail bar and eclectic home goods and furniture store.
The glamorous yet quirky ambiance of this place turns a simple meal into a stylish experience in Chiang Mai.
Location: 199 Mun Mueang Rd
Hours: Open daily from 11am to 10pm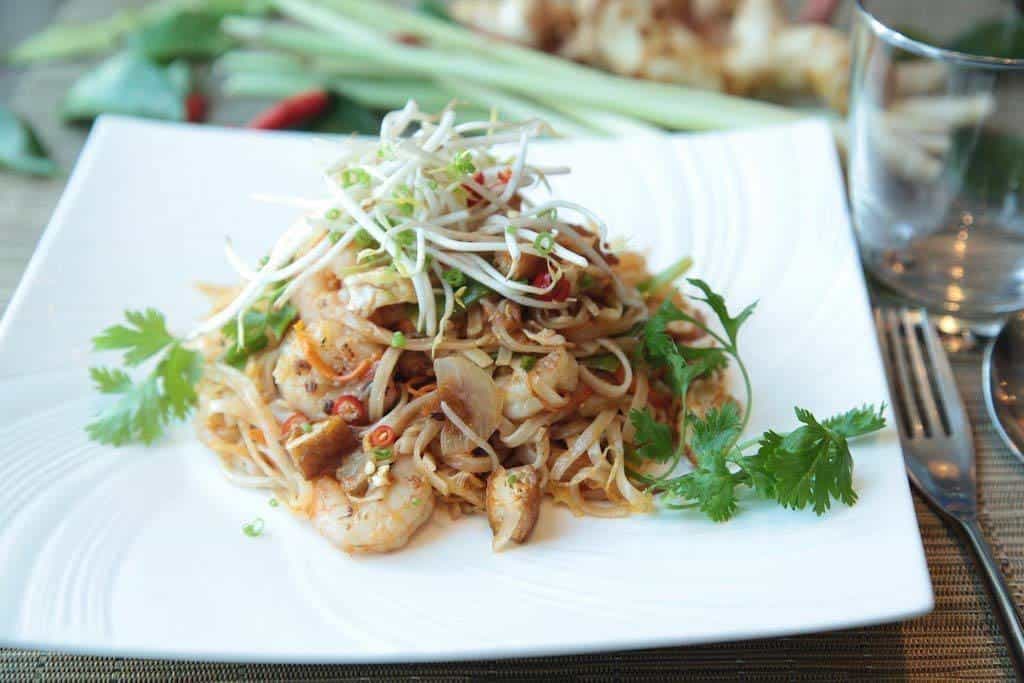 DISCLAIMER: Some of the links in this article are affiliate links, which means if you book accommodation, tours or buy a product, we will receive a small commission at no extra cost to you. These commissions help us keep creating more free travel content to help people plan their holidays and adventures. We only recommend the best accommodations, tours and products that ourselves or our fantastic editorial team have personally experienced, and regularly review these. Thanks for your support, kind friend!