You know that scene in Alex Garland's "The Beach" where Richard finally stumbles upon his hidden oasis, filled with swaying palm trees, glistening ocean, dramatic cliffs and a handful of chilled hippies laying in the sand? That's exactly what it looks like when you arrive at Haad Tien and the best yoga retreat in Thailand – The Sanctuary in Koh Phangan
Welcome To The Sanctuary
The touts were out in full force when our ferry docked on Koh Phangan after an uneventful trip from the upmarket island Koh Samui.
We hadn't even reached the end of the pier and had already been offered deals for restaurants, hotels, parties and transport. But we our plans were set, and we made our way to the waiting longtail boats in the adjoining harbour.
"Haad Tien?" a surly Thai man shouted in our direction – Haad Tien being the home of The Sanctuary. Perhaps the yoga mats on the side of our backpacks gave our intentions away.
We agreed on 300 Thai Baht each (about US$8.50), we were directed to an overweight skipper who mustn't have been far past his 16th birthday.
Hurling our backpacks onto the longtail boat, the captain was jovial, and within moments we were bouncing over rolling waves on the way to Haad Tien.
The beach came into view 20 minutes later, with rising jungle and limestone boulders surrounding the secluded bay. Scatterings of timber bungalows were hidden across the stretch of sand.
We jumped into the water near shore, grabbing our backpacks and waving the captain off.
We had arrived at The Sanctuary.
As we trekked towards the reception a couple of girls welcomed us from their beach chairs, smiling, but too relaxed to lift their heads.
Sam, one of the Thai staff, came running out to greet us, and his gregarious demeanour made us instantly like him. He pointed us in the right direction, and said that if we needed any help at all, he was always there. Over the next five days his beaming smile would never leave his kind face.
The modern reception was a welcome relief, with air conditioning and fresh juice waiting for us when we walked in. Our program was roughly interpreted, and before we knew it we were all checked in, ready for the final assault on our detox in Thailand.
What unfolded over the five days was a mix of yoga, healing sessions, massages, alternative therapies, workshops, live music and ceremonies.
We came to The Sanctuary wondering if this really was the best yoga retreat in Thailand, as so many different media outlets have claimed. Yoga while travelling is a tough thing to keep up, but we were determined to give it our full commitment.
Importantly we had arrived with an open mind, ready to experience the elements of healing and detox that we had no familiarities with.
We have broken down each part of our stay at this stunning retreat to help you decide whether you may want to spend some time here.
If you are looking to take a break from life and focus on spirituality, health and wellness, you would be hard pressed to find a better place to do it than The Sanctuary.
Spoiler alert: We will happily return one day, for a lot longer than five days….
Daily Yoga
There is a reason that The Sanctuary in Koh Phangan is known as one of the best yoga retreats in Thailand – they have incredible instructors and the most serene yoga rooms.
The Sanctuary holds three yoga sessions every day, run by experienced and highly qualified volunteers. These cover a range of styles and techniques and cater for all levels.
The open air studios are spacious and pretty, and the sounds of birds and insects chirping become the soundtrack to your session.
Yoga classes can be bought as a package, or simply pay for a drop in.
If you are looking for something a bit different The Sanctuary also has Pilates every day except for Saturday.
We had never tried Pilates before, but really enjoyed mixing it up from the regular yoga. Make sure you try at least one session before you leave.
Tea Temple
Hidden away at the back of Haad Tien is the Tea Temple – home of all things alternative and spiritual.
As the name suggests, this comfortable and homely building is a great place to sit down and enjoy a pot of herbal tea imported from around the world.
It is also an excellent spot to get some reading done or do a bit of work, if you are like us and need to work on the road.
But where the Tea Temple really gains its fame is with the workshops, talks and therapies that all take place inside the haven.
Most days a talk will be given by one of the volunteers about a range of topics. Some for free, some for a fixed price, others by donation
Ideas as wildly varied as crystal healing and consensual non-monogamous relationships are discussed at the Tea Temple, and this space provides a caring environment for people to consider unique lifestyles.
They regularly hold ceremonies focused on sound and dance, and can be a fascinating way to release an abundance of energy and tap into your inner soul.
We really enjoyed hanging out in the Tea Temple, and found it to be a house of refuge on those days where we needed to get some writing done.
If you wish to book an alternative therapy session, this is the place to do it.
Alternative Therapies
It wouldn't be a proper hippie hangout without the opportunity to take part in any one of dozens of alternative therapies.
From Zen Thai Shiatsu massages, to reiki, and even crystal healing, there is an abundance of ways you can align your chakras and soothe your spirit.
If you prefer something more physical there is Chi Tse Tseung* and Chinese cupping – treatments with origins deeply rooted in Eastern practices.
It is worth going into these with an open mind. Alesha tried the crystal healing, which she normally would never consider. However she came out of the session feeling absolutely amazing, and with a newfound belief in this alternative therapy.
I personally took the Thai Zen Shiatsu session with an Australian guy named Patrick, and felt amazing afterwards.
Again these can be bought in a package, or individually.
The Spa Treatments
The Sanctuary Spa is a true place of tranquillity, making it the best place on the beach to enjoy a massage or body treatment.
Every one of the masseuses are qualified and experienced in various practices, and provide a high level of quality and service.
Being a fan of Thai massages I went for two of them during my time at The Sanctuary, in what may have been the best massages I have ever received. That is not a lie.
Alesha tried an aromatherapy massage as well as a full-body scrub and facial. This was the first time she had tried either of these as well, but she loved every minute of it.
Detox Programs
The Sanctuary has a detox program for those who wish to lose weight or kick-start a healthy living lifestyle.
Similar to the one we took part in at Atmanjai in Phuket, the detox programs here involve fasting, herbal supplements and toxin removals.
We didn't take part in the detox program at The Sanctuary, but met a few people who loved the transformation they experienced. From all accounts, it seemed like a well thought-out and worthwhile program.
The Restaurant
The food at The Sanctuary is absolutely divine, and focused heavily on healthy eating.
Fresh ingredients form the core of the recipes, and all dietary requirements are completely catered for.
Being home to a detox centre also means there are tonnes of raw food options that will completely change the way you thought food could be prepared. Don't believe us? Try the raw vegan burger!
"Super foods" such as goji berries and chia seeds featured prominently in the menu. Whether you believe in the health benefits, or just want to be a hipster, you won't be disappointed.
Best of all, the portions aren't small! You will not be leaving each meal hungry.
The price of the food is on the high end, especially considering it is Thailand, but you really do get what you pay for. The taste, quality and health options is second-to-none.
The Grounds
Rather than turn the place into a concrete resort, The Sanctuary has been blended harmoniously into nature.
Manicured gardens have been designed throughout, and natural building materials are used wherever possible.
Walking from one end of The Sanctuary to the other is like wandering through a lush jungle – mostly due to the fact that it is in the middle of a lush jungle.
If you want to escape Haad Tien then a short walk will get you to Haad Yuan, the larger and arguably nicer bay, and Why Nam, the next beach to the north.
The Social Atmosphere
No matter what time of day or night you can find people sprawled out on hammocks, swimming in the sea, enjoying a drink or jamming on a guitar.
The Sanctuary is a place where people come together, and the vibe was very social, if a little on the chilled side during the week.
In the evenings the restaurant and bar area becomes a place to mingle, with activities as varied as movie nights and open-mic sessions happening on a regular basis.
You can borrow snorkelling gear free of charge if you are staying at The Sanctuary, and kayaks are available for those in the detox program.
Every Friday night the neighbouring "Guy's Bar" holds a huge party, which in typical Koh Phangan style, is more like an underground rave.
Keep in mind that if you are here on a Friday, the music from Guy's Bar might keep you up at night. Best thing to do is join in the fun.
Tuesday and Saturday nights is the infamous Eden Garden Party, which for years has been at the forefront of raves on Koh Phangan. This is right on the headland between Haad Yuan and Haad Tien.
The People
We have to be honest about this – there is a very cliquey atmosphere at The Sanctuary.
Many of the people there are long-term or returning guests, and as such have formed tight relationships with their fellow hippies.
If you are a shy person or don't share very similar values and ideals to the other people it can be hard to break into the groups.
On more than one occasion we watched people hugging and kissing each other, overplaying the whole "I love you, you are my sister/brother" sentiment, and then in the next instance completely ignoring us when we said hello to them. Apparently for some "brotherly love" only extended to those they already knew.
That being said there is no animosity between the guests, and for the most part everyone was friendly. But it almost seemed to be a competition on who could be the most "zen" person on the beach, or who had their chakras the most aligned.
This is something we have seen in many spiritually charged places around the world like Ubud and Lago de Atitlan, not just at The Sanctuary.
Another thing that The Sanctuary does is hold yoga teacher training courses. On one of our last days a large group of soon-to-be gurus had taken over the area, twisting and bending their way to enlightenment. Nice people though.
The atmosphere is still social and relaxed, and we did make friends there. And for the most part we could strike up a conversation with just about anyone. Just keep in mind that there are likely to be tight friendship groups already established.
The Staff
Now this is where The Sanctuary really shined.
The Thai and Burmese staff at The Sanctuary were always on hand to help out with anything and everything we could need.
The waiters in the restaurant were constantly smiling and never hesitated to stop and have a chat with us throughout the day.
The foreign volunteers during their sessions were impeccable, and for the most part were helpful and willing to have a chat.
Nolan and Mike, the two Western managers of the place, were an absolute riot. They both had an interesting sense of humour and did a great job at making everyone feel comfortable and at ease during the stay.
A special shout out goes to Sam, one of the concierges at The Sanctuary. Having travelled in Thailand for over four months, Sam was by far one of the coolest and most caring locals we ever had the privilege of hanging out with.
Conclusion
From the moment we jumped off the boat on Haad Tien we felt like we could live at The Sanctuary in Koh Phangan. And after five days, the feeling remained.
There is a reason so many people stay for months at a time, and even return to The Sanctuary year after year – it is just so good for the soul.
If the idea of practicing yoga, eating good food, getting healthy, relaxing in a beautiful part of the world and checking out from reality is your idea of heaven, then you simply cannot beat The Sanctuary in Koh Phangan.
Accommodation At The Sanctuary
The accommodation at The Sanctuary ranges from very basic dorm beds to typical Thai-style elevated bungalows right through to luxurious cabins. Ours was clearly in the latter.
We had been put in Weman 5. An odd name, but the bungalow was simply impeccable.
Clinging to the side of the hill, Weman 5 was incredibly spacious with a huge bed and tasteful decorations. A mosquito net hung from the ceiling – a feature you get to know all too well in Southeast Asia.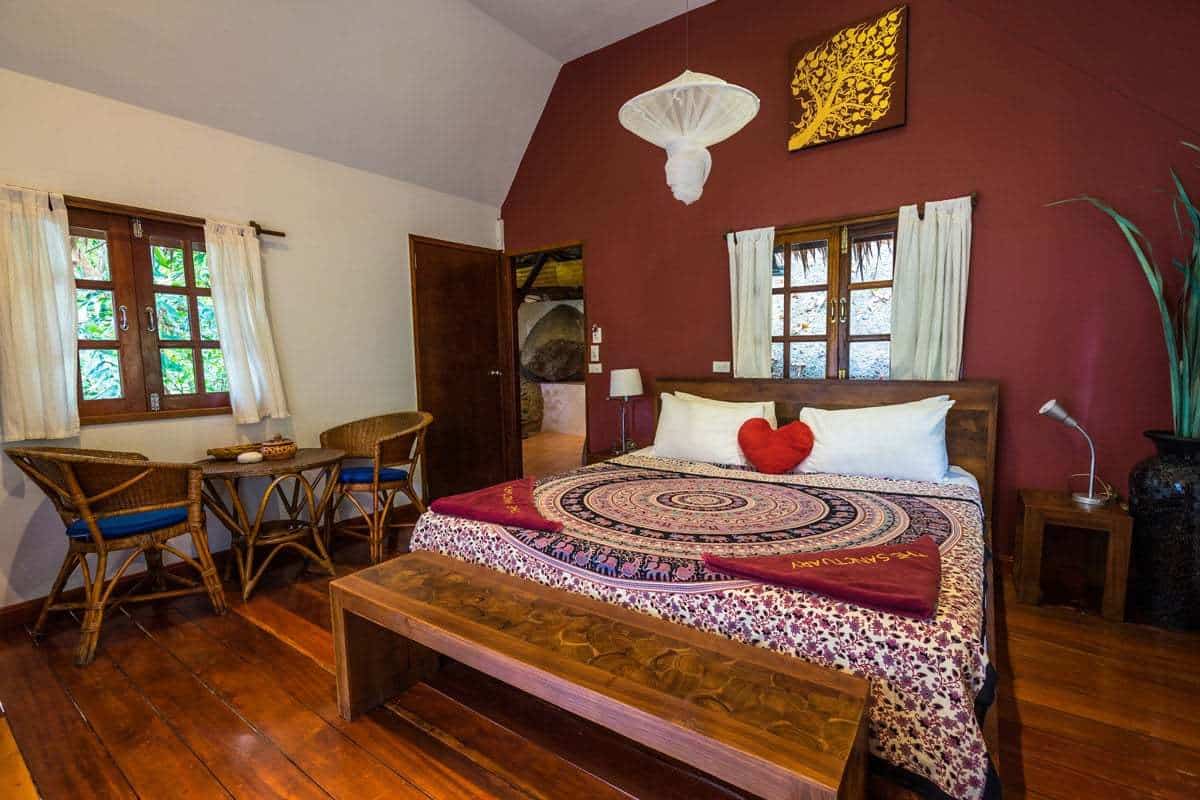 Our bathroom was one of the funkiest we had seen in a long time. Incorporating, rather than excluding, the famous round limestone of Koh Phangan, the walls were built around the enormous boulders.
But the highlight was our sprawling balcony. A comfortable lounge sat in one corner, and a hammock stretched out across the other.
The view over the Gulf of Thailand was slightly hidden by towering trees, and greenery enveloped us in every direction.
It took everything in our power to pry ourselves away from the deck, and if we weren't so excited to take part in the health programs provided by The Sanctuary, that may have been where we stayed.
Breaking The Budget
Accommodation in Southern Thailand is notoriously expensive compared to the rest of Southeast Asia, but we were actually quite shocked to discover the prices of rooms and dorm beds at The Sanctuary.
Dorm beds (actually thin mattresses on the floor) above the restaurant start at 300THB a night, and bungalows range from 1000THB (US$29) right through to nearly 7000THB (US$200) for their upscale options.
At this point we need to stress that while the more expensive accommodation at The Sanctuary is very beautiful and well-built, it is still overpriced for what you can get elsewhere on the island.
The cheaper bungalows (1000THB) are actually very expensive, especially when you can get near-identical places elsewhere on the beach or over the headland at Haad Yuan starting from 400THB.
If you are trying to travel on a strict budget, you might consider somewhere else to stay.
Still, if you want something high end or would rather the convenience of having everything in one place with one bill, then staying at The Sanctuary in Koh Phangan is a fine deal.
As one major bonus guests of The Sanctuary get free wifi, something that nowhere else around offers (data must be purchased at other restaurants and accommodation). If you are like us and need regular access to internet, then this is a huge selling point, and was a big reason we extended our stay at The Sanctuary rather than moving to a cheaper bungalow on the next beach.
Note – Please be aware that you are staying in the jungle. As such you may have some unwanted "guests" in your room, such as insects, rodents and even the odd snake (although this is very rare). This is a small and uncommon hazard of living in the jungle, and cannot be avoided. Still, in over 16 months in Southeast Asia staying in cheap accommodation we have never seen a snake or scorpion in our room, so don't let this be a deterrent.