Enormous and tranquil rooms, amazing staff and the gorgeous pool area – this is our hotel review of the Peace Resort Samui in Koh Samui, Thailand.
Peace Resort Samui Review
During our first travels in Thailand we had skipped Koh Samui, instead focusing on places like Tonsai and Khao Sok National Park.
Now that we were back in the country we decided to head to the popular destination to see what the fuss was all about.
Leaving the mainland port of Donsak, near Surat Thani, our ferry cruised over smooth seas destined for the famed island of Koh Samui.
For the first time in our lives this Thailand trip was all about relaxation, so we booked ourselves in to the glamorous Peace Resort Samui for a few days of tranquility and leisure.
Koh Samui is one of the busiest islands in Thailand, alongside Phuket, and it was obvious from the moment we stepped off the ferry that this place held a different vibe to what we were expecting.
A driver was waiting for us when we arrived and immediately transferred us along the hectic ring road that encircles the island. After twenty minutes we were pulling up outside the Peace Resort Samui.
From the moment we turned into the long, secluded driveway, it was obvious that the Peace Resort Samui is a step above the other hotels on the island.
Located right on the white sand Bophut Beach in Koh Samui, the Peace Resort Samui is not only one of Southern Thailand's most beautiful luxury resorts, it is also one of the more peaceful.
The friendly receptionists greeted us with fresh juice and cold towels when we arrived. Despite being a few hours early, our room was ready and we were shown to it almost immediately.
We had been put in the Deluxe Sea Breeze Villa, which was one of the nicest and most spacious hotel rooms we have stayed in.
Besides having plenty of room to spread out, it came complete with some amazing details and features, giving the space a huge amount of style.
While the room was amazing, we couldn't wait to get out and hit the beach and pool area for some cocktails.
Bophut Beach is nice, but lacks the kind of character and beauty you can get on some of the other Thai islands. The water is clean and the beach is pleasant, however it did lack finesse.
Perhaps we are harder to impress though, as we have travelled to a lot of beaches in our time. And at least it offered some incredible sunset opportunities!
For us the pool was the place to be, with free flowing cocktails being sipped on beach chairs and people happily chatting away.
On our first evening there was a free yoga session open to the guests, and we jumped right into it for the 60-minute workout.
Most days of the week the Peace Resort Samui has some kind of activity available, meaning there is more to do than just order another mojito, if you want.
Every morning there is a varied and tasty buffet breakfast included, and it was easy to spend at least an hour sampling all the delicious food. Healthy options were available as well, which was perfect for us while we were tackling our detox in Thailand.
Something that Peace Resort Samui is famous for is their Romantic Dining by the Sea
We were lucky enough to spend a wonderful evening watching the sun go down over the Gulf of Thailand and gorging ourselves on a 5-course meal that was on par with the best meal we have ever had in Southeast Asia.
We opted for the seafood deal, and it was simply divine. Accompanied with glasses of wine, this meal lasted for almost three hours.
With just the two of us out on the beach, beneath a bamboo structure draped in white sheets, it really was a romantic experience.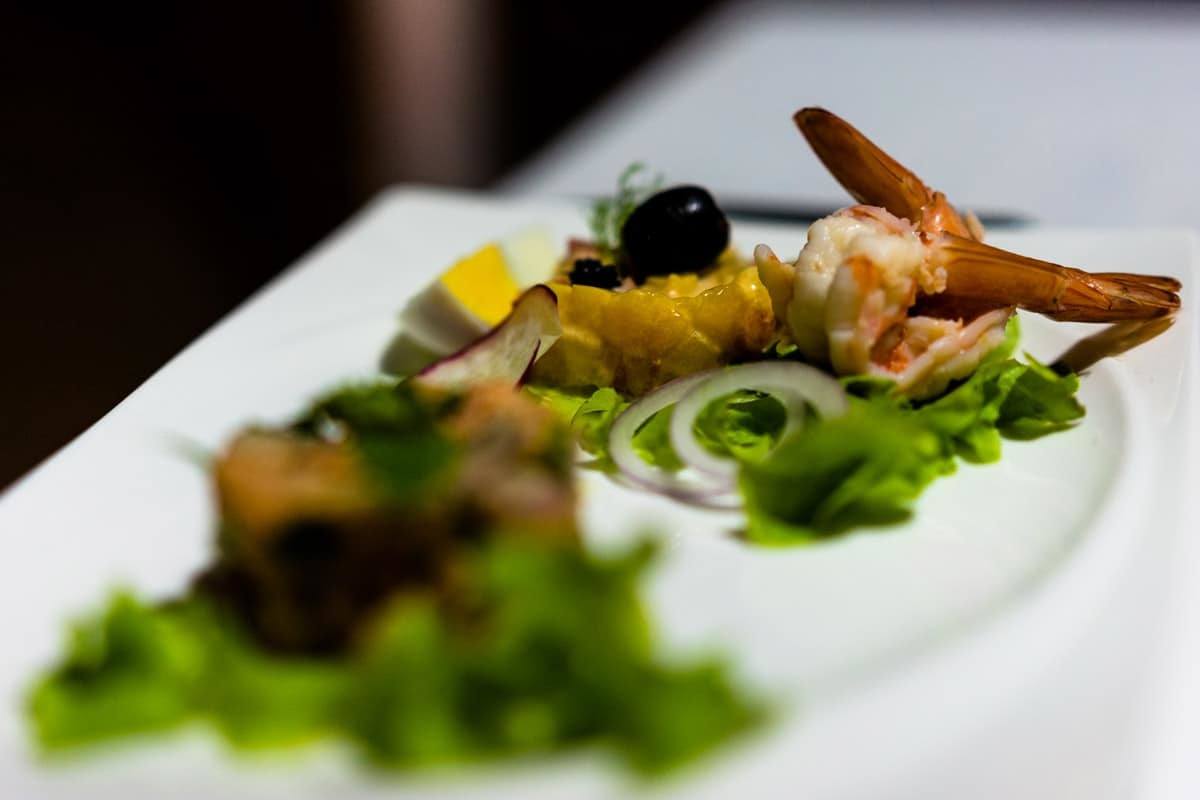 On another night we tried out the seafood buffet, also on the beach. This was also a superb meal, and with some very talented local fire dancers putting on a spectacular show, helped to make sure we were quite content spending another night at the resort.
It was easy to forget that an entire world exists outside Peace Resort Samui. The grounds are lush and green, thanks in part to their tree-planting program they operate.
We planted our own tree in a garden by a beautiful bungalow, under the supervision of the hotel gardener. We will have to return one day to see how it is going.
One of the afternoons we tried out a beachside Thai massage, to keep up the relaxing vibe. While my masseuse was quite good and seemed to know what she was doing, Alesha had a less-than-ideal experience.
Her masseuse swapped out with someone 5 minutes into the massage, and was replaced with someone who was either very inexperienced, or simply did not want to be there.
It was not a good massage in any way, but we'd like to hope that the lady was just having a bad day. Still this was the only thing we can fault about our stay at the Peace Resort Samui.
Ultimately our stay at the Peace Resort Samui was almost perfect. The food, the room, the grounds and the pool were all sensational. But a special shout out should go to the staff.
They were incredibly friendly, caring and happy. Each one of them called out a cheerful "sawadee" each time we saw them, and seemed to genuinely be ecstatic with their jobs.
As usual, we always believe that the staff truly makes a stay amazing. Couple with Peace Resort Samui's other beautiful attributes, this made our rest on Koh Samui well worthwhile.
If you are a family or couple looking for a wonderful vacation on one of Thailand's most popular destinations, you simply can't go past Peace Resort Samui.
Disclaimer – We were invited as guests of Peace Resort Samui. As usual, all thoughts, opinions and cocktails drunk on the beach are entirely our own.