Unlock the secrets of Japan with our ultimate guide to the best things to do in Shizuoka! From serene tea fields to the majestic Mount Fuji, Shizuoka Prefecture offers a rich tapestry of experiences for every traveler. Dive into a journey where tradition meets modernity, and explore the hidden gems that make Shizuoka a must-visit destination in the Land of the Rising Sun."
We're going to let you in on a little secret – nobody who visits Japan only visits once.
The island nation is filled with an abundant amount of places to visit, each one as unique and fascinating as the last, which means no two trips are ever the same.
It truly is the land of a thousand contrasts, where ancient meets modern and tradition is blended with futuristic opportunities.
That is why we find ourselves returning over and over again, falling in love with different experiences in a new location each time.
Our most recent visit was no exception.
Embarking on our journey through the serene landscapes of Shizuoka Prefecture, we found ourselves enveloped in a delightful blend of awe and tranquility.
Having traversed the vibrant and often-trodden paths across Japan, from the animated streets of Tokyo to the peaceful allure of Kyoto, stumbling upon Shizuoka was like uncovering a hidden chapter in a beloved book.
There we were, amidst sprawling green tea fields, the scent of fresh leaves wafting through the air, and the iconic silhouette of Mount Fuji gracefully punctuating the horizon.
The Pacific Ocean, with its rhythmic whispers, promised adventures that beckoned our spirits with both calm and exhilaration.
Shizuoka Prefecture, with its rich palette of natural splendours, cultural gems, and delectable culinary journeys, welcomed us into a narrative where every moment was a beautiful intertwining of discovery and appreciation.
In this brand new travel guide we're unfolding the tales of our recent adventure, encouraging you to explore not just the scenic and historical highlights, but also the heartfelt experiences that have forever imprinted Shizuoka in our memories.
The Best Things to Do in Shizuoka Prefecture
While most people who visit Shizuoka Prefecture do so as a day trip to see Mt Fuji, the truth is there is a whole lot more to do here that warrants a longer stay.
Personally we spent 5 days exploring all the attractions in Shizuoka and easily could have added on a few more.
In this section, we unveil the best things to do in Shizuoka Prefecture, where every corner reveals a piece of Japan's rich tapestry.
Whether you're a nature enthusiast, history buff, or a foodie at heart, Shizuoka offers an array of adventures and discoveries to make your visit unforgettable. Join us as we dive into this treasure trove of possibilities."
READ MORE: Check out our complete travelling in Japan guide!
1) See the Cherry Blossoms
Is there anything more iconic in Japan than cherry blossoms?
Seeing the sakura in their full bloom is often the top of people's bucket lists for things to do in Japan, and as it turns out Shizuoka is one of the top places to witness them.
When spring whispers through the landscapes of Shizuoka, it brings with it a cascade of cherry blossoms, blanketing the city in a delicate hue of pink.
The sakura, as they're known in Japan, aren't just beautiful to look at; They're a symbol of the beauty and transience of life, celebrated with the tradition of "hanami" – flower viewing parties that gather friends and families under the blossoming trees.
In Shizuoka, the sight of the soft, fluttering petals against the stoic, magnificent backdrop of Mount Fuji creates a scene that's nothing short of magical.
It's a time where the usual hustle and bustle slow down a bit, making way for leisurely strolls, picnics under the blooming canopies, and a general air of appreciation for the beauty that nature bestows.
Whether you're capturing the scenes through a lens or simply soaking in the ambiance, the cherry blossom season in Shizuoka offers a gentle embrace of tranquility and a vibrant celebration of life in its most beautiful form.
Here's a list of some top spots to see the cherry blossoms in Shizuoka Prefecture:
Sumpu Castle Park: A great spot with over 400 cherry trees, providing a lovely setting for a leisurely stroll or a relaxing picnic.
Mariko-juku: Known for its historical significance, the cherry blossoms here add a layer of beauty to the ancient post town.
Miho no Matsubara: Imagine cherry blossoms with Mount Fuji in the background. Yes, it's as picturesque as it sounds!
Nihondaira: Offering panoramic views, the cherry blossoms here are complemented by stunning landscapes.
Kuno-zan Toshogu Shrine: A cultural and natural spot where cherry blossoms add a serene beauty to the historic site.
Remember to check the cherry blossom forecasts as the timing can shift slightly each year.
2) Enjoy a View of Mount Fuji
Seeing Mount Fuji from Shizuoka is one of those experiences that stays with you. In fact we had been to Japan three times before we finally caught sight of the legendary volcano, and we actually were rewarded with three beautiful days in a row with views of Fujisan.
The iconic peak, often capped with snow, stands majestically against the sky, offering a sight that is both serene and awe-inspiring.
It's not just a mountain but a symbol of Japan, representing strength and tranquility.
In Shizuoka, various spots provide not just a glimpse but a splendid view of Mount Fuji, making your visit all the more memorable.
Here's are some of our favourite spots in the Shizuoka region where you can get a great view of Mt Fuji:
Miho no Matsubara: A picturesque beach that offers a classic view of Mount Fuji, especially stunning during the cherry blossom season.
Nihondaira: A plateau that provides panoramic views, where Mount Fuji stands prominently against the scenic landscapes.
Satta Pass: Known for its historical Satta Toge Road, it offers a splendid view of Mount Fuji, the city, and Suruga Bay.
Shizuoka City: Simply stroll around the city, and you'll find various spots where Mount Fuji makes a grand appearance amidst the urban setting.
Katsuragi Mountain Park: A spot that not only offers views of Mount Fuji but also a peaceful environment to enjoy nature.
Remember, the visibility of Mount Fuji often depends on the weather, so having a few days up your sleeve will give you the best chances for a great view.
3) Learn to Do Chusen Some Dyeing at Nihashi Somekoujyo in Hamamatsu
Tucked away in a quiet street in the vibrant town of Hamamatsu, the Nihasji Somekoyjyo workshop invites travellers to immerse themselves in the intricate and colourful world of Chusen dyeing.
As we stepped into the workshop we were greeted by a kaleidoscope of fabrics in a full factory, each piece a vibrant testament to the meticulous craftsmanship synonymous with this traditional dyeing technique.
Chusen dyeing, renowned for its ability to produce identical patterns on both sides of the fabric, is not merely a craft but a storied tradition, eloquently weaving through the tapestry of local life and culture in Hamamatsu.
Under the guidance of the owner's son, we learnt all there is to know about the process of Chusen dyeing, and even had the chance to try our hands at the art form ourselves.
We spent a few hours taking a piece of fabric from a blank canvas to a colourful masterpiece (well, a masterpiece in our inexperienced eyes), and were absolutely enthralled by the process.
At the end of the workshop you get to keep your fabric as well, which makes it a fantastic souvenir.
Address: 138-14 Tokiwacho, Naka-ku, Hamamatsu City, Shizuoka Prefecture 430-0917
Book: Explore Shizuoka
4) Walk Around Hamamatsu Castle
Hamamatsu Castle, sitting proudly in its convenient location in the heart of the city, is a spot that's as rich in history as it is easy on the eyes.
When we visited, the first thing that struck us was how it's not just a place for history buffs.
Sure, it was once home to Tokugawa Ieyasu, a big name in Japanese history, and yes, the exhibits inside tell fascinating tales of samurai, battles, and strategic masterplans from the past.
But it's also a place where you can simply enjoy a peaceful stroll, especially during cherry blossom season – a real treat to the senses!
The castle, often dubbed the "Castle of Success," offers a neat glimpse into Japan's past. As we wandered through, we found the displays and information easy to digest, even for those not well-versed in Japanese history.
And the view from the top? Simply stunning! Overlooking the city, it's a great way to get your bearings and snap a few photos of the landscape below.
It's not the largest or most impressive castle in Japan, but with an entrance fee of only 200JPY it's absolutely worth a visit.
5) Visit Yusanji Temple in Fukuroi
Yusanji Temple in Fukuroi is a place where tranquility and history intertwine, offering visitors a peaceful retreat with a dash of historical exploration.
During our visit the temple, nestled amidst lush greenery, provided a serene backdrop in a mountainous area that instantly enveloped us in a calming atmosphere.
Walking through the temple grounds we loved the intricate architecture and gentle ambiance created by the soft sounds of rustling leaves and distant, melodic chants.
Yusanji Temple is not just a spiritual hub but also a place that tells tales from the Edo Period, with various artefacts and structures that have stood the test of time.
The temple grounds are spacious, allowing for leisurely strolls where one can admire the traditional Japanese garden, various statues, and the main hall with its impressive wooden structure.
Make sure you make the effort to walk through the forest to the top shrine. We even spotted an antelope on the way!
6) Stay at a Traditional Japanese Home in Kakegawa
Every time we come to Japan we try to make an effort to stay in a traditional Japanese guesthouse, and this trip was no exception.
We had the absolute joy of an opportunity to stay at Tabinoya Inn, which offered a delightful blend of authenticity and comfort.
This place, with its classic wooden structures, sliding paper doors, and tatami mat floors, provided a genuine peek into the timeless elegance of Japanese homes.
Our room, while simple, was a serene retreat adorned with subtle touches of Japanese artistry, such as delicate calligraphy and ikebana.
Sleeping on futons laid out on the tatami mats introduced us to the comforting simplicity of traditional Japanese sleeping arrangements.
When we first arrived we checked in, dropped our bags off and then headed out to the nearby green tea plantations to learn about this fascinating cultivation.
The owner Koichi took us on a tour into the fields, and we even had the chance to pick our own tea leaves which he and his wife Kyoko would use later to make us a delicious dinner and fresh green tea.
Mealtime at the inn was a hearty affair, where each dish, crafted with local ingredients, offered a comforting embrace of home-cooked Japanese flavours.
From grilled fish to miso soup, every bite was a delightful journey through the region's culinary landscape.
Tabinoya Inn, for us, was more than just a place to stay. It was where we lived the Japanese way, even if just for a night, appreciating the subtle nuances, heartfelt hospitality, and the timeless charm of traditional Japanese living.
7) Marvel at Fujisan from Nihondaira Yume Terrace at Shimizu Ward
Heading to Shimizu Ward in Shizuoka you'll find the Nihondaira Yume Terrace, which presents a captivating blend of modern architecture and breathtaking nature.
Our visit to this iconic observation deck offered a panoramic spectacle, where the expansive sky met with the tranquil waters of Suruga Bay, and the majestic silhouette of Mount Fuji gracefully adorned the horizon.
If you get lucky with a clear day, the Nihondaira Yume Terrace has some of the best views of Mt Fuji imaginable, as well as boasting a number of interactive exhibits to learn about how Japan's tallest mountain was formed.
Address: 600-1 Kusanagi, Shimizu Ward, Shizuoka, 424-0886
8) Take the Nihondaira Ropeway
There are two ways to reach the Nihondaira Yume Terrace – by road or by ropeway.
The Nihondaira Ropeway offers a smooth, scenic ride between the Nihondaira Plateau and Kunozan Toshogu Shrine, and we used it to head down to from the Terrace to the ancient shrine.
It's a quick ride, but one that's packed with views – think rolling hills, a glimpse of Suruga Bay, and, on clear days, a stellar view of Mount Fuji. The cabins are clean and well-maintained, ensuring a pleasant journey across.
READ MORE: Travelling elsewhere in the Land of the Rising Sun? Check out our complete guide on all of the best things to do in Japan!
Once you reach Kunozan Toshogu Shrine, you're in for a cultural treat, with rich history and stunning architecture to greet you.
It's simple, it's scenic, and it's a lovely way to transit between two must-visit spots in the area.
9) Wander the Grounds at Kunozan Toshogu Shrine
Kunozan Toshogu Shrine, tucked away in the scenic hills of Shizuoka, is a spot that effortlessly blends history, culture, and natural beauty.
The first thing that hit us when we visited was the peaceful vibe of the place – it's like stepping into a different world, where time slows down just a bit.
Getting there is part of the adventure! You can take the Nihondaira Ropeway, which gives you a lovely, scenic shortcut across the hills.
Or if you're up for it, there's a set of stairs – all 1,159 of them! A bit of a leg workout, but totally worth it for the lush views on the way up.
The shrine itself is a tribute to Tokugawa Ieyasu, who played a key role in shaping the country.
It's not just a historical spot, though – with its intricate carvings, stunning gold leaf, and peaceful surroundings, it's a visual treat too!
10) Stroll Along the Beach at Miho no Matsubara and the Hagoromo Pine Tree Walk
Miho no Matsubara, renowned for its scenic beauty and enchanting legends, offers visitors a tranquil escape along its famed pine tree-lined shores.
Extending over seven kilometres, this celebrated coastline in Shizuoka is not only a natural wonder but also a cultural gem, having inspired artists and poets for centuries.
As you traverse the path, the whispering of the pine trees and the gentle caress of the ocean breeze create a serene ambiance, inviting a moment of reflection amidst the natural splendour.
The backdrop, featuring the majestic Mount Fuji, provides a picturesque panorama that has been designated a UNESCO World Heritage site, celebrated for its "outstanding universal value."
The legend of the celestial robe, or "hagoromo," adds a mystical allure to Miho no Matsubara.
According to local tales, an angel visiting the earthly realm was once deprived of her heavenly garment, sparking a narrative that has been immortalised in various traditional Noh and Kabuki performances.
A monument stands in homage to this legend, inviting visitors to delve into the mythical past of the area.
Whether capturing the scenic vistas through a camera lens or simply absorbing the tranquil beauty, Miho no Matsubara offers a harmonious blend of natural allure and cultural richness.
11) Learn about Mount Fuji at the Miho Shirube
The Miho no Matsubara Museum, situated amidst the scenic splendorus of the renowned coastline, serves as a cultural beacon, inviting visitors to delve deeper into the rich tapestry of stories, art, and history that permeate this iconic locale.
The variety of exhibits seamlessly blend the ancient and the contemporary, offering insights into the legendary Hagoromo tale and its impact on the cultural and artistic heritage of the region.
The museum, while modest in size, is abundant in its offerings of knowledge and aesthetic appreciation.
Artefacts, artworks, and interactive displays within the museum weave a narrative that connects the mythical and the historical, providing a comprehensive exploration of Miho no Matsubara's significance in literature, art, and local folklore.
12) Visit a Local Fish Market
Seafood is a way of life in Japan, and it's near impossible to spend any amount of time here without savouring the delicacies that come from the ocean and rivers of the coastal nation.
Visiting a local market is rite of passage in Japan for any visitor, and here in Shizuoka there's a fantastic one to stop by!
Kashi no Ichi, renowned as Japan's largest tuna fishing port, is open to visitors who not only want to see what a working fish market is like, but sample some of the delicacies too!
Rows upon rows of stalls showcased an impressive array of seafood, with the prized tuna taking centre stage, reflecting the market's status in the national tuna fishing industry.
Beyond the trading floor, Kashi no Ichi has an array of restaurants and food stalls. Here, the freshness of the produce is the star, with sashimi, sushi, and an assortment of seafood dishes providing a taste of the ocean's richness.
The bluefin tuna, given the port's prominence, is a must-try, offering a flavour that is unparalleled in its freshness and quality.
Address: 149 Shimazakicho, Shimizu Ward, Shizuoka, 424-0823
13) Take a Ferry Across Suruga Bay
Taking a ferry across Suruga Bay to the Izu Peninsula is a delightful journey that offers a fresh perspective of Shizuoka and its stunning natural surroundings.
As the ferry gently glides over the calm waters, passengers are treated to panoramic views of the coastline and the majestic Mount Fuji in the distance.
It's a peaceful voyage, where the expansive bay unfolds before your eyes, and the gentle sea breeze invites relaxation.
The journey across Suruga Bay provides a serene and scenic break amidst your adventures in Shizuoka.
As passengers there are two classes, both of which are comfortable but the upper deck does provide much nicer seating.
14) Pan for Gold at the Toi Gold Mine, Nishi-Izu
The Toi Gold Mine, located on the Izu Peninsula, offers visitors a unique dive into Japan's rich mining history.
Once a significant source of gold, being the second largest mine in Japan, today it stands as a fascinating museum where you can explore the old mining tunnels and learn about the techniques used in gold extraction.
One of the main attractions is the opportunity to explore the underground tunnels, where you're free to wander through at your own pace and check out the small exhibits.
The Toi Kinzan Museum on-site showcases artefacts and exhibits related to the gold mining industry, offering a historical context to your visit.
For a bit of fun, try your hand at gold panning. The mine offers experiences where you can sift through sand and gravel to find flakes of gold to take home as a unique souvenir.
Don't forget to check out the world's largest gold bar, weighing a whopping 250 kg, and learn about its significance in the mine's prosperous past.
Great if you're travelling around Shizuoka with kids, Toi Gold Mine provides a rich and engaging experience that speaks of the Izu Peninsula's golden heritage while offering a fun and informative outing.
15) Head to Koganezaki for Sunset
Watching the sunset at Koganezaki is a beautiful experience that captures the essence of the Izu Peninsula's natural beauty.
Koganezaki, aptly named "Golden Cape," offers a vantage point where the sun's descent paints the sky in hues of gold, crimson, and lavender, casting a warm glow over the tranquil waters of the Pacific Ocean.
As the sun dips closer to the horizon the rugged cliffs and rock formations of Koganezaki illuminate in vivid shades of yellow and orange, creating a dramatic contrast against the ever-changing canvas of the sky.
It's a great spot to bring along a picnic or simply find a comfortable spot on the elevated platforms to sit and soak in the moment.
On a clear day you can even see the famous mountain Fujisan peeking out in the distance.
You can find the exact location for Koganezaki Park here.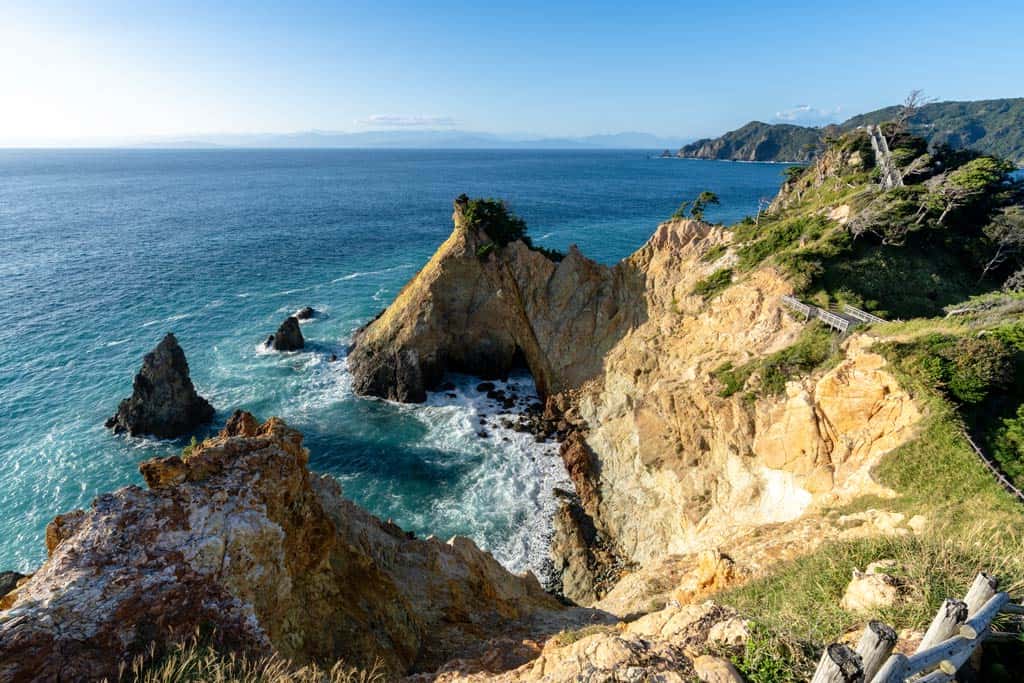 16) Stay in Japan's Most Beautiful Ryokan – Ochiairo
Staying at Ryokan Ochiairo, hidden in the scenic landscapes of the Izu Peninsula, offers a genuine experience of Japanese hospitality and tranquility.
This traditional Japanese inn and hotel, or "ryokan," provides a serene escape, where the meticulous design, natural surroundings, and attentive service create a harmonious and restful environment.
Guests are welcomed with the warm glow of soft lighting and the gentle ambiance of nature that permeates through the inn.
The rooms, adorned with classic Japanese aesthetics, feature tatami mat flooring, shoji sliding doors, and futon bedding, ensuring a comfortable and authentic stay.
Culinary experiences at Ryokan Ochiairo are a celebration of local and seasonal ingredients, where each dish is crafted with precision and presented with artful elegance.
The kaiseki meals, a multi-course dining experience, provide a journey through the flavours and textures of Japanese cuisine, with each course reflecting the chef's mastery and the richness of the local produce.
The onsen (hot spring) baths are another highlight, where the mineral-rich waters invite relaxation and rejuvenation.
Read our full Ryokan Ochiairo review!
Surrounded by nature, the outdoor baths provide a peaceful retreat, allowing guests to unwind while immersed in the tranquil settings.
There are both public and private onsens, with the private one being free to use but you do need to book in a time.
The public bathing areas are separated for males and females, as you must be naked to soak in their soothing waters.
Ryokan Ochiairo is not merely a place to stay; it is a destination where the spirit of omotenashi (Japanese hospitality) is felt in every detail.
From the thoughtful amenities to the gentle manners of the staff, it provides a haven where tradition, nature, and relaxation coalesce into a memorable experience amidst the beauty of the Izu Peninsula.
17) Enjoy an E- Bike Tour Around the Wasabi Farms of Izu Peninsula
Proving that the Izu Peninsula really is an outdoor-lovers paradise in Japan, one of the best things to do in Shizuoka Prefecture is to join an e-biking tour of the local wasabi farms.
Izu Peninsula is the nation's premier wasabi region, and if you're anything like us you probably love wasabi on your sushi or have tried wasabi ice cream, but have no idea how it's actually made or what it even really is.
Luckily some entrepreneurial locals have come together to showcase this unique Japanese delicacy in a fun and engaging way.
Using brand new e-bikes, with their electric assist to charge up hills, provides a smooth and accessible ride, ensuring that the journey through the rolling hills and scenic routes is enjoyable for all fitness levels.
As you pedal through the verdant fields the wasabi farms unfold before you.
The farms, with their meticulously maintained wasabi terraces, provide a unique insight into the cultivation of this famed Japanese condiment.
The guided tour includes informative talks where you can learn about the intricate process of wasabi cultivation, harvesting, and processing.
You'll discover the meticulous care and specific conditions required to produce high-quality wasabi, which is revered in Japanese culinary arts.
The route meanders through not only the wasabi farms but also offers glimpses of the stunning natural beauty of the Izu Peninsula, with its lush forests, clear streams, and distant mountain views.
We even had the chance to make fresh wasabi ourselves by the edge the towering Banjo Falls.
After 4 hours of exploring the rural region by bike we then were treated to an incredible lunch at Hasama Cafe, where the lady chefs prepare divine meals with only the freshest ingredients, many of which are grown on their own personal farms.
It's a delightful way to explore, learn, and taste, all while being enveloped by the serene beauty of the Izu Peninsula.
To book the e-bike wasabi tour get in touch with Azusa Murai from Merida Japan, or Kojiro Mori from the Izu Peninsula Geopark and Tourism Bureau.
Azusa doesn't speak much English, so if you have a guide or Google Translate it will be a big help.
Absolutely worth doing if you're wondering what to do in Shizuoka Prefecture and love being outdoors.
18) Check Out the Kinomiya Shrine in Atami City
The Kinomiya Shrine, up on a hill in the coastal town of Atami in Shizuoka Prefecture, stands as a spiritual sanctuary, harmoniously intertwined with nature's profound beauty.
The shrine is renowned for its gigantic camphor tree, believed to be over 2000 years old, which stands as a symbol of vitality and endurance.
A popular thing to do is walk around the tree, a practice believed to bestow longevity and good health, while making a wish.
We did this, so we'll come back and update this guide if our wish comes true.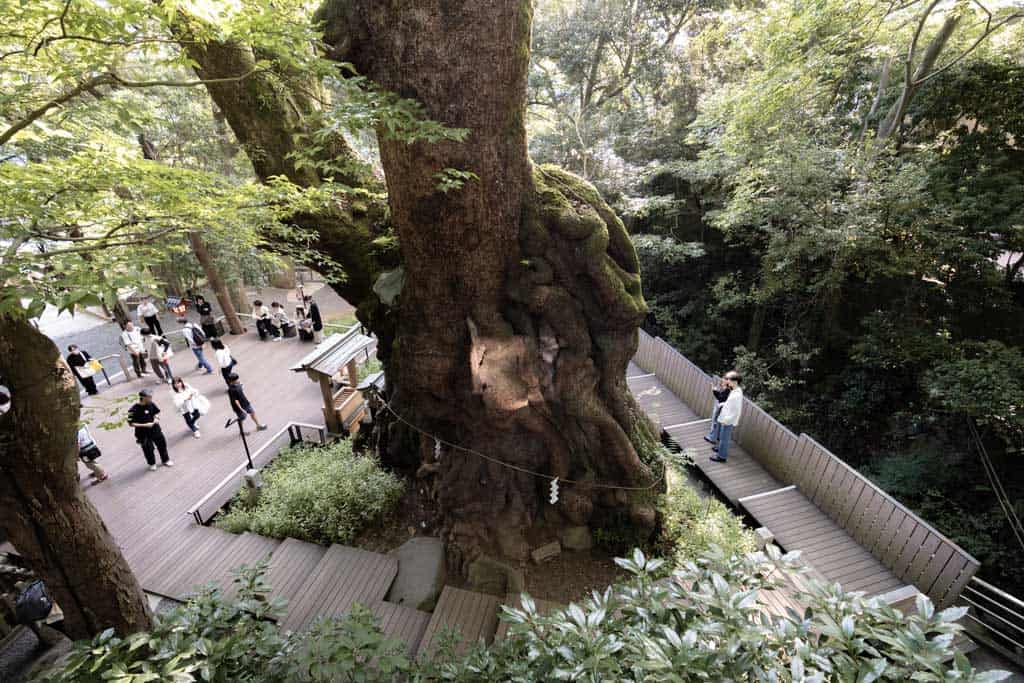 The traditional architecture of the Kinomiya Shrine complements the natural surroundings, providing a space where visitors can offer prayers and find a moment of peace.
Seasonal celebrations and festivals at Kinomiya Shrine add a vibrant dimension to the spiritual experience, where traditional rituals, performances, and local delicacies bring the community together in a joyful and sacred gathering.
The Kinomiya Shrine also has a number of cafes and sweet shops on the property, which gives it a bit of a commercial feel, but if you find yourself in Atami it's well worth a visit.
19) Visit the Atami Plum Garden
Atami Plum Garden, or "Atami Baien", is a splendid haven where plum blossoms herald the arrival of spring in a spectacular display.
Situated in the hot spring town of Atami, this enchanting garden spans approximately 44,000 square meters and becomes a focal point of natural beauty and seasonal festivities during the plum blossom season.
As you stroll through the garden, you are greeted by over 3,000 plum trees, their branches adorned with blossoms ranging from pure white to varying shades of pink.
The sight of the blossoms, often occurring from late January, provides a vibrant prelude to the awaited spring, injecting the winter landscape with bursts of colour and vitality.
During the plum blossom season, Atami Plum Garden becomes a hub of cultural and culinary events, where traditional performances, artistic displays, and food stalls enhance the visitor experience.
The plum-themed delicacies, ranging from sweet treats to savory delights, offer a taste exploration of this seasonal fruit.
READ MORE: On limited time? Check out these epic day trips from Tokyo!
20) Hang Out at Atami Castle
Atami Castle, perched atop a hill in the popular hot spring town of Atami, offers a blend of cultural insight and scenic beauty.
While not an ancient castle, but rather a modern construction, it's designed to emulate traditional Japanese castle architecture, providing visitors with a glimpse into Japan's historical aesthetic.
Inside, the castle hosts a variety of exhibits, offering insights into Japanese culture and history. From samurai armour displays to historical artefacts, visitors can explore and learn in a setting that feels both educational and entertaining.
One of the highlights of Atami Castle is undoubtedly its panoramic views. The observation deck provides sweeping vistas of Atami, Sagami Bay, and on clear days, the distant Tokyo skyline.
21) Climb Mt Fuji
And of course we can't have a list of the best things to do in Shizuoka without mentioning an attempt to summit it's most famous attraction, Mt Fuji.
Climbing Mount Fuji is an exhilarating adventure that is on the bucket list for many locals and tourists in the country.
Rising majestically to 3,776 meters, this active volcano offers an extraordinary ascent, best experienced during the official climbing season from July to September.
With each step, you ascend through diverse landscapes, from lush forests to rocky terrain, until you reach the volcanic cone's barren summit.
We recommend taking on the climb in the evening then spending the night at the high cabin, so your well-rested to reach the summit in time for sunrise.
Remember that you are at altitude, and the weather is very cold and unpredictable. Only climb if you are fit and have the right gear.
This article has good information about the activity.
Shizuoka Prefecture Travel Guide
Now that you know all the incredible things to do in Shizuoka Prefecture, it's time for us to dive into everything else you need to know to make the most of your visit.
Where to Stay in Shizuoka Prefecture
When exploring the diverse and scenic Shizuoka Prefecture, you'll find a variety of accommodation options across its major cities, charming towns, and the picturesque Izu Peninsula, each offering a unique experience.
Shizuoka City: As the capital, with top attractions such as the Sunpu Castle, it provides a range of stay options from luxury hotels to cozy guesthouses. Consider staying near the Shizuoka station for convenience in exploring the city's attractions and easy transport to nearby areas.
Hamamatsu: Known for its musical history and beautiful lake, Hamamatsu offers various hotels and inns. Explore options near the city centre or close to Lake Hamana for a scenic stay.
Fuji City: For those wanting to be near the iconic Mount Fuji with a spectacular view, staying in Fuji City might be ideal. Options range from hotels with mountain views to quaint bed and breakfasts providing a homely atmosphere.
Izu Peninsula: Known for its hot springs and coastal scenery, consider staying in a traditional "ryokan" with an onsen for a quintessential Japanese experience. Towns like Atami, Ito, and Shimoda offer various accommodations, often with scenic views and tranquil settings.
Numazu: A coastal city with fresh seafood and stunning views of Mount Fuji, Numazu has hotels and guesthouses, providing a base to explore the nearby Suruga Bay and Izu Peninsula.
Mishima: With its beautiful gardens and proximity to the Izu Peninsula, Mishima offers stays in city hotels and smaller inns, providing access to natural and urban attractions alike.
Whether you're looking for the convenience of a city stay or the peaceful retreat of a coastal inn, Shizuoka Prefecture provides a range of options to suit various preferences and travel styles, ensuring your explorations are comfortable and memorable.
Where to Eat in Shizuoka Prefecture
Shizuoka Prefecture, blessed with a bountiful landscape that stretches from the majestic Mount Fuji to the rich waters of Suruga Bay, boasts a cuisine that is as diverse and vibrant as its scenery.
The region is celebrated for its fresh and flavourful produce, with a particular emphasis on seafood, fruits, and green tea.
One cannot talk about Shizuoka without mentioning its famed "Sakura Ebi," a variety of small pink shrimp that are often enjoyed as tempura or atop a bowl of rice.
The "Shizuoka Oden," a comforting hot pot dish with various ingredients stewed in a flavoured broth, is another must-try, offering warmth and savoury delight in every bite.
The prefecture is also renowned for its "Wasabi," with the fresh, pungent green root being a staple in Japanese cuisine.
Don't miss trying "Shirasu," tiny whitefish often enjoyed raw, cooked, or dried, showcasing the ocean's freshness in dishes across the region.
From the luscious "Mikan" oranges to the premium green tea cultivated in its fertile lands, Shizuoka's cuisine is a delightful exploration of flavors, providing a culinary journey that is deeply rooted in its local produce and the seasons.
Unagi from Shizuoka is not only a beloved dish but also renowned throughout Japan for its high quality and delectable flavor.
The region, particularly Hamamatsu City, is famed for its eel farming, and thus, unagi dishes hold a special place in the local cuisine.
Grilled to perfection and often glazed with a rich, sweet soy-based sauce, unagi is typically served atop a bed of steaming rice in a style known as "Una-don."
The eel is known for its tender, flaky meat and a slightly sweet, char-grilled exterior, providing a truly indulgent dining experience.
How to Get to Shizuoka Prefecture
Getting to Shizuoka Prefecture is quite convenient thanks to Japan's extensive and efficient transportation network. Here are some of the common ways to reach Shizuoka:
Train
From Tokyo: You can take the Tokaido Shinkansen (bullet train) from Tokyo to Shizuoka Station and Hamamatsu Station. The journey takes approximately 1 to 1.5 hours, depending on the type of train you choose (Kodama, Hikari, or Nozomi).
From Osaka: From Shin-Osaka Station, take the Tokaido Shinkansen to Shizuoka Station. The travel time is approximately 2 to 2.5 hours, depending on the train type.
From Nagoya: The Tokaido Shinkansen also connects Nagoya to Shizuoka, with a travel time of about 1 to 1.5 hours.
By Bus
From Tokyo: There are highway buses available from Tokyo to various parts of Shizuoka, including Shizuoka City, Hamamatsu, and Atami. The journey may take approximately 3 to 4 hours, depending on traffic and the specific destination.
From Osaka or Kyoto: Overnight buses are available from Osaka and Kyoto to Shizuoka, providing a budget-friendly option, though the journey is considerably longer than taking the train.
By Air
Shizuoka Airport: Shizuoka Prefecture is served by Shizuoka Airport, which offers domestic flights from different parts of Japan, such as Sapporo, Fukuoka, and Okinawa. The airport also has a few international routes.
Centrair (Chubu Centrair International Airport): For international travellers, Centrair near Nagoya can be a viable option. From the airport, you can take a train to Nagoya Station and then the Shinkansen to Shizuoka.
By Car
Renting a car and driving to Shizuoka is also an option, especially if you wish to explore the rural and coastal areas of the prefecture.
From Tokyo, it's approximately a 2 to 3-hour drive via the Tomei Expressway.
Each mode of transport offers its own advantages, so your choice might depend on your itinerary, budget, and preferences. Always check for any travel restrictions or changes in transportation schedules due to unforeseen circumstances.
Getting Around Shizuoka Prefecture
Navigating through Shizuoka Prefecture is easy enough using a variety of transportation, each offering a unique way to explore the region's cities, towns, and scenic spots. Here are some of the best ways to get around Shizuoka:
Trains
JR Tokaido Line: Useful for traveling between major cities like Shizuoka, Hamamatsu, and Atami.
Izu Kyuko Line: Ideal for exploring the Izu Peninsula, connecting Atami to Shimoda.
Local and Private Lines: Useful for reaching specific attractions or areas not covered by JR lines.
Buses
Inter-city Buses: Connect different cities and towns within Shizuoka and can be a cost-effective way to travel.
Local Buses: Useful for short-distance travel within cities and to reach attractions that are not accessible by train.
Rental Car
By far our preferred way to travel around Shizuoka and the Izu Peninsula is with your own car, as some places public transport just doesn't cut it.
Exploring Remotely: A rental car is ideal for exploring areas of the Izu Peninsula, the Fuji Five Lakes region, and other remote or rural areas where public transport might be limited.
Flexibility: Offers the freedom to explore at your own pace and access off-the-beaten-path locations.
The best way to get around is to rent a car and explore on your own! We recommend Rental Cars, which has the largest range of vehicles for the best value on the market.
Bicycles
City Exploration: Bicycles can be rented in several cities and are a great way to explore locally, especially in areas with flat terrains like Hamamatsu.
Cycling Tours: Consider exploring scenic spots, like the coastline of the Izu Peninsula, on a cycling tour.
Ferries
Ferries can be used to travel across Suruga Bay, offering a scenic journey and a unique perspective of the coastline.
Convenience: Taxis are available in cities and towns for short-distance travel and can be especially convenient if you're carrying luggage or traveling in a group.
Rideshare Services: In some areas, rideshare services might be available and can be booked through respective apps.
Walking
Local Exploration: Don't underestimate the joy of exploring smaller towns and areas on foot, especially where attractions are closely situated.
Choosing the best mode of transportation often depends on your destination, itinerary, and preferences.
For example, trains and buses might be more convenient for city hopping or to get to a major hub, while a rental car might be preferable for exploring the scenic countryside and remote areas of Shizuoka.
Always check the schedules and availability in advance, especially during peak tourist seasons, to ensure smooth travel.
Where to Go After Shizuoka Prefecture
After soaking in the diverse experiences Shizuoka Prefecture has to offer, there are several nearby destinations that travellers might find intriguing to explore, each with its own unique charm and attractions.
Yamanashi Prefecture
Fuji Five Lakes: Explore the scenic lakes at the base of Mount Fuji, engage in outdoor activities, and enjoy stunning views of the iconic mountain.
Koshu: Known for its vineyards and wine production, offering delightful wine-tasting experiences.
Kanagawa Prefecture
Hakone: Famous for its hot springs, natural beauty, and the Hakone Open Air Museum. It's also a popular spot to view Mount Fuji. Check out our Hakone blog.
Yokohama: Japan's second-largest city, offering attractions like the CupNoodles Museum, Sankeien Garden, and a vibrant waterfront. Check out our Yokohama blog.
Nagano Prefecture
Matsumoto: Visit Matsumoto Castle, one of Japan's premier historic castles, and explore the city's vibrant arts scene.
Karuizawa: A popular resort town known for its shopping, outdoor activities, and beautiful landscapes.
Aichi Prefecture
Nagoya: Explore Nagoya Castle, visit the Toyota Museum, and savour the local specialty, Hitsumabushi (grilled eel). Check out our Nagoya blog.
Inuyama: Home to Inuyama Castle and the historic town area with traditional buildings and teahouses.
Tokyo
While not immediately adjacent, Tokyo is easily accessible from Shizuoka and offers a stark contrast with its bustling urban environment, myriad of attractions, shopping, dining, and entertainment options. Here's our 3 days in Tokyo itinerary.
Izu Islands
Oshima: Known for its camellia flowers, black sand beaches, and Mount Mihara, an active volcano.
Niijima: Famous for its stunning white sand beaches and surfing spots.
Mie Prefecture
Ise: Visit Ise Grand Shrine, one of Japan's most sacred Shinto shrines, and explore the charming Okage Yokocho shopping street.
Toba: Known for its beautiful coastlines, pearl cultivation, and the Toba Aquarium.
Each of these destinations offers a different vibe and set of experiences, from the serene landscapes of Hakone and the historic charm of Matsumoto to the urban allure of Yokohama and Nagoya.
Depending on your interests—whether it be nature, history, local specialities, or urban exploration—you'll find a wealth of experiences to explore in the regions surrounding Shizuoka.
Travel Tips for Shizuoka Prefecture
Finally here are some of our top travel tips for Shizuoka.
Make the Most of the Japan Rail Pass and Rail Network
Consider purchasing a Japan Rail (JR) Pass or a regional pass like the JR Tokai Pass to make train travel more economical and convenient across Shizuoka and nearby regions.
The Shinkansen (bullet train) services the region too for quick and comfortable travel between major cities.
Pre-Book Your Accommodation
Especially during peak seasons like cherry blossom or autumn foliage periods, ensure to book accommodations in advance to secure your spot.
Choose accommodations that are close to transportation hubs or central areas to make travel within Shizuoka more convenient.
Transportation Within the Prefecture
Consider renting a car or a bicycle for exploring remote areas or for creating a flexible itinerary, especially in regions where public transport may be sparse.
You can also look into local bus passes which might offer unlimited travel within certain cities, providing a cost-effective way to explore.
Keep a tab on the last train/bus timings to avoid being stranded, especially if you're traveling in rural areas or enjoying nightlife in the cities.
Communication and Interaction
Equip yourself with basic Japanese phrases to navigate around, because English isn't widely spoken.
Another big tip is to ensure you have a reliable internet connection, either through a SIM card or a portable Wi-Fi device, to navigate, translate, and stay connected during your travels.
You can also book a local English-speaking guide, which in all honestly really takes your experience in Japan to a whole new level if you don't speak the language.
Two fantastic guides are:
Tomo Itagaki
A licensed tour guide and interpreter living on the Izu Peninsula. He spent 40 years living in the United States, so is fluent in English and understands Western culture very well.
Tomo's details are: +81-0557-29-6719 and [email protected]
Tsukada Yoko
Yoko is another licensed guide and interpreter who lives in Shizuoka City. She is a lovely lady, speaks fantastic English and is very caring.
Yoko's details are: +81-090-1782-7566 and [email protected]
Plan According to Seasons
There are a number of different seasons in Japan, and timing your trip based on what you want to see and do will have a big impact on your experience.
Spring: If visiting in spring, check the cherry blossom forecast and explore spots like Sumpu Castle Park.
Summer: In summer, enjoy the beautiful beaches along the Izu area and engage in water activities.
Autumn : Plan a trip in autumn to witness the vibrant fall colorus in areas like the Shizuoka Katsuragawa area.
Winter: Experience winter illuminations and festivals in various towns and cities during the colder months.
DISCLAIMER: Some of the links in this article are affiliate links, which means if you book accommodation, tours or buy a product, we will receive a small commission at no extra cost to you. These commissions help us keep creating more free travel content to help people plan their holidays and adventures. We only recommend the best accommodations, tours and products that ourselves or our fantastic editorial team have personally experienced, and regularly review these. Thanks for your support, kind friend!