When we started our current adventure of travelling overland from Thailand to South Africa without flying, we thought it would take three years maximum. Well, in our typical roundabout, nothing planned kind of fashion it ended up taking us two years just to get across Asia! If we drew our route on a map, it would probably look like a bowl of spaghetti, with no rhyme and reason to the madness. That's just how we travel – spontaneous, and always ready to find a new adventure!
The other day we looked at a calendar and realised we had reached our two-year anniversary since the last time we left Australia – January 23rd, 2014. Even though we've been travelling off and on for seven years, we like to keep our journeys separate in our minds, putting our travels in North and Latin America as a different chapter in our book. In the past we put together posts on our highlights from 6 months and 1 year travelling in Asia, and it was always great to look back on the good times.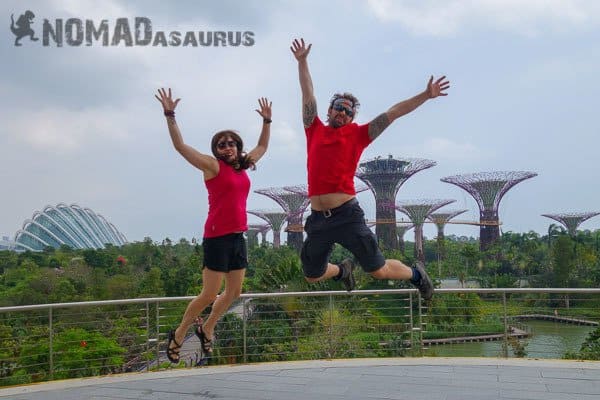 But not every day has been filled with great sunsets and tasty cocktails, as we discussed in our "Behind The Scenes" post. People ask us what it is like to be professional travel bloggers, often assuming that we are "living the dream". Well, to paraphrase Alex Leviton, a world class travel writer and Jazza's writing mentor – "Twenty percent of it is absolutely the dream job you imagine it to be, 70% of it is drudgery, and 10% of it can be worse than the worst job you could imagine. But, whoa Nelly, that 20% is good. Very good." The same can be said of long-term travel. So rather than only focus on the best of the best, we'll let you guys in on some of the shitty times we've had on the road as well.
So to celebrate this momentous occasion, here is our collection of some of the best, and shittiest, travel experiences over the last two years.
Would we change anything? Hell no. Would we do it again? Hell yes.
The Best Experiences
Exploring Hang Son Doong
When we were living in Phong Nha, Vietnam, we were given the unique opportunity to jump on a 6-day expedition to Hang Son Doong, the largest cave in the world, working with the local tour operator Oxalis. This is no walk in the park, run-of-the-mill tourist cave. It requires some serious jungle trekking, river crossings, spelunking, rappelling, climbing and crawling. But to this day we have still never laid eyes on anything as beautiful and spectacular as the scenes inside this colossal cavern. And to top it off, we even got engaged at the edge Doline 1, beneath a glorious sunbeam. By far the best memory of our entire lives!
Words can't describe the magnitude and awe that we witnessed inside the cave, so we put together this photo essay of Hang Son Doong instead.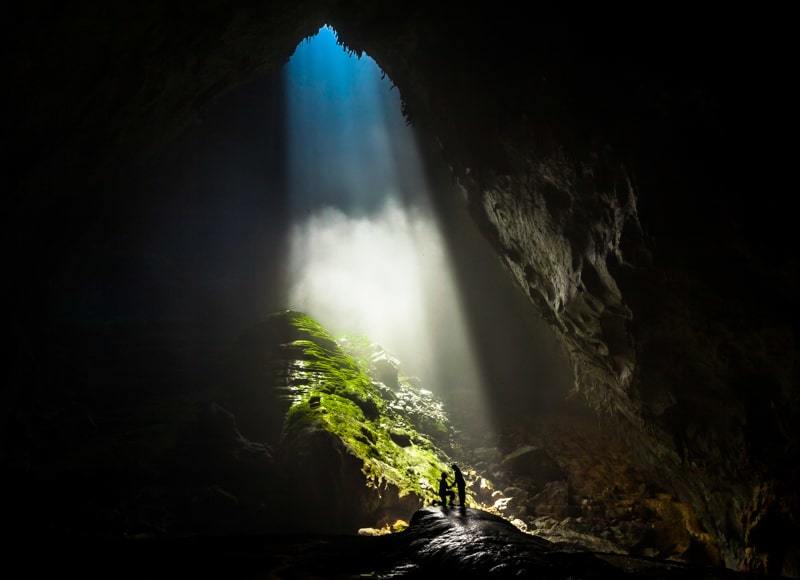 Visiting The Tsaatan Reindeer Herders
Located in the vast and remote taiga of Northern Mongolia, visiting the Dukha (or Tsaatan) reindeer herders has been on our list of things to do since well before we ever planned to come to Asia. When we eventually found ourselves in Mongolia, and decided not to buy our own horses, we spontaneously jumped at the opportunity to visit this unique tribe ourselves. The 500 or so Dukha people are completley nomadic, and are dependent on their reindeer to survive. It took a two-day horse trek to reach the taiga they were residing in for the summer, and we spent three days with a beautiful family, sleeping in a teepee, learning about their culture and customs. Probably the most memorable thing we have ever done.
Read more about our Tsaatan reindeer herder adventure.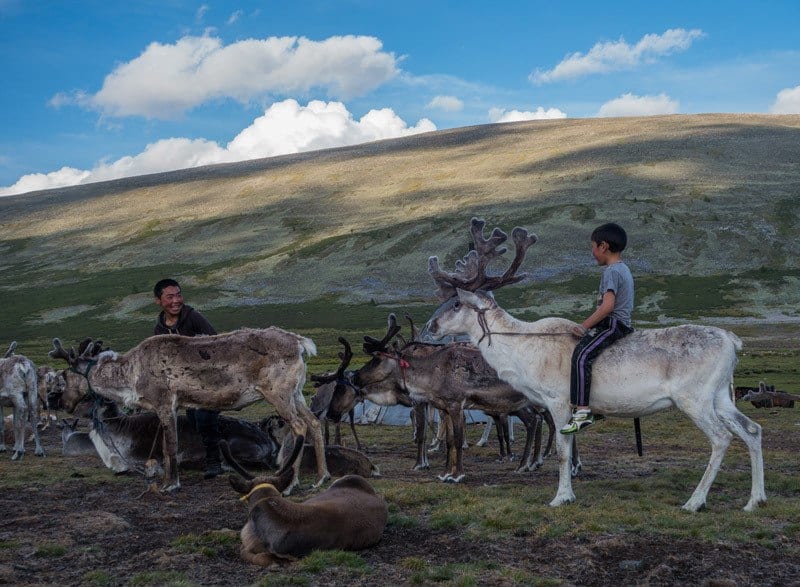 Hitchhiking The Edge Of Tibet
It was the end of winter when we crossed from Vietnam and into China, and after a few weeks of travelling the Yunnan province, we started to hear that the "Backdoor to Chengdu" route was open. This traversed through the historic Tibetan Kham province, on the edge of the Tibetan Autonomous Region. The region is populated with 80% Tibetans, and there are far less restrictions than can be found in the TAR. This means the actual Tibetan experience is more authentic than you will get in Tibet proper. We spent two weeks hitchhiking around the area, getting rides with monks, camping in monasteries, skinning yaks with nomads, and we even were invited to see a sky burial.
Read more about our journey along the edge of Tibet.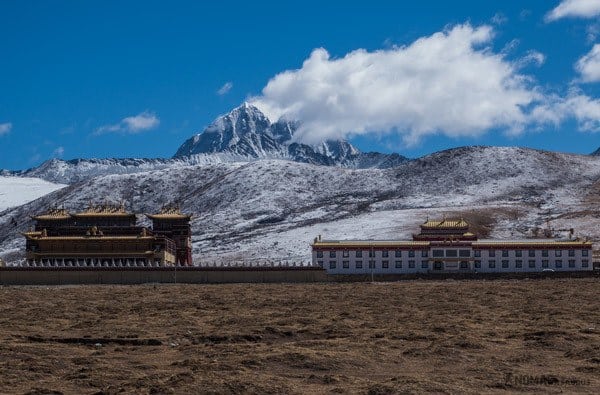 Driving The Pamir Highway
Starting in Osh, Kyrgyzstan, we rented a 4×4 with a couple of backpackers and headed into Tajikistan to explore the famous Pamir Highway. Sticking to the border of Afghanistan, we followed the Wakhan Corridor for seven days. This is one of the highest international roads in the world, reaching an altitude of 4700m above sea level. Staying in local homestays, hiking to mountain peaks, bathing naked in natural hot springs, checking out 2000-year-old forts, attempting to break into active military bases, chasing Marco Polo sheep, bribing military police, it truly was an amazing time that we will always remember.
Read this article about the Pamir Highway.
The World's Most Dangerous Hike
A 30cm wide timber plank, bolted to the side of a cliff 2000 feet in the air, with only the safety of a questionable Chinese harness to protect us? There was no way we were going to skip this! In fact when we went to China, we actually wanted to do this more than see anything else. Best. Day. Ever.
Check out the world's most dangerous hike for yourself!
Our Southeast Asia Motorbike Adventure
A random internet search in Luang Prabang, Laos, resulted in us buying two 110cc Chinese motorbikes for $260 each. Neither of us had much motorbiking experience, but figured we would just ride off into the sunset and see what happened. 10 months and 15'000km later, we had ridden some of the best (and most dangerous) roads in Southeast Asia, and seen the coolest off-the-beaten-track destinations in the region. Think it's impossible to go a week without seeing another tourist in Vietnam? Well, buy a motorbike and hit the backroads!
Learn more about our motorcycle adventures, and then go buy one for yourself!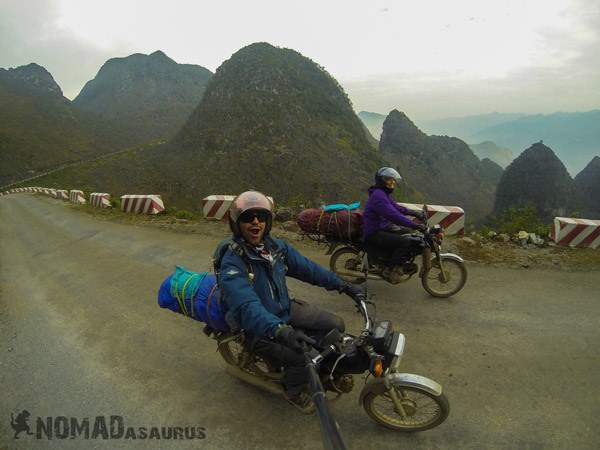 Hot Air Ballooning In Cappadocia, Turkey
Our pilot expertly guided our hot air balloon through the heart of the Love Valley in Cappadocia, barely missing the tops of the fairy chimneys. With a blast of the burners we quickly ascended, soaring high above the landscape. Silent, calm, stunning. I looked at Alesha and she had one hand on her cheek, a tear welling up in her eye. She looked back at me and said, "This is just so beautiful. I can't even speak." If you've ever met Alesha, you know that seeing her speechless is a rare occurrence. That's how sensational hot air ballooning in Turkey is. Definitely the least adventurous activity we have ever done that we loved the most!
Of course we wrote a post about hot air ballooning in Cappadocia – it was that good!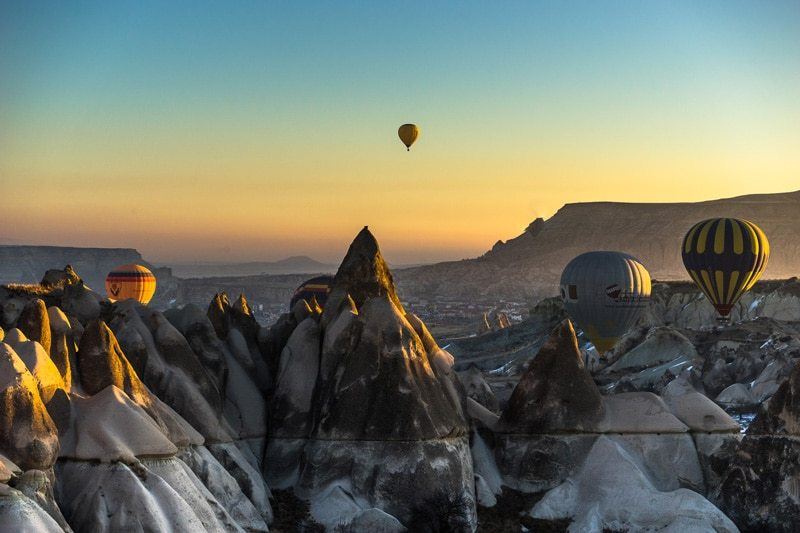 Scuba Diving In Thailand
We love scuba diving. In fact, it is Alesha's absolute favourite activity! After originally getting our open water certifications in Utila, Honduras, we are now qualified rescue divers, with 50+ dives under our belt and nitrox and wreck specialties as well. When we first landed in Thailand we spent a hell of a lot of money diving almost every day around the islands, loving every second of it! Beach life, hanging out in the ocean by day, drinking beers with good friends by night. Does it get much better? Wasn't good for our budget, but was good for our souls.
Read one of our first ever posts on the blog, all about scuba diving in Thailand.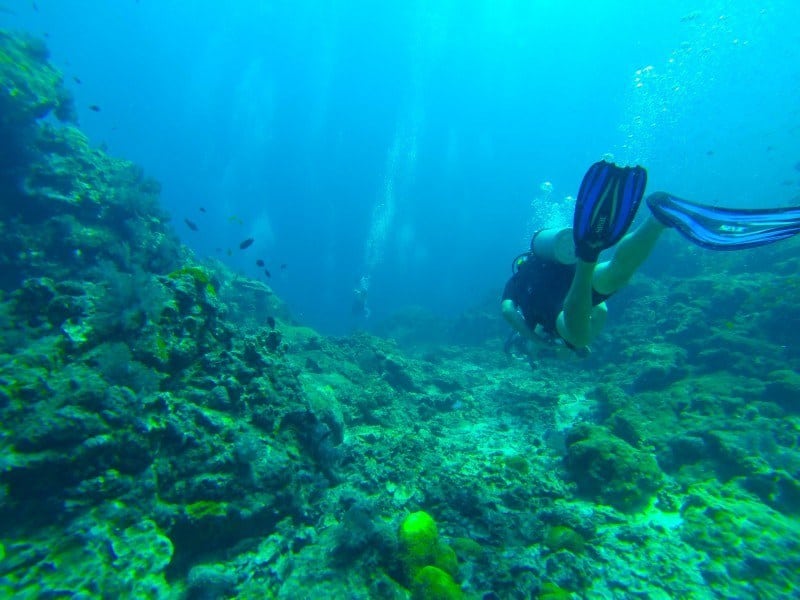 Our Own Private Pagoda In Bagan
On our third day of exploring the incredible temples of Bagan in Myanmar by bicycle, we were getting pretty tired. It was mid-April, the temperature was above 40 degrees, the trails were soft sand and it was dusty as hell. Even though we loved Bagan, it was difficult to get motivation to pedal around in the heat. So one day we headed to a major temple, and after wandering around with the crowds for 30 minutes or so, we spotted a smaller one in the distance. We rode out there, climbed to the third floor, and found that there was no one there! We laid down on a ledge in the shade, stared out at the iconic scenery, and started meditating with the sounds of Buddhist chanting echoing over the plains. We didn't see a single other person, and for almost two hours we had this ancient pagoda completely to ourselves!
Camping Next To The "Door To Hell"
We only knew two things about Turkmenistan before we went there – That the capital Ashgabat is made of marble and gold and completely deserted, and that there is a burning gas crater in the middle of the desert. Due to the tight visa situation in Turkmenistan, it gets pretty hard for travellers to actually visit this curious spectacle. Luckily we were travelling with Dragoman, which meant we were granted a tourist visa, and had a whole night dedicated to camping next to the nation's most amazing attraction! We couldn't believe that we were sleeping just 100m from the vast, flaming crater. Definitely one of the top 5 spots we have ever pitched a tent!
Read more about camping next to the Darvaza Gas Crater.
Serenity In The Temples Of Angkor
Everyone wants to visit Angkor Wat, and we were no exception. But unsurprisingly when we first showed up at sunrise, we realised that "everyone" really meant everyone, and that they were already there. The crowds were horrid, with people climbing and crawling over each other to get that perfect photo position, selfie sticks flying around threatening to poke eyes out. When the sun was up we moved onto Bayon, and experienced the same scenario. That was until we wandered into a moss-covered stone room on the ground floor, and found it to be empty. Alesha and I simply sat on a stone, gazed at the Buddha images all around and soaked up the quiet ambiance in one of Southeast Asia's most popular attractions for almost a full 30 minutes before another tourist wandered in. Hard to believe things like that can still happen in the UNESCO site's 2nd most popular temple.
We recommend spending at least three days at the temples of Angkor.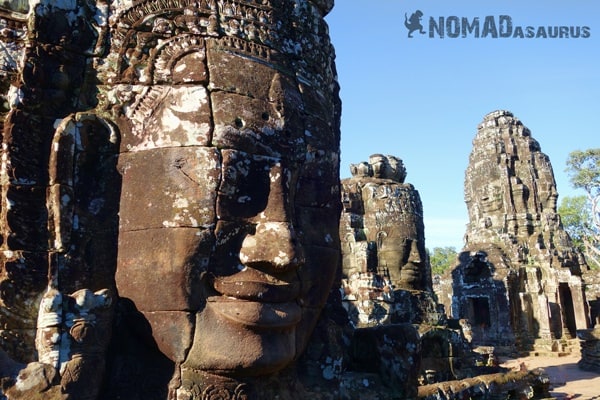 The Local Crew At Tan Hoa Village
This was the village that made Vietnam our favourite country! 70km outside of Phong Nha lies the tiny minority village of Tan Hoa, with only 300 inhabitants, surrounded by towering limestone mountains and dense jungle. We had the chance to spend two nights there on either side of our Tu Lan cave tour, which is something that is not actually allowed. But because of our friends who ran the caving company, we snagged some last minute permits. We got incredibly drunk on rice wine with the locals, sleeping in a family's house and eating amazing food collected fresh from the jungle. When we woke at 7am with a hangover, we went for a walk only to be called in to a bunch of people's houses for more rice wine and food before heading off for the two-day cave tour. We repeated it all again when we came back from the jungle. Less than 10 foreigners had ever stayed in Tan Hoa village, all of them being friends or family of the tour company. The villagers we spent time with were among the most honest, caring and generous people we have ever met, and we'll be returning to meet them again one day!
Read about Tan Hoa village, and then check out this article Jazza wrote for Matador Network about Trung, a local boy who used community-based tourism to open a bakery in the village!
Seeing Samarkand In Uzbekistan
Ancient mausoleums from the conqueror Timur, set along the historic Silk Road in modern day Uzbekistan. Some of the most amazing sights from our time in Central Asia. In particular the Registan was by far the most impressive pieces of architecture we have ever laid eyes on.
Check out more photos of Uzbekistan!
Camping On The Great Wall Of China
No visit to China is complete without seeing the Great Wall of China. Well we took it one step further, and actually camped on the damn thing, inside a watchtower! After taking hours of (frustrating) public buses, we eventually trekked out to the Gubeikou section of the Wall and pitched our tent. After a sensational sunset we drank a bottle of rice wine and hit the sack. Waking up in time for the sunrise over the Wall was a surreal experience. Compared to other sections that see literally thousands of people a day, it was just us at Gubeikou. Epic!
Here's how you can camp on the Great Wall of China yourself.
Teaching English At A Buddhist Monastery
We met a monk at the top of Mandalay Hill in Myanmar, and he asked us if we could come teach English at his monastery. We felt completely honoured, but were due to leave the next day. Thinking that we couldn't miss this opportunity, we extended our stay in Mandalay. In the morning we showed up and spent all day teaching English to the coolest bunch of kids we've ever met! It was only a quick visit, but we loved every second of it.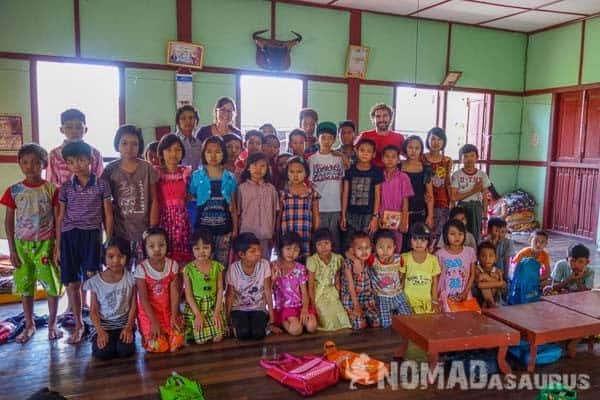 Hitchhiking Across Northern Mongolia
After the Tsaatan adventure, we spent a few days camping at Khuvsgul Lake, then decided to head west. Rather than take the bus back to Ulaabaatar, our good friends Dan and Christine, and us tried to organise a private car to take us the 4 days to Olgii over the rarely-travelled Northern route. It fell through (long story), but a couple of New Zealanders named Dave and Jordie came to our rescue and offered us a ride in their Unimog overland truck, after we met them in a supermarket carpark. For the next 7 days we bounced (literally) across the vast Mongolian steppe alongside a young Belgian/Turkish couple in a Lada Niva, driving through rivers, camping in fields and by streams, and drinking lots of vodka and beer. Dave snapped his propeller shaft and we managed to fix it in one long evening in a random local's yard, we had the Mongolian border police kill and cook a marmot for us, we were visited by dozens of intoxicated nomads wanting to check out the truck, went fishing and simply had an amazing time. We can't thank Dave and Jordie enough for not only giving us a ride, but giving us a great memory and forming a solid friendship that will no doubt last for life!
The Local Interactions
Ok, this isn't one particular experience, but we couldn't talk about all the great times we've had over the last two years without mentioning all the friendly, welcoming, generous local people we've had the pleasure of meeting. From being invited into people's houses for tea and food, to having people give us shelter, give us rides, help us in countless ways, teach, learn and inspire us. It really is the people you meet that make travel the most rewarding thing you can do in your life.
Wow, looking back we've definitely had an awesome few years on the road! And that wasn't even all the great memories. But now….
The Shittiest Experiences
And of course, it wasn't just all fun and games across Asia. We were actually really lucky in that for the last two years we never got food poisoning or became sick, were never robbed (except for Alesha having her iPhone stolen in a hostel in Vietnam by a backpacker), didn't get guns pointed in our faces (like we did in Guatemala and Mexico), no vicious animal attacks, no bed bugs, or other unfortunate circumstances. There were just times where we were put in shitty, stressful, scary or frustrating situations. There were a lot of things that we could have put in here, like our 92 hour cargo ship passage over the Caspian Sea, getting ripped off by vendors and long spells of crappy weather, but that is just a part of travel. But here is a small collection of some of our shittiest experiences over the last two years.
Bus Crash In Myanmar
Day 1 in Myanmar, we booked a tourist bus from the border to Yangon from the customs office. A kind-hearted Burmese man named Tommy picked us up in his private car instead and apologised, saying the bus was full, but he would drive us half way to catch another one. Awesome! After traversing the sketchy and dangerous mountain pass, we got to Hpa An, and Tommy put us in the most dilapidated bus we have ever seen. Less than one hour after leaving Hpa An, I was staring out the front windscreen when another bus came around a corner and drove straight into the front of us. Hard. Really hard. We came to a sudden halt, the noise was deafening and for a moment time stood still. My life didn't flash before my eyes, everything just went blank. When the debris had settled we checked ourselves and the people around us for injuries, then jumped out of the window in case the buses were on the brink of exploding. We helped carry women and children from the wreckage, and had to give first aid to the drivers. A few hours later the road was cleared, and we hitched another bus to Yangon. No fatalities, but one hell of a story.
Learn how to survive a bus crash!
Buying Train Tickets Anywhere In China
How the hell can something as straight forward as going to a train station and buying a ticket be such a clusterfuck? Well, go to any train station in China and you'll get to have the wonderful experience of being yelled at, punched, spat on, ignored by the ticket seller, have people push in front of you and other bouts of mass confusion, for hours and hours. We would literally set aside entire mornings/afternoons just to go buy a train ticket. Sometimes we would leave empty handed because no one wanted to help us. That's just how things go.
Our Mongolia / China Border Crossing – Part 1
"Leaving Khovd at 1200," actually meant, "We'll sit around drinking vodka until 1800," but we should have known that, as that's what happens every time you try to go anywhere by public transport in Mongolia. Luckily for us it was 725 degrees outside and we roasted in the sun all day waiting to hit the road. At least we wouldn't freeze to death. We arrived at the border town at midnight, but spent two hours driving around in the dark because two local ladies couldn't remember where there gers were. For real. Eventually the driver took us back to town at 2am, and we walked from hotel to hotel trying to find something in our budget. First one $40. Lady wouldn't budge on the price. Second one $30, complete with a collapsed ceiling in the bathroom, debris and asbestos coating everything and exposed electrical wires. Lady wouldn't negotiate with us. Finally we settled on the last hell hole of a hotel in town for $25. We walked in to see the police arresting a huge, drunken Mongolian for beating his wife. He talked himself out of it (better negotiating skills than us, I suppose), and we locked ourselves in the room, listening to the sweet lullaby of an intoxicated giant screaming and smashing things just outside our door until the sun came up. Good sleep? Yea, not really…
Our Mongolia / China Border Crossing – Part 2
The next morning our Mongolian border exit went relatively smooth. We entered China and found a local driver who offered to take us to Urumqi for the price we read online. Perfect! That was until he drove us into town and left us in his car while he drank tea with his friends for an hour. When I asked him what time we would go to Urumqi, he used his phone to translate "tomorrow". What the fuck do you mean tomorrow?? Cue a further hour of back-and-forth arguing and him doubling the price. We were now nowhere near the border, and there were no other drivers around.
He wouldn't let us get our bags out of his car, but when I threatened to smash his boot open, he agreed to leave straightaway. Then he drove us into the middle of an industrial zone to meet his "friend", who said he would take us for double the price. The men started ganging up on us, teasing us with "leave now", "leave tomorrow" and "pay more". We grabbed our bags and walked to the highway to hitch a ride. They followed, and every time a car pulled over they would push in front of us and tell the drivers to leave, not letting us go with anyone else. 15 minutes of this, and we had had enough. I screamed at them to leave us alone, and they both got in my face laughing and pushing me in the chest. Things looked like they were about to get violent. Luckily some cops drove past and Alesha flagged them down. The men scattered, and the cop drove us to a military checkpoint.
By now it was getting late and there were no more cars going to Urumqi. Randomly one of the dickhead drivers returned and the cop demanded he take us for the originally agreed price. With the officer's assurance that it was "safe" we jumped in. The man kept stopping every 500m making phone calls, then he pulled into a house for another hour to eat dinner. We had to keep telling him to drive and he would just laugh at us. Finally back on the road, he pulled over and a beast of a woman jumped in the front seat. They spent the next few hours mocking us, making phone calls and looking at us with evil eyes and pointing like they were going to rob us. I pulled my broken phone out and pretended to make my own calls, which freaked them out a bit. I grabbed my Leatherman and kept it in my hand in case they tried anything. When we finally pulled over at some traffic lights somewhere in Urumqi, ten hours after the ordeal started, we grabbed our bags and jumped out, throwing the agreed price on the seat so he wouldn't chase us. Alls well that ends well right? Welcome back to China.
Marshrutka Drivers In Tajikistan
Another transport story. See a pattern here? Taxi drivers can be ruthless in most countries, so we're used to it. But some of the drivers in Tajikistan were just plain twats, particularly in Khorog and Dushanbe. Dragging us from van to van, demanding ridiculous amounts of money, all ganging up when we refused to pay, saying that no one was going to "X" town, etc etc. Nothing unusual, and with patience and a smile we always figured something out (usually by getting shoved into the back of an overcrowded van for too high of a price). But it's pretty annoying knowing that just trying to get to the next town is going to take all morning for you to just agree on being ripped off.
Alesha's Hospital Visit In Yangshuo
While hiking in Hong Kong, Lesh picked up some kind of skin rash on her arms, chest and back. It just kept getting worse, and eventually we decided to go to a hospital in Yangshuo, China. Unlike smart people, it wasn't common sense that made us see a medical professional; It was the local touts at the bus station ruthlessly pointing and laughing at poor Lesh that convinced us to make the trip. The nurses gave her an IV drip of saline which proved to do SFA for the rash, but we got the wonderful experience of hanging out in a rural Chinese hospital, afraid that we'd get hepatitis from touching anything. Want to know what the inside of a rural hospital in China looks like? No, you don't.
The First And Last Days Of Our Tsaatan Horse Trek
While actually spending time with the Tsaatan people was nothing short of spectacular, the horse ride in and out was horrible. The lady we booked the tour with convinced us to not use the TCVC (which was recommended by guide books everywhere), spinning some lie about how they are funnelling money away from local people and it wasn't sustainable tourism. Long story short, we were dropped off with two horse guides (the lady's cousins) who had no people skills. We spent the first day following a road in hot and dusty steppe, despite being told we would be in the middle of pine forests, because the guides got lost. We couldn't find water for hours, and we did it was filthy (luckily we travel with a SteriPEN).
Our friends Dan and Christine bailed at the end of the first day due to a pre-existing injury which flared up from the crappy riding. The guides brought no food or water for themselves, even though the organiser said they would, so we were expected to cook for them. Their horses were scared of the reindeer and started losing their shit when we arrived – precisely the reason everyone says to go with the TCVC. The guides were awkward, lazy, and gave us no confidence that they even knew where to go. It was just a crap experience all around. Hot tip – Never book with Saraa from Saraa's Guesthouse in Moron, who spun lie after lie to us.
Crowds In China
It isn't exactly breaking news if we tell you that there is a lot of people in China. At last count, there is 1.4 billion people living in the nation. So crowds are to be expected when you visit popular sites there. But unfortunately the sheer number of Chinese people at the most beautiful places in the country is just depressing. Not so much because of how many of them there are, but because they are loud, pushy and disrespectful. National parks, public transport, temples, streets, no place is sacred. We witnessed old ladies being trampled, we were punched and elbowed so someone could push past us and overwhelmed every time we tried to find some seclusion. If you see a group of Chinese tourists, following a guide with a flag and a loudspeaker, run!
As you can see there were a lot of amazing things that we had the chance to experience over the last two years, and a hell of a lot more that didn't make it into this post. As for the shitty things, they weren't really that bad after all. Winning!
Thanks to everyone for following along on our adventures. We're nowhere near finished with our travels, and we have a lot of cool things planned for 2016 and beyond.
Happy travels 😀