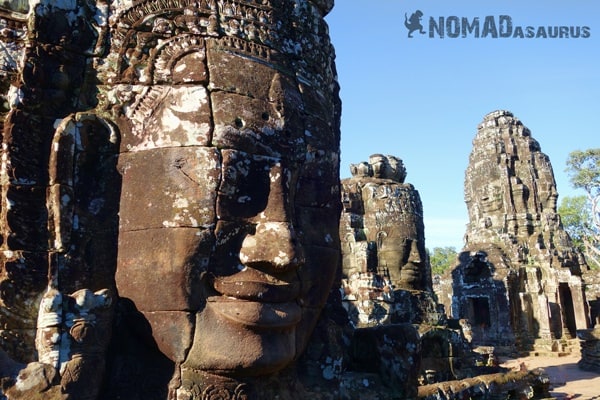 The sky lightened as dawn approached. The outline of the ancient temple in front of us became more defined and details in the structure could now be seen clearly. Despite the presence of hundreds of other people, the ambiance grew in awed silence. Sitting at the edge of the moat as the sun rose over Angkor Wat was an experience that I had envisioned in my mind countless times prior to finally arriving in Cambodia. Now that we were here, the idea of rushing through it seemed ludicrous.
Many people visit the city of Siem Reap with only a short amount of time to visit the inspiring UNESCO World Heritage Site, the temples of Angkor. For backpackers the cost of visiting Angkor Wat can be quite high. Most people settle on trying to fit in as many of the sights of Angkor in a single day, to either save time or money. While a few of the most famous temples can be visited in one, long day, to us this just seemed impractical. We opted for the three day pass to explore the time-honoured complex and felt that this was the perfect amount of time.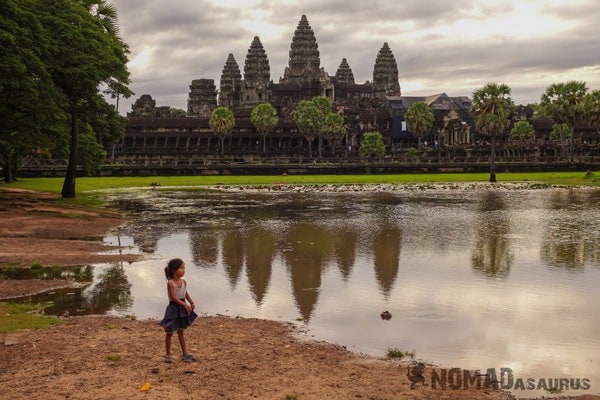 Angkor is one of the most important archaeological sites in all of Southeast Asia. At a size of over 400 square kilometres, Angkor used to be the centre of the Khmer Kingdom. Some of the oldest structures are now over 1000 years old. Today it receives over 2 million visitors every year.
Those that visit Siem Reap on a tight schedule usually only visit the more famous sights such as Angkor Wat, Angkor Thom, Bayon and Ta Prohm (featured in the Tomb Raider movie). If you get up for sunrise and stay out for sunset this is a massive and exhausting day. It is almost impossible (but yes you can!) to rent a scooter or motorbike in Siem Reap to explore the temples of Angkor, leaving most people to rent a tuk tuk, taxi or bicycle. To ride around the popular loop is 36.5km (and that doesn't include the ride out to the temples from Siem Reap). We were lucky that we already had our motorbikes with us, otherwise we would have rented a bicycle for around the main section and a tuk tuk for the other areas.
Why Is One Day Not Enough?
The weather in Siem Reap is hot. Ridiculously hot. In the winter temperatures will reach 30 degrees celsius. In summer this can be as high as 40. Riding around on a bicycle, climbing temples and walking around the vast complex can be very tiring.
Besides the weather and distances around Angkor, there are so many other temples in the region which deserve exploring. Many of these like Banteay Srey, those in the Rolous group and Beng Mealea are in outlying regions meaning you will need an additional day to visit them.
One of the most common things you will hear from people is that they are "templed out". We understand this concept, but don't agree with it. You may never get the opportunity to visit the temples of Angkor again, so why not make the most of it? If you are a young backpacker, chances are you haven't been "pubbed out" yet, so enjoy the temples while you can!
What it really comes down to is you will probably be tired from exploring as many of the temples in just one day. If you have the time, why not spread it out and enjoy the beautiful attraction over a few days?
How We Spent Three Days At Angkor
We broke up our days by rising early for sunrise on two of the three mornings, and staying out for sunset on two nights. During the hottest part of the day (between 11am and 2pm) we often returned back to our hostel, headed into town for lunch or found a shady temple with a breeze to just kick back and relax for a few hours.
Having the time to walk around each and every temple was nice, without having to constantly be looking at our watches. Knowing that if we enjoyed one particular temple for a while we could hang out an extra hour was an incredible luxury to have.
If you travel in the wrong season you may not get the clearest skies. It might also rain a lot which can really change your outlook of the incredible sight to become slightly negative. It would be a shame to only have one day and miss out on a beautiful sunrise, only to find out the next day was picture-perfect.
Need accommodation in Siep Reap? Book here through Agoda.com
The Temples – As Different As Night And Day
The iconic Angkor Wat is very different in the morning for sunrise compared to in the afternoon. Watching the sun break over the stone lotus flowers is something you must see if you are headed to Southeast Asia. Yet when you return later in the day the sun is beaming on its Western face meaning it takes on a whole new image bathed in light. It is also much quieter to walk around without the hordes of people.
Banteay Srey has some of the most intricate bas-relief carvings of any of the temples in Angkor and is worth a visit just for these. Be aware that this place is almost 40km north of Ankor Wat and will need its own separate afternoon or day.
Beng Mealea is 80km from Siem Reap and will need its own day to reach it if it is something that interests you.
Costs And Information To Visit Angkor
One Day Pass – $20
Three Day Pass – $40
Seven Day Pass – $60
The three day pass can be used on any three days over the course of a week. The seven day pass can be used over the course of a month.
Tuk Tuk Rental – $15-30, depending on negotiating skills, group size and language skill of the driver.
Bicycle Rental – $1-10, depending on quality of bicycle. Free from some accommodation.
Want a guided tour of Angkor Wat? Book here with Get Your Guide
[box type="info" size="large" style="rounded" border="full"]Have you visited the amazing temples of Angkor? Did you think one day was enough or did you spend more time exploring the ancient ruins?[/box]
Pin It For Later