Glaciated peaks soar high above the landscape, winding gravel roads meander through pine forests on the edges of great cliffs. Mountain passes up to 4700m lead you into the alpine plateaus of ancient Tibet. Villages locked in
a forgotten time exist in traditional Buddhist ideals. Yaks wander the roads freely with wild pigs scampering between their legs.
Sprawling Buddhist monasteries climb up the sides of mountains, flapping prayer flags strewn across the terrain. This is the world of the historic Tibetan Kham province.
The overland route between Shangri La and Chengdu is a journey unlike any other in South West China. Here is a chance to experience Tibetan life without expensive and difficult-to-attain permits.
A region where Buddhist monks can walk the streets in their flowing robes with far less fear of being prejudiced by the military. Maps still draw lines where the old border was, and this area is deeply inside it.
Even today the region can be closed without warning to foreign visitors if there is any protests or sensitive issues the government wants to hide. For all intents and purposes, this is Tibet, not China.
After the phenomenal trekking in Tiger Leaping Gorge, we decided to try and tackle this route, even though our timing would put us on the end of winter.
We had no idea if the roads would be open, and in the end it did end up snowing quite a lot during our time in Tibet. This did little to damper our intuitive minds as we explored the fascinating culture that comes in this gorgeous environment.

The Overland Route From Shangri La To Chengdu
The overland route from Shangri La to Chengdu will go on to be one of our favourite travel memories of China, we are sure.
The route we took can be shortened or lengthened, and obviously the more time spent in each place would allow you to truly experience the best that Tibetan Buddhism has to offer.
This really is the closest you can get to experience Tibetan culture in a free environment.
Ladakh is a great place to learn more even though it's in India, and the Tibetan Autonomous Region offers a great insight, even though it is heavily controlled and suppressed.
Honestly, if you want to visit Tibet, this is the route you need to do!
Shangri La (Zhongdian)
The town of Zhongdian was renamed to Shangri La in 2003 and marketed to be the fabled lost city from James Hilton's 1933 novel, 'Lost Horizon'. It is not the first city to claim to be Shangri La, and to be honest others have a better stake to the claim, but nevertheless we were quite impressed with this city.
Our first proper experience into the Tibetan culture, Shangri La is filled with captivating temples and monasteries, prayer flags flapping in the wind and well-dressed people smiling at every corner.
Home to the largest prayer wheel in the world (and it is BIG) at the Golden Temple, the city has a uniquely spiritual ambiance, which is obviously appreciated by the locals who try to capitalize on it with Buddhist trinkets for sale at every corner.
Unfortunately a huge fire in 2013 destroyed most of the old city, and as such many of the streets have been changed. It is easy to get lost here, as even locals have no idea where anything is anymore.
The Songzanlin Monastery is the biggest attraction in the area, and in our opinion ghastly overpriced. At 115RMB per person, this monastery even has its own visitor's centre – a dead giveaway that the authenticity would be lost.
Everywhere we looked were monks playing on iPhones, and at one temple we saw five monks counting literal mountains of cash.
The grounds are sprawling and somewhat beautiful, but if you are planning on going further into Tibet, give this one a miss. Instead check out the Chicken Temple up on a hill, and some of the stupas on the outskirts.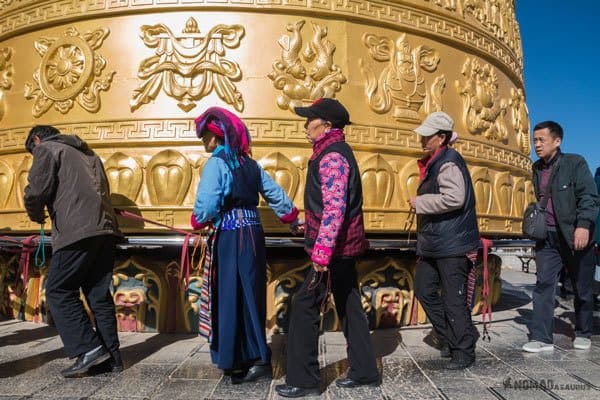 Where We Stayed
N's Kitchen And Guest House
We got hopelessly lost trying to find it on account of no locals knowing where anything is after the fire, but finally we got a hold of the owner and he came and met us. (For your information, it is across the road from the Dragon Cloud Guest House.) From then on it was a splendid experience.
The place is very comfortable and we felt like we were part of the family. It has a great location right in the centre of the old (now new) city, fantastic food and quality rooms. We would happily stay here again, and again, and again.
Double Room With Ensuite – 130RMB
Xiangcheng
We hate to judge towns on their first impressions, but that's what we did for this one. The drive in was absolutely sensational, but the town itself was just a dusty, concrete mess.
We were accosted by plenty of touts, hotel ladies who lured us into their buildings with the promise of cheap prices only then to announce once we agreed that the price was 'per person', and lots of people eyeing us off suspiciously.
We admittedly only stayed the one night due to this atmosphere, however we suspect there would be some beautiful hiking in the surrounding mountains.

Where We Stayed
*Chinese Characters* Hotel
Basic but clean, this hotel was everything we needed, and not a speckle more. There is a supermarket downstairs so you can stock up on supplies for the next part of the journey.
Twin Room With Ensuite – 100RMB
Shangri La To Xiangcheng Transport
Large bus – 105RMB (8.5 Hours)
Litang
Ah Litang – our favourite city along the trail. After the unfriendly ambiance of Xiangcheng, we immediately felt comfortable in the larger city. Sitting at 4000m and with a Tibetan population hovering around 80%, this felt like another world altogether.
Aged men wandered the streets spinning prayer wheels, well-dressed people greeted us with a chirpy 'tashi delek' (the Tibetan salutation) and despite the huge police presence in town, everyone seemed to wear a smile.
Of course the real situation would much more complex for the Tibetan residents who live there, but for us as tourists, Litang was gorgeous.
This is a place that has been steeped in important religious history for centuries. The 3rd Dalai Lama opened the Ganden Thubchen Choekhorling Monastery in 1580, which is a beautiful relic overlooking the town filled with studious lamas and monks.
The 7th Dalai Lama was born in a simple house downtown, and today you can visit the building by asking the friendly gatekeeper – an elderly lady who lives next door – to let you in (free of charge).
The Chorten Karpo on the West end of town is a fascinating place to spend hours witnessing and learning about Buddhist practices.
In the surrounding hills, traditional and sacred sky burials take place. If you are so inclined, it is possible to experience one if you are there on the right day.
Just keep in mind that this IS NOT A TOURIST ATTRACTION. You have absolutely zero rights to be there. However if you are invited or welcomed to one by a local, show the utmost respect, take no photos of the ceremony (even if they say it is ok) and stand politely back unless told otherwise.
This is their ancient cultural ritual. Respect it in every way.

Where We Stayed
Peace Guest House
Run by the gregarious 'Longlife' who speaks excellent English, the Peace Guest House is like a home-away-from-home. Sitting around the living room-cum-café drinking fresh tea with Longlife's family is a memorable experience. He has two buildings, one brand new, and great Western-style facilities in the private rooms.
Private room with ensuite – 120RMB
Xiangcheng To Litang Transport
Large Bus – 71RMB (4.5 Hours)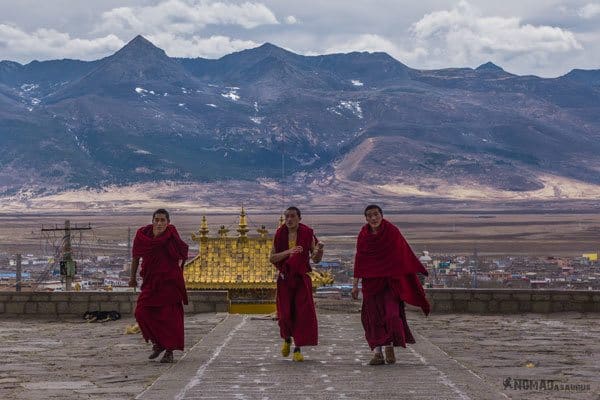 Ganzi
Ganzi is the capital of the Ganzi Prefecture and as such is a lot busier than many of the other places along the route. Still it is not without its charms, and the markets are a wonderfully entertaining place to spend an hour or two.
The Han Temple deserves a decent amount of time exploring, but the highlight is the Garze Monastery on the outskirts of town.
This rambling institution has some captivating murals painted on the walls, and there are plenty of opportunities to meet and spend some time with the monks who live there (don't expect any to speak English).

Where We Stayed
Mount Everest Hotel
We stayed here the second night in Ganzi, and it was a far better option than our first night. The room was cleaner, the bathroom had a Western style toilet and the wifi worked fine.
Walk across the road from the bus station towards the "Authorised For Foreigners" Hotel and turn right. You will see the Mount Everest Hotel about 50m down the road on your left.
Twin Room With Ensuite – 100RMB (We had to negotiate this)
"Authorised For Foreigners" Hotel
We don't know the actual name, but this place is directly across from the bus station. It has a sign in English that says "Authorised For Foreigners". Pretty straight forward. It was basic, had hot water and (sporadic) wifi.
Twin Room With Ensuite – 100RMB

Litang To Ganzi Transport
Minibus – 100RMB (estimated)
Darjay Gompa
One of the largest monasteries in the whole area, the Darjay Gompa is set in stunning surroundings with snowcapped peaks all around, scatterings of temples dotted on the hills and a natural hot spring you can bathe in.
Scores of young novice monks run around and play games such as ping pong and basketball when they are not in class, and all the elder monks are friendly and welcoming.
Where We Stayed
Talam Khang Guest House
Run by three monks who speak very basic English, this simple guest house is about a 15 minute walk behind the monastery, and offers a unique accommodation option for those who wish to get out of the bigger towns you normally have to stay in.
This is a delightful chance to spend some time with the Buddhist monks and learn more about their culture. If you can, bring a Tibetan phrasebook as they don't speak Chinese.
Set around a large courtyard, you have options of either sleeping in a dorm, a private room or camping on the grounds. The monks can provide three basic meals if you would like, at the cost of 50RMB.
Feel like a laugh? Read about how Jazza shat his pants in this monastery.
Camping – 30RMB
Dorm – 40RMB
Single Room – 100RMB
Double Room – 200RMB
How To Get To Darjay Gompa
From downtown Ganzi, opposite the Hong Fu Guest House, you can get a shared taxi for 10RMB to the Darjay Gompa.
Tagong
Tagong is a dusty town that itself doesn't have a lot going for it, but in the outlying grasslands are jewels of spectacular fashion.
Tibetan nomads wander the plateaus on horseback and motorbikes, the Lhagong Monastery stands tall at the base of an imposing mountain and the neighbouring village is quaint and has a nunnery you can stay in.
Horse riding and trekking are all viable options to spend your days in Tagong, and can be organised through Khampa Café*.
*Note – We did not do any activities through Khampa Café as the prices suddenly went up by 50% when we inquired about them (120RMB per person for a night with 'nomads', including dinner and breakfast).
Angela the owner, who supposedly receives rave reviews, was very vague and unconvincing about the tours and couldn't explain the expensive rise in cost. She also came across as very unfriendly.
We asked if the money all went to the nomads you stay with and they said yes, and then announced proudly that the nomads were all Angela's husband's family. The whole thing smacked of a money grab, so we decided to skip it.
However Max, the other owner of the café, is a lovely man and we ended up spending hours drinking tea and chatting with him. They have rooms for 100RMB (very basic with shared squat toilet – no running water at all in Winter).

Where We Stayed
Iya Drolma and Gayla's Guest House
Basic yet traditional Tibetan-style guest house run by an affable and welcoming family.
Twin Room With Shared Bathroom – 60RMB (no running water in winter).
Ganzi To Tagong Transport
Minibus – 120RMB (estimated)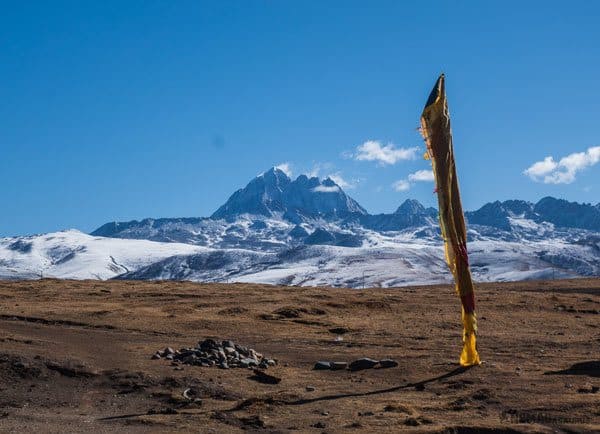 Danba
Danba usually acts as an alternative point-of-entry into the Kham province for most people from Chengdu instead of Kangding. For us, we decided to visit Danba to check out Jiaju, the Tibetan village 7km outside of town, and the famous watch towers further down the river.
Town itself wasn't overly impressive, and the mighty river is being dredged to make way for more hydroelectric dams.
The Tibetan village was pleasant, with a tremendous view over the valley, which reminded us a bit of Tiger Leaping Gorge. It didn't feel very authentic, but was still worth the time to get out there.
*Note – We hitch hiked our way out there as all the taxi drivers in town were trying to scam us (and Chinese tourists) by charging a fortune, or offering a free ride if you buy your entrance ticket from them.
Surprise surprise, the entrance tickets are fake. We pointed this out to one Chinese student who fell for the scam and never checked the actual date on the ticket (April 2014).
It took a little while, but we got a lift up the hill. Our ride even drove straight through the gate without stopping, meaning we never paid for our entrance ticket.

Where We Stayed
Zhaxizhoukang Hostel
This Hostelling International-associated accommodation was nice with a cheerful English-speaking manager. It is located about a 25 minute walk from the bus station. Make sure you eat some food upstairs, across the road – delicious!
Twin Room With Ensuite – 100RMB
Tagong To Danba Transport
Minibuses – Unsure of price, shouldn't take more than 3 hours.
Kangding
We just used Kangding as a stopover on the way to Chengdu, so can't really comment on the highlights or lowlights of the town.
We went for a big walk and found the city to be…underwhelming…however some of the hikes and trekking in the surrounding landscape are meant to be magnificent.
Perhaps if this is your first stopover after leaving Chengdu, you will be impressed on a greater scale, but having come from some of the best scenery in Western Sichuan we weren't jumping through our skin to get out there.

Where We Stayed
We were cornered by a friendly lady who offered us a place to stay in a nondescript, unappealing building. We gave it a shot and were pleasantly surprised at the quality of the room itself.
Basic, but it had TV with English channels, a sensational view of the neighbour's concrete wall and a kettle. A tiny but functioning bathroom with squat toilet and hot water with so much pressure it almost blew holes in our skin. Still, we were happy.
Twin Room With Ensuite – 80RMB
Chengdu
It had been almost a month since we were in a proper city, the last being Kangding, and were almost giddy with excitement, although perhaps that was just because we knew we would see pandas.
Chengdu was a lot cleaner and more modern than we had expected, and despite having a population of 14 million, it didn't seem overrun with people.
We happily spent 3 days there, although a couple of extra days probably wouldn't have hurt. With more time we could would have looked at doing some Chengdu tours, or heading off to some of the smaller villages around the city.
Read about what we did in Chengdu.
Where We Stayed
Mix Hostel
We had seen signs and brochures for Mix Hostel everywhere in Yunnan and Sichuan, and seeing as it was going to be Jazza's birthday, we decided to give it a go.
It was one of the nicest hostels we have stayed in. A great atmosphere, basic but clean rooms, impeccable shared bathrooms and the most reasonably priced bar and restaurant we have ever seen in a backpacker's hostel.
$2-3 for a massive and scrumptious meal, $1 for a large beer, a free hotpot the night we had arrived and the best staff of anywhere we had been in China.
Only thing letting it down was the painfully slow wifi and the mediocre free breakfast of two slices of white bread and instant coffee. But then again it is free, so who are we to complain?
Twin Room With A/C And Shared Bathroom – 98RMB
Kangding To Chengdu Transport
Large Bus – 130RMB (estimated)
Other Towns To Visit
Dege
Literally the last town you can get to before you cross the border into Tibet proper, this town is famous for having the Dege Buddhist Scriptures Printing House. A beautiful traditional temple houses 140'000 printing blocks, a huge collection of cultural relics and a library.
Yading Nature Reserve
Unfortunately for us there was reportedly just too much snow to make trekking the famous 'kora' around one of the peaks possible. However Yading Nature Reserve is meant to be one of the most beautiful parks in the entire region. To get there head to Daocheng first, and then onwards.
Sertar
A huge Tibetan monastery lies in the hills above Sertar, which is the home of around 40'000 monks, lamas, nuns and Buddhist students. Larung Gar sounds like a magical place, and we are bummed we didn't find out about it soon.
Public Transport
Buses ply the routes between all towns. The road conditions range from perfectly paved to teeth-chattering gravel quagmires. Often times the edges of the road are not barricaded, with steep cliffs tumbling down the sides.
On more than one occasion we would close our eyes and pray that the driver wouldn't careen us to our deaths. Luckily the dazzling scenery kept our minds off of our impeding doom.
There are no night buses, so your days will mostly be taken up with staring out the window of a bus. For your best chance at getting a ticket, buy one the day before you wish to depart.
There are also hundreds of minivan drivers willing to take you anywhere you want (don't worry about looking for them, they will find you), should the buses be full.
Hitchhiking The Route
We did a fair bit of hitchhiking in this area, with varied success, with the longest distance being about 200km. You are unlikely to be left stranded anywhere, as there are plenty of trucks and private cars on the roads.
The varying success we had came from people who would ask for money to take us where we wanted to go. This didn't happen all the time, and most people did not expect anything in exchange for a ride, but it did happen occasionally.
On some of the more popular routes, such as Ganzi to Darjay Gompa for example, private taxis routinely charge 10RMB per person. Therefore locals charge the same.
No matter how many times we tried to explain with our phrasebook, "free ride" or "no charge", they would not listen. We even had a monk give us a ride, only to ask for the same amount of money as the bus when we got to our destination, despite agreeing to 'no money' when we first set off.
Be very firm about whether you are willing to pay money before agreeing to a ride.