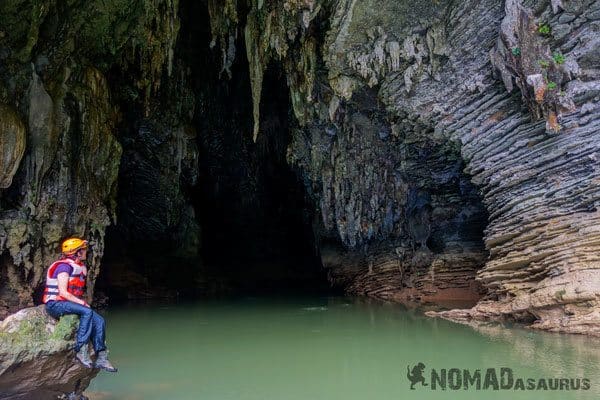 Phong Nha-Ke Bang National Park in Central Vietnam is graced with of some of the most spectacular karst mountains in all of South East Asia. Amongst the jungle and limestone more than 300 caverns lay hidden between the stones. For the last few years the area has become an internationally-renowned haven for cave specialists and adventurists. Ever since the discovery of the world's largest cave, Hang Son Doong (which translates as River Mountain Cave), the region has seen a steady influx of tourists who wish to experience the thrill of drifting through the biggest underground chambers on the planet.
The tour operator that has been given the business of opening up this imposing world to the masses is the Vietnamese company, Oxalis. Established in 2011 and based in Phong Nha, Oxalis has the exclusive rights to provide tours to Hang Son Doong, as well as to the Tu Lan cave systems just outside the national park. Safety, conservation and sustainability is their primary concerns, which in such a dangerous and precious environment is incredibly important.
The Quang Binh province, in which Phong Nha-Ke Bang National Park is located, is one of the poorest regions in all of Vietnam. In a country where approximately 70% of the population are low-paid farmers, unfortunately more than 90% of the people in Quang Binh work in the fields and in the jungle, constantly struggling to better their family's lives. When a new venture comes along which provides new opportunities to communities the rewards can be astounding, if done properly.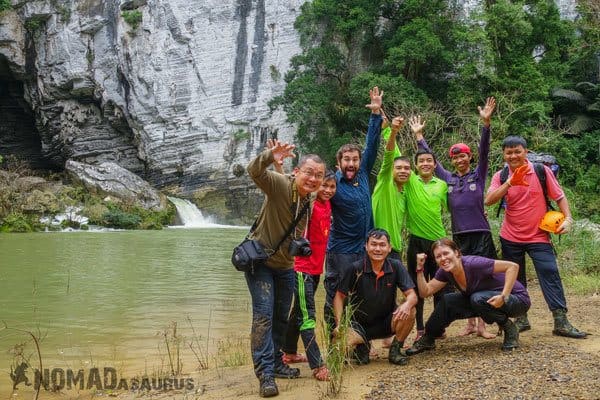 Oxalis currently hires over 150 chefs, guides and porters from the town of Phong Nha, and the local ethnic minority villages surrounding it. This has provided a massive boost into the local economy and given fresh chances to the youth of the area to improve their living conditions.
Much has been written about the grandeur and enormity of the cave systems in Phong Nha. With companies such as National Geographic, the Discovery Channel and BBC showcasing the natural splendour throughout the UNESCO World Heritage Site, it can be easy to forget that without the staff at the ground level, us inexperienced and unlicenced adventurers would be unable to visit these wonders. It is impossible to trek to these sights independently, so the use of such tour operators and guides is not only necessary, but far safer.
From Tan Hoa To Tu Lan – The Staff That Made It Happen
Lesh and I were lucky enough to be able to take part in Oxalis' two day expedition to the Tu Lan cave system, close to the local ethnic minority village of Tan Hoa. While the tour proved to be one of the most captivating and enthralling activities we have taken part in, it was the guide, chef and porters that truly made this an unforgettable experience. In our experiences it is the people that truly create lasting memories and this was no exception.
We'd like to introduce you to Dzung, Toan, Lin and Hieu who led us on our two day adventure to the Tu Lan caves, and brought us back safely.
Dzung – 24
Our knowledgeable, affable and meticulously careful guide grew up in Northern Vietnam, but has been living in the Quang Binh province for the last 6 years. Having studied English at Quang Binh university in Dong Hoi, he returned to Phong Nha and managed to land himself a job as a guide at the immensely popular and impressive Paradise Cave. In 2013, after only two months in his new role he had a chance meeting with Howard Limbert, the leading caving expert for Vietnam (along with his wife, Deb) and the technical advisor for Oxalis. After being encouraged by Howard to send in his CV, Dzung finally did after a week of contemplation. Another week later he received the phone call offering him a job as a guide for Oxalis.
Although his English skills are already excellent, he has a strong desire to continue his language development. Dzung guides for both the Tu Lan and Hang Son Doong expeditions. He lives in Phong Nha town, has a beautiful girlfriend and has not lost his passion for cave exploration. When not working you can find him drinking coffee with this friends in Phong Nha and Tan Hoa.
Toan – 24
We met Toan when we first arrived in Tan Hoa village, the night before our trek. Despite our inability to communicate with spoken word, Lesh and I immediately felt a connection with him. A bright smile, soothing laugh and calm manner came with his primary job role as the chef on our tour. Before being employed with Oxalis, which he has been for about year, he used to work as a fisherman and a farmer with his family. A Tan Hoa local, he knows the area very well and loves being out in the jungle. He is an expert with a fishing rod.
Toan is married to his gorgeous wife who is now pregnant and they are expecting a child soon. Besides cooking some of the most delicious food you could ever taste, Toan is also a talented singer. He is currently learning English while teaching the secrets of his culinary delights to the other porters.
Lin – 27
The oldest porter in our group, Lin is a native of the Tan Hoa village. He has been working with Oxalis since the beginning of 2014 and is extremely grateful for this new opportunity he has been given with them. Previously working as a farmer and fisherman, he now accompanies tour groups to the Tu Lan cave systems with his gregarious personality and excellent wilderness knowledge. Taking the time to ensure every guest is comfortable and having an enjoyable experience, he is a welcome addition to the team.
Lin is happily married with two very handsome sons. He still loves to go fishing every chance he gets and is one of the most sociable characters you could meet. If you get the chance to spend any time with him when he is not working, you will no doubt end up sharing a laugh and more than a few drinks of local rice wine with him.
Hieu – 21
Small in size but with a massive heart, Hieu is fast-learning and motivated porter for Oxalis. Hailing from the Tan Hoa village he has been with the adventure company for about a year. From his previous life as a farmer and fisherman he has developed extensive skills that can be applied to his new job, despite his young age. With a keen fascination in taking on new responsibilities and personally engaging with the customers, he is not going to let his huge potential go to waste.
Hieu is currently learning English and cooking skills to further his position with Oxalis. He is still an avid fisherman and spends his spare time socialising, studying and winning people over with his heart-warming smile and humorous jokes.