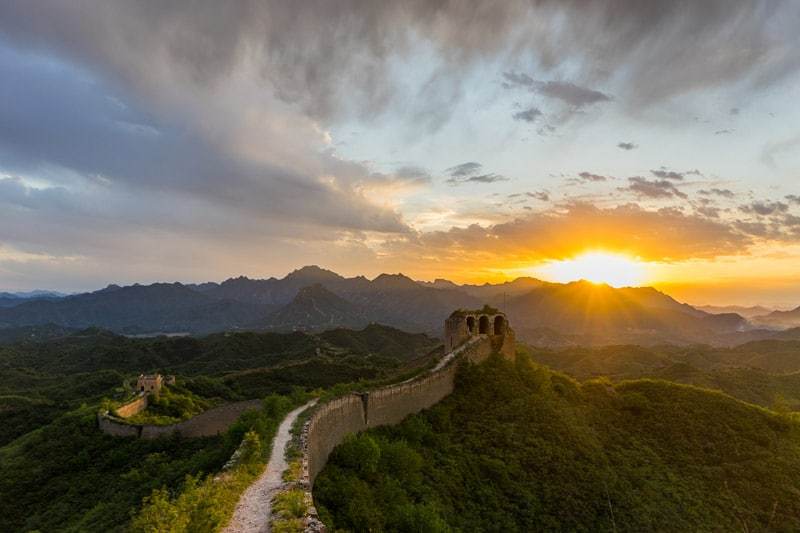 Snaking its way across the Chinese countryside, the Great Wall stood before us, iconic and in a state of disrepair.
Only the sounds of birds accompanied the kaleidoscope of shimmering rays that beam their way across the evening sky.
Even though we found ourselves at the nation's most spectacular attraction, we were completely alone. Seldom have we been so in awe of our good fortune.
With the sun setting and the historic barrier glowing, we were realising our dream of camping on the Great Wall of China
On our very first day in China we Couchsurfed with an American couple in the city of Kunming. Sasha and Rachel from the amazing blog The Grateful Gypsies welcomed us into their home and gave us a wonderful first introduction to China.
Over the following few days we shared stories and advice, laughed and joked and formed a great friendship. One evening they mentioned to us that one of their ultimate highlights of living over five years in the country was camping on the Great Wall of China.
Our mouths dropped. We didn't even know that this was possible! In a matter of moments we formed our very first (and suddenly most important) goal for China – Camp on the Great Wall!
Fast forward three months, and we were bouncing along a winding road towards the Gubeikou section of the Great Wall. Our dreams were soon about to become a reality and we couldn't be more excited.
Armed with directions from Rachel and Sasha we were edging closer to the epic symbol of China.
Some things don't live up to expectations, and some things surpass them. Tiger Leaping Gorge was great, but Lijiang sucked, for example.
One of the few problems of living a life on the road is that it gets harder and harder to be impressed. In this case, camping on the Great Wall of China was better than we ever could have imagined. Armed with some snacks, our tent, sleeping gear and a bottle of rice wine, we set off from Beijing.
There are many different areas you can visit on the Great Wall of China. The Badaling section, with its restored façade and built-up tourist infrastructure, is by far the most popular.
This also means it is the busiest, and a place that we desperately wanted to avoid. We opted for the Gubeikou section, which was the same part our friends visited. It proved to be a wise choice.
How To Get To The Gubeikou Section Of The Great Wall
We followed the advice of our good friends Sasha and Rachel and headed to the Gubeikou (古北口) section of the Great Wall of China to experience our camping adventure.
Getting there isn't exactly hard, but it does take time. From leaving Beijing to arriving at the Great Wall took us about four hours on public transport. Costs are cheaper if you have a metro card.
First head to the Dongzhimen (东直门枢纽站) transport station in Beijing. If you are taking the subway, it is on Line 2 and Line 13. Once you are there walk to the bus station and look for bus 980 heading to Miyun (密云) The cost is 15RMB and will take around two hours.
Ask the driver to drop you off at the Drum Tower (密云古楼). When you get off try and find a nice local to point you towards the local bus station where you can head to Gubeikou. It is just around the corner from the Drum Tower, so won't take too long to walk.
Bus number 25 is the one that goes to Gubeikou. It will take about one and a half hours and cost 13RMB (give or take a few yuan).
The driver will likely know where to drop you off at, but if not just tell him you want to go to the Great Wall (长城) and he will stop at the entrance gate. You will start to see the Great Wall before you get there, so you will know you are close.
Once at the entrance gate, pay the fee (25RMB when we went in June 2015) and then walk through the village. This 'ancient village' is being renovated for tourism, so expect it to be quite a tragic place in a few years when Gubeikou becomes popular. For now it is empty. There are a few restaurants and guest houses through here should you want to stop off for a meal.
Follow the signs to the Great Wall. It is straightforward, but if you do get lost some of the locals will point you in the right direction.
Camping On The Great Wall Of China
When you follow the signs along the pathway and finally arrive at the Great Wall of China, you will have two options – head left or head right. We chose to turn right.
Climbing a set of stairs to get onto the actual wall we wandered along the top for about two hours, loving the views at every step. One of the first watch towers we reached had a new tiled floor, offering a decent place to throw our tent up and call a base.
While you weave between cracks and holes and examine the ancient watch towers, be careful not to trip and fall.
As the Gubeikou section is unrestored it can be a bit dangerous if you don't watch your footing. While the landscape is marvellous from every corner, it is the high points that offer views that will stay with you for a lifetime.
At one point the top of the wall is barricaded and the path leads back down onto the ground. Our friends had told us that if you follow this path you will eventually reach another busier section of the Great Wall.
We weren't interested in this, and instead headed back to the tiled watch tower. With no one around we pitched our tent and cracked open the bottle of rice wine.
Hours passed and we didn't see a single soul. We were slightly on edge in case a ranger or police officer arrived and forced us back into the village. But we needn't have worried.
As the sun started to set we saw the odd farmer returning to his pastures far below, but no one came anywhere near us.
Nightfall came and with no more rice wine left to drink, we called it a night.
Waking at sunrise the views were equally astonishing, but the clouds had crept over and obstructed the morning light. We hiked around in the brisk and cool air for an hour and then went back to sleep.
At 10am we rose, still with no one around. We packed our campsite up and headed back to the village. Still no one seemed to care that we had slept on the Great Wall.
Reaching the road we waiting for 20 minutes or so before a shared mini-van offered to give us a ride into Miyun for 15RMB. Rather than wait around for the bus we took him up on his offer.
Tips and Advice
It is best to have your own tent and sleeping bag. If you do not have any there are a few companies in Beijing who rent them out.
Bring enough food and water from Beijing to get you through the day and night, as outside of the Gubeikou village there are no shops to buy anything.
If you do camp on the Great Wall of China, make sure you take all your trash back with you. There are bins in the village.
Pin It For Later?