Floating on a gentle breeze high above the fairy chimneys, Alesha and I stared out at the vanishing horizon. The sky glowed in a bright array of golden hues as the sun began to peak over the edge of the earth. It was soothingly quiet, with the only sound being the occasional roar of the burner in our basket. The staggering beauty of Central Turkey was only made more incredible by seeing it from above, flying in a hot air balloon in Cappadocia. Our pilot Hakan leaned over to us with a smile on his face. "Are you two liking the ride?" All we could do was nod in disbelief. The experience had left us speechless.
The desire to fly has been ingrained into the human psyche for time immemorial. Birds soar gracefully above the earth while we stare longingly from the surface. There is something mesmerising about floating through the skies, appreciating the magnificence of this world from a higher vantage point. This desire has led mankind to experiment with different methods to give us flight. From airplanes to blimps, helicopters to hot air balloons, anything that would allow us to reach for the heavens has been tried and tested.
As we crossed the border into Turkey and moved closer to Europe on our overland adventure, we began to dream about different experiences we wanted to have. Turkey is a fascinating nation, both geographically and historically. Countless empires have dominated and traversed this diverse country over the millennia, and much as been written about its impeccable landscapes. Mountains, desert and forest can be found throughout the ancient Ottoman Empire, but nowhere is as unique as the volcanic terrain of Cappadocia.
Over the last few years hot air ballooning in Cappadocia has become the ultimate activity for all of Turkey. Almost every traveller's itinerary will include Istanbul and Cappadocia, with everything else being an offshoot of these two main destinations. For us it would be no different. We love getting off-the-beaten-path and finding unique adventures everywhere we go, but to us floating in a hot air balloon in Goreme was synonymous with Turkey. There was no way we were going to miss out on this once-in-a-lifetime experience.
We had organised our hot air ballon ride with Voyager Balloons, one of the safest and most popular operators in all of Cappadocia. When the morning finally came to take to the skies, our excitement levels were peaking.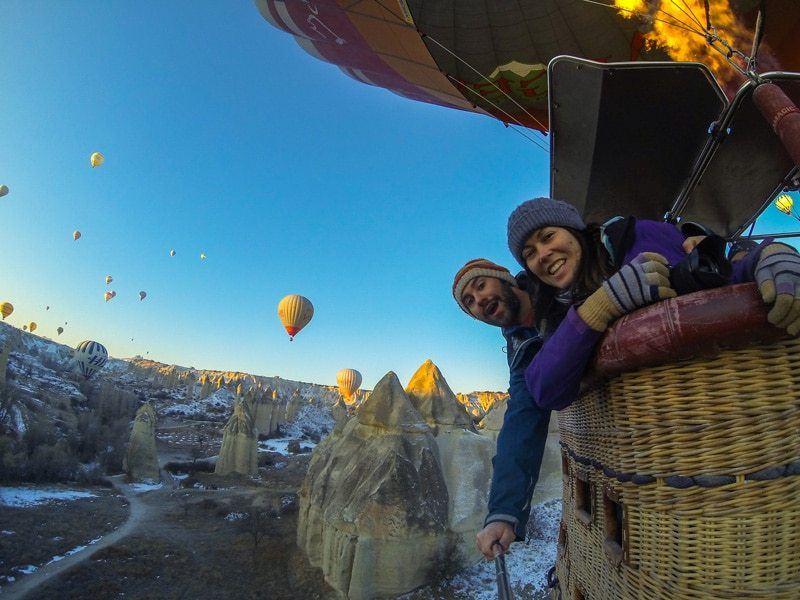 It was still completely dark when we were picked up from our accommodation at 5.20 in the morning, but we could see stars in the night sky. A good sign! The early hour did not matter though; we were completely awake and raring to go! It was only a short ride to Voyager Balloon's office, where we were introduced to the welcoming staff and offered a buffet breakfast. Sipping on coffee and snacking on fresh olives we met a wonderful Indian couple who were on a very short work vacation. They had chosen Cappadocia for the hot air balloon experience, and were just as excited as we were.
One of the managers came and gave us a briefing of how things would work. He stressed that everything was weather-dependent, and if there was any chance of unsafe conditions or high winds, we would not fly. While it was not what we wanted to hear, it did help remind us that Voyager Balloons put safety as their highest priority. Luckily we did not have to wait long for the good news. Only a few minutes later the FAA had sent out the all-clear – we were going to fly!
Everything happened very quickly then, as when a weather window opens up you have to take immediate advantage of it. We left half our coffees sitting on the table and ran out to a waiting Land Cruiser. Soon we were humming down the road with the sky beginning to lighten. We dropped off our Indian friends at one balloon, wished them an incredible flight, and zoomed off to find our own hot air balloon.
It felt like an eternity, but soon we pulled up in a field, with our hot air balloon being inflated by the expert ground crew. We quickly snapped some photos and watched the balloon take shape. Being held down with ropes the balloon then floated upright, standing the basket into the correct position. We gathered around while the ground crew did their safety checks, and then gave us the all clear to jump in. 15 people, including our pilot Hakan, stood in the basket, eagerly waiting to take off. Hakan gave our group a safety briefing, taught us the 'landing position', and then fired up his burners.
Take To The Skies In A Hot Air Balloon
Like a feather in the breeze, we lifted into the air in a gentle ascent. As Hakan held the burners on we climbed faster and faster, beginning to drift to the North in the light wind. It was a calming experience, and magical in its execution.
Everyone in the basket let out shrills of glee, and cameras went ballistic. We crept higher and eventually maxed out at 600m above the earth. The day got brighter and the sun's rays began to branch out across the sky. All around us other balloons bounced majestically against the striking backdrop.
"In the middle of summer there is almost 150 balloons in the air," Hakan called out from his central position under the burners. "Today there is maybe 50." With a canvas as large as this, 150 balloons would still not look crowded.
We began to descend, and Alesha and I feared our journey was now coming to an end much quicker than anticipated. We looked at the terrain below and couldn't see anywhere to land. Suddenly we were in the middle of a jagged gorge, with towering formations like stalagmites all around us. Hakan put some intense bursts of hot air into the balloon, and we started to level out, drifting only metres from the stone pinnacles. "Welcome to Love Valley," Hakan smiled, and expertly guided us through the labyrinth.
Of the 50 or so balloons in the air, only 5 had made it into the crevices of Love Valley. Even though conditions were perfect for this narrow traverse, most of the pilots from other companies were just not experienced enough to enter the gorge. At this point we knew we were flying with real professionals. Meandering through the tapered valley, sometimes with only a body-length between the basket and the rocks below, was something we will never forget.
Hakan sent us rising in unison with the sun, and we managed to get out of Love Valley just in time to see the flaming orb peak its head over the horizon. Everyone on board went silent, and we simple stared in awe at this captivating scene.
With the sun now on our faces and illuminating Cappadocia below us, we drifted for another 10 minutes in serenity. When our hour flight came to an end, it was time to head back to earth. Hakan constantly manned the radio, directing the ground crew where to collect us. They sped around in a 4×4 with connected trailer and Hakan pointed to a patch of grass by the side of the road, indicating for them to park. Like an expert snooker player potting the black ball, he then managed to guide the balloon straight onto the trailer with barely a bump. Never have I seen such precision with something so immense.
The hot air balloon ride was over, but we couldn't wipe the smiles off of our faces. The ground crew set up a table and poured us glasses of champagne to celebrate our successful flight. I still remember the look of disbelief on Alesha's face – it was one of the best travel experiences of our lives. For all the adventurous travel we have accomplished over the years, we never would have thought something as simple as floating in a hot air balloon would be so incredible. Yet here we were, safely back on the ground, beaming with happiness.
They say taking a hot air balloon ride in Cappadocia is a once-in-a-lifetime experience, something for the bucket list. But we know that we will be back one day, and that our first port of call will be to the Voyager Balloon office to take flight above the fairy chimneys, and into our dreams, once again.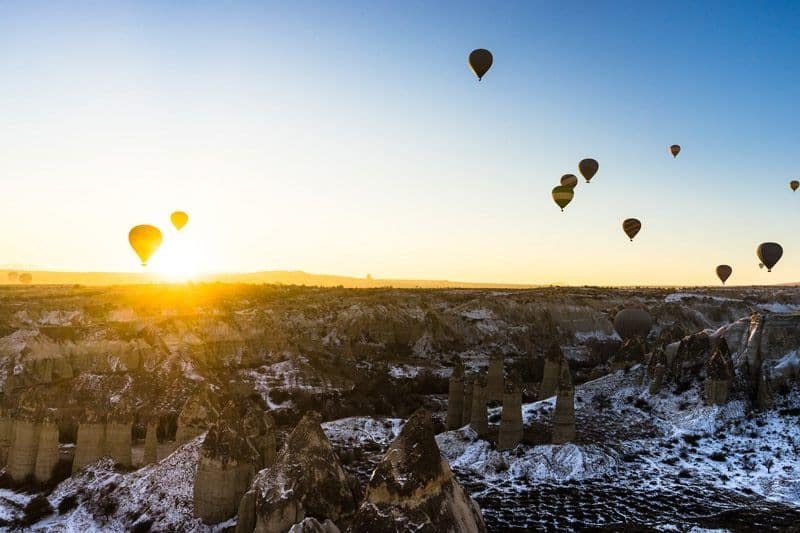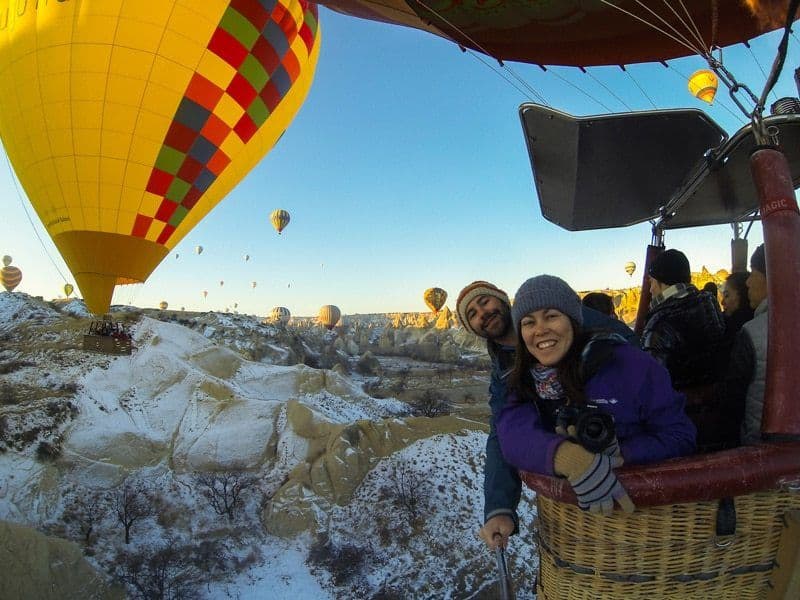 Got extra time in Cappadocia? Book some other tours through Get You Guide.
Where To Stay In Goreme
While Nevşehir is the main transport capital for the province, the mid-sized village of Goreme is the base for hot air balloon adventures and it has a lot of great accommodation options. But if you are coming to the region then you absolutely have to stay in an iconic cave hotel! Carved into the porous rocks the region is famous for, these man-made dwellings have been used for centuries. Today they still exist in the various valleys and towns around the area,, but Goreme has the biggest collection that have been converted into hotels. It might not be the cheapest option, but it is worth splashing out for for this unique experience. How often can you say you have slept in a cave?
Check out different accommodation options in Goreme on Agoda and Booking.com. Keep reading to find out where we stayed and recommend.
We actually stayed in two different cave hotels in Cappadocia, the Imperial Cave Hotel in Goreme and the Kale Konak Cave Hotel in Uchisar. In this article we are going to talk about where to stay in Goreme. Keep an eye out for our full review on Kale Konak soon.
Imperial Cave Hotel
In Goreme we stayed at the fabulous Imperial Cave Hotel. Spread out over two properties, the hotel has a mix of suites and cave rooms, and is a wonderful place to rest your head in the evenings.
Run by local legend Teyfik, the Imperial Cave Hotel is in a perfect location. Only a short walk from the centre of Goreme where all the best restaurants and cafes are, it is just far enough away to be quiet and secluded as well. Every morning a delicious Turkish breakfast is included, with bread, olives, cheeses, eggs, pastries and all the coffee, tea and fruit juice you would like. The smiling staff are always on call to help out with any queries you may have, or top up your apple tea.
But for us the real highlight was our room. Dug into the stone, our cave hotel was actually spread over two floors! The bed was downstairs in a cosy alcove, while the upstairs area had a couch, table and chairs forming a sitting area, as well having a full minibar and coffee station. We have to be completely honest and say that having a space this unique and comfortable made it real hard to leave the cave every day.
The bathroom was as luxurious as anything we have ever seen. Stylish and clean, we even had our very own sauna! Perfect for those cold nights in Cappadocia during the winter!
It really was hard to fault the Imperial Cave Hotel, and it ranks highly as the best accommodation in Goreme. They are currently doing some renovations to increase occupancy (but don't worry, the noise doesn't affect the sound proof rooms), so expect an even bigger selection in the near future.
Book your accommodation at Imperial Cave Hotel on Agoda.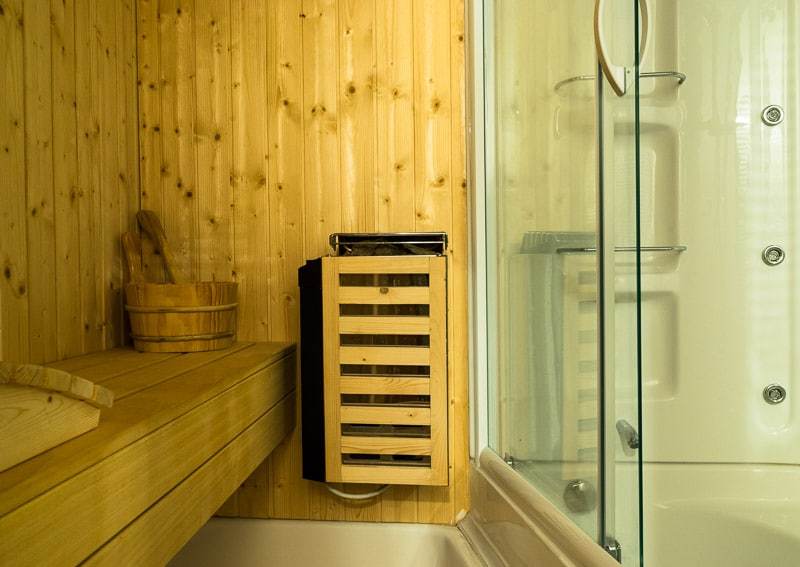 [box type="info" size="large" style="rounded" border="full"]Our hot air balloon ride was made possible with the kind support of Voyager Balloons. Imperial Cave Hotel covered our accommodation in Goreme. As usual all thoughts and opinions are our own. [/box]
Save this Pin for later?