The perfect guide to the best Port Stephens beaches, with tips on where to stay and what to do.
On our most recent trip to Port Stephens, the gorgeous coastal region just 2.5 hours north of Sydney, we spent 4 magical days exploring all the top attractions, activities, and of course, the beaches!
We've always known Australia had some of the most beautiful beaches in the world, from Jervis Bay to Esperance, Broome to Tasmania, and everywhere in between. Yet Port Stephens had never really been on our radar before.
We're glad that's changed though, and if you're trying to figure out where to go in Port Stephens for a bit of beach time and chill out in the water, this article is for you.
READ MORE: Check out our list of the top Port Stephens attractions and activities!
The Best Beaches in Port Stephens
Here's our list of the best beaches in Nelson Bay, Port Stephens and the surrounding region.
Wreck Beach
Zenith Beach was the first one we visited on our trip to Port Stephens, and it was so good we went back twice!
Tucked away at the end of a short track in the Tomaree National Park, Wreck Beach is a spectacular sight, with huge headlands flanking either side, with views of Mount Tomaree in the distance.
The surf can get pretty gnarly here, currents are strong and it's unpatrolled so swimming is not recommended here.
Wreck Beach is a gorgeous spot to watch either sunrise or sunset in Port Stephens. If you're feeling up to it, hike a bit further south until you get to Box Beach, another excellent place to visit on the Tomaree Coastal Walk.
Things to Do Here
Hike the Tomaree Coastal Walk
Landscape and seascape photography at sunrise or sunset.
Fingal Bay Beach
The Fingal Spit is an iconic part of Port Stephens, with a long stretch of sand connecting Fingal Island and the mainland at low tide.
While most people come here to check out the spit, heading south you'll find the truly lovely Fingal Bay Beach with crystal clear water and a patrolled section for families and lots of space to spread out and relax.
Fingal Beach is one of the best surf beaches in the area as well, for beginners and advanced surfers alike.
Fingal Bay Beach also has some great cafes and headland walks nearby, so make sure you spend a few hours here.
Things to Do Here
Go surfing
Enjoy breakfast at Longboat Cafe
One Mile Beach
A true locals' favourite, One Mile Beach is the go-to spot for surfers and couples looking to walk hand-in-hand along the shoreline as the sun drops behind the dunes.
Located a short drive from Anna Bay in Port Stephens, you can't go wrong with parking up at One Mile Beach, renting a board and hanging out for the day.
The caravan park is a perfect spot to stay if you want a chill place right next to One Mile Beach.
But if you're wondering, "Are dogs allowed on One Mile Beach, Port Stephens", the answer is sadly no.
READ MORE: See what other destinations made it on our epic Sydney to Brisbane road trip itinerary!
Things to Do Here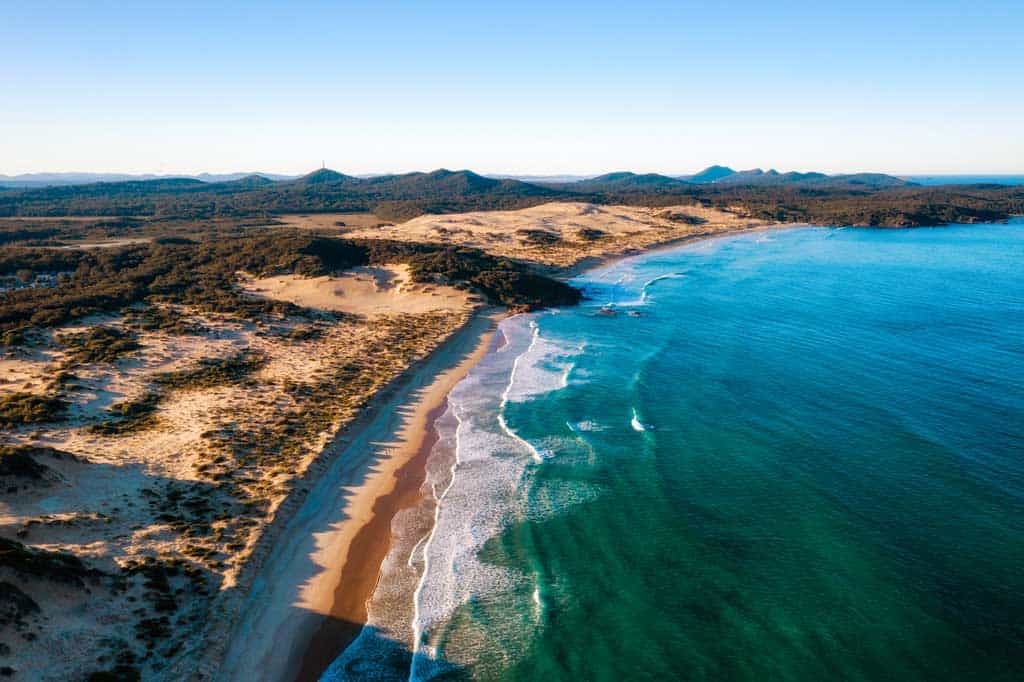 Birubi Beach
Birubi Beach has it all – a world-class cafe, great surf, the longest moving sand dunes in the southern hemisphere, migrating whales and camels.
Yep, camels.
Birubi Beach is one of the few places in Australia where you can go camel riding on the beach, but that's not the only reason you should come here.
It's one of the best Port Stephens beaches for other fun activities, such as horse riding, ATVing, surfing, and of course sunset viewing.
Don't miss out on a meal at Crest Birubi Beach. The food is divine, and the peanut butter and salted caramel smoothies are to die for.
Things to Do Here
Go camel riding at sunset
Have breakfast at Crest
ATVing
Rent a surfboard
Little Beach Reserve
While this isn't exactly the best beach in Nelson Bay, you can't come to town and not visit Little Beach Reserve to see the pelicans!
Fishermen use the adjacent boat ramp for launching out into the bay, and when they return they often clean their catch in the sinks provided.
The pelicans know this all too well, so they'll gather around the reserve hoping to grab a free feed (to which the fisherman happily oblige).
It's quite a sight to see upwards of 20 pelicans all hanging out in close proximity, with zero regards to personal space when humans are around.
Come down, take your photos, but just make sure you don't get too close to them, as they have been known to bite on occasion.
Things to Do Here
Shoal Bay
Shoal Bay is a true gem of Port Stephens. It may get overshadowed by its more popular neighbours and the Nelson Bay beaches, but you really should consider basing yourself right here on your Port Stephens holiday.
The wide and gentle bay is absolutely perfect for a swim, or to grab a kayak and go for a paddle.
As an added bonus, some of the best restaurants in Port Stephens are located here in the Bay, such as the Shoal Bay Country Club!
Things to Do Here
Go standup paddleboarding at sunset with Shoal Bay SUP
Climb Mount Tomaree for epic views and photo opportunities over Port Stephens.
Sunset Beach
With a name like Sunset Beach, it's pretty obvious when the best time of day to be here is.
Located in Soldiers Point, at the western end of Port Stephens, you'll find this gorgeous place that offers something very few beaches on the mainland of east coast Australia can – a sunset over the water.
Grab a few drinks and some snacks for a picnic, lay out the towels and kick back with your friends and family as you watch the sun dip over the ocean.
Things to Do Here
READ MORE: Make sure you read our article about the best places to visit in Australia!
Zenith Beach
The first beach south from Mount Tomaree Head and in the heart of the national park, Zenith Beach is absolutely stunning at any time of day.
There's plenty of room to roll out a blanket and soak up the ocean ambience at Zenith Beach. It's also one of the most popular surf beaches in Port Stephens, more so for advanced surfers.
Things to Do Here
Hike the Tomaree Coastal Track
Samurai Beach
Finally on our list of the best Port Stephens beaches, we come to Samurai Beach. This isn't one to bring the family though.
Samurai Beach is an official nudist beach and can only be accessed by 4×4. It's close to One Mile Beach, and is home to epic surf and the annual 'Nude Olympics'.
If you feel like setting yourself free and getting an all-over tan at one of the beautiful beaches in Port Stephens, you'll be right at home at Samurai Beach.
Things to Do Here
Time your trip with the Nude Olympics
Dutchmans
Dutchmans Beach (also known as "Dutchies") is an idyllic family-friendly beach that offers calm water for swimming, perfect sand to build a castle and lots of BBQ areas.
There are also grassy lawns with playground equipment (keep the kids occupied), which provides all the ingredients you need for picnics or just hanging out on warm days.
It's so close to Nelson Bay town yet tucked away enough from busy roads so it feels like your own private piece of paradise!
You can also take a stroll into Nelson Bay or Bagnalls Beach on the coastal path. This follows the water and gives you beautiful views the whole way.
Things to do here:
Swim in the calm waters
Go SUPing
Play on the playground
Go for a walk to Nelson Bay or Bagnalls Beach
Have a picnic or BBQ
READ MORE: Want to make the most of travelling in Australia? Our travel guide will help you plan every aspect of your trip.