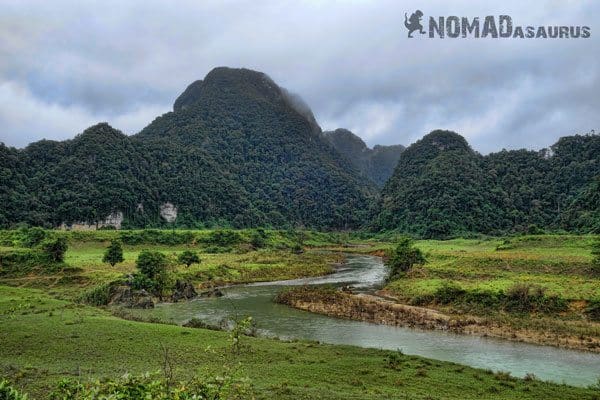 We floated our way towards the black opening set in the side of the karst mountain. The entrance resembled the gaping mouth of a shark waiting to swallow its prey as we closed in on the jagged stalactites dropping from the cavern's ceiling. Our adrenalin began pumping as the river brought us from the jungle to inside the mystic and eerie slit in the limestone. Darkness surrounded us and soon we were completely engulfed by the cave. The gallery was huge and our voices echoed off the walls as we called out in awe at the formations lit up by our powerful headlamps. We were deep in the caves of Tu Lan, and it was phenomenal!
Tu Lan Cave Tour
Phong Nha Ke Bang National Park in Central Vietnam has quickly gained fame as being the home of the world's largest cave, Hang Son Doong. Across the entire park there is over 300 caves, with many of these yet to be surveyed. There is even speculation that the enormity of Hang Son Doong may be surpassed by another cave in the region that has not been discovered yet. For now, only a handful of these caves are open to the public, and many of the best ones require trekking and camping through the jungle to explore.
We left the town of Phong Nha after a much-loved stay and stopped off in the village of Tan Hoa to check out one of the expeditions on offer by the sustainable adventure tour company, Oxalis. A two day, one night trek to check out some of the caves in the Tu Lan system, actually outside of the national park boundaries. We jumped at the opportunity to be on board and were lucky enough to be put on the first mission of the season, even before the official opening date.
For the two days we trekked 12km through wild jungles and traversed fast flowing rivers. We gingerly stepped across man-made bridges and scrambled our way through ancient rockfalls. All in all we ventured through the mysterious world of four different caves: Hung Ton, Hang Kim, Tu Lan and Hang Ken. We slept in hammocks at the base of cascading waterfalls and swam through caverns that surrounded us like huge cathedrals.
The adventure of exploring the Tu Lan caves became one of the favourite memories of our epic travels so far. Stepping back out of the jungle and into civilisation was hard, and left us longing for more. We will no doubt be back to the town of Phong Nha to discover the rest of the caves in the Tu Lan cave system, and throughout the national park.