Everything you need to know about travelling the Pamir Highway in Tajikistan. A detailed travel itinerary, how to book a car and driver, things to do along the way, where to stay and how much it will cost.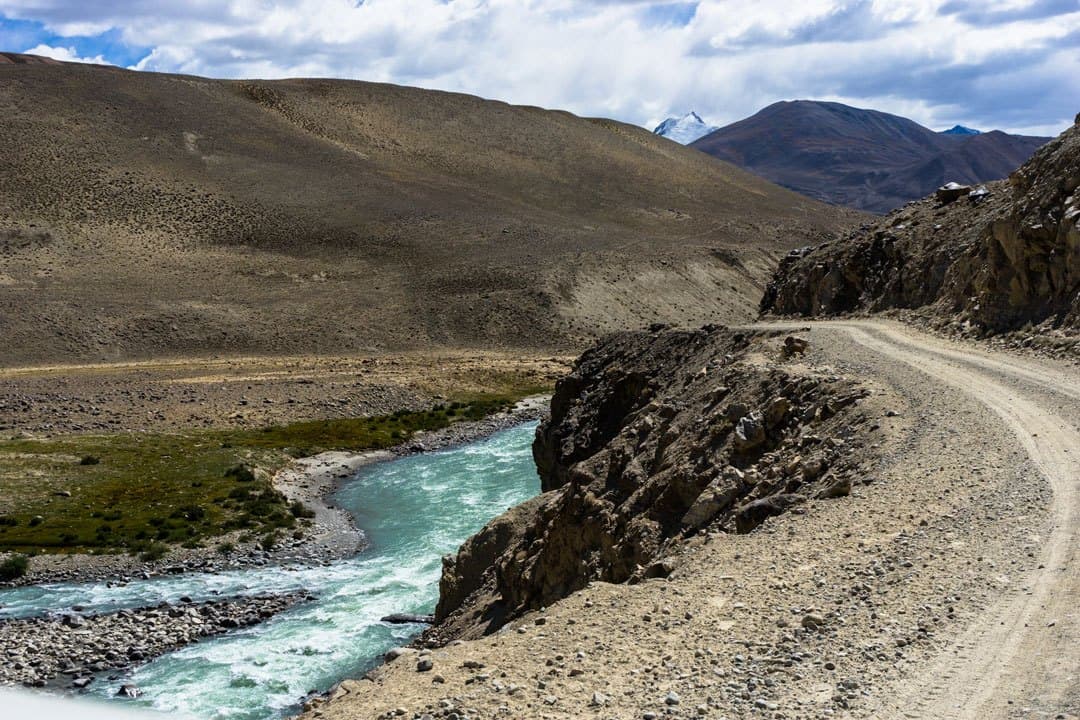 Basketball-sized stones rained down on us from the roadside cliffs above. The earth shook violently, and the sound of exploding dynamite echoed down the valley.
We stopped in our tracks and stared fearfully across the narrow Pamir River. 30m from us was Afghanistan's Badakhshan province, which was currently under the attack of Taliban rebels.
We looked at Mohammed and waited for his instructions. Our guide simply laughed. "The Afghans are building a road."
The Pamir Highway is one of the world's greatest road trips. Unofficially starting in Mazar-e-Sharif in Afghanistan and unofficially ending in Osh in Kyrgyzstan, this captivating route was once part of the historic Silk Road.
Weaving between soaring mountains and along sprawling desert, the trek that today makes up the majority of people's exploration connects Osh to Khorog, a small town in the heart of the Pamir Mountains.
Highway M41 rises over the second highest border crossing in the world and hits the border of Tajikstan and Afghanistan before cutting in on a direct route to Khorog.
At this point most people continue along the border and into the infamous Wakhan Valley, flanked by the Pamir Mountains on one side, and the Hindu Kush on the other.
BREAKING NEWS: Registrations are now open for our NOMADasaurus Pamir Highway and Tajikistan Tour in 2024!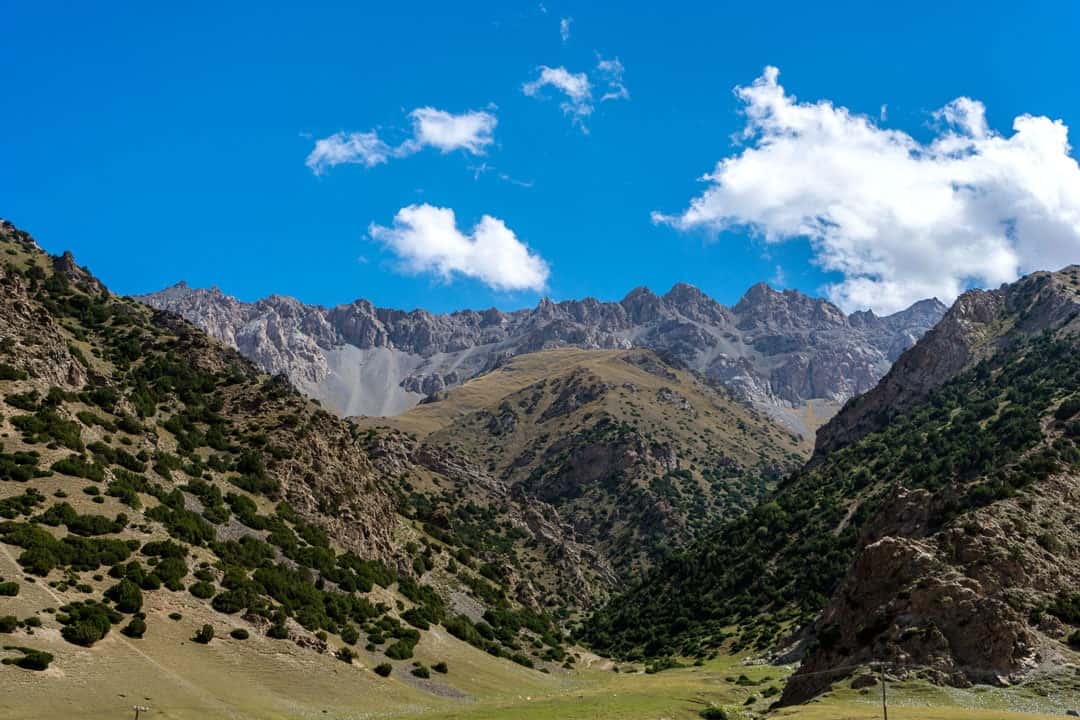 No images or stories can prepare you for just how beautiful the Wakhan Corridor is. For as many days as you care to take you traverse the fine line between two misunderstood nations.
Tajikistan is more remembered for its civil war and as a major heroin trade route than anything else. The problems of Afghanistan are well-documented and often overstated.
Still in this narrow passage all one can think about is how surreal its scenery is.
We spent 7 days travelling along the Pamir Highway in September 2015, renting a 4×4 in Osh with two other travellers. This is our route, tips and stories from our amazing road trip along the roof of the world.
Contents
Getting a Tajikistan Visa and GBAO Permit
When we travelled through Tajikistan we had to acquire a visa in advance. In addition to this if you want to travel along the Pamir Highway you must also get a permit for the Gorno-Badakhshan Autonomous Oblast (GBAO) region.
We did this at the embassy in Bishkek in less than a day for $62 ($60 for our 45-day double entry Tajik visa, and $2 for our GBAO permit for the same length of time).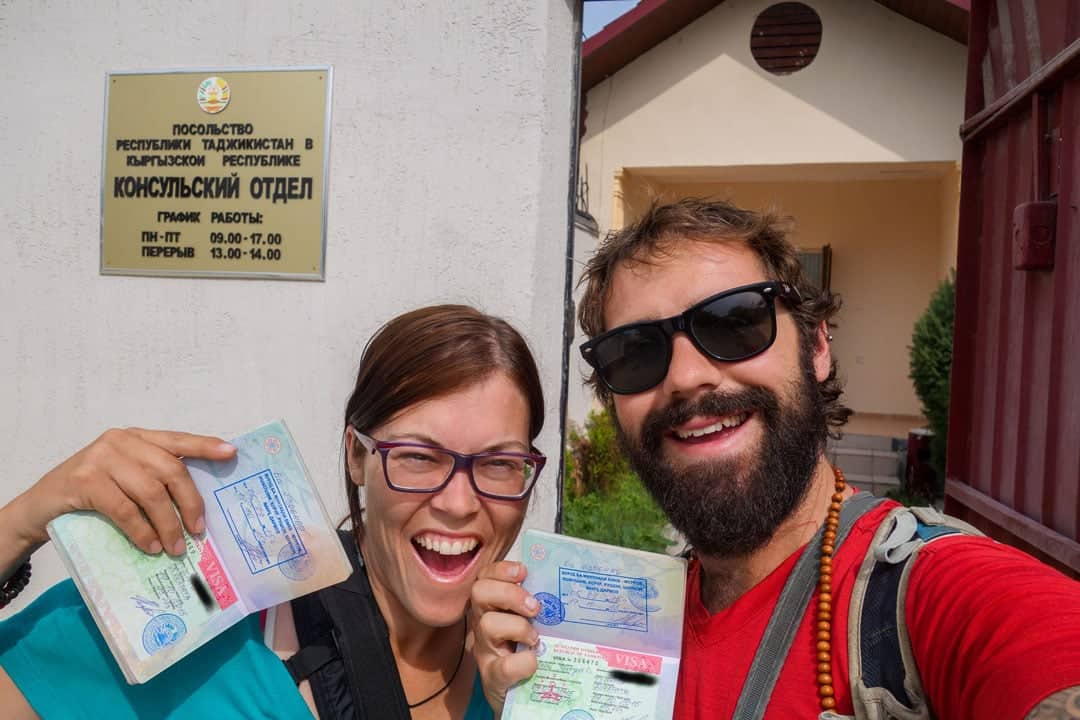 However we now have good news! Most people can now obtain an e-visa for Tajikistan, including the GBAO permit! The cost is US$70 for a 45-day single entry visa that can be used at all border crossings and international airports.
Click here to apply for your Tajikistan e-visa.
Note: If you want a double entry visa (to travel into Afghanistan's Wakhan Corridor for example) you still need to apply at the embassy. We recommend the one in Bishkek.
How to Travel the Pamir Highway
There are a couple of ways to travel the Pamir Highway, and all of them have their ups and downs. It really depends on your travel style and budget.
BIG UPDATE – We originally used Osh Guesthouse to book our 4×4 Pamir Highway Tour, but during our latest trip to Kyrgyzstan talking to tourism directors we were informed about a new company which has better vehicles, experienced drivers and can organise a perfect itinerary. In fact Osh Guesthouse approached them this year to partner together, they are that good.

For that reason we now recommend you to get in contact with Talant from Visit Alay to book your trip along the Pamir Highway. He speaks perfect English and is passionate about delivering a great experience. He has also been trained by USAID in tourism product development, which is the organisation we worked with from 2016-2020 in Kyrgyzstan, Uzbekistan and Tajikistan.

You can pre-book the vehicles and drivers now before you arrive in Bishkek, Osh or Dushanbe, which saves a lot of headache.
Rent A 4×4
This is the option we went with and recommend. Having your own transport and driver allows you to go at your own pace, stop for photos and breaks and have a bit of comfort as well.
We organised our 4×4 rental from Osh Guesthouse in Osh, Kyrgyzstan. This place has become quite famous for helping travellers plan their Pamir Highway road trip, and the owner is friendly and willing to provide assistance.
He also speaks great English and has all the connections sorted, so even if you aren't staying there it's worth dropping by to speak to the owner.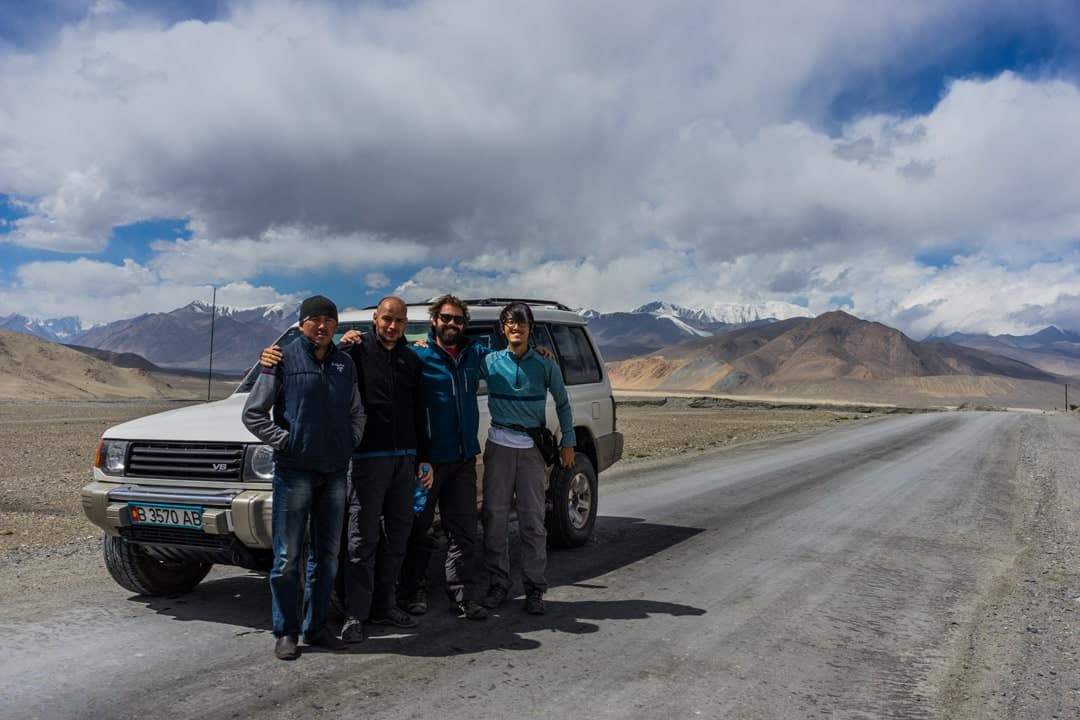 When renting a 4×4 you will be charged per kilometre. This sounds pretty crazy, and to be honest it is. But that's just how it works down here. You also pay a small daily stipend for your driver.
You will plan out your route (distances are already known) and any side trips you want to take in advance. Any additional kilometres driven will be charged extra, and must be paid for in cash directly to the driver.
You must also pay for the driver to return to Osh, charged at a lower rate if you wish to exit in Khorog or Dushanbe (unless he happens to be from Khorog or Dushanbe).
If you don't have a group of 4 people, we recommend putting your name on the board in Osh Guesthouse saying you are looking for extra people to join you on the Pamir Highway. This will help keep your costs down. You can also do a call out on the Caravanistan forum.
One of the guys who we travelled with had actually been in Osh for a week already waiting to find people to join him on the trip.
Unfortunately every time a group came in they were already a 4, so he had to bide his time until he could find more travellers.
This isn't always the norm, but something to keep in mind if you are showing up in Osh and expect there to be hundreds of people to jump in with.
Of course if your budget allows you can go by yourself or as a 2 or 3. This is totally up to you.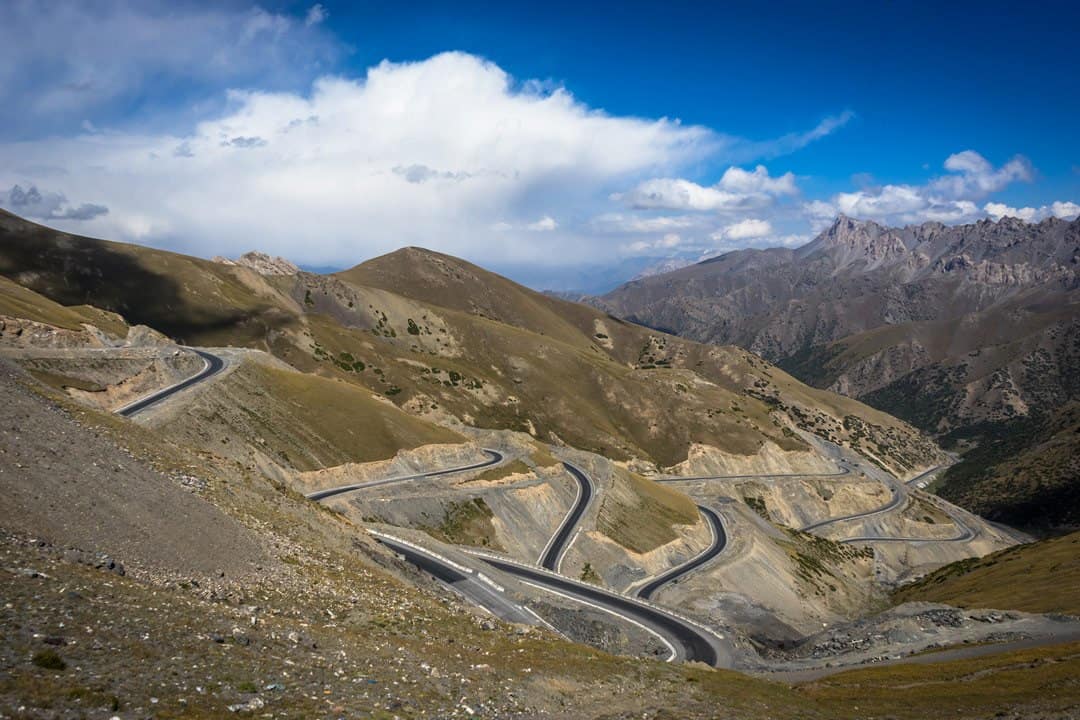 Public Transport
This is actually one of the worst ways to travel the Pamir Highway, but completely doable if on a tight budget.
Transport isn't comfortable or regular from Osh to Khorog, and you can expect to spend a lot of hours crammed into a dilapidated marshrutka bouncing over horrible roads staring out of a closed, dirty window. But it's all part of the adventure, right?
Public transport on the Pamir Highway is definitely possible if you're more interested in the scenery outside the window as opposed to the side adventures that can be had along the way.
You can get a minivan from Osh to Murghab in one day, and then take local rides into the Wakhan Corridor. However if you do this we highly recommend you split the trip from Osh to Murghab into two days, with a night in Sary Tash, due to the huge rise in elevation.
It is very possible to get altitude sickness, as you'll be going from around 1000m up to 4655m in one day.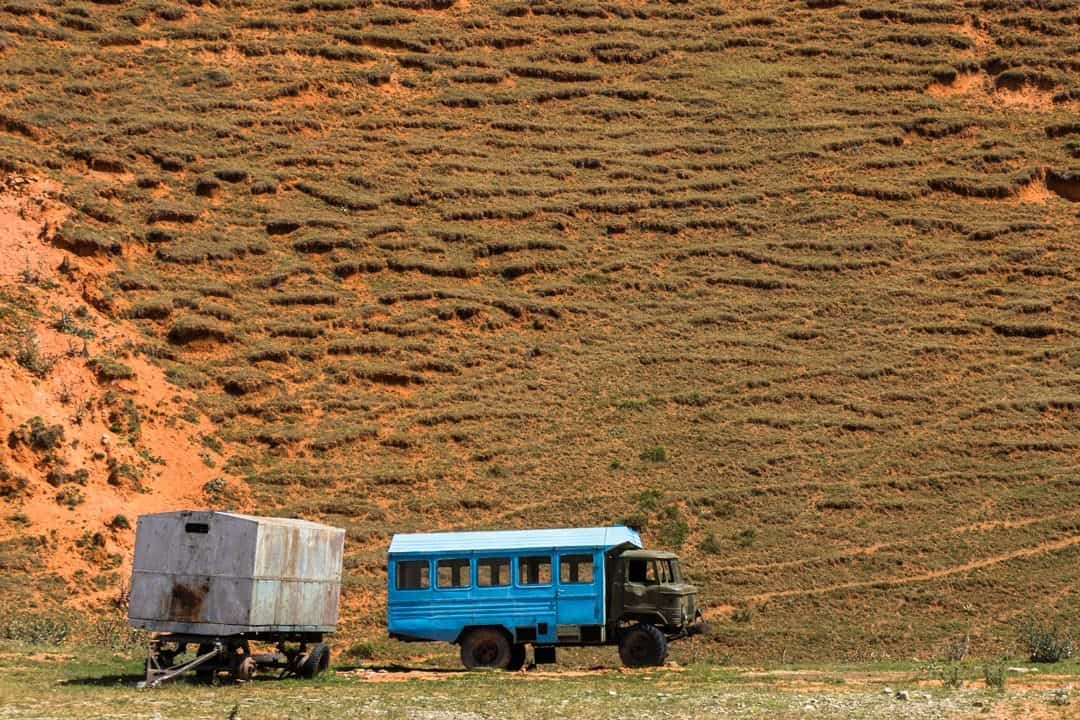 Hitchhiking the Pamir Highway
Absolutely doable, and we met quite a few people hitchhiking. One thing to keep in mind is that once you enter the Wakhan Valley most of the traffic will be from people who have rented vehicles, tours or shared taxis – not the kind of people who will pick up some hitchhikers for free
That being said with patience and persistence you can find rides to get you hitchhiking the Pamir Highway and Wakhan Valley.
Self-Drive
If you have your own car or motorbike self-driving the Pamir Highway is probably the absolute best experience you can have!
The roads are horrible and the going is slow, but having the time to go at your own pace is something you will really relish.
Obviously the chances of picking up a decent car or motorbike in Central Asia isn't huge, so if you're considering this option you probably will be looking at bring your own vehicle from Europe.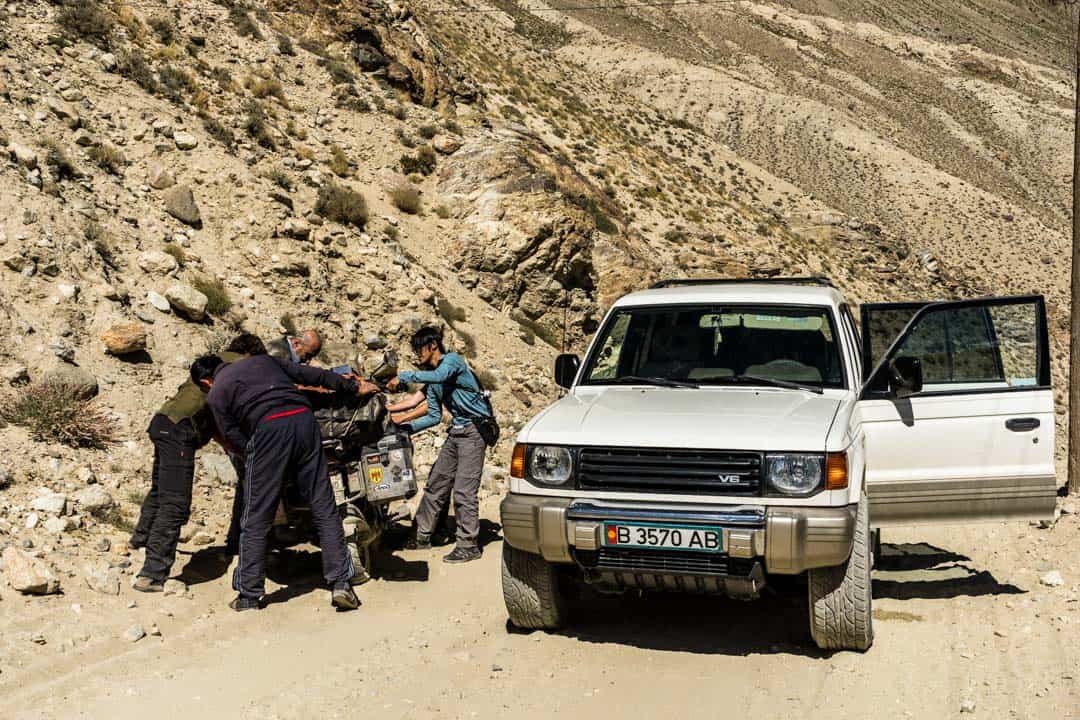 Cycle
This is it – the Holy Grail for cycle tourists. The second highest international road in the world and some of the most challenging and beautiful scenery imaginable.
We lost count of the number of cyclists we saw peddling the Pamir Highway, and almost all we had met after they had completed it said it was one of the best experiences of their lives.
We are not cycle tourists, so can't give advice on this. But definitely check out Crazy Guy On A Bike for some great tips about it.
Group Tour
This is the most expensive option for travelling the Pamir Highway, but it might also be the best (depending on your point of view).
There are quite a few companies that offer Pamir Highway tours, and these are all in excess of a few thousand dollars. The main benefits are you get a newer, comfortable and reliable vehicle, an English-speaking guide and all the logistics are covered for you, so you can literally just focus on taking epic photos and soaking up the culture.
If it's in your budget or you're the kind of person who doesn't like landing in a foreign country without everything pre-planned a group tour on the Pamir Highway is a good choice.
But in our experience you can do it much, much cheaper and get the exact same experience by doing it yourself.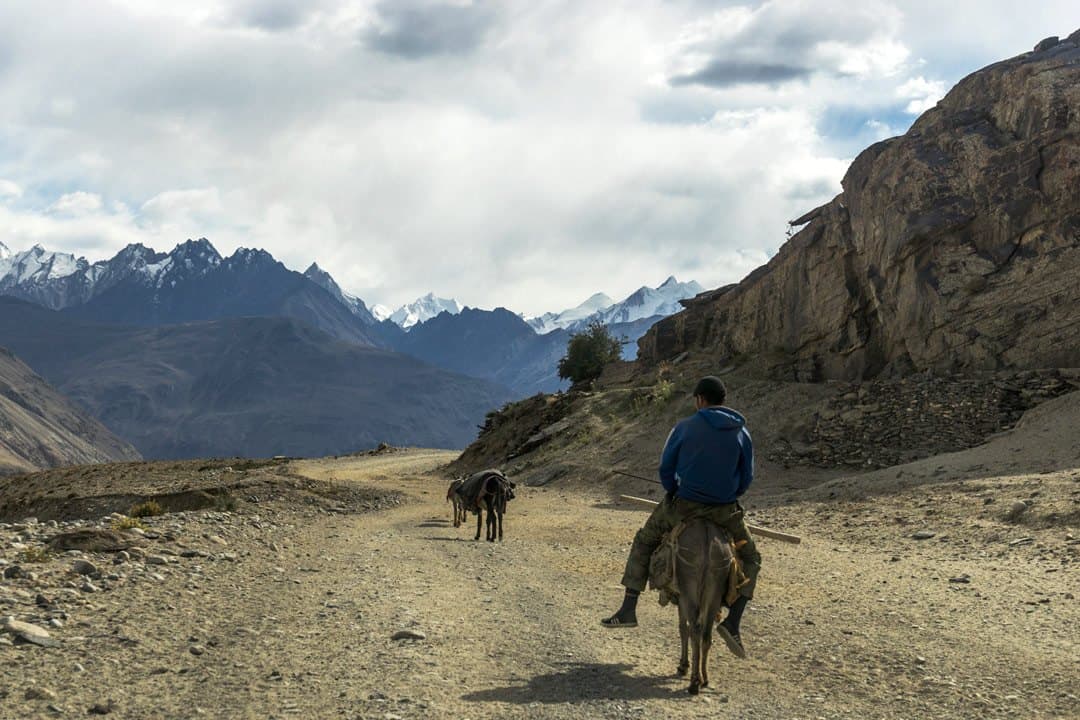 Day 1 – Osh to Sary Mogol
Starting our seven-day adventure from the Kyrgyz city of Osh, our driver Mohammed picked our group of four up in his Mitsubishi Pajero and headed towards the Tajikistan border.
It only took a few hours from Osh before the landscape changed from craggy fields to steep alpine gorges. The famed Pamir Mountains began to rise all around us; speckled at first, then gradually becoming more dramatic.
At the border town of Sary Tash, where one road leads to China and the other to Tajikistan, we took a detour and instead stopped off in Sary Mogol for the night.
Peak Lenin stood 7134m tall in the distance, its permanent snow-capped summit looking like a water painting in the afternoon sun.
Mohammed dropped us at the CBT Guesthouse and we wasted no time in exploring the rugged Soviet-esque village.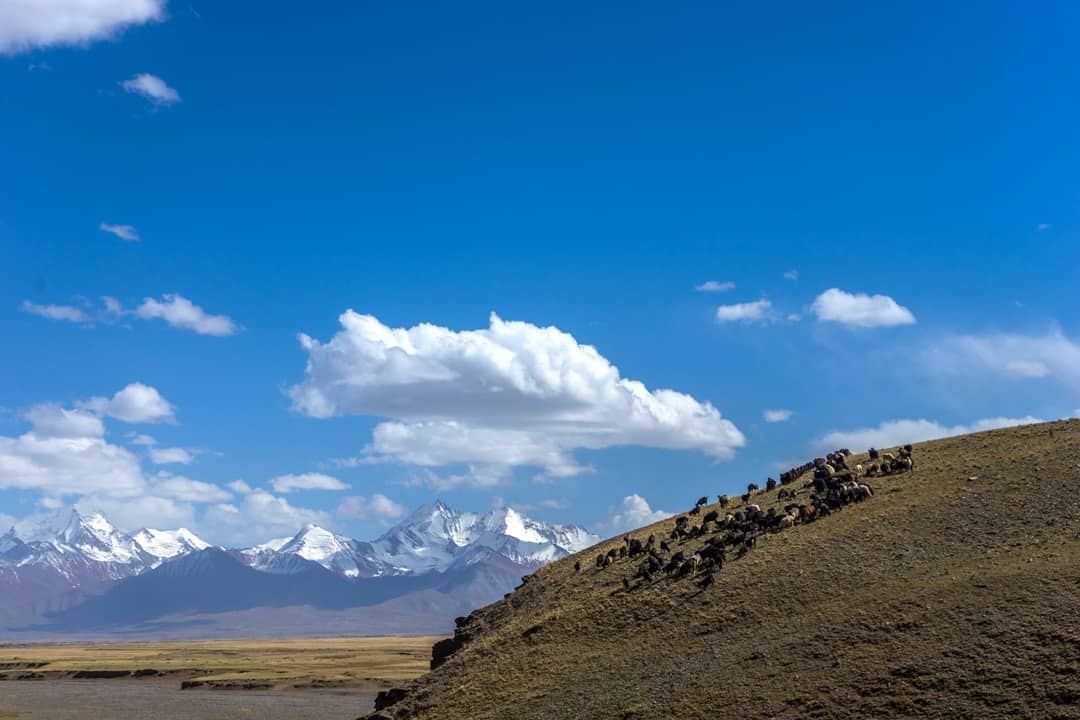 Despite being a popular stopover for trekkers and alpinist who wish to summit Peak Lenin, our presence generated an excited interest with the young community.
Kids and adults alike would call our greetings from their windows and men would stop to ask us where we were from.
Passing a game of football between some local children, we were eagerly recruited and took part in a 30-minute match in a dirt yard.
Abandoned cars and trailers were scattered throughout the village – a sight that would become common along the Pamir Highway.
Before night fell we returned to the guesthouse for a large vegetarian meal and fell asleep on the floor, surrounded by other travellers and trekkers just as thrilled at being in such a beautiful part of the country.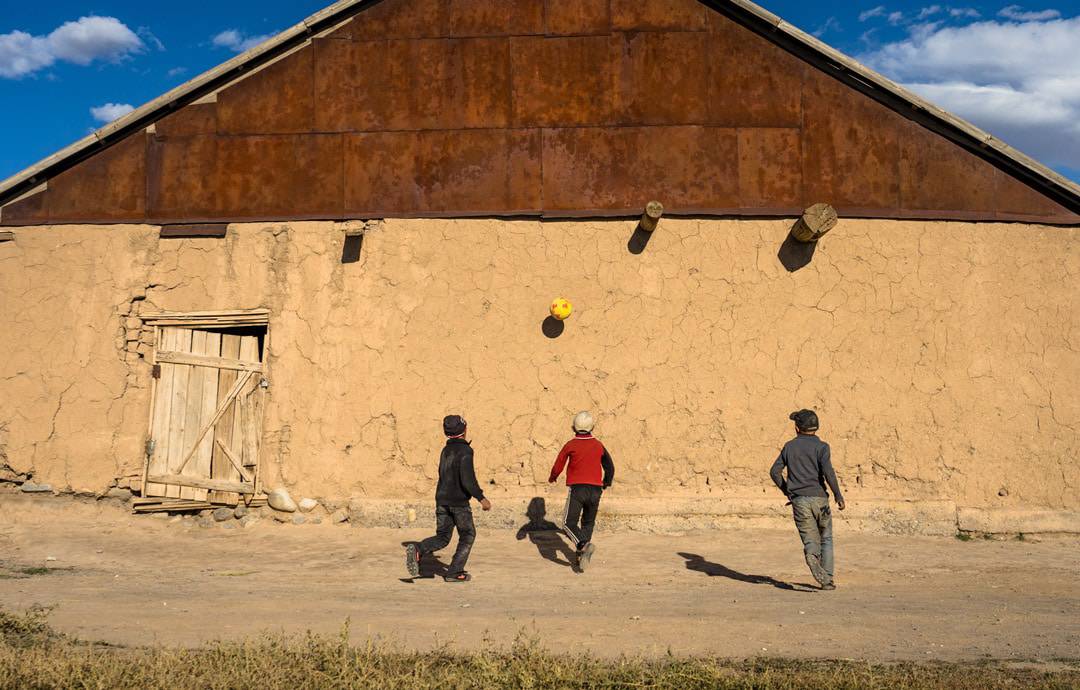 Things to Do in Sary Moghul
There aren't a lot of things to do in Sary Moghul itself, but it acts as an amazing launchpad for some of Kyrgyzstan's best adventure activities.
For those who are experienced in high-altitude trekking, a summit attempt of Peak Lenin is perhaps the most incredible opportunity in the country.
This is one of the easiest 7000m+ peaks in the world, and besides an immense level of fitness and stamina, no advanced mountaineering skills are required.
Don't be lured into a false sense of security though – it is still a very dangerous hike if you aren't properly prepared! Consider going on a guided tour (you should already know if you think you could tackle this on your own).
Sary Moghul also acts as a great base for trekking in the surrounding mountains, and organising horse riding adventures. Check with the CBT Guesthouse for routes, ideas and information.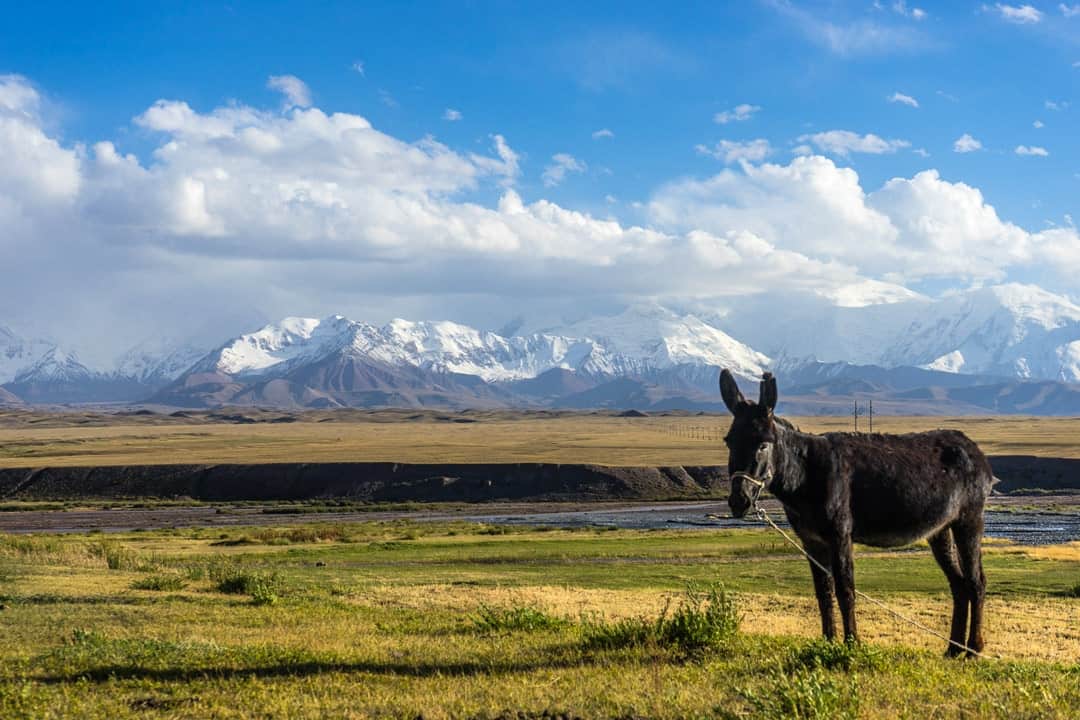 Where To Stay In Sary Moghul
We stayed at the CBT Guesthouse and enjoyed it. It was the most expensive place along our Pamir Highway road trip, but it was quite high quality.
For US$20 per person we got a night's accommodation, a large vegetarian dinner and a typical Pamiri breakfast (bread, jams, tea, etc).
We slept on a thin mattress on the floor with about 15 other people in the room. If you want to camp they also have places to pitch your tent.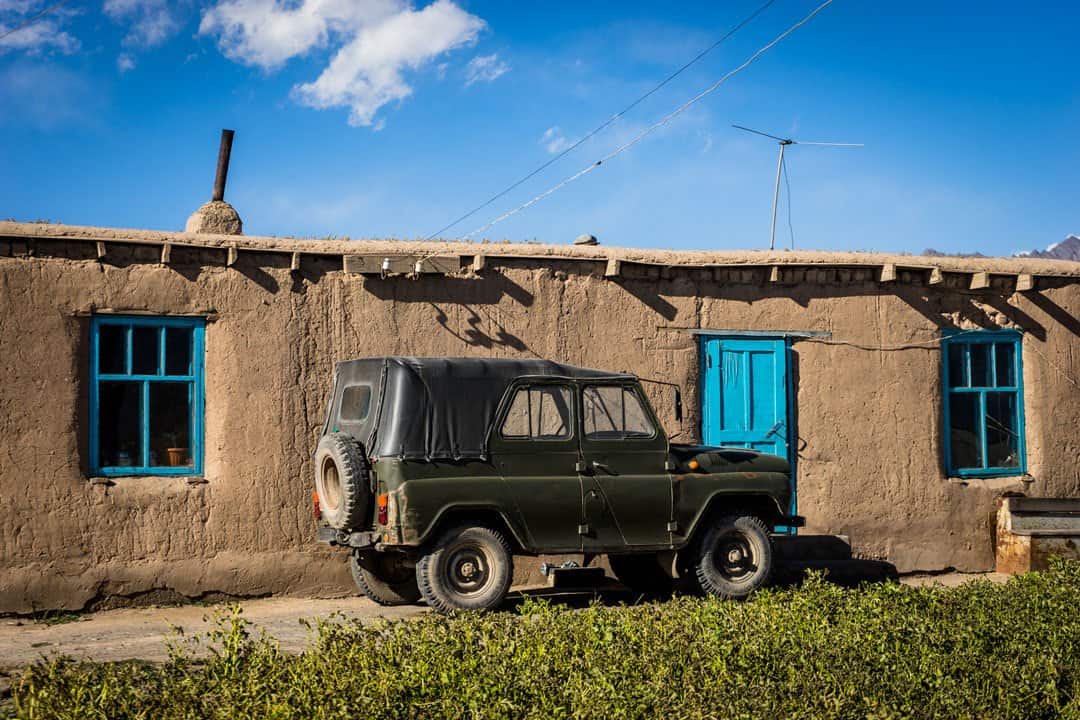 Day 2 – Sary Moghul to Karakul
Morning came quickly and we set off with Mohammed towards the international border. Exiting Kyrgyzstan was a simple affair, providing that the correct 'fees' were paid to the officers.
Mohammed took our passports to be stamped out and returned happy, but with his wallet visibly lighter.
A 25km section of 'no-man's land' separates Kyrgyzstan and Tajikistan, and is the second highest international border crossing in the world. It is not uncommon to see cycle tourists camping in this dead zone, unable to make the crossing in one day.
Entering Tajikistan was much the same. Our visas and special GBAO permits were checked and Mohammed took care of the legalities. When he returned he sighed. "Immigration, narcotics, medical, police, customs, they all want bribes. You pay them money, no problem. You don't pay, you wait all day at the border."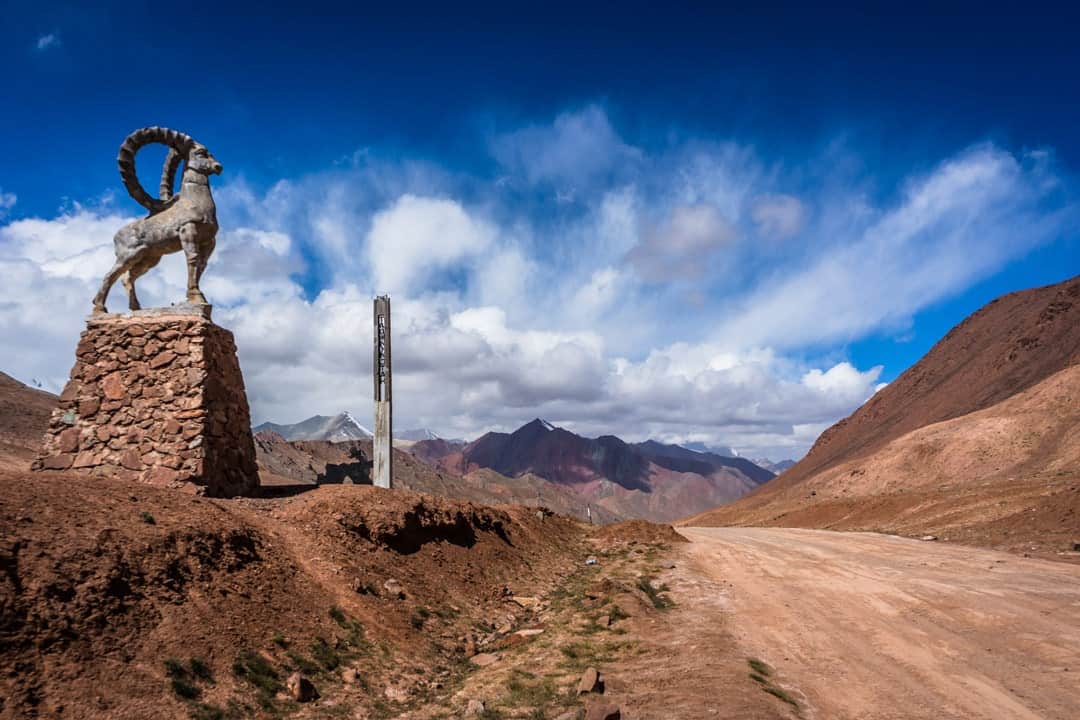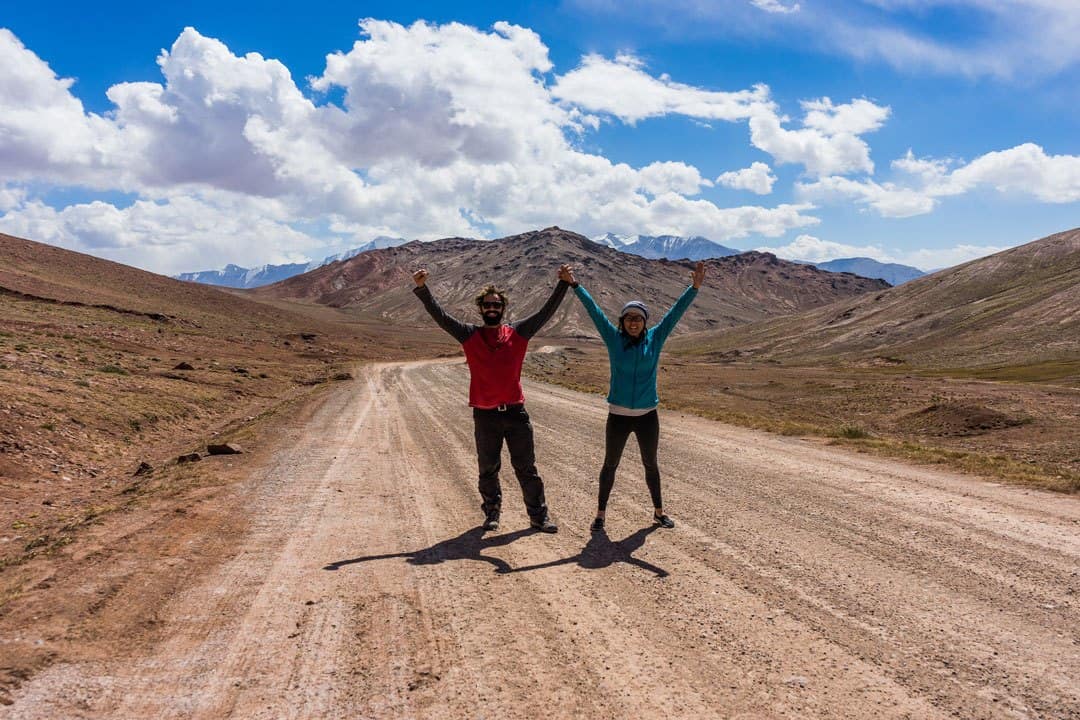 Seeing as we were now cleared to enter Tajikistan, it was clear that Mohammed had paid the unofficial fees to make our passage easier. We asked him much he paid. "Too much," was his response.
The first village we reached in Tajikistan was Karakul, named after the sprawling lake on its edge. We chose Sadat's Homestay to be our resting place for the night.
With welcoming hosts, and only $12 per person including a bed, lunch, dinner and breakfast, it was simply splendid.
The village was quieter than Sary Moghul, and after walking along the lake's shore we found ourselves at a decrepit prison, complete with the shell of an old Russian tank near its perimeter.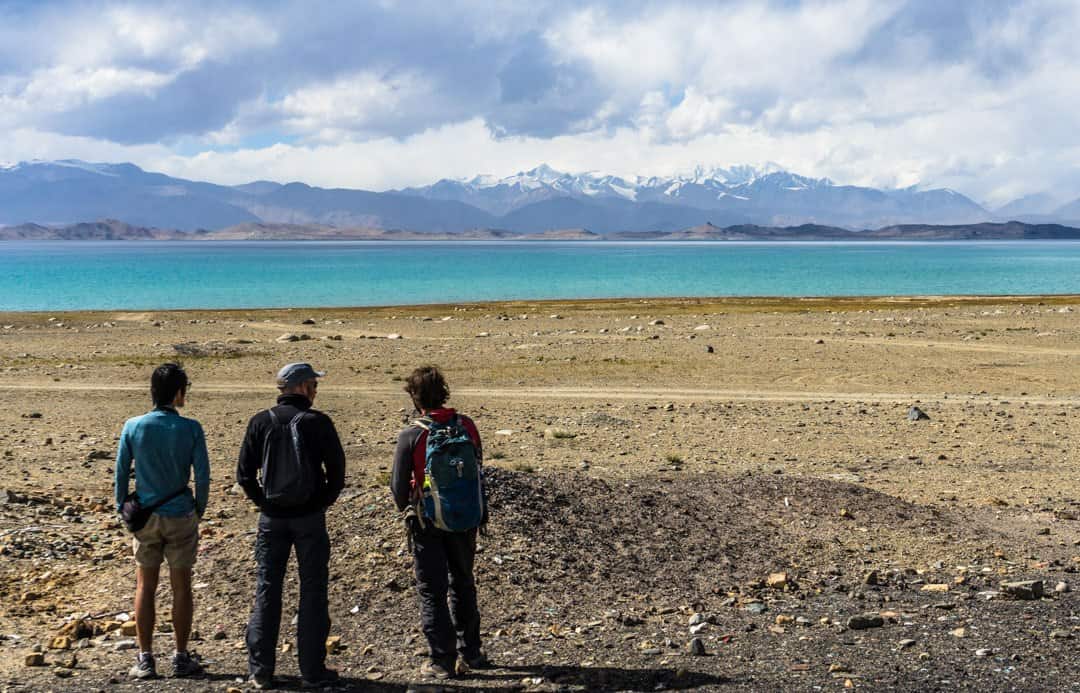 Our group decided to break through a hole in the fence to explore further. Suddenly a soldier called out and came sprinting over to stop us, Kalashnikov in hand.
We stopped dead in our tracks and slowly showed him that we were unarmed, and simply curious tourists. Luckily he used his mouth rather than his gun to warn us that this was not actually an abandoned prison, but an active military base. We apologised and quickly returned to the village.
The reason the base looked so empty was because the soldiers were in the town, playing volleyball with the villagers. We stopped to watch their game, made small talk with the army and then returned to Sadat's Homestay for dinner and bed.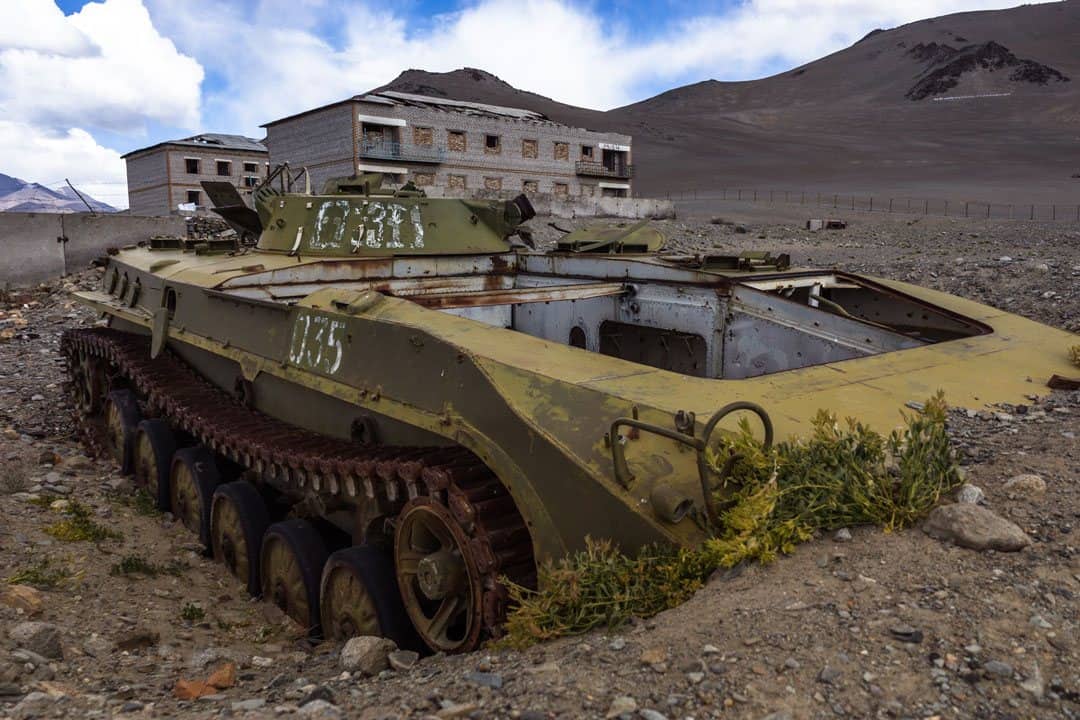 Things to Do in Karakul
Besides admiring the beautiful lake, there isn't actually a lot to do in Karakul. As mentioned we tried to break into the prison, which turned out to be an active military base, so we don't recommend that.
Simply walk around and enjoy the atmosphere of the village. It makes for some beautiful photos. Have a chat to the locals, and if you're lucky you might even catch a volleyball match.
If you're in Karakul for longer you can do some hiking around the flats and up to the mountains. Just make sure you stay well away from the Chinese border, which is quite close to the village.
Where to Stay in Karakul
We stayed at Sadat's Homestay, and it was absolutely brilliant! The lady running it, Sadat, is very welcoming and makes some delicious food. Look out for the blue fence on the right hand side of the village when looking at it from the road.
The cost was also the cheapest we came across on the entire Pamir Highway – $12 per person for lunch, dinner and breakfast. We were the only people there and slept on the floor next to a wood-fired stove.
There are other options in Karakul, and our driver tried to make us stay at another one for $15 a night. However we got the feeling it was his friend's place and kept walking around, and were stoked that we found Sadat's.
Day 3 – Karakul to Murghab
Snow.
That's what we awoke to on a chilly Wednesday morning. Light at first, but soon the snowflakes got heavier and began to coat the village in a brilliantly white layer.
It was only the beginning of September, but already winter was coming fast in the mountains.
We wandered around Karakul before breakfast, and life was continuing as usual. Ladies were collecting water from the well, kids were running off to school and the men were getting ready to head into the fields to tend for their livestock.
We said goodbye to our friendly hosts and set off in a blizzard towards the south. It was only another short drive to the region's largest town, Murghab.
Anywhere else in the world Murghab would be a blip on the map, but here in the GBAO it was the major trade and transport hub for the region.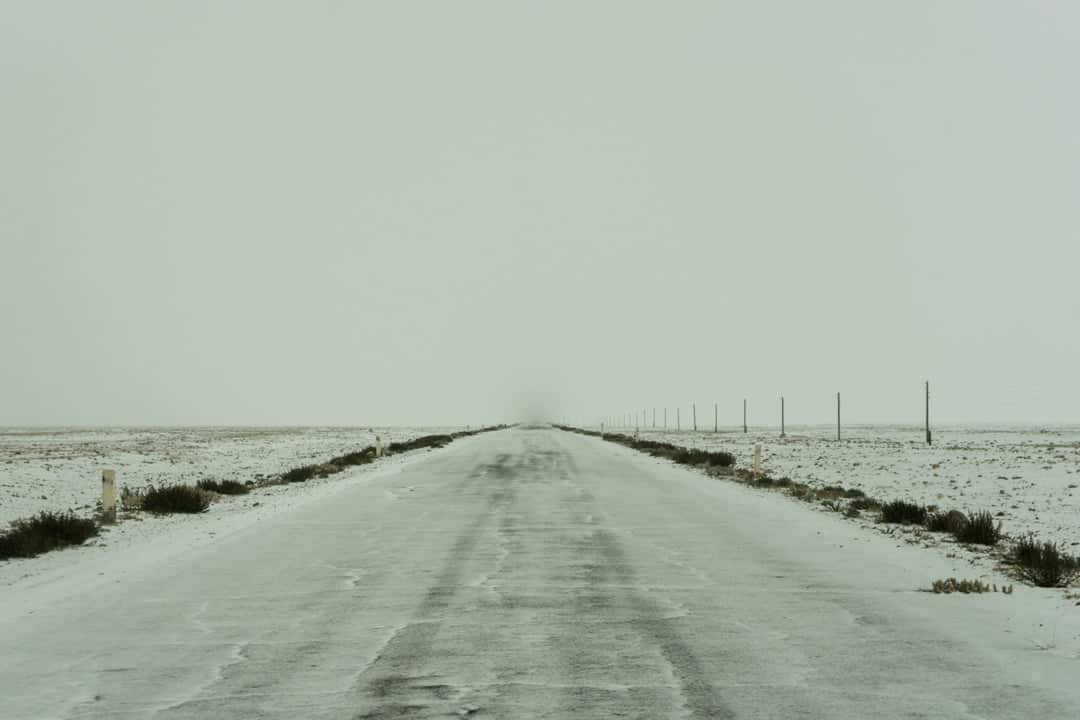 Between Karakul and Murghab is the Akbaytal Pass, the highest point along the entire Pamir Highway. At 4655m above sea level, it's not uncommon for people to feel lightheaded when climbing it.
Eventually arriving in Murghab we checked into the famous Pamir Hotel and treated ourselves to our first shower since leaving Osh.
The list of attractions of things to see in Murghab is limited to the local bazaar, operating out of shipping containers, and the small mosque.
Still, it was a nice place to wander, and after a few hours we found ourselves back at the hotel playing card games and sipping on Tajik beer.
Almost every other foreigner we met was a cycle tourist, many who had ridden to Tajikistan from Eastern China or Western Europe, giving an idea of the type of adventurous souls you meet on the Pamir Highway.
We met a young Australian man named Harley who had ridden is Suzuki dirt bike all the way from his home in Queensland. Clearly Tajikistan is not somewhere you encounter those seeking a relaxing vacation.
Things to Do in Murghab
Walking around the container market is perhaps the best thing to do in Murghab. You can buy just about anything you would need there, from fresh vegetables to mobile phones and everything in between.
If you head out towards the back of Murghab you can find a small mosque. This is worth checking out as well. Otherwise just work your way through the streets then make the most of the comfortable accommodation back at the Pamir Hotel.
Where To Stay In Murghab
The Pamir Hotel is on the main road and is the largest accommodation in town. It is also the first one to fill up, as it offers decent meals and the first hot showers out of Osh.
The cost was $25 per night for a large room with shared bathroom. Naturally when we arrived there was no running water, so the minute it turned on there was a huge rush to jump in the shower. But as promised, the water was hot!
There are other home stays you can find on the outskirts of town. Stop by the META office (similar to the CBT in Kyrgyzstan) to find out more.
Day 4 – Murghab to Bulunkul
The scenery exiting Murghab quickly changed to become rockier and more imposing. We beelined it for Bulunkul, which has the solemn reputation of being Central Asia's coldest town.
After Karakul's snow only two days earlier, we feared the worst, but luckily for us the weather was delightfully sunny.
Bulunkul could be considered less of a village and more of a collection of mud-brick dwellings. It looked like the set of an armageddon movie.
Busted trailers and vehicles were dumped in random places and mud-brick homes were propped up with random pieces of scrap metal.
Still with the snow-capped mountains in the background it made for a stunning and intriguing scene.
We made our way to a homestay, cooked our own lunch and left Mohammed to drink tea with the family while our group trekked up a nearby hill to get a glimpse of Yashilkul Lake.
Reaching the top of the rise we were met with Yashikul Lake's turquoise beauty shimmering in the daylight. A sign warned us that special permits were required to trek any further, so instead we aimed our sights towards the closest peak.
20 minutes of scrambling brought us to the summit, and our efforts were rewarded with near-360 degree views of the entire valley. We snapped our pictures before escaping the wind and heading back towards the village.
Yaks wandered around and kids played games. We soaked up the atmosphere for a while longer before retiring for the night.
Things to Do in Bulunkul
Definitely trek up to the nearby Yashikul Lake and admire the immense beauty of the region. If you have permits you can continue trekking for days, and we wish we had more time to do so.
Get up for sunrise and catch the small ponds and lakes perfectly still on a calm morning.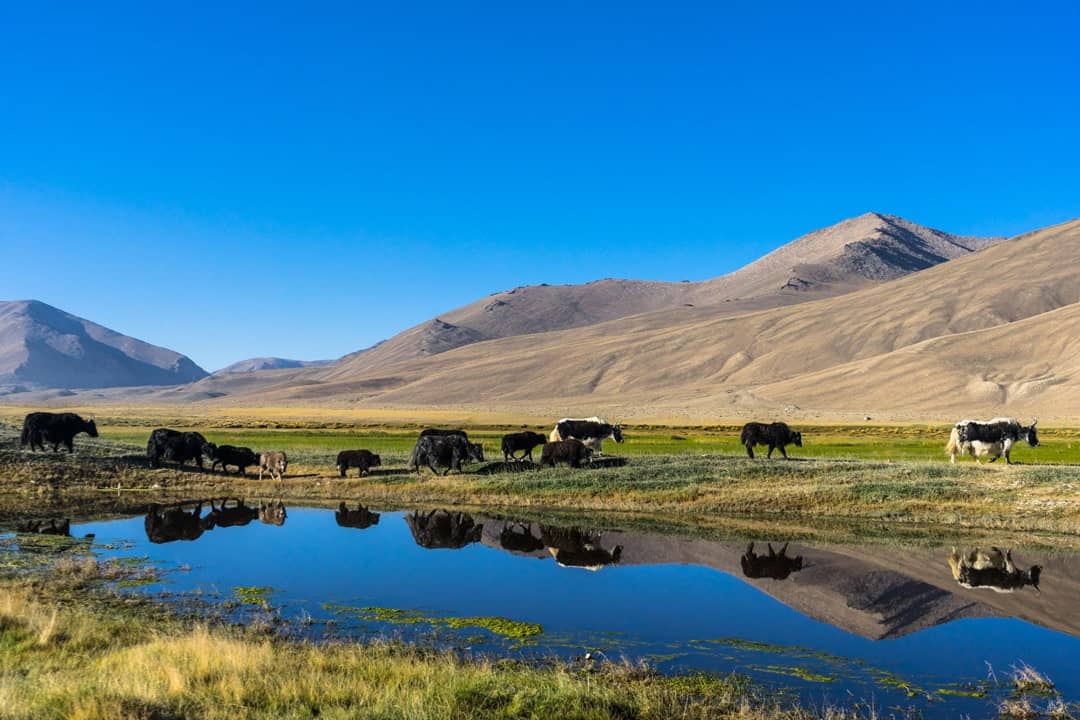 Where to Stay in Bulunkul
We stayed at the main homestay in town. We can't remember the name of it, but it's owned by the guy in charge of the meteorological station in town. Just look for the big weather station on the roof. Your driver will know it.
The cost was $15 per night with dinner and breakfast included. The food was superb, and the sleeping quarters were similar to everything else we had encountered – a thin mattress on the floor.
Day 5 – Bulunkul to Yamg
Our fourth day was destined to be the most spectacular of all. Here we would leave the M41 Pamir Highway and join the stretch of road that follows the Afghan border along the Wakhan Valley.
Before we reached the security control point we spotted "Panorama Peak" on our left, a steep ridge that our cycling friend Nick has told us about. Mohammed parked the Pajero and left us to trek on our own.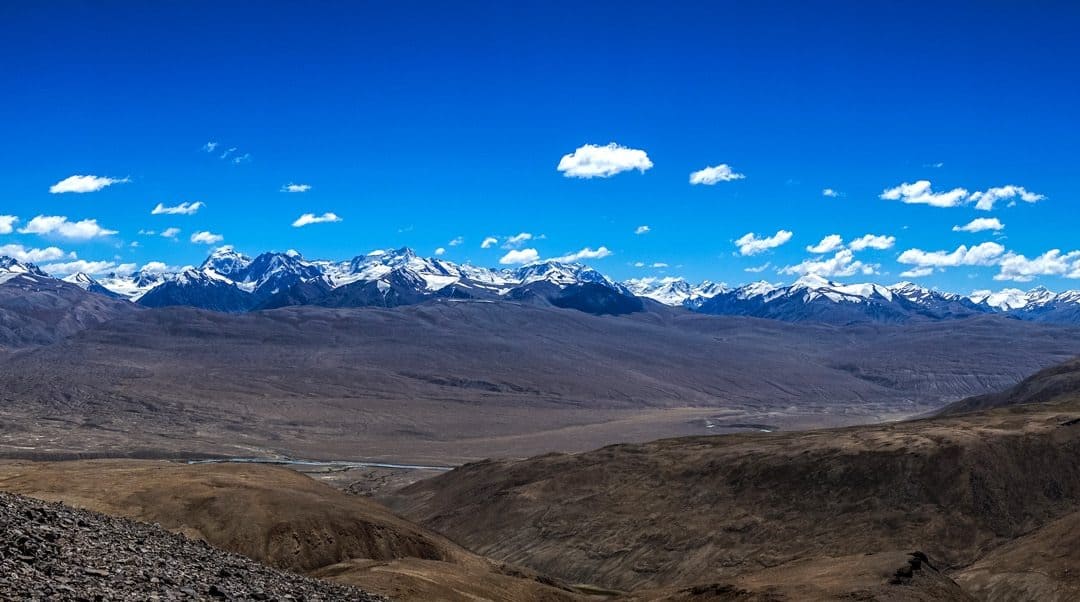 It took almost two hours of an uphill battle to reach the peak, the rocky terrain made even more dangerous with the altitude. At 4500m above sea level exerting your body at this height can bring about lethal altitude sickness.
Our fitness levels were up to the challenge, and we managed to reach the summit without incident.
The views we gained were what people come to this region for. In the distance the infamous Hindu Kush, the "Killer of Hindus", formed an impenetrable mountainous barrier throughout this strange stretch of land in Afghanistan.
30km away was Pakistan, on the other side of this "corridor" that had been carved out by the Soviet's during The Great Game in the early 1900s.
The Hindu Kush has been the intrigue of great explorers for centuries, and here it was towering in front of us.
The descent from Panorama Peak was quick and soon we were back in the Pajero and at the GBAO checkpoint.
At this point the Pamir River creeps into the scene, only 10m wide at some points, forming the official border between Tajikistan and Afghanistan.
We drove a few kilometres further and were soon following the meandering waterway for the rest of the journey.
Mohammed parked his car and allowed us to snap photos of Afghanistan. In the hills we could see farmers and small mud-brick houses, and two-humped Bactrian camels wandered along the banks of the river.
Afghanistan was so close, quiet and picturesque. We asked Mohammed if we could swim over to take a photo looking back at Tajikistan. He shook his head. "Big trouble for you."
I looked around. "But there is no one else here."
He whispered, "The army. They are watching." And with that grim warning, we continued on our way.
For hours we followed a flat route in the shadows of the Hindu Kush. The river gradually grew wider and more powerful as tributaries rushed in from alpine glaciers.
The beauty we encountered behind every rounded bend took our breath away faster than the climb to Panorama Peak.
Soon the road climbed high into the mountains, following the contours of the cliffs. Any lapse in concentration from Mohammed would have resulted in us tumbling to a final resting place far below.
Luckily he remained attentive and cautious.
Dropping down towards the town of Langar we saw the lush farmland of the Wakhan Valley, stretching in from hidden regions of Afghanistan.
Langar is home to an ancient fort and megalithic petroglyphs, and its location could not be any more inspiring. After exploring the sights we opted to make the most of the daylight and move onto the smaller village of Yamg.
We stopped over in Vrang to climb around the quarry-like rock walls and to explore one of the region's most interesting sites*, a Buddhist shrine.
Here some young boys approached us and bowed their heads in a respectful way, miming that of Buddhist monks. We allowed them to take us there and were surprised when they ran off without asking for money
Arriving late into Yamg night had already begun to fall, and Mohammed took us to Aydar's Guesthouse. Aydar is the leader of the village, and spoke decent English.
His guesthouse felt less like an authentic homestay and more like a business, and we were eager to move on the next day. In the morning we walked around Yamg's quaint streets and moved towards Yamchun, less than an hour on.
*Our good friends Thomas and Veronika recently used this guide on their own travels, and have reported that they were very underwhelmed with the Buddhist shrine. Perhaps we may have been too generous with our appraisal of it.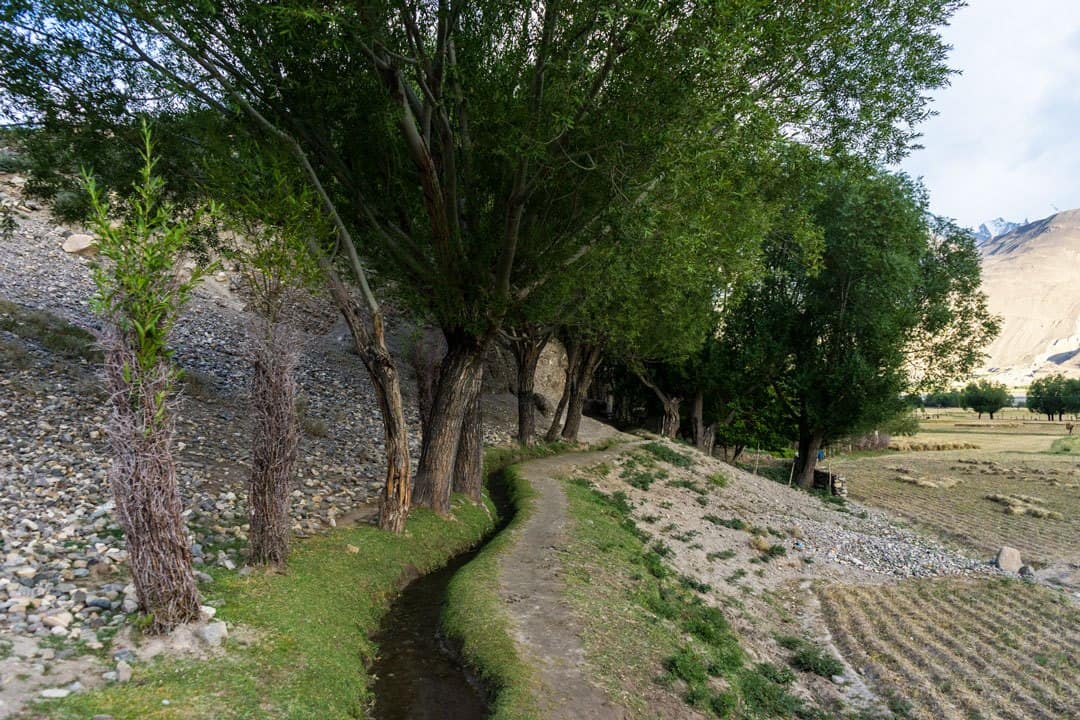 Things to Do in Langar
There are countless things to do in Langar, and for most people this is why they end up spending the night here. It also is a more logical spot to stop in terms of time spent on the road.
About 3km before Langar, make sure you check out the Ratm Fort, an old relic from the Silk Road that has great views over the Pamir River (now turning into the Panj River) and into Afghanistan.
You can walk around past the family's house to get to it. Just make sure you watch your footing when stepping close to the edge inside the fort – there are plenty of loose stones.
If petroglyphs are your thing then climb into the hills to find over 6000 of them. To get there go to the school, follow the powerlines up the hill towards the cemetery, then keep going up until you can cross the small stream.
There's also some Islamic shrines scattered around the village. It really is quite picturesque, and easy to see why people stay here.
Things to Do in Yamg
There's also quite a few cool things to do in Yamg. There is the Yamg Wakhani Museum, dedicated to local legend and Sufi mystic Mubarak-i Wakhani. You can find old musical instruments and relics of his life here.
Near the museum is a solar calendar as well. To be honest we didn't visit any of these due to a bad taste left by our homestay owner (who also happened to manage all the attractions in town), so we simply walked around the beautiful, bucolic village.
Where to Stay in Yamg
We stayed in Aydar's Guesthouse, but we don't necessarily recommend it. It was overcrowded with group tours when we arrived, and while Aydar was smiling when we first got there, he made a big deal about how we were inconveniencing him by coming so late and tried to charge us $20 for a place on the floor there, with dinner and breakfast being extra.
When we asked for a cheaper price he got aggressive, saying that he had the best guesthouse in town and that if we didn't like it we could leave. So we grabbed Mohammed to leave, and Aydar dropped the price to $15*.
During dinner Aydar's son gave us a very nice and detailed explanation of Pamiri architecture, which was fascinating. He then asked for money for his explanation.
We refused, and he asked if we'd like to stay after dinner to watch a cultural dance his sister was doing. Sure, we replied. "It is only a $10 donation to watch the dance," was his response. We went to bed instead.
In all honesty the place wasn't bad – there was a shower, the mattresses were comfortable and the food was great. It just felt like a money-grabbing business trying to take advantage of tired travellers.
Others have stayed there and enjoyed it though, so perhaps we just got them on a bad day.
*(We asked to pay in Tajik Somoni, and he gave us the worst rate ever. We then said "fine, can we change our USD into Tajik Som at your rate?" and he cracked it, demanding we go to the market to see what the rates were there. We just paid in USD after that.)
Why We Didn't Stay in Langar
Our original plan was to stay in Langar, but we decided to drive on. The reason being that our cyclist friend Nick had caught the owner of one guesthouse stealing money out of his bag there (sorry can't remember which one). When we said this to Mohammed he agreed that the lady steals a lot from travellers at that guesthouse.
We then asked if there were any other homestays, and Mohammed recommended a different one, who was his friend. "But food is very bad," he said. "Everybody gets poisoned there."
We tried to go to another one but Mohammed kept talking them down (we suspected it was because he didn't get a commission or free stay at those ones for bringing us), so we pushed on to Yamg.
Our friends have stayed in Langar without problem, so this is up to you whether you want to try it or not. If we were to do this trip again we would take the risk and stay in Langar for a night, or even two.
Day 6 – Yamg to Yamchun
Yamchun is famous for having the two most spectacular attractions along the whole Wakhan Corridor: The Yamchun Fort and the Babi Fatima Hot Springs.
The 2200-year-old Yamchun Fort sits precariously on the edge of a crumbling mountain, offering perhaps the best views of anywhere encountered in Tajikistan. Today the fort is left in ruins, but its foundations and walls can still be admired.
Our group separated for the first time in five days, and found our own corner of the fort to seek solitude and reflect on our surroundings.
Further up the hill the Babi Fatima Hot Springs flow into man-made pools, and the water is believed to boost fertility. Men and women are given separate pools to bathe in, and clothes are forbidden.
We paid our 10 Somoni ($1.25) each, stripped down and joined the locals in the steaming waters.
Clean and refreshed, we drove slowly down the mountain searching for another homestay we had heard about from other travellers.
Unsigned and hidden from view, the homestay took us over 30 minutes to find. But when we did discover it, we were in paradise.
It was perhaps the best example of Pamiri style decorations that we had encountered, complete with crimson carpets adorning the walls and a four-tiered skylight in the centre.
A vegetable garden, fruit trees and sunflowers made up the yard, with the gaps in the leaves offering stupendous views over the Wakhan Valley. Our afternoon was spent playing card games and basking in the sensational vistas.
Things to Do in Yamchun
Obviously the two main things to do in Yamchun are the fort and the Babi Fatima Hot Springs.
The fort is a great place to wander for an hour or so, and you can grab some epic photos. Climb around, find a shady spot and relax.
The Babi Fatima Hot Springs are equally cool and make for a relaxing session after exploring the ruined fort. Men and women are separated, and clothes are not allowed (yep, time to nude up).
The setting is really nice, nudged up against a rock overhand and filled in with cement to block out the elements.
Where to Stay in Yamchun
We found a discreet homestay on one of the switchbacks coming down from the Yamchun Fort. It really was hard to find, as the road drops away steeply while the house is up on a hill slightly.
It was maybe the 4th or 5th switchback down from the fort. It is on the left-hand side of the road if you are driving downhill.
The owners were amazingly friendly, and the house was gorgeous. We actually could have spent another night here just to chill out, but decided to head to Khorog instead.
It was $15 per person and included lunch, dinner and breakfast. The food was impeccable!
Day 7 – Yamchun to Khorog
Leaving in the morning was a reluctant endeavour, but it was time to finish our Pamir Highway journey. We continued on the road, stopping at key photo opportunities, and at another ancient fort.
At the town of Ishkashim we passed the international border crossing into Afghanistan. Every Saturday for years had seen a cross-border market operating on a small island between the two countries.
Normally it was the best opportunity for tourists to interact with Afghani sellers without entering the country.
Unfortunately for us the market had been closed for six weeks due to instability in the region. The Taliban had been moving closer to the border, and were now reportedly 20km from Ishkashim.
The gates were open, but no one was making the crossing.
We stopped by at the Ishkashim Fort, another Silk Road relic with a formidable location on the edge of the Panj River.
With views over lush farmland and the high position allowing a phenomenal sight of the natural border between Afghanistan and Tajikistan, it may be one of the most unique spots along the Pamir Highway.
We snaked along the mountains before finally arriving in Khorog, the biggest town we had visited since Osh. Mohammed drove us to the Pamir Lodge where we pitched our tents, cracked a beer and celebrated the end of our Pamir Highway adventure.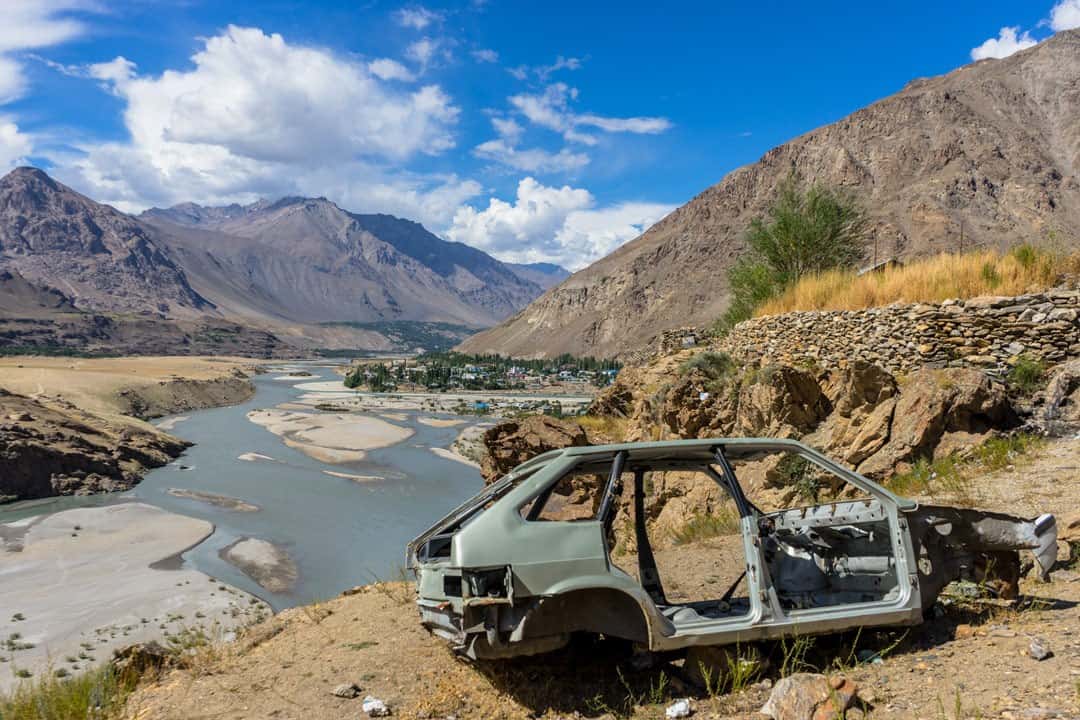 Things to Do in Khorog
There are plenty of things to do in Khorog, but to be honest the town's main appeal is to be used as a resting point before or after a Pamir Highway road trip and to stock up on supplies.
You can take a marshrutka out to some of the nearby villages, or check out the botanical gardens just outside of town.
There's also a great hike into the Jiseu Valley with a long suspension bridge over the river.
Hot Tip: Eat at Dehli Dharba. It's a great Indian restaurant with decent prices. Walk towards the river down an alleyway when you hit the MicroFinance Bank on the main street.
Where to Stay in Khorog
Khorog has a lot of decent options of places to stay, but we chose to stay at the most popular one: The Pamir Lodge.
It's a bit of a legend around the region for having the highest concentration of people to swap stores and advice with, and it's a cool setup. It also has wifi.
It's $9 per person for a private room, or $5 to pitch your tent (either on the grass or on the timber deck). We spent 2 nights in a private room, then jumped in our tent for the next few nights.
To get there you turn up the hill at the Afghan embassy. It's a little walk out of town, but not too bad. The manager also speaks decent English, and is a great guy to chat to if you want to travel into Afghanistan or explore more of the region.
Extra Information for Travelling the Pamir Highway
Here's a bit of extra information to help you plan your adventure along the Pamir Highway.
Remember we now recommend making bookings through Visit Alay. You can of course still try to organise this on your own if you'd like.
Budget for the Pamir Highway
Exploring the Pamir Highway is not cheap. Homestays are, on average, higher than most places in Central Asia due to the remoteness of them. Food is also more expensive.
Renting a 4×4 in Osh is charged per kilometre. A standard rate is $0.75 per kilometre, but this can go up or down depending on the quality of the driver, the reliability of the car, etc.
Expect to spend about $100 per day on car rental. You also have to pay for the driver to return to his home. This is charged at about half the usual rate, but he will take the most direct way possible.
It's also about $20 per day for the driver in addition to the car rental.
Vehicles are best split between 4 people, to keep the costs down. Fuel is included in the price of car rental.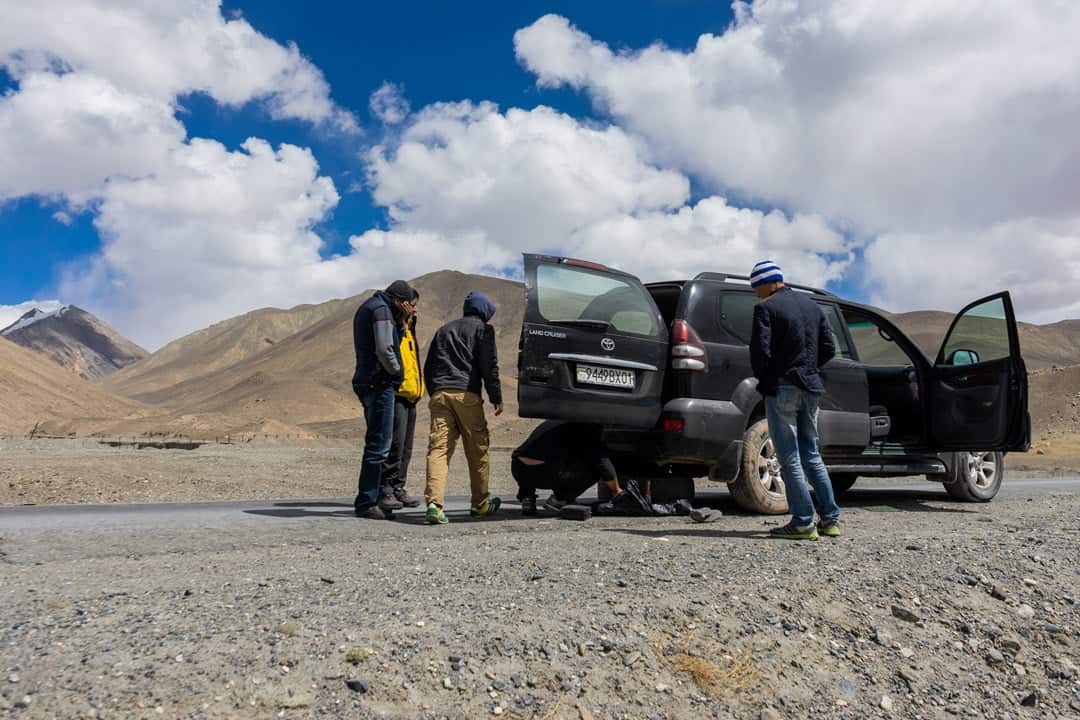 Homestays range from $12-20 per person, per night, including meals. This is not luxury by any means, but it is a great experience staying with a family and learning about the Pamiri culture.
You will also need to buy some food supplies along the way for lunches and snacks. Bring some water too, although you can fill up at streams along the Pamir Highway. We recommend having a SteriPEN or water filtration system of you do this.
As a good estimate expect to spend between $50 – $60 per person, per day on the Pamir Highway for a group of 4.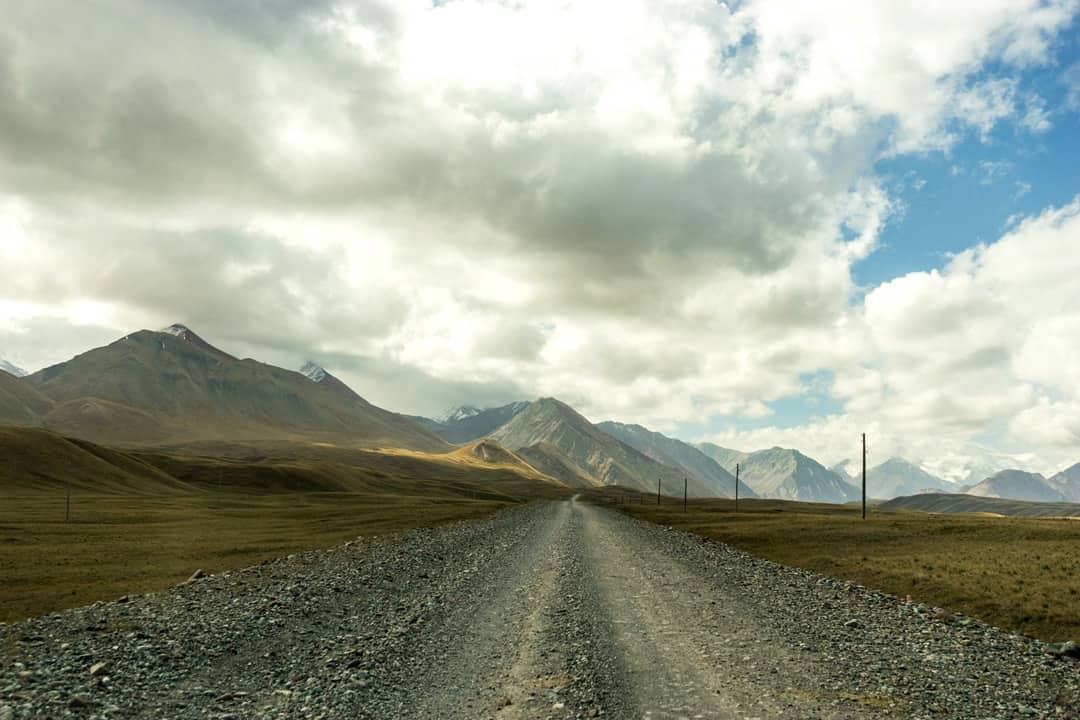 Exchanging Money on the Pamir Highway
We recommend travelling with new USD notes, ranging from $5 up to $100. All homestays will accept USD as payment.
We also suggest exchanging some of your USD for Tajik Somoni so you can make smaller purchases in the markets. You can do this at the bank in Murghab or Khorog.
There are NO ATMs between Osh and Khorog. Bring all the cash you need with you.
Camping Along the Pamir Highway
There is no problem with camping along the Pamir Highway, as long as you take precautions and don't pitch your tent near anyone's property without asking them permission.
If you are riding a bike or self-driving you can get off the main roads and find a quiet patch out of the way. If you're hitchhiking just do the same and walk up into the mountains or out of sight of villages. Another option is to ask the owners of the various homestays if you can pitch your tent in their yard.
Keep in mind that the temperatures do plummet at night, even in summer. Make sure you have a warm sleeping bag, a decent tent and thermals!
Extending Your Pamir Highway Adventure
If you're looking to add a few extra days along the Pamir Highway you can quite easily spend up to 2 weeks (or more) doing it.
Sary Moghul and Bulunkul have some great options for multi-day treks. In Bulunkul these may need to be planned in advance so you can get the permits.
We also just discovered that it's possible to drive or hike up to Lake Zorkul, which is the start of the powerful Pamir River. It's at the northern end of the Wakhan Corridor on the border of Tajikistan and Afghanistan.
It's in a nature reserve and we have no idea if permits are required to visit it. Ask at Osh Guesthouse or at the GBAO checkpoint where M41 heads to Khorog and you travel on to the Wakhan Valley.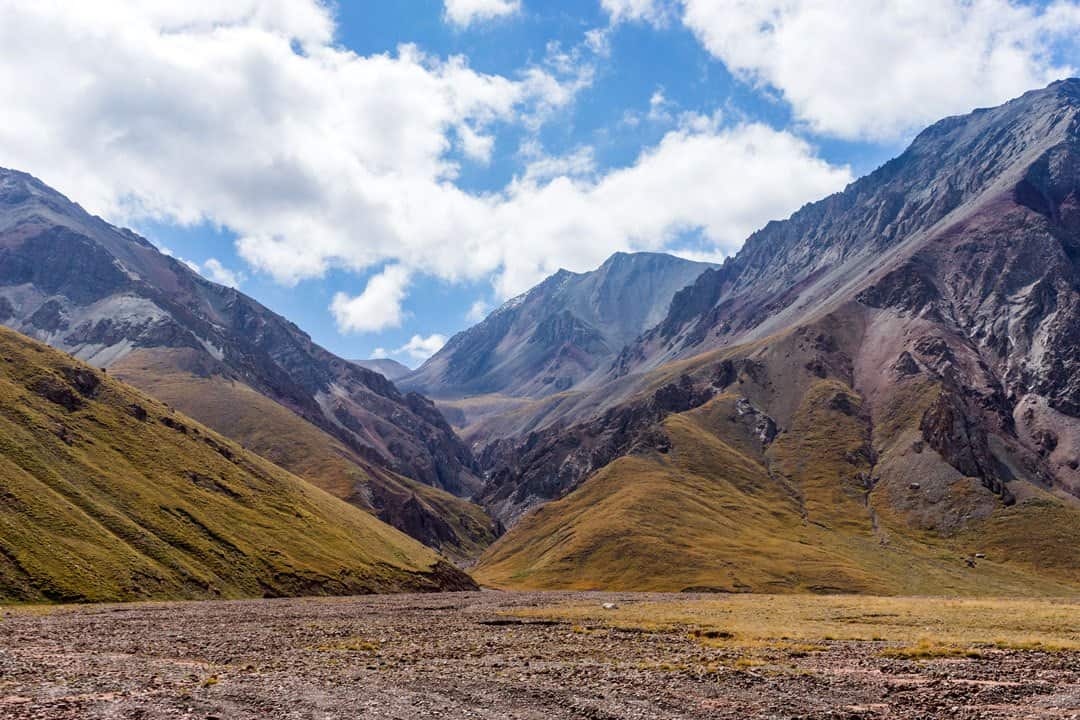 Pamir Highway from Dushanbe or Khorog
Another option is to do the Pamir Highway trip in reverse, starting in either Dushanbe or Khorog. If you go from Dushanbe we recommend breaking it up into two days, as it's a long, long, bumpy trip. There's also meant to be some nice hiking opportunities along the way.
If you want to leave from Khorog you can organise everything at the PECTA office. Go to the Pamir Lodge to find people to split the costs if you are renting a 4×4.
[box] Have you travelled on the Pamir Highway? Let us know what your experiences and tips are below![/box]