From Esperance in the south all the way up to Broome in the north, this ultimate Western Australia road trip itinerary takes you along all the highlights of Australia's largest state.
As soon as you hit the road and start exploring Western Australia, you'll immediately realise why this destination is a truly unique corner of the world.
In terms of land mass, it is the biggest state in Australia. It is absolutely massive, taking up almost the entire western half of the country.
Despite its size, Western Australia is sparsely populated. Much of the land is desert, so it is extremely remote and there are few tourists here compared to places like New South Wales or Queensland.
Even when heading to the desert regions of the Outback, most travellers head to Alice Springs in the Northern Territory before considering a trip to Western Australia.
Because Western Australia is mostly rural, and there are few tourists, it's actually one of the best spots for road trips in Australia!
Full of wildlife, national parks, coral reefs, wineries, charming towns, white sandy beaches, and rugged natural landscapes that sometimes look like another planet, Western Australia has so much to offer.
The best way to see it all is definitely a road trip. Public transport doesn't reach all the best parts of the state, so a driving adventure allows you to get to all the most beautiful and remote places on your own schedule.
Let's get into this epic Western Australia road trip itinerary!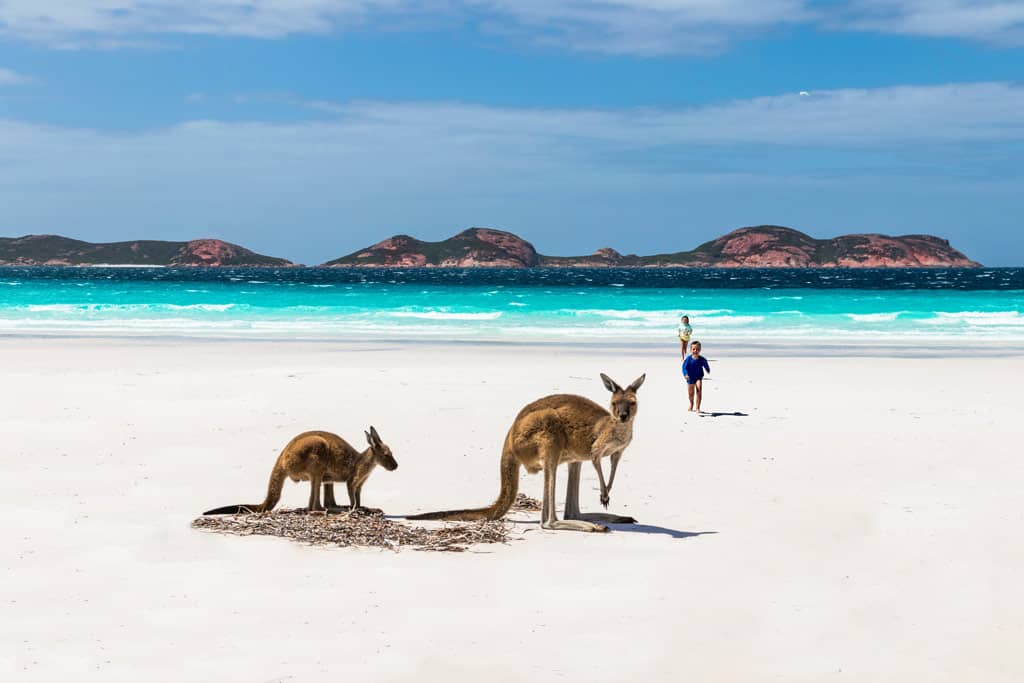 WA Road Trip Guide
Before we get into the actual itinerary for a Western Australia road trip, we're going to cover some of the basics.
To plan a road trip of this diverse and stunning state, you need to have a few things sorted including your transport, your time frame, your supplies, and any other logistics.
The road trip will consist of two sections: A southern loop from Perth to Esperance and back, and a northern route from Perth up to Broome and back. This is a lot of ground to cover, but it is so worth it.
To help you plan your road trip, here are some important things to consider.
Where to Start?
Although it makes sense to start at one end of the west coast and finish at the other, this isn't realistic for most people.
This Western Australia road trip will reach from Esperance in the south, all the way up to Broome in the north. However, flights into Esperance or Broome aren't cheap from most destinations around Australia. Car rentals are even more scarce, and more costly in these places.
Your best option is to start your Western Australia road trip in Perth.
Perth is the capital city of Western Australia, and it has the most amenities available. Flights into Perth are plentiful, and they are more affordable than other places in the state.
Fly into Perth, spend a few days enjoying the capital city, then rent a car and head out on your road trip. Return to Perth at the end to return your car and fly home.
If you already have your own car or camper van and you don't need to rent one in Perth, you can always begin this road trip anywhere that suits you. Just keep in mind that you'll have to drive all the way back home after the trip.
READ MORE: Check out our list of the best things to do in Perth!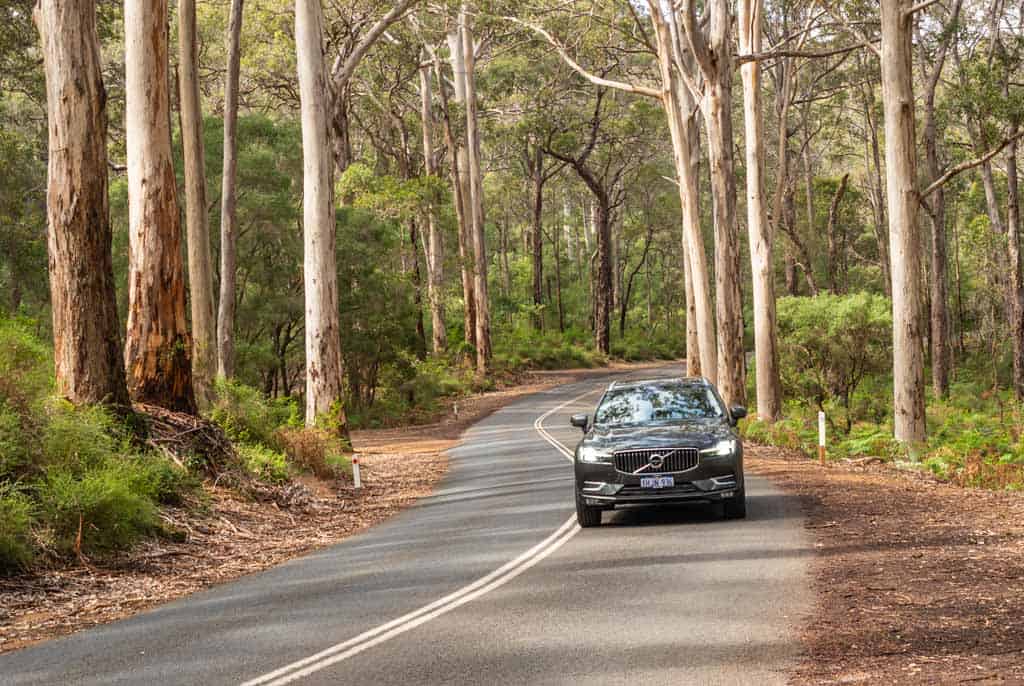 How Long is the Drive?
The biggest obstacle when planning a Western Australia road trip is time!
Because the state is so huge and all the attractions are spread out, you'll need a good chunk of time to see everything.
Give yourself 3 weeks at the very least to complete the entire Western Australia road trip and then loop back to Perth. This is the very minimum amount of time, with just one night in most places.
The first part of the road trip starts in Perth, follows along the south west edge of the state until Esperance, then loops back to Perth inland via Hyden. The driving distance is roughly 21 hours (with no stops), covering about 1,900 km.
The second part starts in Perth and heads north along the coast, with a detour to Karijini National Park, before ending in Broome. The driving distance is roughly 31 hours (with no stops) and covers about 2,800 km.
After Broome you'll return to Perth unless you're continuing into the Northern Territory. So the total driving time for the north and the south, plus the return drive to Perth, is roughly 75 hours. The total distance is roughly 6,700km.
Three weeks is very doable for this drive! If you have time to spare, stretch the road trip out into a month or more.
Whether you want to take your time and leisurely explore the state, or you want to see it all in 3 weeks, a Western Australia road trip is one of the best things to do Down Under.
Car or Campervan?
You can do a Western Australia road trip in either one! But spoiler alert, we recommend a campervan!
A rental car is cheaper than renting a campervan. You'll probably spend less money on petrol, and there is less maintenance required with a small car.
But you'll have to book all your accommodations in advance. You can also pack a tent and camping gear, you'll just have to set up camp every night.
A campervan is the most convenient option because you can just drive up to most campsites and you're good to go.
There is a lot of hopping around on this road trip, so it is handy to just have your sleeping arrangements all set up in your van. If you don't have your own van, you can rent one in Perth.
We recommend Travellers Autobarn, who have the biggest range of budget-friendly vans available.
Whether you rent a car or a camper van, definitely take advantage of the amazing campgrounds in the state.
Camping in the remote outback areas of Western Australia and watching the stars is an epic adventure!
Another thing to note: you don't necessarily need a 4WD. Some more rugged areas of the road trip will definitely be easier with a 4WD, but you can still complete the road trip without one.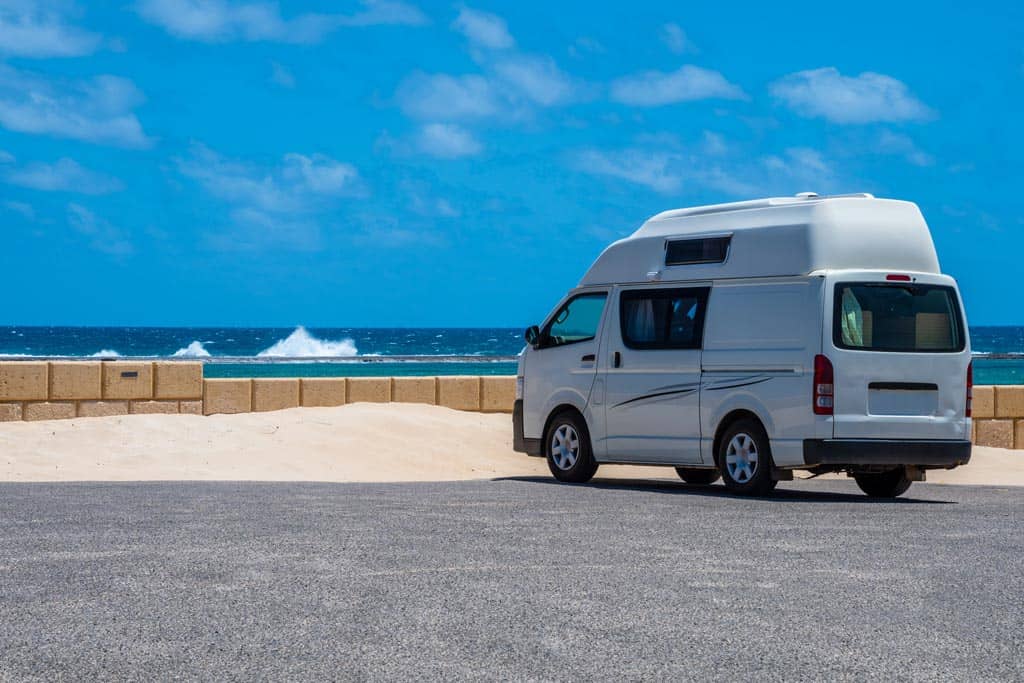 Driving in Western Australia – Road Trip Tips
Here are some other road trip tips for Western Australia.
As mentioned, Western Australia is very remote. Petrol stations are usually available, but it is wise to be prepared just in case. Try to have spare fuel, spare tires, and extra necessities like food, water, and a first aid kit.
Also, be careful when driving on the outback roads. Wildlife is everywhere, and even when the road looks deserted, you never know what may jump out in front of you. Particularly at dawn and dusk, drive with caution.
In terms of weather, I would recommend avoiding a Western Australia road trip in the middle of summer.
December through February can get extremely hot, especially the further north you go.
The north of Western Australia has a tropical climate as well, meaning summer is also rainy season.
To avoid rain, floods, and potential road closures, and super hot temperatures, plan your road trip outside the summer months.
With those tips in mind, all road trips around Western Australia should run smoothly. Let's get into the itinerary and our suggestions for the best places to go on your road trip.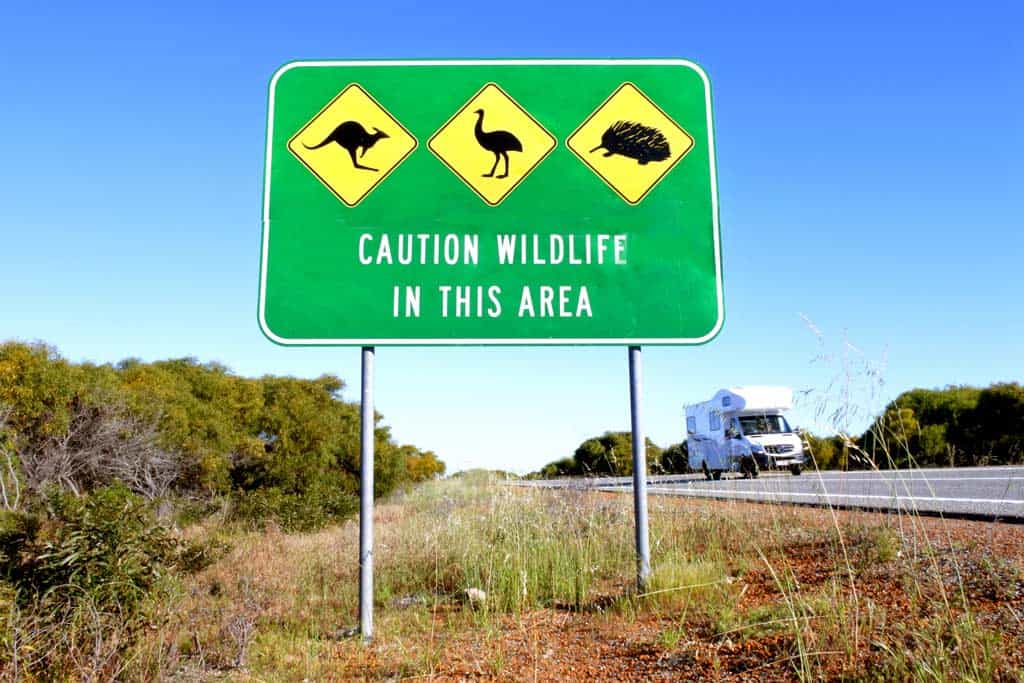 Western Australia Road Trip Itineraries
As discussed earlier, we have separated this Western Australia road trip itinerary into two sections.
The Southern Route begins in Perth, follows the south west edge of the state to Margaret River and Albany, then continues to Esperance. From there, you can loop back to Perth inland.
The Northern Route starts in Perth and follows the west coast up to Exmouth. Then you can take a detour to Karijini, then continue up to Broome before heading back to Perth or continuing your road trip north.
These itineraries can be modified according to your plans. You can just do one route if you don't have a full three weeks to spare. If you have more time, feel free to spend extra days in places you really love.
If you don't have your own wheels you can rent a campervan in Perth.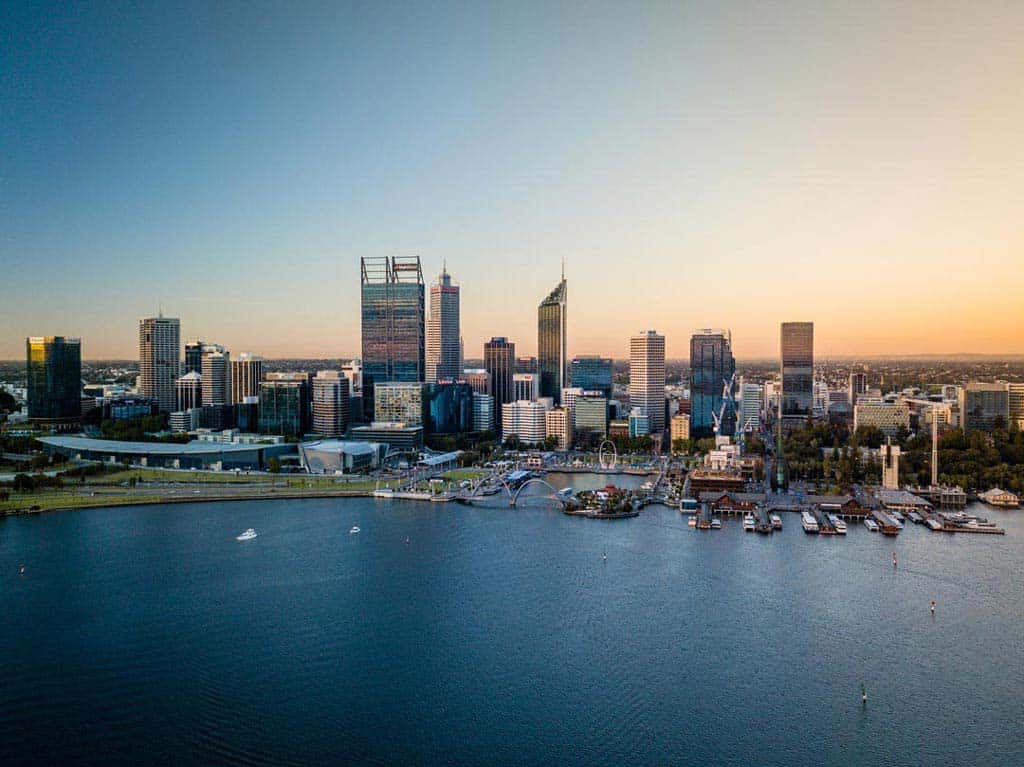 Southern Route
The Southern Route of the road trip takes 7 days. If you only have a short time to explore Western Australia, this is the quickest road trip to choose.
Be sure to spend a few days exploring Perth before you set out. Check out Fremantle, explore the beautiful Perth beaches, or take a day trip to Rottnest Island and play with the quokkas.
Once you've had your fun in Perth, pick up your car or camper van and get going!
If you're only planning on driving south too, have a read of our Perth to Esperance road trip guide.
Day 1 – Perth to Dunsborough
From Perth, it's a 3 hour drive to Dunsborough.
Stop in Busselton along the way, a charming coastal town with plenty of fun things to do.
Stretch your legs along the iconic Busselton Jetty, or do the Underwater Sea Walk which explores the marine life under the jetty.
You could also walk to the Cape Naturalist Lighthouse or get some delicious fresh seafood for lunch.
Continue on to Dunsborough, which has some nice wineries and beaches to check out. Meelup Beach is a great spot for a swim or surf.
Dunsborough and Margaret River are only 30 minutes apart, so you can spend the night in either place.
Day 2 – Dunsborough to Margaret River
Today you'll want to do some wine tasting in the Margaret River region, as this is a highlight of Western Australia. You can just drive from vineyard to vineyard on your own, or book a winery day tour so you can drink all the wine you want without having to drive.
BONUS – Booking ahead of time ensures you won't miss out on the tour, and get the best price too! And just for NOMADasaurus readers, if you use the Klook discount code "NOMADS10" on the website when checking out, you'll get $10 off your first booking!
Also check out Margaret River Chocolate Company and Margaret River Dairy Company to sample locally made, artisan food and buy some snacks for your trip.
Other fun things to do near Margaret River include surfing at Yallingup Beach, taking a dip at the nearby natural swimming pool called Injidup Natural Spa, and checking out the stalactites and stalagmites at Jewel Cave or Ngilgi Cave.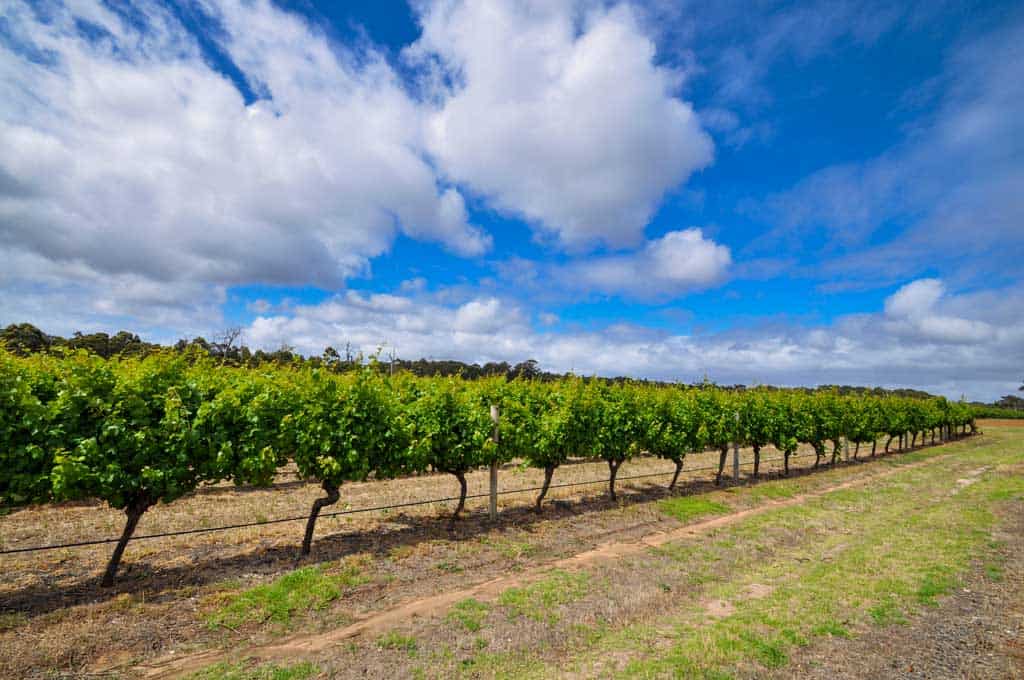 Day 3 – Margaret River to Albany
After Margaret River, it's time to head towards your next destination: Esperance. If you want an extra day in Esperance, drive straight there from Margaret River. It takes 8 hours.
If you prefer to break the journey up and see more Western Australia highlights along the way, you can make a few stops on the way to Esperance.
It's 4 hours from Margaret River to Albany.
Definitely stop in Hamelin Bay, where lots of sting rays swim through the shallow waters. You can go snorkelling here or just wade amongst the rays. 9am or 10am is the best time to see them!
Another cool stop on the way to Albany is the massive, seaside boulders known as Elephant Rocks in William Bay National Park. Nearby is Greens Pool, a beautiful spot for a swim.
Just before you reach Albany there is another gem: Torndirrup National Park. Check out the unique rock formations here like The Gap and the Blowholes, and the Natural Bridge.
Read next: The 20 Best Things to Do in Albany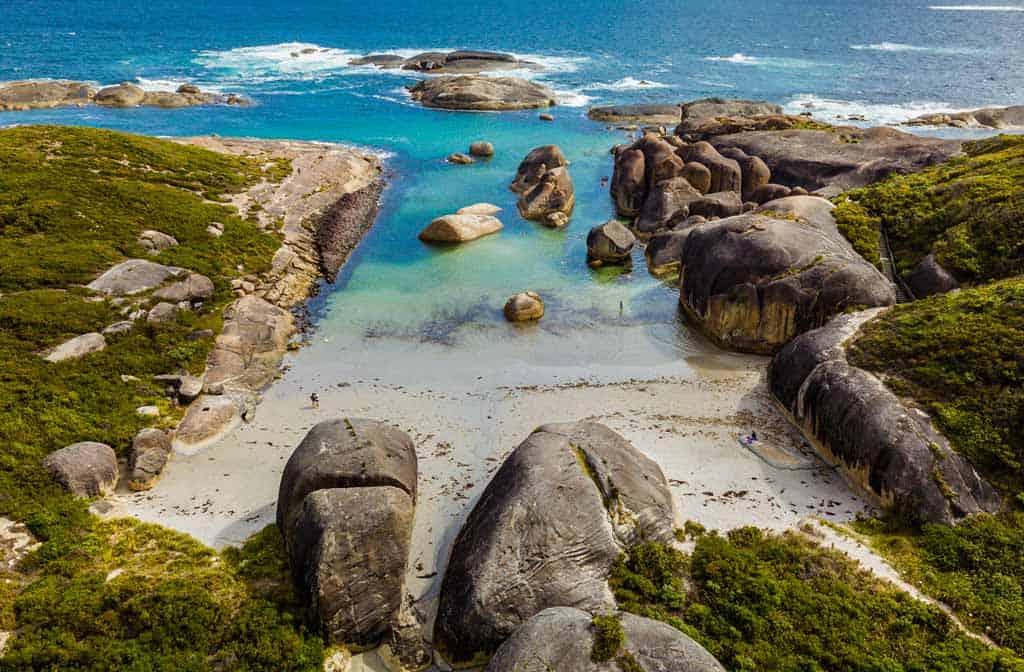 Day 4 – Albany to Bremer Bay
It's 2 hours from Albany to Bremer Bay, the next stop on your way to Esperance along the south west coast.
You can spend the morning in Albany. Get brekky in a cafe, go for a swim or stroll on Middleton Beach, or check out the National ANZAC Center for a bit of Aussie history. If you're here on a Saturday, definitely stop by the Albany Farmers Market.
Once you reach Bremer Bay, consider booking an orca whale watching tour. This is one of the best places in the world to see orcas in the wild. Between January and March, the ocean here is home to the largest congregation of Orcas in the Southern Hemisphere.
You can also go whale watching here between June and October, as southern right whales come here to calve.
You may also see humpback whales, pilot whales, and more. Anywhere on this region of the south west coast of Australia is great for whale watching during the winter months!
Also in the area is the Fitzgerald River National Park. Full of beautiful forest and walking trails, this is a nice place to explore if you're not here during whale season.
There are two campgrounds here as well if you want to spend the night in the wilderness.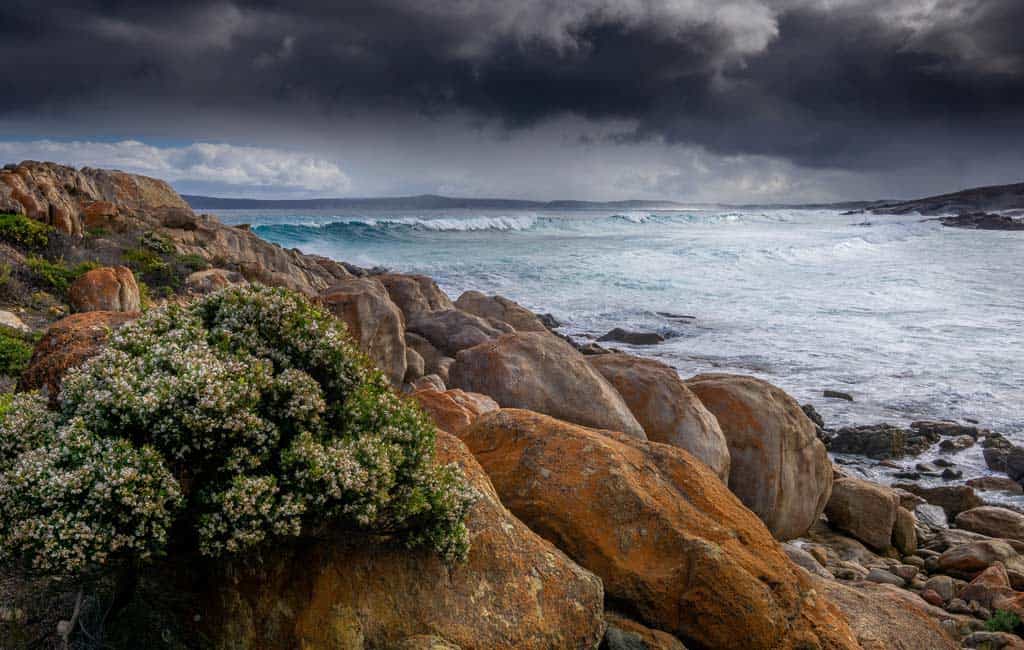 Day 5 – Bremer Bay to Esperance and Cape le Grand National Park
From Bremer Bay, it's a 5.5 hour drive to Esperance.
Known for its pink lakes, stunning beaches, and active wildlife, Esperance is one of Australia's most beautiful places.
The famous saltwater Pink Lake is right next to the town, but it isn't actually pink anymore.
Lake Hillier is the more famous pink lake, which is located on an island off the coast of Esperance. You can access this lake by a boat tour if you wish.
Once you arrive in Esperance, spend the day exploring Cape Le Grand National Park. Lucky Bay Beach is one of the most beautiful beaches in Australia.
It's famous for its white sand, turquoise water, and kangaroos which frequent the beach.
A great way to see all the highlights of Esperance is to do the Great Ocean Drive. It's a 40-km loop that starts and ends in Esperance.
Along the Great Ocean Drive is the Observatory Point Lookout, Twilight Beach, Twilight Cove, Ten Mile Lagoon, Lucky Bay Brewing Company, and the Pink Lake.
You can follow the Great Ocean Drive route or just pick and choose the attractions you want to see while you're here.
Check out our full list of the best things to do in Esperance.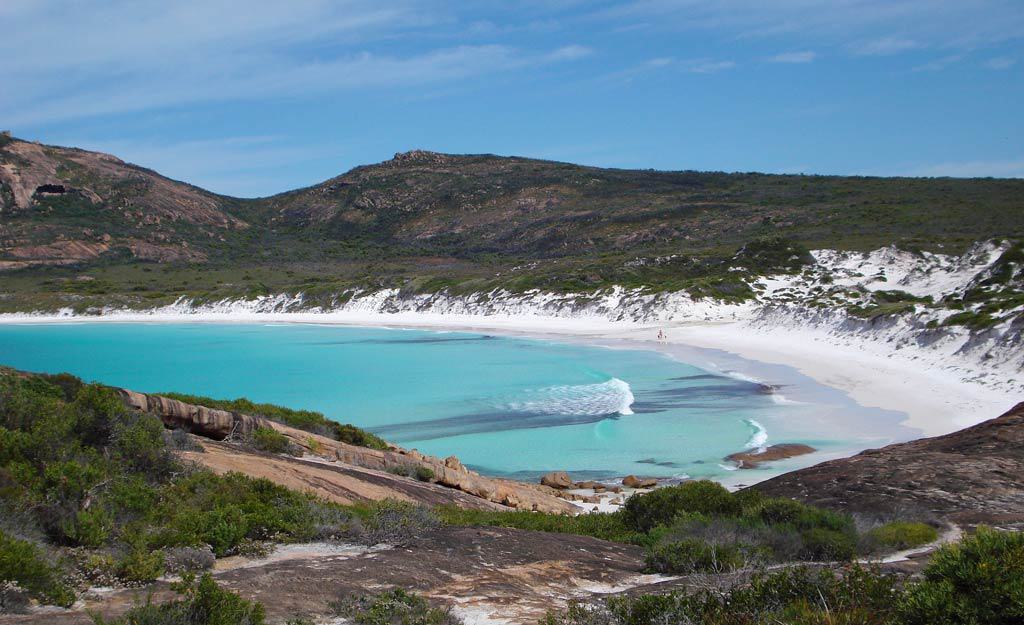 Day 6 – Esperance to Hyden
After enjoying Esperance, it's time to head back to Perth. It's an 8 hour drive on the inland route. You can do it all at once, but we recommend stopping halfway in Hyden.
You'll reach Hyden in 4 hours. While you're here you have to check out Wave Rock. This giant slab of granite that was supposedly formed 130 million years ago is actually shaped like a huge wave.
It has formed this way naturally over time, and it's one of the coolest natural attractions along the route. It's worth stopping in Hyden just to see it.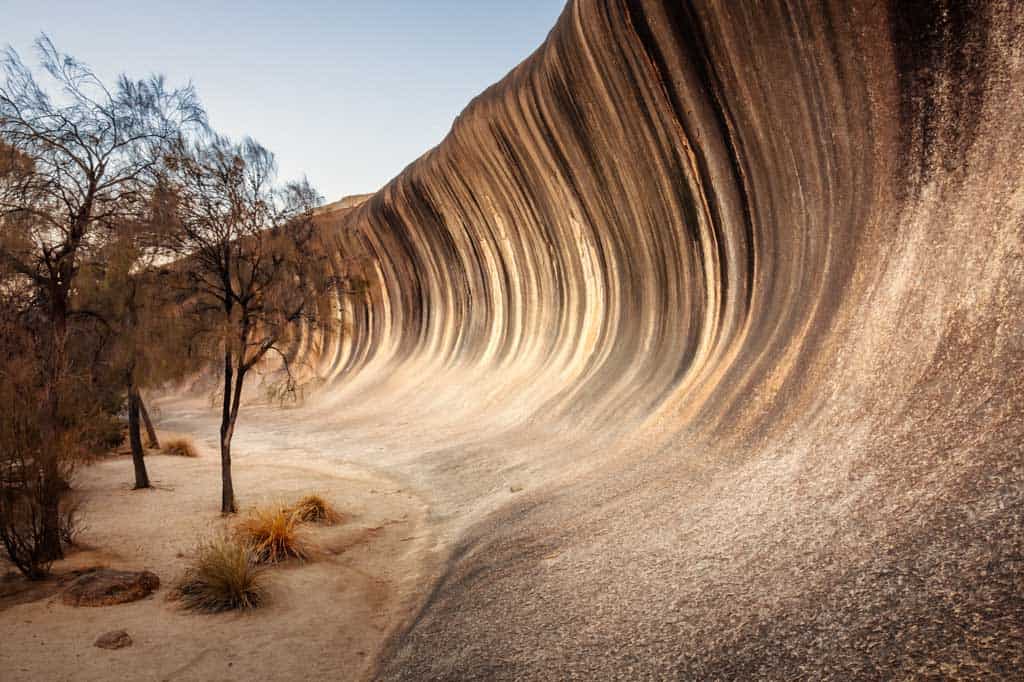 Day 7 – Hyden to Perth
From Hyden, it's just a 4 hour drive back to Perth! You've finished the southern section of this road trip.
You can choose to spend some time relaxing in Perth, or just continue straight on to the northern section.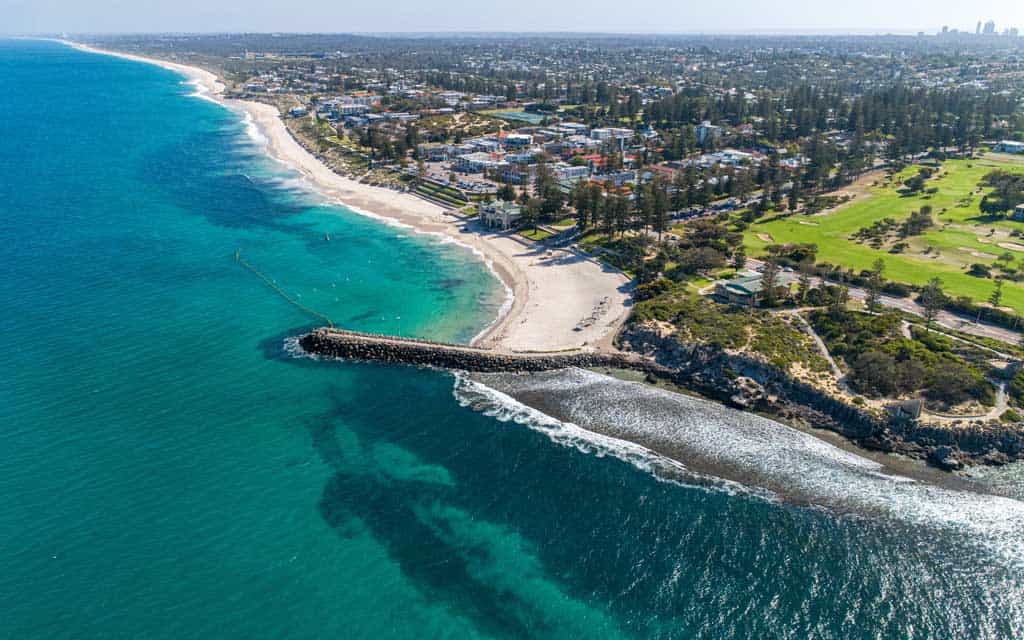 Northern Route
This next Western Australia road trip route goes from Perth up to Broome.
As you head north towards the Coral Coast, the waters of the Indian Ocean get warmer and you'll find the marine life is flourishing.
You'll also see lots of dramatic natural landscapes within all the national parks and coastal drives.
The Coral Coast is majestic, colourful, and full of life. It begins in Cervantes, a small town 2 hours north of Perth and ends up in Exmouth.
Read next: Check out our comprehensive Perth to Broome road trip itinerary with more info, or continue reading below for an overview of what you should do on this part of the drive!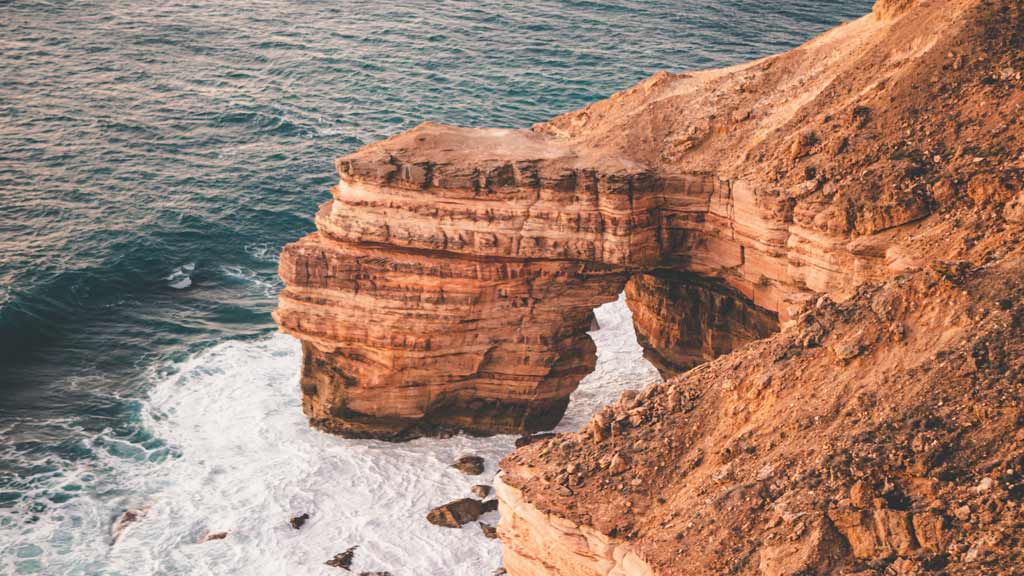 Day 8 – Perth to Jurien Bay
From Perth it's only a 2.5 hour drive to Jurien Bay. On the way you can make a few cool stops if you'd like.
If you already have your vehicle, then you can keep on driving from the southern loop.
But if you are looking to pick up wheels here, grab a campervan from Perth and you'll be good to go.
Stop in Yanchep National Park to explore the forest, go wildlife watching, stretch your legs on some walking trails, and seek out some limestone caves.
Lancelin is another unique stop because it has sand dunes! You'll feel like you're in the middle of the Sahara Desert here.
If you have a 4WD you can go off roading on the Lancelin sand dunes. Or you can rent a sandboard for $12.50 and have some fun.
But the absolute best stop is Nambung National Park, which is a real highlight of Western Australia.
The Pinnacles Desert in Nambung National Park is an otherworldly natural sight. This arid desert is full of natural limestone rock formations that were formed somewhere between 25,000 and 30,000 years ago.
The Pinnacles are a fascinating sight, and could be considered a must-see on road trips through Western Australia.
Once you arrive in Jurien Bay, enjoy the relaxed pace of this chill beach town. Walk along the white sandy beach and go for a snorkel or swim.
Camp near the beach at Sandy Cape Recreation Park and watch the stars.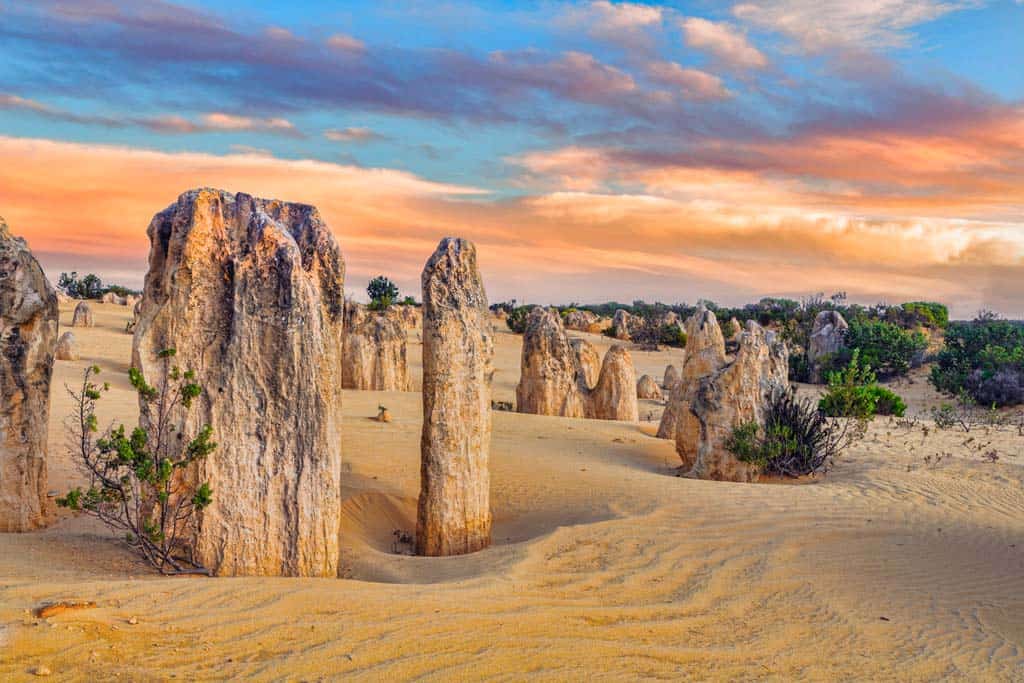 Day 9 – Jurien Bay to Geraldton
After a good night's sleep, there is one amazing adventure to do in Jurien Bay before you continue on the road: a sea lion tour!
A colony of sea lions lives on Essex Rocks, which is a 15-minute boat ride away from Jurien Bay.
Book a boat tour so you can visit the colony and go snorkelling and swimming with some friendly sea lions.
After swimming with sea lions, drive 2 hours north from Jurien Bay towards Geraldton.
Geraldton is a pretty quiet town that is a popular stop on a road trip of Western Australia.
Spend the day visiting the cafes, markets, museums, beaches, and swimming holes in the area.
There are a few nice caravan parks in Geraldton as well, where you can rent a cabin or park your campervan.
Tomorrow you're heading to Kalbarri National Park, which is full of fun things to do.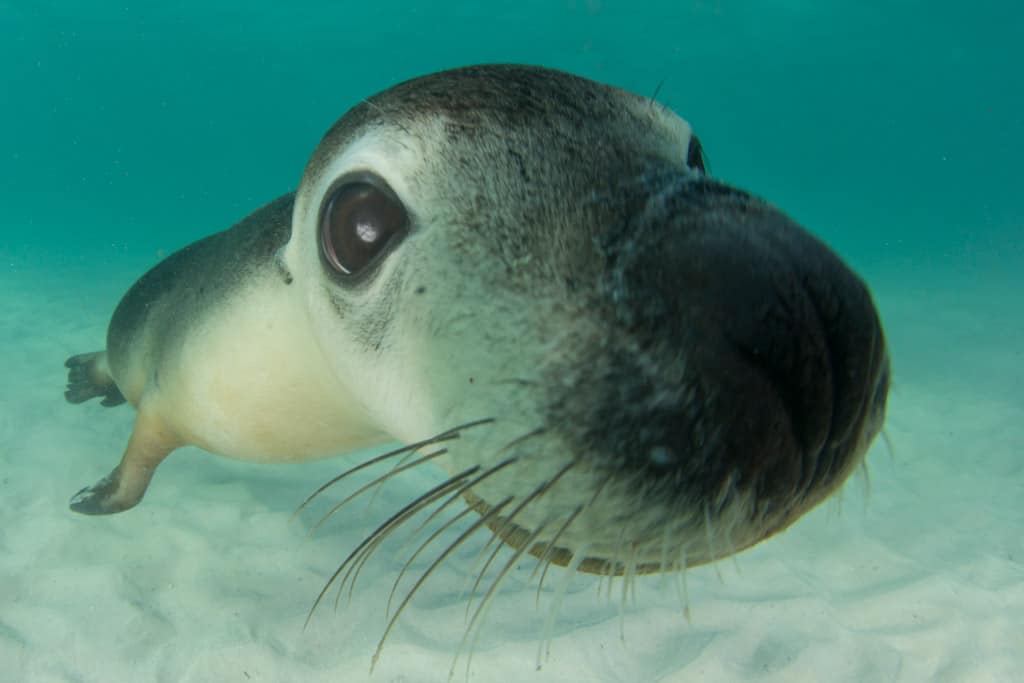 Day 10 – Geraldton to Kalbarri
It's a 2-hour drive from Geraldton to Kalbarri, a resort town framed by rugged coastal cliffs and oceans filled with wildlife.
On the way to Kalbarri you'll pass by another pink lake called Hutt Lagoon. This lake is still pink due to the presence of a special algae, so check it out if you haven't yet gotten a cool photo of a Western Australia pink lake.
Once you arrive in Kalbarri, spend some time admiring the stunning coastline. Visit Red Bluff, Natural Bridge, and Island Rock for impressive views of the jagged rocks towering over the ocean.
You can also head into Kalbarri National Park, which has lots of great hiking trails and some iconic landscapes.
The Z Bend Lookout is a short day trail that is quite popular.
The real highlight of Kalbarri National Park is the short, loop trail to Nature's Window.
This is a large natural arch made of layers upon layers of dusty red sandstone. The arch creates "Nature's Window" where you can look through over the rivers, forests, and cliffs of the national park.
Check out our list of the best places to visit in Australia for more travel inspiration!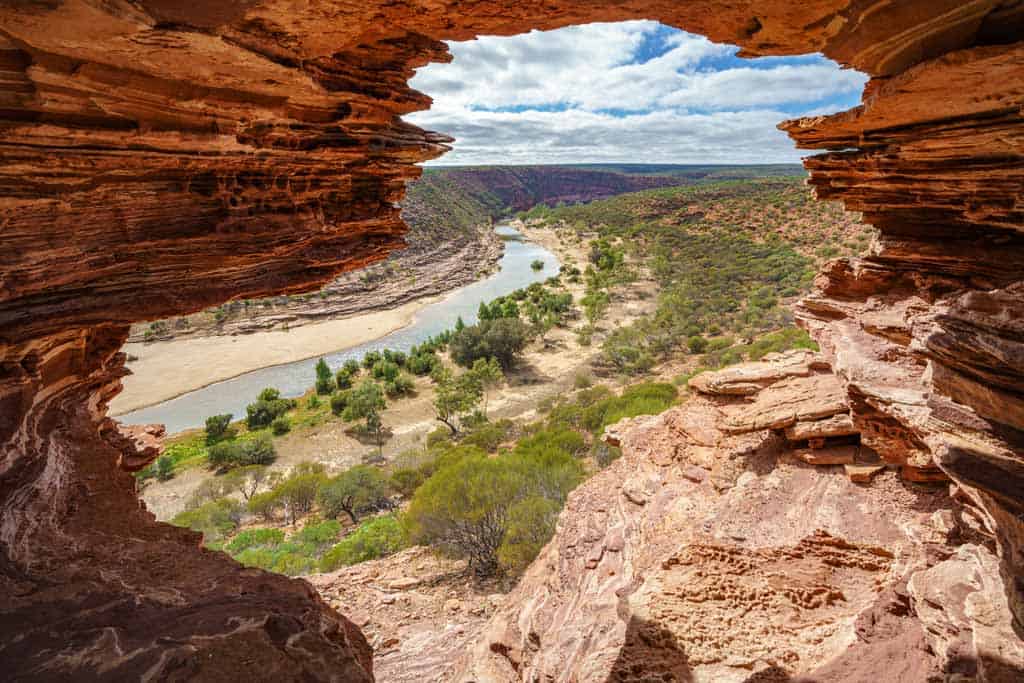 Day 11 – Kalbarri to Shark Bay
Continue driving north for 4 hours until you reach Shark Bay, then spend the day exploring this very special area of Australia.
Shark Bay on the Coral Coast is a UNESCO World Heritage Site. It is the most westerly point of Australia, and is made up of numerous islands, reefs, national parks, beaches, and more.
Shark Bay is also home to the world's largest and richest seagrass beds, where you can find large numbers of dugongs grazing in the waters.
There are so many other cool things to see in Shark Bay. Visit Hamelin Pool to see the oldest life forms on earth: a type of living fossil known as stromatolites. These algae colonies are millions of years old.
Another highlight of the area is Shell Beach. This is one of the few places on earth where you can find a beach with billions of tiny shells in place of the sand.
After admiring Shell Beach, visit Francois Peron National Park to see the vibrant natural colors, from the red cliffs and white sandy beaches to the turquoise waters.
Monkey Mia is a small, quiet area of Shark Bay famous for its marine life. From a huge population of wild bottlenose dolphins, to manta rays, turtles, dugongs, and more, Monkey Mia is a great spot for wildlife watching.
Denham is the gateway town to the nature of Shark Bay, so you can find accommodation here unless you want to camp at a more remote campground in Francois Peron National Park. The Monkey Mia Dolphin Resort is another nice place to stay.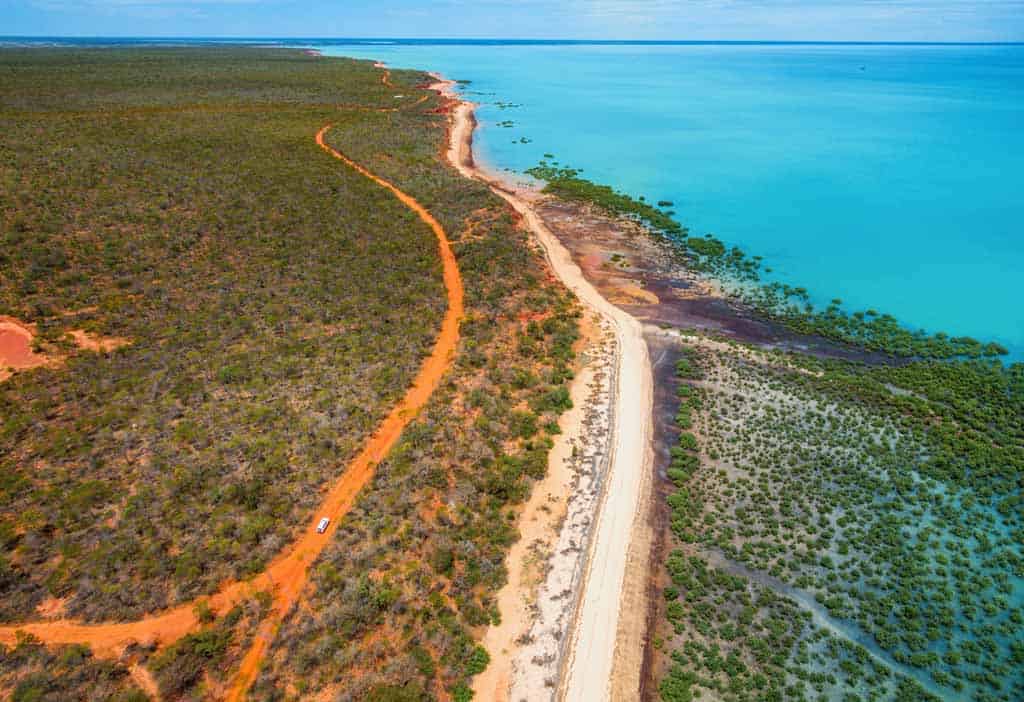 Day 12 – Shark Bay to Coral Bay
After marveling at the wildlife and colorful nature around Monkey Mia, Shark Bay, and the national park, drive 5 hours to Coral Bay.
On the way you can stop at the Quobba Blowholes to watch the water shoot out of natural rock crevices and up into the air.
Coral Bay is a charming spot on the Coral Coast, so enjoy your day here before heading up to Exmouth tomorrow.
There are a few nice caravan parks near the beach such as Bayview Caravan Park and People's Park.
The Ningaloo Reef acts as a barrier from the Indian Ocean so the water here is calm, clear, and peaceful. The conditions are perfect for snorkelling, diving, fishing, kayaking, or stand up paddle boarding.
If you want a real treat, you can tour the reefs of Coral Bay on a glass bottom boat.
A highlight of the area is Skeleton Bay, a nursery for reef sharks. Stop here to add another species to your list of animals you've seen on this road trip of Western Australia!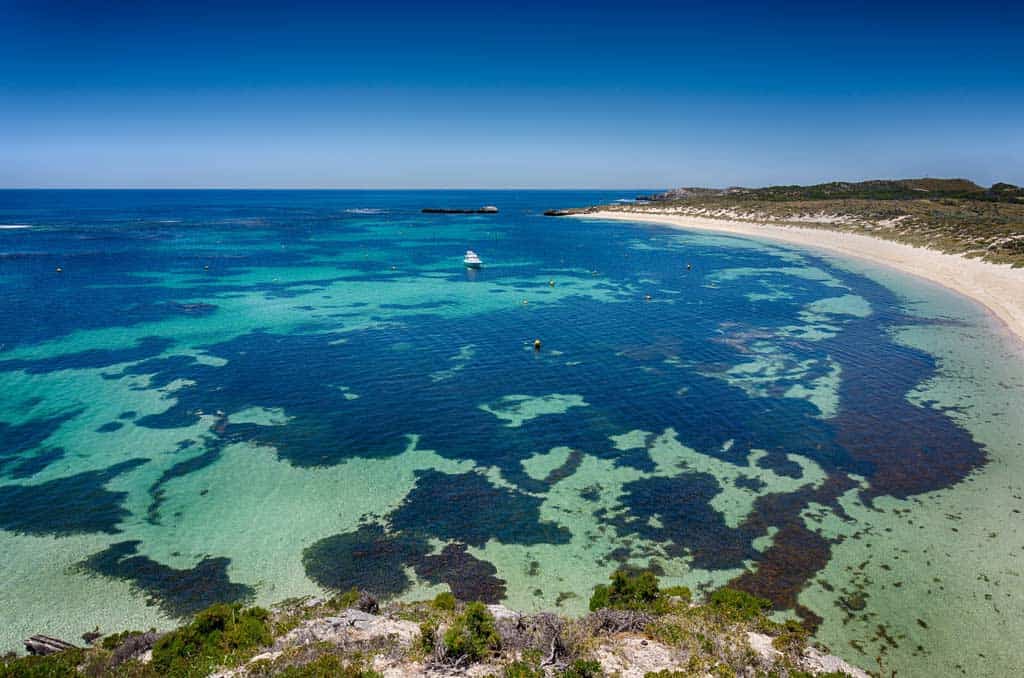 Day 13 – Coral Bay to Exmouth
From Coral Bay it's 2 hours to Exmouth, one of the best places to visit on a road trip of Western Australia.
Stop by the Ningaloo Visitor Centre when you arrive for maps and information. You'll spend a full day in Exmouth tomorrow exploring the beaches and reefs of Cape Range National Park so make sure you get some rest today in preparation for an incredible day.
Read more about the ultimate Perth to Exmouth road trip if you're not planning on heading further north.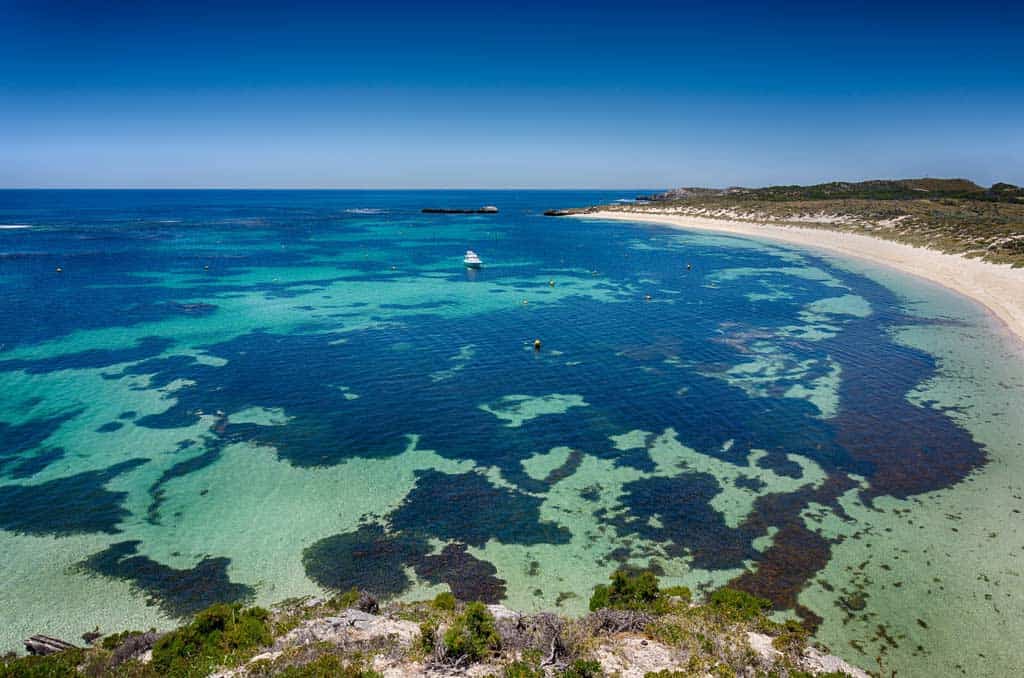 Day 14 – Exmouth
Exmouth is a major tourist town that marks the gateway to the Ningaloo Coast World Heritage Area.
The waters are filled with coral reefs and marine life, and the land is surrounded by the gorges and cliffs of Cape Range National Park.
It's a stunning area, and it's sure to be a highlight of your road trip.
Easily the best thing to do in Exmouth is swimming with whale sharks. These gentle giants roam the warm waters of the Ningaloo Reef, alongside humpback whales and manta rays. You can book a tour to snorkel with the ocean animals during the whale shark season (March through August).
Book your whale shark tour a few months in advance because they sell out quickly!
BONUS – Booking ahead of time ensures you won't miss out on the tour, and get the best price too! And just for NOMADasaurus readers, if you use the Klook discount code "NOMADS10" on the website when checking out, you'll get $10 off your first booking!
Other amazing things to do in Exmouth include snorkeling at Turquoise Bay or Sandy Bay, or going hiking on the Yardie Gorge Trail or the Mandu Mandu Gorge Trail.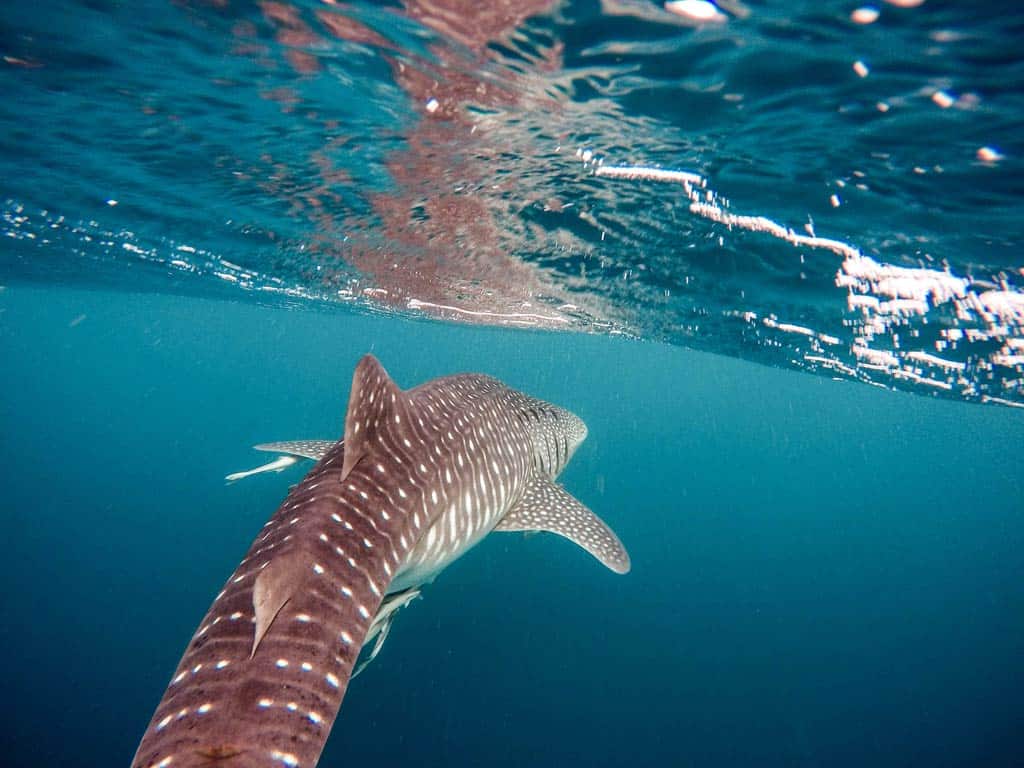 Day 15 – Exmouth to Karijini National Park
After a big day of snorkeling or hiking, get ready for an 8 hour drive to one of Australia's most phenomenal national parks. Be sure to fill up on petrol, water, and snacks before you leave.
Once you arrive in Karijini National Park, stop at Visitor Centre in Tom Price which is the highest town in Western Australia. Here you can get maps of the park and stock up on more supplies if needed.
If you have a camper van, a great place to spend the night is the free camping ground near Hamersley Gorge. If you aren't camping, Karijini Eco Retreat is a gorgeous place to stay.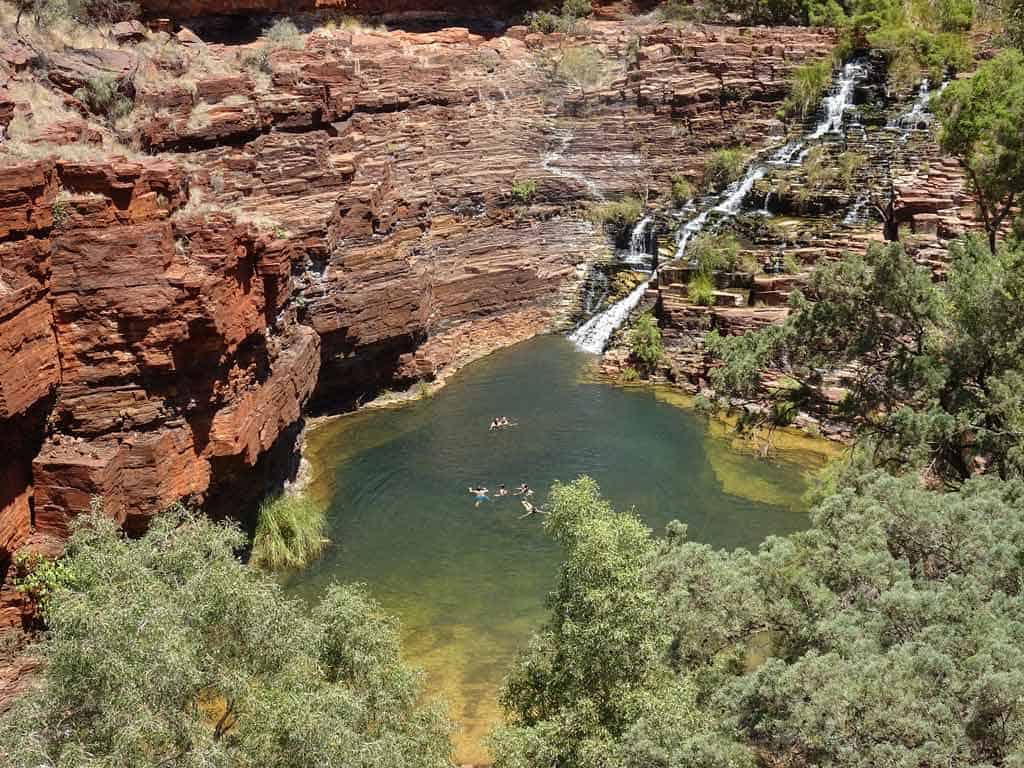 Day 16 – Karijini
Start your day in Australia's second largest national park with an early morning swim in Hamersley Gorge.
There is so much to see and do in Karijini National Park, so it's a good idea to pick which hikes you're doing the night before
That way you aren't scrambling to make decisions and you can make the most of your day in the park.
The park is most well known for its rich red hues, swimming holes, and gorges. Some of the best gorges to visit include Knox Gorge, Joffre Gorge, Hancock Gorge, Weano Gorge, and Dales Gorge.
Each one has a challenging hiking trail that can be done in a few hours or more depending on your fitness level.
You probably won't be able to hike every single gorge in one day, so take your pick of which hikes you'd like to tackle.
You can also just visit lookouts to see the gorges without a strenuous hike if you prefer. Fortescue Falls, Fern Pool, and the 2km Gorge Rim Trail are also highlights of the park.
Dales Camping Area is another lovely camping spot in the park if you'd like to spend the night somewhere new. It needs to be booked in advance.
Day 17 – Karijini to Eighty Mile Beach
From Karijini it's a 6.5 hour drive to Eighty Mile Beach.
We suggest driving though Port Hedland, which is a good place to stop for petrol, food, water, and any other supplies.
There isn't heaps to do in Eighty Mile Beach besides enjoying the long, peaceful stretch of sand.
Go swimming, fishing, birdwatching, or walking. Definitely watch the sunrise or sunset over the ocean.
If you have a 4WD you can drive along the beach. The Eighty Mile Beach Caravan Park is a convenient place to stay. You can park your camper van at a powered or unpowered campsite, or rent a cabin for the night.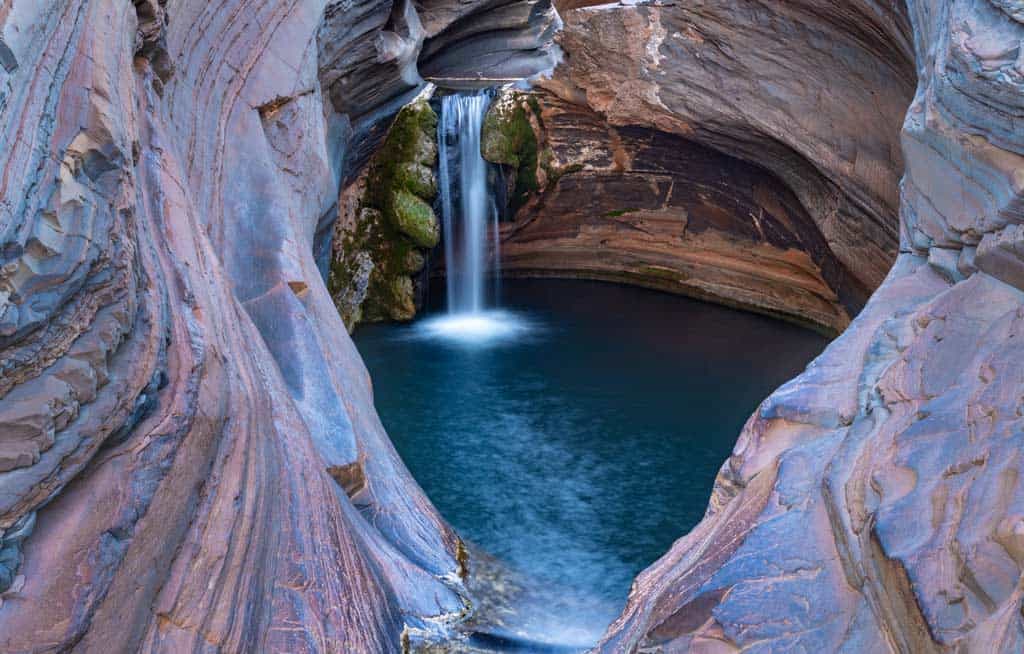 Day 18 – Eighty Mile Beach to Broome
Time to head to the last destination on your road trip of Western Australia! Broome is about 4 hours north of Eighty Mile Beach.
Broome is the gateway to the Kimberly Region of northern Australia. The tropical resort town is best known for its pearl farms and the beautiful Cable Beach where you can ride camels at sunset.
Some of the other best things to do in Broome include visiting the museums and Aboriginal art galleries, going whale watching, and checking out the views at Roebuck Bay.
Further west from Broome lies the Gibb River Road, a scenic drive through the heart of the Outback.
Consider heading that way if you have more time to road trip, as it's a unique part of Australia that has some beautiful gorges and lakes.
Where Next?
After enjoying Broome, you have finished the most epic road trip of Western Australia!
If you have your own camper van or car, consider continuing north towards Darwin and Kakadu National Park in the Northern Territory. You've already made it this far, why not see more of the best places in Australia?
If you have a rental vehicle to return, or you're done road tripping and you have responsibilities to get back to, get ready for a big drive back to Perth.
It's almost a 23 hour drive from Broome to Perth via the National Highway. This route cuts inland so it's a bit faster than heading back along the coast.
Don't forget you can also look into one-way campervan rentals for a slight premium if that suits your itinerary more.
Hopefully this guide will help you on your next adventure out in Western Australia!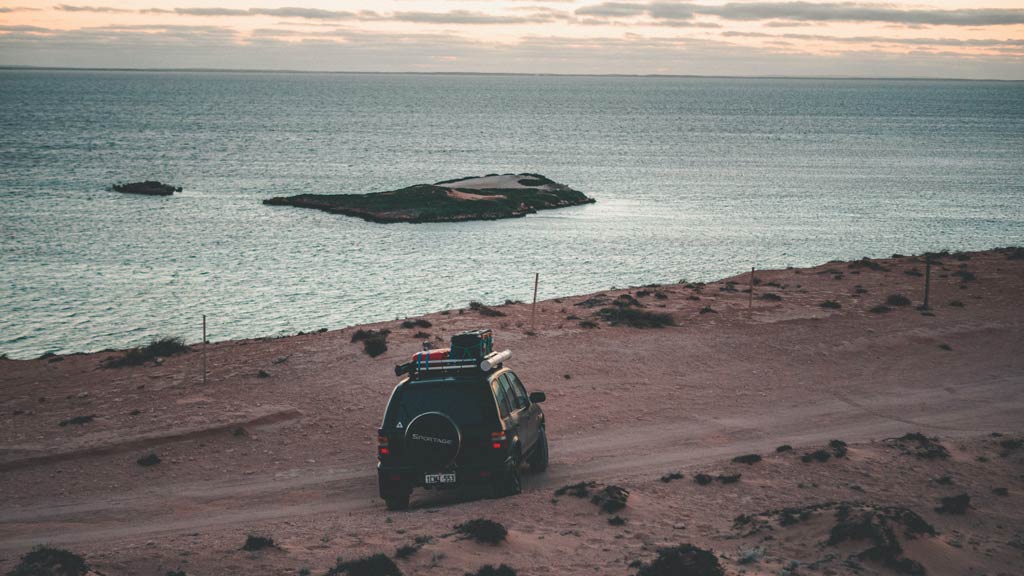 DISCLAIMER: Some of the links in this article are affiliate links, which means if you book accommodation, tours or buy a product, we will receive a small commission at no extra cost to you. These commissions help us keep creating more free travel content to help people plan their holidays and adventures. We only recommend the best accommodations, tours and products that ourselves or our fantastic editorial team have personally experienced, and regularly review these. Thanks for your support, kind friend!