Our guide to the perfect Perth to Broome road trip itinerary.
This Perth to Broome drive is easily one of the most epic road trips in Western Australia.
Follow along Western Australia's seemingly endless coast enjoying all the stops along the way before you reach the magical location that is Broome.
From seeing wild dolphins in Monkey Mia to swimming with whale sharks in Coral Bay, exploring the gorges of Karijini National Park to simply taking in the surreal views of some of Australia's most beautiful deserts and coastal roads, you will have an incredible time on this road trip.
This is a can't-be-missed road trip and if there's one that you'll ever do in Western Australia, we think this should be it!
READ MORE: Whether you live in Australia or are taking a trip there, start all of your planning with our comprehensive Australia travel guide!
Perth to Broome Road Trip Itinerary
Though this road trip can be done in as little as a week, this would involve big driving days and missing out on a lot of WA's awesome sights.
To really get the most of driving from Perth to Broome, you should allow at least 2 weeks and anything up to 3 or even 4 weeks.
If you have your own car, you're just about ready for the trip. But if you need to hire one, then the best and most affordable option is to get one through Rental Cars.
If you're more of a campervan kind of person though, check out Spaceships Rentals, who have great vans for good prices.
Distance (km and miles): 3,200 km / 2000 miles (one way)
Recommended Length of Time: 14 – 20 days
Highlights:
* Otherworldly landscapes in Nambung National Park
* Unique views along Pink Lake
* Marine life in Shark Bay World Heritage area
* Swimming with whale sharks and manta rays in the Ningaloo Coast World Heritage Area
* Exploring gorges in Karijini National Park
* Plenty of incredible sunset views along the coast
You will also want to consider purchasing a park pass for the National parks in Western Australia as you will pass in or near the following:
Nambung National Park
Drover's Cave National Park
Francois Peron National Park
Cape Range National Park
Karijini National Park
More information on purchasing a park pass can be found here.
Pro Tip: For access to the different national parks in Western Australia, you should buy the Holiday Pass (5 days for $25, 14 days for $40 or 4 weeks for $60) or the Annual All Parks Pass which is valid for 12 months and only costs $120.
If you've ever done a road trip in Australia, you would have noticed that drives tend to be quite long. This is particularly true in Western Australia.
If you have more time, I recommend following my Perth to Exmouth road trip itinerary first and then join in here from day 9 onwards.
You could also spread out some of the Perth to Exmouth drive. If you take it slow through Exmouth, Karijini and Eighty Mile Beach, your road trip could easily extend to over a month.
Let's begin our epic road trip from Perth to Broome.
Day 1: Perth to Geraldton
Distance: 415 km
Time: 4.5 – 5 hours
While the distance may be relatively short compared to the others on this road trip, there is plenty to see between Perth and Jurien Bay that could easily take you a few days.
Expect heavy traffic during winter public holidays or schools holidays and try to leave as early as possible to get the most out of your day.
The sealed roads are fast though and consist of mainly flat landscapes.
After exploring all the best Perth attractions and activities, it's time to hit the road!
Stop 1: Yanchep National Park
With nine walk trails, over 400 caves and home to western grey kangaroos, Yanchep is an easy first stop on your first day of driving.
Only 40 minutes north of Perth, you can go for a stroll or even spend the day here taking in the coastal woodlands, wildlife and limestone caves.
Yanchep National Park is also home to western grey kangaroos which can be seen early and late in the day. The park has nine walk trails suitable for any ages, interests and fitness abilities as well as over 400 caves to enjoy.
For those wanting to extend their Perth to Broome drive, this is also a great spot to spend a night.
Stop 2: Explore the Moon in the Pinnacles Desert
The Pinnacles in Nambung National Park is often said to resemble walking on the moon or another planet. It's s truly unique landscape for Western Australia.
The Pinnacles have incredible natural limestone structures that were formed approximately 25,000 to 30,000 years ago after the sea receded and left deposits of seashells.
Over time, the pillars have been exposed to the elements as coastal winds removed the surrounding sand.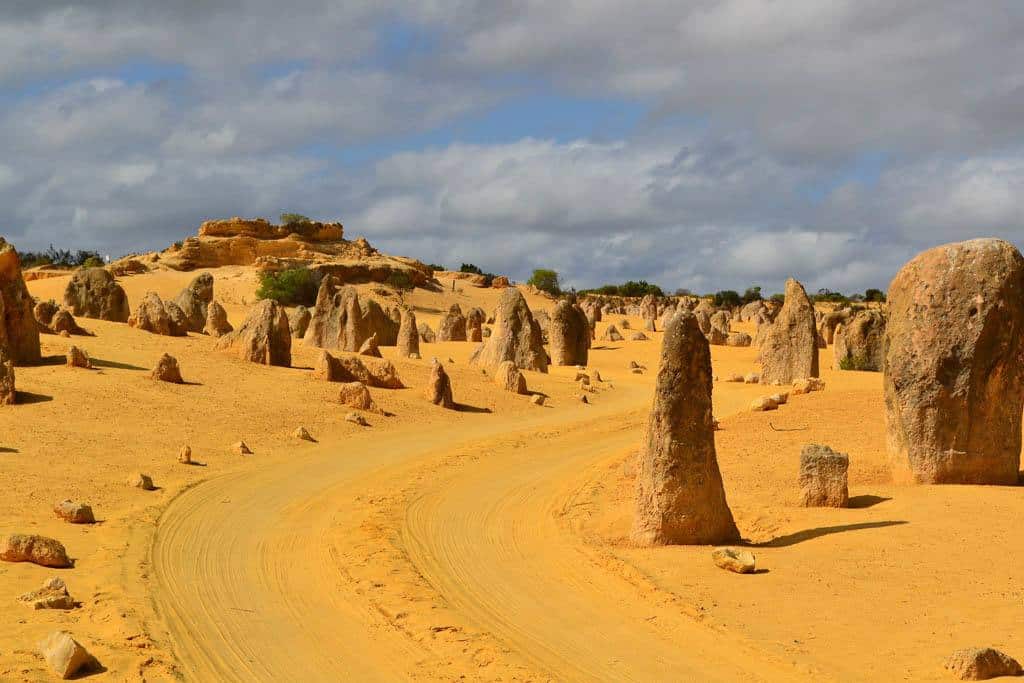 Stop 3: Lake Thetis
Walk along an easy 1.5-kilometre trail around the shores to see an abundance of thrombolites in the lake.
These rock-like structures are built by micro-organisms too small for the human eye to see. The thrombolite-building micro-organisms of Lake Thetis resemble the earliest forms of life on Earth!
Stop 4: Jurien Bay
Spend the late afternoon and evening enjoying the tranquillity of Jurien Bay along the coast at any of the beaches. If you've got your snorkelling gear, head towards the old wooden jetty and check out some of the coral around there.
You can also rent stand up paddleboards and enjoy some paddling if time permits.
Enjoy some delicious seafood for dinner before continuing your journey to Geraldton.
Stop 5: Leaning Tree
You'll start noticing some leaning trees as you make your way closer to Geraldton.
The most photographed leaning tree is this River Gum that leans due to constant strong southerly winds.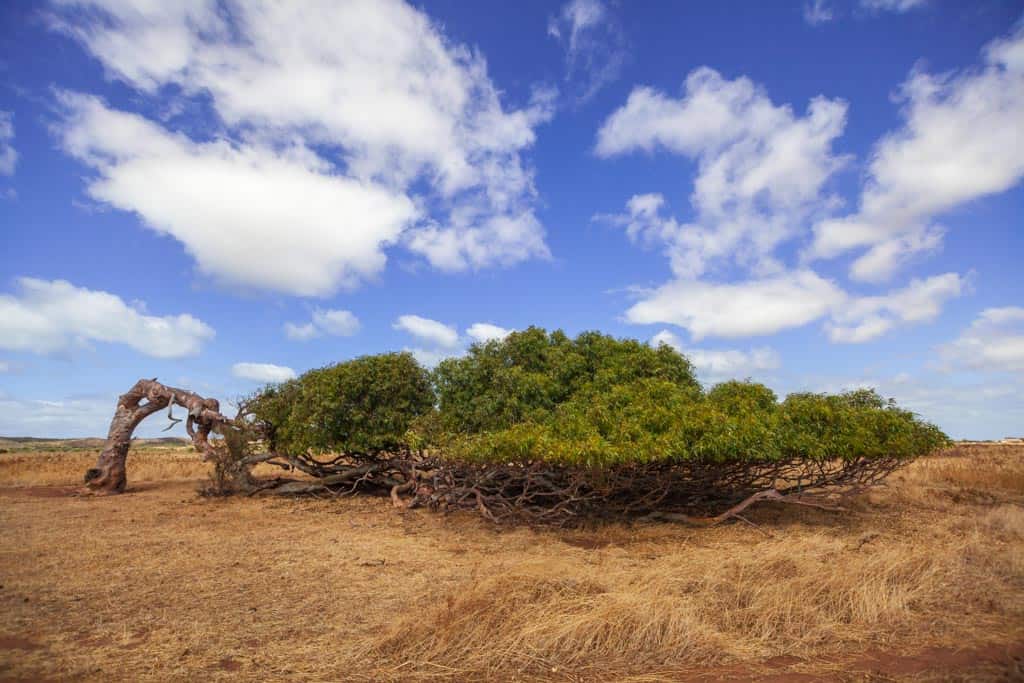 Stop 6: Geraldton
For your first overnight stay, we recommend booking your accommodation ahead of time so you don't have to spend hours driving around finding a place to stay.
Check out the options on Booking.com.
If you end up wrapping up quite late and don't want to drive too much further, consider staying in Jurien Bay overnight and continue to Geraldton early in the morning.
READ MORE: As you are exploring Australia, try to check off as many of these incredible things to do as you can!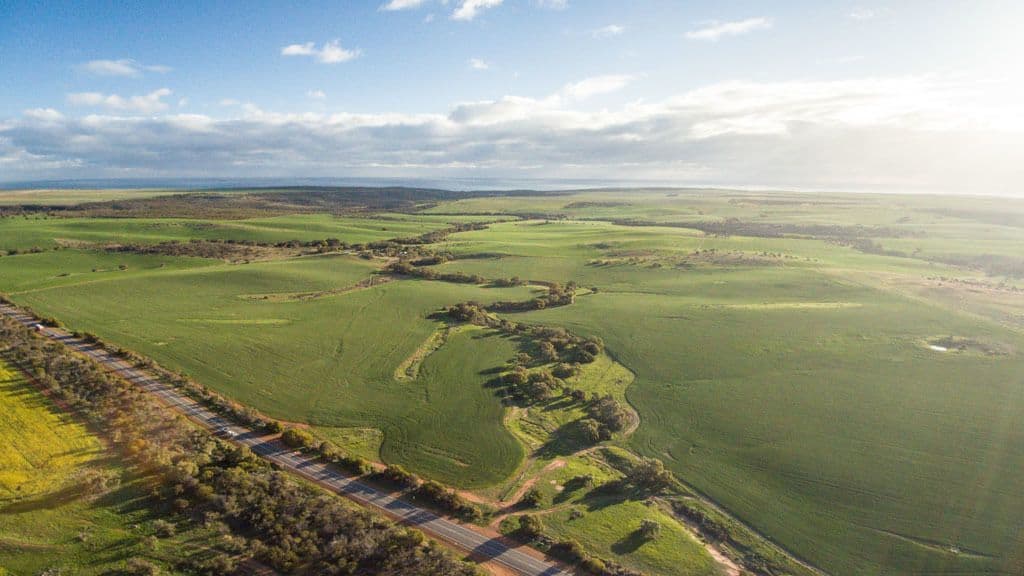 Day 2: Geraldton to Kalbarri
Distance: 155 km
Time: 2 hours
Follow along the flat and fast sealed road from Geraldton to Kalbarri.
Stop 1: Spend the Morning in Geraldton
Enjoy some breakfast in town and go for a swim at the beach before continuing north towards your next stop.
If you have an extra day or two to spare, you can make a trip to the Abrolhos Islands which are filled with wonderful marine life, go on a fishing charter or take a scenic flight out to the islands.
Stop 2: Pink Lake
Continue north to Hutt Lagoon, one of WA's iconic pink lakes. You can book a tour to see the incredible pink lake from above!
Drive along Port Gregory Road and park your car to walk to the edge of the water.
Stop 3: Kalbarri
Explore the World Heritage listed Coral Coast and check out the dramatic coastal cliffs at Red Bluff which overs incredible views over the ocean and is a good spot for whale watching.
Don't miss Island Rock and Natural Bridge for some epic sunset views and photos. Go for a swim at Pot Alley or bring your snorkelling gear for some fun at Blue Holes.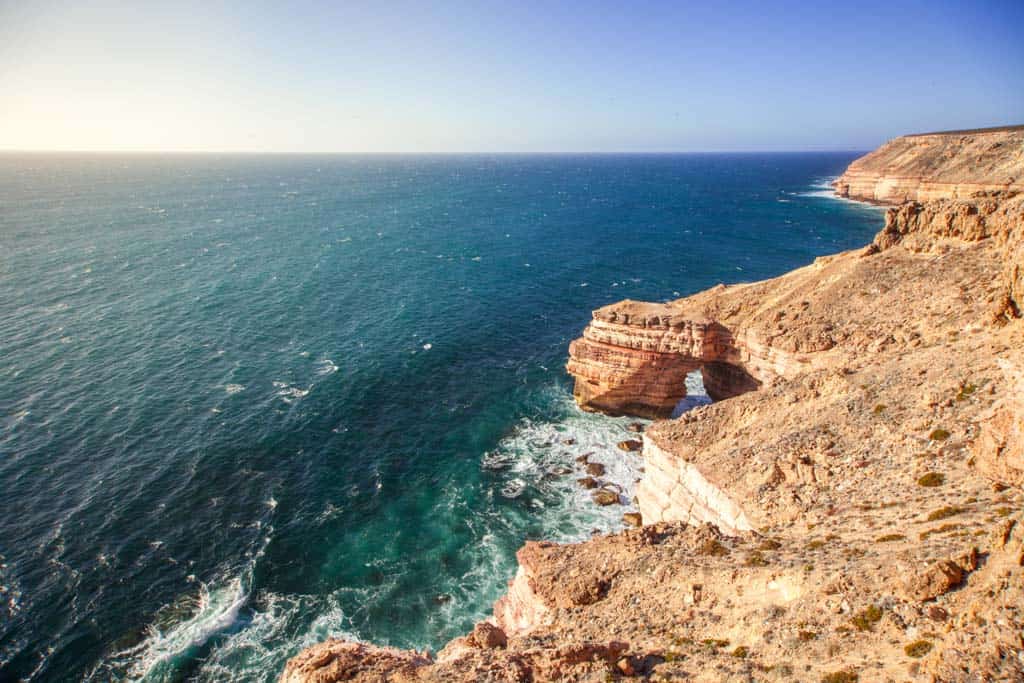 Day 3: Kalbarri National Park
Kalbarri National Park offers many different hiking options of varying classes that are suitable for any level.
You can enjoy gorge views from the picnic area and follow a short path to Hawks Head which overlooks the Murchison River. Or take the Z Bend Lookout trail which overlooks the river.
The Loop trail to Nature's Window is only 800m and has views of the Murchison Riber's switchback course from a natural rock arch that frames the upstream view. This is one of the more popular hikes in Kalbarri National Park.
You can also continue the trail along an 8km loop for those who want to get moving.
Day 4: Kalbarri to Shark Bay
Distance: 374km
Time: 4 hours
The road from Kalbarri National Park to Shark Bay doesn't have too many great views but the road is sealed, accessible and easy to drive.
Stop 1: Hamelin Pool
The most diverse and abundant examples of living marine stromatolites (or 'living fossils') in the world are found right here in Western Australia and can be seen on this portion of your Perth to Broome drive.
The stromatolites can be viewed from the boardwalk which extends out in the ocean for everyone to enjoy.
Note that boating, swimming, diving and snorkelling are not permitted over stromatolites or within 300m of the shore.
Stop 2: Shell Beach
Stretching over 70km and up to 10 metres deep are billions of tiny shells along aptly named Shell Beach.
This is one of the only places on earth where shells replace beach sand and is a must-visit on your way into Shark Bay.
The ocean here is hypersaline so it is very salty, making it easy to float – just don't get any in your eyes!
READ MORE: Lap the whole state with this epic Western Australia road trip!
Stop 3: Denham
Denham is your first stop in exploring the Shark Bay World Heritage Area and is a friendly coastal town of approximately 1,000 residents.
The town provides many accommodation options, has safe swimming beaches, restaurants and a golf course.
Be sure to stock up on supplies and fuel before moving on tomorrow!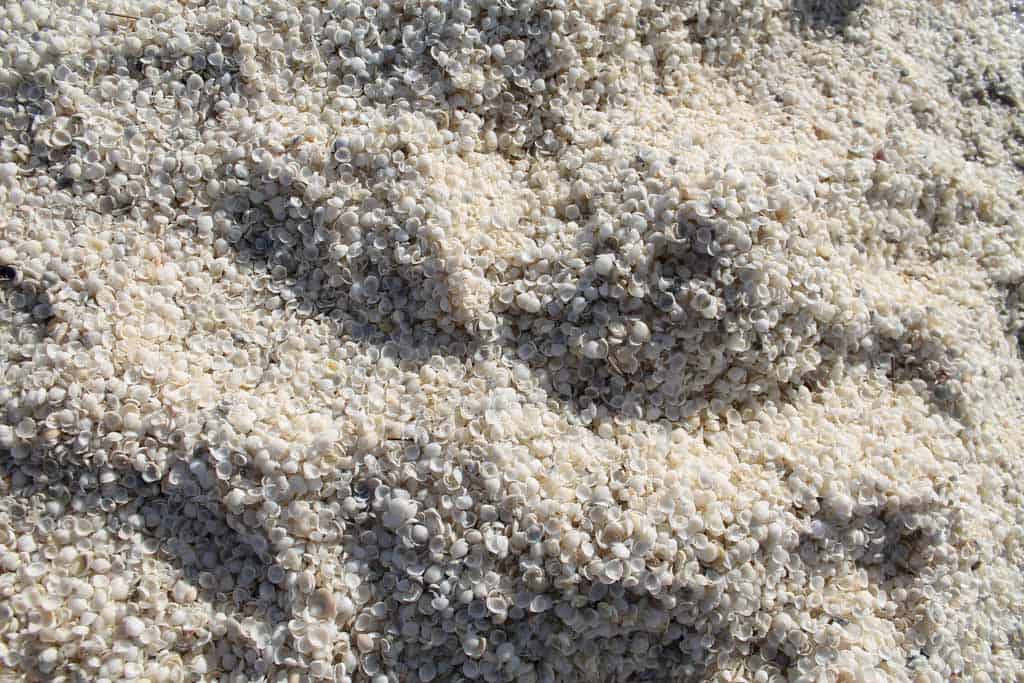 Day 5: Francois Peron National Park
Francois Peron National Park is one of Western Australia's best-hidden gems but requires a high-clearance 4WD and experience driving.
There aren't any sealed roads and you should be prepared to get bogged and know how to get out.
Known for its contrasting red cliffs, white beaches and blue waters, the park offers great opportunities for canoeing, kayaking, swimming, snorkelling, fishing and bushwalking.
There is a small campground with gas BBQs and toilets located at Big Lagoon. Be sure to read all signs carefully as some beaches aren't safe to swim in due to strong currents.
No bookings are taken for camping and sites are available on a first-come-first-served basis.
For those without a 4WD, you can access Little Lagoon – a natural swimming pool full of fish – and Peron Homestead which has a self-guided station walk trail, picnic facilities and a hot tub.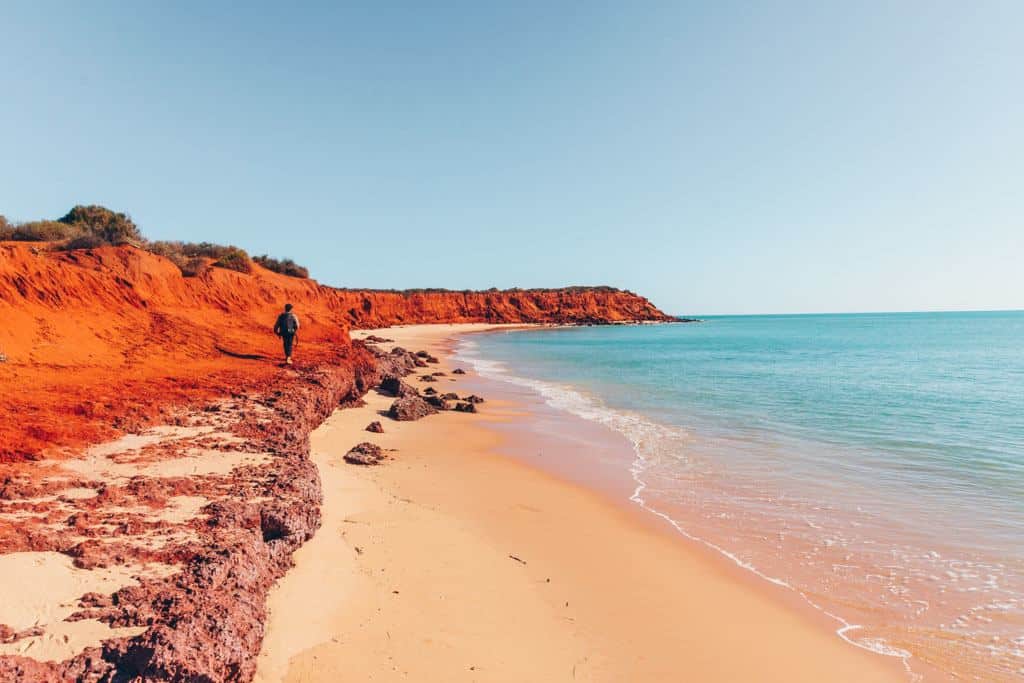 Day 6: Shark Bay to Coral Bay
Distance: 560 km
Time: 5.5 hours
Stop 1: Monkey Mia
One of the more famous places to visit on any Perth to Broome drive, just 30 minutes from Denham, is Monkey Mia which is famous for its wild dolphin experience.
Monkey Mia, part of the World Heritage-listed Shark Bay, is surrounded by rusty red sand dunes, white sandy beaches and its waters are full of marine life.
Here, you might see dugongs, sharks, rays, turtles and loads of other fish outside of the dolphins.
A day permit of $15 per adult applies for Monkey Mia.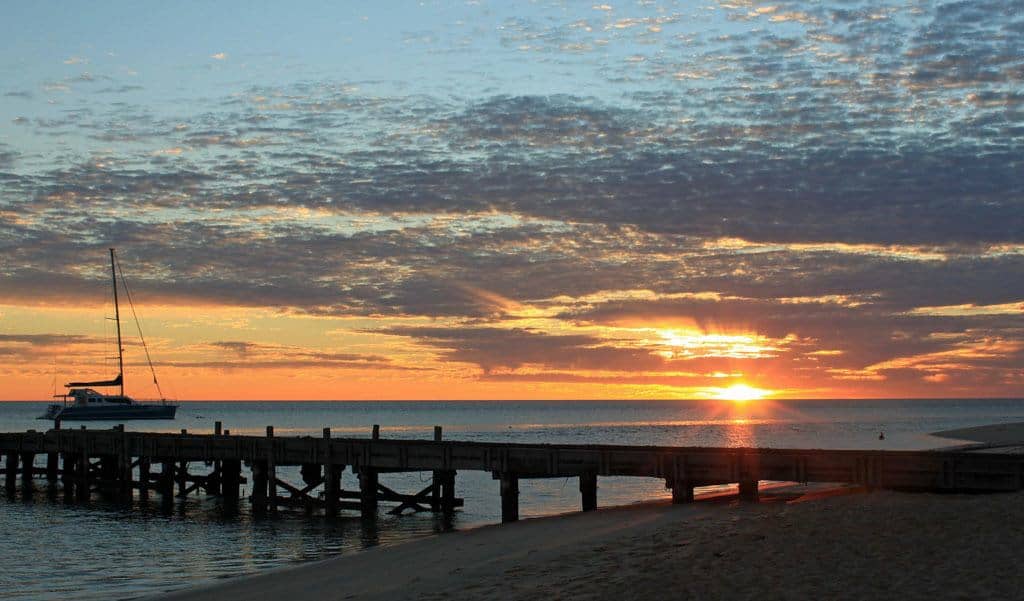 Stop 2: Carnarvon
Get out of the car and give your legs are break when you get to Carnarvon.
This Western Australian town is known for its fruit farms, making it a delicious stop for local produce.
Walk along the One Mile Jetty which is perfect for visiting in the late afternoon for sunset.
You can also head to the Carnarvon Space and Technology Museum that was built in 1964 to support NASA's Gemini, Apollo and Skylab programs.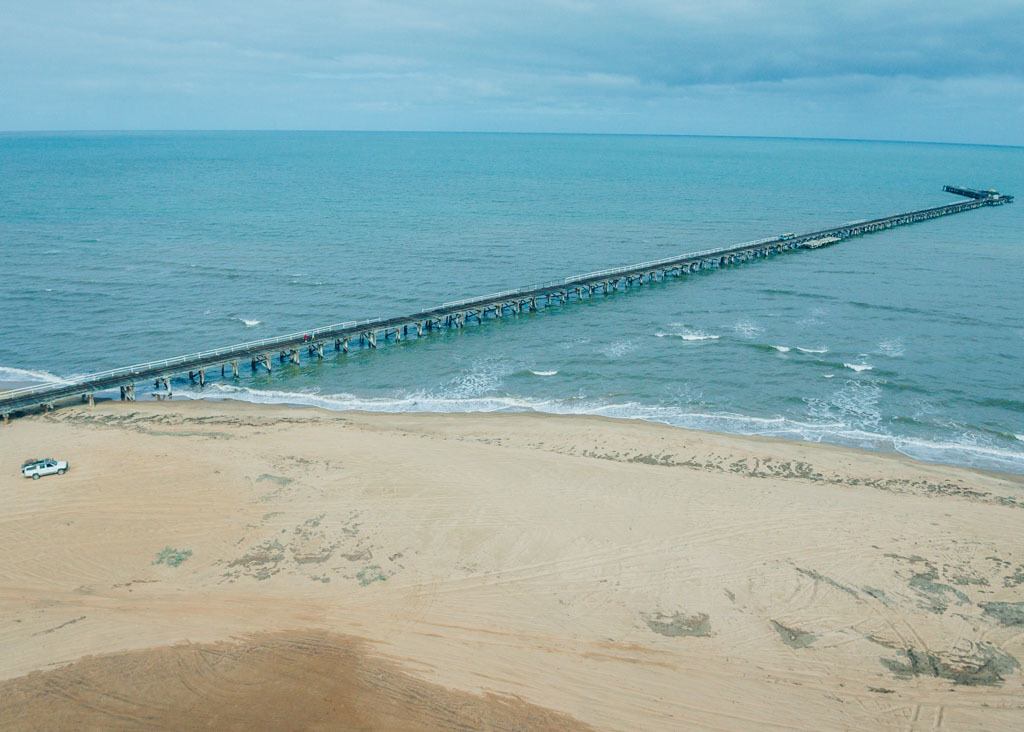 Stop 3: Coral Bay
Stay overnight in Coral Bay before continuing on tomorrow towards Exmouth and the Ningaloo Reef.
If you arrive in time for sunset, spend this on the beach. Otherwise, you can head to your accommodation in the evening which should be booked in advance to avoid disappointment.
The Ningaloo Coral Bay – Bayview is a fantastic spot to sleep.
Budget-conscious? You can stay at a free rest stop just outside of Coral Bay along the road. There are no facilities here so you'll need to be fully equipped.
Day 7: Coral Bay to Exmouth
Distance: 155 km
Time: 2 hours
Spend the morning in Coral Bay before continuing along the main sealed road all the way to Exmouth.
There isn't much to see along the way and the road is mostly flat with dry desert views.
Stop 1: Coral Bay
The beach at Coral Bay is calm, crystal clear and is perfect for snorkelling and diving.
Walk to the right of Coral Bay's beach to Skeleton Bay, a reef shark nursery where you can see some shark pups!
You can also go quad biking on the sand dunes, go out on diving, fishing or boat routes.
We'd recommend you book a Coral Bay reef tour on a glass-bottom boat to allow you to see the beauty of the reef without taking too much time out of your drive itinerary.
Stop 2: Ningaloo Visitor Centre
Your first stop is the Ningaloo Visitor Centre where you can pick up all the information and maps you need for Cape Range National Park and for insight on weather and local's tips on where to swim at that current time.
Here, you can also learn about whale sharks and other marine life in the area and how conservation works in Ningaloo Reef.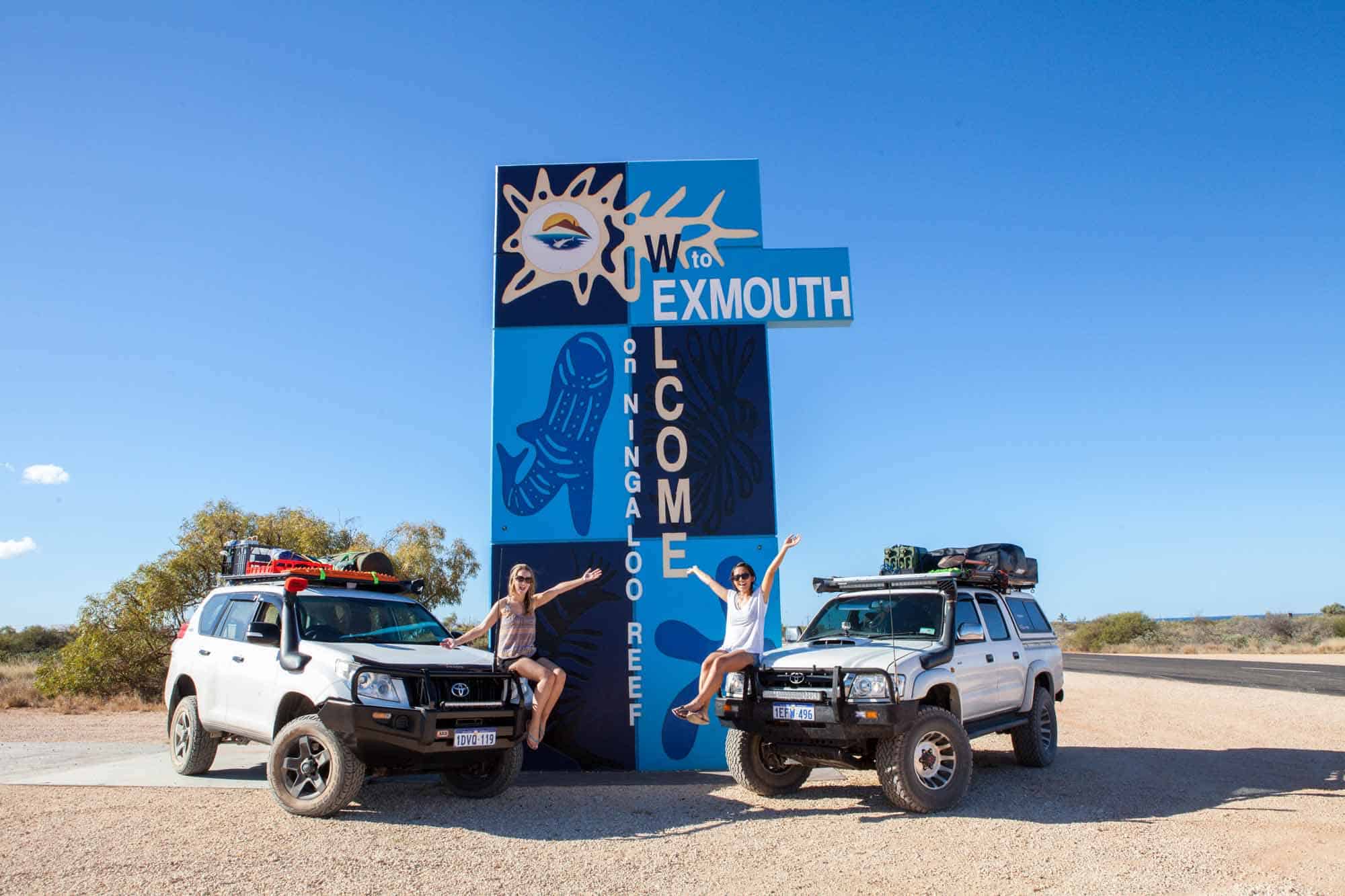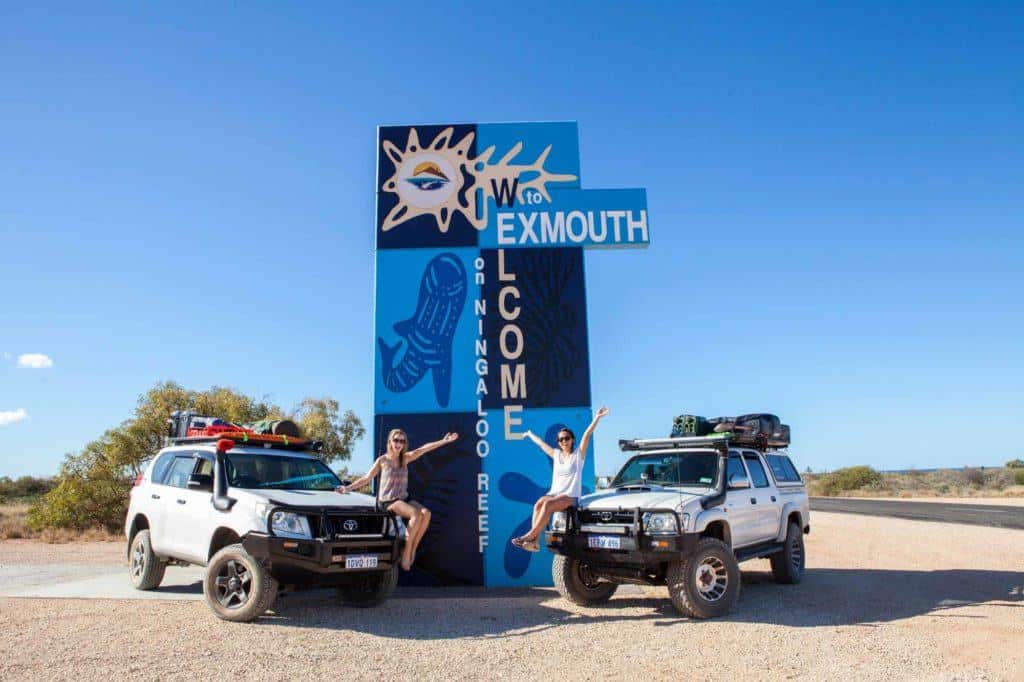 Stop 3: Swim at Town Beach
If you've got a 4WD, you can step up the excitement of the road trip and drive along the Town Beach and find your own private spot to swim.
Otherwise, just head down for a quick dip and enjoy the ocean views.
Stop 4: Vlamingh Head Lighthouse
Drive to the lighthouse for sweeping views over Exmouth and the ocean. If you have binoculars, be sure to bring it along to spot whales breaching in the distance.
Head up in the late afternoon to take in the serenity and enjoy watching the sunset. This is also one of the best stargazing spots you'll ever find!
Day 8: Cape Range National Park
Distance: 60 km
Time: 1 hour
As you are halfway through your drive from Perth to Broome, you're in for some real treats! Drive from Exmouth into Cape Range National Park along the sealed access road.
Boasting 50 km of pristine beaches, breathtaking deep canyons and rugged limestone ranges, Cape Range National Park is absolutely spectacular and warrants as many days as you have available to fully enjoy it.
Stop 1: Swim with Whale Sharks
One of the highlights of your Perth to Broome road trip is the opportunity to swim with whale sharks. Be sure to book a tour early to reserve your place.
Swimming with whale sharks in the Ningaloo Reef is very controlled and there are loads of rules around it to ensure that it doesn't negatively impact whale sharks.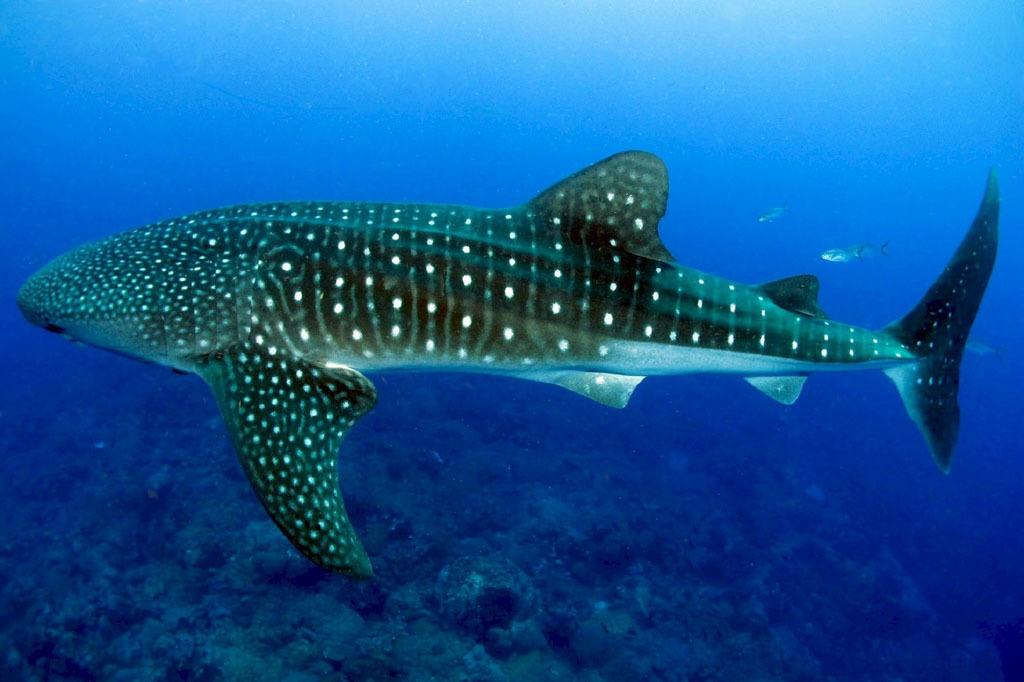 Stop 2: Turquoise Bay, Oyster Stacks and Sandy Bay
Head to Turquoise Bay, Oyster Stacks and Sandy Bay for epic snorkelling alongside turtles, stingrays, reef sharks and plenty of other fish and coral.
You can also book this tour to swim with massive manta rays!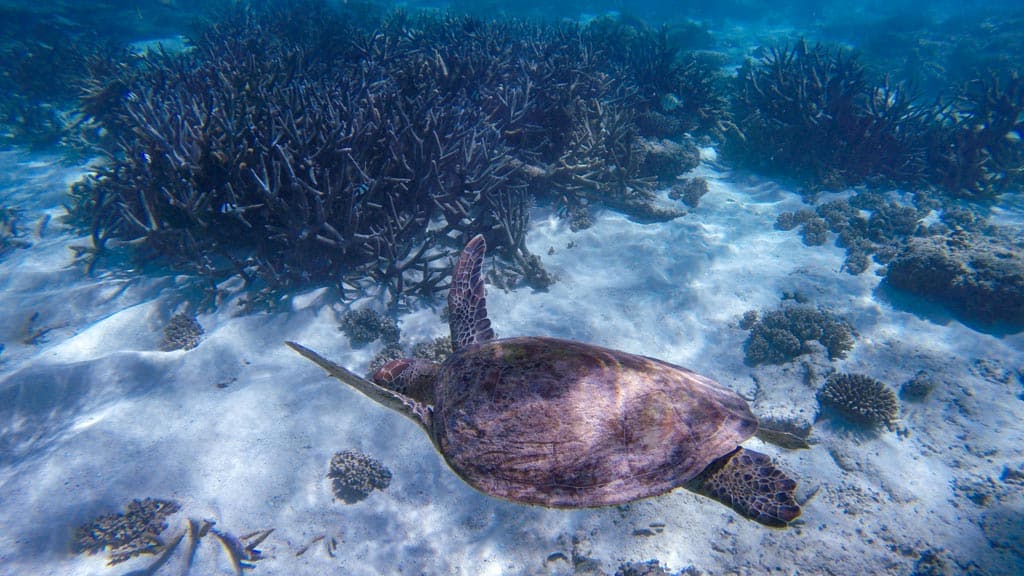 Alternative dry day: Hiking
If you're not keen on getting in the water, you can enjoy the 3 km return trail through Mandu Mandu Gorge, the 1.5 km Yardie Gorge Trail, the 3.5 km Charles Knife Edge Walk or some longer trails such Shothole Canyon's 24.5 km trail.
As summer gets as hot as 50 degrees Celcius (122 degrees Fahrenheit), the walks and hikes through the park should only be done between April and September when temperatures are cooler.
This is generally the best time to make this road trip anyway.
Day 9: Exmouth to Karijini
Distance: 658 km
Time: 8 hours
After a few days on the coast, your Perth to Broome road trip is going to head inland towards Karijini National Park, one of Australia's more underrated national parks.
Unfortunately, there's not much to see between Exmouth and Karijini so today is mostly a big day of driving. Be prepared with snacks, water and make all the fuel stops you need.
Stop 1: Tom Price
Welcome to the Pilbara!
Before heading into Karijini, stop by Tom Price, the highest town in Western Australia at 747 metres above sea level.
Pop into the visitor centre to get maps of Karijini National Park and into the supermarket for anything you'll need to cover you for Karijini.
This is your last major pit stop before you head into the park.
Stop 2: Karijini National Park
Since you won't really have any time to explore the national park on your first day, why not score free accommodation by camping near Hamersley Gorge.
Just past the turnoff to the gorge is an open area outside of the national park where you are allowed to camp.
Enjoy your night under the stars and get plenty of rest for tomorrow.
Day 10: Karijini National Park
Welcome to Karijini National Park, Western Australia's second-largest national park, encompassing some 627,441 ha.
You are about to embark on some incredible hikes through spectacular, rugged scenery with ancient geological formations.
If you're travelling through Karijini during the dry season (April to October which generally the best time to visit), it's going to be fairly hot.
You should be prepared with good hiking shoes or sandals, protective weather gear, swimwear and water for your hikes.
The roads in the park are mostly unsealed though 2WD vehicles will still be able to drive through fine.
The roads are mostly red dirt so if you're bringing your own car, beware that this stuff is almost impossible to get out!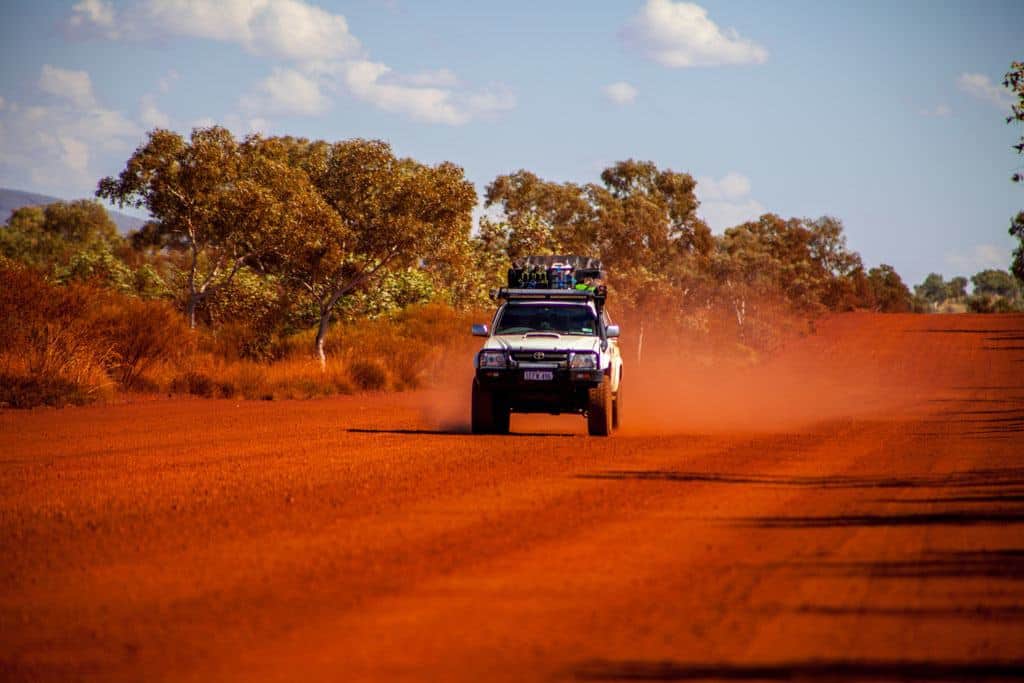 Stop 1: Hamersley Gorge
You'll start at the westernmost point of the national park and head to Hamersley Gorge.
Here, you can enjoy a beautiful morning descending into a gorge with dramatic colours, textures and reflections.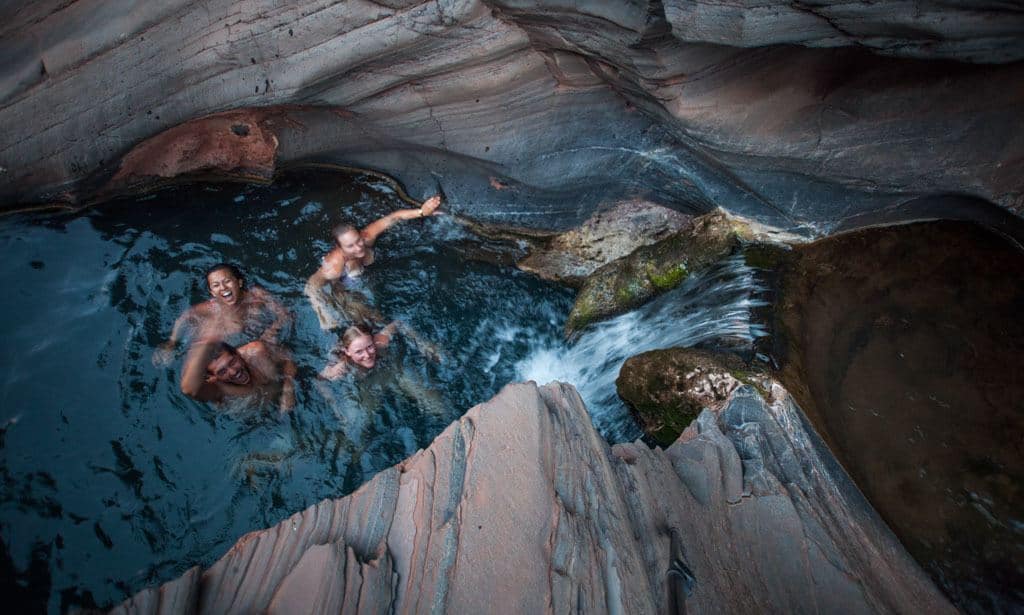 Stop 2: Joffre and Knox Gorges
In the middle of the national park, you'll find a cluster of incredible gorges and waterfalls where you could easily spend a few days exploring.
To break these up and to ensure you have sufficient energy for hiking and to enjoy the gorges, it's best to group a couple of gorges together, stay overnight and then tackle the others the next day.
These two gorges are class 5 trails which means they are the most difficult in the park. Expect to find steep and slippery sections.
If these hikes are inaccessible to you, you can head to the Joffre and Knox lookouts and enjoy the views from above.
Stop 3: Karijini Eco Retreat
Karijini Eco Retreat offers stay-in or campsite options but needs to be booked ahead of time. There are full facilities here as well as a restaurant.
Day 11: Karijini
Wake up to a morning view of Western Australia's abundance of wildflowers in bloom and prepare yourself for another epic day of exploring gorges.
Stop 1: Oxer and Junction Pool Lookouts
An easy 30-minute return hike will take you to some breathtaking views of Hancock Gorge.
From here, you can continue along to Oxer Lookout which consists or a narrow trail with loose rocks.
Stop 2: Weano and Hancock Gorges
After enjoying your views from above, head to Weano Gorge and take on the shorter Upper and Lower Weano trails.
From the Lower Weano trail, you can continue on to Handrail Pool at the peak of the day when it's hottest. The Gorge is refreshing and cool so this is the best time to go for a lovely dip.
Take on Hancock Gorge after this and walk all the way downstream to Kermits Pool where you'll find a small turquoise pool with some spots to jump in.
This hike is also a class 5 hike and is one of the most difficult in the park.
Stop 3: Karijini Visitor Centre
In the late afternoon, pop into the Karijini Visitor Centre to immerse yourself further in the park.
The Visitor Centre provides plenty of fascinating information about the gorges, the stories behind them, the surrounding Pilbara area and the geology on the site.
Wifi, public toilet and shower facilities are also available here.
Stop 4: Dales Camping area
Your overnight pit stop will be at Dales Camping Area and needs to be booked well in advance.
Campsites are in very high demand from June to September and the only other campsite is back at the Karijini Eco Retreat.
Day 12: Karijini National Park
Spend your last full day of in Karijini National Park in Dales Gorge before continuing your Perth to Broome drive.
Stop 1: Dales Gorge
There are a few different trail options through Dales Gorge that you could do all in a day. Start with the 2km Gorge Rim trail and enjoy the wonderful views into Dales Gorge.
Stop 2: Fortescue Falls
Fortescue Falls is a stunning waterfall that can't be missed. You can enjoy a few hours here laying in the sun, having a picnic and revelling in the tranquillity of the surrounding nature.
From Fortescue Falls, continue the hike onwards to Fern Pool, another beautiful little swimming hole.
Stop 3: Circular Pool
From the car park, descend down a steep slope to the bottom of the gorge before you reach the fern-framed pool that is another great spot to enjoy for a couple of hours.
Stop 4: Auski Tourist Village or Dales Camping Area
Once you've finished exploring Dales Gorge, you can either spend the night in the camping area otherwise exit the park and stay at Auski Tourist Village which is a short drive away.
There are both campsites and accommodation options here.
You could easily extend your time in Karijini to a week and take your time exploring the gorges individually. This would also allow you to get plenty of rest between big hikes and spend more time in the swimming holes.
If you do have the time, you could tack on Mount Bruce which is the second-tallest peak in WA. Here you'll find three trail options, the longest being to Mount Bruce Summit which is a 9km, 6-hour return hike.
Day 13: Karijini to Eighty Mile Beach
Distance: 580 km
Time: 6.5 hours
Enjoy your last morning in Karijini and perhaps making any last stops in any gorges you missed before continuing on your road trip.
After this, you're in for another big drive out of the National Park and back towards the coast to Port Hedland.
Stop 1: Port Hedland
While Port Hedland isn't exactly the top of any must-see destinations, this mining town does have a couple of things in town to give you a chance to stretch your legs.
You can head to Pretty Pool Park for a quick swim or go to Dalgety House Museum which showcases a little bit about the local history of the town.
This is also a good opportunity to top up on fuel and any supplies you might need.
Stop 2: Eighty Mile Beach
After that big drive, you'll stop and spend the rest of the day and night here at Eighty Mile Beach.
Famous for its fishing and shell collecting, Eighty Mile Beach is given its name thanks to the super long stretch of coast that seemingly goes on forever.
If you have a 4WD you can drive along the beach and find a nice spot to spend the day and enjoy an epic sunset on the beach.
Eighty Mile Beach Caravan Park offers powered and unpowered campsites as well as self-contained cabins to stay in.
Day 14: Eighty Mile Beach to Broome
Distance: 380 km
Time: 4 hours
Wake up to a beautiful sunrise on the beach and prepare yourself for the final leg of your Perth to Broome drive itinerary.
Stop 1: Port Smith Lagoon
Turn left from the main road towards Port Smith Caravan Park and drive along the 23 km well-maintained dirt road to one of WA's best-kept secrets.
Pop in to go fishing or for a refreshing dip to break up your drive.
Stop 2: Broome
Continue along the National Highway all the way to your final destination, Broome!
Broome is the famous beach resort town in Western Australia's Kimberley region. Known for its dramatic sunsets, camel rides and incredible beaches, you will plenty to do here.
The question is, how much time can you spend here?
Stop 3: Visitor Centre
Make a brief stop in the visitor centre to get information on tides, weather updates and a map for the different beaches around town.
Stop 4: Cable Beach
Reward yourself with a relaxing afternoon at Cable Beach and spend the rest of the day fishing or swimming.
Cable Beach is also a nude beach though most of the time you'll only find the older folks stripping down and taking advantage of this liberty.
If you've booked a camel ride, you'll do this on the beach in the late afternoon or at sunset.
If you aren't doing this, stay around for a spectacular sunset before heading to your accommodation for the night.
READ MORE: Check out all of these other great things to do when you are in Broome!
Wrapping Up Your Perth to Broome Drive
That wraps up your incredible Perth to Broome road trip itinerary! This itinerary can be modified to suit any length of time you have but we definitely recommend extending it out if you have time available.
Western Australia is huge and unless you are on a time crunch, there are plenty of other side trips you can take on this road trip.
Don't forget to have plenty of water, supplies and tools handy in the car as driving in remote Western Australia will often leave you out of range and a flat tyre is a nightmare.
Drive safe and let us know if you're planning this road trip soon and what you're looking forward to most!
DISCLAIMER: Some of the links in this article are affiliate links, which means if you book accommodation, tours or buy a product, we will receive a small commission at no extra cost to you. These commissions help us keep creating more free travel content to help people plan their holidays and adventures. We only recommend the best accommodations, tours and products that ourselves or our fantastic editorial team have personally experienced, and regularly review these. Thanks for your support, kind friend!