If you're looking for some incredible NSW road trips that will take you from the coast into the mountains, we've put together the 6 best drives to add to your list!
Road tripping in New South Wales is a must for the intrepid traveller who wants to experience everything Australia has to offer.
From beaches, national parks and forests there are no shortage of things to see or do, particularly along the coast.
The following are some of the best road trips in NSW that won't disappoint. Here is our list of 6 road trips in New South Wales that you have to do.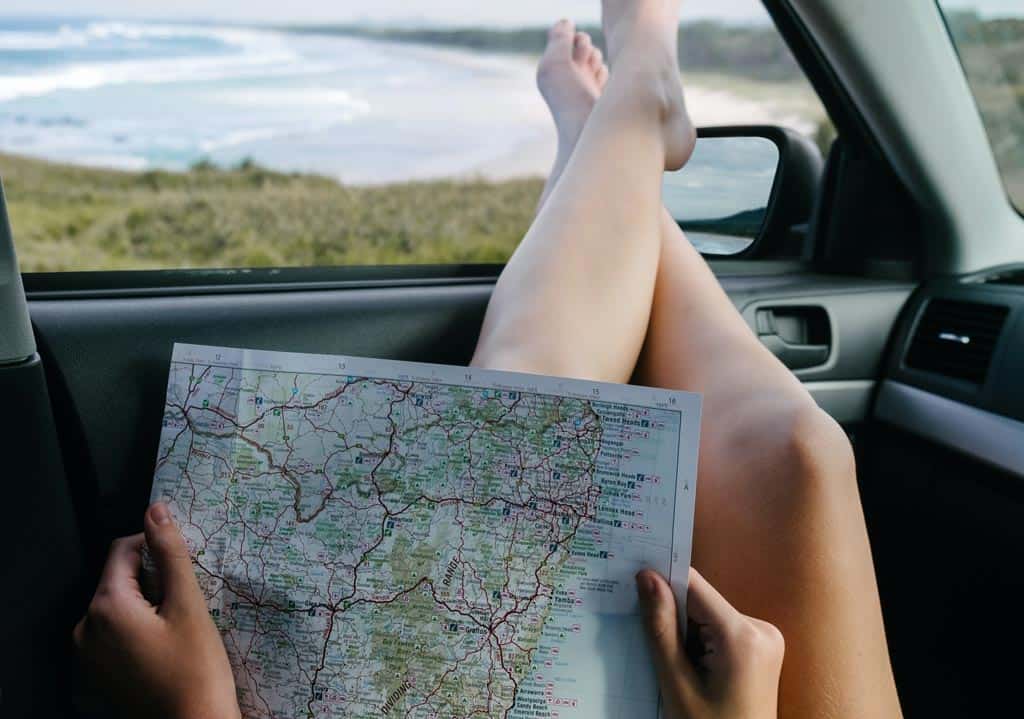 | | | | | | |
| --- | --- | --- | --- | --- | --- |
| | | | | | |
| Greater Blue Mountains Drive | Route - Sydney, Katoomba, Lithgow, Mt Tomah, Bilpin, Hawkesbury | | | | |
| | Sydney, Royal National Park, Wollongong, Shellharbour, Kiama, and the Shoalhaven | | | | |
| | Cooma, Jindabyne to Khancoban | | | Any (exept large caravans) | |
| Mighty Murray River Drive | | | | | |
| | Wentworth, Pooncarle, Menindee, Wilcannia, Tilpa, Louth, Bourke, Cobar, Hillston | | | | |
| | Coffs Harbour to Armidale | | | | |
The 6 Best NSW Road Trips for 2022
Check out the table above for a sneak peek overview of the best NSW road trips and be sure to read through all the details below!
Greater Blue Mountains Drive
Route – Sydney, Katoomba, Lithgow, Mt Tomah, Bilpin, Hawkesbury
Distance – 220km
Duration – 2 – 4 days
Vehicle – Any vehicle is suitable
Road Conditions – All roads are sealed
Highlights – The Three Sisters, Scenic World (walkway, skyway, cableway and railway), Govetts Leap Lookout, Wentworth Falls, Lot of Hiking and Heritage Trails, the towns of Katoomba and Leura
You can explore the rugged wilderness of Australia's iconic Blue Mountains on a four-day road trip.
This circuit will take you from the Lower to the Upper Blue Mountains and then around the Hawkesbury River with its orchards and gardens on your way back up again.
You can spend days exploring the wilderness of Katoomba, but don't overlook the various towns along the drive.
The Echo Point Visitor Information Centre offers maps and information for your adventure while paying tribute to Sydney's iconic Three Sisters at Jamison Valley.
The Blue Mountains are a hiker's paradise, with trails winding through forests of eucalyptus and wattle trees.
After taking in the views from Victoria Pass, make your first stop at Hassan's Walls for incredible vistas to Hartley Valley below or head straight down into Jenolan Caves– one of Australia's top attractions!
Dating back 340 million years, these caves were once an important location for Gundungurra people as well as being popular among locals today.
Take Mount Victoria Road, heading left until you reach Bells Line of Road which will lead through Bilpin and then down into the Hawkesbury region where there are many stunning sights waiting for travellers who want to exploring more gorgeous scenery.
If beautiful natural beauty is on your mind while driving, don't forget that the Blue Mountains Botanic Garden at Mount Tomah features over 6 thousand plant species as well as 244 hectares (600 acres)of wild vegetation. It's the highest botanical garden in Australia!
The Hawkesbury River is the northern-western boundary for Sydney and offers an impressive watery wonderland with historic towns lining its shores.
Grand Pacific Drive
Route – Sydney, Royal National Park, Wollongong, Shellharbour, Kiama, and the Shoalhaven
Distance – 140km
Duration – 2 – 3 days
Vehicle – Any Vehicle
Road Conditions – All roads are sealed
Highlights – Bald Hill Lookout & Sea Cliff Bridge, Austinmer Beach, Wollongong's Foreshore, Nan Tien Temple, Shellharbour Village and Killalea State Park, Kiama Blowhole, Hymes Beach
The Grand Pacific Drive is a scenic drive in Australia that starts at the Royal National Park, crosses over the Sea Cliff Bridge and continues through Wollongong to Kiama.
Along this route, there are many jaw-dropping sights including Scarborough Beach, which displays one of New South Wales's most famous beaches with its white sand and surf.
The drive starts in Sydney and continues to Nowra, about 140 kilometres (or around two hours driving) away along the beautiful beaches and cliffs overlooking Australia's dramatic coastline.
Alongside stunning views from rainforests and rugged coastlines, travellers will be able to relax at any number of quaint towns situated alongside this iconic road trip through natural wonders- perfect for those seeking an authentic Australian experience!
READ MORE: Check out all the top Royal National Park walks you should tackle on the way.
The route along the Grand Pacific Drive starts at Sydney's Phillip Bay in a suburb called Queenscliff, where road trippers will be able to see the famous Pylon Lookout and climb the nearby Bald Hill for more incredible views.
From here, you can head through Narooma and Bermagui before arriving at Culburra Beach on the coast of New South Wales.
Sydney to Wollongong – 85 km
Wollongong to Shellharbour – 21km
Shellharbour to Kiama – 15 km
Kiama to Shoalhaven (check out Jervis Bay while you're there) – 72 km
Kosciuszko Alpine Way
Route – Cooma, Jindabyne to Khancoban
Distance – 170km one way
Duration – About 3 days
Vehicle – Any type of vehicle but no large caravans as the road is very windy.
Road Conditions – The road is sealed the whole way
Highlights – Snowy Hydro Discovery Centre, Mount Gladstone Lookout, Mountain Biking at Thedbo or around Lake Jindabyne, whitewater rafting expedition on the Snowy River, Wildbrumby Distillery, Kosciuszko Brewing Company, hikes in Kosciuszko National Park.
The Kosciuszko Alpine Way is one of the most iconic road trips in Australia. Located on the border of New South Wales and Victoria, you will experience a scenic drive with stunning views and beautiful landscapes.
The road follows the mountain up and down through the amazing Snowy Mountains which is the highest section of the Great Dividing Range.
There are many spots to stop for walks in the national parks and even mountain biking if you are keen.
You can go either way on the Kosciuszko Alpine Way. When we did the road trip, we went from Jindabyne and Khancoban as we were heading in this direction.
We started at Cooma and explored the beautiful historical town, which is a great place to stop for some coffee or food.
There are some short hikes near the town and the Snowy Hydro Discovery Centre.
There are many activities you can do on the Snowy River, like trout fishing, kayaking and whitewater rafting.
After exploring Cooma, head to the Mount Gladstone Lookout just out of Cooma for a great view.
Coming into Jindabyne is a sight to see. As you roll over the hill you are greeted with the beautiful view of Lake Jindabyne with little hills around the lake and big mountains in the background. It is stunning.
Stay here and explore the area in and around the town of Jindabyne. There are so many activities to do on Lake Jindabyne and up in the mountains at Thredbo with hiking and mountain biking.
READ MORE: See what makes the cut on our list of the best Queensland road trips!
If you are here in December there is a rodeo celebrating the Man from Snowy River. And if you have mountain bikes with you, head up to Thredbo Resort through the Thredbo Valley and enjoy the adrenaline-pumping tracks.
You can hire bikes from in town or at the resort if you need them. There are great tracks also around Lake Jindabyne for the whole family.
Jindabyne is a great place to base yourself for the Kosciuszko National Park. There are a number of hikes in the area, do some mountain biking, go on a horse ride, go fishing or go kayaking.
Kosciuszko National Park is an all year round adventure paradise. You can explore the number of hikes in the area, do some mountain biking, go on a horse ride, go fishing or go kayaking.
After Jindabyne, you will head back out on the Alpine Way where it links the towns of Jindabyne and Khancoban over a mountain pass. You will follow one of Australia's highest windiest roads.
This section of the Kosciuszko Alpine Way is a steep and narrow road. This is why it is suggested that vehicles towing large caravans do not drive on this road.
But the pass is very popular with motorbike riders thanks to the windy roads. Once you are over the mountain pass you will reach the town of Khancoban.
The Kosciuszko Alpine Way is a great New South Wales road trip.
Cooma to Jindabyne – 62km
Jindabyne to Kosciuszko National Park – 41km
Jindabyne to Khancoban – 111km
Mighty Murray River Drive
Route – Albury to Wentworth
Distance – 830km
Duration – 4 days to a week
Vehicle – Any vehicle is suitable
Road Conditions – All roads are sealed
Highlights – Wagirra Trail, Corowa Whisky and Chocolate, Lake Mulwala, Big Reedy Lagoon Wildlife Reserve, Tocumwal Blowhole, Murray Valley National Park, Historic steam engines and paddle-steamers on the river, Morrisons Riverview Winery, Restaurant & Brewery, Balranald Heritage Trail, Mungo National Park
Along this iconic NSW road trip you will see diverse landscapes, taste amazing local food & wine and enjoy the spectacular activities and tours the Murray River has to offer.
This Murray River road trip itinerary follows the Murray River itself as it meanders from town to town.
You will visit beautiful historical country towns and you can immerse yourself in local Aboriginal tours and experiences as this area has some of Australia's most significant Aboriginal history along the way.
The Murray River is 2,508km and runs along the border of New South Wales and Victoria, being Australia's longest river.
From Albury all the way across to Wentworth, you can stop off where you like and enjoy the experiences that interest you.
The trip can take you up to a week or even 2 weeks if you like to take it slow. This area is really breathtaking.
Albury to Howlong – 28km
Howlong to Corowa – 29km
Corowa to Yarrawonga-Mulwala – 45.5km
Yarrawonga-Mulwala to Tocumwal – 55.5km
Tocumwal to Echuca-Moama – 121km
Echuca-Moama to Barham – 90km
Barham to Balranald – 149km
Darling River Run
Route – Wentworth, Pooncarle, Menindee, Wilcannia, Tilpa, Louth, Bourke, Cobar, Hillston
Distance – 950km
Duration – 5 – 7 days at a leisure pace
Vehicle – Any vehicle
Road Conditions – Mostly sealed but there are unsealed roads
Highlights – Aboriginal experiences,

Mount Grenfell Historic Site, Kinchega National Park, Kallara Station, Tilpa Hotel, Bindara On The Darling, Mungo National Park, Mungo Woolshed, Gundabooka National Park, Dunlop Station.
The outback of NSW is a place where you can find invigorating hikes and scenic views.
The Darling River stretches 2,740km through the outback of New South Wales, going from the Victoria border where it meets up with the Murray River to all the way up to the Queensland border.
Travelling through the Darling River, Bourke to Wentworth route offers an unforgettable experience with ancient rock formations, historic landmarks and plenty of wildlife that will leave your friends jealous when they see photos from this incredible journey!
This natural beauty touring route can be undertaken either in whole or part and will not disappoint those seeking adventure for their next vacation destination!
The stunning views are only matched by rafting down different sections of its course that you choose based on your desires. There's something here for everyone looking for an authentic experience just two hours outside Sydney.
From white water rafting and fishing in the Darling River to visiting Aboriginal communities offering cultural experiences surrounding this iconic river through outback New South Wales.
Aboriginal culture is strong in this area. And you can do anything from reading about their history on Mulgowan (Yappa) Art Site walk or experiencing it first-hand along with shearing techniques during a visit to Kinchega Woolshed.
This is said to be one of Australia's most significant historic buildings still operating today!
For those looking for an escape after all that exploring, there are many tranquil spots beside Darling River where you can stop for a picnic lunch or set up camp under the starry desert sky.
Although only a fraction as long as its name suggests, there are still many things to see travelling 730km along this course between Brewarrina Junction and Walgett.
For example, you could stop at Barwon Falls or explore some ancient Aboriginal rock art sites.
With beautiful scenery in some of the best national parks, as well as easy farm-stays, you can get a real feel of outback life.
The route starts at Walgett then continues south all the way down until Brewarrina and Bourke with day one being 730 kilometres (454 miles) long.
You'll find local attractions, such as Mungo National Park on its southern border, which is home to some of NSW's most spectacular scenery. Or Kinchega Nature Reserve that offers an off-road experience like no other.
There are also unique experiences one could only find in Outback NSW. From learning about Aboriginal heritage at Lajamanu Community Museum to tasting delicious bush tucker prepared by locals while camping under the stars!
The Barwon River starts near Walgett, but the best way to experience Outback NSW's towns and National Parks is by following a tour of these places that are not located along this path.
The route includes Lightning Ridge as well as other communities off the actual river, which flows from Brewarrina to Bourke before meeting with Bogan.
Walgett to Brewarrina – 134km
Brewarrina to Bourke – 98km
Bourke to Louth – 99km
Louth to Tilpa – 67km
Tilpa to Wilcannia – 156km
Wilcannia to Menindee – 155km
Menindee to Pooncarie – 123km
Pooncarie to Wentworth – 188km
Waterfall Way Road Trip
Route – Coffs Harbour to Armidale
Distance – 185km
Duration – About 2.5 hours
Vehicle – Any vehicle is fine
Road Conditions – The road is sealed the whole way
Highlights – Waterfalls in Dorrigo National Park, New England Tablelands, Gondwana rainforest, Muttonbird Island Nature Reserve in Coffs Harbour, Town of Bellingen, Solitary Islands Marine Park.
If you're looking for a scenic drive in New South Wales, Australia that will take your breath away, then the Waterfall Way is where it's at.
The Waterfall Way road trip runs east-west from the Pacific Highway to the New England Highway at Armidale in New South Wales.
The route passes through some of NSW's most scenic countryside and has become well known as its best – and Australia's third most beautiful tourist drive!
You could cover this richly diverse region (5 national parks!) in about 2 ½ hours. But with so many amazing stops along the way, why do that? We'd advise you to stay the night along the way and take it all in.
The drive starts at Coffs Harbour, where you can get your fill of stunning waterfalls before continuing on to rainforest, open woodlands or farmland if desired.
It's a journey into one of Australia's most stunning regions, travelling through various environments including coastal rainforests and farmlands.
Conclusion
While there is so much to see and do when planning an epic road trip around New South Wales.
These are some of our favourite places to go when we have a desire to hit the road and explore the wide open country.
Whether you're interested in a drive along the South Coast, are searching for the best walking trails in the Alps or want to take in delicious pub meals at off-the-beaten-path bars in one country town or another, we're confident that these six NSW road trips will be as memorable as they are enjoyable!