Lying along the sheltered shores of Geographe Bay, Busselton is a holiday resort town popular among Aussies and international visitors.
Also known as 'Busso', Busselton is the perfect place for water lovers with its protected waters in the bay. With safe swimming beaches and amenities, Busselton attracts many families and road trippers who want a place that offers a little bit of everything.
Situated in the famous Margaret River region of Western Australia, Busselton in an excellent base to try craft beers, go wine tasting, enjoy water activities, other land-based adventures and more.
With plenty of Busselton attractions available for all interests, you're bound to have a good time in Busselton.
From strolling the iconic Busselton jetty, to climbing a high ropes course to descending 8 metres underwater in an observatory, here is our list of things to do in Busselton Western Australia!
The Epic List of Best Things to Do in Busselton
One of the top things about visiting Busselton is the abundance of free attractions and places to visit for the whole family.
You can visit the local Busselton visitor centre for more info on tourist attractions and activities.
1) Picnic Along Busselton Foreshore
Enjoy a gorgeous sunset and views of the famous jetty at the foreshore along Geographe Bay. With a seemingly endless stretch of white sandy beach, you're basically guaranteed a swimming spot to yourself.
Pack a picnic and head to any of the shaded picnic areas with public BBQ's and seating.
The shallow still waters are home to some dolphins that swim up and down the bay so bring your snorkelling gear along.
Plan your perfect family friendly day and pick from any of the playgrounds spread across the foreshore including the new shipwreck adventure playground.
READ MORE: Stop by Busselton as part of an incredible Perth to Esperance coastal road trip!
2) Cycle to Dunsborough
A network of bicycle pathways connect the Busselton Foreshore all the way to Dunsborough and is a beautiful way to see more of the Margaret River Region.
The 24km one-way ride is the perfect way to get in some exercise and take in the sweeping coastal views.
3) Head Out On A Nocturnal Animal Tour
This unique Australian bush experience takes you out in the evening to observe a colony of Woylies in their natural environment.
Woylies are critically endangered and are a rare, nocturnal macropod with personalities and are small relatives of kangaroos.
On the tour (click here to check it out), you can also see quendas, possums, other wildlife and endemic flora. You'll also get to try locally made biscuits and bush tucker.
The tour takes place at a conservation sanctuary that has allowed access to their population of free-roaming woylies (brush-tailed bettong).
The tour is family-friendly and part of the proceeds from this tour contributes to the valuable work of the conservation sanctuary.
4) See The Largest Remaining Section of Pure Tuart Forest In The World
Nature lovers wondering what to do in Busselton Australia should see Tuart Forest.
The trees, Eucalyptus gomphocephala, are estimated to be 300 – 400 years old and some are over 33 metres tall and over 10 metres in girth.
Pop by and stroll through Tuart Forest National Park to enjoy the peace and quiet while taking in native Western Australia flora.
5) Go on A High Ropes Adventure
For the ultimate adrenaline-pumping and fun adventure, get out into the forest for 2 hours of climbing high ropes, ziplining and even riding a BMX or skateboarding through trees!
You'll start off at just 3 metres and work your way up to 19 metres above the forest floor! The activities increase in difficulty getting wobblier, longer and more challenging as you progress.
There is a dedicated zipline course of more than 7 zips in the park and finishes with a final zip of more than 150 metres in length. Definitely a top activity to try. Be sure to book in advance!
6) Walk Along Busselton Jetty
The longest timber-piled jetty in the southern hemisphere at 1,841 metres long is the Busselton Jetty.
Having survived a cyclone, storm and fire, the jetty in central Busselton has been around for 148 years!
An interpretative centre at the start of the jetty gives visitors an insight into the history of the jetty.
Once you're done there, stroll along the jetty or take the jetty train all the way to the end. Don't forget to bring a hat and some water for the journey!
Admission: Adults $4.00, FREE for children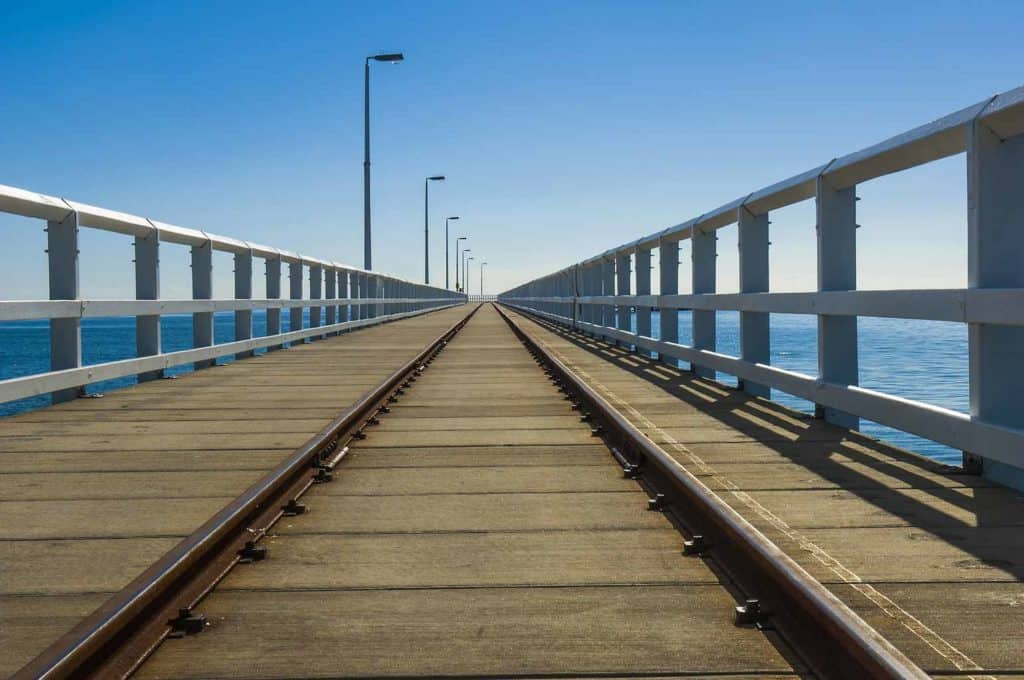 7) Explore the Busselton Jetty Underwater Observatory
At the end of the Busselton Jetty, you'll find the Underwater Observatory. After 10 years of planning and fundraising, the observatory finally opened in 2003.
The Underwater Observatory is designed to accommodate up to 40 people at anytime. Visitors will descend 8 metres beneath the waters surface to view one of Australia's most unique eco-tourism sites and its best artificial reef.
Through the eleven viewing windows, the 9.5-metre diameter observation chamber showcases over 300 individual species of fish, coral, sponges and invertebrates that live in this unique ecosystem.
Admission: $35 for adults, $20 for children
READ MORE: Check out this post for all the great things to do in nearby Perth!
8) Book A Whale Watching Tour
Hop on a cruise departing from Busselton and experience some of WA's best whale watching! You may even see dolphins, sea birds and seals!
It's honestly an incredible day out, and if you want to see humpback whales or southern right whales up close (of course you do!), then book in early.
9) Step Back in Time at the Wonnerup
Situated 10 minutes out of town, Wonnerup is a house that was built in 1859 by George Layman who died that same year when he was speared by an Aboriginal worker.
The property is a heritage-listed farm precinct and is an important surviving example of early farm pioneering in the area.
The grounds include a stately, restored homestead and earlier house (built 1837) which was later converted into a dairy, plus a kitchen, stables, and blacksmiths workshop, teacher's quarters and school for visitors to wander through.
Featuring interesting historical information, the house and building are well preserved and a great way to step back in time and see what life was like.
Admission: Adults $10.00, Children $5.00
10) Visit the Vasse Wetlands
Bird and nature lovers must also visit the Vasse Wonnerup Wetlands which is listed by the Ramsar Convention as 'Wetlands of International Importance'.
The wetlands offer a sanctuary to more than 30,000 waterbirds comprising 90 different species use this habitat each year.
11) Get a Ticket to the South West Craft Beer Festival
Held just one day a year, the South West Craft Beer Festival is held at Signal Park at the Busselton Foreshore during summer.
With over 120 craft beers to try from 20 local breweries and cideries, you'll have the perfect chance to try some crazy, delicious and new release brews being showcased by each brewer.
Combine that with awesome live acts and DJs from the Margaret River region and. you've got an awesome Beerfest.
12) Stroll around the heritage-listed Old Courthouse Arts Complex
History buffs questioning what to see in Busselton will enjoy visiting the area is the Old Courthouse Arts Complex which is Busselton's oldest building.
The 160-year-old heritage-listed complex includes the original courtroom, bond store, police station gaol cells and horse stables.
You can also take a guided tour to be entertained with stories of escapees, notorious characters, daily prison life, famous court cases and more.
Admission: Adults $10.00, Children $5.00
13) Scuba Diving Busselton Jetty
One of the most awesome things to do in Busselton for water lovers is to go scuba diving around Busselton Jetty.
For complete newbies, don't stress, Busselton is the perfect spot to try scuba diving for the first time and you'll be treated with an abundance of sea life!
14) Or Try Undersea Walking
If diving seems a little too much and but snorkelling isn't enough, how about meet somewhere in the middle and try undersea walking?
Try out the Busselton Jetty Undersea Walk, one of the coolest Busselton attractions.
You'll descend into the ocean with a SeaTREK helmet which keeps your head completely dry so you can wear glasses or prescription contacts and breathe normally through your nose.
You'll spend around 20 – 25 minutes underwater and see the variety of marine life in Geographe Bay!
15) Visit the Busselton Museum
The Heritage Butter Factory and Busselton Museum are situated on a one-hectare site on the banks of the picturesque Vasse River.
The museum features ten display rooms packed with photos, equipment and memorabilia which trace the history of Busselton.
Everything from agriculture to whaling; from crockery, clocks and cameras to sewing machines, travel and transport are included with a special focus on the famous 1920's Group Settlement Scheme that shaped the development of the region.
Admission: Adults $10.00, Children $5.00
16) Busselton Fringe Festival
Throughout the month of February, Livelighter Busselton Fringe is held and features a range of artistic mediums such as cabaret, stand-up comedy, dance, circus, musical theatre, burlesque and more.
Held over four weeks across a number of venues in and around Busselton, the vibrant festival brings together talented acts and opening night is always a treat with live music, a pop-up bar, delicious food, and a fire show!
Be sure to book your tickets in advance and support the local acts and talent!
17) Wine Tasting in the Margaret River Wine Region
The best kind of holiday is a wine holiday, right?
Since you're already conveniently located in the south-west, why not treat yourself to some wine tasting at nearby wineries.
There are plenty of highly reputable wineries in the heart of Busselton so you don't even need to head to Margaret River town!
18) Go on a Coastal & Eco Wildlife Tour
Set out on this morning tour which takes you on a wildlife viewing experience combined with spectacular scenery in the Cape Naturaliste area.
For those who love sea life but don't want to be in the water, this tour features a live underwater video feed direct to the tour vehicle.
You'll experience the sweeping vistas of Geographe Bay and learn about its historical and ecological significance.
Form there, you'll pass through Meelup Regional Park's woodland and then drive out to Bunker Bay along a route where you'll rock pools and the limestone cliffs of Cape Naturaliste.
By the end of the tour, you'll be filled up with incredible views, wildlife and your complimentary glass of wine or boutique beer!
19) Eat Some Delicious Food Around Town
What do you get when you pair a coastal town with delicious and fresh produce? Amazing eateries all through town serving some of WA's top food.
Take yourself on a food adventure and try a range of cuisines. The restaurants could be considered some of the best Busselton attractions! Check out some recommendations in our guide below.
20) Spend a Lazy Day at the Beach
If you're tired from all of the travel, give yourself a day off and spend the day in the sun on the beach. Be sure to bring your snorkelling gear as the bay is calm and full of sea life!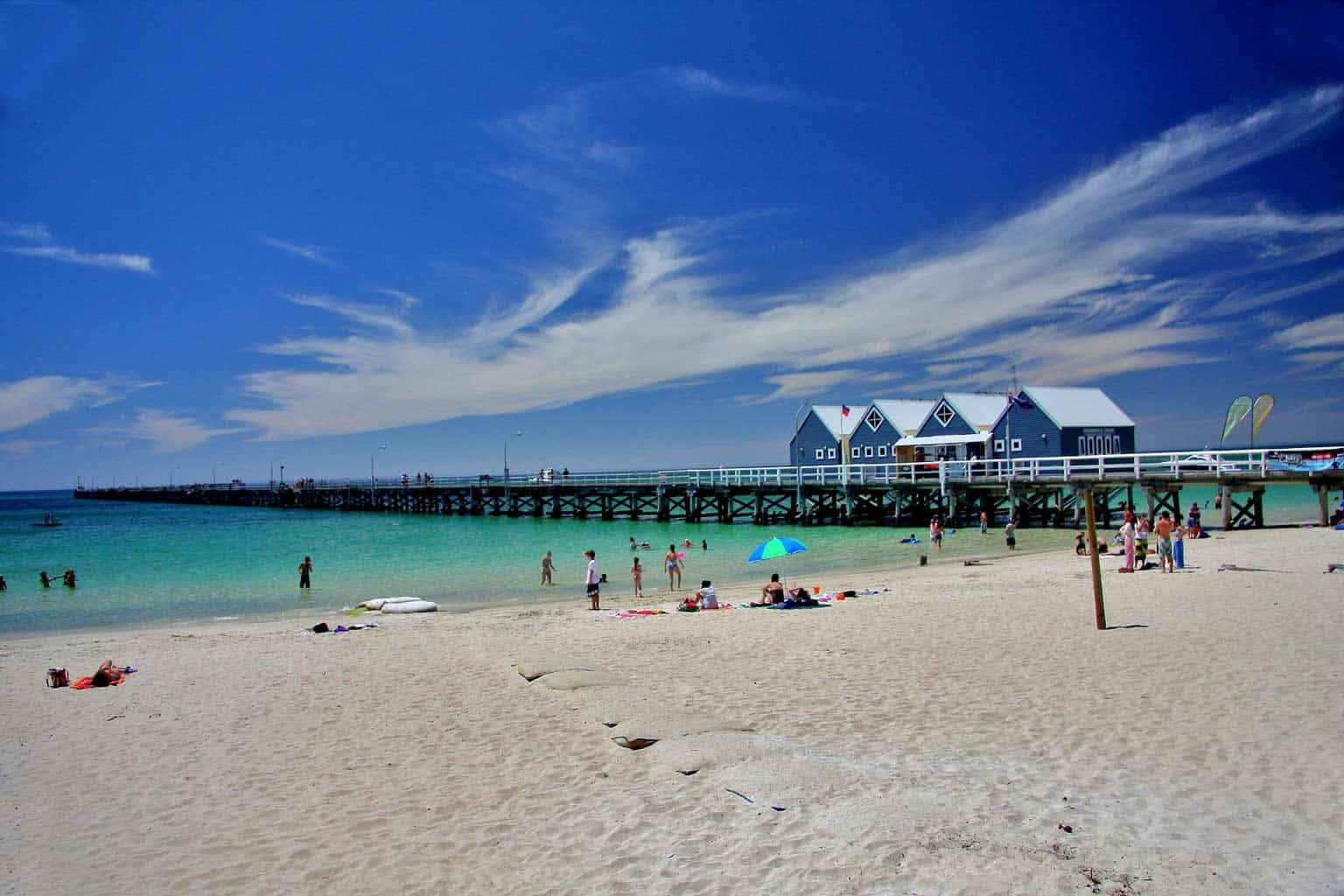 Busselton Travel Guide
Now that you have your list of Busselton things to do, we want to help you make your other plans as well by sharing the best accommodations and places to eat in the city.
Best Accommodation – Where to Stay in Busselton
You'll find a range of accommodation options in town from caravan parks to motels to hotels but unfortunately no hostels.
Being a very chill coastal town, it isn't a popular spot for a luxurious beach resort-style stay. But you can still find very nice accommodation options near all the best Busselton attractions.
Best Budget Accommodation for Couples – Ithaca 1896 Manor
This beautiful old house has lovely owners who will make you feel right at home. Less than a 15-minute walk from the jetty, Ithaca 1896 Manor has a garden, free WiFi throughout the property, table tennis and free parking.
All rooms have air conditioning (a must for summer), flat-screen TV and options for a delicious breakfast. The accommodation is great value and situated in themain part of town.
Best Mid-Range Hotel in Busselton – The Sebel Busselton
A short walk to the beach and home to a fantastic restaurant, The Sebel Busselton is a beachfront resort that has a nice indoor heated pool, an outdoor pool, squash courts, tennis courts and a games room. Everything you need for a family fun holiday!
The units are self-contained, clean, comfortable and offer everything you need for your stay.
Best Luxury Hotel in Busselton- Aqua Resort Busselton
Located a little further out of town, Aqua Resort Busselton is a beautiful property with 41 rooms that exude an atmosphere of total peace and harmony (ie the perfect holiday vibe).
The resort offers a number of various villas (from one bedroom up to five bedrooms) all with complimentary wifi, air conditioning, a living room, dining area, kitchen and fireplace. Some villas have a heated private pool.
You'll even get access to a private beach, watersports equipment rental, a fitness centre, sauna and golf course! Overall, the resort is the perfect place like a piece of paradise in Busselton.
Best Restaurants in Busselton
Visiting the Margaret Region of Australia comes with many perks, like access to a delicious array of food options! With fresh Western Australian produce at hand, there are many local restaurants that you must try.
Budget – Pho Sai Gon Vietnamese Restaurant
Those on a budget who enjoy south-east Asian flavours will love Pho Sai Gon Vietnamese Restaurant. Authentic Vietnamese flavours for cheap and affordable prices. Be sure to try the pho!
Mid-range – Vasse Tavern
Visit Vasse Tavern for a combination of warm and friendly customer service, craft beer and an Italian-focused menu with big portions. The food here is divine!
High-End – The Studio Bistro
The Studio Bistro supports local suppliers using fresh Australian produce and serves a delectable fine dining menu in a casual setting. The food menu is exceptional with a wine list to match. Do yourself a favour and splash out here!
DISCLAIMER: Some of the links in this article are affiliate links, which means if you book accommodation, tours or buy a product, we will receive a small commission at no extra cost to you. These commissions help us keep creating more free travel content to help people plan their holidays and adventures. We only recommend the best accommodations, tours and products that ourselves or our fantastic editorial team have personally experienced, and regularly review these. Thanks for your support, kind friend!